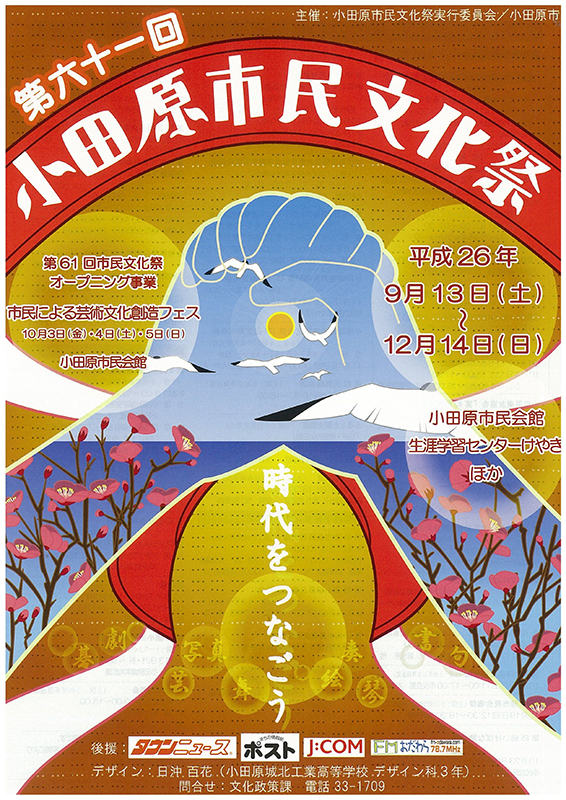 Art / photography
2014.09.25
61st Odawara Citizens' Culture Festival
Odawara Civic Center, Odawara City Lifelong Learning Center Main Building "Keyaki", etc. 
(Please note that this page was created using Google's automatic translation service and understand that because of this, its translation may not necessarily be accurate.)
The "61st Odawara Citizens'Culture Festival" will be held with the aim of providing a place for people engaged in arts and culture activities to present their achievements on a daily basis and promoting citizens' culture.
With the aim of opening the Center for the Creation of Arts and Culture, which is scheduled for the fall of 2017, we are aiming to foster new leaders in arts and culture and to hold an open cultural festival.
At the opening of the school festival, there will be an independent exhibition and performance that will not be separated from beginners to professionals under the name of "Citizen's Art and Culture Creation Festival".
Start Day

2014-09-13

End Day

2014-12-04

Hour

Please see below for details as it varies depending on the event. http://www.city.odawara.kanagawa.jp/field/lifelong/culture/event/bunkasai61th.html

Address

1-5-12 Honcho, Odawara City, Kanagawa Prefecture

Appearance

Please see below for details as it varies depending on the event. http://www.city.odawara.kanagawa.jp/field/lifelong/culture/event/bunkasai61th.html

Ticket type / Fee

Please see below for details as it varies depending on the event. http://www.city.odawara.kanagawa.jp/field/lifelong/culture/event/bunkasai61th.html

Contact

Odawara City Culture Department Cultural Policy Division TEL Odawara City Culture Department Cultural Policy Division MAIL bunka@city.odawara.kanagawa.jp

URL