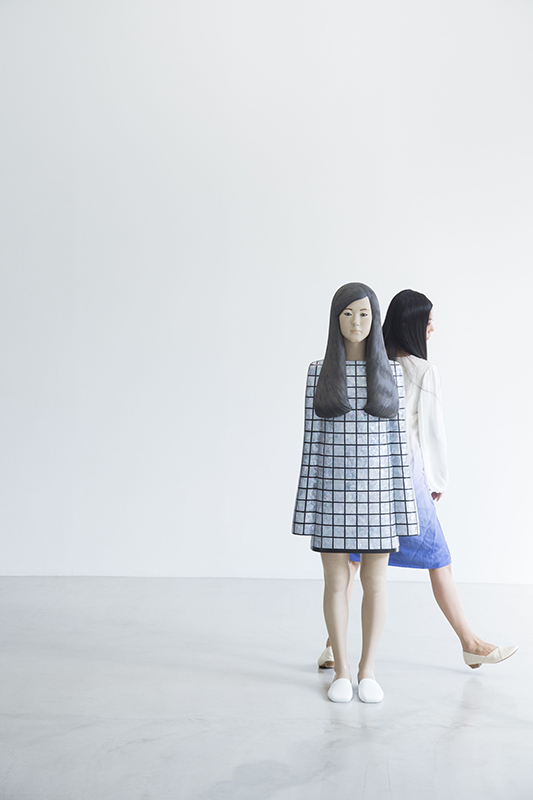 <Project> + Yoshino Kimura + Tetsuro Yasunaga "Utsuri Yuku"
The Hakone Open Air Museum Main Building Gallery Mezzanine 
(Please note that this page was created using Google's automatic translation service and understand that because of this, its translation may not necessarily be accurate.)
"Tomoki Yasui / silence" exhibition related event. A round-trip letter with the performance of Yoshino Kimura, who became the new model, and the music of Tetsuro Yasunaga. Over time, Higashiyama himself, a sculpture (a virtual image called Yoshino Kimura), and a musician will build the atmosphere of a human figure. A musician who sees the scenery that Higashiyama sees through correspondence with the sculpture, puts out what is enclosed with the contents of the letter, what makes a sound, a score or an instruction (drawing like a landscape), etc. I will reply by installing it on the opposite wall. As the number of events increases, the progress of the project will be accumulated in the venue.
[Date of stay at Yoshinaga Higashiyama] Date: September 23 (Tuesday / holiday), November 8 (Saturday), January 17, 2015 (Saturday), February 21 (Saturday)
Event Date

2014-11-08

Hour

10: 00-12: 00/13: 00-16: 00

Address

1121 Ninotaira, Hakone-machi, Ashigarashimo-gun, Kanagawa

Appearance

Yoshino Kimura

Ticket type / Fee

You can see it at the museum admission fee. Adults 1600 yen, university / high school students 1200 yen Junior high school / elementary school students 800 yen * Every Saturday is a family special day (5 elementary and junior high school students are free for each guardian)

Contact

The Hakone Open Air Museum TlEL.0460-82-1161

URL