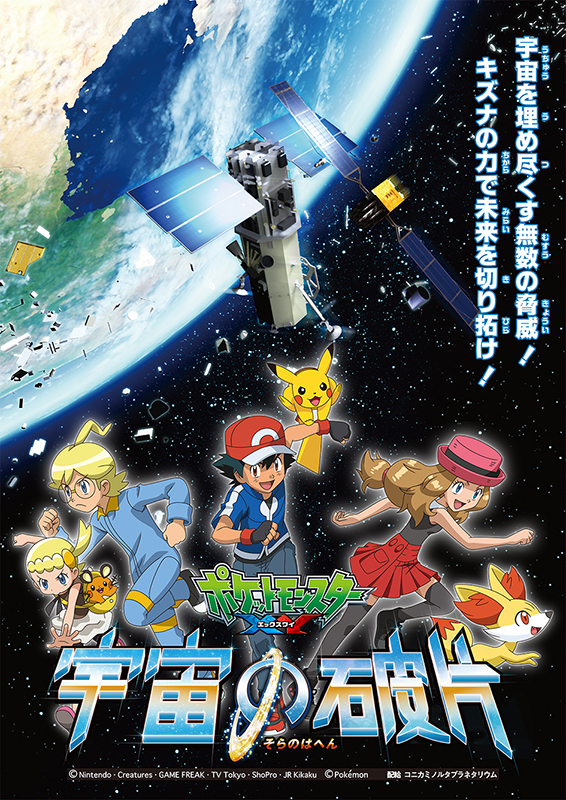 Space Theater (Planetarium) "Pocket Monster XY Space (Sora) Fragment (Hahen)"
Hamagin Space Science Center 1F Space Theater (Planetarium) 
(Please note that this page was created using Google's automatic translation service and understand that because of this, its translation may not necessarily be accurate.)
Satoshi and his friends visit PAXA (Pokémon Aerospace eXploration Agency). As an institution that conducts research and development of space, it carries out various activities every day. Satoshi and his friends were very excited to hear from the astronaut sister who belongs to PAXA about the wonderfulness of the universe and the possibilities of Pokemon in the universe! On the other hand, when I heard that the situation was very dangerous due to the problem of "space debris" called "garbage in space", a siren suddenly rang! It seems that the team rocket sneaked into this facility in an attempt to take over PAXA and make it their base! That's big issue. Meanwhile, a problem occurred in the system that controls the artificial satellite! At this rate, there is a risk that the artificial satellite will collide with huge debris and space debris will increase further ...
If space debris fills the universe of this star any more, human beings will be forever blocked from the universe and will never be able to go to the universe ... Then, the Pokemon in the universe I can't even go to see you! ?? This star ... No, what actions Satoshi and his friends took in the big pinch of the universe ...! ?? Countless threats that fill the universe! Join forces with your friends and open up the future with Kizuna! (About 25 minutes)
We will also explain the starry sky for about 20 minutes.
Start Day

2014-07-19

End Day

2014-07-31

Hour

Every day from 11:15 to 15:00, about 45 minutes each time

Address

5-2-1 Yokodai, Isogo-ku, Yokohama-shi, Kanagawa

Ticket type / Fee

Adults 600 yen, 4 years old to junior high school students 300 yen (separate admission fee required)

Contact

Hamagin Space Science Center 5-2-1 Yokodai, Isogo-ku, Yokohama-shi, Kanagawa 235-0045 TEL: 045-832-1166

URL