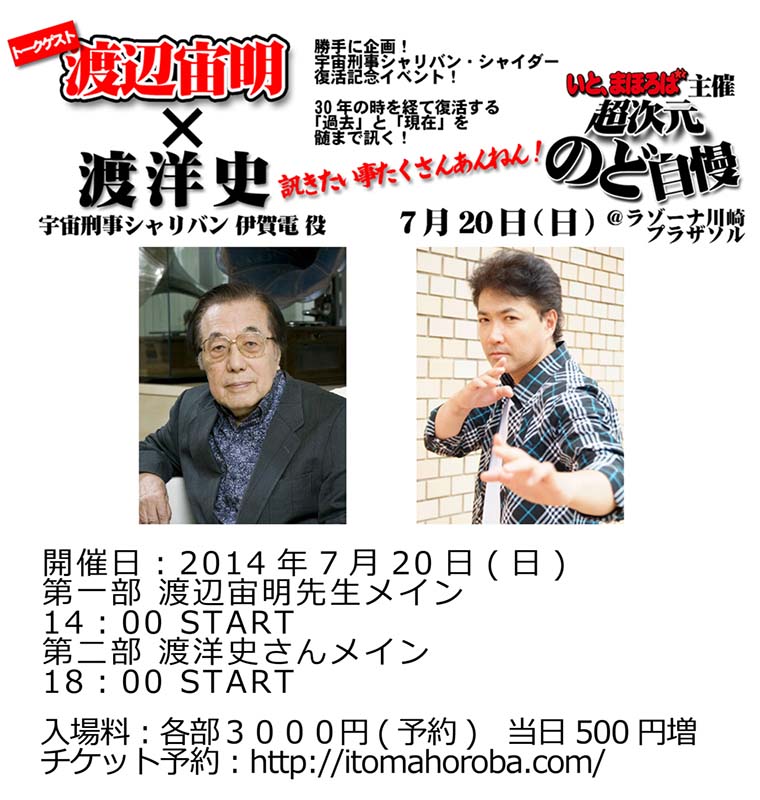 Art / photography 音楽
2014.07.07
Michiaki Watanabe x Hiroshi Watari Talk Live Super Dimensional Throat Boasting Extra Edition
Lazona Kawasaki Plaza Sol 
(Please note that this page was created using Google's automatic translation service and understand that because of this, its translation may not necessarily be accurate.)
It's almost the same year as Kawasaki City, which is the 90th anniversary of the municipal organization, and it's still an active composer!
A talk live by Michiaki Watanabe, a super master of the world-famous special effects and anime song world.
Let's become a hero and sing enthusiastically with everyone at the venue, along with the memories of each famous song that the teacher talks about!
"Space Sheriff Sharivan" "Mazinger Z" "Secret Squadron Goranger" "Taiyo Sentai Sun Vulcan" "Android Kikaider" etc.
Let's go back to ourselves when we were longing for heroes and make wonderful memories of our summer vacation.
Message from Dr. Watanabe: https://www.youtube.com/watch?v=HwFiruXzQwQ
Event Date

2014-07-20

Hour

14: 00-17: 00 Part 1 18: 00-21: 00 Part 2

Address

72-1 Horikawa-cho, Saiwai-ku, Kawasaki-shi, Kanagawa Lazona Kawasaki Plaza 5F

Appearance

Part 1: Michiaki Watanabe (composer) 14: 00-17: 00 Scheduled to end Part 2: Hiroshi Watari (Space Sheriff Sharivan Igaden) 18: 00-21: 00 Scheduled to end Moderator: Yuki Kosaka

Ticket type / Fee

3000 yen for each part (reservation) 500 yen increase on the day

Ticket Info

There is a special ticket form on the official website of Itomahoroba: http://itomahoroba.com/. Ticket reservation: http://ptix.co/1rapbfE If you cannot make a reservation using the convenience store or credit card payment form, please contact us by email or phone.

Contact

Ito, Mahoroba TEL 070-5568-3299 MAIL info@itomahoroba.com

URL