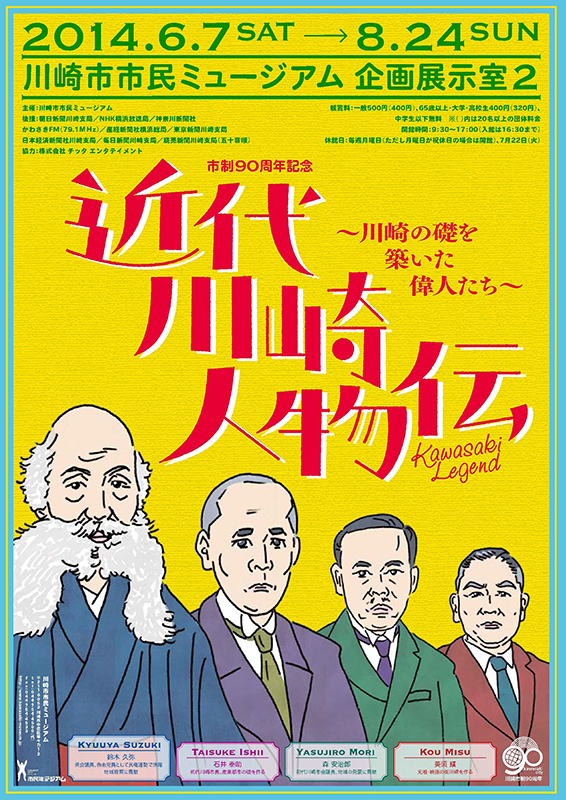 Continuous course "Modern Kawasaki character biography"
Kawasaki City Museum 2nd Training Room 
(Please note that this page was created using Google's automatic translation service and understand that because of this, its translation may not necessarily be accurate.)
Special Exhibition "Modern Kawasaki People's Biography" Related Events 1st July 5th (Sat) "Kawasaki's Freedom and People's Rights Movement Ueda, Ida, Suzuki"
2nd Saturday, July 12 "First Mayor of Kawasaki, Taisuke Ishii"
The 3rd Saturday, July 19 "Yasu Ando, a bridge over the Tama River"
The 4th Saturday, July 26, "Agricultural Equipment Manufacturer Hosoosha Minowa Sandai"
* This is a 4th consecutive course. Please apply at least 2 weeks in advance (June 21st).
Event Date

2014-07-05

Hour

14: 00-15: 30

Address

No. 1-2 Todoroki, Nakahara-ku, Kawasaki-shi, Kanagawa (inside Todoroki Green Space)

Appearance

Lecturer: Hitoya Ishii (Associate Professor, Graduate School of Sociology, Hitotsubashi University)

Ticket type / Fee

Participation fee: 1500 yen (4 times) Capacity: 35 people

Ticket Info

How to apply: Please specify the participant's name, address, telephone number, and fax number (if you apply by fax) on the event application form on our website or by fax, and send it to the "Modern Kawasaki People's Biography Related Events" section. Please apply to. Reception is on a first-come, first-served basis and will be closed as soon as the capacity is reached. FAX: 044-754-4510 Application deadline: 2 weeks before the implementation date

Contact

Kawasaki City Museum TEL 044-754-4500

URL