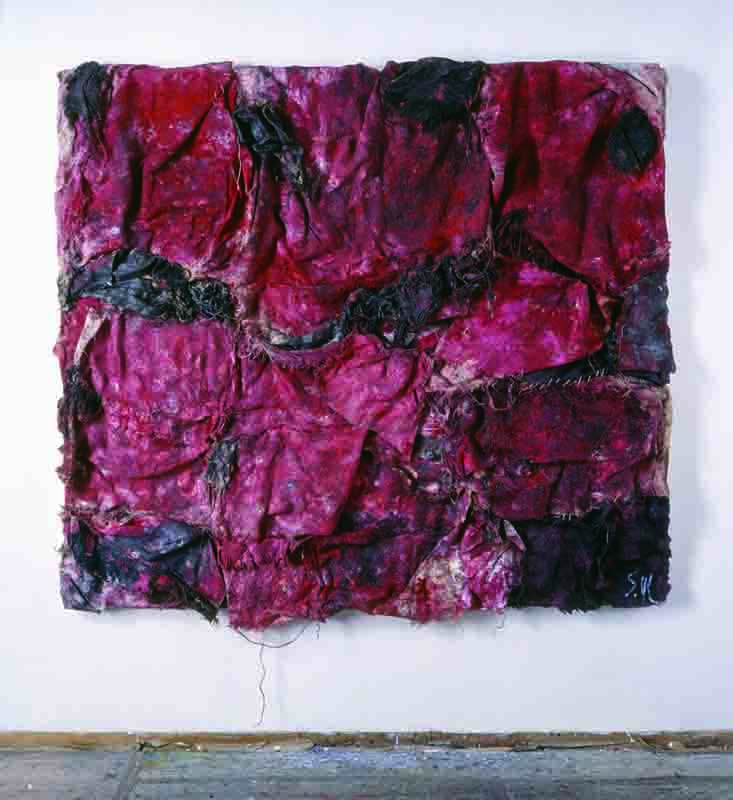 Art / photography
2014.04.03
Rising Life (Life) Shin Miyazaki Exhibition
Kanagawa Prefectural Museum of Modern Art Hayama 
(Please note that this page was created using Google's automatic translation service and understand that because of this, its translation may not necessarily be accurate.)
Shin Miyazaki was born in Tokuyama City, Yamaguchi Prefecture (currently Shunan City) in 1922, graduated from the Japanese Art School at the age of 20, and was detained in Siberia until 1949 after the defeat. After the war, he developed realistic works based on interviews, and in 1967 won the Yasui Award for "Freak Show Entertainer". In 1974, he moved his atelier to Kamakura City, Kanagawa Prefecture, where he developed vigorous creative activities.
Cloth collages have been used since the 1950s, but especially since the 1980s, their work has grown in scale and become more abstract.
At the 26th Sao Paulo Biennale in 2004, 12 paintings such as "mud" and 3D work "head" were exhibited as representatives of Japan.
At the root of Miyazaki's creation is a strong desire for human life, re-examined from the experience of the hunger situation of defeat and detention.
In this exhibition, major works from the 1950s to recent years, about 70 paintings and about 10 three-dimensional works, with sketches and interview photographs, etc., will be added to the following five chapters, Shin Miyazaki's people and art. It is a retrospective of the whole picture of.
Ⅰ Original scenery / Ⅱ Unforgettable people / Ⅲ Flowering earth / Ⅳ Rising life / Ⅴ Creation site
Start Day

2014-04-05

End Day

2014-06-29

Hour

9:30 am-5 pm (admission until 4:30 pm) Closed: Mondays (but open on May 5)

Address

2208-1 Isshiki, Hayama-cho, Miura-gun, Kanagawa

Ticket type / Fee

Admission fee: General 900 yen (800 yen), under 20 years old / students 750 yen (650 yen), 65 years old and over 450 yen, high school students 100 yen * () is for groups of 20 people or more. * Free for junior high school students and younger and those with a disability certificate. * Please contact us for other discounts. * Family Communication Day: On the first Sunday of every month (April 6, May 4, June 1 this time), families with children under the age of 18 will receive a special rate (for those aged 65 and over). You can see it at (excluding). * Free opening day "International Museum Day": On May 18th (Sun), you can see the three exhibitions being held at the Kanagawa Prefectural Museum of Modern Art for free.

Contact

Kanagawa Prefectural Museum of Modern Art Hayama 2208-1 Isshiki, Hayama-cho, Miura-gun, Kanagawa 240-0111 tel. 046-875-2800 / fax. 046-875-2968 / e-mail: fm4313.h6g@pref.kanagawa.jp

URL