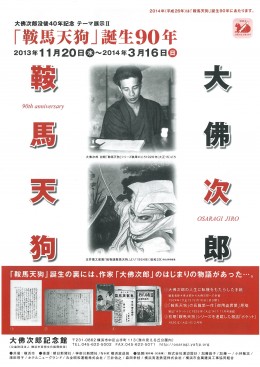 Art / photography
2014.01.20
90 years since the birth of "Kurama Tengu"
Osaragi Jiro Memorial Hall 
(Please note that this page was created using Google's automatic translation service and understand that because of this, its translation may not necessarily be accurate.)
Behind the birth of "Kurama Tengu" was the story of the beginning of the writer "Jiro Osaragi".
In September 1923 (Taisho 12), the Great Kanto Earthquake that occurred 90 years ago caused enormous damage and changed the fate of people.
At that time, Kiyohiko Nojiri (later Jiro Osaragi) was working as a part-time worker at the Ministry of Foreign Affairs, but his "new hobby", which had posted translations, was forced to be discontinued due to the earthquake. On the other hand, Tokutaro Suzuki, who was the chief editor, was transferred to the editor-in-chief of the talk magazine "Pocket", and Nojiri youth decided to write a brush for the period novel for his life. The encounter between the two and the great earthquake created the drama of the birth of "Kurama Tengu".
In May 1924, when he was 26 years old, he released his first work, "Old Woman on the Demon Face," and gained popularity among readers and made it into a series. After that, "Kurama Tengu" continued to be written, and he lived with the life of the author, Jiro Osaragi, for a long time.
In this exhibition, as the first part, we will explore the background of the birth of "Kurama Tengu", focusing on the letter of Tokutaro Suzuki. In the second part, we will discuss the world of "Kurama Tengu", which has been popular for a long time, and the charm of various Kurama Tengu seen behind the scenes of creation, movies, radio, television, toys of the Showa period, etc.
<Exhibition commentary>
December 13th (Friday), January 10th (Friday), 2014, February 14th (Friday), March 14th (Friday)
13:00 to 13:30
Start Day

2013-11-20

End Day

2014-03-16

Hour

From 10:00 to 17:00 (admission is until 16:30) Closed days: Monday (the following weekday if it is a national holiday), December 28 (Sat) -January 3, 2014 (Fri)

Address

113 Yamate-cho, Naka-ku, Yokohama-shi, Kanagawa

Ticket type / Fee

200 yen, 100 yen for elementary and junior high school students, free for high school students and younger on the 2nd and 4th Saturdays

Contact

Osaragi Jiro Memorial Hall 113 Yamate-cho, Naka-ku, Yokohama 231-0862 TEL: 045-622-5002

URL