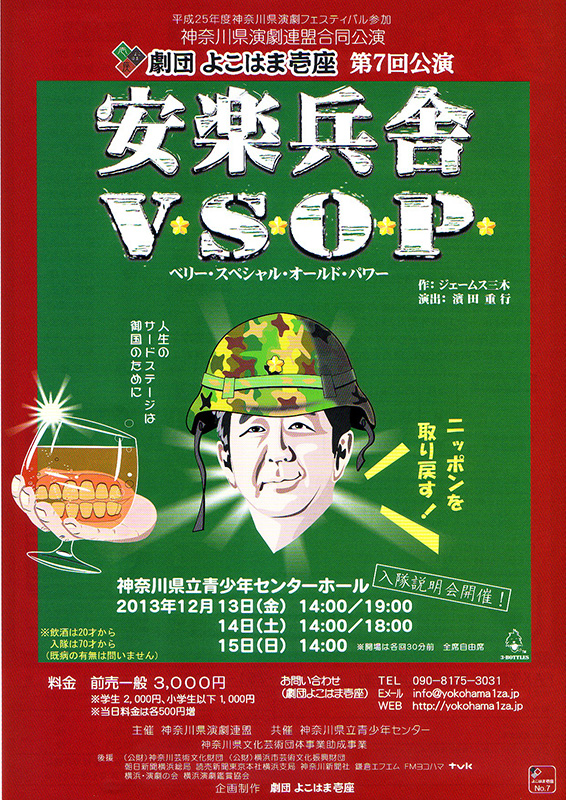 Theater / dance
2013.11.26
Participation in the 2013 Kanagawa Theater Festival Joint Performance of the Kanagawa Theater Federation Theatrical Company Yokohama Ichiza 7th Performance "Anraku Barracks VSOP"
Kanagawa Prefectural Youth Center Hall 
(Please note that this page was created using Google's automatic translation service and understand that because of this, its translation may not necessarily be accurate.)
In 20XX, the Self-Defense Forces Law was amended, and only 70 years old or older could enter the Self-Defense Forces. However, even sick people can join the army if they volunteer ... It was also a measure to solve the defense problem and the elderly problem at the same time.
Where is Japan's collective self-defense right going? And what is the ideal form of the coming aging society?
Start Day

2013-12-13

End Day

2013-12-15

Hour

13th (Fri) 14:00 start (13:30 open), 19:00 start (18:30 open) 14th (Sat) 14:00 start (13:30 open), 18:00 start (17:30) Opening) 15th (Sun) 14:00 start (13:30 opening)

Address

9-1 Momijigaoka, Nishi-ku, Yokohama-shi, Kanagawa

Appearance

(Production) James Miki (Director) Shigeyuki Hamada (Art) Tsutomu Uchiyama (Equipment) Ito Stage Studio (Lighting) Takashi Takei (Take Studio) (Music) Soichi Shirotani (Choreographer) Tomoko Kata (Dialect Guidance) Yumi Arai

Ticket type / Fee

General 3,000 yen, students 2,000 yen, elementary school students and younger 1,000 yen * Same-day fee will increase by 500 yen each

Ticket Info

● Theatrical company Yokohama Ichiza TEL 090-8175-3031 info@yokohama1za.jp

Contact

Theatrical company Yokohama Ichiza TEL 090-8175-3031 info@yokohama1za.jp

URL