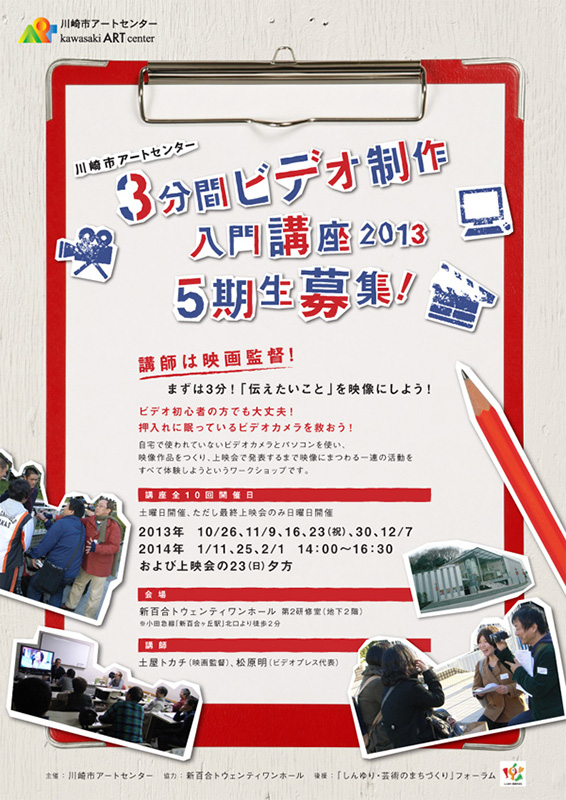 3-minute video production introductory course 2013
Shinyuri Twenty One Hall 
(Please note that this page was created using Google's automatic translation service and understand that because of this, its translation may not necessarily be accurate.)
With the motto "Save the video camera sleeping in the closet", he acquired the basic techniques of shooting and editing, and produced a 3-minute video work. A total of 10 workshops where the finished works will be screened at the Art Center.
Even beginners of video are okay! This course, which has been held four times in the past, is attended by people of all ages, from teens to 70s. Even those who are completely new to the project challenged video production and completed the work.
The instructors will be film directors Tokachi Tsuchiya and Akira Matsubara.
October 26, 2013-February 23, 2014 10 times in total
Event Date

2013-11-09

Hour

All Saturdays, 14: 00-16: 30 However, on February 23, screenings will be held at the Kawasaki Art Center from the evening on Sundays.

Address

1-2-2 Manpukuji, Asao-ku, Kawasaki-shi, Kanagawa Shinyuri 21 Building B2

Ticket type / Fee

Tuition fee General 20,000 yen Student 18,000 yen Full payment at the first course

Ticket Info

How to apply: Use a round-trip postcard (1) Name (2) Age (3) Gender (4) 〒 Address (5) Phone number (6) Email address if available (7) Type of video camera / computer / editing software you have, camera rental (charged) Enter whether you want it or not October Postmark valid on the 12th ◎ It is not necessary to purchase all the equipment before taking the course. If you are considering purchasing, the instructor will consult with you during the course. Please contact Kawasaki Art Center for details. E-mail cinema@kac-cinema.jp TEL 044-955-0107

Contact

Kawasaki Art Center TEL 044-955-0107

URL