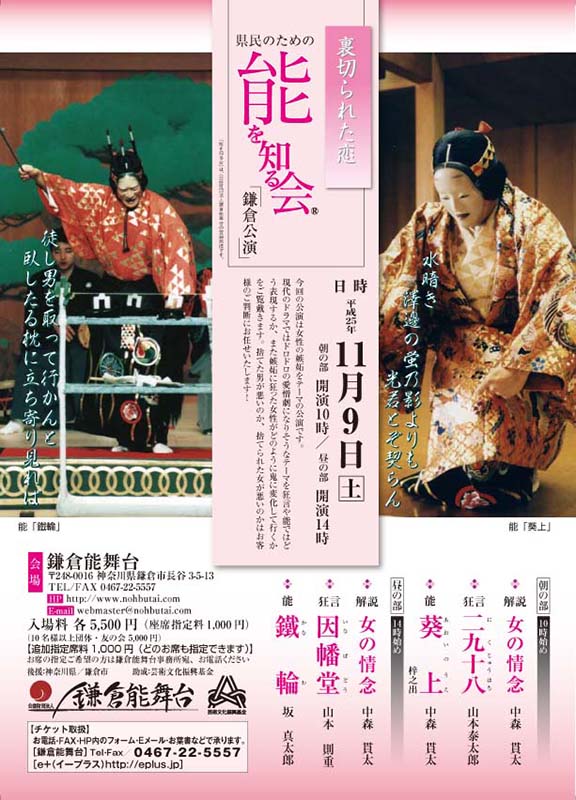 traditional culture
2013.08.08
Kamakura Performance November Afternoon "Betrayed Love" ・ Commentary "Woman's Passion" ・ Kyogen "Inabadou" ・ Noh "Tetsuwa" ・ Q & A
Kamakura Noh Stage 
(Please note that this page was created using Google's automatic translation service and understand that because of this, its translation may not necessarily be accurate.)
This performance is about the jealousy of women.
You will see how to express the theme that seems to be a muddy love-hate drama in modern drama with Kyogen and Noh, and how a jealous woman turns into a demon.
It's up to you to decide whether the abandoned man is bad or the abandoned woman is bad!
Event Date

2013-11-09

Hour

(Afternoon) Start at 14:00

Address

3-5-13 Hase, Kamakura City, Kanagawa Prefecture

Appearance

(Commentary) Kanta Nakamori ... Shite (Kyogen) Taitaro Yamamoto Hiroyoshi Endo Norishige Yamamoto (Song) Keinosuke Okura Shinkuro Kanze Masato Kodera Hiroaki Terai (Waki) Tsuneyoshi Mori Hideshi Norihisa (Shite) Okugawa Tsuneji Endo Yoshihisa Nagashima Mitsuru Sakuma Jiro Hideaki Kojima Takashi Kuwata Shintaro Saka Kennosuke Nakamori (Questions and Answers) Kyogen Nakamori ...

Ticket type / Fee

All seats unreserved seats 5,500 yen Additional reserved seats 1,000 yen (any seat can be specified) ◎ Tomo no Kai / Group of 10 or more people 5,000 yen

Ticket Info

● Kamakura Nohbutai TEL / FAX 0467-22-5557 (Telephone / Fax / HP form / postcard etc.) WEB http://www.nohbutai.com/ticket/ ● Eplus http://eplus. jp / sys / T1U37P0422480150

Contact

Kamakura Noh Stage TEL / FAX 0467-22-5557

URL