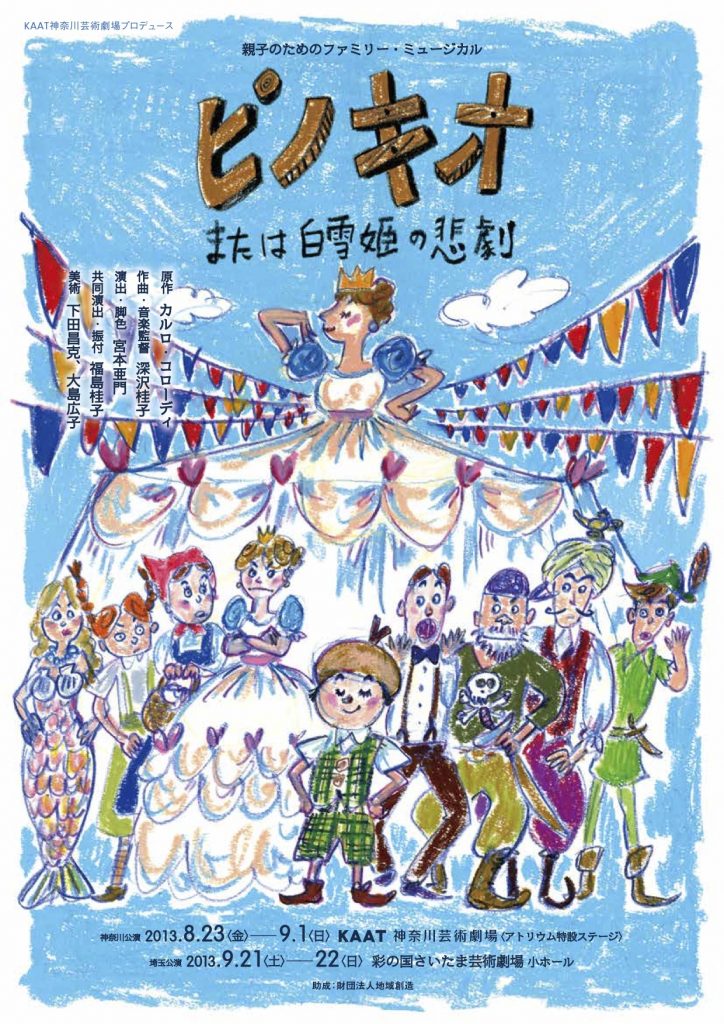 Theater / dance
2013.06.02
Family musical for parents and children "Pinocchio-or the tragedy of Snow White-"
KAAT Kanagawa Arts Theater Atrium 
(Please note that this page was created using Google's automatic translation service and understand that because of this, its translation may not necessarily be accurate.)
A musical full of fun to give to all children around the world!
Pinocchio, who hates studying and hard work, escapes from the old man Jeppetto who made Pinocchio from logs. Pinocchio, who loves mischief, has a lot of people around him. Can Pinocchio be a real child ...?
Based on the story of the familiar "Pinocchio" loved all over the world, the Amon version of Pinocchio is a fox, a cat, a cricket, and it is very strange that all fairy tale characters such as Snow White, turtles, and demons appear one after another. Wonderland. The story of Pinocchio overcoming hardships and growing into a human boy is a fantastic musical that is spelled out on colorful music. You should be able to feel the warmth and splendor of human beings with the adventure of Pinocchio.
This Pinocchio project started with the idea of director Amon Miyamoto, who wants to stimulate the curiosity and imagination of many people and make them feel that human creativity is infinite. A theater appears in an empty space and you can experience a different space ... In order to convey the excitement that you once experienced at a circus tent performance etc., a mobile temporary theater where the audience seats and the stage are integrated Specially devised. This summer, the "Pinocchio Theater" will be traveling! Children and adults with children's hearts should enjoy it together!
Start Day

2013-08-23

End Day

2013-09-01

Hour

8.23 (Fri) 16: 00 8.24 (Sat) 11: 00 (Chartered) / 14: 30 8.25 (Sun) 11: 00/14: 30 8.26 (Mon) Closed 8.27 (Tue) 14: 30 8.28 (Wed) 12: 30/16: 00 8.29 (Thursday) 12: 30/16: 00 8.30 (Friday) 14: 30 8.31 (Saturday) 11: 00/14: 30 (Chartered) 9.1 (Sunday) 11: 00/14: 30 * Opening 30 minutes before the start of the performance Closed on 8.26 (Monday)

Address

281 Yamashita-cho, Naka-ku, Yokohama-shi, Kanagawa

Appearance

Original: Carlo Corodi / Composition / Music Director: Keiko Fukazawa Directed / Adapted: Amon Miyamoto Co-directed / Choreographed: Keiko Fukushima Art: Masakatsu Shimoda, Hiroko Oshima [Cast] Mari Okonogi Yukiko Ikeda Takashi Ishinabe Jun Nishihara Jun Nishihara Junichiro Nakano Takaya Saito Yasuko Hirabayashi Keiko Mizutani Harui

Ticket type / Fee

Parent-child ticket (1 adult, 1 child) 5,000 yen Children (4 years old and over, high school students and under) 2,000 yen Adults 4,000 yen * Children under 3 years old are not allowed to enter. * If you are coming in a wheelchair, please contact the ticket Kanagawa in advance.

Ticket Info

■ Ticket Kanagawa 045-665-8866 ■ Ticket Pia 0570-02-9999 http://pia.jp/t (PC / mobile) ■ Eplus http://eplus.jp/ (PC / mobile) ■ tvk ticket counter 045 -663-9999 http://www.tvkcom.net

Contact

KAAT Kanagawa Arts Theater TEL.045-633-6500

URL