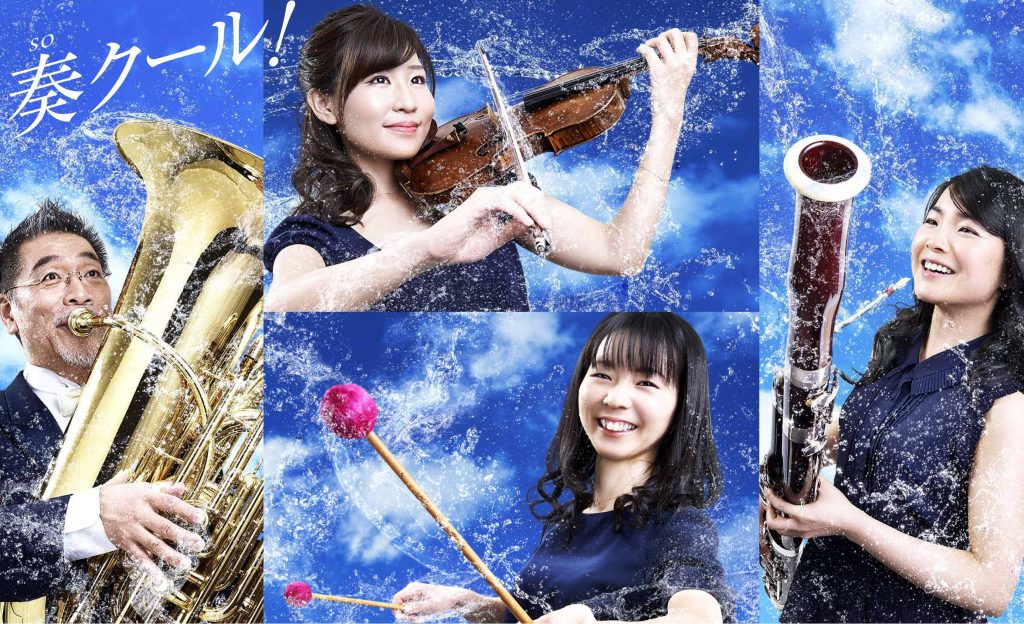 It's summer! It's an orchestra festival!
Muza Kawasaki Symphony Hall 
Feel free to enjoy! Living with concerts
File.2 Festa Summer Muska KAWASAKI 2018
(Mitsuro Morimitsu / Music writer)
The season of Feltiva is arriving.
As for the summer festival, I think many people think of rock and pops' outdoor concerts, but in fact the classical music world likes summer festivals as well.

The classic season is sometimes called autumn opening, and various small and large events are flowering using season off.
At the Mozart's birthplace, the "Salzburg Festival" will be held at the "Bayreuth Music Festival" created by Wagner himself, "BBC Proms", a cool Briton enthusiastically celebrating, in a scenic Swiss resort area "Lucerne Music Festival" to be held.
In Japan, there may be people who think of "Sage Ozawa Matsumoto Festival (Saito · Kinnen reformed)".
Meanwhile, it is "Festa Summer Musa KAWASAKI" which has been done since 2005, which is waiting for orchestra lover every year.

Speaking of Muza Kawasaki Symphony Hall, it is famous for its acclaimed acclaim from the world's Maestro. There is no way to listen to such a lavish music festival so that you can enjoy the performance of the major orchestras in the metropolitan area on a daily basis while enjoying the sound.
Besides, it's also nice to have a relatively low price.

Pick up three programs personally from the festival that will be held for about three weeks.
First of all, the opening concert of Tokyo Symphony Orchestra with Muza Kawasaki as home ground.
"Knot & TOKYO x JAZZ superstars"
■ July 21 (Sat) 15:00 opening
https://www.kawasaki-sym-hall.jp/festa/calendar/detail.php?id=2282


Currently, Jonathan Knott, who is the music director of the band, is Toshihide who has been performing guest performances with the world's leading orchestras. Because he himself takes a tact, he can not miss this.


Moreover, the program is an aggressive Gershwin with jazz pianist · Junko Onishi. And last time I introduced this column, birth 100Burnstein rises with age. It is a momentum that is suddenly getting caught up in an enthusiastic whirlpool from the opening.
The second is a program by Kanagawa Phil to listen to French composer Saint-Saëns.
"Kanagawa Philharmonic Orchestra
Exquisite French Ⅱ ~ Genius Saint-Saens "
■ Friday, August 3 (Fri) 19: 00 opening
* 15: 00 opening / 15: 30 ~ public rehearsal
https://www.kawasaki-sym-hall.jp/festa/calendar/detail.php?id=2277

The fusion of pipe organ and orchestra which can be called the symbol of the hall creates thrilling sensuality Symphony No. 3 "With organ".
Please get drunk.
And the violin concerto played by the winner of the 2007 Tchaikovsky Compete, Mayuko Kamio.
Please listen to me.

© Shion Isaka
The third is to push the recital of Masaaki Suzuki from the thought that we would like to entrust himself to the majestic resonance of the pipe organ without an orchestra.
"Chalala ~ ~" and everyone will come to the pin "Toccata and FuIt is a concert of Bach work of all songs including "mini giga".
"Masaaki Suzuki Pipe Organ Recital
Midsummer Bach III "
■ August 11 (Saturday · Holiday) Opening at 18:00
* 17: 00 opening / 17: 20 ~ lobby concert
https://www.kawasaki-sym-hall.jp/festa/calendar/detail.php?id=2290
© Marco Borggrve
Suzuki is a researcher as a world-famous award-winning Bach musician. The soul of Bach, which emanates from an organ with 5248 pipes, will echo the mind of listening as sound = vibration.
No, the festival is really nice.
"Festa Summer Muska KAWASAKI 2018"
Schedule: Saturday, July 21, 2018 - August 12 (Sun)
Venue: Muza Kawasaki Symphony Hall, Showa University of Music Teatro Giglio Shoova
*See below for details
http://www.yaf.or.jp/mmh/recommend/2018/05/20-100.php
Place

Muza Kawasaki Symphony Hall
Muza Kawasaki Symphony Hall

Kawasaki City has long supported the industry as an industrial city, but as the industrial structure has changed, Muza Kawasaki Symphony Hall was born in 2004 as a symbol that Kawasaki city will transform into a cultural city. And, being valued to be proud of the world's leading acoustics, it has contributed to the "town development by music" that Kawasaki City can advance, such as establishing a position as a music hall of fame where performances by prominent orchestras are performed. In addition, the Tokyo Symphony Orchestra with a franchise tie-up with Kawasaki City is based in the Musa Kawasaki Symphony Hall, including daily rehearsals, and creates and transmits music art as a top runner in Japan.

Muza Kawasaki Symphony Hall provides excellent acoustic environment that maximizes the potential of the performer and welcomes all those who come to the hall with full heart. In addition, as a representative cultural base of Kawasaki City, we will work with orchestras and musicians of various genres, aiming to become a "hall" which is a "seat" of dissemination and exchange of music culture.

Shop / Place name

Muza Kawasaki Symphony Hall

Address

Kamagawa prefecture Kawasaki shi Koku-ku Omiya cho 1310

TEL

044-520-0100

Parking Area

Yes (Paid) 【Number of accommodated units】 343 units 【Opening Hours】 24 Hours 【Hours and Fees】 7: 00 ~ 24: 00 (Every 15 minutes) ¥ 100, 24: 00 ~ 7: 00 (Every 60 minutes) 100

Map