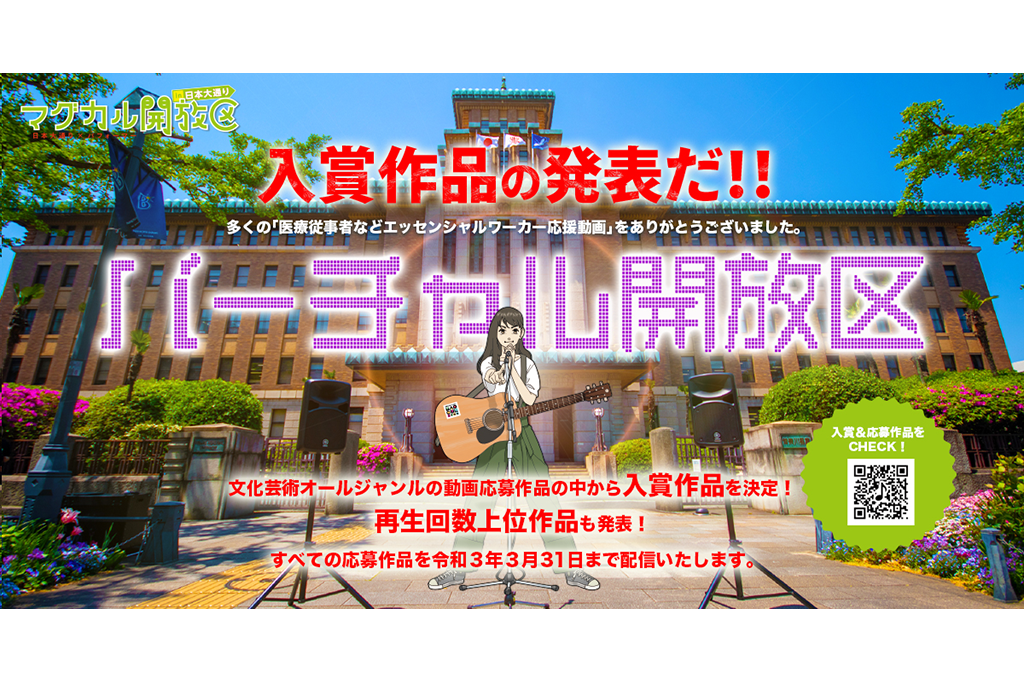 Be enchanted by the power of art!
For essential workers (*) such as healthcare workers
We have decided the award-winning works of the support video.
An effort to move the venue of the "Magical Open Area", a space where you can freely present performances such as music and dance on Nihon Boulevard in front of the prefectural office, which is currently canceled, online, and recruit and distribute videos of all genres of culture and art. Virtual Open Area" was implemented. In this "virtual open area", we solicited videos of all genres of culture and art with the theme of support and gratitude for everyone who is working to prevent the spread of new coronavirus infections, and won prizes from among 244 general video submissions. 4 works have been decided.
(*) Essential worker: A person engaged in work that is essential for social life
《1.Award-winning works》
Of the 244 submitted works, the top 20 works with the number of views up to August 31 were selected.
■ 1st place (prize money 500,000 yen) "For you to fight" / Ayumu Watabe
■ 2nd place (prize money 300,000 yen) "My own flower ~Thank you essential worker ver.~" / HANDSIGN
■ 3rd place (100,000 yen prize) "Amabie" / Team "Amabie Daisakusen"
■ Prefectural Citizen's Award (prize money 100,000 yen) "Ruriiro no Chikyuu" / Kanagawa Prefectural Shonan High School Chorus Club
《2. Jury Award Works (excluding award-winning works)》
The judges have decided which of the 244 submitted works will be recommended (no prize money).
■ Judging Committee Award
"Social Disdance" / Shu Maeda
"Sand Art 'Thank You Flower'" / Masako Iimen
"Finlandia" / Musica Yokohama-ma
《3. Winning work website》
https://kaihouku.pref.kanagawa.jp/
<<4. Judging Committee)>>
・ (Yes) I.TOON Representative Yuichi Ito (Professor, Department of Animation, Graduate School of Film and New Media, Tokyo University of the Arts)
・ Jupiter Telecommunications Co., Ltd. Regional Media Headquarters Producer Yoichi Tajima
・Kazuyuki Kajiya, Director of Performing Arts, Kanagawa Prefectural International Culture and Tourism Bureau
[Reference] Implementation overview of "Virtual Open Zone"
(1) Recruitment period
From Monday, June 1, 2020 to Friday, July 31, 2020
(2) Recruitment conditions
・ Regardless of whether you are a professional or an amateur, regardless of where you live.
・ The video must be in the field of culture and art with the theme of support and gratitude for essential workers
・ In principle, the video should be within 5 minutes
・ Expressing and displaying "Kanagawa 'Virtual Open Zone'" in a video
・ The video must avoid the "three Cs"
(3) Total number of applications
255 (general videos: 244, guest videos: 11…*2)
*2 General videos: Works to be judged
Guest video: Supporting works from artists who agree with the purpose of the project
(Mr. Michiko Godai (Yokohama Yumeza), Mr. Mari Kumamoto (Ambassador Magcal), Kanagawa Philharmonic Orchestra, etc.)
(4) Play count measurement period
From application reception until 18:00 on Monday, August 31
In addition, the video is being distributed until March 31, 2021 (Wednesday), so please take a look.