Kanagawa Prefectural Hall Gallery "Art Complex" Series Archive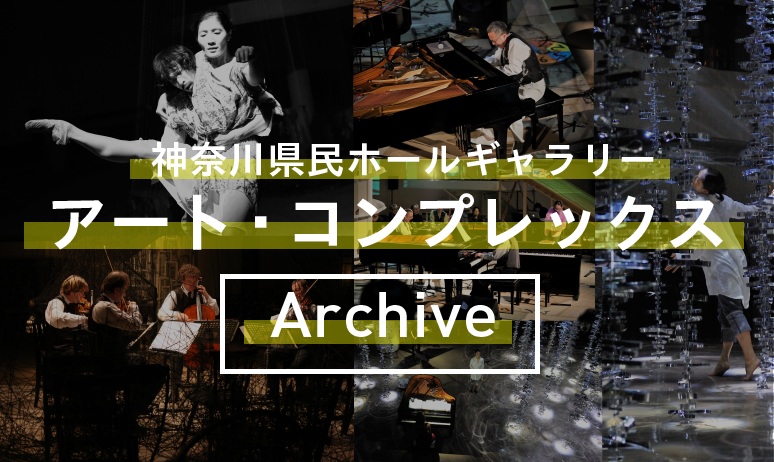 In recent years, the boundaries of performing arts = black box and art = white cube have been surpassed, and artistic expression is expanding into various everyday spaces such as cafes in town, trains, and streets. I think it's become more familiar that the venue itself becomes a crossover performance site. Here, we will focus on the Kanagawa Kenmin Hall Gallery 's "Art Complex" series, which has been using cutting-edge techniques since 2007 under the supervision of composer and pianist Satoshi Ichiyanagi. .

If the synthesis by the director is a general methodology in the performing arts, this art complex places more emphasis on the uniqueness of each individual and aims to be "a place where various fields of expression collide while being independent of each other." It is said that there is. I tried to summarize the history of the "Art Complex" series from 2007.
History of Art Complex 2007



Chiharu Shiota Exhibition "From Silence" × Constanta Macras & Dokey Park "Silence"

A new work by Berlin-based choreographer Constanza Macras and performances by Yoko Tawada and Aki Takase will be held in the exhibition space of Chiharu Shiota, an artist based in Germany who is active all over the world.




Left: Chiharu Shiota Exhibition "From Silence" Center: Constanta Macras & Dorky Park Right: Yoko Tawada x Aki Takase DUO: Between Sounds, Demon of Words Photo: Yasushi Nishimura





Kento Koganezawa Exhibition "Between That and This" ×
Produced by Toshi Ichiyanagi "Music × Noh × Video Co-starring"|Produced by Masahiro Miwa "Anthem of Love - 4-bit Gamelan"

Filmmaker Kento Koganezawa joins the producers of composers Toshi Ichiyanagi and Masahiro Miwa for two nights of concerts. The first night was produced by Ichiyanagi, a multi-faceted collaboration of Japanese & Western, music & dance & visual art. The second night was produced by Masahiro Miwa, who created an original gamelan world by layering Kento Koganezawa's art on the performance of "Ai no Sanka - 4 Bit Gamelan."




Left: Kento Koganezawa 《Graffiti of Speed》 Center: Music x Noh x Video competition Right: Anthem of love - 4-bit Gamelan Photo: Misaki Sato





"Daily/Out of Place" Exhibition × Yasuyuki Shudo and Megumi Nakamura "The Garden of Time"

Yasuyuki Shudo, who is active worldwide as a top dancer, was inspired by the installation work of Keiko Sato, an artist living in the Netherlands, and realized the concept through repeated dialogue with the artist himself. For the choreography, Megumi Nakamura, who has collaborated with Kilian and other up-and-coming artists, created a new work that fuses dance and art.




Left: Keiko Sato "Metamorphosis" Photo: Yuichiro Tanaka Center/Right: Garden of Time Photo: matron



Taro Izumi Exhibition "Kneading" × Toshi Ichiyanagi, Yosuke Yamashita, Junju Arima Super Session

Toshi Ichiyanagi, who has continued to lead the music world at the forefront even after returning to Japan in the 1950s; Yosuke Yamashita, who is widely active both in Japan and overseas, not only in the world of jazz, but also performing with orchestras and artists from around the world; and the world of live electronics. Musicians who are active on the front line, such as Sumitsuhisa Arima, who is a leading figure in the world, will enthusiastically perform masterpieces such as Gershwin's <Rhapsody in Blue> and <Prelude> in the video world of Taro Izumi, an up-and-coming artist. .




Left: Taro Izumi, Cultivation of Shoe Soles Center/Right: Ichiyanagi/Yamashita/Arima Super Session Photo: Satoshi Aoyagi




"Daily life / There are reasons" × John Cage's 100th anniversary "Time and space in conflict"

Focusing on John Cage, who celebrated his 100th birthday, he developed a performance with the theme of "uncertainty". Set in an installation by Kazue Taguchi, a New York-based artist whose work is based in Profound Light, Toshi Ichiyanagi, who is well known for his friendship with Cage, served as the navigator, and Akiko Kitamura performed a performance.




Left: Kazue Taguchi << reum/stream >> Center/Right: Time and space competing Photo: Yuichiro Tanaka




"Nichijou / Off the Record" × Tsumugine Performance "Saku"

Set in the "Nichijou/Off the Record Exhibition" by five up-and-coming artists, Shinya Aota, Yukako Ando, Toshiyuki Kajioka, Masaharu Sato, and Ryota Yagi, the music group "Tsumugine" led by Yasuno Miyauchi is drawn from the concept of "off the record". The performance is based on the theme of the word "Saku", which means "new moon".




Left: Everyday Life/Off-the-Record Exhibition Installation view Photo: Gosuke Sugiyama (Gottingham Inc.) Center/Right: Tsumugine Performance "Saku"