Theater / Dance musics
2018.09.14
Impressionist collaboration at the Monet & Debussy Museum
Yokohama Museum of Art 
(Please note that this page was created using Google's automatic translation service and understand that because of this, its translation may not necessarily be accurate.)
Go, see, feel the world of art
File.5 Concert at the Yokohama Museum of Art- Meet Monet and Debussy Impressionists-
(Miyuki Inoue / Copywriter)
"Monet 100 years from now" being held at the Yokohama Museum of Art. One Friday, when the exhibition was near the end, a wonderful performance with piano and mime was performed at the museum after closing.
(C) Akira
Co-hosted by the Yokohama Minatomirai Hall, which celebrated its 20th anniversary this year, and the Yokohama Museum of Art, appearances are Yuko Mifune (piano) and Philip Emar (performance). The "Piano Salon Concert" Nostalgia Paris "" was held in Matinee at the Yokohama Minatomirai Hall on the same day, and it was a stylish stage with the theme of "Paris cabaret" 100 years ago. It takes.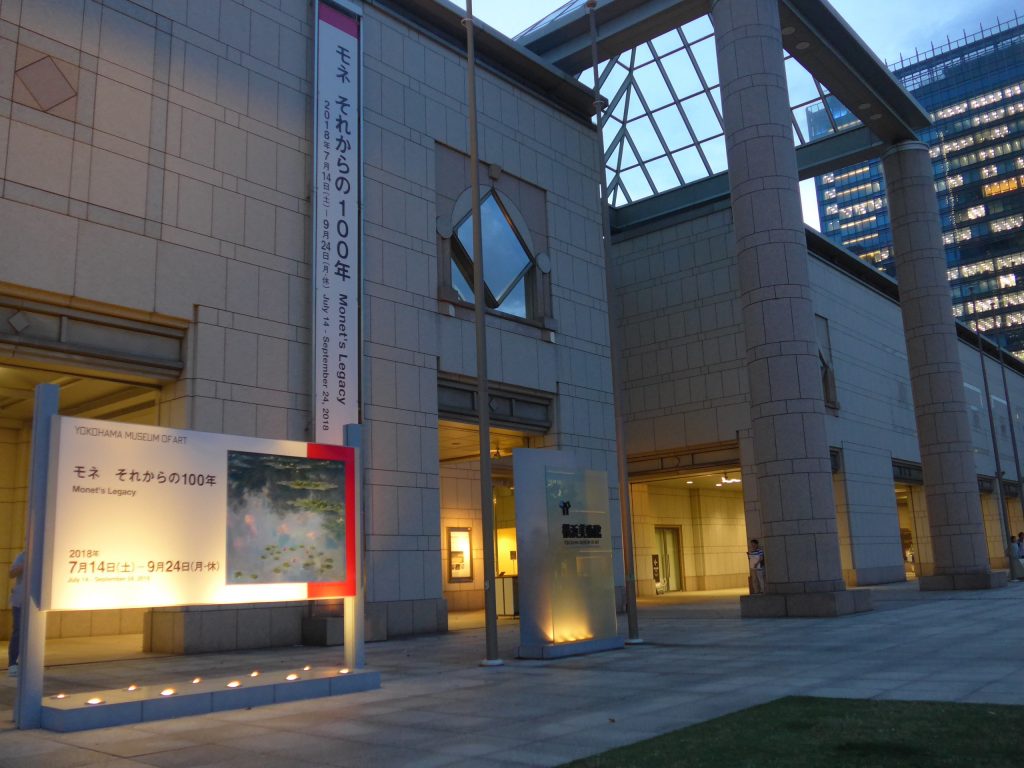 The evening section, which was planned in cooperation with the "Monet 100 Years Later" exhibition, had a program based on Gugu and Impressionism, as can be seen from the subtitle "Meet Monet and Debussy Two Impressionists."
The museum, wrapped in dusk, has a slightly moist atmosphere that is slightly different from the appearance of daytime, which is also attractive.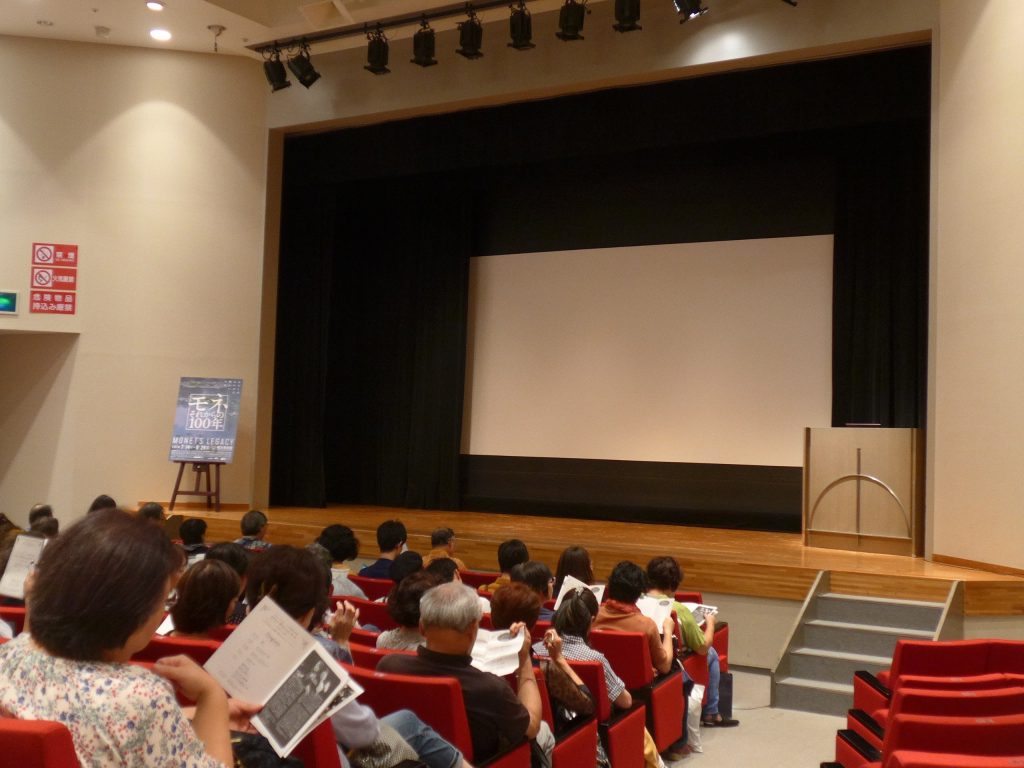 Prior to the concert, we first attended a mini-lecture by Chief Curator Shintaro Matsunaga in the lecture room.
The feature of this exhibition is that Monet's 25 paintings and 66 works by 26 later generations were exhibited together, and some of them were "not directly influenced by Monet." It seems that there are also works by the writer. This is due to the intention that Monet's innovativeness and universality may emerge more by collecting works that seem to be objectively subtle to Monet, regardless of the artist's intention. . The perspective of the museum curator is somewhat interesting. You have to visit again during the museum opening hours and look for "Monet-like" in the works of contemporary artists!
When the lecture is over and the venue is ready, move to the Grand Gallery.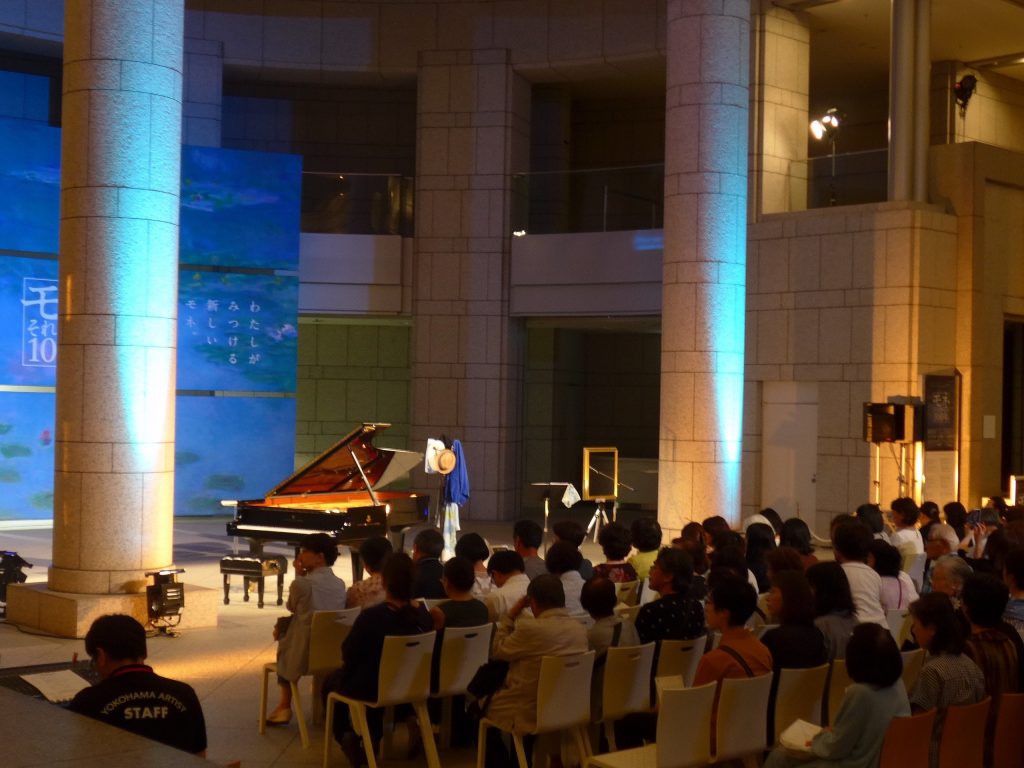 At night, the gallery is illuminated by blue light and has a mysterious atmosphere like water, unlike the daytime when natural light is full.
threeFuna appears in a blue dress, and Emar appears in white overalls in the image of light. With debussy at the center, piano and pantomime performances were performed with French-style Esprit.
He played Monet to Debussy, read "I'm Monet" on Schumann's "Treumerei", and performed his own poems. Along with beautiful melodies, you will be fascinated by Emar's variety.
Debussy himself hated being called the "Impressionist", but thought that music with a floating feeling would go well with Monet's paintings.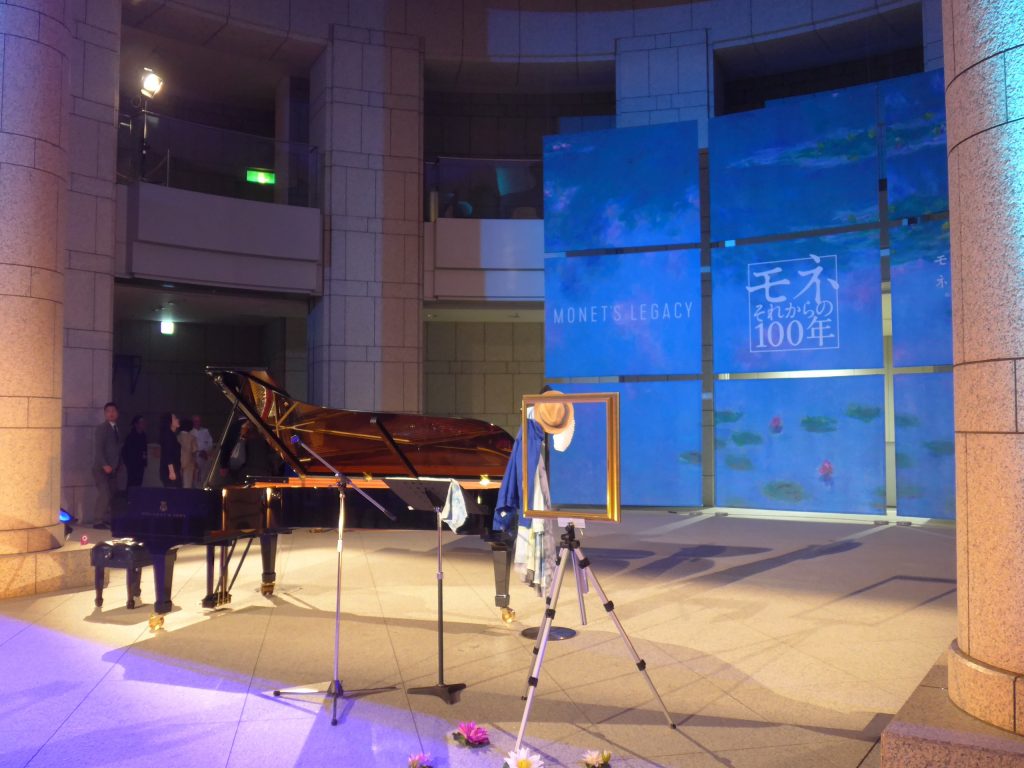 The one-hour stage ended in no time.
Encore is Edith Piaf's "L'hymne a l'amour". Listening to Mifune's piano and Emar's song, you will be caught in the illusion of being on a street corner in Paris. Is it Monet's work, an early work such as "Capsine Boulevard"?
Here again, I feel like I found another Monet.
《Monet then 100 years》
Dates: Until September 24, 2018 (Monday, holiday)
Venue: Yokohama Museum of Art
Closed: Thursday
Opening hours: 10: 00-18: 00 * September 14 (Fri), 15 (Sat), 21 (Fri), 22 (Sat) until 20:30
(Admission until 30 minutes before closing)
Yokohama Minato Mirai Hall is a music hall located in the Minato Mirai district, Nishi Ward, Yokohama City.
Since its opening in 1998, not only Yokohama citizens, but also artists from Japan and abroad have been known as "Concert Halls with a View of the Sea". The director is the composer Shinichiro Ikebe .
In a large hall (2020 seats) equipped with a large pipe organ, we regularly hold organ concerts that can be enjoyed for $ 1 or ¥ 100.A small hall (440 seats) next to the wood deck roof garden is ideal for chamber music concerts. Both large and small halls hold concerts on a daily basis.
Address

2-3-6 Minatomirai, Nishi-ku, Yokohama-shi, Kanagawa

Yokohama Minatomirai Hall

TEL

045-682-2000 (Ticket Center)

Business Hour

(Telephone reservation) 10: 00-17: 00, (Window) 11: 00-19: 00 [Closed days] Irregular holidays * For details, please check the website.

Parking Area

"Minato Mirai Public Parking" discount coupons are sold (normally ¥ 540 / 1h), discount coupons: general ¥ 450 / 1h, Miraist Club members ¥ 350 / 1h

Total number of seats

Large hall (2020 seats), small hall (440 seats)
Map
Yokohama Museum of Art opened to the public on November 3, 1989. It is one of the largest art institutions in Japan. With its iconic architecture, featuring the expansive space of the Grand Gallery, the museum is made up of a total of seven gallery spaces, as well as an Art Information and Media Center that holds over 110,000 art-related books, ateliers hosting a wide range of workshops for children and adults, and many other facilities.
Located in the international seaport city of Yokohama, the museum focuses on collecting and showing modern and contemporary art created since the late 19th century, when the port of Yokohama opened, alongside many special exhibitions.
【Photo】
The outward appearance:KASAGI Yasuyuki / Grand gallery:KASAGI Yasuyuki / Exhibition room:TANAKA Yuichiro
Address

3-4-1 Minatomirai, Nishi-ku, Yokohama-shi, Kanagawa

TEL

045-221-0300

Business Hour

10: 00-18: 00 (admission until 17:30) Closed on Thursdays and New Year's holidays
Map