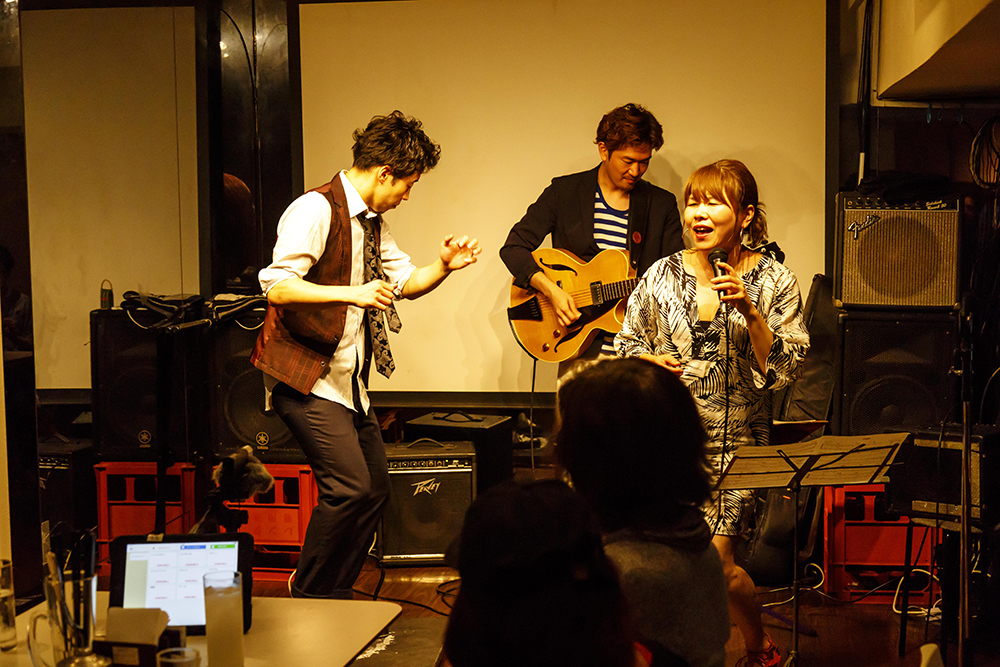 Every Wednesday night "Magcarnight" authentic entertainment with liquor ♡
On Wednesday, June 13, 2018, I went to the 10th Magnca Night entertainment entertainment held in the Kannai area! To the venue while exciting about what kind of live can be seen! Before that, first from the introduction of "Magcarnite".
~ "Magcal" · "Magcarnite" is ~

■ Magical (MAGCUL)
Abbreviation of "magnet · culture". Efforts to attract people by the appeal of cultural art, promoted by Kanagawa Prefecture, and to create crowds of communities.
■ Magcarnite
Efforts to provide entertainment space that you can enjoy easily while eating and drinking. You can enjoy various genres of entertainment on weekly weekends such as Standing Dance Comedy (※) and Jazz essential to the Yokohama music scene, comedy / control, pantomime and more.
* Standing on the stage with a microphone on the stage, showing off various topics with social satire while taking action, talk art that is becoming mainstream in Europe and the United States.
【Outline of McGullnight holding】
[Venue] Yokohama 3 S
[Holding date] Every Wednesday · 2 times each day (19: 30 ~ / 21: 00 ~ no replacement)
[Cast] Japan Standup Comedy Association, YOKOHAMA JAZZ EGGS, Yoshimoto Creative Agency
[Price] Free admission (payment system / eating and drinking extra · One drink system)
※ 18: 00 ~ 19: 00, half drink fee (¥ 250) (until the end of August, Heisei 30)
I arrived at "Yokohama three Ses" at the venue just 19: 30 of the opening. Lovely music is already flowing from the basement

"http://mirea-web.jp/wp-content/uploads/2018/06/MagculNight_MG_5822-1024x822.jpg" alt = "" width = "1024" height = "822" />

On the wall of the stairs going to the venue, the colored paper of those who appeared on the live celebrated!
Wednesday, June 13 (Wednesday) is the performance day of "JAZZ TAP TRIO (Jazz Tap Trio)". Cast performers are Fumiyama Shiori (vocals), Inaoka Goro (guitar), Mr. Danzy (Tampon Dance). ※ Fukuyama-san and Inagaki are members of "YOKOHAMA JAZZ EGGS".

First of all, it is surprising though the breath of three performers is perfect! It was fun to be performed with Aki's breath, and it is transmitted to audience side well because the stage is close. The whole venue became one, it was a smile-filled at home live.
/mirea-web.jp/wp-content/uploads/2018/07/MagculNight_MG_5873-1024x683.jpg "alt =" "width =" 1024 "height =" 683 "/>
Anyway, it is attractive to enjoy live while drinking. Tiredness also blows away ☆
The set list of live from 19:30 is Carroll King's "I Feel The Earth Move" and Antonio Carlos Jobim's "ONE   NOTE SAMBA "etc. There are songs that everyone has heard, and everyone in the venue also has a norinori
Jazz and tap dance, there is not much opportunity to see collaborationHowever, the individuality of each other blends perfectly and it has been drawn into nature to its wonderful performance. Mr. Teruyu not only tap dance, but taking the whole body percussion, taking the rhythm, sometimes descending to the audience, and ringing the chair and the shelf at the hall. I was surprised when I came in front of my eyes! !
I was able to see the full-fledged entertainment of three people in the US, and I also feel the fun looks and sweat that is felt for each, and the live is still nice and sake goes on further (laugh).
Live is a "pay" system. Temporary payment is a system that pays out for the performers as much as you think you enjoyed watching the performance, and it is done in a street performance etc. Fukuyama of the vocal after the stage end this time passed the venue with a hat. As much as I could also enjoy "feeling" in the hut ♡ Thank you for a wonderful time!
【Cast Performer Interview】
After the live concert, I interviewed about performance etc in "Magcarnight". TiredNonetheless, enjoy the raw voice of "JAZZ TAP TRIO (Jazz Tap Trio)" which responded to the smiley and pleasantly throughout the whole time!


From left, Fumiyama Shiori (vocal), Inaoka Goro (guitar), Dansei (tap dance).
■ How was the performance at "Magcarnite"?
Fukuyama: In "Magcarmunit", there are many customers who do not usually listen to jazz, and those people feel free to drop in for work and enjoy themselves. We also have a different and nice tension from the time we perform at the jazz club and we are performing very fun.
■ How was it that you were session with 3 people this time?
Everyone: It was a lot of fun! !
Fukuyama: Session of jazz and tap dance is unusual, and Mr. Tamiya excited the atmosphere, it was a lot of fun and a wonderful session!
■ How was the audience reaction?
Fukuyama: The stage and the audience seats are close, the venue was more exciting with Mr. Dusay's movements performance, it was a very nice atmosphere.
Inaka: During the performance, the facial expressions of the customers can be seen, and the reaction is transmitted directly, so it is good.
Kyusei: I am expressing the integrated entertainment that is integrated with music at "body percussion" using not only tap dance but whole body, so I am happy that customers will get excited with my own performance.
■ What kind of activity do you want to do in the future "Magcarnite"?
Fukuyama: "McCartney" includes "YOKOHAMA JAZZ EGGS ", there are groups with various variations such as the combination of musical instruments and the number of people, so I think that you can enjoy it in various patterns no matter when the customer comes in.
Inaoka: I think that 'Magcarnight' is a valuable place to sessions in different fields beyond fences, so we will continue to participate in the future.
Even though I was interested, it seemed that the threshold was somewhat high, and I felt like jazz. If there is a place where you can enjoy jazz freely like "Magcarnight", the appeal of jazz will spread to more people. I was cheerful with this wonderful music and dance this evening.
In "Magcarnight", in addition to jazz, entertainment of various genres such as comedy and standard comedy can be enjoyed on a weekly basis. Why do not you visit the venue next Wednesday? (Please confirm the performance of each round here .)