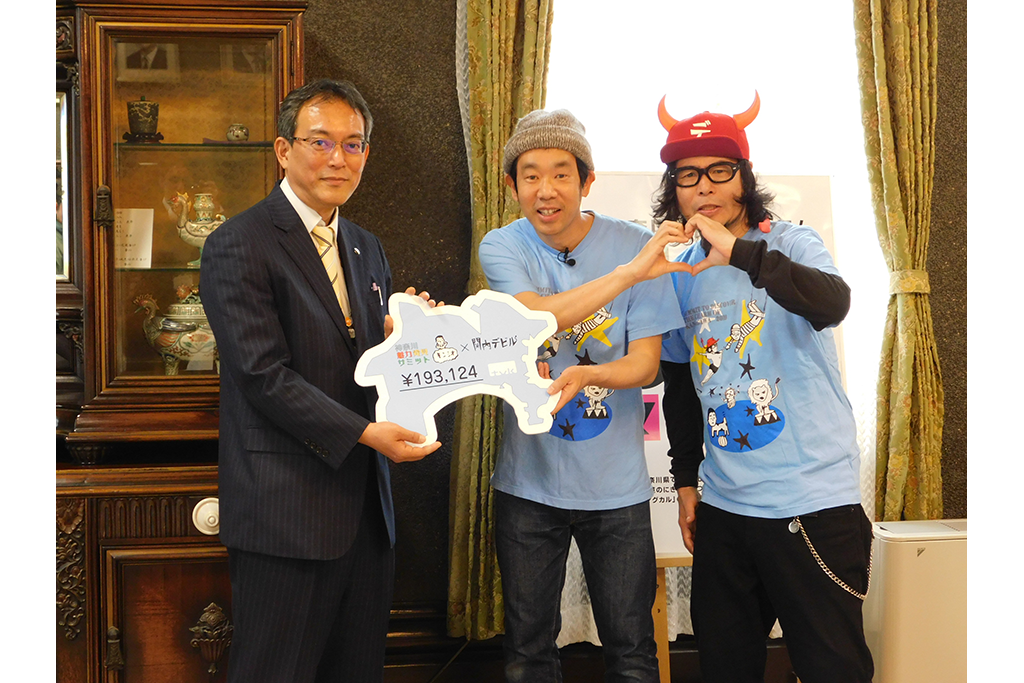 We have received a cultural activity support fund from everyone!
(Please note that this page was created using Google's automatic translation service and understand that because of this, its translation may not necessarily be accurate.)
On March 10th (Tuesday), Kin Shiotani (program: "Kinshio" performer) and Eiji Oba (program: "Kannai Devil" performer) visited Kanagawa Prefectural Government from tvk. We received a donation of "193,124 yen" from crowdfunding for the event "Kanagawa Charm Discovery Summit" held at the Kanagawa Kenmin Hall in September last year to support the prefecture's cultural activities. The prefecture is deeply grateful to the people who supported us, the performers of the tvk program, and the people involved, and we will make effective use of the support money we received for various cultural activities in the future. I'm really thankful to you.
The catalog presentation ceremony will be broadcast on TV Kanagawa's "Kinshio" and "Kannai Devil"!
http://www.tvk-yokohama.com/company/release/200311.pdf
◎ Broadcast date in Kinshio: 11:00 to 11:30 by Monday, April 27
◎ Broadcast date at Kannai Devil: From 11:30 to 0:00 on April 1 (Wednesday)
Click here for [Kinshio Program HP] !!
Click here for [Kannai Devil Program HP] !!