Reiwa 4 Kanagawa Prefecture Magcal Deployment Promotion Subsidy We are looking for eligible projects!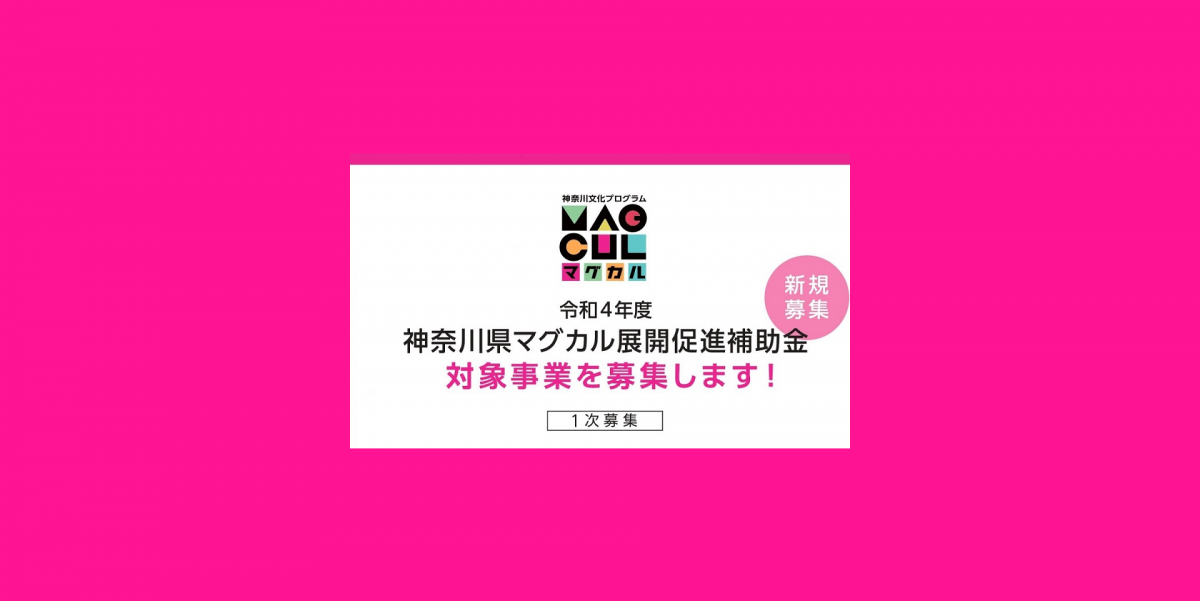 In the prefecture, in order to promote the development of "Magcal", we will establish a subsidy to grant for the expenses required for new projects of cultural arts conducted by private organizations and start recruiting.
* What is Magcal?
In the prefecture, magnet culture, which attracts people with the charm of culture and art and creates the liveliness of the area.
We are promoting the "Magcal" initiative for short.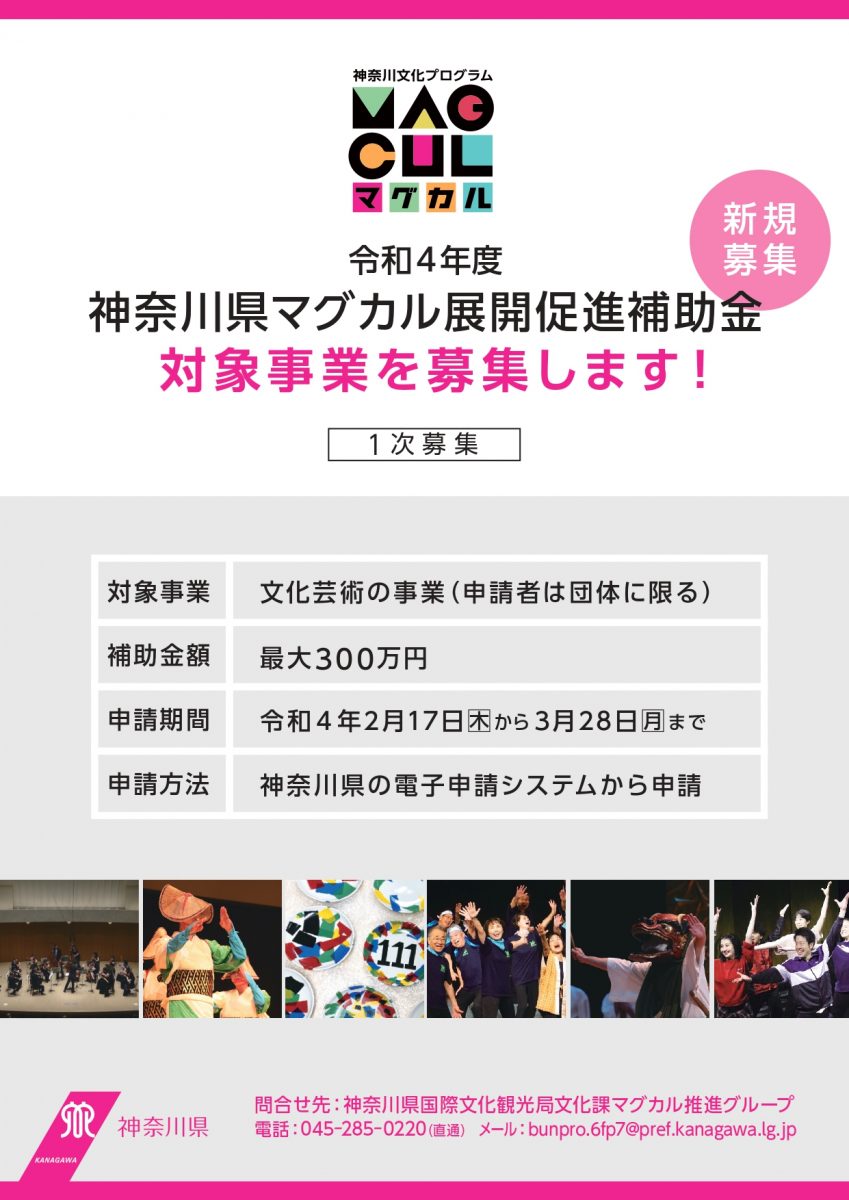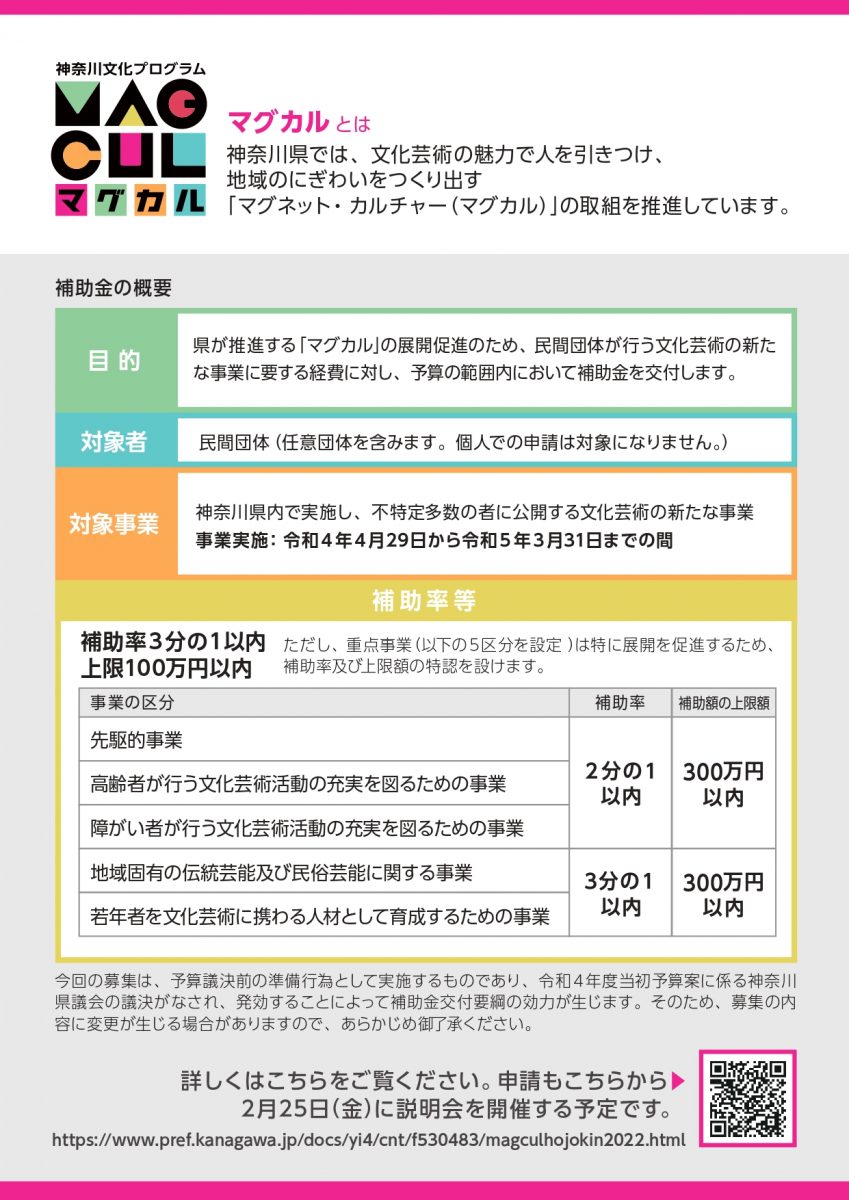 1 Outline of subsidy
[Name] Kanagawa Prefecture Magcal Deployment Promotion Subsidy
[Target] Private organizations (including voluntary organizations)
[Target business] A new business of culture and art that will be implemented in the prefecture and open to the general public.
[Project implementation] From April 29, 4th year of Reiwa to March 31st, 5th year of Reiwa
[Subsidy rate, etc.] Normal business: Subsidy rate 1/3, maximum amount 1 million yen
Priority business: Pioneering business, senior / disabled person cooperation business Subsidy rate 1/2, maximum amount 3 million yen
Traditional performing arts business, youth human resources development business Subsidy rate 1/3, maximum amount 3 million yen
2 Recruitment period / application method
[Recruitment period] From Thursday, February 17th to Monday, March 28th
[Application method] e-kanagawa electronic application
[Details] -When the recruitment starts, the electronic application page will be posted at this URL and the recruitment guidelines will be announced.
・ Inquiries regarding recruitment: Culture Division Magcal Promotion Group Telephone 045-285-0220
・ This recruitment is the first recruitment. We are planning to make a second recruitment after June, but depending on the budget execution status,
It may not be implemented.
3 Information session
We will hold a briefing session for groups considering application.
(This will be the last event for the first recruitment in the 4th year of Reiwa.)
[Date and time] From 19:00 on Tuesday, March 22
[Location] Online
[How to participate] Advance application is required
* Please check from this page .
4 Others
This recruitment is to be carried out as a preparatory act before the budget vote, and the Kanagawa Prefectural Assembly voted on the initial budget plan for the 4th year of Reiwa.
When it comes into effect, the subsidy grant guidelines will take effect.
Therefore, please note that the content of the recruitment may change.
* Reference: Kanagawa Prefecture Cultural Arts Activity Group Business Subsidy
We are also looking for subsidies for groups that have an address or activity base in the prefecture and are recognized as continuously contributing to the promotion of culture and art in the prefecture. Please also check.
https://www.pref.kanagawa.jp/docs/yi4/hojyokin.html