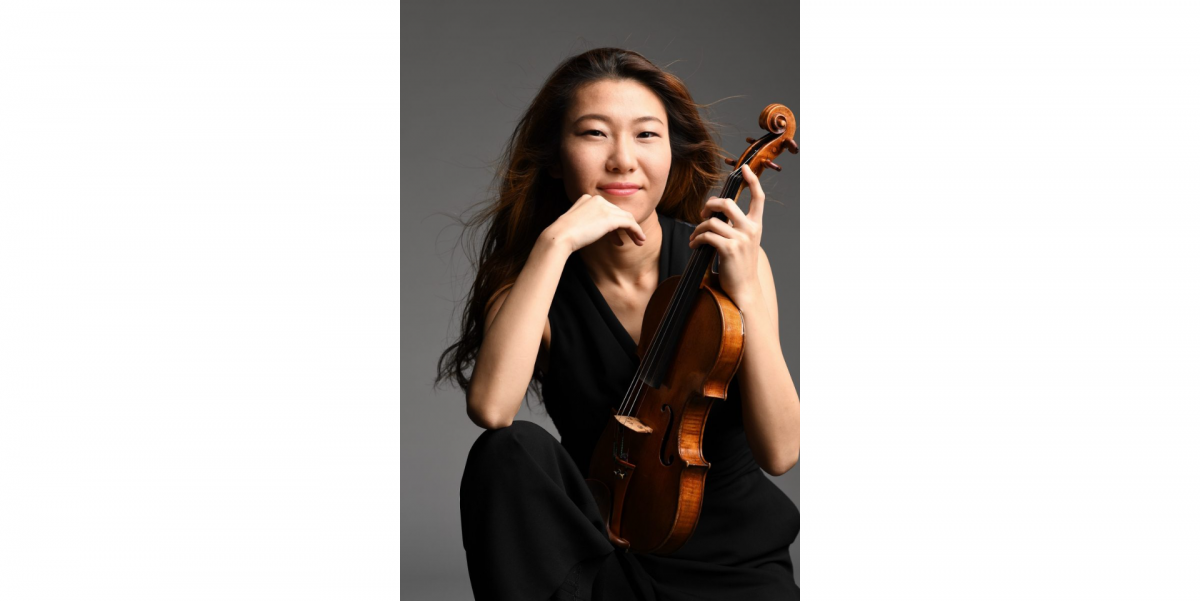 Kanagawa Prefectural Music Hall is Japan's first full-fledged music hall as a public facility with a history of 68 years.
The 17th Fresh Concert For Future, a collaboration between the Kanagawa Philharmonic Orchestra and young talented musicians, will be held on January 9th in the new year. This time, we will have violinist Asako Fukuda, who won first prize at the Tokyo Music Competition, which is said to be the gateway to success for young concerts, and conductor Sakairi, who has appeared like a rising star and taken the classical music world by storm. Two musicians, Mr. Kenshiro Sakairi, will be fascinated by the wonderful stage with the Kanagawa Philharmonic Orchestra. Celebrate the New Year with a burst of youth and talent.
《Top image: Asako Fukuda Photo: Shigeto Imura》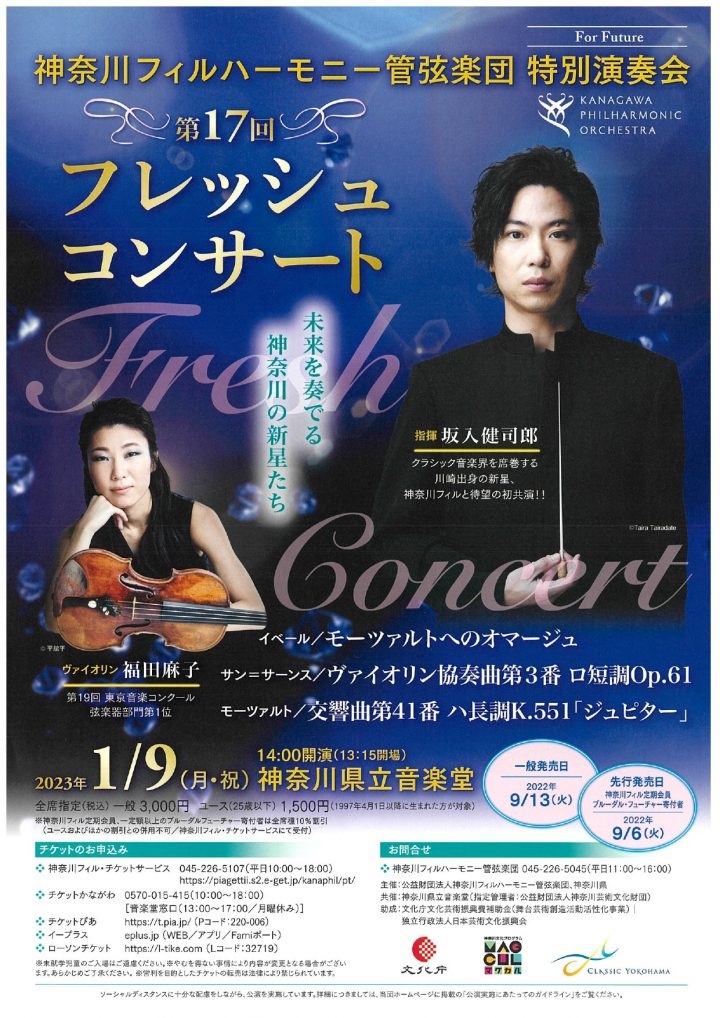 This time, we interviewed violinist Asako Fukuda.
You had a very nice talk.
Please enjoy it until the end!
First of all, please tell us what made you choose a career as a violinist.
According to my mother, my sister and brother had learned and played the violin first, so naturally I said, "I want to try it too!" I chose to become a violinist because I felt that I was good at playing the violin, and because my family was all involved in music, it was natural for me to continue playing instruments and aspire to become a performer. was.
Please tell us about your family.
Originally, my grandfather was a bow maker for stringed instruments, and I was born to my father, who inherited it, and my mother, who studied vocal music. Three brothers, all three are still active as violinists.
Wow, that's a thoroughbred! Are there any episodes related to music?
As an episode, when I practice, my mother accompanies me, and when I was a child, I often performed with 3 people at ceremonial occasions. Recently, I had the opportunity to perform a duo concert with my older brother several times. When we play together, it's good that we can talk frankly without hiding anything because we're brothers, but on the other hand, our expressions are too straightforward, and we sometimes get into fights over our performance expressions. My brother and I were studying under the same teacher and taking part in competitions at the same time, so we listened to each other and gave each other advice.
I am still far from my ideal performance, but my father is very picky about the tone, and I think that my strong sense of the quality of the sound is influenced by him.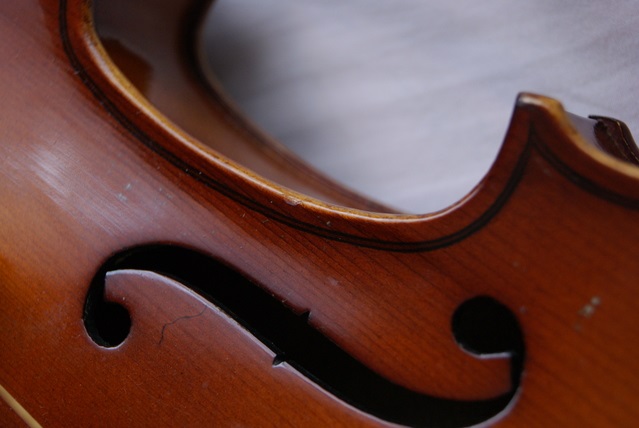 Please tell us what kind of violinist you want to be.
In my opinion, an attractive performer is an attractive person. There are as many great performers as there are stars, but you can't be someone other than yourself, and other people can't be you. I'm here. I want to accumulate the "something" that is born while facing myself and music.
Have you ever felt discouraged? How did you get over that time?
Witnessing an overwhelming and wonderful performance can make you feel a kind of hopelessness. But music is not meant to be compared with others, and I try to focus on what I can do each time.
What is the unique charm of violinist Asako?
Many people say that the delicate expressions are attractive. Also, since we are using instruments from the 1700s, I think it is characterized by the deep tones unique to old instruments.
Performed with the Kanagawa Philharmonic Orchestra at the historic Kanagawa Prefectural Music Hall. What are your thoughts?
I was born and raised in Kanagawa Prefecture, so I am very happy and honored to be able to play at the Kanagawa Prefectural Music Hall and to perform with the Kanagawa Philharmonic Orchestra!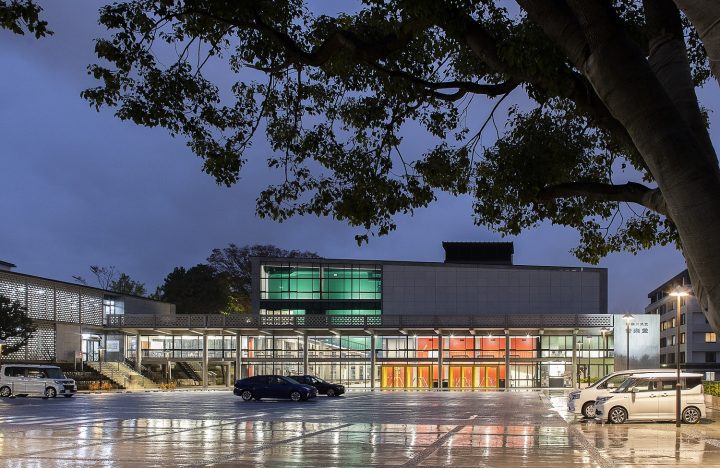 Please tell us about the highlights of this time's listening.
The powerful and determined 1st movement, the serene 2nd movement, the dramatic 3rd movement, all movements are very attractive. By all means, I would like you to listen to the various tones of the violin.
What is music for Asako?
It is a tool for contemporary musicians to recreate the great works of the great composers of the past, as well as a tool for self-dialogue.
Is there anything you would like to say to the juniors who want to become musicians?
I myself am still searching for a way to be a musician every day, but I would like to perform music by taking a comprehensive and multifaceted approach to music. I think it's important to think about how you want to play and get involved with society!
Finally, I think that this concert will be a wonderful concert suitable for the beginning of the new year!
Ladies and gentlemen, please come and visit us!
Through the interview, I got the impression that he has a finely honed musical sensibility and is also very intelligent and intelligent!
"Music is a tool for self-dialogue" Hmmm. deep···
I am very much looking forward to seeing what kind of tones the music left behind by the great musicians of the past will be created with Asako's technique and sensibility.
A world that has overcome many difficulties welcomes the new year with a desire for peace. There is no doubt that you will be able to hear a performance suitable for welcoming 2023.
Ladies and gentlemen, please look forward to it!
Kanagawa Philharmonic Orchestra "The 17th Fresh Concert For Future"

[Date and time] January 9, 2023 (Monday) 14:00 start
[Main Performance] Ibert / Homage to Mozart
Saint-Saëns / Violin Concerto No. 3 in B minor, Op.61
Mozart / Symphony No. 41 in C major, K.551 "Jupiter"
[Price] General 3,000 yen Youth (under 25) 1,500 yen
[Grant] Agency for Cultural Affairs Cultural Arts Promotion Subsidy (performing arts creative activity revitalization project) | Japan Arts Council