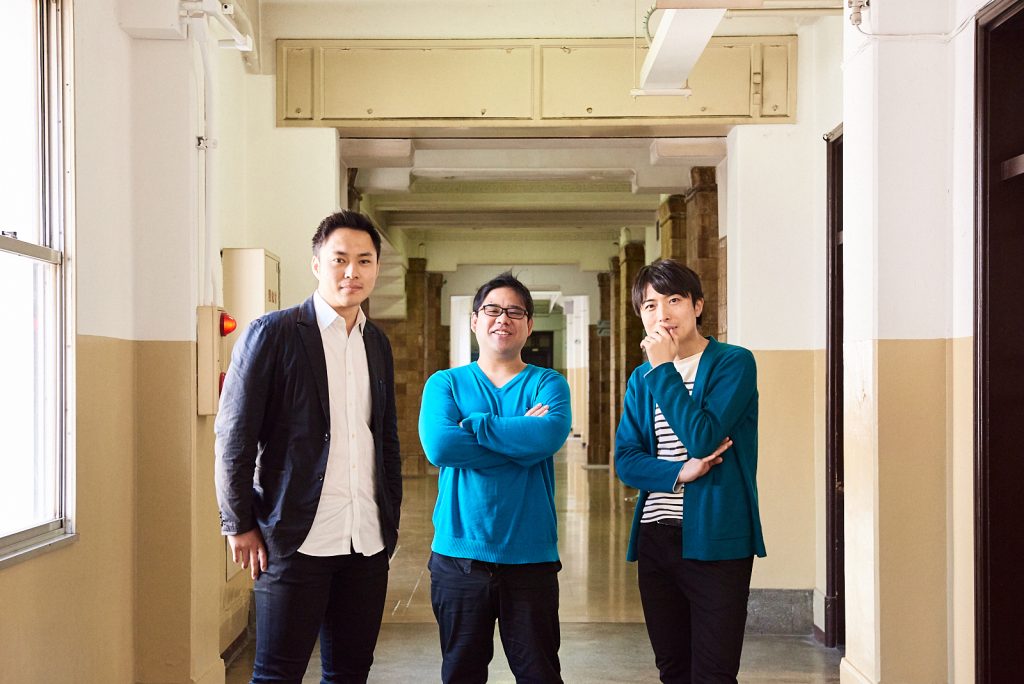 Theater and dance
2019.03.12
People who watch and participate are also fun! "Kamosu '19" Roundtable just before the opening
Kanagawa Kamome "short play" Festival 2019 (commonly known as "Kamosu '19") that fosters the next generation of creative theater people and sends out a new play called "short play" for 20 minutes.
While the main event of the Festival is approaching, Ms. Matsumoto, who won last year's victory in the "Pushing Main Store", Ms. Nakahito Shizuku, who turned from a judge in last year to a challenger (a guest), participated in a theater company last year This year, we have three members, Mr. Kunihiko Onodera, who wrote the best program for the drama competition, and we also asked how to enjoy the festival and the enthusiasm for the main battle.
Please tell me how you became interested in theater
Nakabayashi I noticed that when I was 5 years old I played hook captain of "Peter Pan" at a play club. The real world is not only interesting, so the world of "Peter Pan" is absolutely interesting. I thought to the children, "Why can't we go to the world of Peter Pan?", And the means of going there was theater. Because theater is an overwhelming fictional world, you can also become a different self, know the different world, and meet your own emotions you have never met before. And customers can also experience together not just watching. I think that is the magic of the theater space.

Matsumoto: I met theater at a high school third grader's cultural festival, and I majored in theater at university, thinking that it was "this." The number of plays can be seen in a year compared to movies and books. It is possible to watch more than a thousand films a year, but two days a day is the limit no matter how hard you set the stage. That's why that one stage is also a maker for customersIt will be a very valuable opportunity. It's analog and very inefficient, but I feel that there is something in the theater space that can not be transmitted unless I go there and share the time.
I think it is interesting that Onodera Theater can do "I do not know why". Because the drama I write is sloppy, I sometimes say "I don't know what I'm saying" on the scene, but the play (laughs) will do it.
Where do you find the fun of short dramas?
Multiple staged event a short theater as Nakayashiki duck Fes, I think that it place are trained most. If you have two hours, you can squeeze in laughter, tears, and inspiring anything, but in 20 minutes, your core part, "What do you want to do most right now?" Will become clear. What do you think of as "theatre" and how do you want to meet customers? Also, I am excited because there are many things I can do by shortening them. I think that is the fun of short drama.
Matsumoto We tried for the first time last year on short drama. I think that's the point of ingenuity because there are things that can be transmitted within the 20-minute restriction and those that do not. We have to think about what points we will play in, and we need to think about the points we focus on in the work, and we can do something strong because we can not pack all the items or things.
Onodera I also wrote a short drama for the first time last year. Until then, I had never given me time constraints, but it fits unexpectedly (laughs). The other day, during the drama competition, I was told in the reading that other works nominated for the final screening, but I thought that I was very good while overcoming. How clumsy me compared to thatwhat. It might be better for the one who finished the package to be unable to see Ara (laughs).
Nakabayashi I am not doing that with such awareness (laughs).

At Matsumoto Kafe, you can watch the works of five groups gathered from all over the country in one day. I think that the luxury of being able to pinch and see the work that the interest of theater groups gathered from all over the country is obtained is only because there is a limit of 20 minutes.
Nakabayashi Oh so. I think that there is a pleasure for customers to see various works. I can grasp the best attraction of the theater company in a short time ... or, for us, I would not be able to grasp it (laughs). I tend to think that "I'm short because I'm short of things," but I think there is a "darkness" that just doesn't seem like that.
We participated last year, but what is the attraction of the festival?
It is about meeting various people and groups gathered from all over Matsumoto . We usually work in Tokyo, but with our own power we can not get out easily. Last year there was a theater company from Shimane Prefecture, Miyagi Prefecture, and Korea, and it is the best pleasure to meet those people.
Onodera I usually don't interact with the outside world, so I almost know what other theatrical companies are doing.It is not. When I meet occasionally, I feel like I became Urashima Taro (laughs). Even for me, a festival may be a place to learn the mode. It was also fun that the dressing room was shared and I could talk with other theater companies.

Nakayashiki I joined as a judge last year, but this time I wanted to participate purely as an artist. When you associate with other organizations, you will see your weaknesses and new aspects. Theatrical groups should also participate in the festival and do a short drama, as they will be aware of what they have to do!
Matsumoto : High school theater groups will also be participating this year. Now that high school theater is said to be really interesting, I am really looking forward to it. At the same time, we have to make a difference as a professional. As a company, I think that we have to go one step further in precision, increase in density, and improve in practice.
Nakabayashi If you look at it from a customer, there is neither a professional nor an amateur, and the age does not matter. From the actor's point of view, I think everyone is fond of theatre, and I want to deliver something to our customers.
Matsumoto I remember last year that Nakabayashi was commented that his approach to play was "It is just, but not the best." Mr. Takeshi Morihiko's screenplay was the first time last time, but then he has written down on a theater company's performance, and this is his third challenge. If you can break one shell and start a different scene than before, I agree with you.

Onodera Last year I joined as a theater company, so I was on the stage as an actor. At that time, I remember that Nakabayashi, who was the jury, told me that "Screenplay is good, I will do the production." So this time I applied for play (laughs).
Nakaya Aki, did you say that? But this is the first collaboration with Onodera, so I can't help but slip. Mr. Matsumoto has a successful experience last year, so it's a pressure.

Matsumoto Certainly, there is a little hard part (laughs). It is very impressive that last year after the theater festival, we were able to perform at the Kanagawa Prefectural Government Grand Conference Hall on the opening day of the Kanagawa Prefectural Government in May as an award-winning performance. As it was part of the GW event, I did not come to see the theater, and most of the customers who stopped by chance happened to be at a loss. However, many people stopped watching and watched that the venue was overcrowded. Such activities outside the theater gave me an opportunity to think that I would like to bring in contact with more people.
In that respect, festival is a project that is easy to visit even if you are not interested in theatrical. As various groups participate, I think that you will surely meet your favorite works!
NakayaBed ticket fee is also quite reasonable. You can see 5 groups for a whopping 1000 yen. It's 2000 yen even if you look at all the work, so this is absolutely profitable (laugh). Please come and see!
"I received a special message! 》

"Kanagawamame" Short-cut Theater "Festival"
Main battle schedule
[Public rehearsal] March 21 (Thu, congratulation)
* You can watch the practice of all works free of charge.

[Main game / A group]
1 March 22 (Fri) Opening 18:00 / Opening 18:30
2 March 24 (Sun) Opening 15:30 / Opening 16:00
Shonan Teatro ☆ Deralte (Kanagawa Prefecture) (open call for participants)
Ennuy (Tokyo) (open call for participants)
Theatrical company 120 ○ EN (Fukushima Prefecture) (open call for participants)
Koji Nakayashiki = The customer in Tokyo (Tokyo) Best play in the drama competition "Modern Lovers Adventure" written by Kunihiko Onodera
Theatrical company Hiroshi army (Nagasaki prefecture) (Play totsu x 20 minutes winner group)
[Main game / B group]
1 March 23 (Sat) Opening 13:30 / Opening 14:00
Opening on Sunday 24th November 11:30 / Opening 12:00
21g seat (Kanagawa prefecture) (open call for participants)
Yokohama Yodo Arashi High School Full-time Theater Club (Kanagawa Prefecture) (22st Century Flying Frame Winner Group)
Lusanchika (Kyoto) (open call for participants)
Morihiko Takeshige × Head Swamp Head Office (Tokyo) (previous year award winner group)
Stardust Ronlines (Hokkaido) (teaching festival champion group)
[Venue]
KAAT Kanagawa Art Theater large studio
【ticket】
tvk ticket counter TEL. 045-663-9999 (10:00 to 15:00 / weekdays only) and others

*Official site
http://kamofes.jp/
****************************************
"Special gift"
Mr. Onodera, Mr. Nakayashiki, Mr. Matsumoto gave us a sign color paper to all readers of Magcal.
You will receive a gift for one, so please apply for it!

【Application Summary】
We will present sign colored paper to 2 people by following & retweeting Magcal dot net official Twitter account "@ MAGCUL".
* Of 2 sheetsAny colored paper will hit. (Please note that you can not select colored paper.)
【Application method】
1. Follow the Magcal dot net official Twitter account "@MAGCUL".
2. From the official Twitter account, please retweet the post for the application with "# Kafes colored paper" posted during the application period below. Application is completed above.
【Application Deadline】 Until March 24 (Sun) 24:00
※ The retweet made within the above period is eligible for application.
[Lottery, winning announcement]
Winners will be notified after the campaign period via a direct message on Twitter from the Magcal.Dot official account.
Announcement of winning will be replaced by direct message of winning notification. At that time, we will check the applicant's name, present address and address, so please reply directly to the direct message.
In addition, please note that winning will be invalid if there is no reply for a certain period.
※ We will not use your personal information for any purpose other than this campaign.
【Eligibility / Conditions】
● Have a valid e-mail address.
● Follow Magal dot net official Twitter account, "@MAGCUL".
※ If you cancel the follow-up before the announcement of winning, the application and winning will be void.
● To retweet the application tweets posted from the official Twitter account within the application period.
※ Please be sure to join with your account "public". If the account is private, it is not considered as participation.
※ If you have set to reject direct message, it will not be considered as participation.
※ citation retweet will not be considered participation. Please participate in the retweet.
● Accounts that do not have a profile, user name, self-introduction, icon, etc. may not be considered as participants on Twitter specifications.
● Twitter specifications for accounts that do not frequently perform actions (tweets, retweets, likes, replies, etc.)It may not be considered as upper participation.
● After opening a Twitter account, an account that has not been verified to confirm that the email address is your account may not be considered as a participant on Twitter.
KAAT Kanagawa Arts Theater

A facility dedicated to performing arts such as theater, musicals and dance. We invite actor / director Mr. Kei Shirai to the artistic director and create and transmit excellent performing arts works such as theater, musicals and dance.

(Exterior photo) © Mori Hideo

Shop / Place name

KAAT Kanagawa Arts Theater

Address

Yamashitacho, Naka Ward, Yokohama-shi, Kanagawa Prefecture 281

TEL

045-633-6500

Map