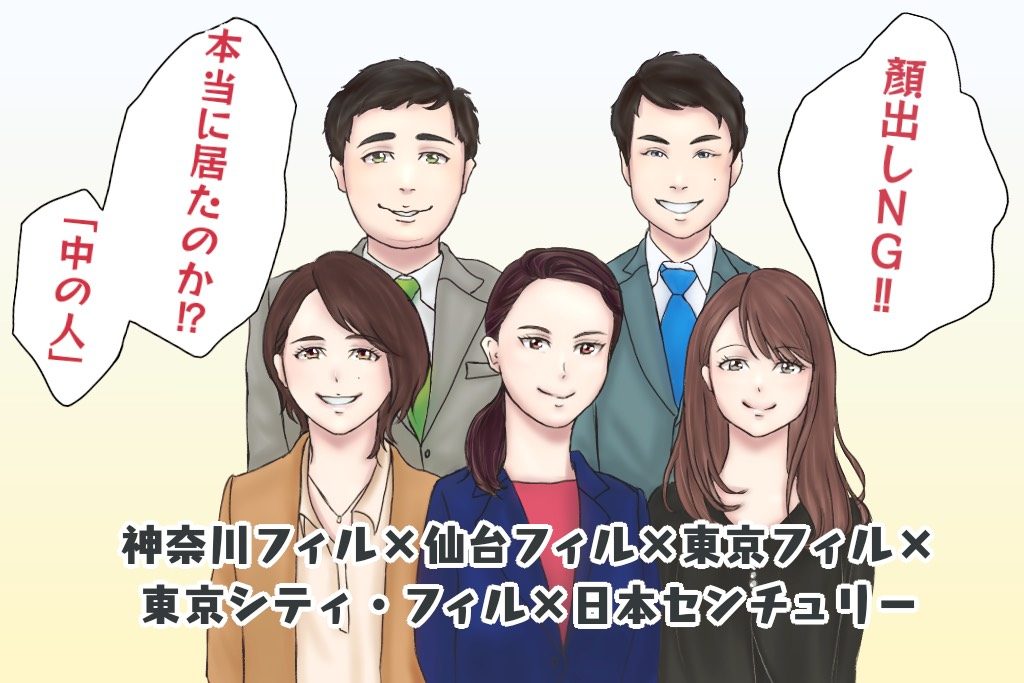 Is classical music solid? boring?
The orchestra's "people in the middle" who break through such preconceived ideas and tweet with a light narrative. This time, we had five "people in the middle" who are excited not only on Twitter but also in real life gather and talk about "orchestra love" enthusiastically!
Kanagawa Philharmonic Orchestra (hereinafter referred to as Kanagawa Philharmonic Orchestra) This time, we had you gather at the opportunity of the appearance request from NHK radio. At first, we were planning to have two people with Sendai Philharmonic Orchestra, but thank you for your kind consent when we asked everyone. I think it's good to liven up the concert by being able to easily talk to each other.
Sendai Philharmonic Orchestra (hereinafter referred to as Sendai Philharmonic Orchestra) In the first place, it is a member who would not have known without the means of Twitter.
Tokyo Philharmonic Orchestra (hereinafter referred to as Tokyo Philharmonic Orchestra) surely. Players interact with each other through supporting appearances, but the clerical staff did not have a chance to get to know other organizations.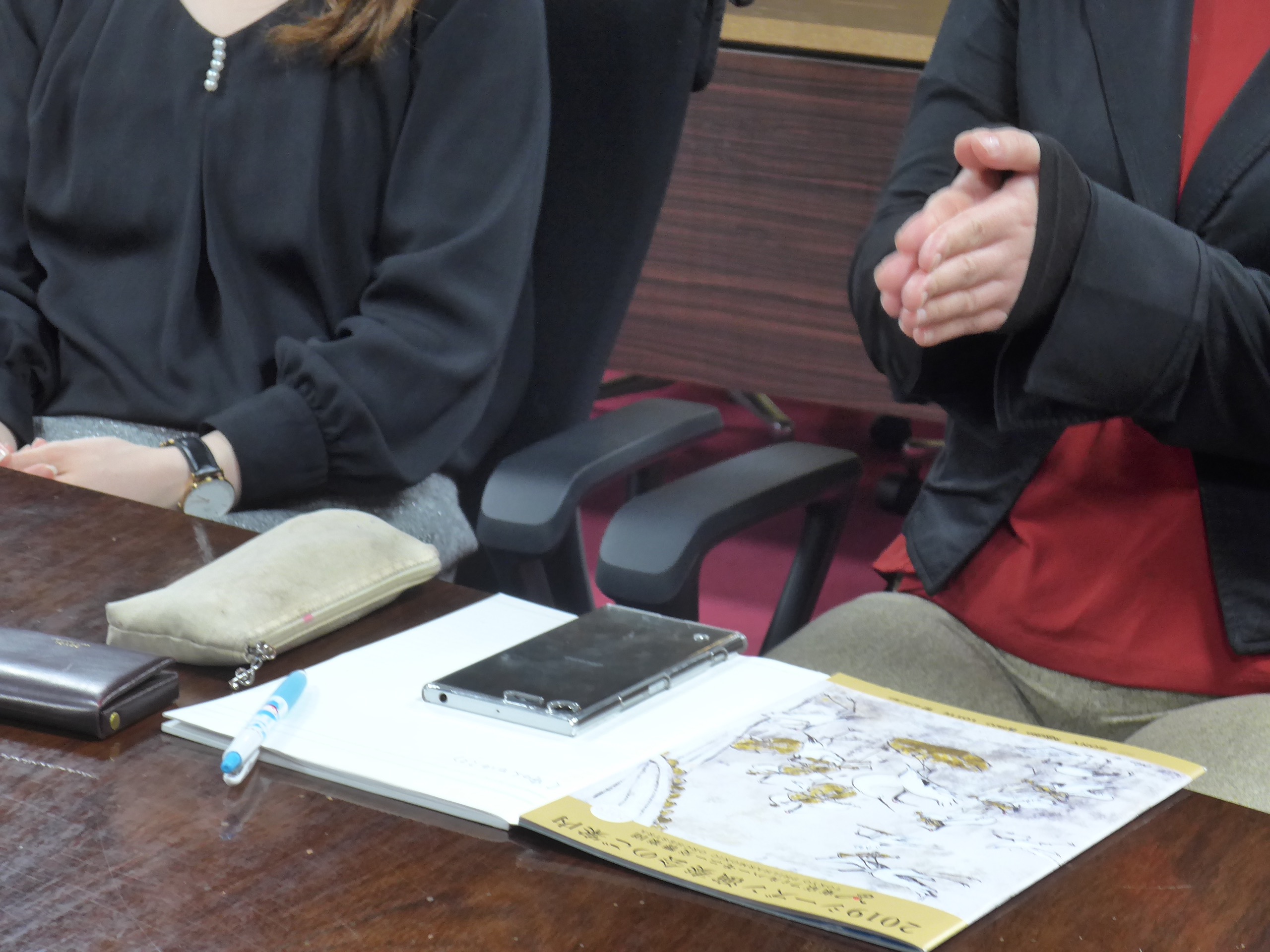 What can you do with Twitter ?
For those who have never listened to the Kanagawa Philharmonic Orchestra, the concert hall has the image of being "hard" and "boring." But it's definitely fun to go! The first thing is to create a "trigger" to experience the fun. Sometimes a follower will tweet to the person who actually came, "Hey, wasn't it fun?" Instead of the "people inside".
The Tokyo Philharmonic SNS is easy to create a good cycle, such as sharing impressions, so I think it would be good if we could turn it around well.
Listen to the real thrill of the Sendai Philharmonic Concert live! Twitter is the catalyst for that, because it doesn't start without people coming.
Japan Century Symphony Orchestra (hereinafter referred to as Japan Century) Concerts are often regarded as noble, but each person has their own way of enjoying them. Twitter can suggest various ways to enjoy, so I hope you can choose the one that suits you.
The core of the Tokyo Philharmonic Orchestra is classical music, but demand for film music and pop music is also increasing. Some customers avoid it because it is not classical music, but we all perform with the same motivation, and first of all, let us experience and experience the sound of the orchestra. Is important. It's good to be able to send out with a wide range of approaches because it is twitter that customers of all genres see.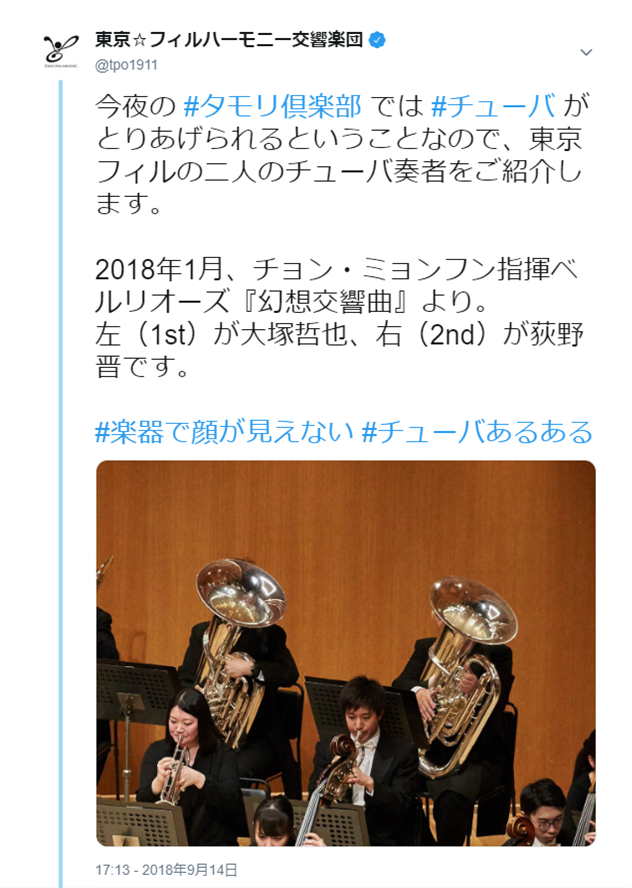 The Tokyo City Philharmonic Orchestra (hereinafter referred to as the Tokyo City Phil) is also an advantage of Twitter because it can send information in real time. While considering the time that everyone can easily see, I try to provide information that is easy for anyone to read and that can be easily liked.
Mutual exchanges between Kanagawa Philharmonic Orchestra are also born. Even though there are so many orchestras, it is meaningless to say, "Prefer only me." I think it's natural for people to listen to my orchestra and create a flow of "Where should I go next?"
Tokyo Philharmonic Orchestra When we pick up rare songs, we often receive customers from overseas such as South Korea and Taiwan. It was unthinkable a long time ago, but this is also the power of the Internet such as Twitter. SNS is very convenient for delivering information to people who want to deliver it.
Sendai Philharmonic Orchestra There is also a hashtag on Twitter that says "# Let's go on a trip and listen to the orchestra".
It's nice to travel to the Japan Century Concert, but I'd be happy if you would come and think "I have a concert like this, let's go" when I have time to travel!
Could you introduce the recent hit Tweet as "the person in the middle"?
Kanagawa Philharmonic Orchestra Last year, permanent conductor Kentaro Kawase announced his marriage to announcer Yumiko Matsuo. Since it was the first day of the rehearsal, the orchestra spontaneously got excited and played "Wedding March" as a surprise. Don't you think it's a blessing unique to an orchestra? When I tweeted to let everyone know about it, it was a great response.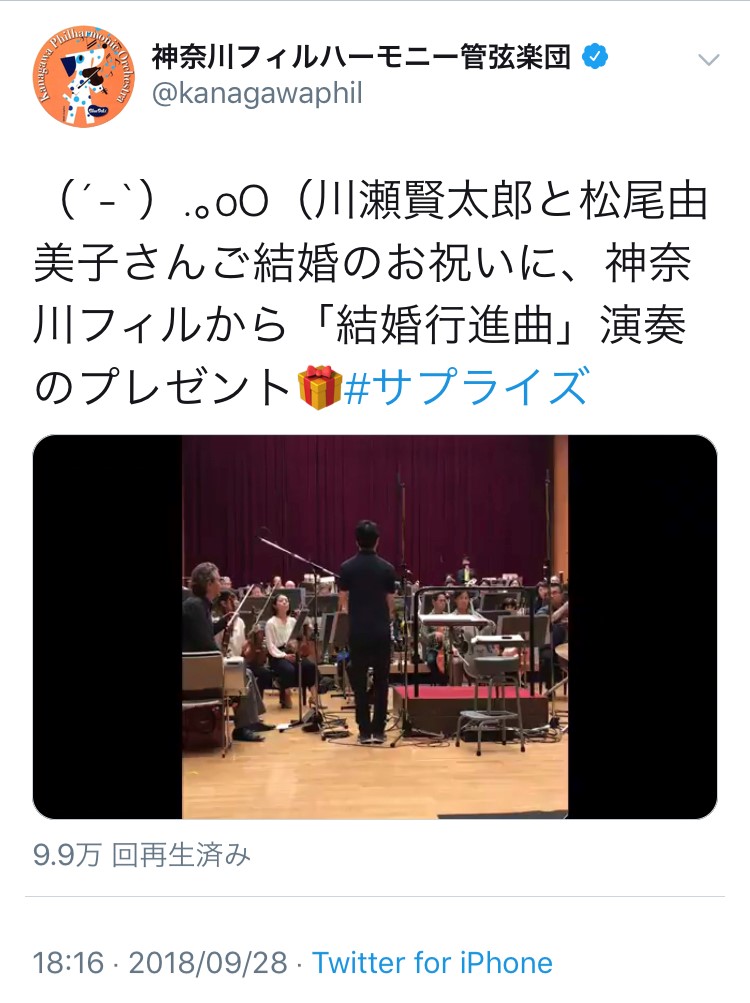 Tokyo City Phil In December of last year, we announced the entire series of Dragon Quest concerts that will be held throughout the year from April of this year, and when we tweeted it, we received over 1,300 likes. I did. I was happy enough with that alone, but I saw customers who followed my account and tweeted, "I haven't had a connection with classical music until now, but I'd like to go to a regular concert." Is increasing, so I'm glad that such a tendency is above all.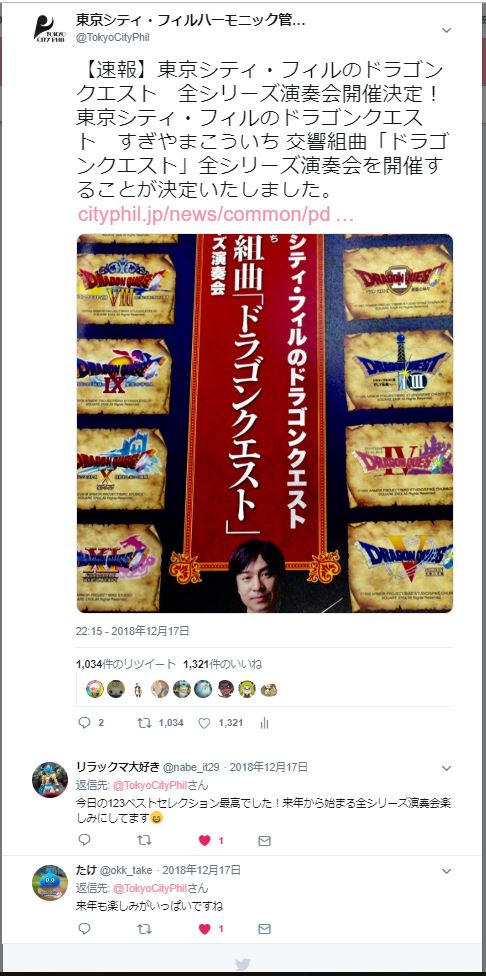 Tokyo Phil Uchi has a lot of TV work, so there may be a lot of "news" (laughs). In February of this year, I appeared on a music program on TV, just after Arashi announced the suspension of activities. I thought that there was no choice but to get excited together, so I tweeted in the live broadcast state from the start of the program. Then, at the moment of the climax, the number of likes exceeded 6,000. I remember being taken aback by the fact that the counter turns so much.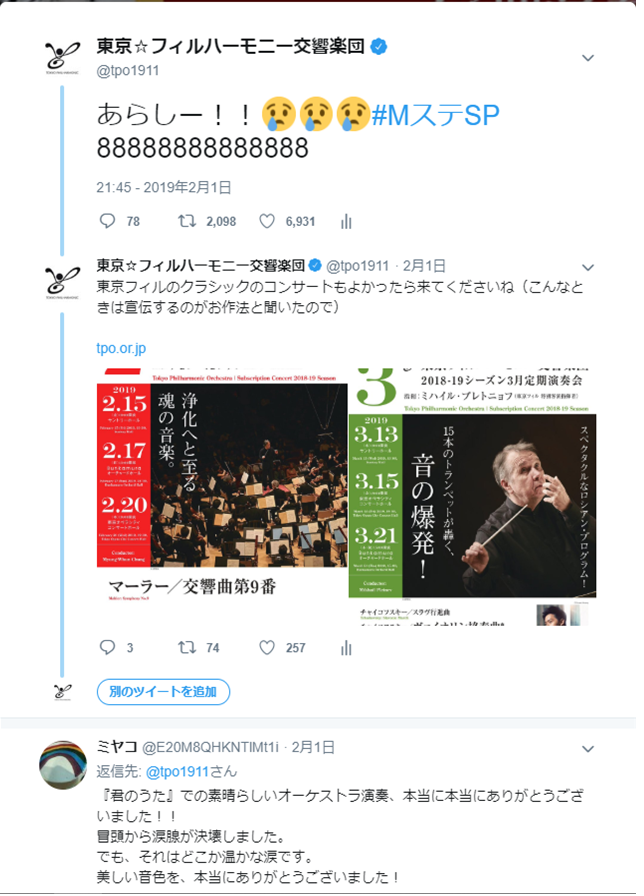 Japan Century The other day, I went on a concert tour mainly in western Japan, but the momentum of the fans of the conductor and soloist is wonderful, and there are many customers I meet for the first time, and my followers are in two weeks. More than 200 people have increased. However, I usually convey the everyday face of the player who is shining on the stage and tweet the work scenery of the staff.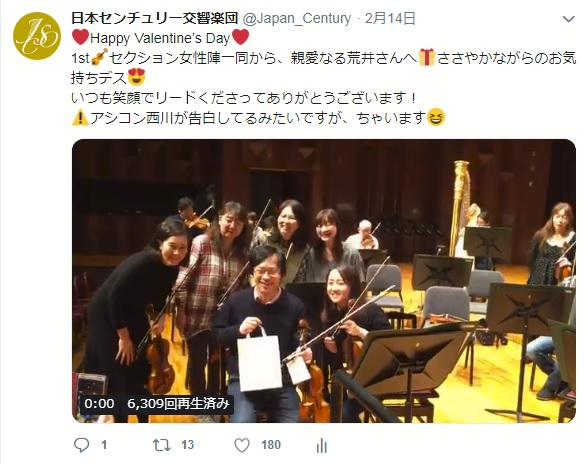 People in the classical music industry tend to be categorized as "people from another world," so whether you're playing, "people in the middle," or someone who wrote a song hundreds of years ago, take a look at the tweets. As a message that it is the same as everyone who is there.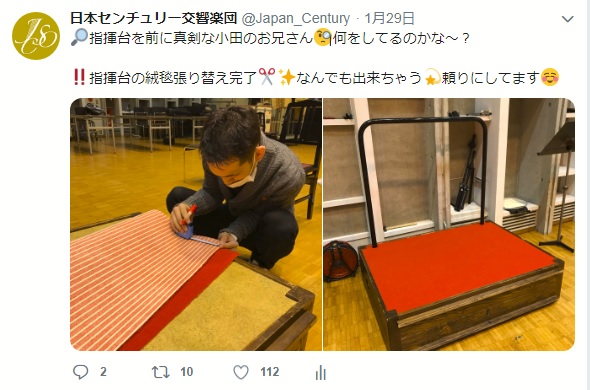 Sendai Philharmonic Orchestra At last year's regular concert, I tweeted a video of percussionist Sho Sasaki's "one full bass drum", and before I knew it, it was played about 20,000 times! Please come to Sendai to listen to this one shot (laughs)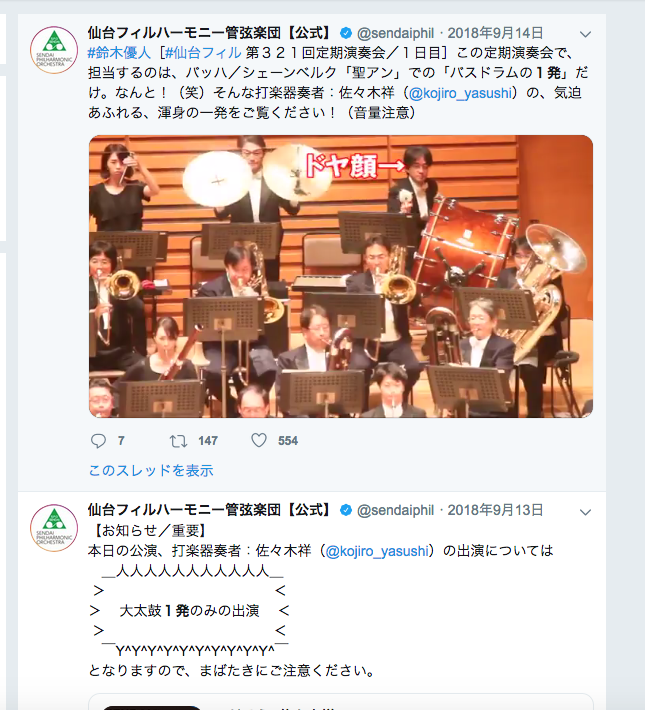 Where do you think the charm of the orchestra is?
As Mr. Koichi Sugiyama of the Tokyo City Phil said, I feel that orchestral music is the most "feast" of music. I think that the excitement of creating a single piece of music by gathering dozens of types of musical instruments such as stringed instruments, wind instruments, woodwind instruments, and percussion instruments is unique to an orchestra. Live is the best way to immerse yourself in the deep and thick world of sound that those instruments play.
Kanagawa Philharmonic Orchestra When you come across a really good performance, the entire venue, including the performers, customers, and staff, is surrounded by a happy atmosphere. I think that impression can only be experienced "raw".
Tokyo Philharmonic Orchestra That's right. After a good concert, everyone will come home with a nice face. The people who gather in the concert hall are very wide. Some are elderly and some are unexpectedly young. Don't you think it's amazing that people who have no connection or connection gather in one place? Moreover, the sense of unity is wonderful!
I understand that the orchestra has the preconceptions of "boring" and "boring", but on the other hand, there is also the image of "something good". First of all, please come with the thought "I don't know, but it seems amazing". The sense of unity in a live performance can only be understood by experiencing it.
Many Japanese Century Classic music was made hundreds of years ago, so I think it's amazing that it can be reproduced in front of you. Of course, it can be reproduced because the score remains, but the "sound" disappears on the spot. Concerts are a place where you can have such a valuable experience.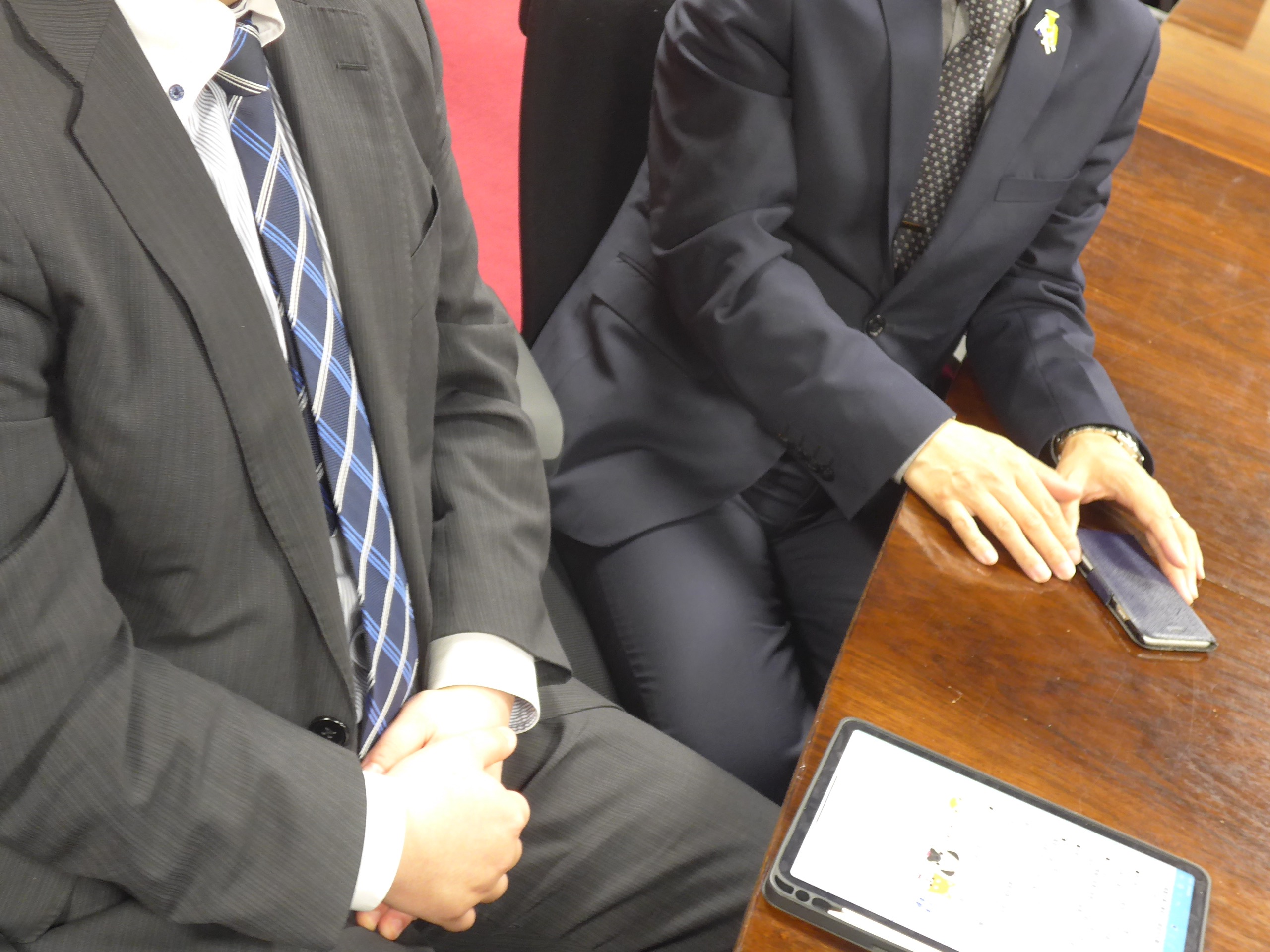 Kanagawa Philharmonic Orchestra is something that anyone can enjoy freely. We are confident that you will definitely enjoy it if you come!
Sendai Philharmonic Orchestra The real thrill of listening live! It is the role of the "people in the middle" to create the opportunity.
thank you very much!