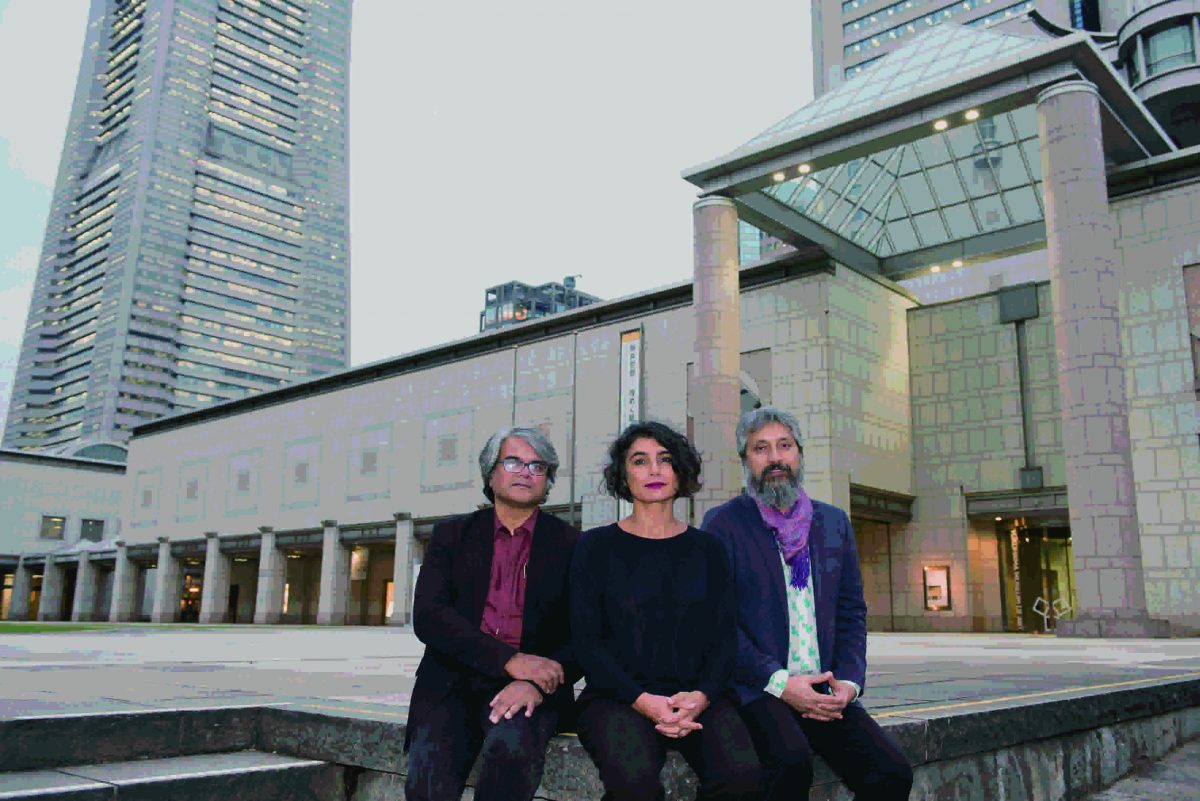 (TOP image) Raqs Media Collective Photo: Yuichiro Tanaka Photo courtesy: Yokohama Triennale Organizing Committee
The Yokohama Triennale started in 2001 as an international exhibition of contemporary art held every three years. Next year is the seventh year of the event, but in fact the Yokohama Triennale 2020 "Afterglow-catching fragments of light" started in November 2019!
Raqs Media Collective (hereinafter Raqs), who serves as Artistic Director, takes a method that starts with multiple open "sources" rather than conceiving an exhibition from a single "theme". . For this reason, it seems that the event called "episōdo" will be held intermittently before the exhibition opening in July 2020, to create an opportunity for dialogue.
The other day, the pre-event "Sharing Episōdo 00 Source" was held.

The venue was "Plot 48". Together with the Yokohama Museum of Art, this will also be the venue for the exhibition opening in July 2020.

* Kanako Shintaku "I'm still alive"
When visiting at the same time as the opening, performances by participating artists had already begun in one corner of the museum building. I feel like I suddenly tripped from the everyday landscape to the world of contemporary art.
Later, Raqs shared "concept sharing".
Raqs is an artist group formed by three people born in New Delhi (India). "Sources", the starting point of their ideas, are materials that illustrate the way of life and thinking of real people with different eras and cultural backgrounds, and are shared with all people from the planning stage before the opening . With this "source" as the starting point, he hopes that the world of rich thought and thought will rise at the Yokohama Triennale 2020 as if it were "bushes".
In "episōdo 00", it was recorded five of the material that is the "source" of the Yokohama Triennale 2020 "sourceBook "has been released.

The Yokohama Triennale 2020 will be developed in a unique style that intermittently conducts events called "episōdo" in addition to exhibitions that specify time and place. In other words, from now on around Hong Kong, New Delhi and Johannesburg, it will be rolled out in earnest when it returns to Yokohama in July 2020.

* Hicham Berrada "Préage"
When returning to the Museum Building, the performance of Mr. Hicham Berrada started. Berrada's performance that presents the process of mineral chemical reactions and the resulting phenomena as visual images overlaps with the music of Kazumichi Komatsu, a track maker, and a mysterious sensation that seems to be both the near future and the ancient world. I experienced.

The Yokohama Triennale, which has always been held for the purpose of international exhibitions with high social significance, is about to reach its 20th anniversary. The first time that a foreigner was chosen as an artistic director this time is a great stimulus not only to Kanagawa Prefecture but also to the Japanese art scene.. Expect an art festival where you can connect with the wider world and meet new values.