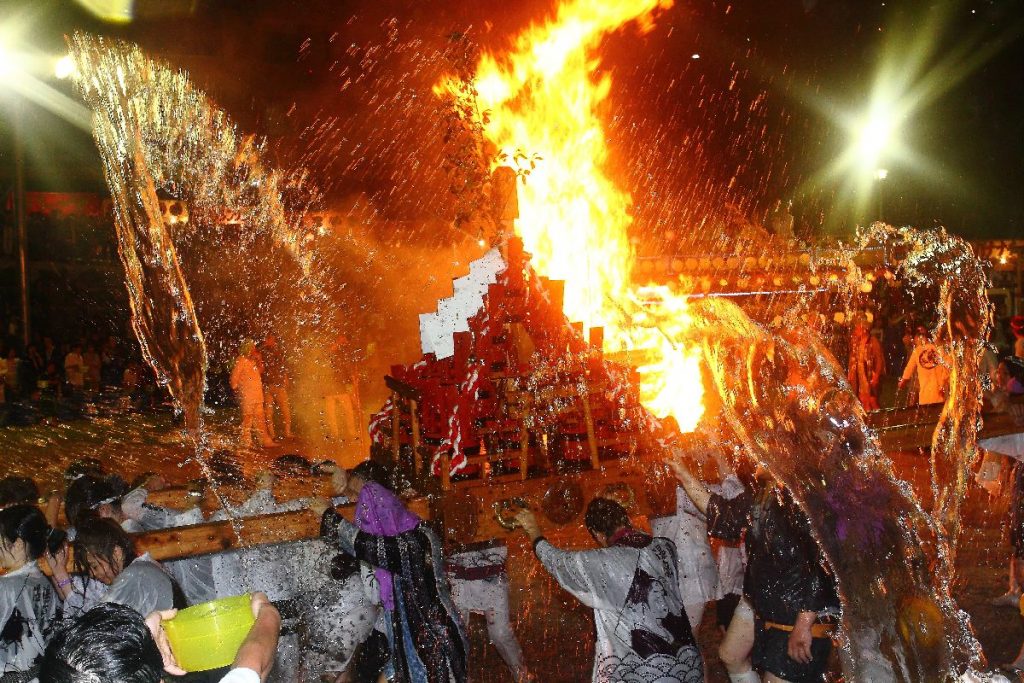 Other
"Kanagawa West – Japanese Traditional Culture" Feature on Festivals (in Yugawara)
About "Yugawara Onsen Yukake Matsuri"
ーー-Please tell us what the "Yukake Matsuri festival" is?
Yugawara Onsen area is located along the stream of Chitose River running at the border of Shizuoka prefecture and Kanagawa prefecture and the upstream Fujiki River. The parade of Yukake Matsuri stars from Fudo-Taki Fall along the river, people carry the Mikoshi, a portable Shinto shrine until the Izumi Park, together with rhythmical shout "Dokkoi, Dokkoi!". When the Mikoshi enters the 2km roadside, the audience excitedly throw hot water of Yugawara onsen over the Mikoshi without hesitation. We prepare around 60 tons of hot water, so this festival is more likely to enjoy participating to get wet by throwing hot water, rather than only watching the parade. Above all, the most exciting locations are the main venue that is Yugawara Kanko Kaikan square and Izumi Park, in which the Mikoshi parade passes by.
ーー-Where did the festival come from?
It is said that in the Edo period, because of great effectiveness of the hot spring in this area, the hot spring water loaded in barrels was presented to Daimyo feudal lords and Imperial villas. People had a ceremony to pray for the safe journey by pouring hot water for the good luck, that's where this festival derives from. This time festival hits the 34th time. Nowadays, we pour hot water over Mikoshi with our gratitude.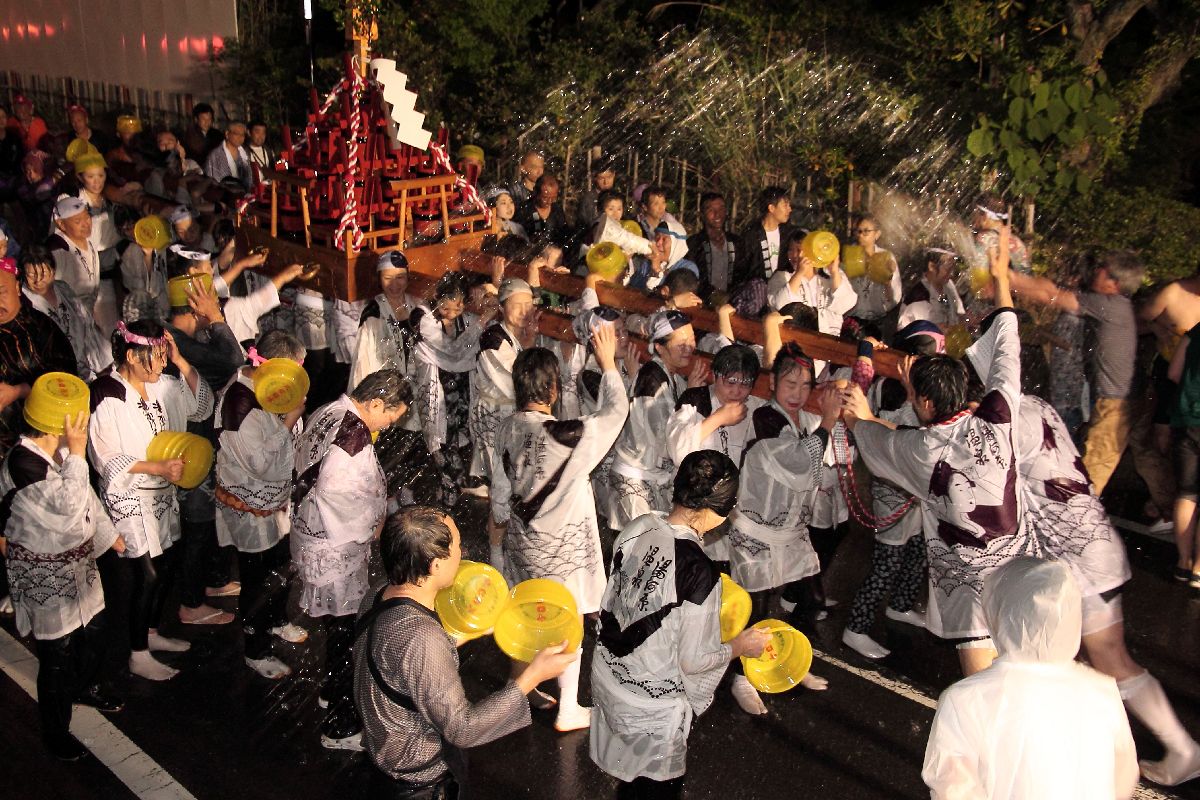 ーー-Who are carrying the Mikoshi?
This year, 4 Mikoshis are ready for the festival. People from the local Mikoshi-kai association carry 3 Mikoshis. And another Mikoshi is carried by participants from our plan of "Yukake Matsuri Experience Tour" only for women. We still need more women participants for the Experience Tour, so if you're interested in, please feel free to contact us (First 100 applicants. With gifts of original Japanese festival Hanten jacket for all participants. Participant fee is 3,000 yen).
About "Yugawara Onsen hot spring"
ーー-What is the efficacy of the Yugawara Onsen?
Yugawara Onsen has been well-known since early times because of its efficacy. The spring qualities are mildly alkaline and clear and colorless. The hot spring has various and great effectiveness for cuts and bruises, neuralgia and feminine ailment etc.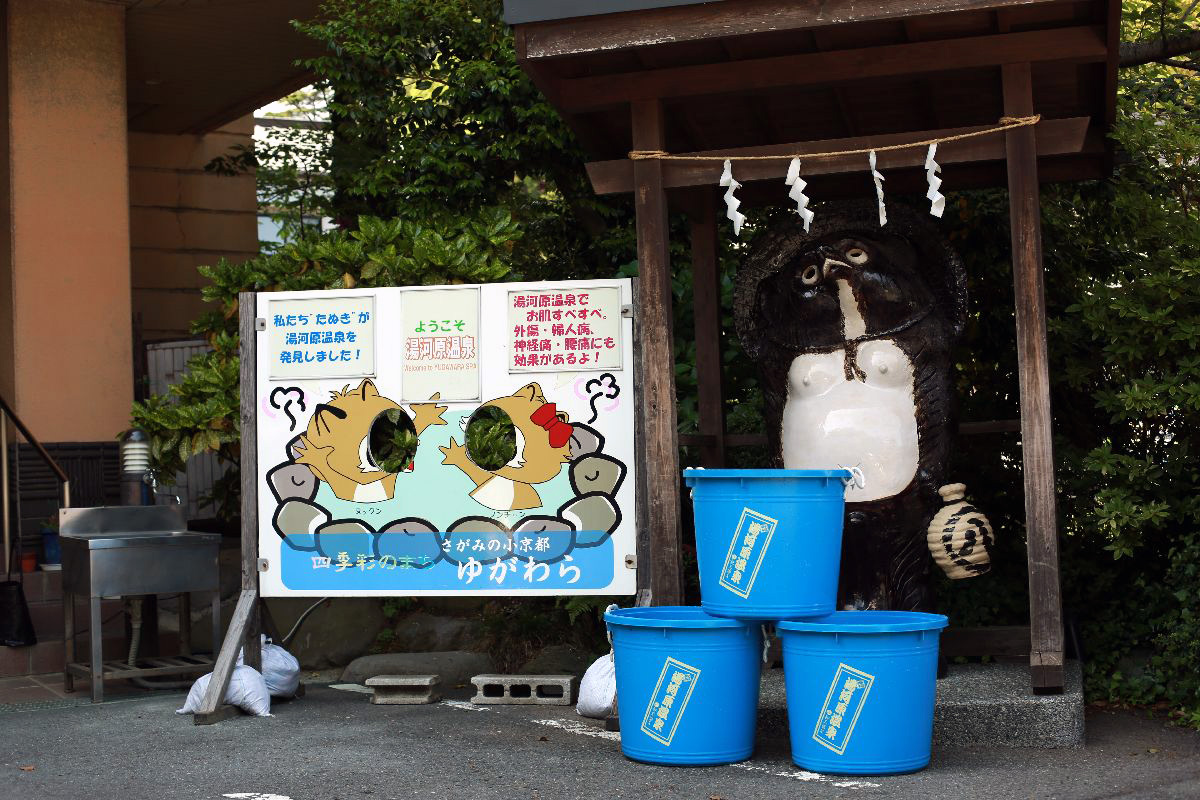 Yugawara Onsen is famous as beautiful skin hot water found by a raccoon dog. You'll get wet by beautiful skin hot water at the festival.

ーー-How can we enjoy the Yukake Matsuri even more?
At the Yukake Matsuri, the Mikoshi porters and audience can both enjoy the festival. So please don't hesitate to get wet, just have fun! On the same day, we also have a Shinto ritual "Mihashi Matsuri (Chopstick festival)" which we burn more than tens of thousands of disposable chopsticks collected from Ryokan Japanese-inns in the Yugawara Onsen area to pray for the good health and the rich harvest at the Yugawara Kanko Kaikan square. There are also Yatai, street food stands as well as the foot bath facility, "Doppo no Yu" during the daytime, so you can enjoy a whole day.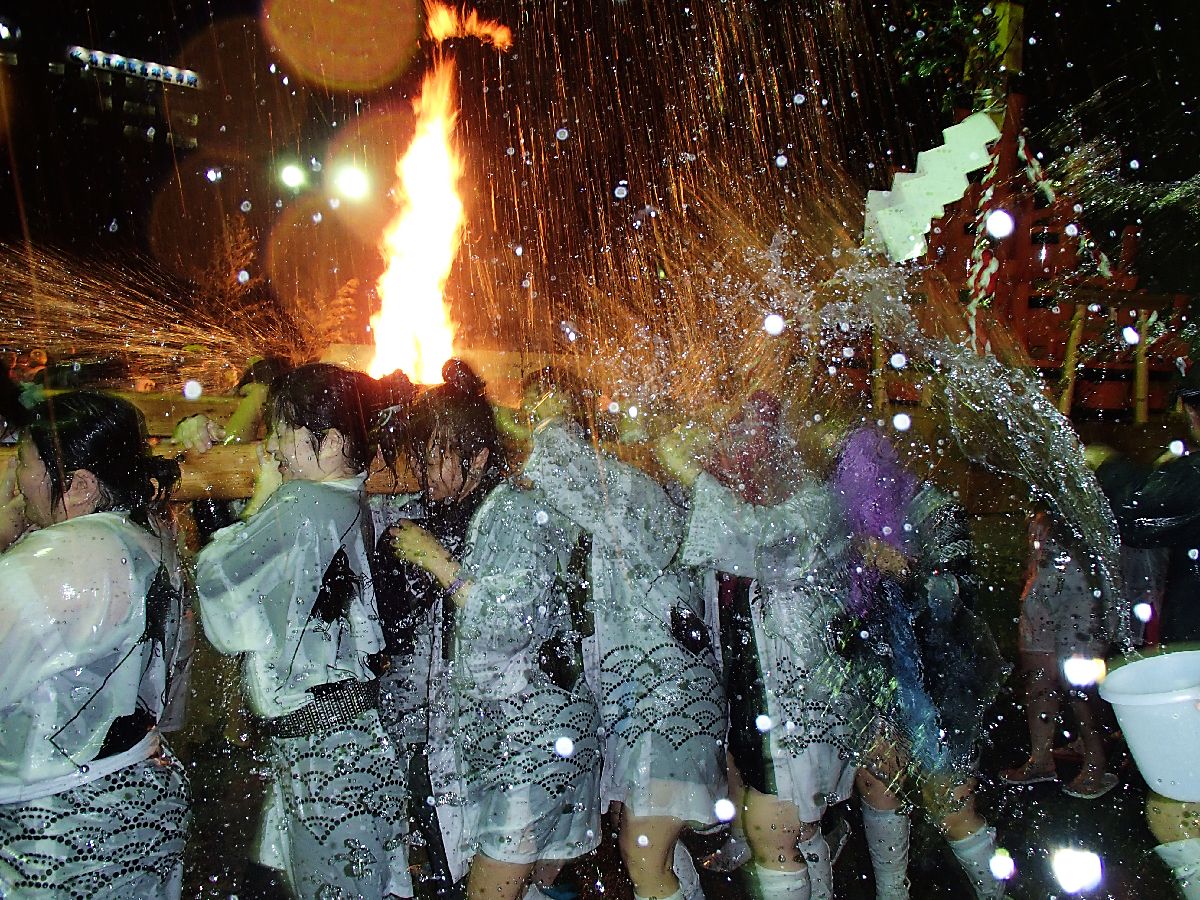 Participants wear Hanten (traditional kimono jacket) on their swimsuits to carry a Mikoshi.

Enjoy Yugawara Onsen even more.
ーー-Are there other events which we can enjoy in Yugawara?
From 1st to 11th of Jun, we will have the "Hotaru no Utage (the Firefly Party) to enjoy watching native Genji botaru (Luciola cruciates) in the Manyo Park and also, the "Hanashobu-ten (the Japanese Iris Exhibition)" lined with many iris pots at the Yugawara Kanko Kaikan. The period of having fireflies is a bit different depending on the water temperature of the river as well as the weather, but you can enjoy the light of native fireflies flying in relaxed and elegant ways.
ーー- Please tell us about recent hot topics or places to visit in Yugawara
It seems that bakery shops and Ramen shops are so popular in Yugawara nowadays. The TV shows often introduce their shops, so some shops need to wait with long queues for several hours, or some shops limit the number of customers for the entrance. Yugawara has also been famous as spiritual spots with the sacred energy since old times. So mainly young women like the activity called, "Visiting Triple Power Spots" to visit 3 sacred locations: Gosho Shinto Shrine, Jogan-ji Temple, and Mt. Makuyama. If you visit 3 sacred spots and post photos of these places on SNS, you can get a lucky charm to gain the sacred tree power, so why not pay a visit?
ーー-A final question. Kunoki-san, please tell us what you like about Yugawara?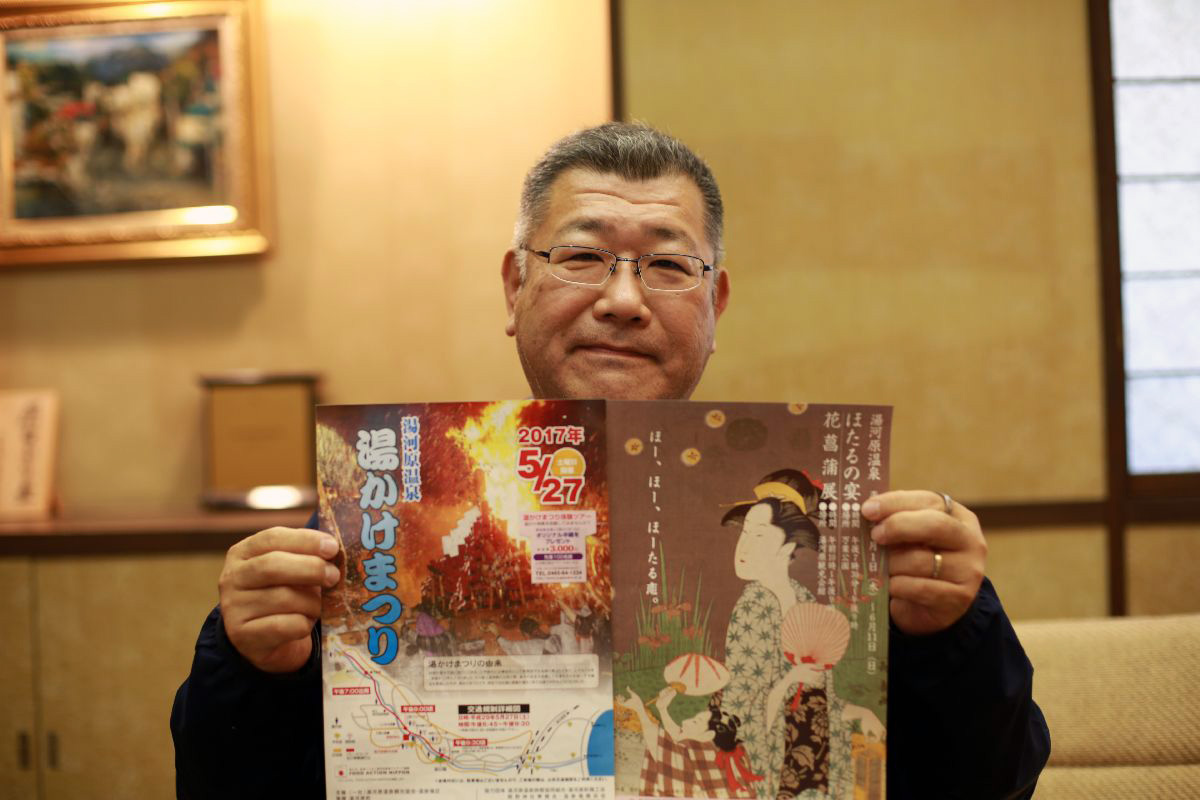 Mr.Kunoki, Planning Director, Yugawara-Onsen Tourism Association

I love the warm weather and full of nature, and people in town are so calm and nice. It's also easy access, not so far from Tokyo, and easy to settle down. From the early time, outstanding novelists such as Soseki Natsume etc. visited Yugawara for rest. Recently, I also see many young artists visiting here. I'm looking forward to seeing you guys in Yugawara, too.
Comment from MAGCUL editorial department
There is the Manyo Park in which you can enjoy Ashi-yu (a foot bath) just next to the Yugawara Kanko Kaikan square which is the festival main venue. In the Manyo Park, there is also a tea ceremony room, so you can enjoy the Japanese Matcha green tea while listening to the sound of the stream of the river and birds singing. The event of Yukake Matsuri and Hotaru no Utage (Firefly Party) both are held at night. After the festivals, having a Yugawara Onsen bath and staying there are great ideas.
Yukake Matsuri festival
Date: 27/May/2017 (Sat), Rain-or-shine event
*Held on the 4th Saturday of May each year.
Time: Mikoshi Parade: 19:00 – 21:30
Mihashi Matsuri (Chopsticks Festival) / Fire Ceremony: 19:00 – (At Yugawara Kanko Kaikan square)
Mikoshi parade section: Fudo-taki fall (Departure at 19:00) – Yugawara Kanko Kaikan (around 20:00) – Izumi Park (Arrival at around 21:00)
Hotaru no Utage (Firefly Party) / Hanashobu-ten (Japanese Iris Exhibition)
Period: 1/Jun/2017 (Thu) – 11/Jun/2017 (Sun)
Time: 19:30 – 21:00 (Japanese Iris exhibition starts at 10:00.)
Place: Hanaki-en in the Manyo Park
Entrance fee: Free
Contact: Yugawara-Onsen Tourism Association, TEL: 0465-64-1234
*Yukake Matsuri Experience Tour for Women: Due date of the application is on 20/May/2017.