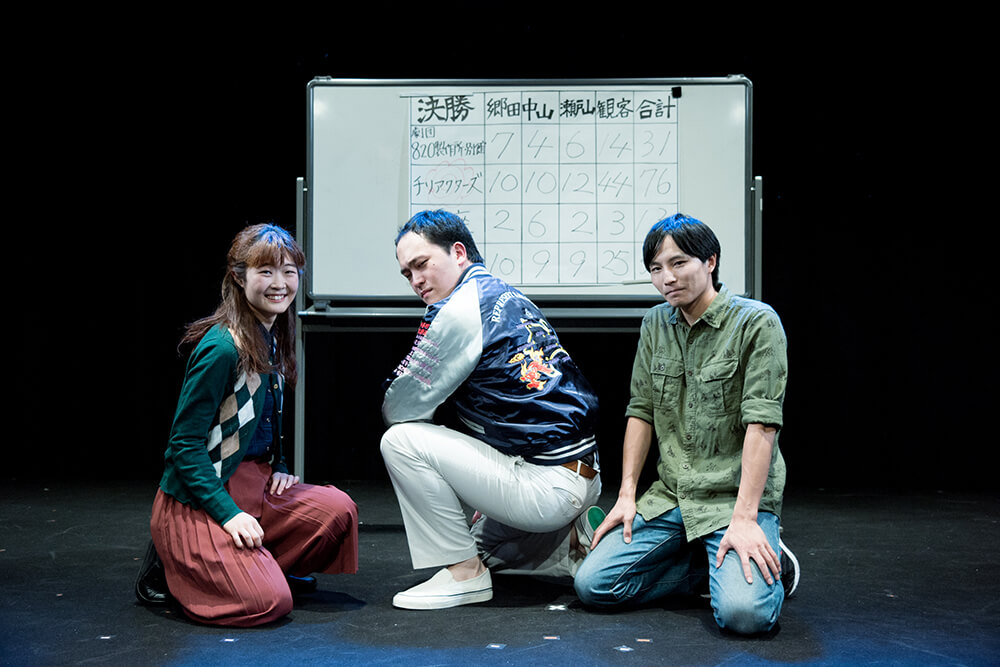 Theater / dance
The Fifth Gekio ("Drama King") Has Been Decided! A Report on the Gekio Kanagawa V Dramatic Short Works Battle Contest and Interviews with Champions Chiri-Actors and the Executive Chair on the Fifth Year and Beyond
Gekio Kanagawa V Tournament Report
The rules of Gekio Kanagawa are unique: Plays must fall under a twenty minute time-limit, have no more than three actors, be performed on a 5.30 m x 7.10 m stage, and use minimal props. The qualifiers and winners are then decided by the votes of spectators and judges. This is the fifth time the contest has been held. On October 14, at the Kanagawa Prefecture Youth Center's Multi-Purpose Plaza, a qualifying round was held with three blocks of four troupes. From a total of twelve troupes, the winning troupe of each of the three blocks and the second place troupe with the most points (the "wild card") proceeded to the finals on the 16th.
The operation and development of the event, and the honest craft that each group volunteers, sets Gekio Kanagawa apart. You could feel the quiet excitement of the small stage swirl throughout the finals event hall tightly packed with die-hard theater fans young and old.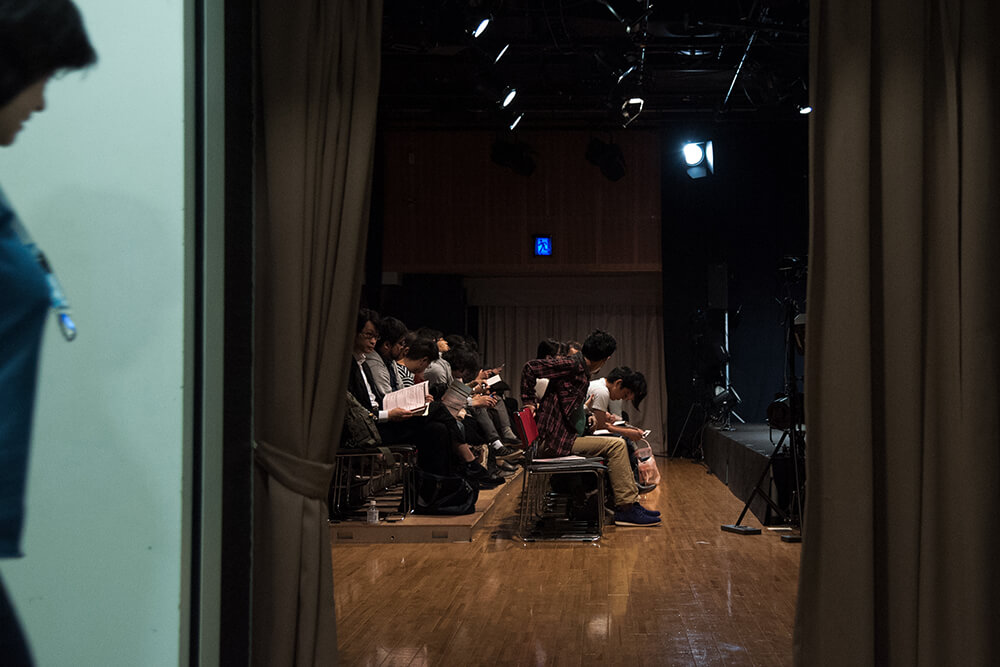 The finals began at 2 p.m. with a delightful opening ceremony hosted by the witty Satoshi Maruo of Office Project M: Playing with the World. After recounting the history of the Gekio contest, which began from a collaboration between the city of Nagakute, in Aichi Prefecture, and the Japan Playwrights Association Tokai Branch, Mr. Maruo introduced the competition rules followed by the award, which has been passed down from dramatist to dramatist to shine upon the Kanagawa Drama King: an original souvenir jacket that is unique to Kanagawa! The Gekio Kanagawa souvenir jacket was designed by a famous atelier on Dobuita Street in Yokosuka and bears the seal of Kanagawa Prefecture along with the embroidered names of Kanagawa Drama Kings past. Mr. Maruo's energetic introduction of the souvenir jacket incited applause and laughter from the audience.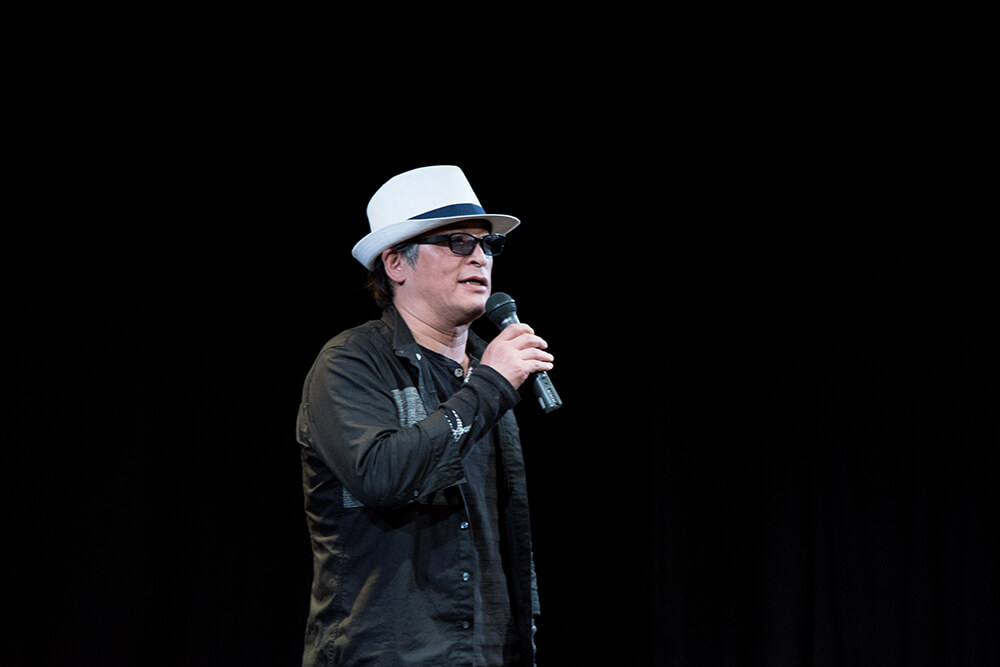 Satoshi Maruo

The opening ceremony concluded and on came the dramas. The first up were winners of Block B's qualifying round, Factory 820 Theater Troupe, Annex, (Yokohama). Their "Beneath the Light of the Moon," is a dark and serious piece in which the mysterious past and miserable present of three well-acquainted men of varied social and occupational standing is brought to light as they talk around a fire in a dark wood. The acting, full of mad energy blurring the line between good and evil, and mysterious developments of the play took my breath away.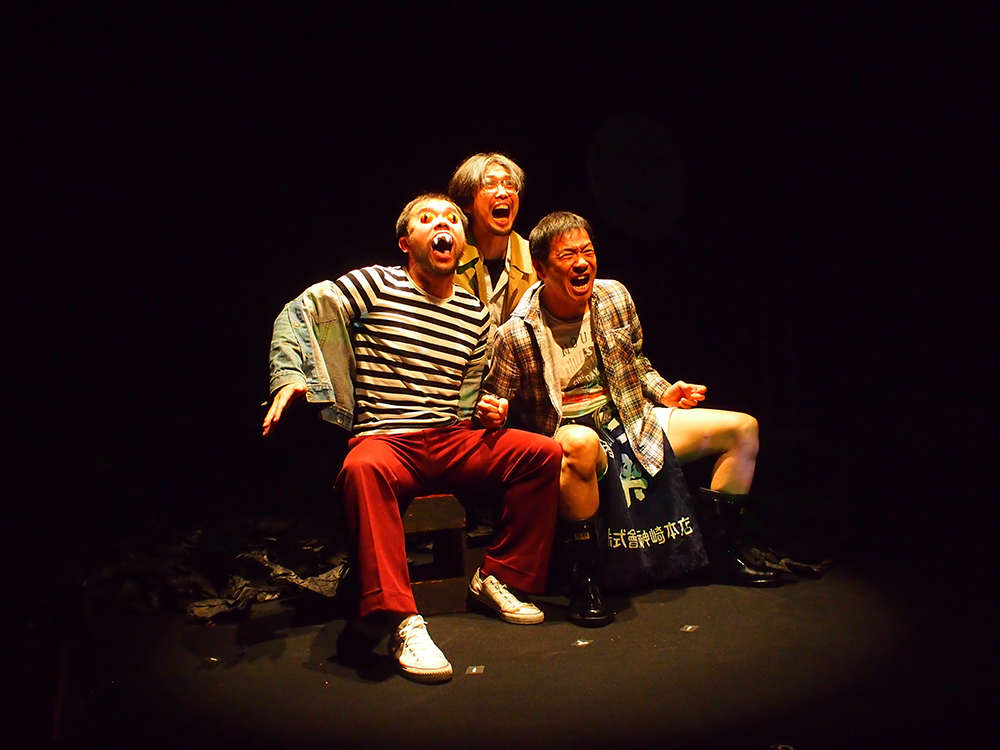 Factory 820 Theater Troupe, Annex / Photograph: Gekio Kanagawa Planning Committee

Next up was "In an Instant," put on by Chiri-Actors (Odawara), winners of A Block's qualifying round. Judging from the title, you would think it were a serious piece; however, its lead (?) is none other than a wisdom tooth! (That's right, "that" tooth!) The poppy and speedy dialogue between a mama's boy, who fears going to the dentist to treat an uncomfortable molar, and a wisdom tooth, who warns of the onset of cavities if it is not removed, sent the audience into a torrent of instantaneous laughter.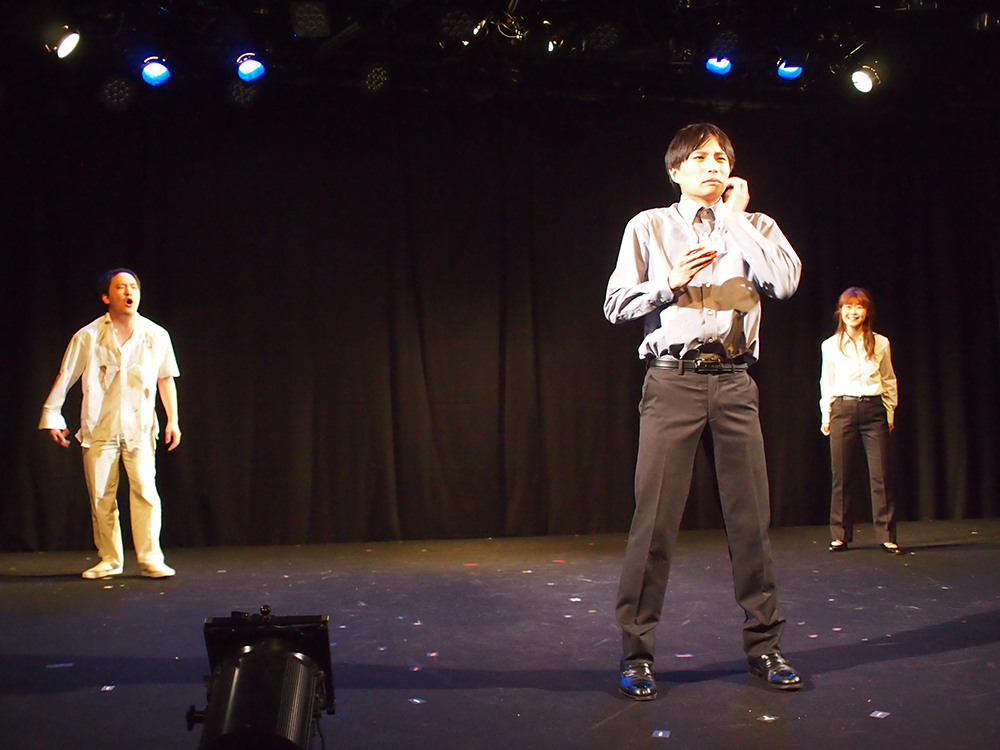 Chiri-Actors / Photograph: Gekio Kanagawa Planning Committee

The third troupe to appear on stage was Block B's runner-up and qualifying wild card group Troupe 21 g (Hiyoshi). Troupe 21 g emerged from the theater circle at Keio Gijuku University. As they are henceforth disbanding, this was their last chance at winning Gekio Kanagawa. Their "Night Parade of One Hundred Demons in the Heisei Era" depicts a back-and-forth between a writer who can't meet deadlines and a female editor. It featured youthful, energetic performances to which the actors gave their all.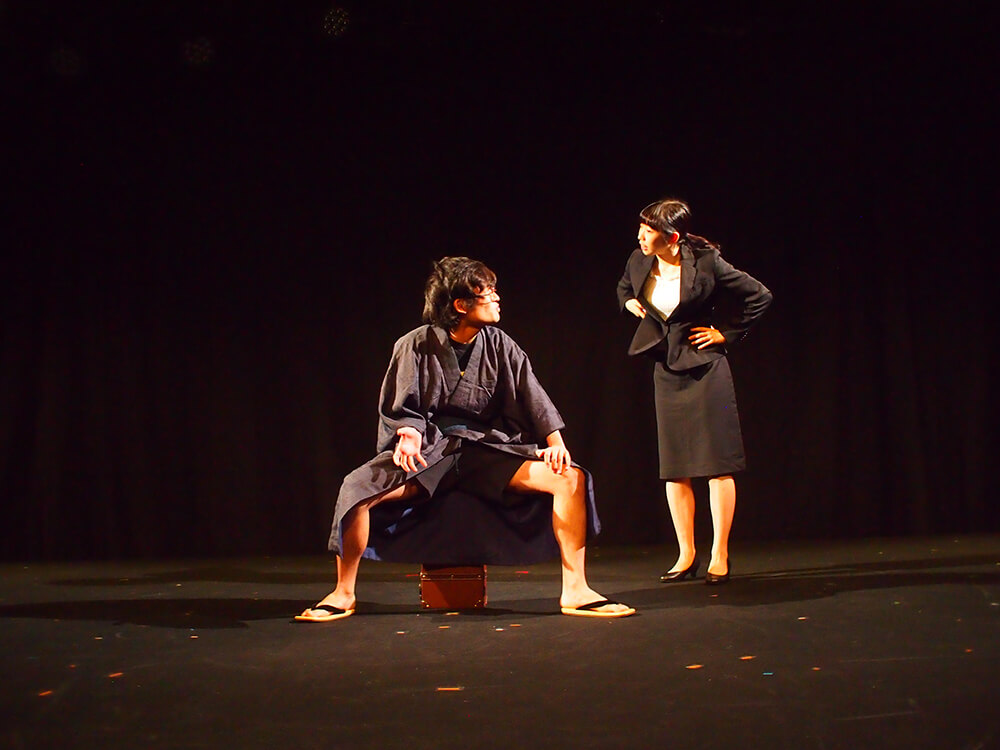 Troupe 21 g / Photograph:Gekio Kanagawa Planning Committee

The last troupe of the tournament to grace the stage were winners of Block C's qualifying round, A Full Head of Hair and Flimsy Glasses, who presented "Voice," a piece depicting an aspiring dancer's frenzied attempt to finish a dance while talking with her mirrored other-self. The audience was captivated by the authentic dance performance and serious acting as the two actresses came together and apart.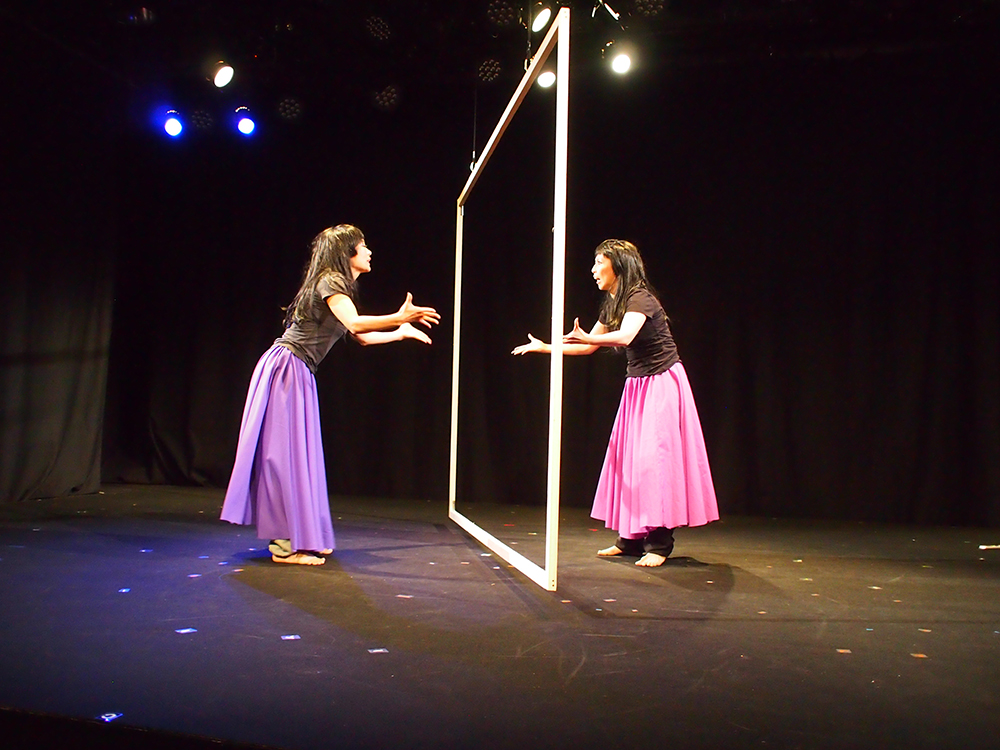 A Full Head of Hair and Flimsy Glasses / Photograph: Gekio Kanagawa Planning Committee

After the four troupes finished performing, the three contest judges (actor, voice-actor, director, sound supervisor, and representative for the Shonan Teatro dell'arte Hozumi Goda; playwright, director, and president of Minamoza Setoyama Misaki; and actress and Troupe Phosphorescence member Mari Nakayama) left their seats to vote. Meanwhile, the spectators cast their votes and awaited the results.
Before the results were announced, each judge first provided feedback. The playwright for each group also appeared on stage. With reflective expressions upon their faces, they carefully listened to criticism and advice that was both stern and affectionate towards each play.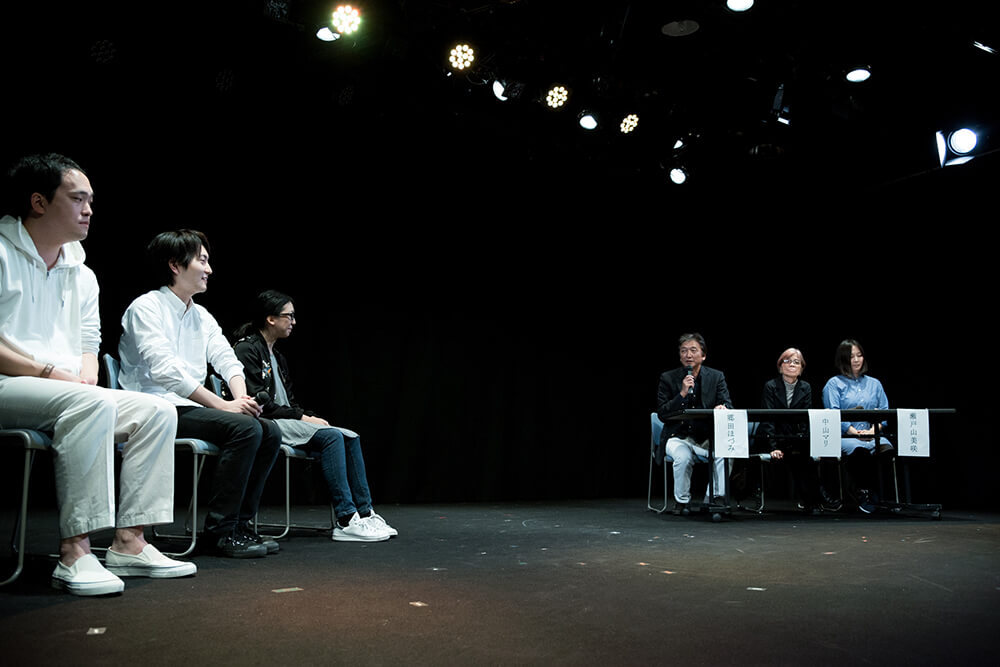 After the critiques, the results were announced at last. The spectators let out cheers and exclamations as the scores from the judges and audience were tallied on a whiteboard at the center of the stage. And the winner, capturing 76 of 173 possible votes in a landslide victory, was Chiri-Actors! With the announcement, writer and director Hiroshi Oshima, who also played the wisdom tooth in "In an Instant," struck a tearful victory pose, exchanged hugs and handshakes with performers Syun Iketani and Suzuka Kimura, and made the following comment: "Thank you very much. These past four years I've continuously tasted bitter defeat, but I'm glad that this year I stubbornly followed my heart. I started taking part as a committee member last year; and while I used to think it was rigged, there is no other contest run so fairly. I promise to keep working hard!" Upon donning the souvenir jacket as the fifth Drama King, Mr. Oshima was met with a large round of applause.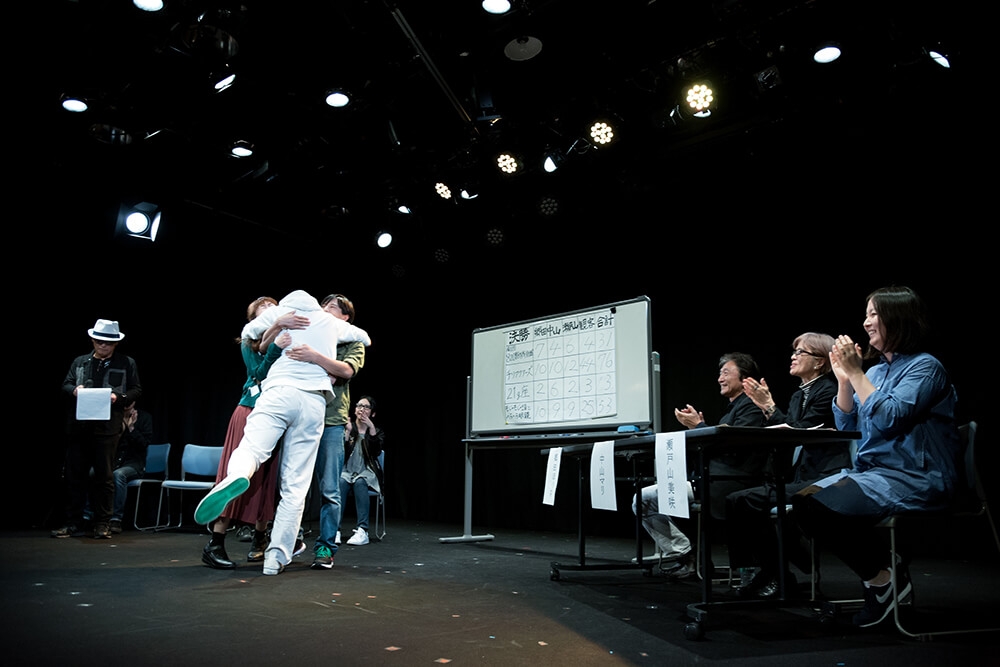 Mr. Goda then remarked on how the quality is increasing with each year. "I felt that Chiri-Actors, in particular, became one with its audience, which is the power of drama." Ms. Setoyama added to this saying, "There were also many wonderful works in the qualifying round. You can really feel the audience getting into the event. Gekio Kanagawa is the best!" Finally, executive chair and director for Factory 820 Theater Troupe, Annex, Tomofumi Nakayama, called all the participants to the stage while the tournament winner, Mr. Oshima, boisterously concluded the event proclaiming, "Whoever wants to be the sixth Kanagawa Drama King, come to Odawara and try to take this souvenir jacket from me! Let's perform in Odawara next time!"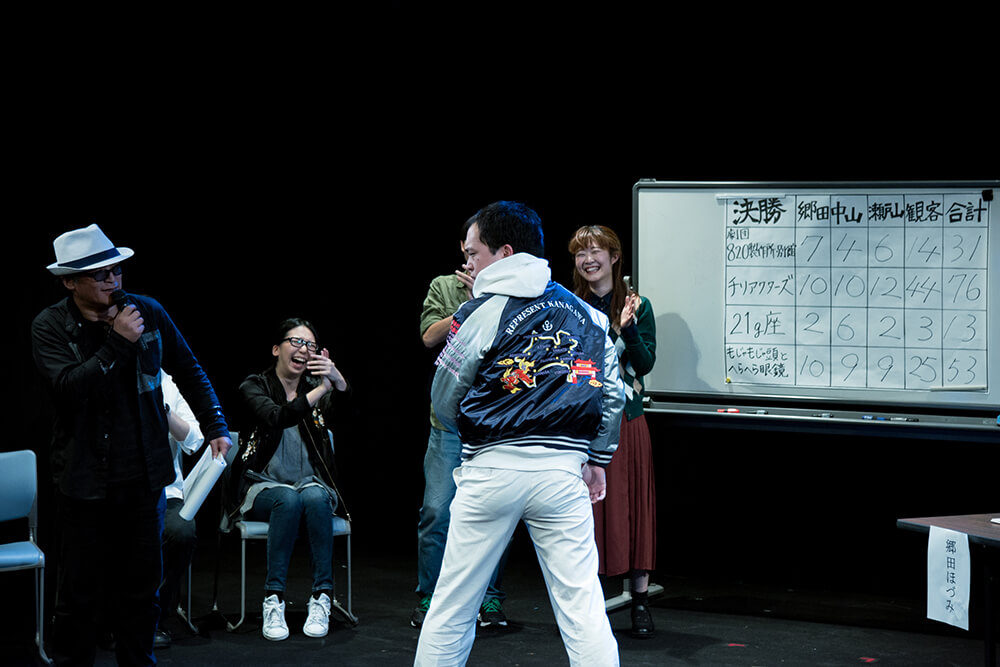 The curtain fell on Gekio Kanagawa V amid tears and laughter, excitement and inspiration. The winning Chiri-Actors are scheduled to perform as representatives from Kanagawa Prefecture at the Second Kanagawa Kamome Short Theater Festival, which is to be held at the KAAT Kanagawa Arts Theater's large studio between March 2 (Wednesday) and March 5 (Sunday), 2017. The Kanagawa Kamome Short Theater Festival is a festival for short dramatic works in which ten troupes selected from across Japan and two troupes invited from overseas compete with twenty minute works. I encourage those who missed the comedic and engrossing "In an Instant" to attend.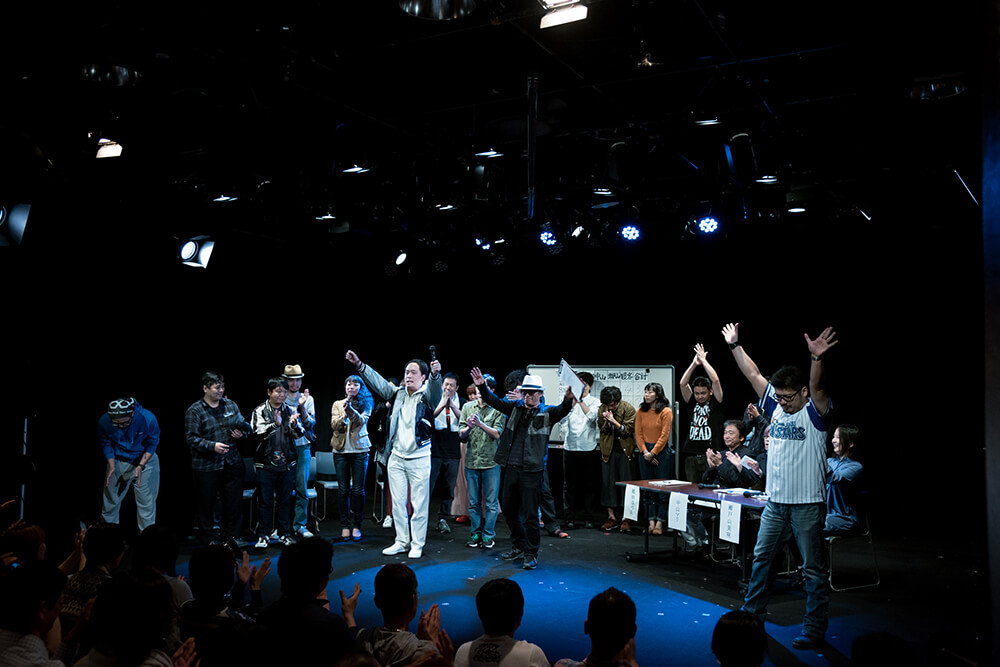 An Interview with Chiri-Actors, Winners of Gekio Kanagawa V
–You have performed for four consecutive years, since Gekio Kanagawa II, and now you've finally been crowned the fifth Drama King. Congratulations.
All:Thank you!!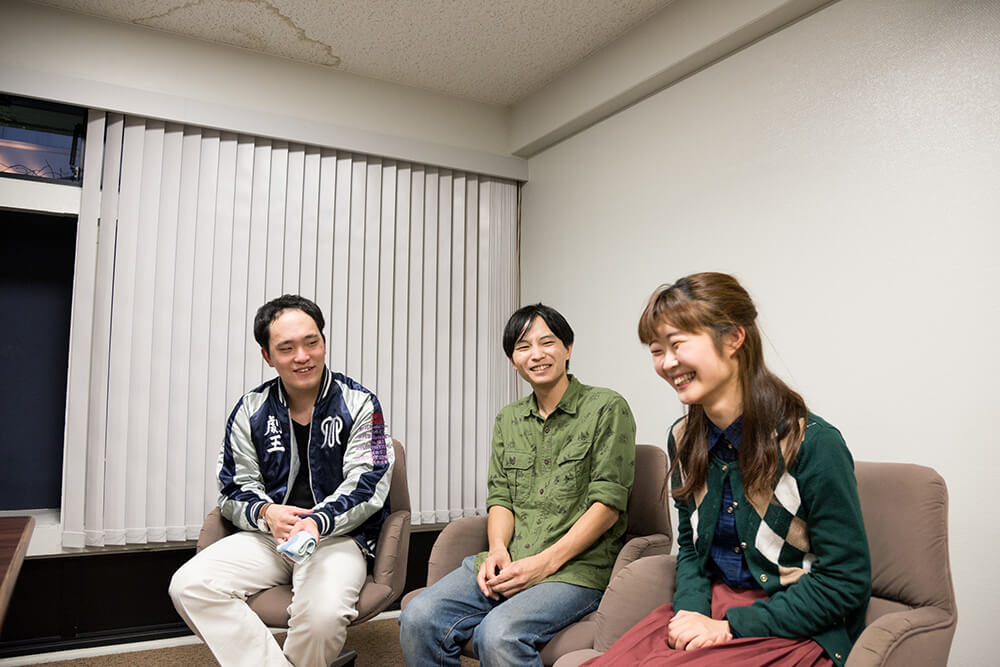 From the left: Mr. Oshima, Mr. Iketani, and Ms. Kimura

–"In an Instant," which you performed this year, is a wonderful human comedy woven together by a wisdom tooth played by Mr. Oshima, a man who fears the dentist played by Mr. Iketani, and various minor characters played by Ms. Kimura. I was surprised by the humorous conceit of a personified wisdom tooth from the start. Mr. Oshima, how did you come up with the subject matter in this play you wrote and directed?
Oshima:I actually had a wisdom tooth pulled this year. The dentist's knowledge and details about rotten wisdom teeth being pulled after splitting in two that come up in the play are from my own experience. And what's more, my dentist is currently telling me that I should have another one pulled. It hasn't been pulled yet, of course! (laughs)
Kimura:You're running from your troubles, like in the play. (laughs)
–What did you, as actors, think after picking up such a unique script?
Kimura:Until now, we've tended to perform serious works at Gekio Kanagawa. Last year's "The Type That Gets Touched" and "To Not, to Not Know, to Not Know What to Do Anymore" before it were narratives that dealt with life and death. I was shocked at first, like, "Should we make such comical gestures for the precious Gekio contest? Are you sure?" (laughs)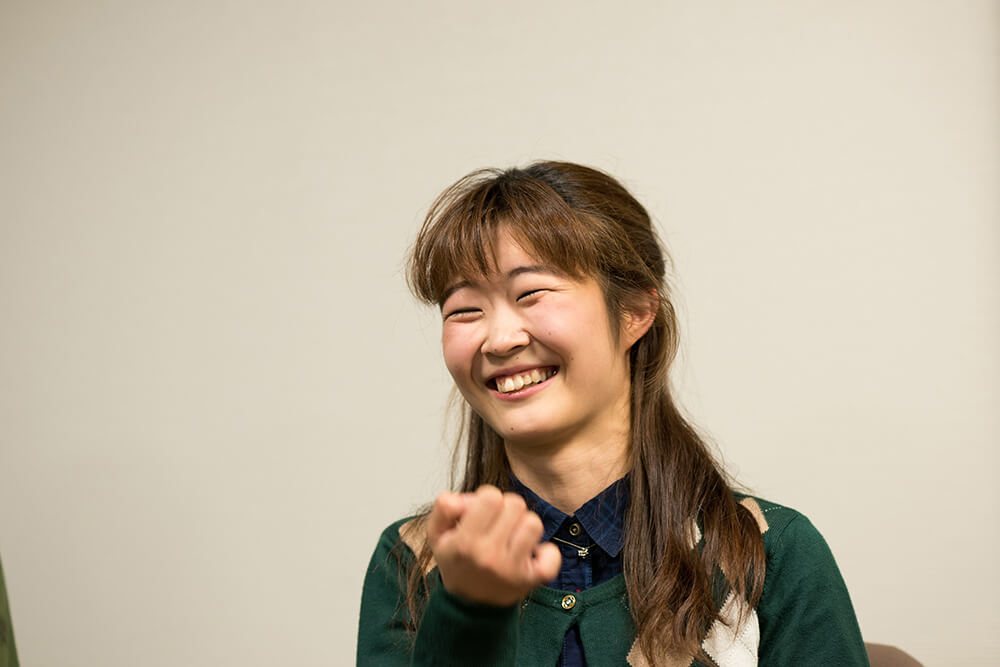 Iketani:When I first heard about it, I thought to myself, "Huh? A tooth?" I was really surprised. (laughs) But when I went through the script, it seemed something I'd have fun acting in, and I excitedly began attending rehearsals.
Oshima:There was the pain of not winning last year, even though it was the first time we made it to the finals. Planning for this year to be our last attempt, I wanted to follow my heart, even if others called my work "a skit." I wanted to have fun with the audience. So I challenged myself with a full-blown comedy. During rehearsals, I polished the script with the input of the other members of our troupe. So "In an Instant" is really the product of all of our efforts.
Iketani:This is probably the first time I've seen Mr. Oshima show gratitude to the other members of the group. (wry smile)
–The audience laughed throughout your performance in the finals. Did you have any feedback from the qualifying round?
Oshima:Yes, we did. When Ms. Setoyama gave her critique during the qualifying round, she suggested bringing myself, Iketani, and Kimura into one scene together. Until this year, my strange pride never allowed me to listen to the qualifying round critiques. But this was the first time I thought, "That's right!" and revised the script right up to the day of the finals.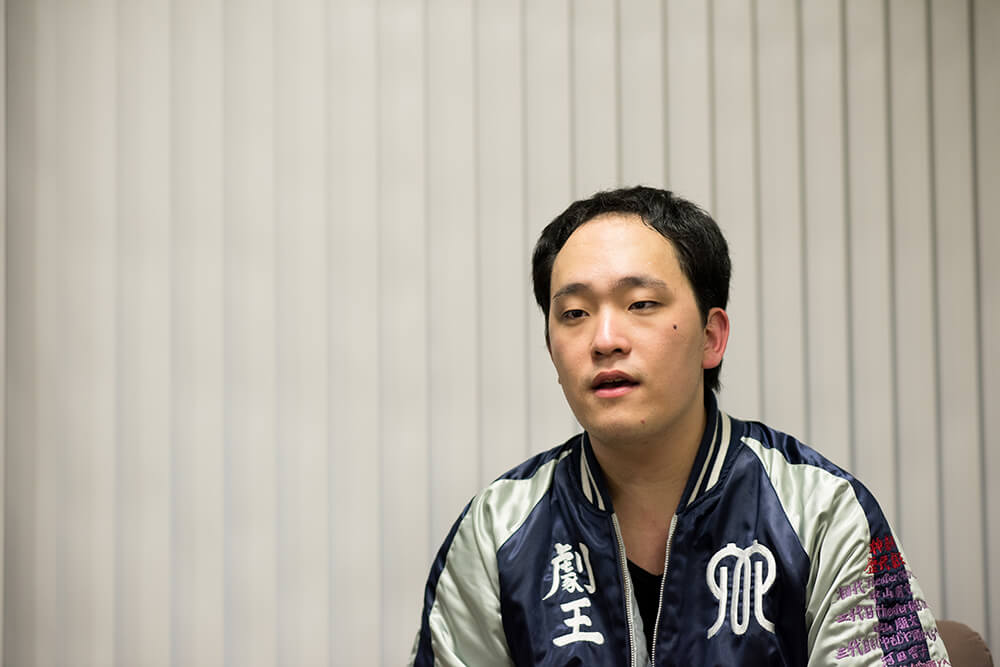 –How stressful. Because of Gekio Kanagawa's strict rules, which limit performance times and cast numbers, do you need a different mindset than that with which you approach normal public performances?
Kimura:Yes. You don't get many opportunities to perform twenty minute plays, so there's an excitement you get in grabbing people's attention with your skills.
Iketani:With the usual sixty-to-ninety minute plays, there are parts that you lose sight of. But because Gekio Kanagawa plays are short, as an actor you get to enjoy filling out the details with each rehearsal.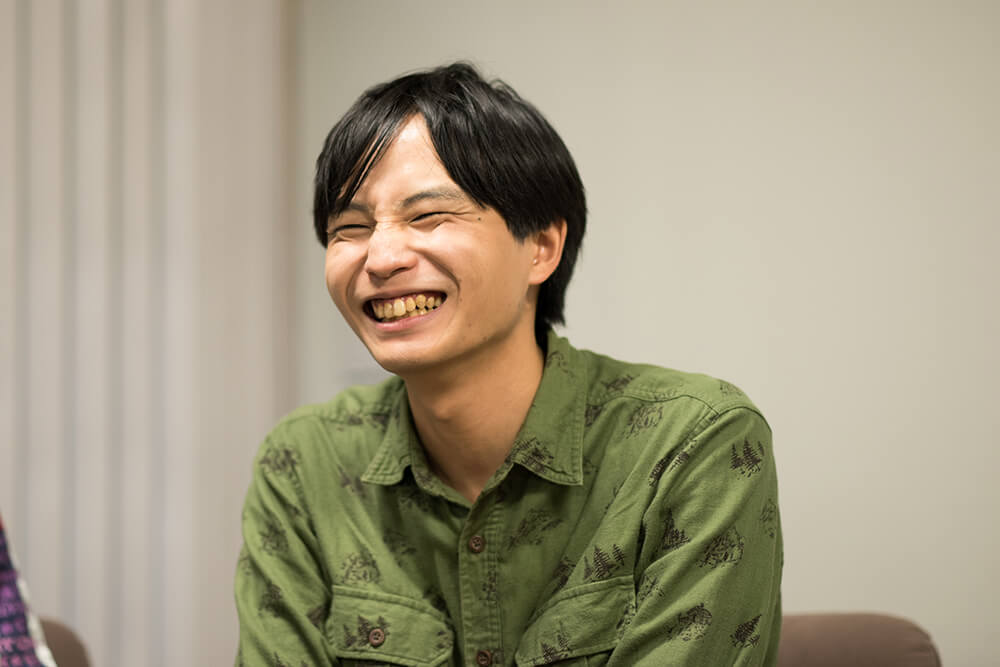 Oshima:As a writer, I find it easy to write when I have constraints. I can still change things according to my discretion. It's difficult to express things when the material is too dense. With that in mind, I'm glad that I focused on a play that would keep people laughing for twenty minutes. During the span of twenty minutes, there are a lot of things not written into the role an actor plays, so there is also the difficulty of exercising more imagination than one normally does in plays.
–You will be bringing "In an Instant" along with you when you compete in the Kanagawa Kamome Short Theater Festival next March. How will you approach it this time?
Kimura:In all honesty, I still can't believe it… (wry smile). However, I did get on stage as an MC at the last Kanagawa Kamome Short Theater Festival. I just haven't performed there as an actor, which has me feeling so, so delighted!
Oshima:It looks like you're starting to believe it. (laughs)
Iketani:From here, we begin rehearsing again for next year, so we'll give it our all without losing sight of our primary objective of delighting the audience.
Oshima:We are performing in the KAAT Kanawaga Arts Theater's big studio next time, which means the stage will be quite wide. You need to think creatively to bring sketchbook-staging to the big stage. There was something pointed out about our plotting during the tournament critique as well… I would like to come up with a greater expression of fear when the wisdom tooth is being pulled out, raise the dramatic stakes of the scene. And I would like to deliver laughs with simpler, bigger gestures. I will be overjoyed if this leads to more people attending our plays. And so I'll be brushing my teeth non-stop to make "In an Instant" the representative work of the Chiri-Actors troupe! (laughs)
An Interview with the Executive Chair of Gekio Kanagawa, Tomofumi Nakayama (theater 045 syndicate)
–A new Drama King emerged at Gekio Kanagawa V. Looking back, what are your thoughts?
Nakayama:Gekio Kanagawa had its start in 2012 when Norihiko Tsukuda of the Japan Playwrights Association Tokai Branch asked us if we could hold his Gekio event in Kanagawa. He had originally held it in Nagakute, Aichi Prefecture. At the time, Mr. Tsukuda told me that ascribing points to dramatic works was pure nonsense, that there is no "good" and "bad" art; but if we continued for five years, we would surely foster a young artist to take the prize.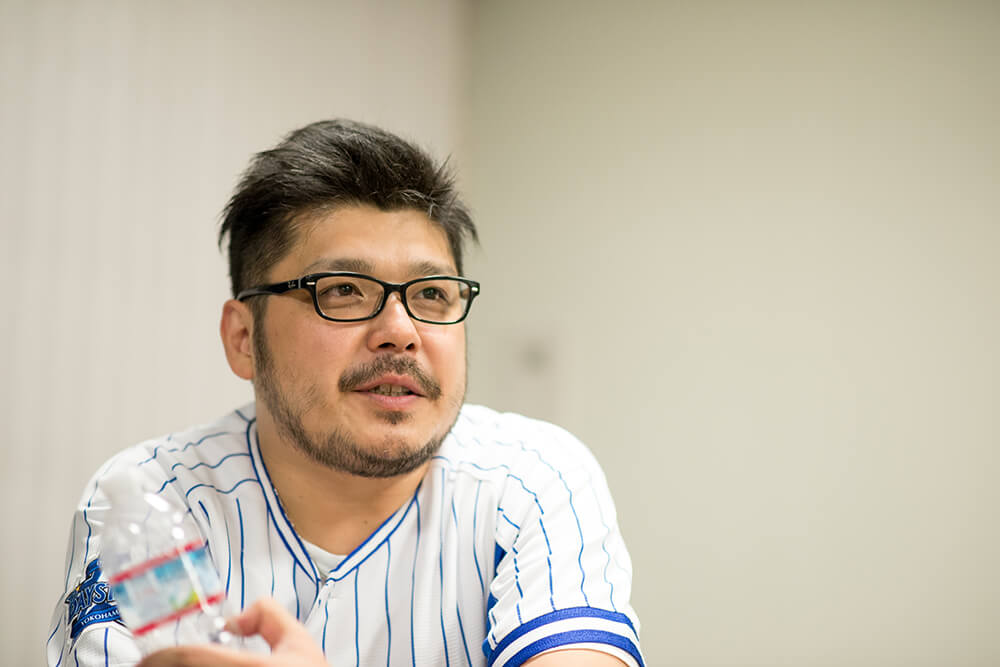 Tomofumi Nakayama
–That "fifth year" finally arrived.
Nakayama:That's right. And what really pleases me is that this time our audience watched all the plays with an open mind. We have been doing this for five years, so the audience and participants have found a way to have fun and a system that is unique to Gekio. This also showed in the result of our first record turnout.
–Gekio Kanagawa is rooted in place. Have you witnessed any changes in the prefecture's theater scene?
Nakayama:I have. In fact, more young people are participating every year, and there is more collaboration between troupes, which I think Gekio Kanagawa has had a hand in. I received the title of Gekio Kanagawa for the first two years as a participant from Yokohama, but Mr. Oshima, who won this year, is based out of Odawara. Without this event, we wouldn't have had a chance to meet. Furthering regional exchanges will be great for the future of theater in Kanagawa, especially for the younger generation. I am hopeful for troupes active in different regions to perform together in the future.
–A judge mentioned that the quality is improving with every year in their critique. How do you feel about this?
Nakayama:Hozumi Goda also pointed out on stage that because there are many constraints in Gekio's performance system, strategy likewise develops. That is, participating groups have exercised creativity and individuality for the purpose of this event. I think this is tied to Mr. Oshima and the Chiri-Actors' win.
–Mr. Nakayama, you have worked for the past five years as an executive member. How would you like to see Gekio Kanagawa develop in the future?
Nakayama:This year, as a closing remark, Mr. Oshima taunted those aspiring to be the sixth Drama King to come to Odawara and take his souvenir jacket. We've always held Gekio in Yokohama, so it might be interesting to hold it all over Kanagawa, in Odawara, Sagamihara, Atsugi… I'd personally like to hold it in Hakone. Doesn't a theater contest held in the banquet hall of a hot springs hotel sound like fun? (laughs)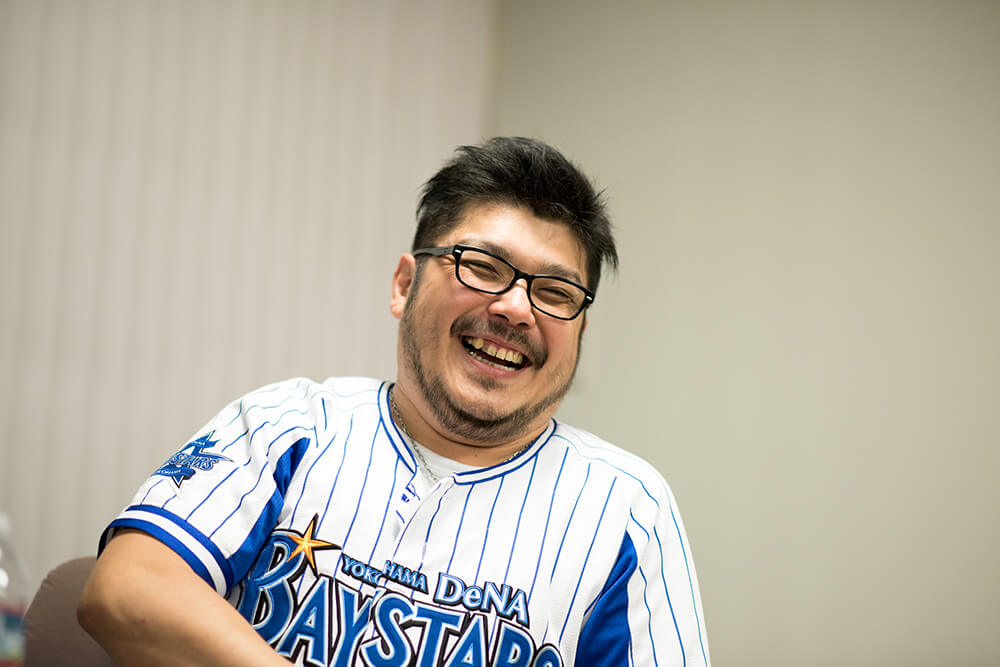 –Now that's something new!
Nakayama:After five years of Gekio Kanagawa, I would like us to challenge ourselves with more innovation. I would like it if Mr. Oshima's generation, who are in their mid-twenties, could take the reins and move my generation's planning committee further. It's an indie event, so we don't have money to spend (laughs), but I would like to preserve the feeling that this is an event we make ourselves out of respect for the current Drama King.
–Mr. Nakayama, as the winner of the first and second Gekio titles, would you like to see this event continue?
Nakayama:Of course. It's a shame that we didn't win with "Beneath the Light of the Moon" this time, but I will get back the title of Drama King soon enough. (laughs). As a fan of the theater, I think Gekio Kanagawa is a fun event. You can enjoy it as a showcase of various troupes playing in various genres. It brings people out to performances of various groups and artists, animating the theater scene in Kanagawa. I hope that people attend the qualifying rounds as well next time, as you get to see how plays change before reaching the finals.