Machinaka exhibition
A "machinaka exhibition" where companies utilize the historical buildings of Yokohama and light up with their own lighting technology.
At MAGCUL.NET, I interviewed Yamato Kogyo Co., Ltd. and Crown Bee Co., Ltd. to exhibit at KAAT Kanagawa Arts Theater 1F atrium.
Q1) What kind of company is Yamato Kogyo Co., Ltd. and Crown B. Ltd.?
Yamato Kogyo Co., Ltd . : We are a company that has been engaged in infrastructure development for over 50 years producing large equipment and other communication equipment used by power companies throughout Japan. In the process, we began to use LEDs, and at the same time, it led to the production of the effect lighting that we used this time.
Crown Bee: A company that carries out most of the process from balloon design to production and construction and removal.
Q2) Please tell us about the works to be exhibited this time.
-I use a rose as a motif, why did you choose this motif as the key of this work? Also, please let us know if there were any technical points or other issues or difficulties.
Yamato Kogyo: We have entrusted all the selection of the motif to Crown Bee. Because it is a complex shape and a symbol that symbolizes this building and the people of Yokohama, I was careful not to be a vulgar light. If you look at it, I think that you can enjoy the vivid impression that comes from the sense of large size and the graceful expression that the light shows. >
Crown Bee: First of all, when I was introduced to the building of KAAT, the building itself was imaged as a map, tiles and a glass bottle were excavated, and this image was completed because it is also a trading port. Technically speaking, the LED is inside the balloon, so we designed the internal structure so that the light could reach the outer skin.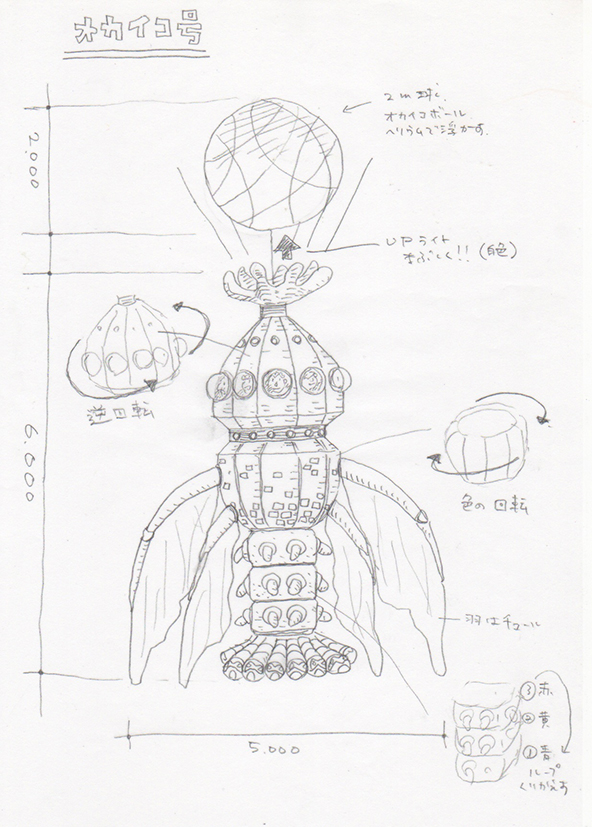 Q3) As a company, are there anything that you are conscious of when you submit "works" like this time?
Yamato Industrial Co., Ltd .: We are a manufacturer of equipment, so we will not exhibit "works" in our company, but we think that we can maximize the help to realize the image of the artist and those who use it. Are making It is the first time to make a tag like this one. Before, when I was asked by Crown Bee to purchase our lighting fixtures, I had actually shown how to use it. The impact of the balloon at that time was very impressive, and as we participated in the smart illumination this time, I would like to say if we could have been together. We have never been involved in the exhibition of such events or works, so we are very honored to be involved in the creation of such works together.
yle = "color: # 808080" > crown Bee: We thought that from small children as you enjoy ask to see a lot of people to older people.
Q4) Please give a word to everyone who comes to smart illumination.
Yamato Industrial Co., Ltd .: In recent years, "LED", which has been established in general homes, has a strong image of saving energy and saving electricity costs. However, it is fortunate if you find that it is sometimes used for entertaining people like this. Please enjoy the unusual night view of Yokohama.
Crown Bee: Please enjoy the various light effects.
Related URL:
http://www.smart-illumination.jp/2013info/machi/index.html