Theater / dance
Group connected to the city Reading music theater "Ginga Railroad Night"
A place where a play is born
File.2 Group Reading Musical Theater "Ginga Railroad Night 2018"
(Imai Koichi / editor writer)
Speaking of the university that imagines the word "theater", is it Waseda University or Nihon University of Art?
There is a group of Arts and Culture at Okubaibin University in Fuchinoba in Sagamihara City, and it is not yet known generally that an actor from the same university and a dancer are active considerably recently. However, in Purunushoru owned by the university, we are doing advanced activities nationwide.
First, the hall is managed and administered mainly by students, and not only the place of practice and presentation of students but also various plans are being done as "theaters opened to the community".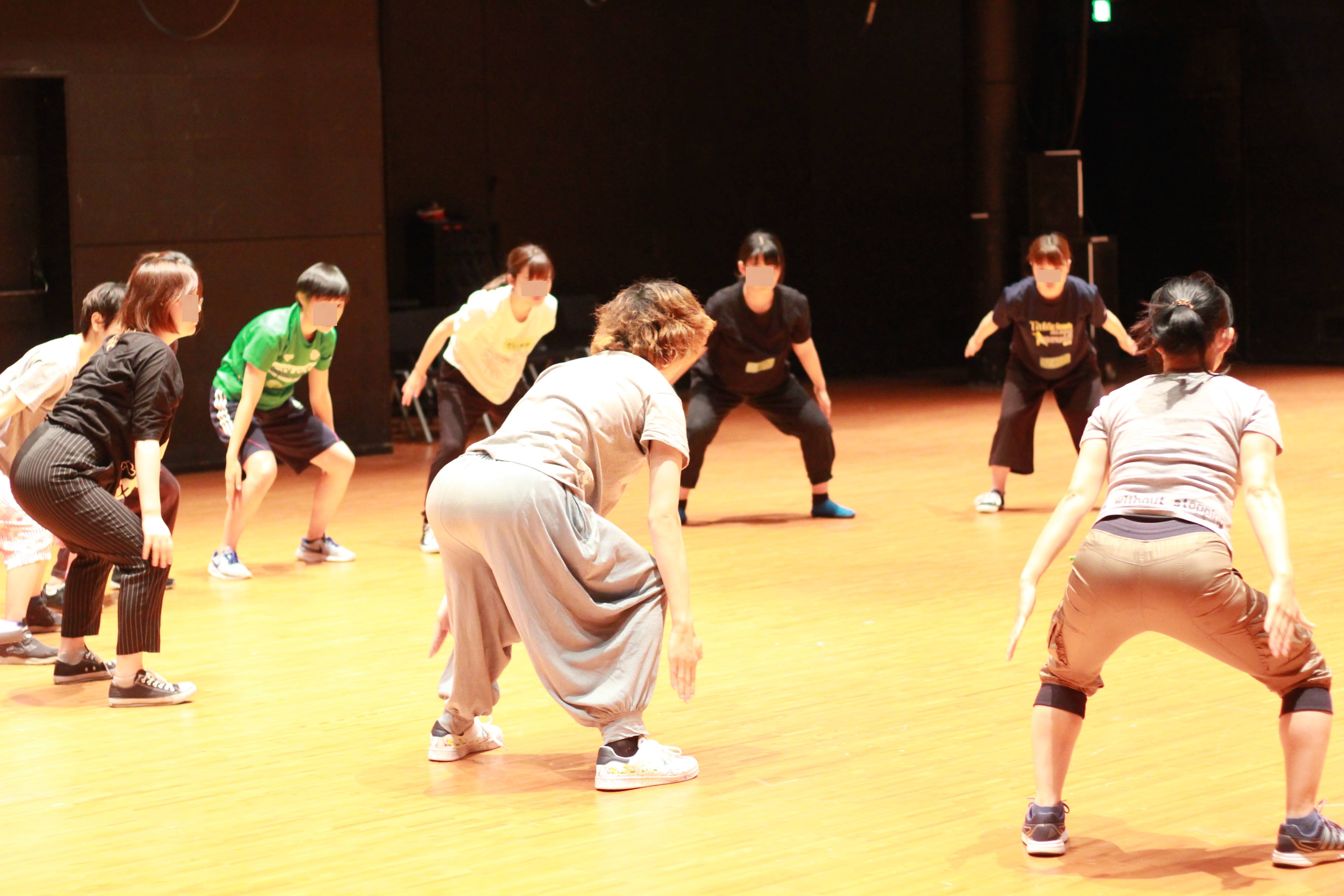 Born as a citizen participation project to embody the mission, it was the summer performances like the theaters' faces, group reader music "Ginga Railroad Night". This stage created with citizens, students and professional artists will celebrate the 12th year of this year.
It seems that 8,521 customers have witnessed how far they have witnessed.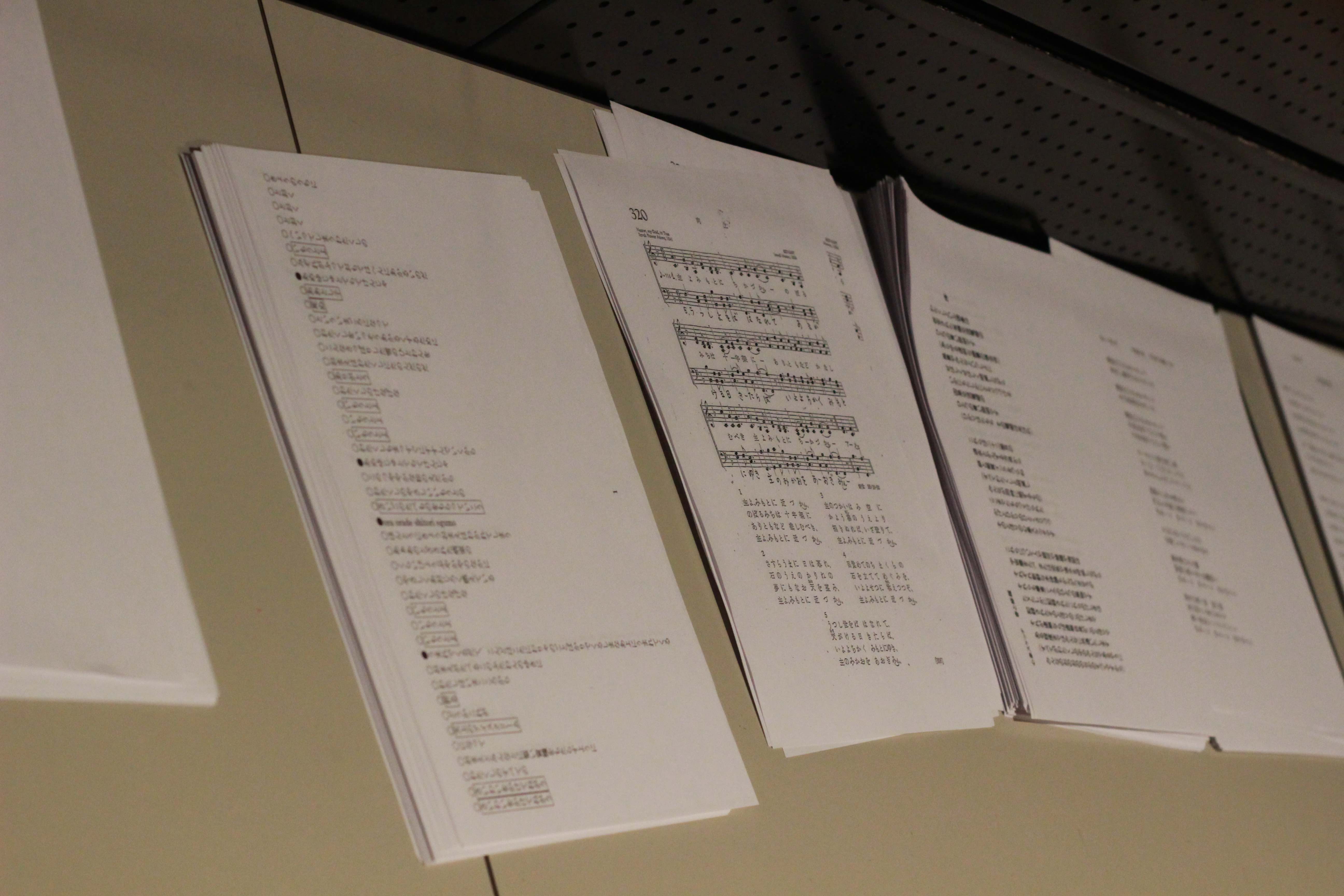 On the Fukono side where Prunus Hall is located, as JAXA is present, as a "galaxy-placing town", town designation reminiscent of the universe is made, such as naming the constellation on the road and holding the "galaxy festival" in the summer We are. In that sense, Kenji Miyazawa's "Ginga Railroad Night" is a perfect subjectToday.
Moreover, there are also reasons that it is full of the desire to tell something from the stylistic body which contained the breath unique to Kenji. From the story of life and death fantastically drawn on the theme of loneliness of the hero Giovanni, "human voice" such as sorrow, joy and longing will be heard. Representing this "voice" is a citizen cast of various generations, chosen by the audition of last May, is a student.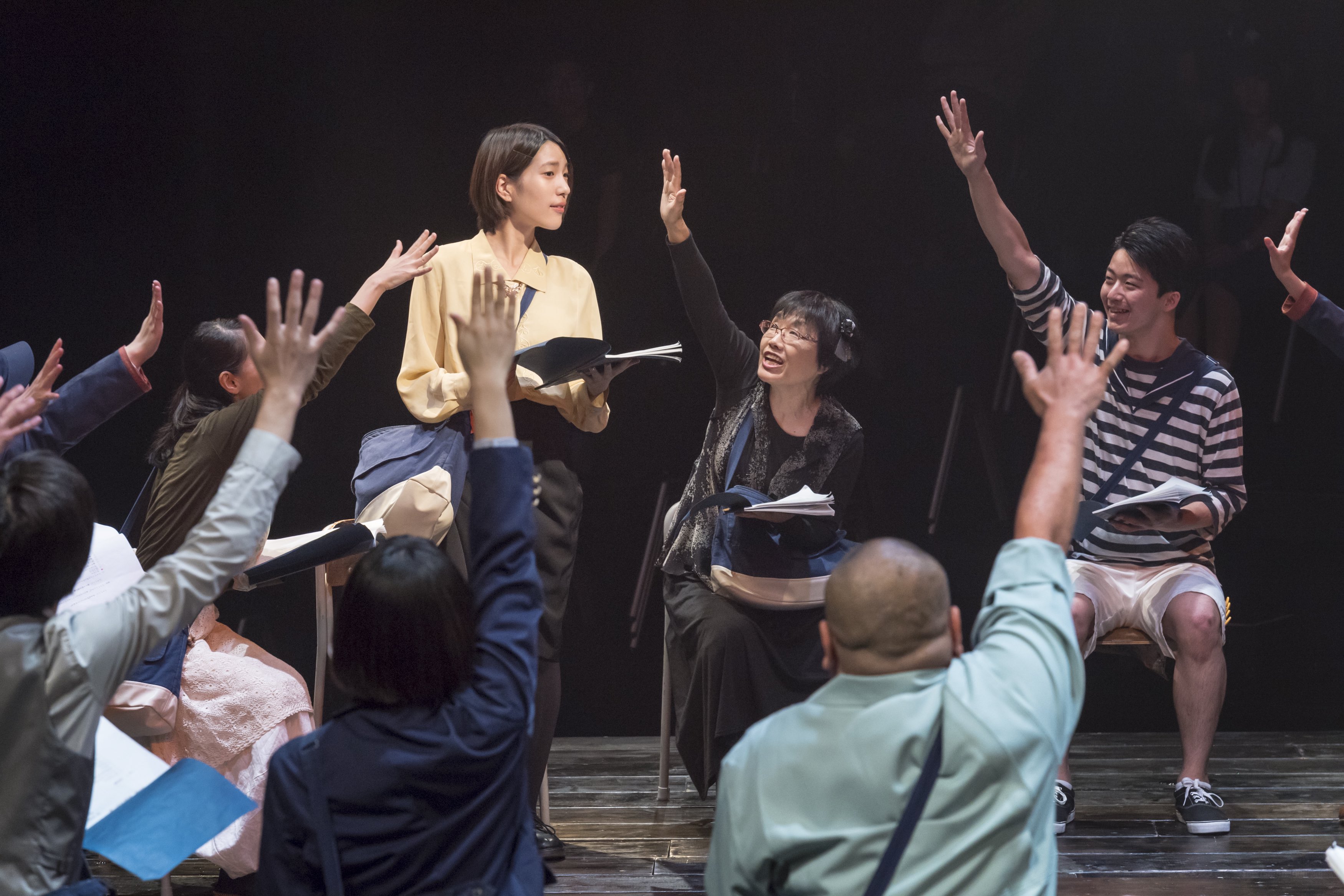 The stage is circular, in the center there is a pond with this water, and there is an active area like an island in it. A chair is placed around the pond, while casting has a script, you can run around, dance and jump into the water. In addition, live performance music, songs, body / percussion, sound collaboration. The stage where a dynamic body and a number of words with a strong feeling of Kenji merged together will be transformed into a very abysmal world.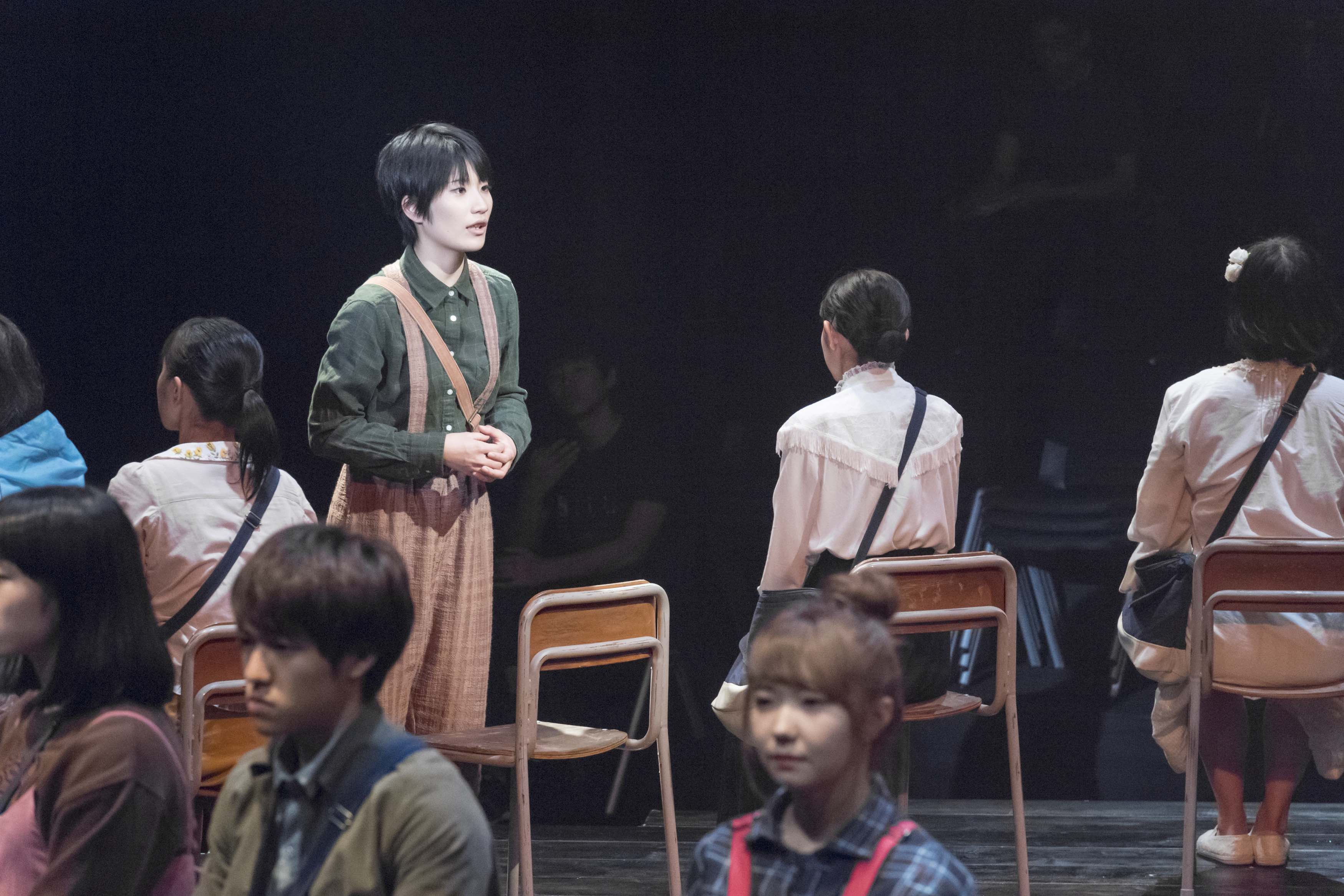 Practice is only one week of summer vacation, but it is a very luxurious environment because it can occupy plenty from day to night with the same space as the actual work, the same stage art.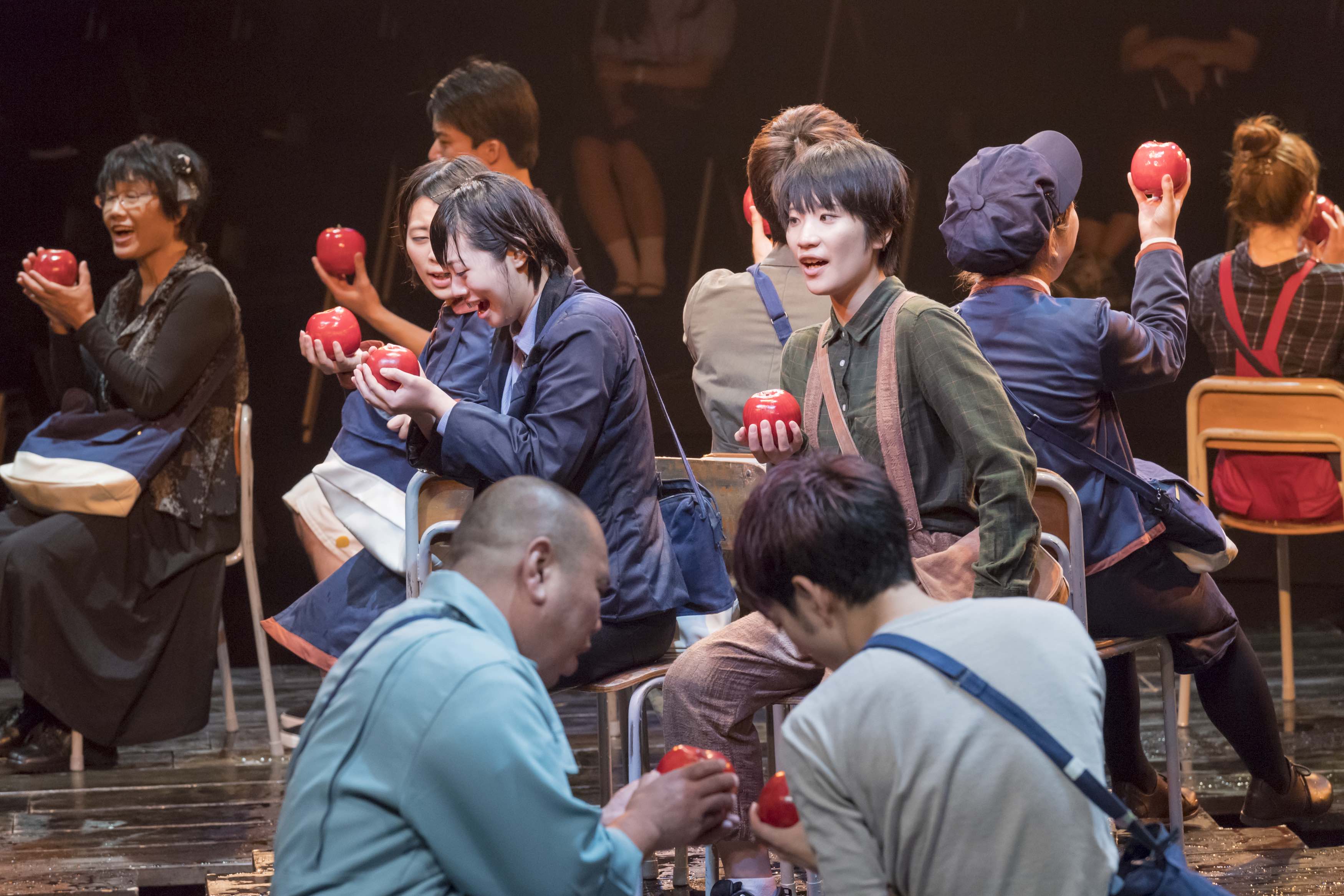 The purpose of this project is to ensure that organizers, artists and participants have good qualityIt is also a mission to increase the interest in art by presenting each other's values regardless of generations, sex, occupation, etc., and disseminating artistic activities with the region regardless of generation, gender, occupation, etc. I will.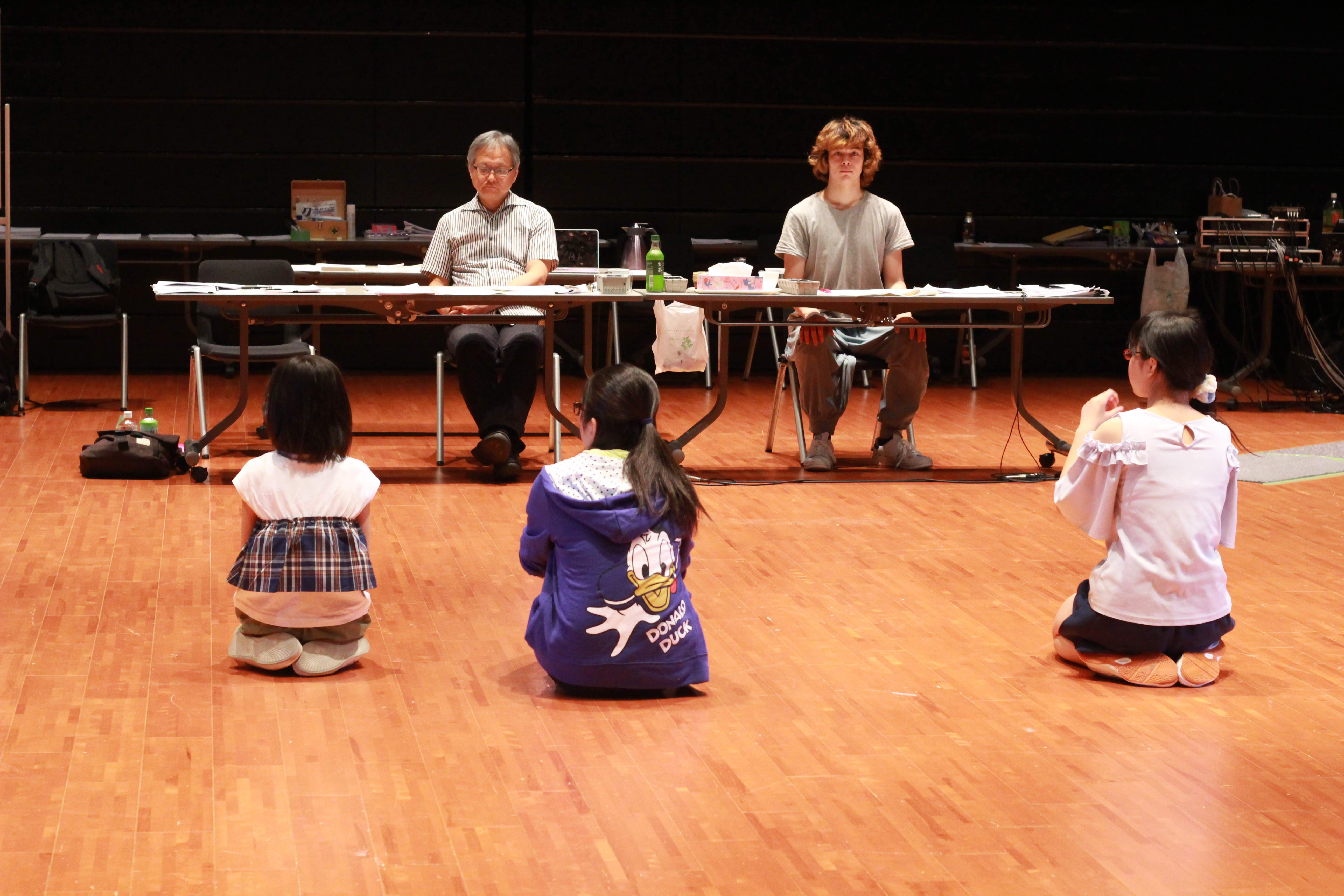 "That posture that people of various generations enthusiastically head towards a stage after receiving a letter from participating citizens after the end was aimed at Kenji Miyazawa as in" Introduction to farmers' art " I was touched by the fact that it was written that it might be an ideal community way of life. "
"A person (woman) who participated at the age of 70, received an audition to commemorate even at the age of 80 years after 10 years, passed superbly, and felt that the existence itself is increasingly shining I felt that we learned the importance of continuing for us. "
This is a word left behind by the professor Masao Nozumi who is in charge of directing, I met with citizens so far, and it seems to be memories.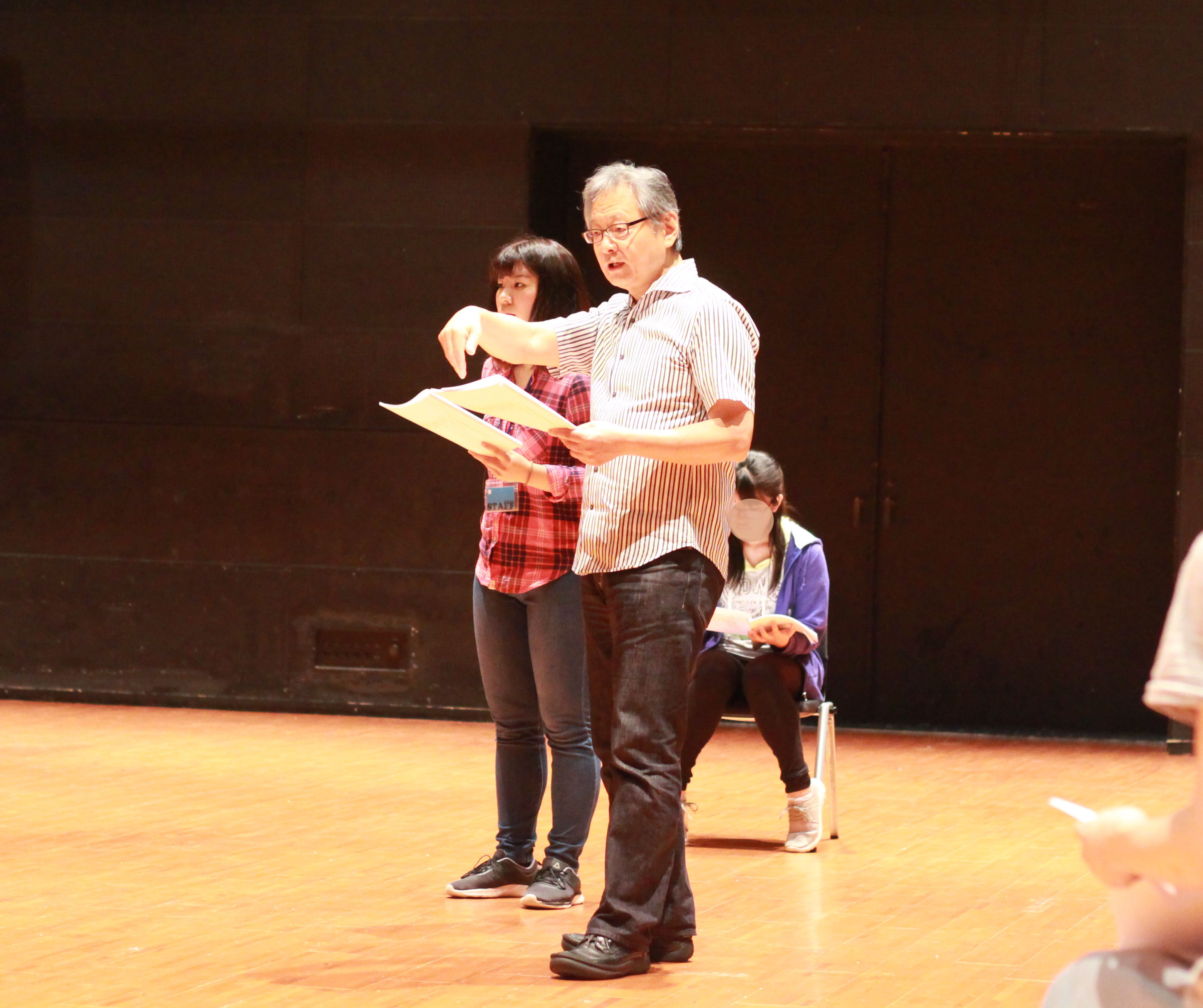 In the course of accumulating history, in 2011 the work was created with the theme of "Miyazawa Kenji's prayer" as it was after the Great East Japan Earthquake. There was also introduced as NHK program "The stage to overcome the disaster".
In 2014, Iwate Prefecture, the hometown of Kenji, went to Nishiwaga-machi, recruited performers from local town residents and created works as Nishi Waga version. In 2015, Meguro Persimmon Hall was co-organized and performed at two theaters "Fuchinoba" and "Meguro". In addition, we will conduct a performance in Tainan City, Taiwan in FY 2016, and in October this year we are planning a performance at the Chinese Drama Academy in Beijing as part of inter-university exchange.

The group which is becoming the face of the city from the face of the theater Reading music theater "Ginga Rail way night". It is likely to be the key to how far it can connect with the city to make it really true.
* Photo courtesy of: Okura College of Technology Prunus Hall
* All the stage photos are from the 2017 performance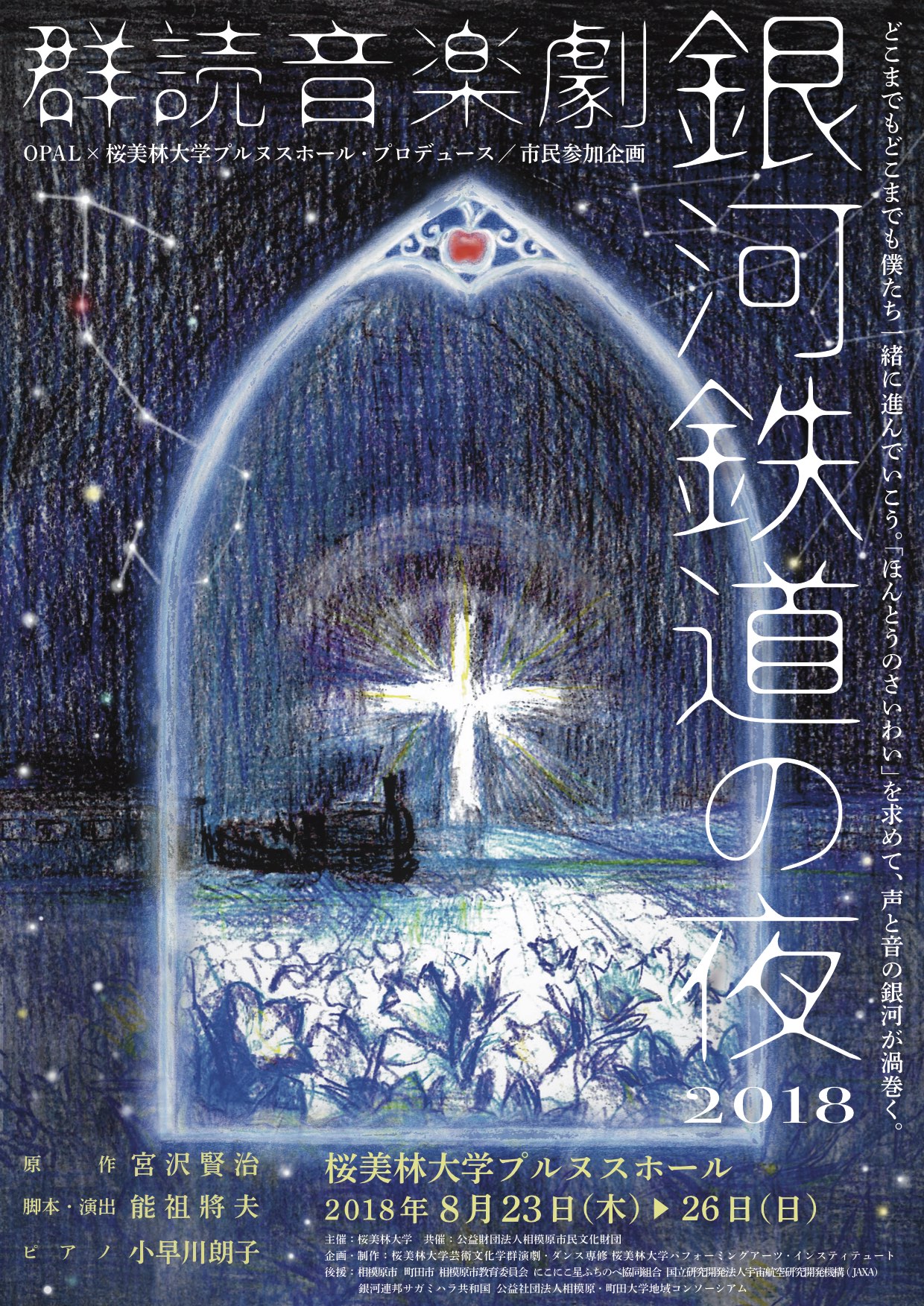 "OPAL × Oirakubin University Purunushoru Produce / Citizen participation project
Group Reading Musical Theater "Ginga Railroad Night 2018"
■ Date and Time: Thursday, August 23rd to Sunday, 26th (Sunday)
■ Venue: Okuraibin University Purunushoru
■ Original: Kenji Miyazawa
■ Screenplay / Director: Masio Nozomi (Professor, Oriental University Arts and Culture Group Theater)
■ Music: Akiko Kobayakawa (Associate Professor, School of Arts and Culture, Jobitori University)
■ Choreography: Kanda Hatsune Farrell (Albert University College of Arts and Culture) Graduate
■ Cast: 23 citizens / students selected by the audition, Kanda Hatsune Farrell (dance), Kobayakawa Akiko (piano)
■ Ticket price: 1,200 yen for general / 1,000 yen for students ※ Increase 300 yen on the day
Release date ■: July 16 (Monday)
■Opening hours: 23 · 24: 19: 00, 25: 14: 00/19: 00, 26: 14: 00
■ Inquiries: Prinus Hall of Okura College Tel: 042 – 704 – 7133 (10: 00 ~ 18: 00)