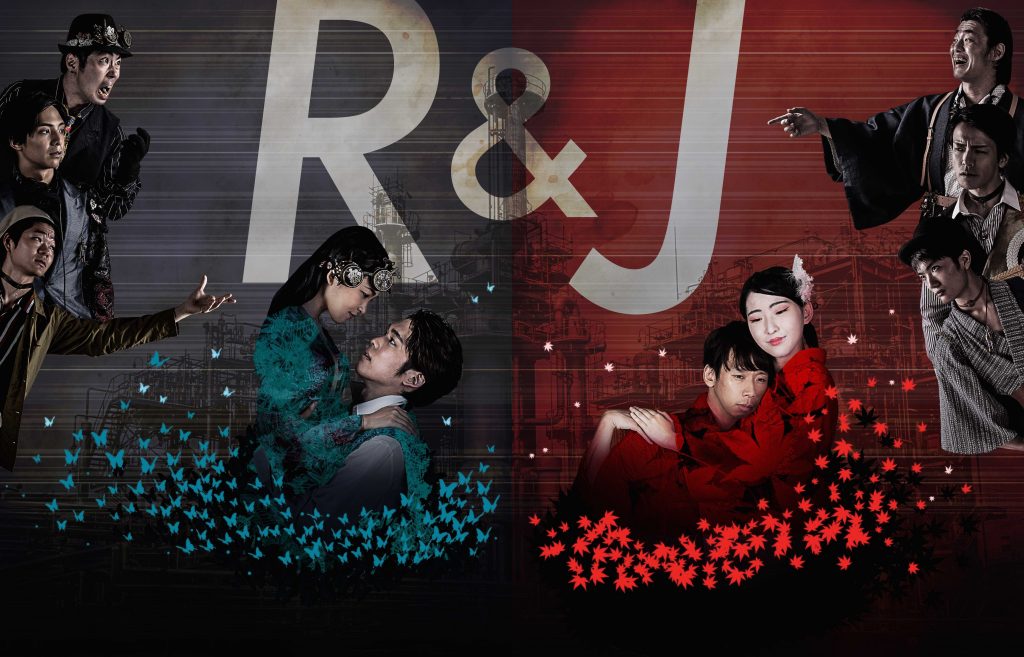 Theater / dance
All-Kawasaki project aiming at the world "Kawasaki Romeo & Juliet"
A place where a play is born
File 2 Kawasaki Romeo & Juliet
Koichi Imai (editor writer)
One of the dreams of the theater company "Kawasaki Alice" who is based in Kawasaki City has advanced abroad. Recent young people 's theater company can hear saying that he knows the length, but it is somewhat lonely not to say such a word.
Ash, presided over by the theater company, was working as a musical actress at the American tour theater in his twenties.
"To work in the United States is natural, but the language is English. When did you start to ask the question," Why am I playing in English? "And the question of the musical made in Japan I came back to Japan and wanted to take it to Japan.While looking around for about 2 years, I heard that the Tokyo University of Fine Arts will make a course to learn theater, I thought "This is it!" I reintroduced it to not to act as an actor but to learn the production "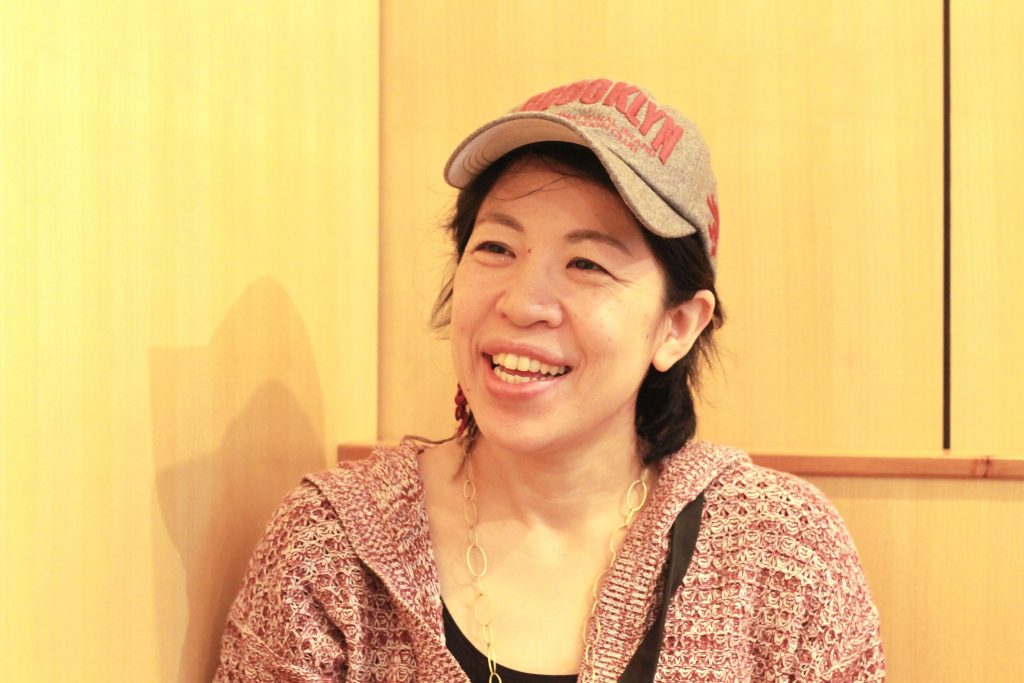 While meeting with various theatricalists, Miyagi Sayama led the Ku Nauka Theater Company. Speaking of Ku Nauka, a theater company that developed its own activities in a style where two actors play a role as a moving actor and an actor who talks. However, Ash was attracted to not being an acting style, but realizing that "putting Japanese in music" on the stage.
The music that is full of our everyday lives is European and American rhythms such as rock and pops. However, Ku Nauka had words in a comfortable rhythm for the Japanese. I was also attracted to the vigorous performances of overseas performances. I was invited and joined Ku Nauka as a directing department and I will work long under Miyagi.
And, Miyagi became independent as a result of moving the base as SPAC (Shizuoka Arts Theater) art general manager. ThatIt is strange that Kawasaki city is born from here.
I got a job to teach theater from high school, I made a stay in Indonesia company in connection with Miyagi, and became acquainted with the president of the design office. While the plural edges are tangled, theater activity is started.
Actually, many of the members of "Kawasaki Alice" once went to various courses and wanted to do a plays in Kawasaki after all "former students. The rehearsal place is offered by our design office. Then she began to root in Kawasaki city at first glance.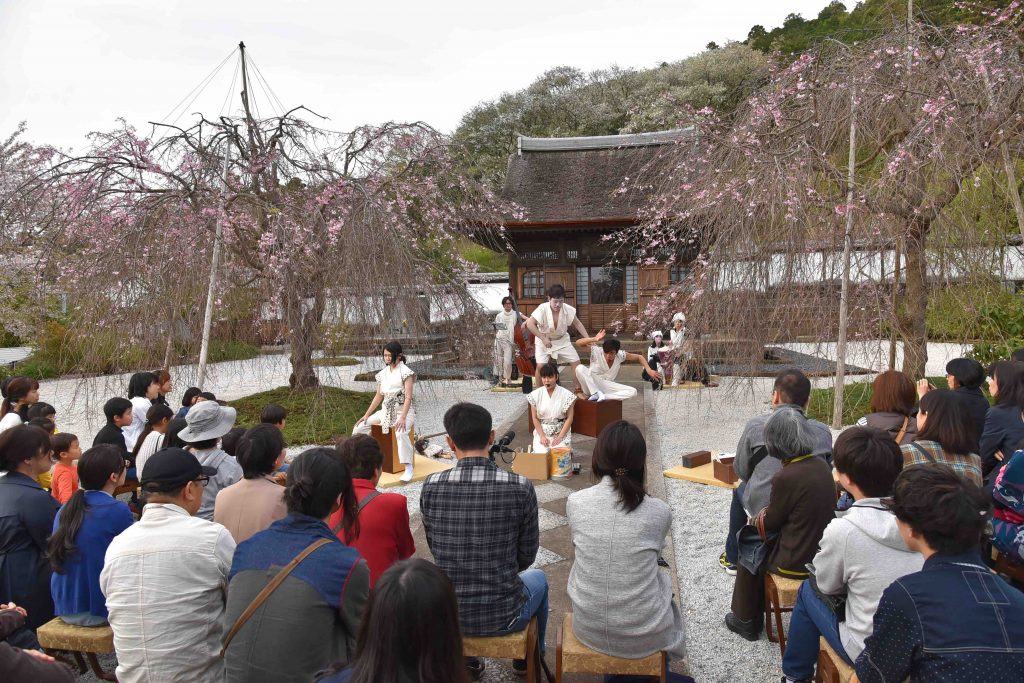 * "Running Meros" at Kamakura / Jirakuji temple
"I also participated in Mr. Tadashi Suzuki's drama cram school in Toga village in relation to Mr. Miyagi, which was a shocking and interesting experience that overwhelms the concept of theater in me, but closer to the area than anything else I was surprised that I was doing activities while building something with a social impact.When I thought about it, I realized that I am also interested in the relationship with the community "In Kawasaki I realized again that I like doing things. "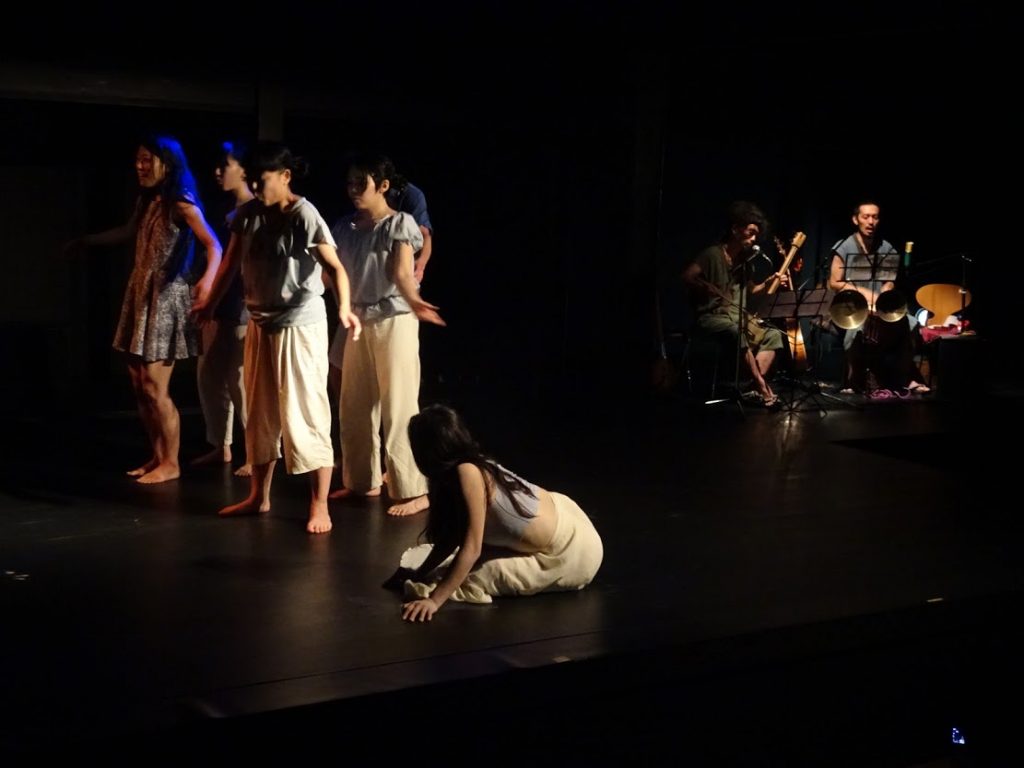 * From Toga "blue bird"
The reason why I added "Alice" to the name of the theater company is that he is suddenly drawn into Wonderland, because he is aiming for a play that can be taken away to the unreal world. It's been 8 years since the start. In 2017, Ash himself won the Excellence Director Award at the Toga Theater CompetitionIt was.
In December 2018, we hosted two versions of the red (kure ni) group, 縹 (Hana nada) group at the producer 'Kawasaki Romeo & Juliet', which was commemorated the 12 th anniversary of Laisona Kawasaki Plaza Sol opening sponsored by Kawasaki City To deal with.
"I've come to a new step as a theater company, I have never thought that I would like to end with the regional Ichigo company, so it was my original dream to put out works to the world. It took, but I am delighted that I was able to reach the story of the producer's performance. "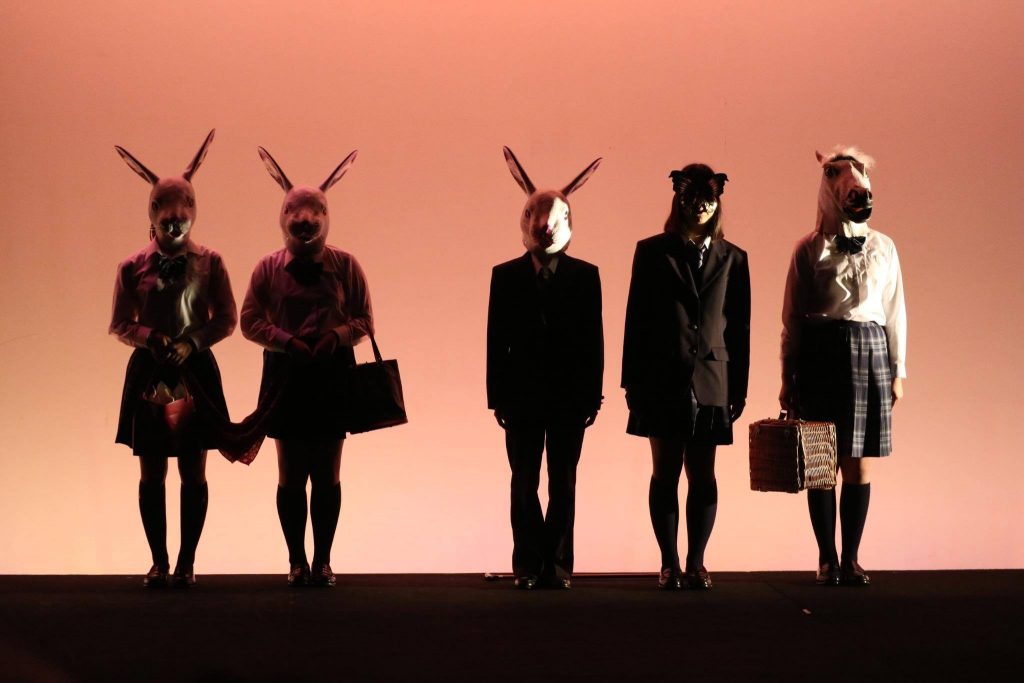 * 'Weak mentor' who plays with high school students at Plazasol
Plaza Sol is a small theater in a shopping center in front of Kawasaki station. A richness was born by staging theater with high school students here.
"Romeo and Juliette" is a masterpiece of Shakespeare depicting the short life-spaning love of Romeo and Juliet with two conflicting households. It is said to adapt it to the story set in Kawasaki like Nishiki town about 200 years later and to make it into a music play with live performance.
"When it says" Future Romijuri ", it becomes an image of SF, but I always make it assuming" What will be this work ahead of seven generations. "Because it's already been left over 400 years ago I will continue to live ahead of this, perhaps it may have become a more innovative world than now, but I think that the fundamental human activities do not change, even if society and the environment change, "Romyjuri" should be performed at first, I am setting it as 220 years later, but I am making it while talking with everyone, "What is going to happen to Kawasaki then? I think that it is good to raise a theater person in Kawasaki and to become a catalyst for cultivating Kawasaki culture. "
A big audition is held this summer. The gathered members were divided into two groups, (Kurenai) pair will be Ash 's aiming artistic performance taste, the Hanada group will be a work deepening the drama of "Romijuri".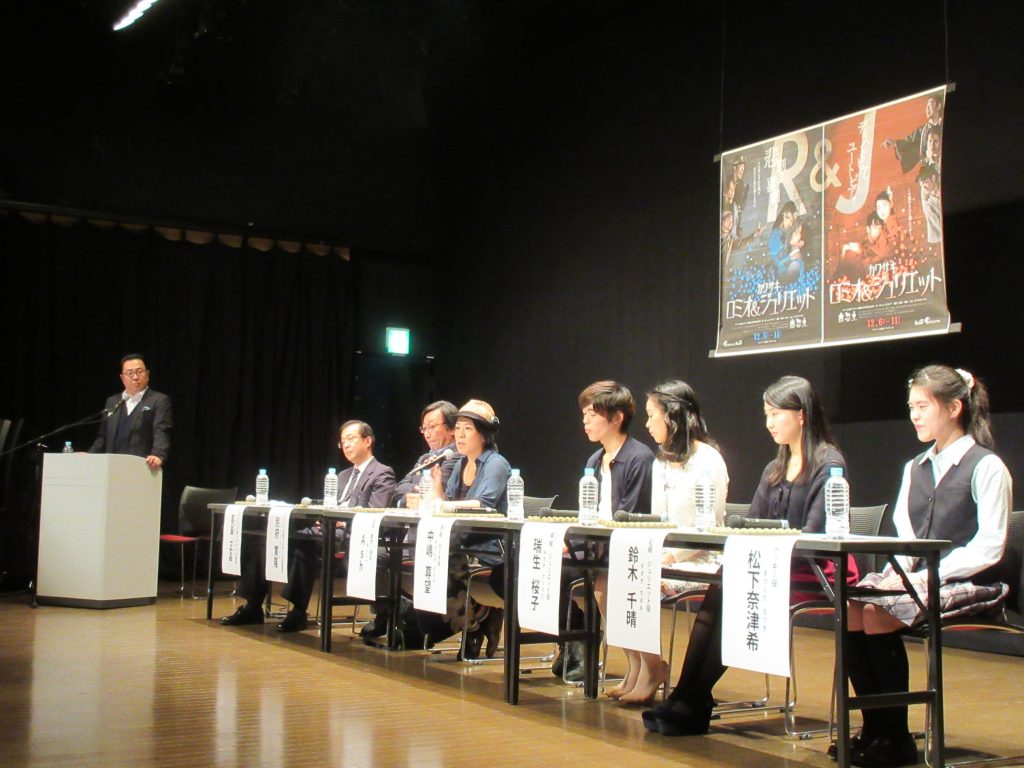 * Romeo and Juliet Production Presentation
Recently it is becoming a global trend to fuel confrontation. Although the epitome of that is in Kawasaki, Ash feels that there is a city with lively power, including such negative aspects. How will this story be received?
"I feel that everything in the world is in a much smaller and conflicting structure.In the first place people are conflicting everywhere.At the tension of conflict apart from whether it becomes a fight or not, Some things are born, such as art as well, I think that "Romeo and Juliet" will be a story that can be sympathized with the people of Kawasaki living in conflict and miscellaneous culture. "
Ash has not written the ending of the script. It is because young actors derive rehearsals in Kawasaki. Naturally, the outcome of the two sets will be different.
"I think there is a pros and cons for doing a classic adaptation.I think I can think of" enriching my life "using the world common property" Romeo and Juliet " , From translation.It is not simply to replace it with the story set in Kawasaki, but aims to make it their own story.The person who lives in Kawasaki may be funny to laugh at. A visitor who saw this play is tragic, but I'm glad if you can find something in it.
782 d 63065 c 7 a 33 – 1024 x 768.jpg "alt =" "width =" 1024 "height =" 768 "/>
* "Romyjury" Promotion @ Kosugi Festa
And members supporting the theater, Ash said, "The creative staff aimed for all Kawasaki", Local friends and friends of Kawasaki. Because theater is a live art, no matter how interesting it is created, it can only share emotions with those who were there at that time. Because of its one-time nature as a charm of theater, he put emphasis on the visual aspect for sending out information in advance. Supporting local creative team "Nokuchi Base". That name comes from "Mizoguchi".
"Even if we want to put emphasis on leaflets etc., our budget does not go to that extent.This is a representative of Nokuchi base this time say" Let's get our gallerry with cloud funding " Then. I will do my best to be a work that can respond to such a spirit of Kawasaki's people. "
"Laisona Kawasaki PlazaSol Opening 12th Anniversary Memorial
"Kawasaki Romeo & Juliet"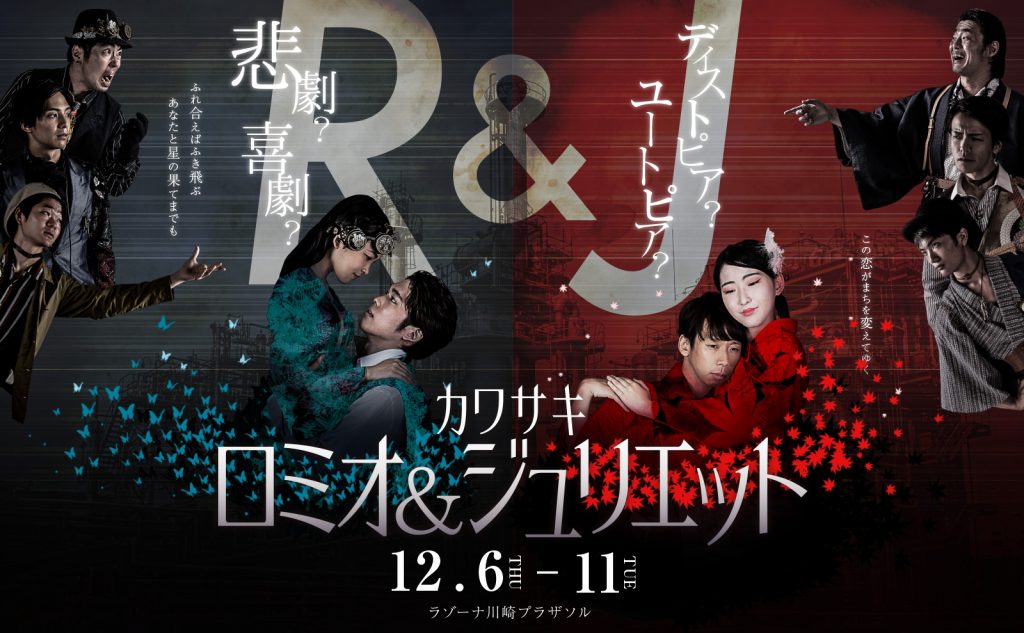 ■ Date and Time: Thursday, December 6, 2018 – Tue 11 (Tue)
■ Venue: Lazona Kawasaki Plazasol
■ Work: W. Shakespeare
■ Translation, adaptation, directing: Ash (Kawasaki Alice)
■ Ticket information: general advance sales 4,000 yen / Kawasaki rate 3,800 yen / college student / vocational school student 3,000 yen / high school student or less 2,000 yen
Sumen set ¥ 7,600 * Advance reservation only. You can see 2 performances
■ Opening hours: 6 · 7: 19: 00, 8 · 9 13: 00/18: 00, 10: 14: 00/19: 00, 112: 00/16: 00 per day
* For details, please visit https://kawasakialice.com/romi-juli