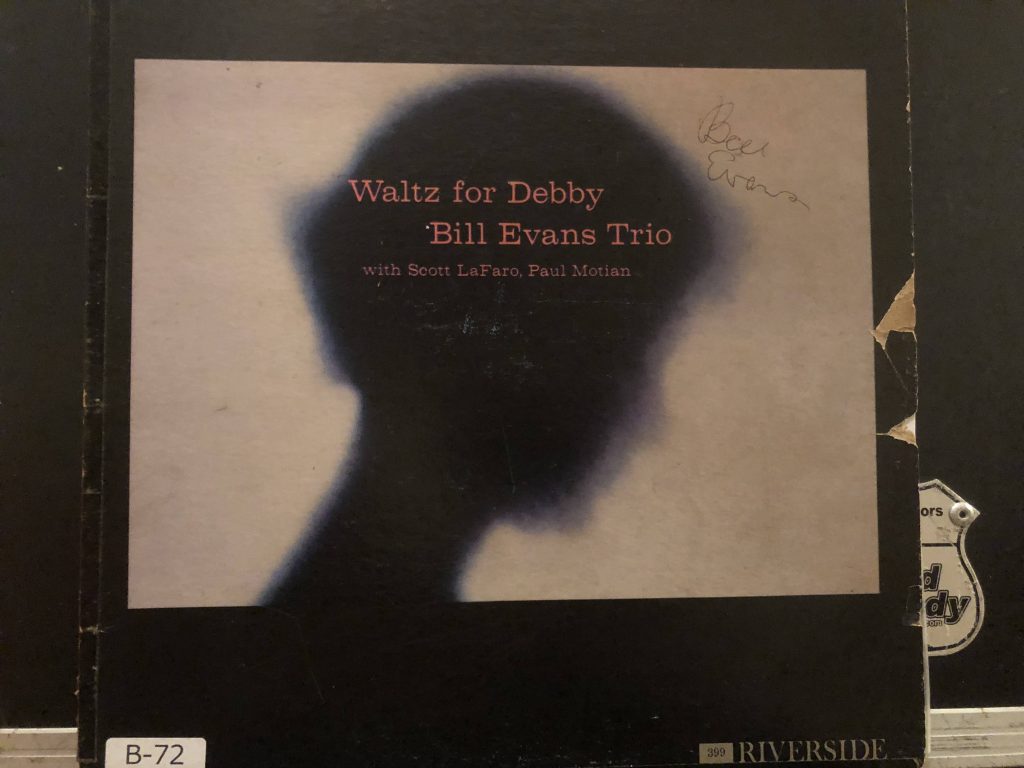 Norse morning, coffee, Bill Evans
Jazz café Chigusa 
Just immersed in jazz tonight
File.4 Bill Evans "Waltz for Debby"
(Shinchon Konoko / Jazz Café Chigusa)
Chigusa's coffee shop starts from 12 o'clock in the day. We are ready to open the store in time to come in the afternoon, but in order to keep the store alone, sometimes I go early in the morning.
It has been getting cooler and colder so I smell of winter in the wild morning. The downtown is quiet as the heat of last night is lying like a lie, and there are few passersby. Looking at the sky drink bottle waiting for collection on the street and the mountain of the wet towel, "I went for a bad thrill yesterday evening," and pulls a cup of coffee at the siphon. Coffee goes up to the glass funnel, so it is comfortable to make a sound with Copacopo, so we will not record it yet. When the siphon is settled and the scent of coffee spreads in the store, turn on the audio.

* Chikusa oversized speaker to sit in the shop
The first thing to call is that the piano is decided as the leading role record. Masami Yoshida "Oyaji" liked the piano. Particularly Bill Evans' Waltz for Debby.
Chigusa 's existence of oversized speaker is designed to hear the sound of the piano trio well. The tweeter is in a good mood if the tone of the emotional and delicate piano, especially the high tone echoes glossy. Believe that I am in good shape today as well, "I hear it sounds good!", I hook a 50-year mono speaker. Listening to this song, I suddenly recall.
In the early 2000s when I was a student, the number of jazz tea ceremonies has already decreased, and there was no "momentum of the 1960s and 1970s" to ask people. Still stubbornIn the shop like a hole, the shop that makes jazz listen loudly was left behind. I myself do not know the era of jazz tea ceremonial but I thought that the underground atmosphere ignoring commercial nature is "cool" and thought that it was cool, Shibuya, Shinjuku, Jimbocho etc. Jazz keeping on keeping its own style I went to a cafe. At first, I did not understand anything about rules, and there were no requests for songs .... It is amazing if I think from now that it is a door that opened well so much.

The first successful request was JAZZ @ GROOVE at Dogenzaka in Shibuya. It was an Altech speaker, it was a store that let me listen at a loud volume. The record is Bill Evans "Waltz for Debby". It was recorded in 1961 when Bill Evans First Trio performed live at NY Village Vanguard.
By the way Evans is participating in Miles Davis 'Kind of Blue' (released in 1959). It is the most sold album in the history of jazz, a legendary album that established a new style of playing called mode jazz. "Waltz for Debbie" is an album that was challenged for recording with the first trio two years later, and it has acquired the first place in Swing Journal's best 100 as a masterpiece remaining in jazz history.

Well, what kind of thing would you listen to such a masterpiece at a loud volume? Despite expecting and requesting, I was baptized with intense sounds in my body and I was honestly a little puzzled. An album with a cold impression on the whole melody of a high-pitched sound, even a sound with a sense of tension, the air inside the storeI will make it taut. Let's learn around and pretend to be pretentious, only to listen with wrinkles between the eyebrows.
However, at the second song "Waltz For Debby" which became an album title, wrinkles between the brows a little were released. Celebrating the birthday of Debbie, my niece is celebrating my birthday, it is fun and beautiful with a fine-grain sound like a waterdrop that can be played on the water surface. I imagined a lovely 3 year old girl dancing innocently with a waltz made by my uncle and made my heart a little light.
Three songs on one side only, about 20 minutes in time, but the first request and the tension by the cold melody of the loud volume piano, and a little relaxation ... I felt long.
I did not go to jazz tea ceremony before, and JAZZ @ GROOVE also closed. I was chased by the busy days, so I got accustomed to the cafe where delicious coffee comes out right away, and I could not afford to enjoy the sound with jazz cafe. However, life is funny, it arrives at the fur so as to be flushed unnoticed and works as Chisa's staff. No dream I thought that day would come when I enter the established jazz cafe.

* Evans autographed portrait
In the morning a little earlier than usual, I came to Chigusa and listen to "Waltz for Debbie". The songs that once felt cold sounds like warm feelings that will inspire Chikusa 's earrings' acoustic equipment. However, although it can not go as far as trauma, when I listen to the beginning, I am a little distracted. It is not as good as when I was stretching and going to jazz tea ceremony.
While recalling that, the wild morning slowly passes by. It is about time we opened, regular time is coming.
Jazz café Chigusa

Established in 1933 (Showa 8). One of the oldest jazz cafes in Japan. Mr. Yoshida, the founder of the company, continued "Building a shop for listening to sounds" since its founding, not only as an owner of a jazz cafe, but also deeply involved in the music scene in Yokohama as a planning and guardian, its lifetime I continued to be with jazz until. Currently it is managed as a general foundation foundation.

Shop / Place name

Jazz café Chigusa

Address

2-94 Noge-cho Naka-ku, Yokohama-shi, Kanagawa

TEL

045-315-2006

Business Hour

【Tuesday - Saturday】 12: 00 ~ 22: 00 【Day · Monday】 12: 00 ~ 18: 00

Service

Nothing

Total number of seats

20 seats

Map