Theater / dance
【Ticket Gifts Available】 Challenge the Playwright Association New Play Drama Award winning work!
(TOP image) Left: Oshima Hiroshi, right: Ichihara Ippei
Magcal Theater, which provides a place where you can freely publish and disseminate about the performing arts, such as theater, dance, music, etc., to cultivate cultural artists. In October, a unit of two young people "WIZAI" appears.
"Wilkie" is a theater unit launched by Mr. Ichiharu Ichihara, an actor belonging to "G / 9 Project Office" by Mr. Hiroshi Oshima of actor / playwright / director who presides "Chile Actors". In this performance which became the third time since its launch in 2016, we will perform "just touched" by Kengo Minante who was awarded the 22nd Drama Awards New Play Drama Award. I asked Mr. Oshima who is in charge of directing such points.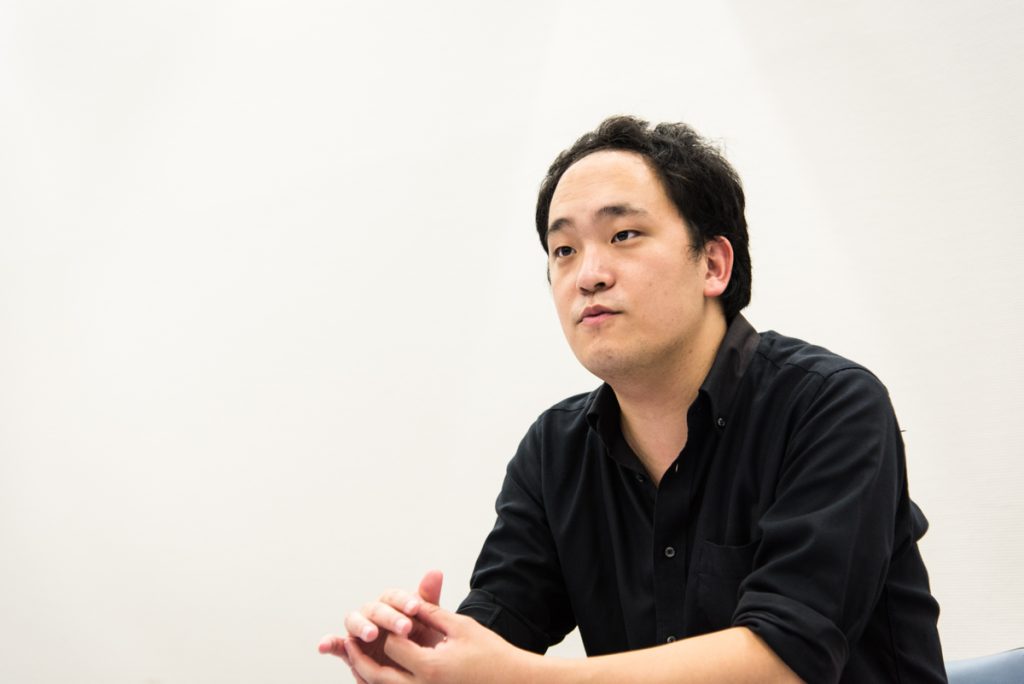 What is the concept of "Willie"?
Based on the concept of "I would like to do with people I want to do", I am basically taking a ready-made script. That is one of the reasons that I want to face works as an actor. In addition, there is also a desire to produce works written by people other than me as a director.
What kind of work is "just touched"?
There are seven characters. It is a composition that we will hand down the story of people who are slightly related to human relations in omnibus of three stories in about 20 minutes each. Since it is a story that seems to be going on in the room of daily life to the land of the land and the immediate next room, there is not a strange outward expansion and a flashy production. I think that a slight difference in experiences and discrepancies in recognition develops in an unexpected direction and it seems to be interesting.
/2018/10/DSC1577-1024×684.jpg "alt =" "width =" 1024 "height =" 684 "/>
Which point did you choose for this work?
It is because it is interesting (laugh). That's why we have to make sure that when we are performing, it is "fun to read" is not told.
I did not get acquainted with the author Minami Nanbu, but I was thinking of writing a nice work from before. I heard that this time, the playwright association association freshman plays prize was awarded and read this work, I thought obediently "nice".
What is the difficulty of performing works other than yourself?
Just because you perform a ready-made drama, you will not be conscious of the original production. Because the original was like this, it will be confusing if you think about changing it. The important thing is to build it together with the actors who stand on the stage based on what can be read from the script. This work is interesting anyway, so it should be more fun if you put it on the stage.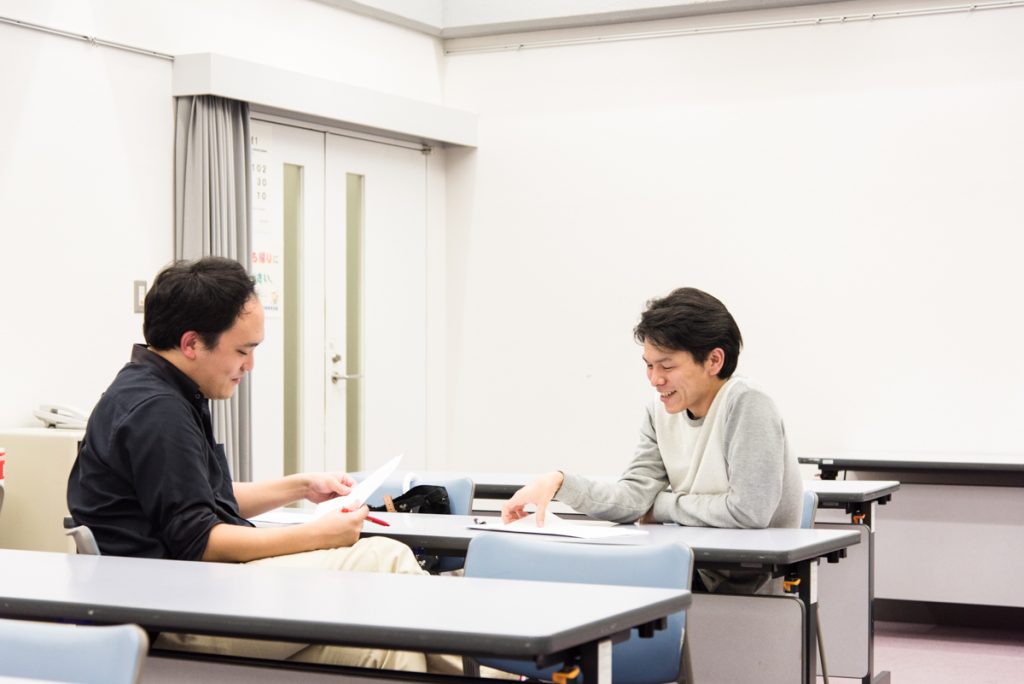 Left: Hiroshi Oshima, Right: Masaka Masaka (embarrassment [omowaku])
What are the main points of this performance?
I think that it is a work that can be conveyed straight without decorating the charm of the theater.
Also, I think that "Warjee" is an actor-based group, but attractive actors gathered this time as well. So, the feeling that "Look at this actor!" Is very strong. It is my fighting place as a director to make such attractive actors shine more attractive. By all means you can watch the show and share your favorite actorPlease find it!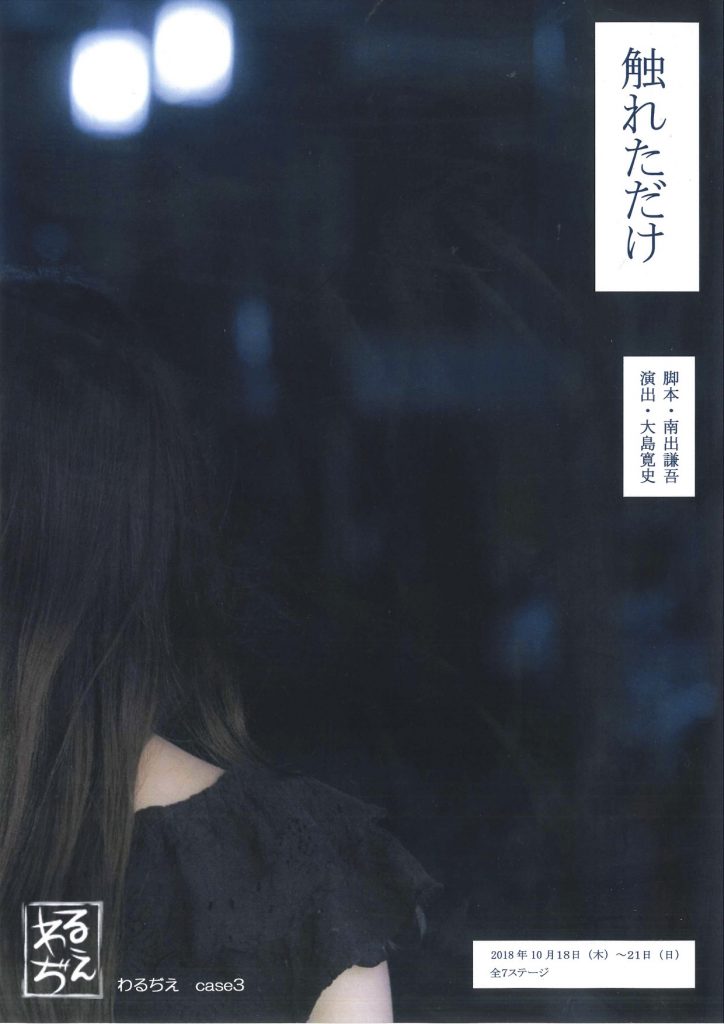 Trading Case 3
"I just touched"
[Date and time] October 18 (Thur) to 21 (Sunday)
10/18 (Thurs) 19: 30
10/19 (Friday) 15: 00/19: 30
10/20 (Sat) 14: 00/19: 00
10/21 (Sunday) 12: 00/16: 00
[Venue] Kanagawa Prefectural Youth Center HIKARI (Multipurpose Plaza)
[Screenplay] Kengo Minante
[Director] Hiroshi Oshima
[Appearance] Ichihiro Ichihara, Hiroshi Oshima, Mitsuyo Sato (Troupe Phantasm), Ryuhei Ishii, Hitomi Yoshioka, Masaka Masaka (omowaku), Mohammed Sasa Minami
[Rate] General · Advance ¥ 2,800 / day \ 3,000, Student ¥ 1,000
[Inquiries] TEL.090-6704-0865 (Sato) E-mail: warudie.2016@gmail.com (Sato)
HP: https://wa-ru-di-e.jimdo.com/
***********************************
【Outline of application】
Mugcal · Dot · Net Official Twitter account " @ MAGCUL " is followed and retweeted with 2 pairs of viewing tickets of theater "just touched" that will be performed at the Kanagawa Prefectural Youth Center at 14:00 on Saturday 20th (Sat) We will present to 4 people.
[Application method】
1. Follow Magcal · dot · net official Twitter account " @ MAGCUL ".
2. Please retweet posts for ticket gifts with "# WILCA 2018" posted from the official Twitter account during the following entry period. Application will be completed above.
【Application period】
Sunday October 14th (Sunday) 24 : 00 from this article release
※ Retweet that was made within the above period is eligible.
【Lottery · Winning Announcement】
For winners, we will contact you by e-mail from Twitter's direct message from Magcal · dot · net official account after the campaign period.
We will replace the winning announcement with the winning contact of the direct message. In that case we will check the name and contact information of the applicant so please reply directly to the direct message.
On the day <10/20 (Saturday) at 14:00>, tell the fact that the applicant's name and "Magcal · dot · net got a present" at the window "Kanagawa Prefectural Youth Center HIKARI" to be the venue Please give me. We will give you a ticket from the staff.
※ After sending the direct message, if there is no reply for a certain period, winning will be invalid.
※ In order to confirm your identity, you may be required to present a direct message of smuggled winning contact on the spot. (If you do not have a smartphone please print out a direct message and present it)
* We do not use personal information we have at all for purposes other than lottery.
【Eligibility · Conditions】
● Person who has valid e-mail address.
● Magcal · dot · net official Twitter account, " * If you cancel follow-up before the winning announcement, the entry / winning will be invalid.
● Retweet tweets for entries posted from the official Twitter account within the entry period.
※ Please be sure to join us with your account set to "public". If the account is private, it will not be considered a participation.
* If you set Reject Reception for Direct Message, it will not be considered participation.
※ Quoted retweets are not considered participating. Please participate in the retweet.
● For accounts that do not have a profile, user name, self-introduction, icon, etc., it may not be considered as participation due to Twitter specifications.
● For accounts that do not frequently take actions (tweets, retweets, likes, reply etc.), it may not be considered as participation due to Twitter specifications.
● After opening Twitter account, it may not be considered as participation due to Twitter specifications for accounts that have not done the process of confirming whether the mail address belongs to the person.