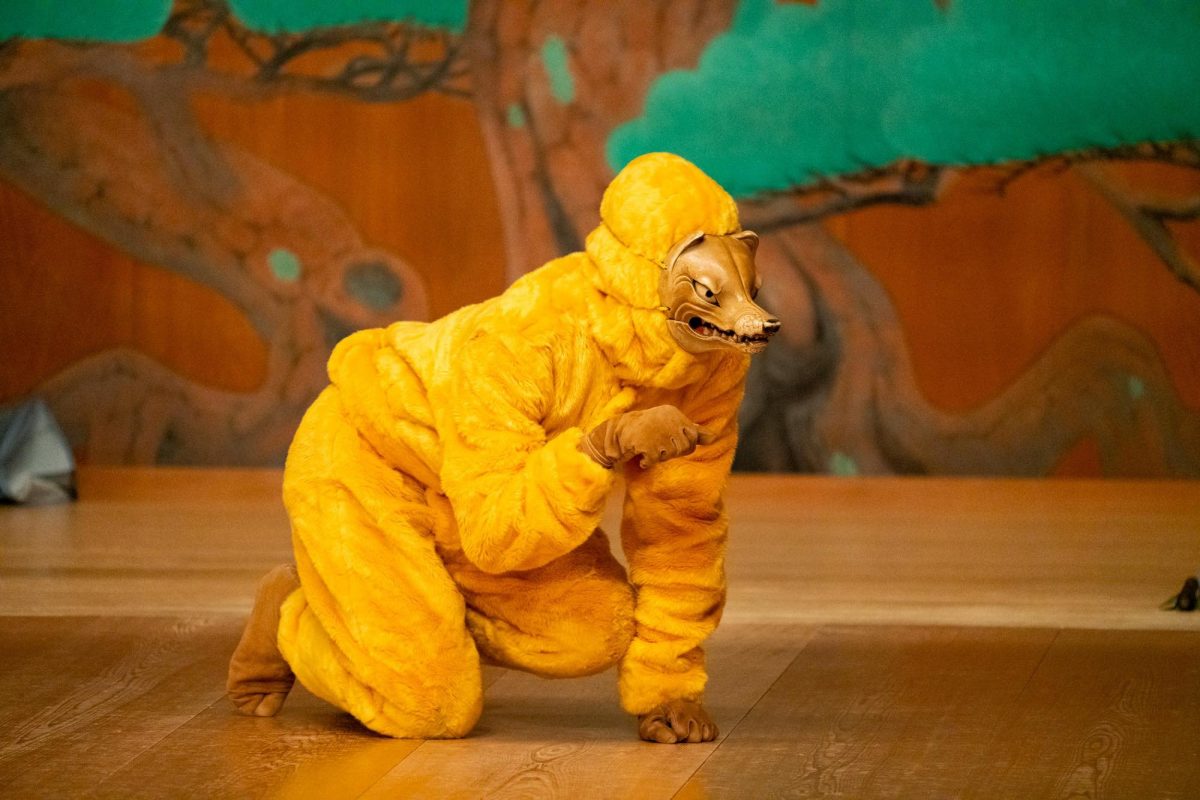 (TOP image) Photo: Kaoru Kunisaki
Hinoki stage of Kyogen masters living in the 21st century
Vol.8 Modern training to support the "secret songs" of traditional performing arts
Okura doctrine (Noh performer Kyogen style Okura school)
The other day, I played "Fishing Fox", which is said to be a secret song in Kyogen performances. This is the 20th anniversary of the "Okura-ryu Yoshijiro Kyogenkai" sponsored by my father, and this is my second challenge.
Let's briefly explain the story.
A fox whose clan has been caught by a hunter turns into a monk named Hakuzosu and goes to persuade the hunter to stop fishing the fox. That return trip. When the fox finds the bait of the trap thrown away by the hunter, he loses the temptation and finally takes off the kimono he was wearing, reveals his true nature, and falls into the trap. At the end, he managed to get out of the trap, and the fox escaped after being chased by a hunter.
It is considered to be the most difficult of the 180 Kyogen performances, and it requires mind, skill, and body, so it is customary to take about 20 years of training and perform it as the final completion course. Therefore, it can be compared to a "graduation thesis" as a Kyogen style. In other words, it is not until you play "Fishing Fox" that you are recognized as a full-fledged person.
I premiered at the age of 26, and this is my second replay in commemoration.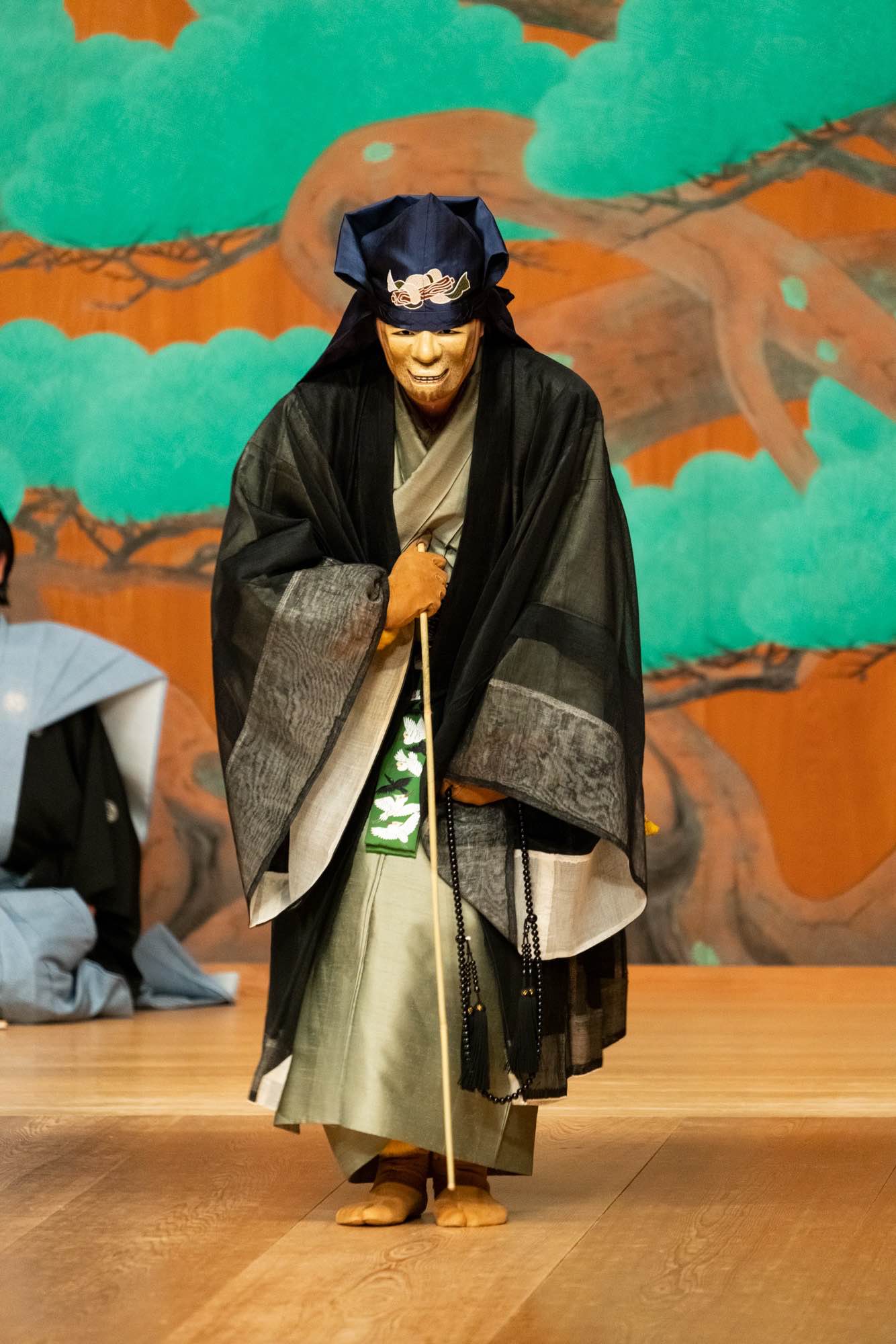 * Former Hakuzosu (Photo: Kaoru Kunisaki)
Needless to say, the technical aspect is difficult. However, more than that is physical strength.
Since the fox is masquerading as a human, the performer sits down and stands. For 40 minutes in the first half, he speaks, talks, flies, and sings in this position.
And the biggest problem is the heat.
Hakuzosu dresses as a fox in a fluffy costume, and then wears a costume on top of it. A horn hat, gloves, and a face on the head.
Only the nape of the neck is in contact with the air.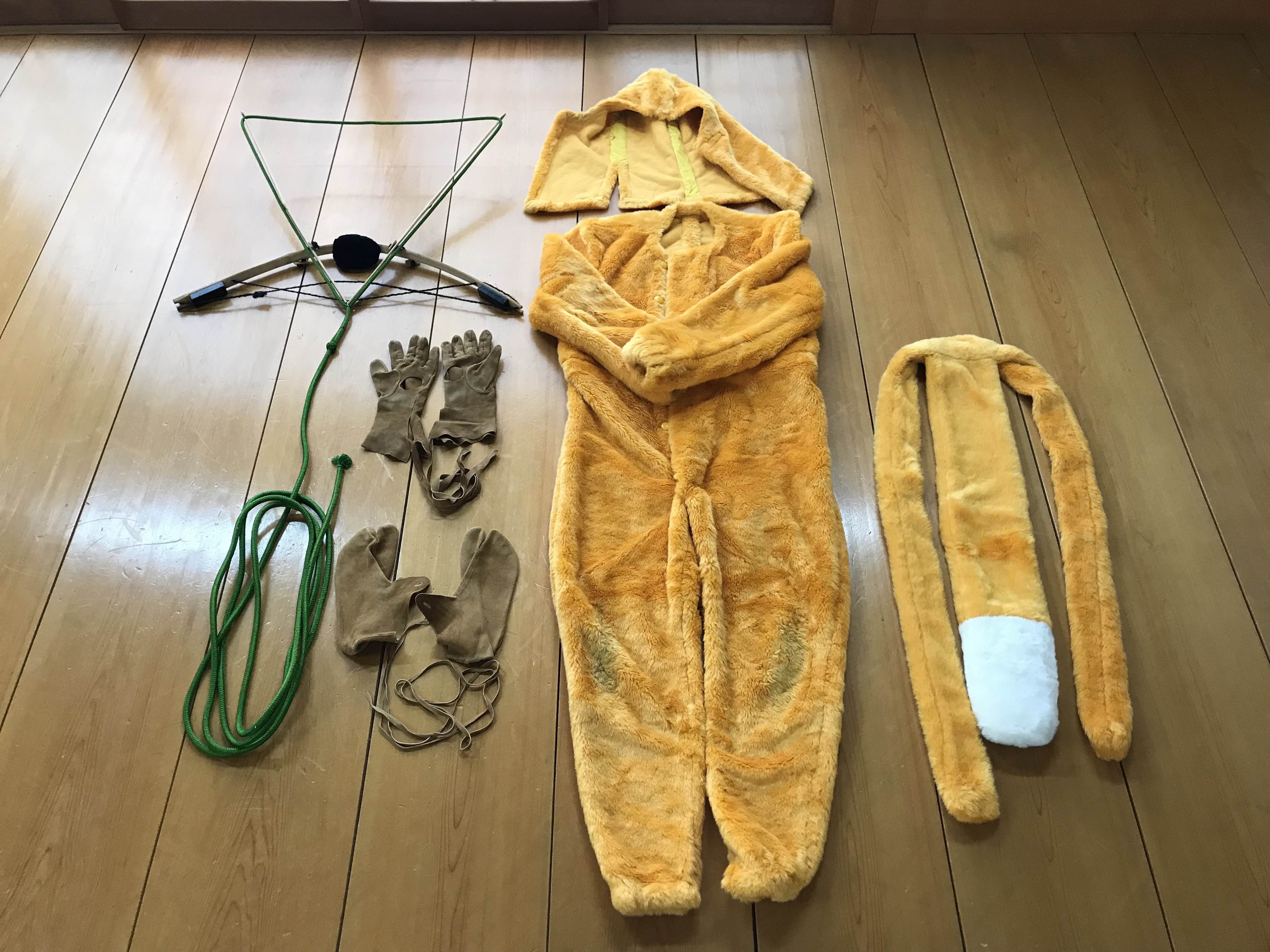 * Fox costumes and traps. Carefully check before the stage for any damage!
Physical fitness was the number one issue for me before I was 40 years old. If you don't have the physical strength, you can't use the technique. So I started training this year.
・ Running 5km
・ Muscle training 30 minutes
・ Yoga 20 minutes
・ Stretch 30 minutes
At first, I was working on it as a break-in, but from the beginning of May, I spurted it and pushed it all at once.
As I mentioned earlier, it is necessary to take measures against the heat, so I always wanted to run in a "hot" style.
The long-sleeved "extremely warm" sold at a certain clothing store was useful.
Of course, the tights are "Heat Tech".
In addition, dress in a sauna suit and wear towels, gloves and a mask on the head and neck.
Run while humming the lines.
I was running on the bank in a "suspicious" appearance, but I was fortunate that I didn't seem to be a suspicious person.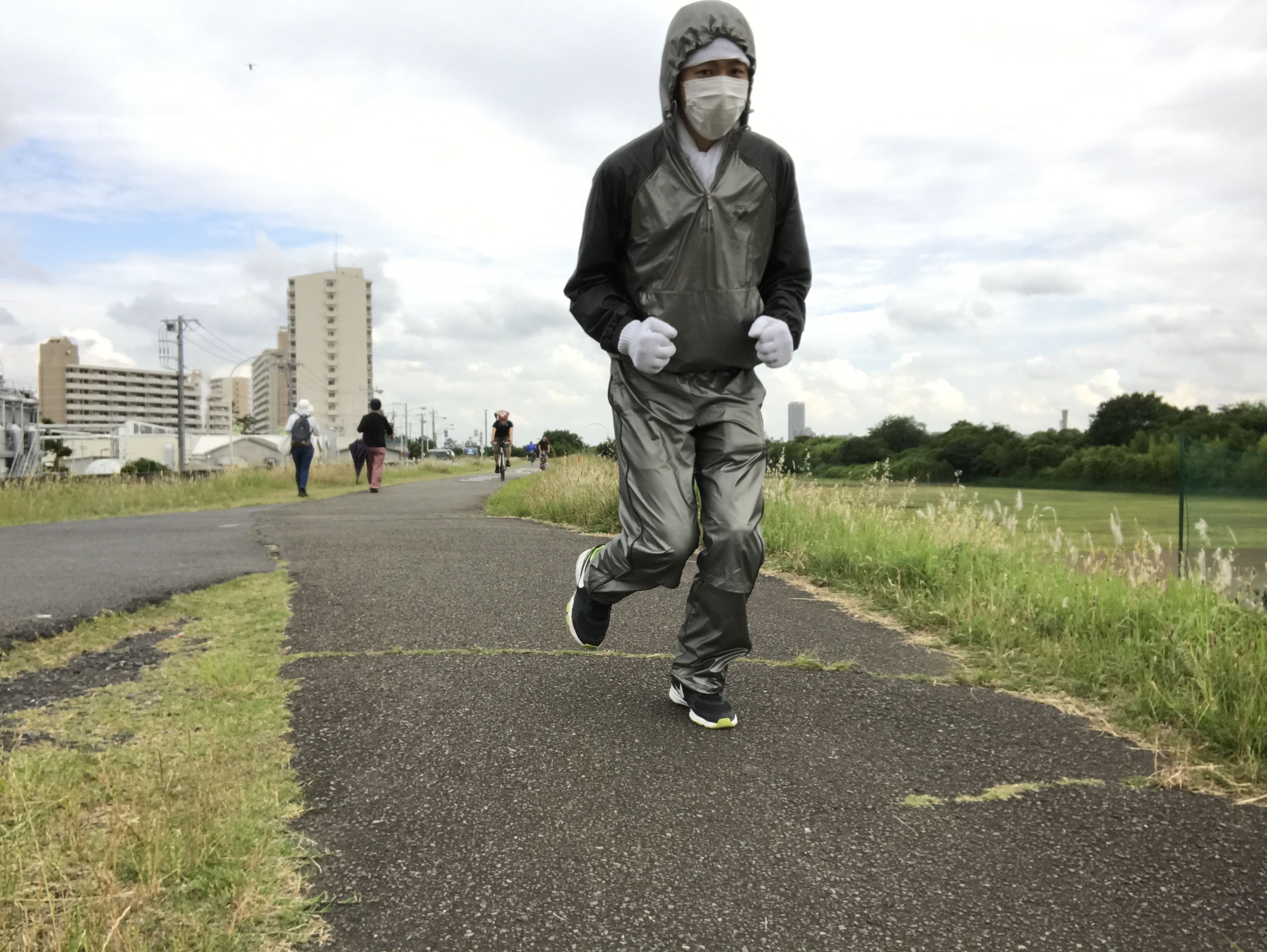 I didn't choose the clothing sold at sports stores because it's best to wear clothes that are hard to move. There is no point in training unless you put a load on it.
The muscle training was trained around the inner muscle. I wasn't interested in strength training and didn't do anything, so I only knew about push-ups, but recently I was surprised that there is a more efficient way to train. If you look it up on the site, there are a lot of posts on YouTube that will tell you more. You can sweat enough just by slowly practicing the 5 types you have chosen.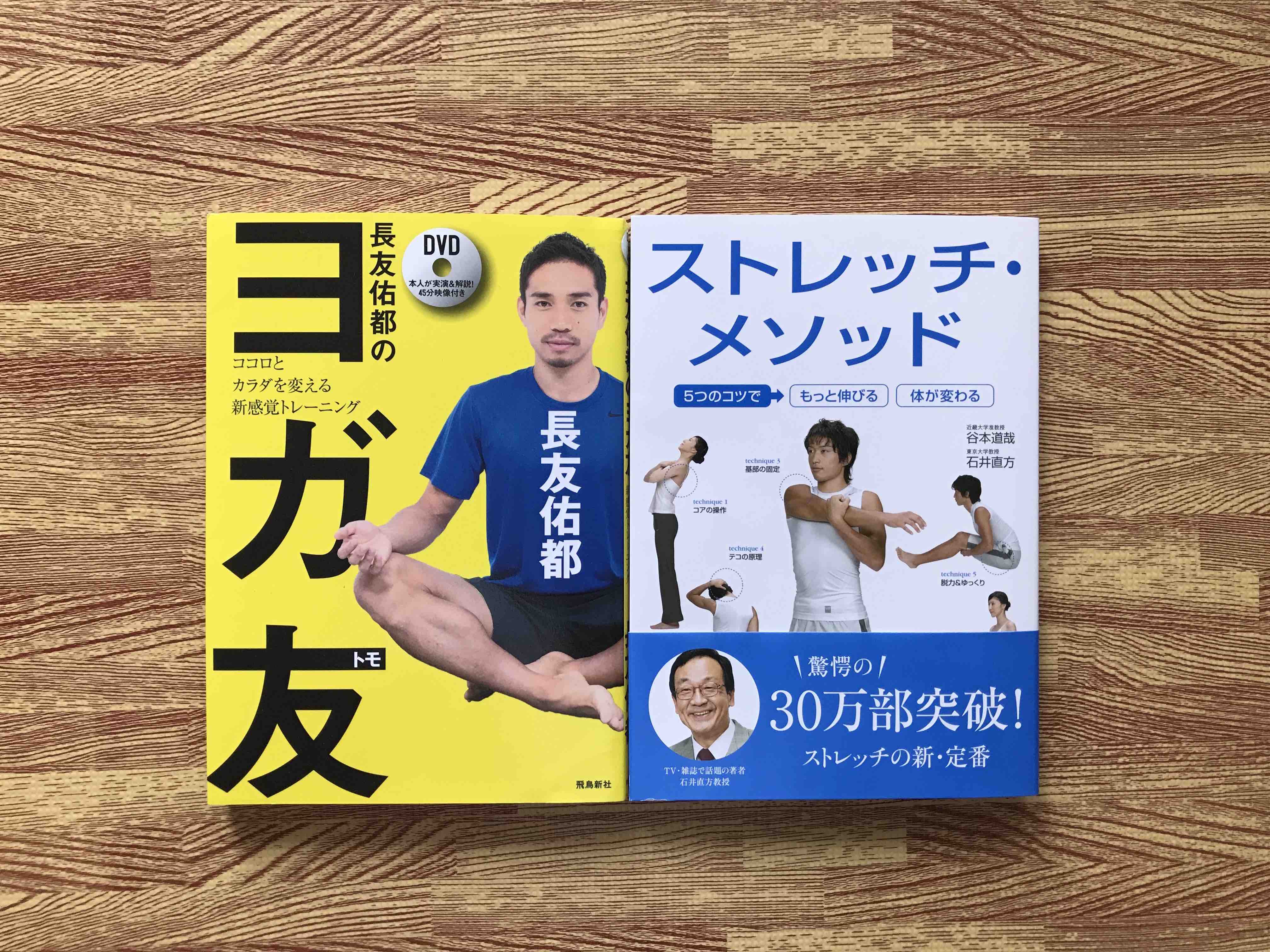 I worked on stretching and yoga by buying and borrowing books.
I found that just by taking one stretch seriously, my body became much lighter. It also politely tells you where to stretch your muscles.
There are various poses in yoga, but I focused on training my core.
Actually, I thought that stretching and yoga had nothing to do with Kyogen. However, when I actually tried it, I found that the performance improved surprisingly, and I was embarrassed to think that I was.
Anyway, I'm light. Stability is born in the rubbing foot.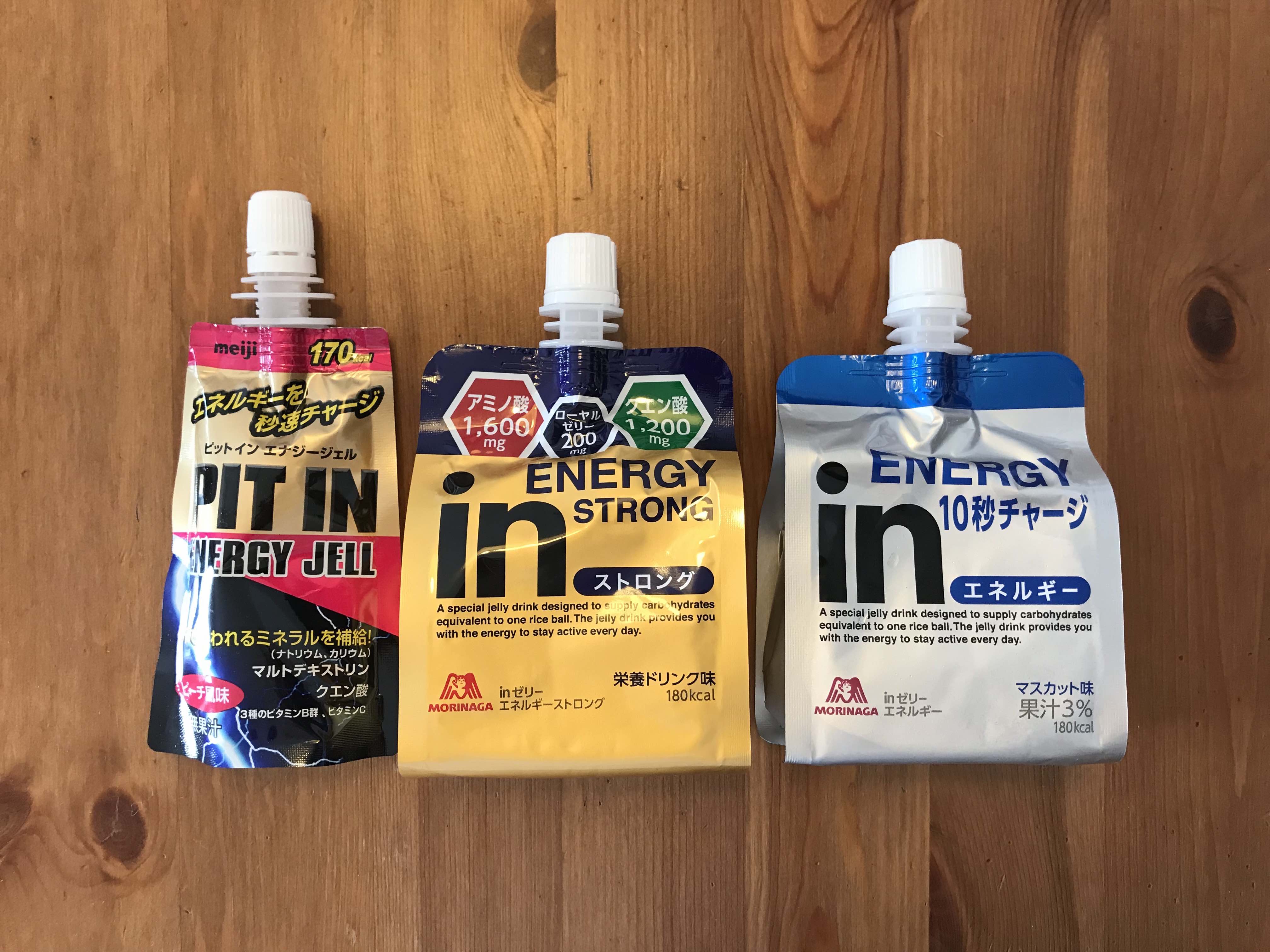 And what surprised me most was sports drinks. I was recommended to use a product called hypotonic water instead of the sports drink I used to drink. Since it can absorb water quickly, it does not fluff in the stomach.
In addition, energy drinks are indispensable. Take in advance before going on stage. Ingest a gel-like beverage that quickly restores physical strength and muscles even during the time of entering (leaving once and going on stage again). I was able to use the "modern power" to face the stage.
Huge physical strength, and technology on top of that. The mental power that supports it. I think it's a performance that unites the mind, skill, and body.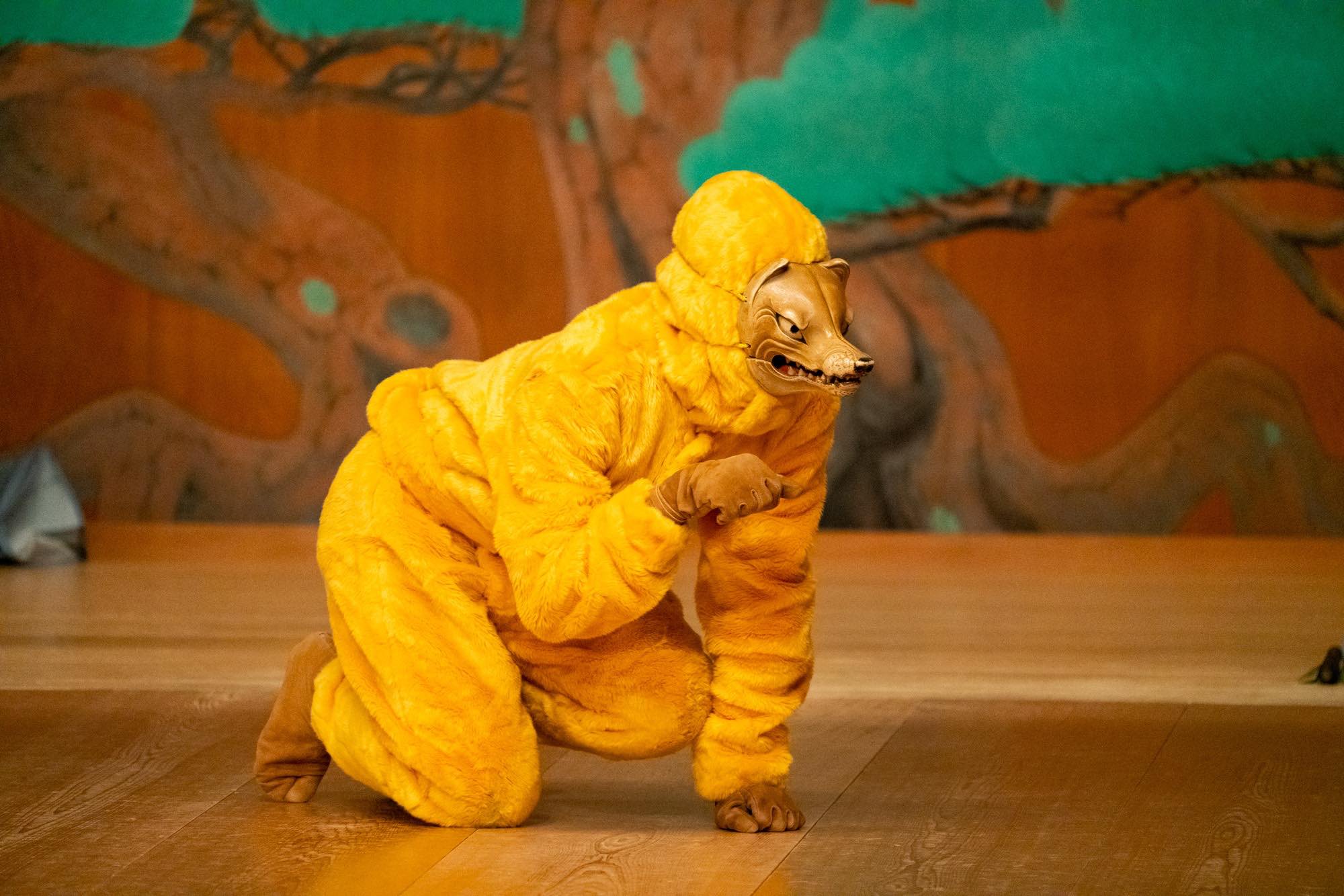 * The fox in the back shite. A special aspect used only for foxes. The visibility is almost zero. (Photo: Kaoru Kunisaki)
Why do you do that? I was asked.
34 years of art history. It's been 13 years since the premiere. Maybe I wanted to know what my limits are now. I think I wanted to find the answer, whether the stack was correct.
All that was left was "do it or not". Set your own goals and push forward. We will endeavor to satisfy the customers who see it.
It was that one heart.
In the future, my physical strength will decline. On the other hand, technology and spirit will improve.
I think it's a performance that is suitable for hitting all the lives of my life that I have accumulated up to that age.
In the next 10 or 20 years, I want to challenge myself again in search of my limits.
* The photos posted are strictly prohibited from being processed or used for secondary purposes under the Copyright, Moral Rights Protection Law, and Portrait Rights Protection Law.