"VORTEX" is a masterpiece that was choreographed by Finland's most famous choreographer Tero Saarinen at the request of the Korean National Dance Company and premiered in Seoul in 2014. For Tero Saarinen, who has long had an interest in the Asian body, this is a once in a lifetime opportunity. Tero Saarinen gave this work the title "VORTEX". The cultures and traditions of Scandinavia and South Korea meet and combine, stimulating the primordial identities within the dancers. I succeeded in deriving physical expression.
"I have always been fascinated by the ritualistic nature of dance.
Through the fusion of the traditions and experiences that reside in my body and Korean traditions,
I feel that I have been given a wonderful gift. "
- Tero Saarinen
The highlight of this performance is that Tero Saarinen challenges the Korean National Dance Company, which specializes in traditional dance and music, with contemporary dance techniques, bringing the tradition of Korean dance to the present day with innovative choreography. . A live performance by the music band "Be-Being" led by Jang Yong-gyu, who uses the unique forms and materials of Korean traditional music while making full use of new forms and performance techniques that are free from conventional performance methods. As the title suggests, "VORTEX" has a powerful choreography that makes up the stage with agile movements that change instantly, and a variety of dances that change from solos to duets and group dances. The "vortex" thrills the viewer. "VORTEX" is a masterpiece created by Tero Saarinen's choreography and the Korean National Dance Company. It is a beautiful dance work that connects three countries in a lively atmosphere.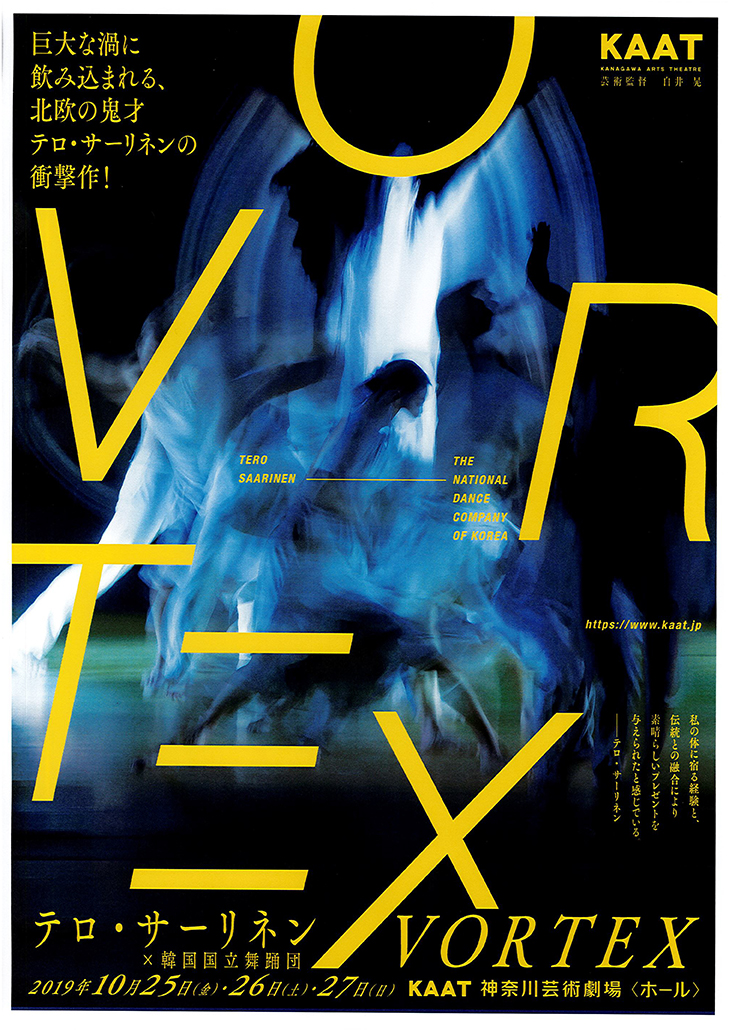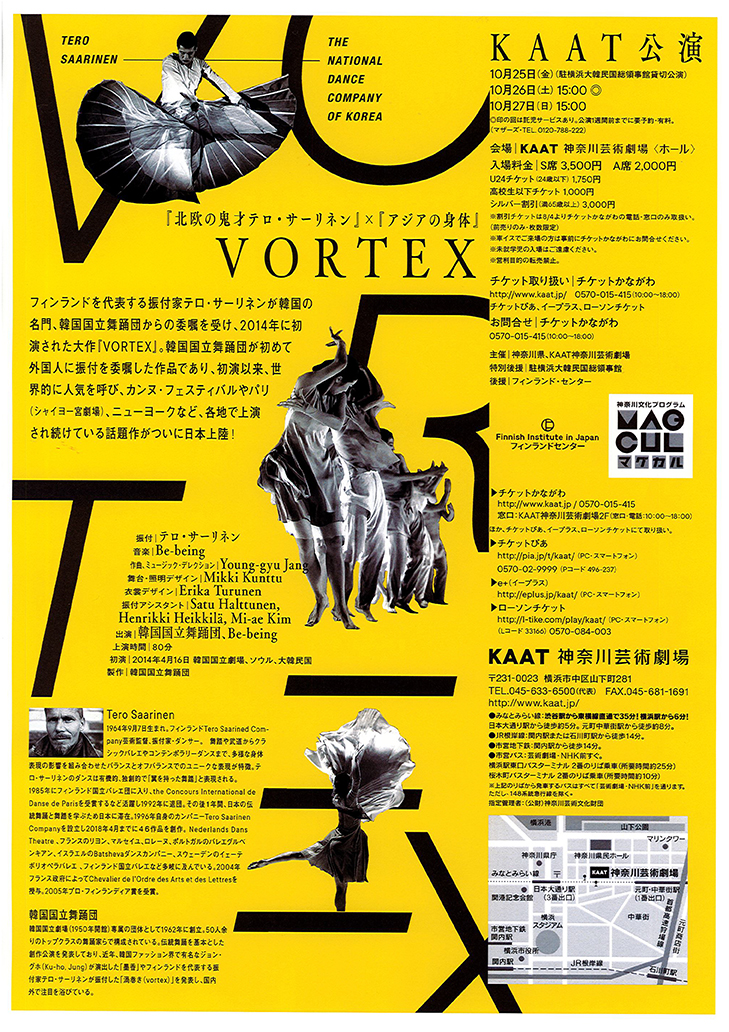 This event has ended.
KAAT DANCE SERIES 2019 Tero Saarinen x Korean National Dance Company
"VORTEX"
[Date and Time] October 25th (Friday) to 27th (Sunday)
10/25 (Friday) Reserved performance
10/26 (Sat) 15:00~
10/27 (Sun) 15:00-
= Babysitting service available. Reservation required at least one week before the performance, paid (Mothers Tel. 0120-788-222).
[Venue] KAAT Kanagawa Arts Theater Hall
[Fee] (All seats reserved) S seat ¥3,500, A seat ¥2,000, Under 24 ¥1,750, High school student under ¥1,000, Silver (over 65) ¥3,000
*Discounts for 24 years old and under, high school students and under, and silver discounts are only available at Ticket Kanagawa by telephone or at ticket counters (advance sales only, limited number of tickets, ID required).
[Ticket sales]
■ Ticket Kanagawa TEL.0570-015-415 (10:00-18:00)
■ Ticket Pia (P code: 496-237) TEL.0570-02-9999
■ eplus
■ Lawson Ticket (L code: 33166) TEL.0570-084-003
[Organizer] Kanagawa Prefecture, KAAT Kanagawa Arts Theater
[Inquiries] 0570-015-415 (Ticket Kanagawa/10:00-18:00)
*Please refrain from entering with preschool children.
*If you are in a wheelchair, please contact Ticket Kanagawa in advance.
* Prohibition of resale for commercial purposes.
***********************************
The application for the present has ended. Thank you very much for your application.
[Overview of gift application]
Tickets for KAAT DANCE SERIES 2019 Tero Saarinen x Korean National Dance Company "VORTEX" to be held at KAAT Kanagawa Arts Theater Hall will be presented to 4 people in 2 groups for each performance below.
■October 26th (Sat) 15:00- 2 groups of 4 people
■October 27 (Sun) 15:00- 2 groups of 4 people
【Application method】
If you would like to receive a viewing ticket as a gift, please select one of the dates and times from the application form below and apply. We look forward to receiving your application.
[Application deadline]
Until 18:00 on Friday, October 18, 2019
[Lottery/winning announcement]
Winners will be notified by email, so please be careful of spam settings. The email will be sent from the Magcal Dot Net Management Office (info.magcul@gmail.com).
The winner announcement will be replaced by the winner notification by the above email. On the day of the performance, please present the winning notification email at the reception desk of "KAAT Kanagawa Arts Theater Hall" at the venue. The staff will give you a ticket.
* Personal information received will not be used for any purpose other than the lottery.