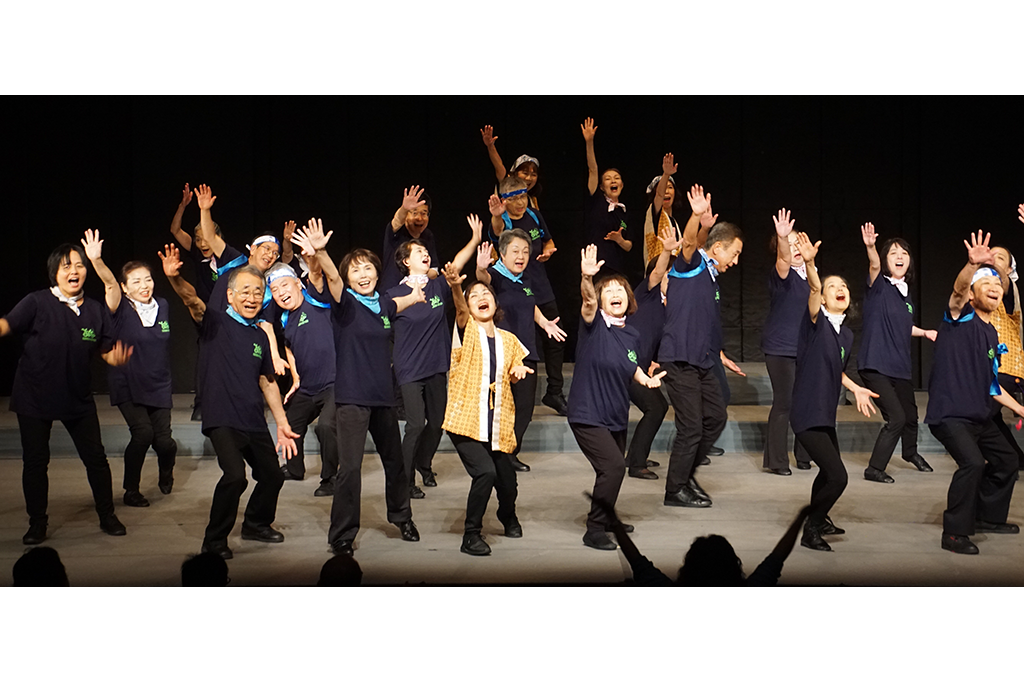 (TOP image) Yokosuka senior theater company, intermediate performance (last year)
Odawara senior theatrical company "Chiriak Oldies" is born!
In Kanagawa Prefecture, we are supporting the realization of a symbiotic society through the efforts of magnet culture (Magcal), which attracts people with the charm of culture and art and creates a lively area. This time, as part of the "co-existence and co-creation project" where everyone from children to adults can participate and enjoy performing arts regardless of disability or age, we launched "Yokosuka Senior Theater Company Yossha!!" Following the Ayase Senior Theater Company Moromi Kojiza, the Odawara Senior Theater Company Chiriak Oldies will be born. Senior generation, why don't you create a work together and stand on the stage? In addition, in this business, we are taking measures to prevent the spread of new coronavirus infections.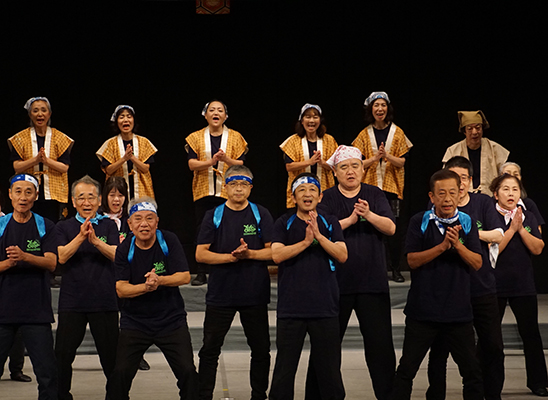 <1> Recruitment of theater company members
Odawara Senior Theater Company/Yokosuka Senior Theater Company/Ayase Senior Theater Company
We are looking for troupe members for 3 senior theater troupes.
[Recruitment period] August 1st (Sat) to 28th (Fri), 2020
[Number of recruits]
● Odawara senior theater company about 20 people
●Yokosuka Senior Theater Company, Ayase Senior Theater Company, about 10 people each
*If the number of applicants exceeds the number of applicants, we will conduct a selection process.
《Application requirements》
Each theater company is different, so please contact the theater company you wish to join and confirm.
A new theater company has been launched in Odawara, recruiting theater company members!
<2> Odawara Senior Theater Company Chiriak Oldies (See below for an overview of the theater company)
[Qualification requirements]
●People over the age of 60 who live or work in Kanagawa Prefecture.
● Those who can participate in the practice once or twice a week.
[How to apply] Please apply by phone.
Telephone 080-6507-7002 (Odawara Senior Theater Company Secretariat)
* No acting experience required .
<3> Yokosuka Senior Theater Company "Yosha!!" ( See below for an overview of the theater company.)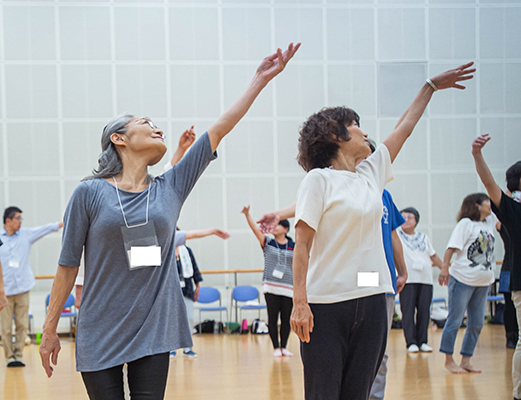 Yokosuka Senior Theater Company・Rehearsal
[Qualification requirements]
● Those who live or work in Kanagawa Prefecture.
● Healthy men and women over the age of 60.
●Those who are prepared to participate in training twice a week.
● Those who can appear in the presentation of results.
* No acting experience required .
[Briefing session will be held]
[Date and time] Saturday, August 22, 13:00-16:00
*It is not necessary to participate.
*If you would like to participate, please contact us at the time of application.
*Please contact us for details.
[Rehearsal schedule] Tuesdays and Fridays from 13:00 to 16:00
*Schedules may increase before the results are announced.
[Place of activity] Yokosuka Arts Theater Large Rehearsal Room, Yokosuka Municipal Youth Hall, etc.
[Participation fee] 5,000 yen/month
* A lottery will be held when there are many applicants. All applicants will be notified of the lottery results by September 1st.
[How to apply] Please specify the following items and apply by mail, email, or fax.
(1) Name/furigana, (2) Gender, (3) Age, (4) Address (including postal code), (5) Phone number, (6) Email address (only for those who have one)
[Applications/Inquiries] Yokosuka Senior Theater Company Secretariat
1-3 Yonegahama-dori, Yokosuka 238-0011
Telephone 080-9882-0832/FAX 046-823-7443
Email: yokosukasenior@au.com
<4> Ayase Senior Theater Company "Moromi Kojiza" ( see below for an overview of the theater company)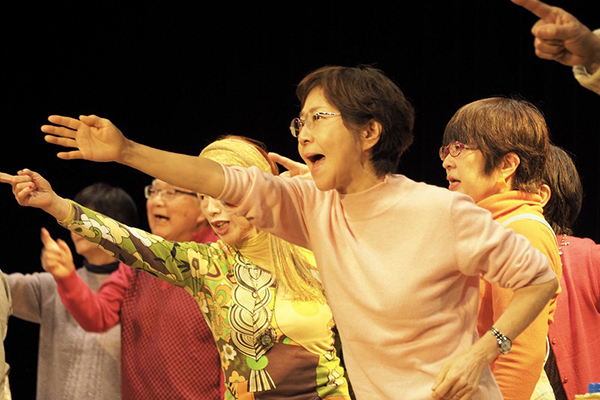 Ayase Senior Theatrical Company Intermediate performance (Last year)
[Qualification requirements]
●Persons aged 60 or older who live or work in Kanagawa Prefecture.
● Those who can participate in the performance scheduled for March 2021.
●Those who can participate in the training from September 2020 to March 2021.
* No acting experience required .
[Rehearsal schedule] We are currently adjusting. Please contact the secretariat for details.
[Place of activity] Ayase City Central Public Hall, etc.
[Participation fee] 5,000 yen/month
* A lottery will be held when there are many applicants. All applicants will be notified of the lottery results by September 3.
[How to apply] Please specify the following items and apply by mail, email, or fax.
(1) Name/furigana, (2) Gender, (3) Age, (4) Address (including postal code), (5) Phone number, (6) Email address (only for those who have one)
[Applications/Inquiries] Ayase Senior Theatrical Company Secretariat (Theatrical Company Yamanote Jijo)
4-2-8 Ikegami, Ota Ward, Tokyo 146-0082
Telephone 03-6410-9056/FAX 03-6410-9057
Email ayase-senior@yamanote-j.org
<5> Response to new coronavirus infection
Rehearsals and performances that gather at the rehearsal hall will be decided depending on the infection status of the new coronavirus infection. In addition, when conducting group rehearsals, we have established guidelines for senior theatrical companies that limit the number of people entering the rehearsal room, ensure ventilation, ensure social distancing, and wear masks, etc., and take thorough measures to prevent the spread of infection. carry out above. In addition, if it is not possible to hold a group practice due to the infection situation, you may be asked to practice at home by video call using a smartphone or computer, video distribution, distribution of DVDs, etc.
(Applicants only. The method varies depending on the theater company.)
<6> About each theater company
Odawara Senior Theater Company Chiriak Oldies
[Date of establishment] September 2020 (planned)
[Project Leader] Mr. Hiroshi Oshima (From Odawara City. Head of the Chireactors theater company. Actor, director, and playwright. Host of FM Odawara's Chireactors no Saturday Park.)
[Training place] Public facilities in Odawara city (planned)
[Organizer] Kanagawa Prefecture
[Cooperation] Odawara City
[Management] Odawara Senior Theater Company Secretariat
■Yokosuka Senior Theater Company Yossha!!
[Date of establishment] August 2019
[Project Leader] Mr. Kazuhiro Yokota (President of Kappa-za Theater Company, Director/Playwright, President of Prefectural Theater Association)
[Rehearsal place] Yokosuka Arts Theater, Yokosuka Municipal Youth Hall
[Activity results] Interim presentation performance (November 2019), Results presentation performance (February 2020)
[Organizer] Kanagawa Prefecture
[Co-organizer] Yokosuka City, Yokosuka Arts Foundation
[Management] Yokosuka Senior Theater Company Secretariat
Ayase Senior Theater Company Moromi Kojiza
[Date of establishment] September 2019
[Project Leader] Ms. Junko Kurashina (actor, director, affiliated with Gekidan Yamanote Jijosha)
[Rehearsal place] Ayase City Central Public Hall
[Activity results] Interim presentation performance (December 2019)
[Organizer] Kanagawa Prefecture, Ayase City
[Operation] Ayase Senior Theatrical Company Secretariat (Inside theatrical company Yamanote Jijo)