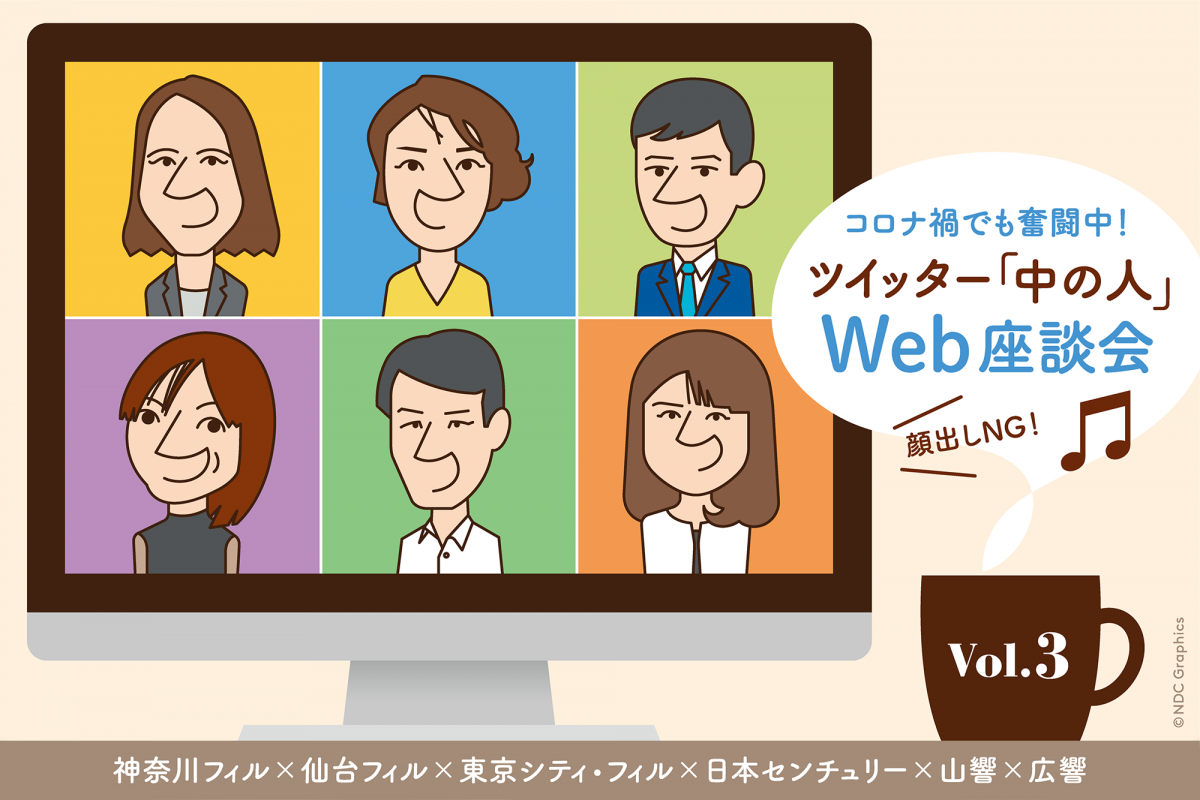 Serious and straight-laced people...the "middle people" of an orchestra group that breaks through such preconceived notions and spreads the appeal of orchestras using Twitter. The "Nakahito Summit", which is becoming a regular event, has been postponed due to the corona crisis, but the "Nakahito" who is full of love for the orchestra is not discouraged. An online round-table discussion was held to deepen the relationship of friendly rivalry.
We will report the whole story under the condition of "no appearance"!
*Check back numbers as well!
・Click here for the 2018 edition
・Click here for the 2019 edition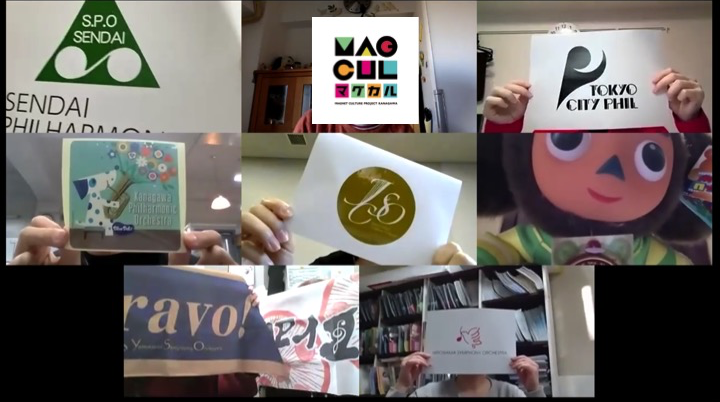 Kanagawa Philharmonic Orchestra (Kanagawa Philharmonic Orchestra) It's been a really turbulent year. Kanagawa Philharmonic has canceled or postponed almost all concerts from the end of February to mid-July 2020. Under such circumstances, we were able to open up new channels, such as distributing performance videos and remote appearances of the orchestra members on YouTube, so we take that point positively.
* Click here for the official YouTube Kanagawa Philharmonic channel!
Sendai Philharmonic Orchestra (Sendai Philharmonic Orchestra) It was difficult to manage Twitter during the six months when we were unable to perform any performances. I don't want to get discouraged here, so I decided to take advantage of the situation where I can't send out performance information and send out information that focuses on conveying everyday life. The main topics are everyday scenes, such as what is happening in Sendai and what the Sendai Philharmonic Orchestra is preparing for. Since the transmission was not delayed, I think that communication with the followers was not interrupted.
* Click here for YouTube Sendai Philharmonic official channel!
Yamagata Symphony Orchestra In March last year, we had a regular concert with no audience. The live distribution received a great response, but the activity was canceled after that. In June, we started live distribution without an audience again, and it was only in July that we were able to deliver live music to our customers while limiting the number of people.
However, I was able to take on new challenges during that time. Planning and distribution of "Konokodokoro Hanagasa Ondo" as a publicity campaign for crowdfunding hometown tax donations. Many people watched it.
Tokyo City Philharmonic Orchestra (hereafter, Tokyo City Philharmonic Orchestra) On June 25, 2018, we performed a live broadcast without an audience, and since then we have been gradually resuming performance activities. In addition to performance activities, volunteers started a video project called "Home Ensemble" in which each section was filmed and edited at home in cooperation with the members of the orchestra, and when it was released on official YouTube, it received a lot of response. rice field.
On the other hand, at the beginning, there were many changes in the songs and performers, so it was a pity that there were so many notifications of changes and refunds on Twitter. So, even now, I'm still careful not to make my tweets sad and depressed. My followers also react brightly, so I'm grateful for that feeling and it encourages me every day.
Japan Century Symphony Orchestra (hereinafter referred to as Japan Century) Anyway, it was a crazy year. After the concert on February 22nd, there will be no audience until June 20th, even if they can continue their activities. However, when the regular performance in March was canceled, volunteer members of the orchestra volunteered to take action, saying, "We have a schedule, so let's do something." While taking measures, we were able to record performance videos in the rehearsal room and distribute them sequentially as a "Century Web Concert" .
Thanks to that, we reached 10,000 followers on April 15th!
All 88888888!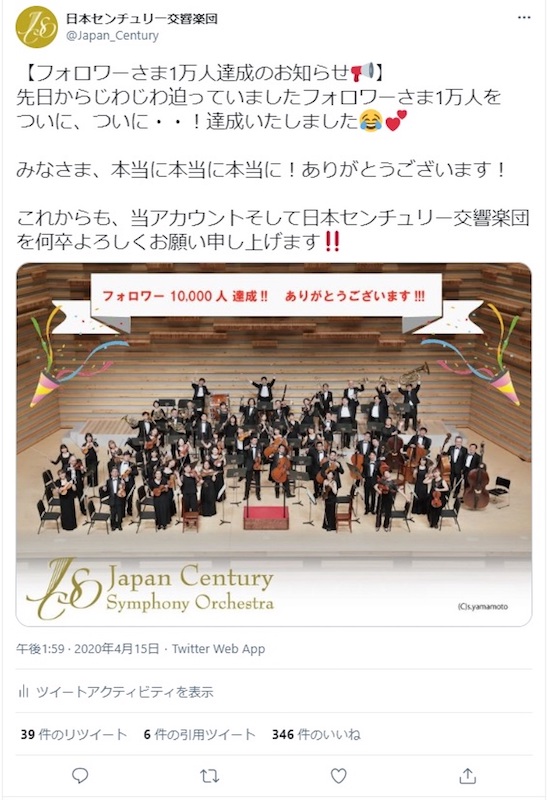 In addition to Japan Century , it was a year of various challenges such as playing Beethoven's 9th outdoors in the middle of summer and asking for support through crowdfunding.
Hiroshima Symphony Orchestra Twitter has the advantage of being quick, so I feel like I couldn't send out many positive messages this past year because I was busy sending out information about program changes and refunds. However, I am grateful that the music director Tatsuya Shimono is cooperative in sending messages and responding to the message videos and cosplay photos.
* Click here for the official YouTube channel of the Hiroshima Symphony Orchestra!
[Looking back on a year of corona misfortune]
Sendai Philharmonic Orchestra The Sendai Philharmonic Orchestra's recent hit is "The end of Amore Sukegawa, who came to the last minute of the performance."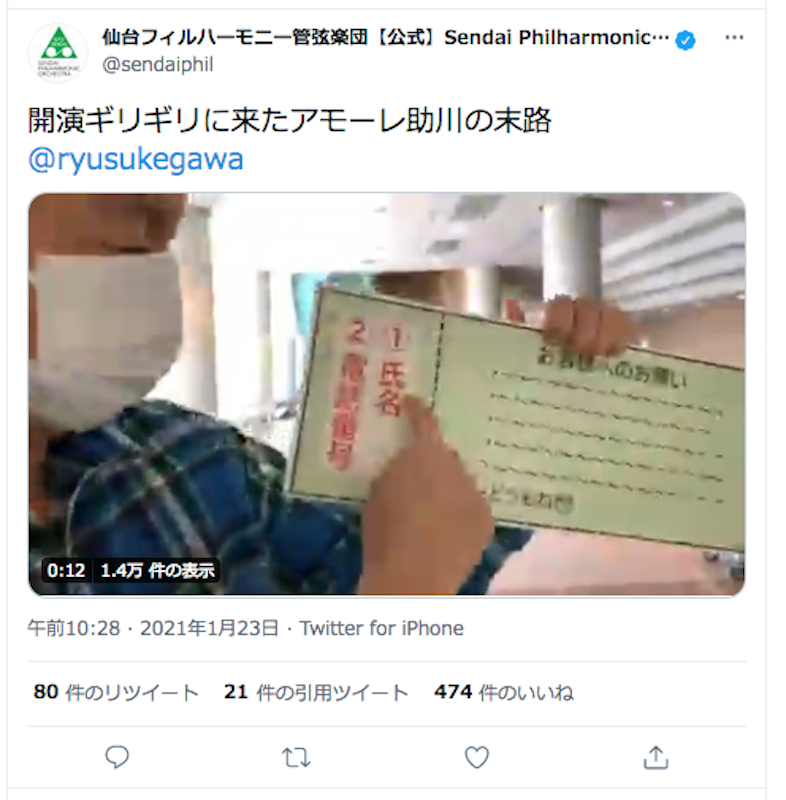 As a concert style during the corona wreck, the Sendai Philharmonic Orchestra has made it known in advance to write your name and phone number on the back of the ticket. But there are many people who do not actually write. Therefore, I created a PR video with Amore Sukegawa (contrabass player: Ryu Sukegawa) and posted it on Twitter.
Yamagata Symphony Orchestra It's not the result of Twitter, but the response to "Bravo Towel" was good. I made it for customers who can't shout "Bravo!" We are currently placing a fourth additional order.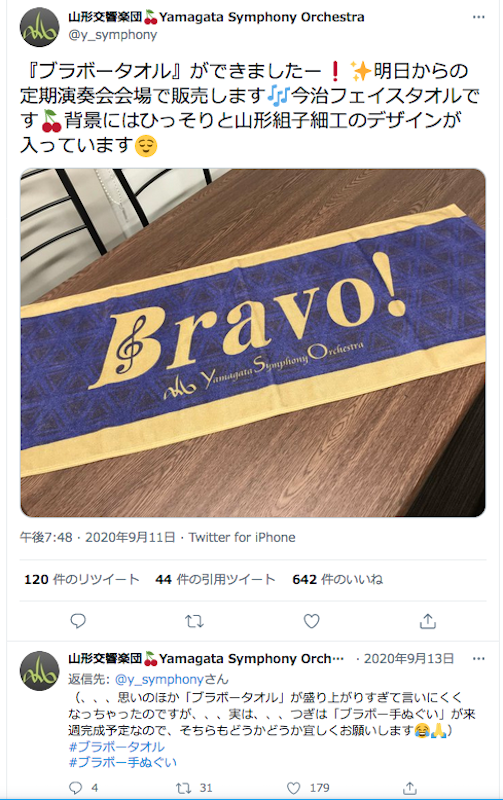 When a well-established European orchestra visited Japan, I was happy to hear that there was a customer who hung up this in the audience. By the way, there is also a "Bravo tenugui" with a flower hat motif, both of which are designed as "people in the middle". I would love to see it spread all over the country (laughs).
Tokyo City Philharmonic Last autumn, we revamped the wrapping of the transportation truck (Oketra), and we received a lot of feedback. I am very happy that many of the guests and performers who attended the orchestra took pictures of the orchestra and tweeted about it.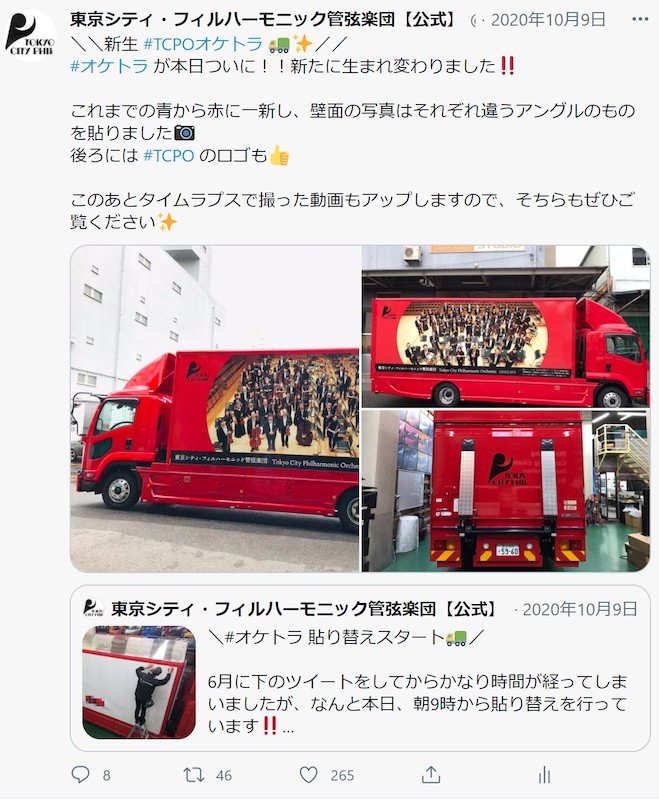 Some people call it a "fire engine color" (laughs), but it does have an impact.
Recently, when I tweeted a video taken at the rehearsal of the 339th regular concert held at the end of January this year, it also received a great response. After I posted it, I received comments like, "I'm looking forward to going to the performance more and more!" I was happy because it was what I did.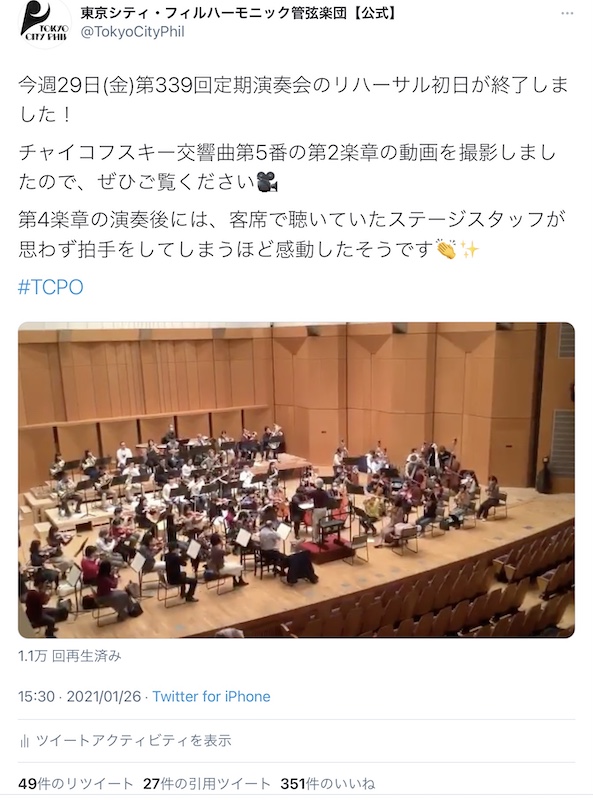 On July 9th, after resuming Kanagawa Philharmonic activities, the orchestra made its first sound. The nostalgia of the sound of tuning A (Ah) and the joy of finally being able to make music made my body sink in, so when I tweeted that feeling straight, I wonder if my feelings were conveyed to my followers, everyone sympathized. You did.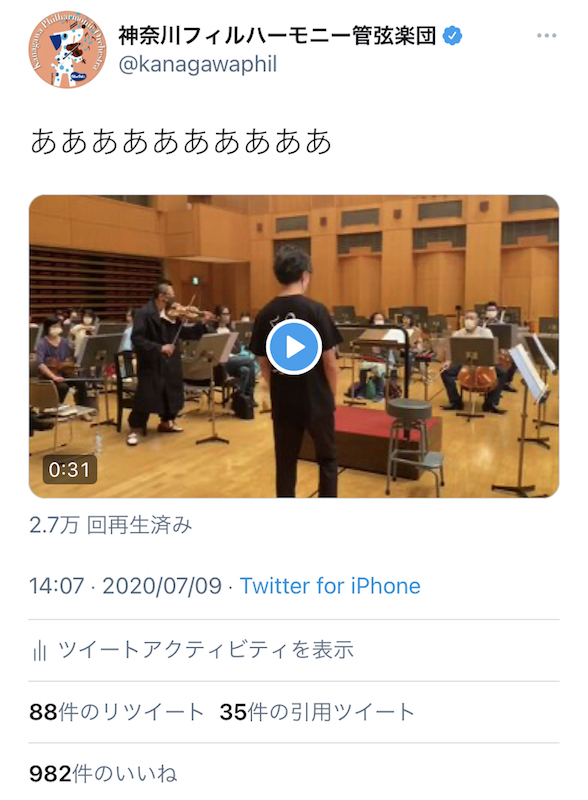 JAPAN CENTURY The tweet announcing that Mr. Joe Hisaishi will be appointed as Principal Guest Conductor from April 2021 has received a lot of attention.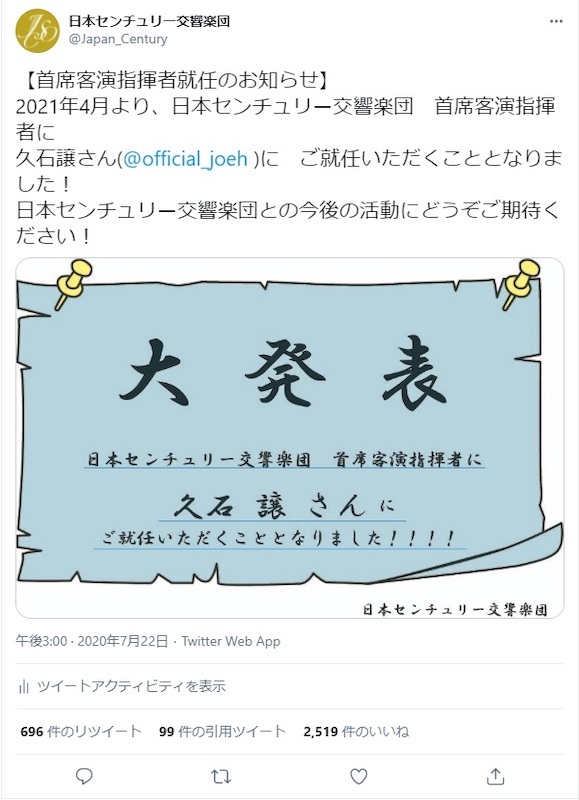 Here's what I got just as excited about.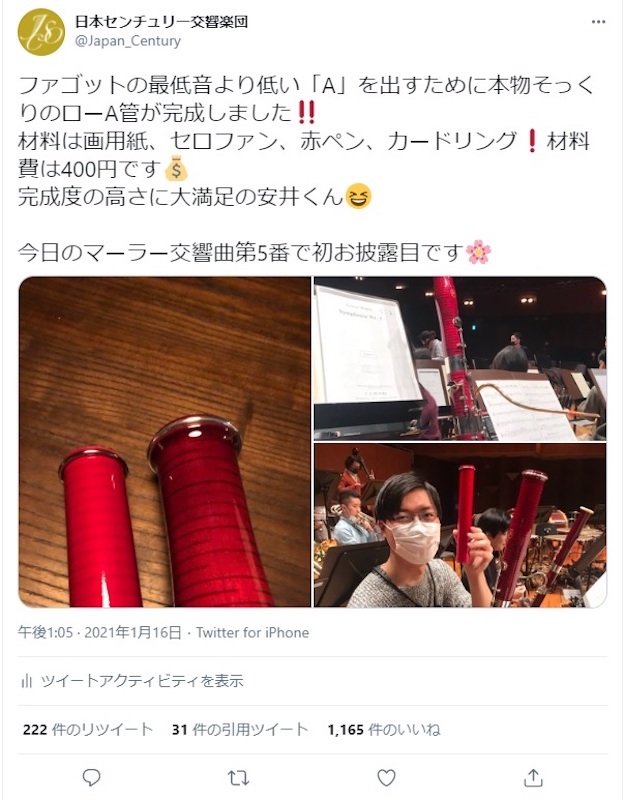 For the first time in a long time, I played Mahler's 5th, and for that purpose, the bassoon player handcrafted a "low A" that looked just like the real thing. When I took a picture with a happy smile and unveiled it, I received a lot of favorable comments. I thought that what everyone was looking for was a tweet that the orchestra members could feel close to.

Hiroshima Symphony Orchestra One of the most popular recent tweets was a shot of Mr. Shimono wearing an Italian chef's costume and Sakuma Daiichi Concertmaster. I am looking forward to seeing tweets like this that will draw attention to a wide range of people, including those who have had little connection with the orchestra.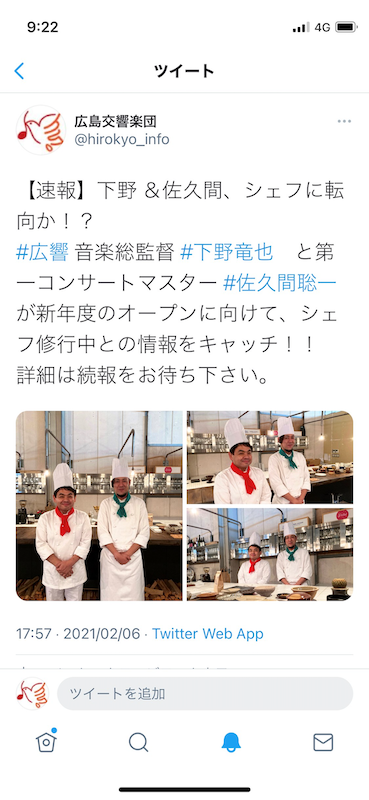 [Things I want to do when the corona crisis is over]
Let's do the Sendai Philreal "Medium People Summit"! It's been a year and a half since I've been here.
Since I have lost contact with the people of the Yamagata Symphony Orchestra , I would like to revive it. We regret that we are unable to serve our customers. When the corona vortex is over, I will do my best not only to recover what I couldn't do, but also to provide greater joy than ever before!
Tokyo City Philharmonic Up until now, we have held exchange meetings with customers about twice a year after regular concerts. First of all, I would like to restart it with gratitude to the customers who support us. Of course, there is also the "Naka no Hito Summit"!!
Kanagawa Philharmonic Orchestra "Naka no Hito Summit" I want to do it soon. A wide variety of SNS has appeared in recent years, and I would like to think about new things by making full use of existing video content and remote. In addition, we have not yet resumed the "seeing off" of customers after the performance from the perspective of infection prevention. It's a very important ′′ place ′′ for the orchestra members, so i hope we can resume it soon.
There are many things I want to do, including the Japan Century "Members of the Middle Ages Summit," of course, but also wanting to revive rehearsal visits for members and see them off after concerts. More than anything else, I want to shout out loud to the audience, "Come to the concert!" It's a pity that I can't say "Come here" yet, even though I'm spreading the joy of orchestras and music.
The Hiroshima Symphony Orchestra's Fan Appreciation Day, which was scheduled the other day, has been cancelled. Regarding public rehearsals and send-offs after performances, we have received feedback from customers saying, "I want them to resume as soon as possible." I think there are a lot of customers who are looking forward to it, so I'm looking forward to the return of an environment that will please everyone.
[What is the charm of orchestra and music? ]
There is no doubt that the professionals of each instrument at Japan Century have gathered together and are seriously working on music. That's why I think we can deliver fun, beautiful, various colors and genres of music. Because they are serious when performing, they tend to be thought of as "stiff", but each of them has a charming side, so I'd like you to know that as well.
Having been unable to play with the Hiroshima Symphony Orchestra for a long period of time, I still feel that there is something passionate about music that cannot be expressed in words. It's music that has fascinated many people over the years, so it's a waste to not listen to it!
The Sendai Philharmonic will never come at the same time twice. It is no exaggeration to say that the charm of live music is there. Even if you play the same song twice, the tempo won't be the same both times, and it's impossible to have the same performance both times. After all, about 60 people play with various instruments. The appeal of the orchestra lies in the fact that many people create one thing.
Also, the members of the Sendai Philharmonic Orchestra are more open-minded, friendly, and funny than you might think, and they are very human. If you say "domo ne", they will reply "domo ne". Really.
Tokyo City Philharmonic strings, brass, woodwinds, percussion. All kinds of musical instruments come together to create one piece of music, and it has a powerful impact that pierces the hearts of listeners. I feel that is the charm of the orchestra.
The music of the Yamagata Symphony Orchestra has been used in movies, dramas, commercials, and so on. It's because that much remains in my heart, and even if I'm not conscious of it, it's very close to me. Listening to such music live is something you feel not only in your ears but also in your body. The raw sound, which does not pass through a machine, is warm and deeply felt because it is played by a person. I hope I can convey such a feeling of excitement and happiness.
The Kanagawa Philharmonic Orchestra has orchestras that are active in each region throughout the country, and they are developing activities that are rooted in the local area. The Kanagawa Philharmonic Orchestra has also come up with various projects to bring out its own unique color, but I think that the "people in the middle" are just one tool to let everyone know about the orchestra and lead them to a wonderful world of music. I'm here. The goal is to increase the number of people who listen to the orchestra from Twitter, where the "people in the middle" are working hard, or who are healed by music. From now on, we will continue to cooperate with the "people inside" to spread the charm of the orchestra!