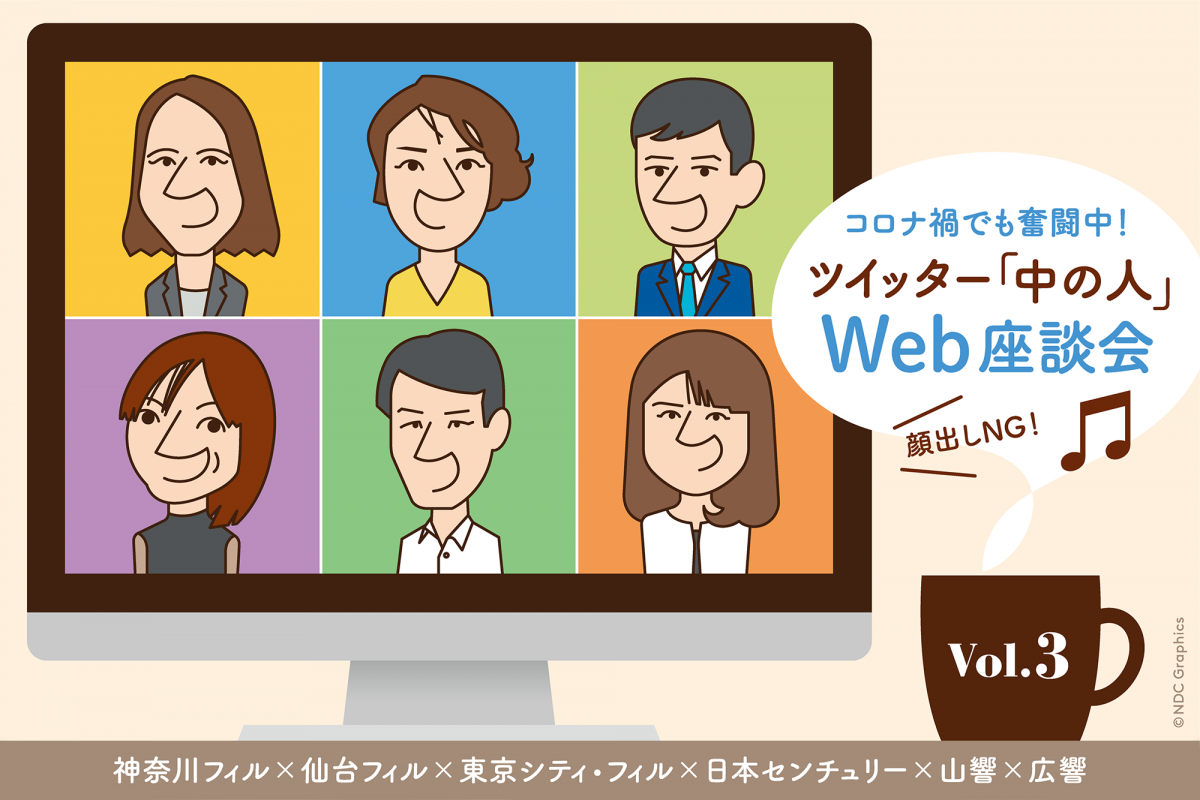 Serious and hard people ... The "people in the middle" of the orchestra group that breaks through such preconceived ideas and uses Twitter to convey the charm of the orchestra. The "Middle Man Summit", which is becoming a regular event, has been postponed due to the Korona-ka, but it is the "Middle Man" who is full of orchestral love. An online roundtable discussion was held to deepen the relationship of friendly competition.
We will report the whole story on the condition of "appearance NG"!
* Check back numbers as well!
・Click here for 2018 version
・Click here for 2019 version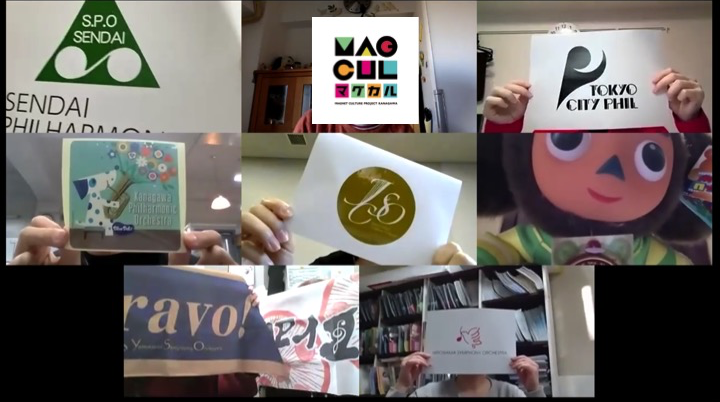 Kanagawa Philharmonic Orchestra (Kanagawa Philharmonic Orchestra) It was a really turbulent year. From the end of February to mid-July 2020, almost all concerts of Kanagawa Philharmonic Orchestra were canceled or postponed. Under such circumstances, we were able to open up new channels such as distributing performance videos and remote appearances of orchestra members on YouTube, so I take that point positively.
* Click here for the official YouTube Kanagawa Philharmonic channel!
Sendai Philharmonic Orchestra (Sendai Philharmonic Orchestra) During the six months when I couldn't perform at all, Twitter was difficult to manage. I shouldn't be disappointed here, so I decided to take advantage of the situation where performance information could not be sent, and to send information with an emphasis on communicating everyday life. The main topic is the everyday scenery, such as what is happening in Sendai and what the Sendai Philharmonic Orchestra is preparing. I think that the communication with the followers was not interrupted because the transmission was not delayed.
* Click here for the official YouTube Sendai Philharmonic channel!
Yamagata Symphony Orchestra In March of last year, we held a regular concert with no audience. We received a great response from the live distribution, but after that we stopped the activity. It wasn't until June that we started live streaming again with no audience, and it wasn't until July that we were able to deliver live music to our customers, even though the number of people was limited.
But in the meantime, it was the harvest that allowed me to try new things. Planning and distribution of "Hanagasa Ondo in a place like this" as a PR for crowdfunding-type hometown tax payment. Many people watched it.
The Tokyo City Philharmonic Orchestra (hereinafter referred to as the Tokyo City Phil) live-streamed on June 25, last year, and has been gradually resuming performance activities since then. In addition to the performance activities, we volunteered to start a video project called "Home Ensemble" that was shot and edited at home for each section in cooperation with the orchestra members, and when it was released on official YouTube, we received a lot of feedback. rice field.
On the other hand, at the beginning, there were many changes in the songs and performers, so it was painful that there were many changes and refunds on Twitter. So, I'm still careful not to make the tweet sad and depressed. The followers also respond cheerfully, and I am grateful for that feeling and it is a daily encouragement.
Japan Century Symphony Orchestra (hereinafter referred to as Japan Century) Anyway, it was a messy year. After the concert on February 22nd, there will be no spectators even if they can be active until June 20th. However, when the regular performance in March was canceled, volunteers from the orchestra voluntarily started to say, "I have a schedule, so let's do something." While taking measures, we were able to take a performance video in the rehearsal room and distribute it as a "Century Web Concert" in sequence.
Perhaps because of that, we achieved 10,000 followers on April 15th!
Everyone 88888888 !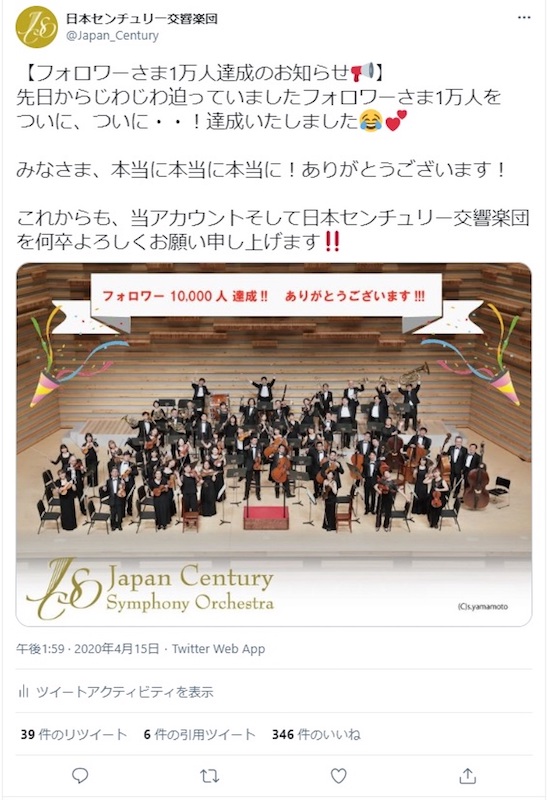 In addition to Japan Century , it was a year of challenging various things such as playing Beethoven's 9th outdoors in the middle of summer and asking for support in crowdfunding.
Hiroshima Symphony Orchestra Twitter has the advantage of breaking news, so I feel that I haven't been able to send a lot of positive messages over the past year because I've been busy sending out information on program changes and refunds. However, I am grateful that Tatsuya Shimono, the music director, is supportive of the transmission and responds to message videos and cosplay photos.
* Click here for the official YouTube Symphony Orchestra channel!
[Looking back on the year of Korona-ka]
Sendai Philharmonic The Sendai Philharmonic's recent hit is "The End of Amore Sukegawa, who came to the very beginning of the performance ."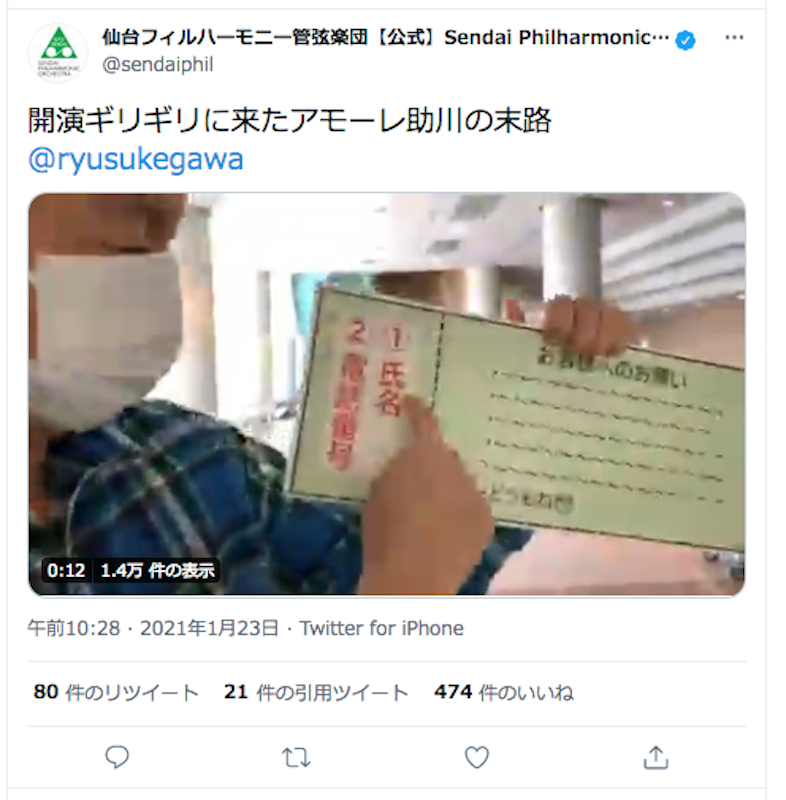 As a style of concert in Korona-ka, Sendai Philharmonic Orchestra knows in advance that you will write your name and phone number on the back of the ticket. However, there are many people who don't actually write it ... Therefore, I made a PR video with Amore Sukegawa (contrabass player: Ryu Sukegawa) and posted it on Twitter.
Yamagata Symphony Orchestra It's not the result of Twitter, but "Bravo Towel" was very responsive. I made it for customers who can't shout "Bravo!" Because of infectious disease countermeasures, but it was unexpectedly popular. We are currently placing a fourth additional order.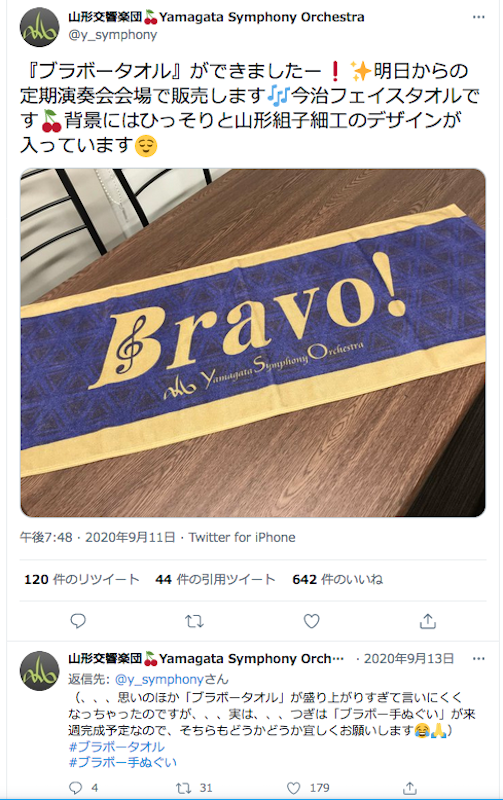 When a long-established European orchestra came to Japan, I was happy to hear that there was a customer who raised it in the audience. By the way, there is also a "Bravo Tenugui" with a Hanagasa motif, both of which are designed by "the person in the middle". I want you to spread it all over the country (laughs).
Tokyo City Phil Last fall, we renewed the wrapping of transportation trucks (Oketra), and we received a lot of reactions. We are very pleased that the customers and performers who came to the event often took pictures of this oketra and tweeted it, which was well received by everyone as "cool!".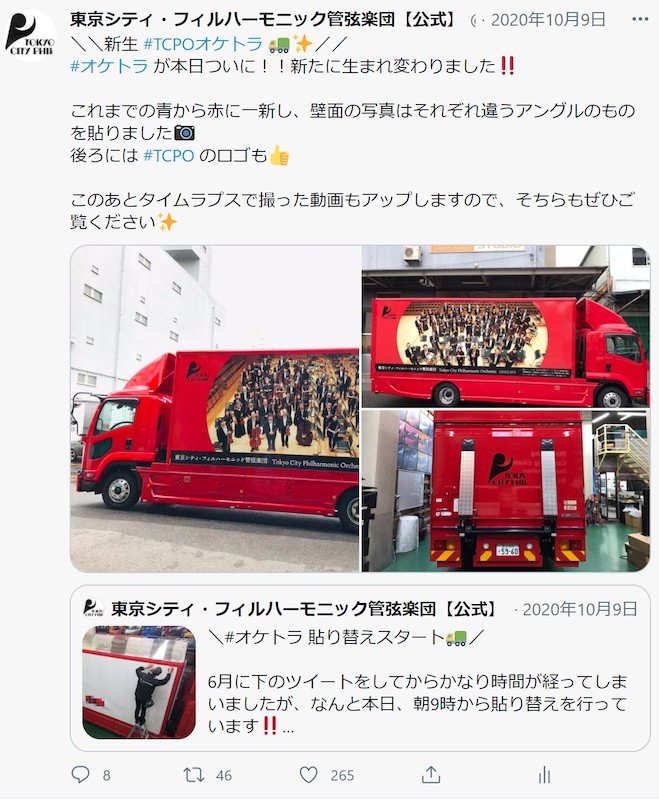 Some people call it "fire engine color" (laughs), but it has an impact.
Recently, when I tweeted a video taken at the rehearsal of the 339th subscription concert held at the end of January this year, there was also a big response. After posting, I received a comment saying "I'm looking forward to going to the performance more and more!", And I myself listened to the performance and tweeted "I definitely want everyone to listen to this!" I was happy because it was the one I did.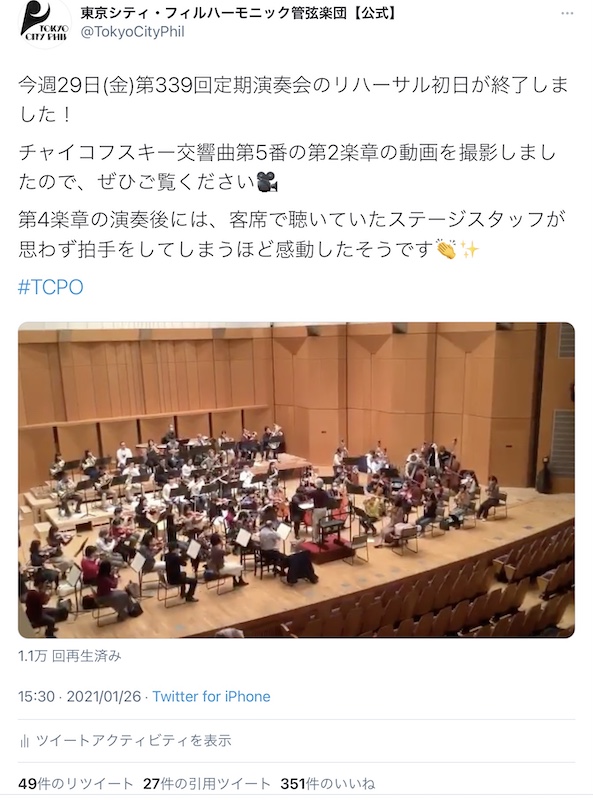 On July 9th, after the Kanagawa Philharmonic Orchestra resumed its activities, it made a sound for the first time as an orchestra. The nostalgia of the tuning A (Ah) sound and the joy of finally being able to make music made me feel sick, so when I tweeted that feeling straight, everyone sympathized with me. You did it.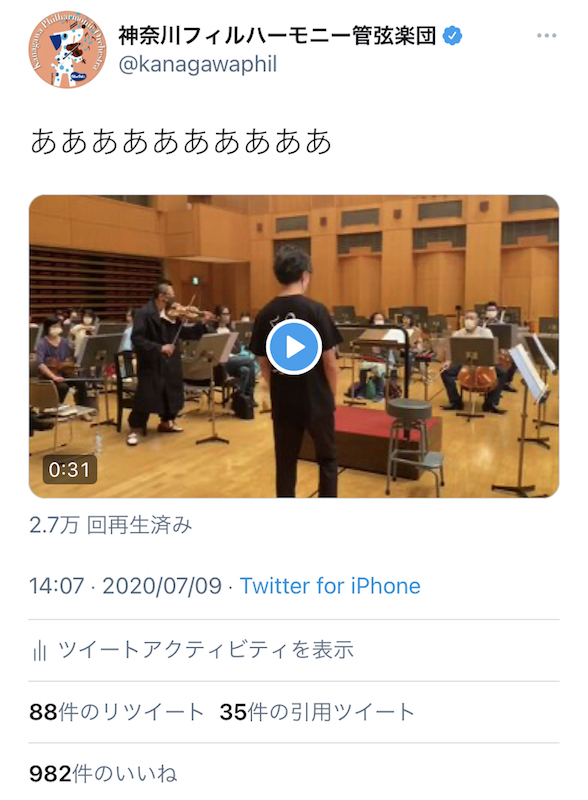 Japan Century has received a great deal of feedback from the tweet announcing that Joe Hisaishi will be appointed Principal Guest Conductor from April 2021.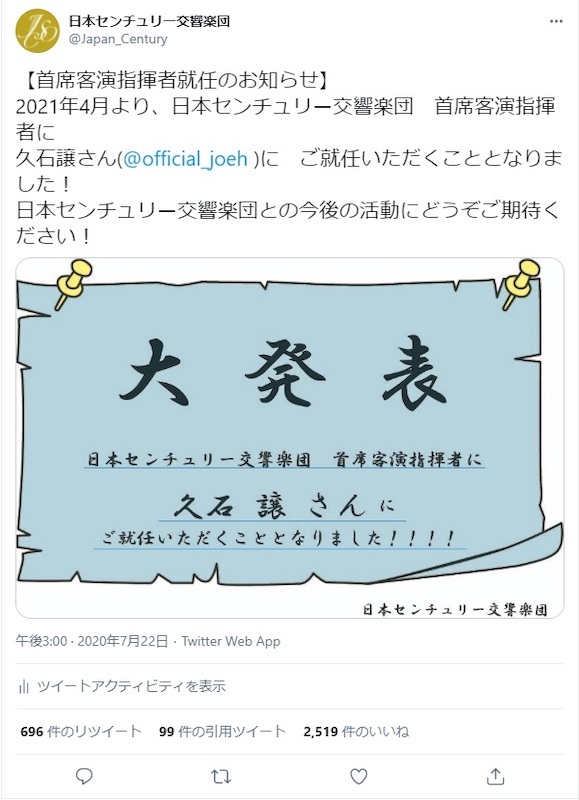 Here is the excitement as much as that.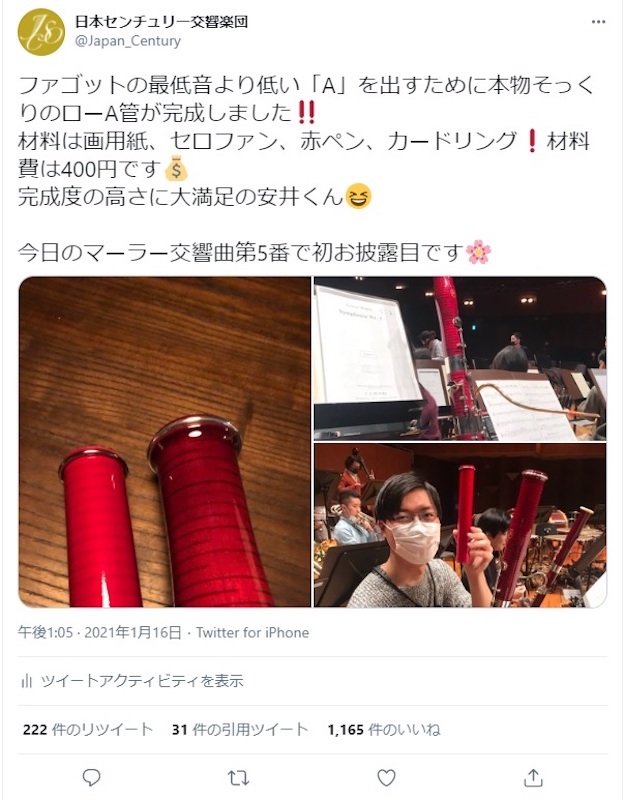 I played Marler's No. 5 in a large organization for the first time in a long time, and for that purpose the bassoonist handmade a "low A tube" that looks exactly like the real thing. When I took a picture with a happy smile and showed it off, I received a lot of positive comments. I thought that what everyone was looking for was a tweet that the orchestra members could feel close to.

Hiroshima Symphony Orchestra The most responsive tweets in recent tweets were two shots of Mr. Shimono wearing an Italian chef costume and Sakuma Daiichi Concertmaster. I'm looking forward to seeing these tweets attract a wide range of people, including those who haven't been involved in orchestras.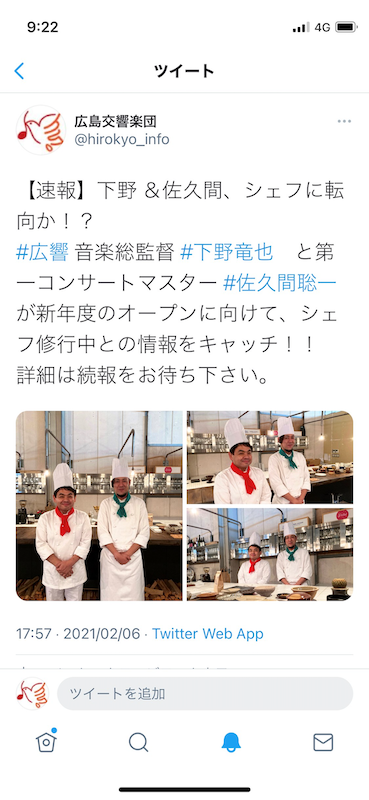 [What I want to do when the Korona-ka is over]
Let's do the Sendai Philharmonic "Medium People Summit"! I haven't seen you for another year and a half.
I have lost contact with the Yamagata Symphony Orchestra , so I would like to revive it first. It is a pity for us that we cannot serve our customers. When the Corona Whirlpool is over, we will do our best not only to regain what we couldn't do, but also to provide greater joy than ever before!
Tokyo City Phil Until now, we have held exchange meetings with customers about twice a year after the regular concerts. First of all, I would like to restart it with gratitude to the customers who support me. Of course, there is also the "Medium People Summit" !!
Kanagawa Philharmonic Orchestra "Middle People Summit" I want to do it sooner. A wide variety of SNS has appeared in recent years, and I would like to think about new things by making full use of existing video content and remotes. In addition, the customer's "see-off" after the performance has not yet been resumed from the viewpoint of infection prevention. It's a very important "place" for the orchestra members, so I hope we can resume it as soon as possible.
Not to mention the Japan Century "Nakajin Summit", I also want to revive the rehearsal tours of the members and the see-off after the concert, and there are many things I want to do. Above all, I would like to say to our customers, "Come to the concert!" It's a pity that I can't feel free to say "come" even though I'm sending out the fun of orchestra and music.
Hiroshima Symphony Orchestra The fan appreciation day that was scheduled the other day has been cancelled. Regarding public rehearsals and seeing off after the performance, customers have also asked us to resume it as soon as possible. I think there are many customers who are looking forward to it, so I am looking forward to the return of an environment that will please everyone.
What is the appeal of orchestra and music? ]
There is no doubt that the professionals of each musical instrument of Japan Century have gathered and are seriously working on music. That is why I think we can deliver music of various colors and genres that are fun and beautiful. It's easy to think that it's "stiff" because it's serious during the performance, but each has its own charming side, so I would like you to know that as well.
As the Hiroshima Symphony Orchestra orchestra continued to be unable to perform, I still felt that "there is something hot in music that cannot be expressed in words." It's a music that has fascinated many people over the years, so it's a waste to hate it without listening to it!
Sendai Philharmonic will never come at the same time. It is no exaggeration to say that the charm of live music lies there. Even if you play the same song twice, the tempo will not be the same both times, and it will never be the same performance both times. After all, about 60 people play on various musical instruments. The orchestra has its charm because many people make one thing.
Also, the members of the Sendai Philharmonic Orchestra are more friendly, friendly, interesting, and very human than you might think. If you say "Thank you", it will return "Thank you". Really.
Tokyo City Phil Strings, brass, woodwinds, percussion instruments. All the musical instruments make up one piece of music in one place, and it is a powerful force that pierces the hearts of listeners. I feel that is the charm of the orchestra.
The music of the Yamagata Symphony Orchestra is also used in movies, dramas, commercials, etc., and you all have the experience of "Huh? I've heard this song!" That's because it's so memorable, and it's something that's very familiar to me even if I'm not conscious of it. Listening to such music live is not only felt in the ears but also in the body. The raw sound that does not pass through the machine is warm and impresses because it is played by humans. I hope I can convey that kind of excitement and happiness.
Kanagawa Philharmonic Orchestra There are orchestras that are active in each region throughout the country, and they are developing activities rooted in the local area. Kanagawa Philharmonic Orchestra has also launched various projects to bring out its own color, but I think that "the person in the middle" is just one tool to let everyone know the orchestra and lead to a wonderful world of music. I am. The aim is to increase the number of people who listen to the orchestra from Twitter, where the "people in the middle" are working hard, or who are healed by music. From now on, these will continue to cooperate with the "people in the middle" to convey the charm of the orchestra!