While I was attending Yokohama International School (YIS) from elementary school to high school, I walked from Ishikawacho Station on the Keihin-Tohoku/Negishi Line to Minato-no-Mieruoka Park for about 20 minutes with a heavy American-made cello case. I still remember clearly that I climbed it several times. (Looking back now, it might have been a good workout!) After passing through Motomachi, climb the stairs on the side of the foreigner's cemetery (there are some sloping steps, so be careful when it's raining because they're slippery), and take a deep breath. Arrive at the top while making you hahaha. There is no convenient Minatomirai Line that directly connects to the Toyoko Line or the Fukutoshin Line, and the place called "Mt. It was treated as a test of the liver. When I walk through Americayama Park now, I'm a little happy to know the "wasteland" of the past. I feel that I am in the transition of the history of the same area.
For this column, I would like to talk about the Yokohama area where I grew up since elementary school and my musical activities. Now, as a cellist, I mainly play classical music, but I have the opportunity to play a wide range of genres such as tango, jazz, popular songs, and more. In particular, Shanti Dragon 3 (Trio), who is still active as a trio, gave me the opportunity to play genres other than classical music. Although the group name was different at the time, I had the opportunity to play with the trio Akemi Hayashi (piano, composition and arrangement) and Toru Kongo (saxophone) since I was in junior high and high school. We performed together when I was in high school. I feel very honored to be able to perform with the two of you who have been calling me for many years.
The Yokohama International School campus will move to Honmoku from January 2022, and my father, who loved the Motomachi area, passed away in 2017. is coming. His father, Morgan Gibson, was a poet and professor of literature for many years in Japan and the United States. After his death, he translated some of his father's poems into Japanese with his mother, who was a university professor of literature, and even read them aloud with improvised performances at Shanti Dragon 3's live performances. I remember fondly my father, who loved the Motomachi area, chatting over a giant latte at Starbucks.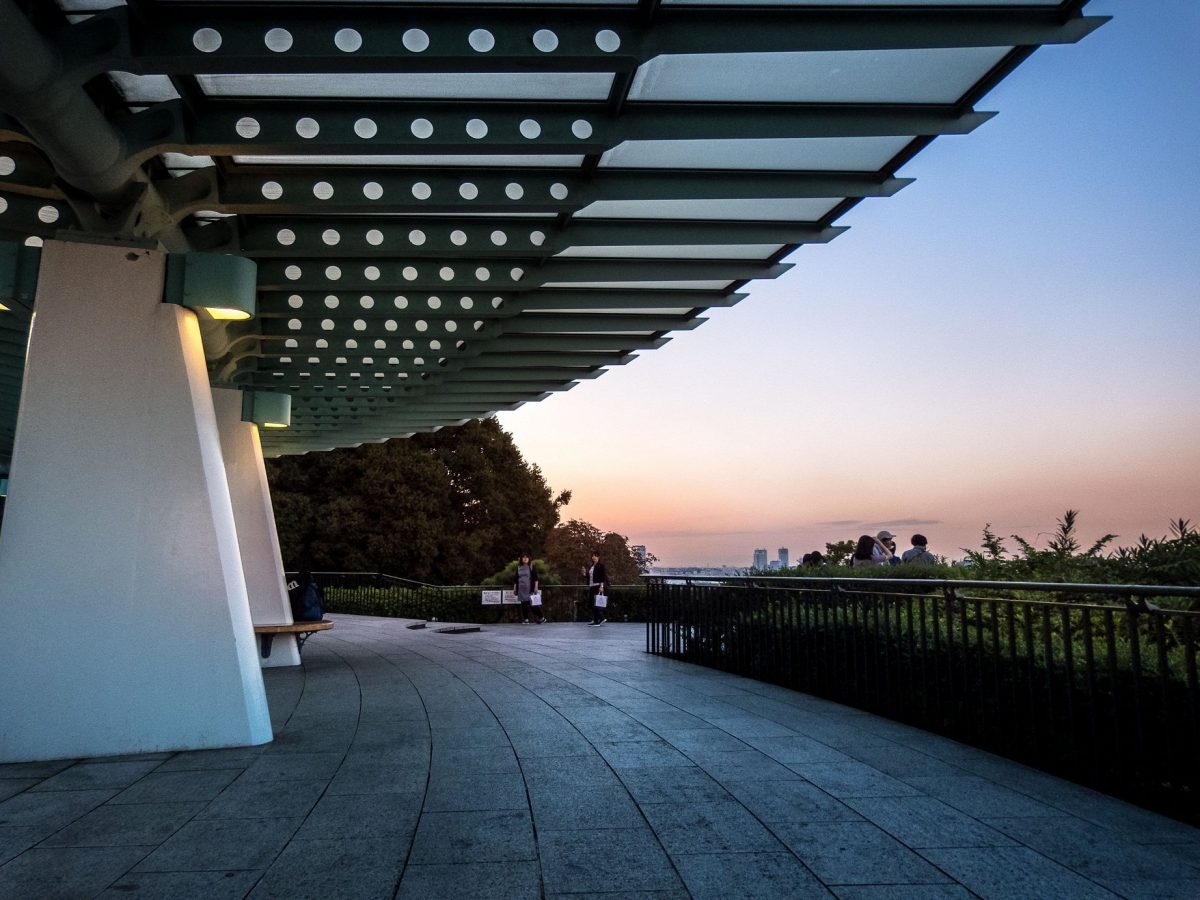 Originally, I was born in Michigan, USA, and started learning the cello in the Suzuki Method when I was 4 years old. At the age of 6, I moved to Japan and attended a public elementary school in Mihama Ward, Chiba City for about 2 years. In an area surrounded by housing complexes, there were almost no foreigners, and I remember my father and I being extremely conspicuous. After that, partly because I wanted to improve my English, I decided to move to Yokohama and attend YIS. At that time, Yokohama (especially around Bluff) was like New York to me. There are students from various countries in the class, and I hear a wide variety of English. Scotland, Australia, New Zealand, Denmark, Norway, England, China, Korea, Japan, etc. It was a blessed environment where I could come into contact with various kinds of English. And the English spoken by teachers and students had their own individuality. (For example, when a teacher from New Zealand was pronounced "disc", it took me a while to realize that it was the so-called "desk".) Looking back, I learned from experiences like this, not just the curriculum. There were many. In terms of music as well, starting with the Suzuki method, which emphasizes playing by ear, I gradually worked on studying how to read music, and gradually became able to play ensembles, etc., even though I was confused.
When I was in the upper grades of elementary school, I also liked pop music such as GLAY and Spitz, so I decided to learn bass guitar in my neighborhood. (At that time, Internet searches were still not a big deal.) Unfortunately, I didn't improve my bass guitar and ended up with a fever for a while, but I decided to learn solfege and piano in the same class, and that's where I met Akemi Hayashi for the first time. It was. As a piano student, I think that even Beyer was sloppy and rather unsatisfactory, but he invited me to play jazz with Mr. As a culmination, I co-starred in a concert that included readings at the hall of the Yokohama Museum of Art. For me, who knew almost nothing but classical cello playing, improvising while listening to chords was such a shock that I changed my language. may have helped me. I was fortunate not only to have the recital that was set up, but also to have the opportunity to perform at jazz cafes and halls from an early stage.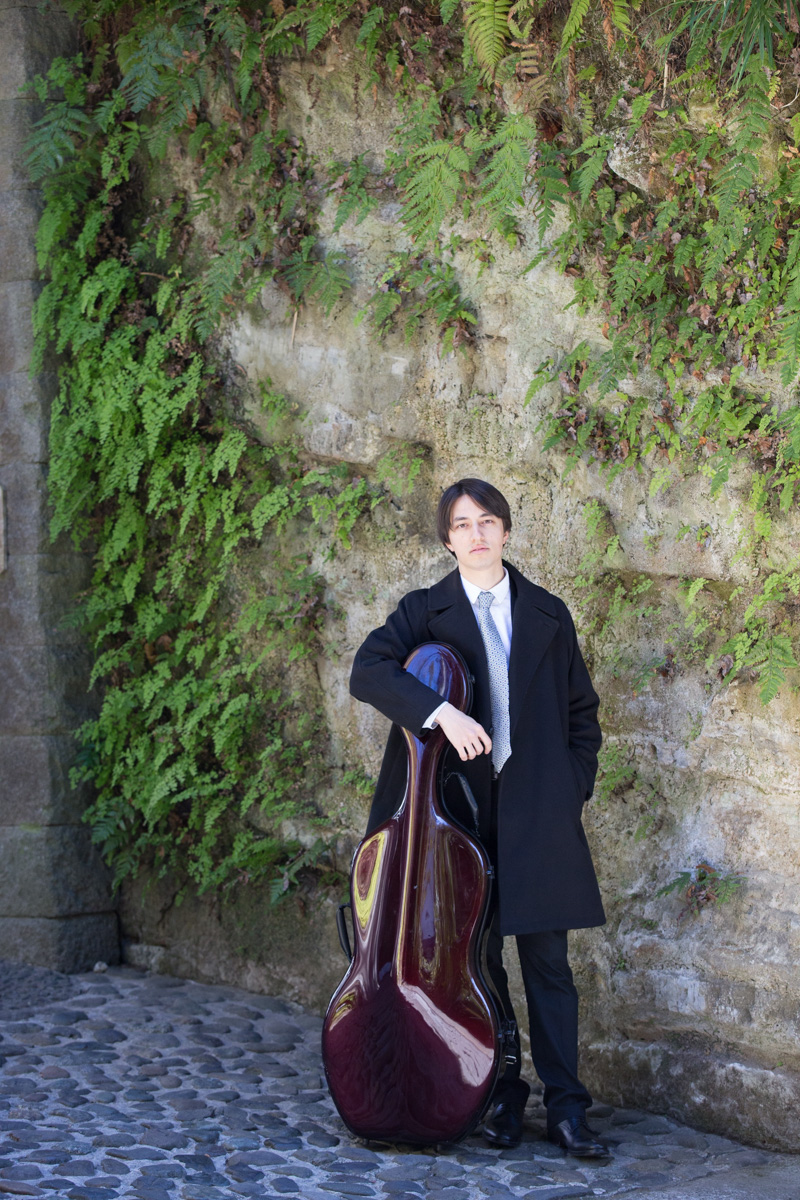 Performers create music together with the audience, but due to the corona vortex, events such as live concerts at jazz stores where personal interaction is possible and salon concerts that include eating and drinking have all been canceled or scaled down. I am very sorry about that. Humans are creatures of habit, and habits create culture. In order for such customs, culture, and arts to continue in the future, I would like to continue my efforts as a performer (while paying attention to infection control).
Shanti Dragon 3 is mainly active in the Yokohama area, but the theme is "songs" that transcend genres. I think every culture in the world has songs of some sort, but I think songs are something that grows up in the culture and you sang it without realizing it. The flow in which the song was born and raised is connected to the song that is newly born in each performance. I think that what is contained in the song, such as the way the song is sung, which cannot be explained from the score alone, the timing, the scene that comes to mind when the song is sung, will be inherited by the performer and the audience. The "variations" form, which is often used in jazz, is often used in Shanti Dragon's performances. Through improvisation, the songs are unwrapped, bundled, thoughtful, instruments intertwined, and then returned to the first simple song. The audience clapped their hands, they talked about what they remembered through the song, and the music continued to influence each other.
I would be very happy if I could continue to listen to "songs" that transcend genres in my performance activities, cherish the inspiration from them, and deliver something that resonates with the listeners. As the place where I grew up from elementary school to high school, the history of Yokohama has had a tangible and intangible impact on me. There is a moment when you suddenly remember the old days while taking a walk while looking at the changing townscape. I wish I could play like that. I want to cherish things that change and things that remain.
【profile】
Shanti Dragon 3 / Shanti Dragon Trio
Shanti means "inner peace" in Sanskrit. The Dragon is not the dragon that is seen in the West, but in Asia it is a dragon that symbolizes powerful and auspicious power, and is the god of water.
Shanti Dragon was originally a duo of Akemi Hayashi on piano and Soukon Kongo on saxophone, but when cellist Christopher Satoshi Gibson, who was also a student of Hayashi's piano and solfege, joins, it is written as Shanti Dragon 3.
This trio began with the Yokohama Museum of Art concert at Yokohama Art Live 2003, the CD/Yume Futaya composed entirely by Akemi Hayashi in the same year, and the recording. In addition, he has actively performed volunteer performances at facilities for the disabled.
Christopher Satoshi Gibson left Japan and went to college in the United States to temporarily suspend his trio activities, but after returning to Japan, he participated in Shanti Dragon again in 2019 while he was active in various scenes. She resumed her activities as Shanti Dragon 3.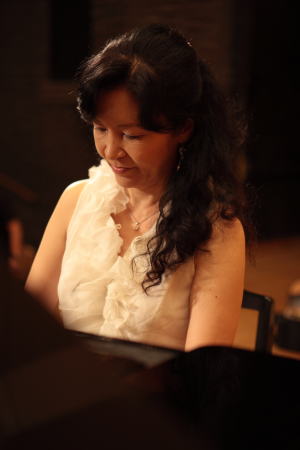 Akemi Hayashi (piano, composition and arrangement)
Pianist, composer, arranger. Born in Yokohama, currently living in Yokohama.
From an early age, he started playing piano and electronic organ, studying piano under Mr. Minoru Matsutani and Mr. Midori Matsutani, who are also relatives. Under the guidance of both of them, he came into contact with a wide range of music, from classical music to contemporary music, popular music, pops, and jazz, and started performing while attending music college.
After graduating from a music college, he worked as a music school instructor at the Yokohama Contemporary Conservatory, and as a solfeggio instructor at the Yokohama Municipal High School Brass Band Club before establishing the Maple Piano School (Isogo Ward, Yokohama City). Taking advantage of his career in piano instruction and experience as a player, he strives to teach younger students from infants to adults.
Concerts hosted by Yokohama City, Yamate Seiyokan (British Pavilion, Berwick Hall, Bluff 18th Pavilion) Sankeien "Moon Viewing Concert", Yokohama Jazz Promenade, etc. Performing in various places, mainly in halls and live houses in Yokohama and Tokyo. there is He often performs original songs, and has released more than 100 original songs, including those recorded on CDs. Released 5 CDs so far.
Volunteer performances are also actively participating.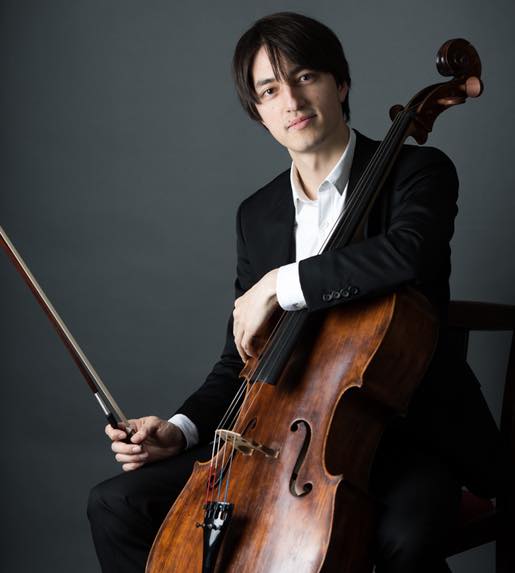 Christopher Satoshi Gibson (cello)
Born in Michigan, USA. Started playing the cello at the age of four. Participated in summer programs at Tanglewood, Indiana University, and Interlochen while in high school. After graduating from Yokohama International School, entered Yale University in 2005, where he double majored in philosophy and political science.
While still in school, he passed an audition with cellist Aldo Parisot and studied cello under Ole Akahoshi, the youngest student of Pierre Fournier and a longtime assistant to Janos Starker, at the Yale School of Music. He also studied chamber music with Wendy Sharp of the same conservatory. In 2009, he won a prize at the university's FOM competition. In the winter of 2012, when he won the Newcomer Audition of the International Association of Musicians, he was praised by violinist Narimichi Kawabata, one of the judges, as "a performance that allows you to enter the world of music".
In 2017, under the sponsorship of the NPO Emotion in Motion, the "BACH Solo" unaccompanied cello recital series was held at Minato Mirai Small Hall, Tiara Koto, Tokorozawa Muse, and Suntory Hall "Blue Rose". Co-starred with violinist Ikuko Kawai at TV Tokyo's "100 Years of Music" program recording and concert, BLUE NOTE TOKYO (2020), Cerulean Tower Noh Theater (2019), Mitsukoshi Theater (2018). Active mainly in Tokyo, Kamakura and Nagano.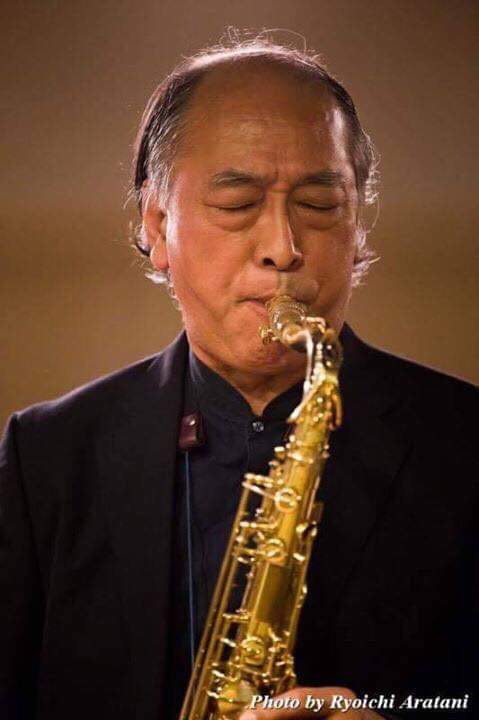 King Kongo (sax)
He started playing the saxophone at the age of 12, studying under Hisahisa Muta (Chairman of the Japan Brass Band Teachers Association, former head of the Metropolitan Police Department Band) and Minoru Suda (Professor at Musashino Academia Musicae). Joined Yanagisawa Wind Instruments Co., Ltd., one of the world's three major saxophone manufacturers.
After working as an instrument manufacturer, researcher, instructor, and manager, he became independent. In 1995, he established Congo Saxophone Studio and started saxophone repair, lessons and performance services. 1997 Released CD /OUR TRIBAL MUSIC, Jazz Life Magazine Best New Artist Award. Received an appointment from the Yokohama City Board of Education and worked as a lecturer at Yokohama Municipal Minato Commercial High School for four years. In addition to concerts and recordings at Yokohama Museum of Art Hall, Minatomirai Hall, Kanagawa Prefectural Ongakudo, Sankeien, Yamate Seiyokan, etc., Yokohama City University Hospital, and facilities for the disabled and welfare facilities in Tokyo, Kanagawa, Kyushu, and Hokuriku. They are also actively involved in volunteer performance activities.
He has performed with top Japanese musicians, as well as musicians visiting Japan from England, Italy, Switzerland, and France. Bokusei Mochizuki, holder of intangible cultural properties, and others. There are also many collaborations that transcend genres. He also teaches a citizen saxophone ensemble that plays mainly Bach's chorale.
Several CDs and DVDs have been released so far.