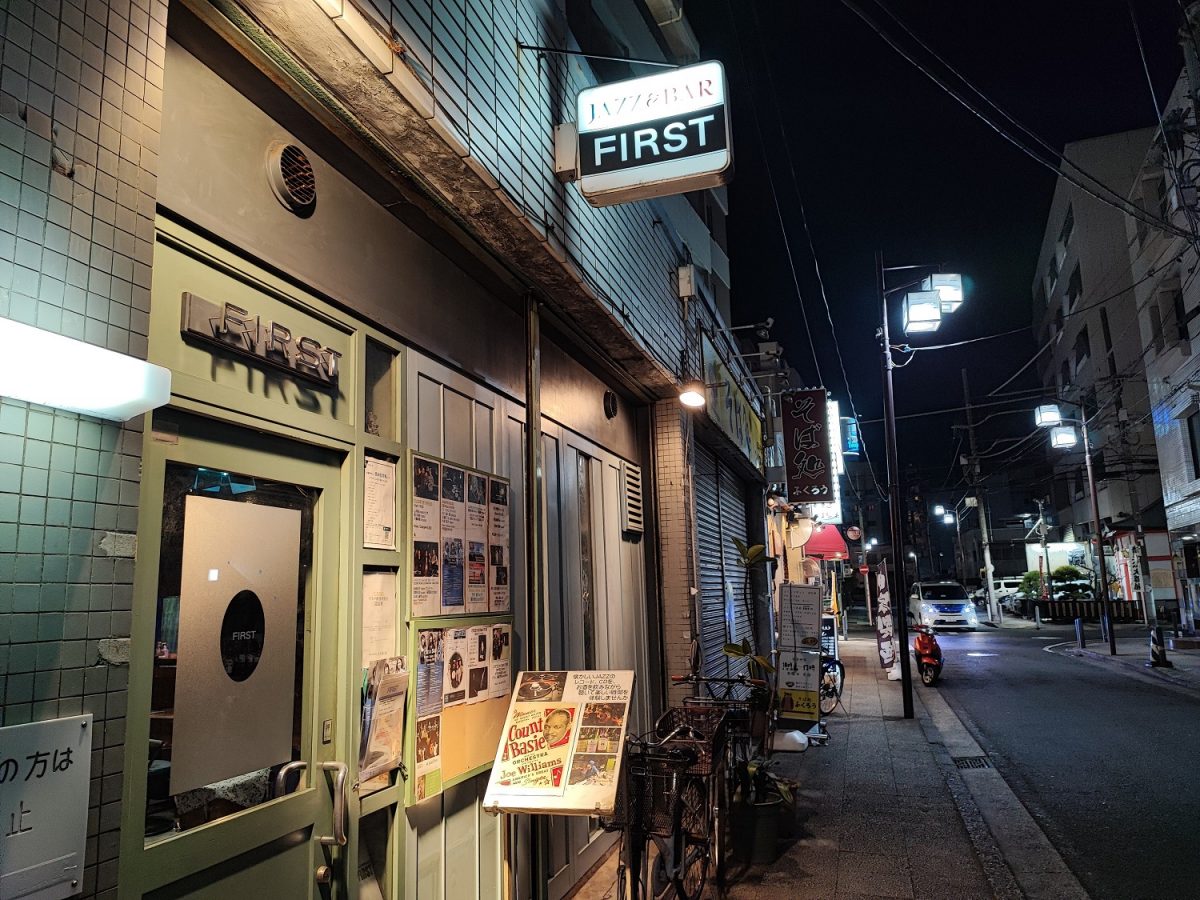 The city of Yokohama is an indispensable presence when talking about Japanese jazz. Many jazz festivals such as "Asahi Jazz Festival" and "Yokohama Honmoku Jazz Festival" are held, and spots where you can enjoy jazz are concentrated in the Noge-Isezakicho-Kannai area.
In this series, we will take up and introduce jazz spots in the prefecture so that even those who have never been to a jazz cafe or live house can enjoy jazz casually.
Past Series Jazz Walk From "Jazz Cafe Chigusa" to "Jazz Museum Chigusa"
In the second installment of this series, we will introduce "FIRST," a jazz bar in Chojamachi that has been supporting Yokohama jazz for over 50 years. A 3-minute walk from Keikyu Hinodecho Station. After crossing the Chojabashi Bridge and crossing the Ooka River, you will be greeted with a slightly different atmosphere than in front of the station. As I entered the alley, I saw a glowing white signboard of "JAZZ BAR – FIRST" in the town that was beginning to get dark. Bottles of Western liquor and posters with live information are lined up next to the retro mint green door.
Founded on July 21, 1968, FIRST will celebrate its 55th anniversary this year. It was a time when you couldn't listen to your favorite music easily with just a smartphone like now. "FIRST", which collected jazz records from overseas, became a place of relaxation for many people, including students, as a "store where you can listen to jazz." Even after more than 50 years, this shop continues to be loved by regulars.
When you open the door, the sound of jazz echoing in the store will pleasantly vibrate your body. The yellow-green interior, which is the same as the entrance, is divided into chic counter seats illuminated by blue lights and table seats with carved wooden tables and chairs. Musical instruments such as pianos and drums are placed right next to the entrance. There were no live performances on the day I visited, so it was like a rest day for the instruments.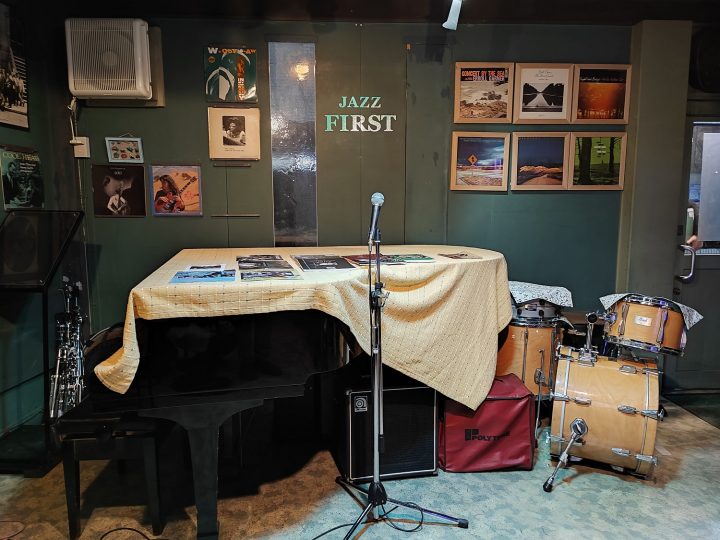 To be honest, I was a little nervous when I opened the door. Although he likes listening to jazz, he had almost no experience of visiting jazz bars, so he felt a high threshold for "Yokohama's long-established jazz bars". However, as soon as I entered the store, those tensions slowly melted away. As mentioned above, the interior of the store has a chic and calm atmosphere, but at the same time, you can feel the warmth of being at home. It was the owner couple of "FIRST" who exuded that warmth. On the day of the event, the owner, Mr. Akira Yamazaki, welcomed me to a large table so that I could sit comfortably with a lot of luggage.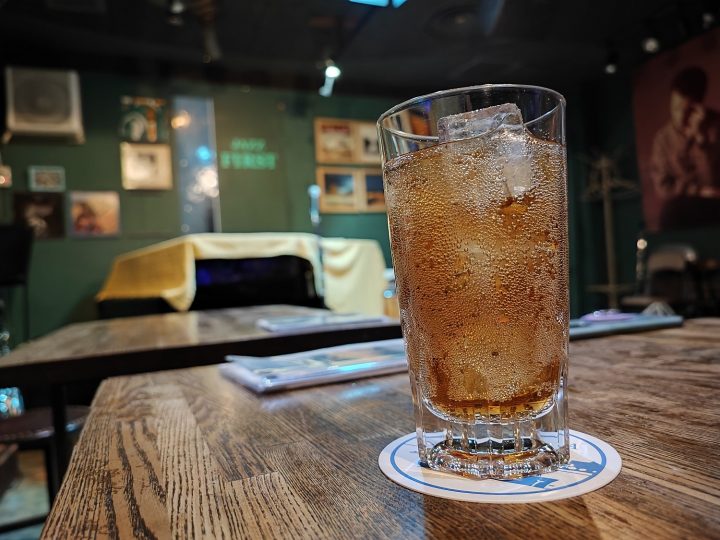 When I visited the store, the music that was playing was standard numbers that everyone knew, ranging from Latin and modern jazz. You can enjoy jazz with colorful tones. That should be true, behind the counter there are many records lined up, telling the history of this store.
What makes me even happier is the abundance of our menu. In addition to the variety of drinks, the food menu is more substantial than that of a normal bar, and the dishes made by Mama are loved by many people for their taste and volume.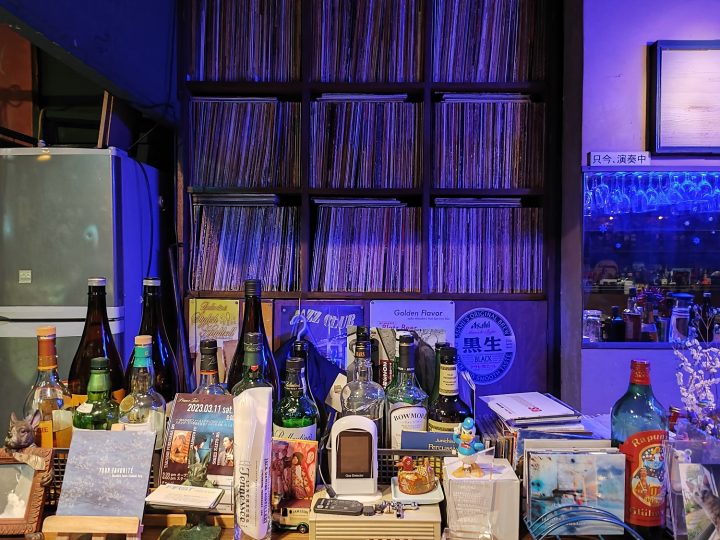 As mentioned above, FIRST regularly holds live performances and jazz sessions. You can listen to performances by various musicians, from young players to well-known musicians. Live performance information can also be checked on the homepage , so if you want to listen to live performances, we recommend that you check the live information before visiting.
The calmness of a long-established store and the warmth that allows you to relax. You can enjoy jazz in your own way while feeling the history of the shop and the gentle atmosphere created by the owner couple. Please visit "FIRST" where you can relax and enjoy jazz.