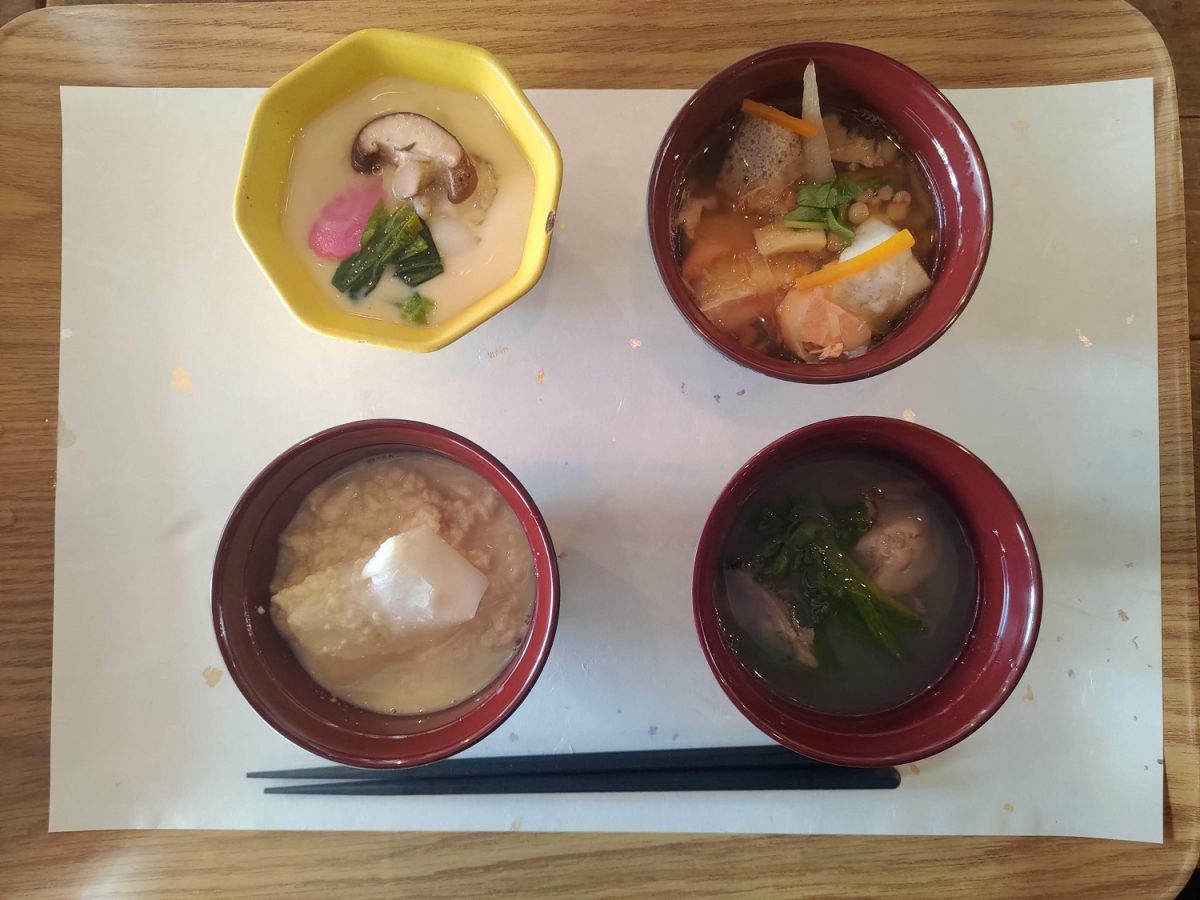 What kind of zoni do you enjoy at home?
Our home's ozoni is made with chicken stock and garnished with daikon radish and carrots. Bake the mochi until lightly browned and dip it in the broth.
I've been familiar with this flavor since I was a child, and thought, "This is the ozoni!" .
What I met there was a lot of ozoni that I had never seen before. Oyster zoni, ozoni that looks like sweet tofu sweets... there's even chawanmushi with mochi inside!
Hiroko Kasuya, an ozoni researcher and representative of Ozoniya Co., Ltd., one of the organizers of the event, said to me, who was surprised at the wide variety of zoni.
"(Ozoni) is different even within the same municipality. Every household in Japan thinks that their own ozoni is the norm. There is something completely different."
Local history, culture, and people's lives that can be seen through ozoni. We asked Kasuya about his passion for ozoni and the appeal of ozoni as a food culture.
Mr. Kasuya first became interested in ozoni when he was a junior high school student and moved to Joetsu City, Niigata Prefecture due to his father's job transfer. Until then, her usual ozoni was clear soup with oysters, or white miso paste and sweet red bean paste rice cake made by her mother, who is from Kagawa Prefecture. However, when he was invited to a friend's house on New Year's Day, he was surprised to be treated to brown zoni with lots of bracken and squid. I learned that the "normal" of ozoni differs from region to region and household to household.
Mr. Kasuya could not forget the shock at that time even after he became a member of society. In 2009, he entered Kagawa Nutrition University and began interviewing people on the theme of zoni while studying nutrition. Two years ago, he moved his base to Kyushu and has been active.
"Right now, I'm picking up old ladies and walking around Kyushu (laughs). If you don't really do that, you won't know the ozoni of the area. I think there are a lot of "normal" for everyone.
In Tokyo, "natorizoni" is made with mustard greens and chicken. That's why it's komatsuna and chicken, but when it comes to Atsugi and Hadano in Kanagawa, it changes to daikon radish, taro, green laver, and bonito flakes. It's interesting that they don't necessarily use fish in areas where they can catch fish, but instead use roots such as daikon radish and taro, and place value on "putting their feet on the ground." . "
I grew up in Kanagawa, but our ozoni doesn't contain green laver or bonito flakes. "Normal" for me is no longer "normal" if I leave the same prefecture for a while.
For example, even the shape of a single rice cake reveals a variety of stories. I have seen on TV that Sekigahara is the boundary between round and square mochi. Sekigahara is a crossroads of various food cultures, and it is generally said that square mochi are used in the east of Sekigahara and round mochi are used in the west. This is because the Edo shogunate was born, and with the increase in the population of Edo, it became necessary to mass-produce mochi.
However, in some areas of Kagoshima, square mochi are used. It is said to have originated when the Shimazu clan, who stayed in Edo for a long time, brought square mochi back to Kagoshima. Various histories are mixed and fused with local culture to create ozoni that is unique to the region and home.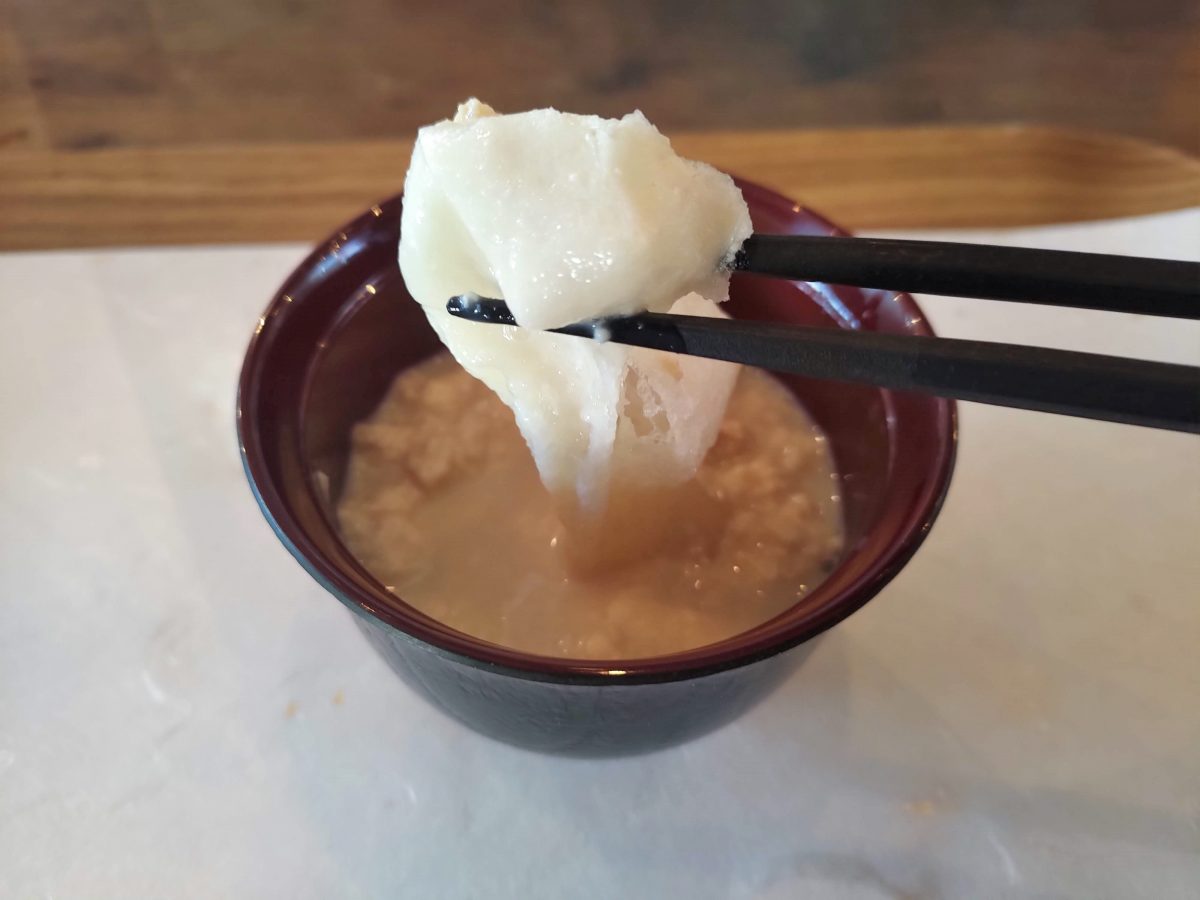 Even within one region, there are so many differences, but I feel that it is a waste if there are few opportunities to eat ozoni from other regions. For me, ozoni is something I eat at home on New Year's Day, and I've only had a handful of other occasions to eat it. That's why everyone thinks that their ozoni is "normal" and common.
So I asked Mr. Kasuya, "Are there any opportunities to eat ozoni outside of New Year's?"
"I think Asakura City's "mushizoni" is a good model case, and in fact, thanks to the efforts of the tourist association, there are about 10 shops serving mushizoni throughout the year in the area. It has become a local specialty dish. In that case, people who travel to the land can learn about the culture behind it. I think it's because it's home cooking that it's so unique. Not in the culture of the cook, but in the closed place inside the home. That's why I think it's loosely left over from the old days. I think it would be great if I could eat this kind of food when I travel around the world. "
Foreign tourists are unaware of the existence of ozoni, as it is not served in restaurants. I want to make it possible for such foreigners to eat it. Kasuya's ozoni conveys his desire to promote and protect Japanese culture.
Mr. Kasuya talked about his future activities with a cheerful smile.
"From this year onwards, I'm thinking of focusing on food education, or rather, activities to build friendships. Rather than just picking up grandma by myself, the locals themselves will have the local grandma listen to their stories. I want to create a fun system like that."
How did you come to be able to eat such zoni in this area? The story is often known to grandmothers over the age of 90 who know the culture before the spread of gas. I can't go around the whole country finely by myself. For that reason, he said that he would like to cooperate with local people and pass on the knowledge and information about the food culture of ozoni to the next generation.
The 1st Ozoni Festival, which Mr. Kasuya is involved in planning, was a huge success, and by the time I arrived, two of the six flavors had already sold out.
lineup:
① Hokkaido ``Chicken bone soup soup''
② Niigata Prefecture "Shibata Zoni"
③ Ibaraki Prefecture "Hitachi Ota Zoni"
④ Nara Prefecture "Kinako Zoni"
⑤ Hiroshima Prefecture "Oyster Zoni"
⑥ Fukuoka Prefecture "Asakura Steamed Zoni"
All of them were different in taste, soup stock, ingredients, and even the shape and hardness of the mochi, and they were delicious. As Mr. Kasuya says, if you can enjoy ozoni at your destination, it will make your trip even more enjoyable.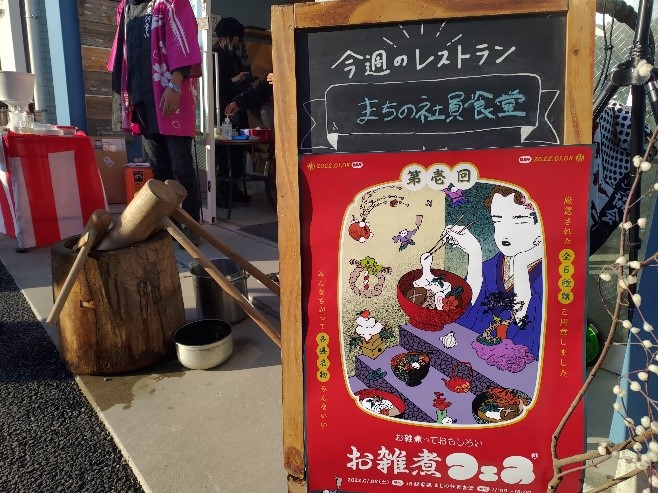 And if there is a "second time", I definitely want to visit again.
While rubbing my swollen belly with ozoni, I decided to ask my grandmother for the recipe for our zoni when I got home.