To all cultural and artistic groups active in Kanagawa Prefecture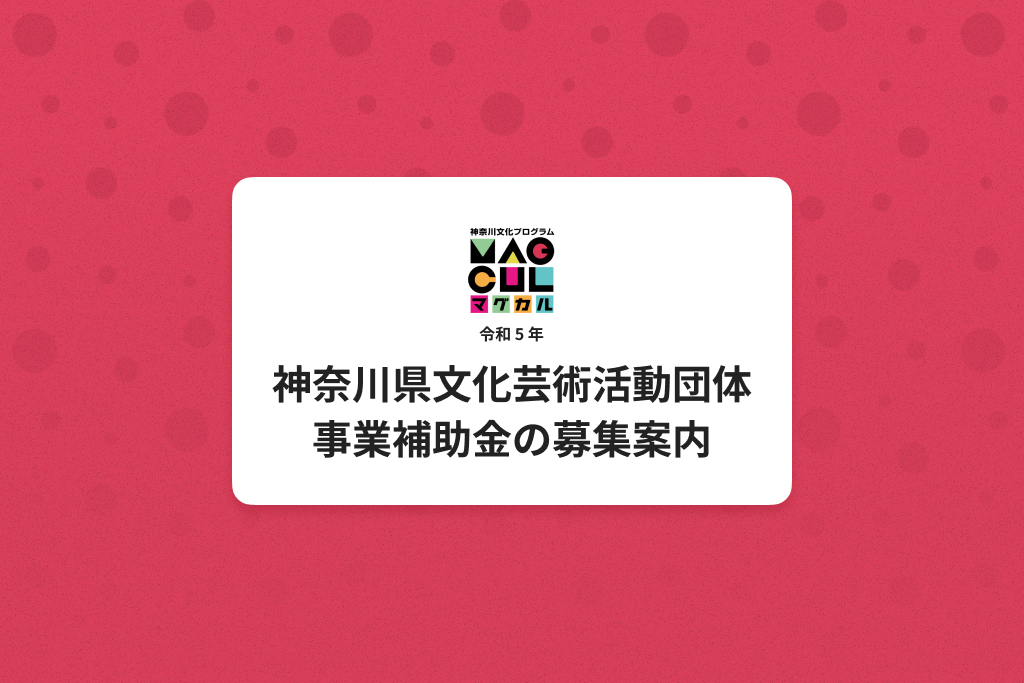 2026 Recruitment guidance for Kanagawa Prefecture cultural and art activity group business subsidy
In Kanagawa Prefecture, in order to revitalize voluntary cultural and artistic activities carried out by citizens of the prefecture and promote cultural and artistic activities, we plan to implement the following public offering method for subsidies.
In addition, this subsidy system will be officially implemented based on the resolution of the prefectural assembly of the prefectural budget for 2023.
1 Overview of subsidies
[Name] Kanagawa Prefecture Cultural and Art Activity Group Business Subsidy
[Eligible people] Organizations that have an address or activity base in the prefecture and continuously contribute to the promotion of culture and arts in the prefecture.
(Excluding profit-making organizations and local government-led public interest corporations.)
[Eligible projects] Arts and culture projects in the prefecture (excluding projects with subsidized expenses of less than 300,000 yen)
[Project implementation] Between April 28, 2023 and March 29, 2024
[Subsidy rate, etc.] Within the scope of self-pay and within 1/3 of the subsidized expenses
2 Recruitment period and application method
[Recruitment period] From Monday, February 13, 2023 to Wednesday, March 15, 17:00
[Application method] e-kanagawa electronic application
[Details] ・Please see the following URL.
https://www.pref.kanagawa.jp/docs/yi4/hojyokin/2023bosyu.html
・Inquiries about recruitment: Culture Division Culture Business Group Telephone 045-210-3808
    
3 Explanation video and online consultation

[Explanation video] We will upload an explanation video for groups that are considering applying. (Scheduled to be uploaded by noon on March 2, 2023)
[Online consultation]
・We will hold a consultation meeting where staff will answer your questions using an online conference tool.
To participate, you need an environment where you can use ZOOM. You are free to enter and leave the room at any time.
・In order to solicit questions through chat and remarks during the online meeting and answer them in order,
The contents will be open to the participants.
・This will be done jointly with the Magcal Deployment Promotion Subsidy and the Cultural and Art Activity Group Business Subsidy.
・For questions that could not be answered within the allotted time, the answers will be posted on the website at a later date.
[Online consultation schedule]
1st: March 2, 2020 (Thursday) from 15:00 to 16:00
2nd time: Tuesday, March 7, 2023 from 18:30 to 19:30
[How to participate in the online consultation]
1st session: March 2, 2020 (Thursday) from 15:00 to 16:00 Click this ZOOM link to participate.
2nd time: March 7, 2020 (Tuesday) from 18:30 to 19:30 Please click this ZOOM link to participate.
*Opens in a new window.
*You are free to enter and leave the room during the hours.