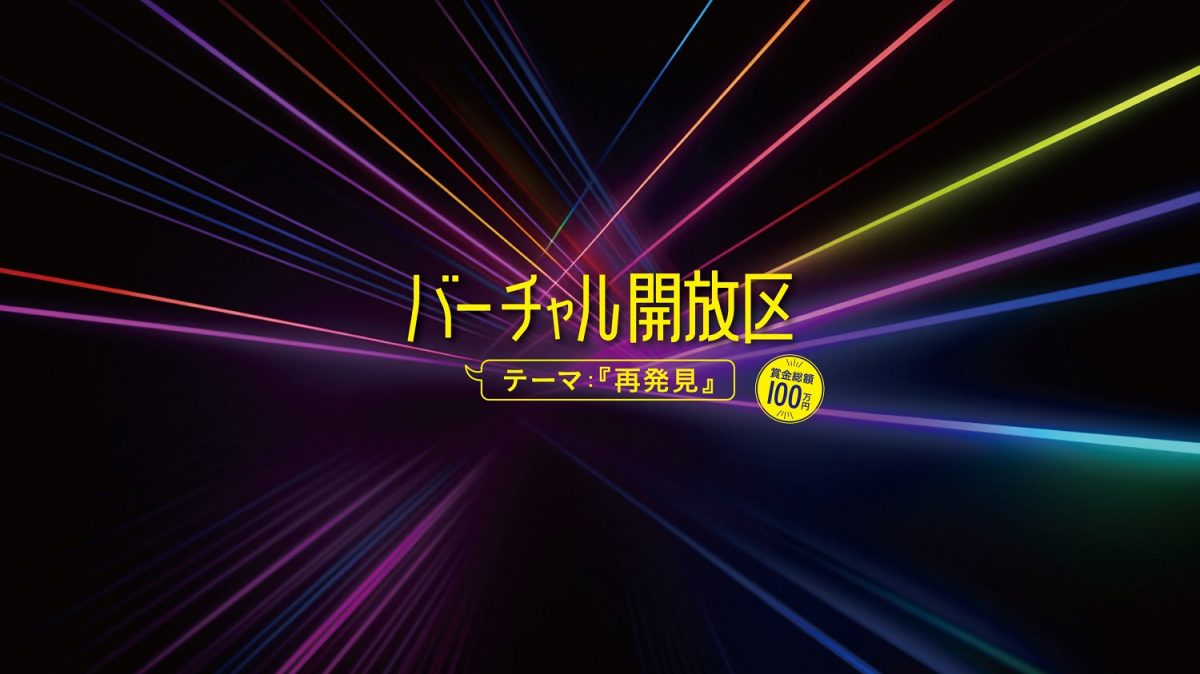 Kanagawa Prefecture is holding a video contest "Virtual Open Area 2023" with a total prize of 1 million yen.
We are looking for video works of all genres related to culture and art, such as music, dance, street performance, and art, within 5 minutes, from all over the country.
This year's video production theme is "rediscovery".
Please imagine and create something that you have rediscovered in your life during the corona crisis, or something that you have rediscovered after breaking away from the corona crisis.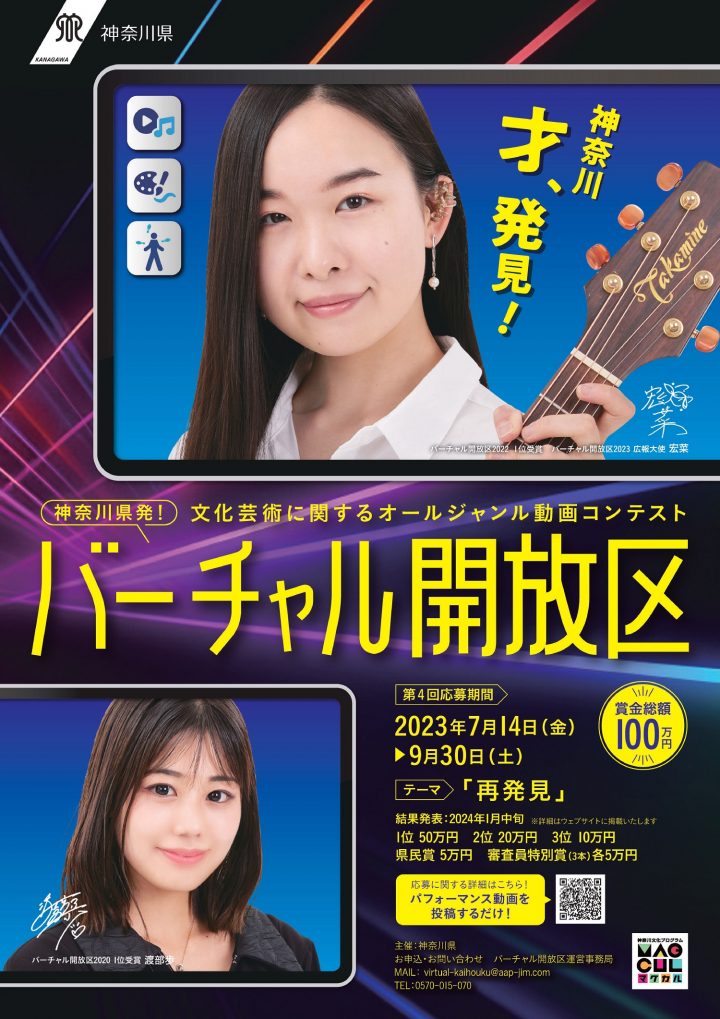 Recruitment contents
[Applicants] Everyone inside and outside the prefecture (regardless of age, nationality, professional/amateur, individual/organization)
* If you are under 18 years old, please apply after obtaining the consent of your guardian.
[Videos to be recruited] Videos of all genres of culture and art (within 5 minutes)
Multiple works can be submitted.
[Genre example]
・Music, dance, street performance, art, photography, theater, etc. (See Q&A for details)
[Video example]
・Performance (musical performance, dance, recitation, chorus, skit, etc.)
・ Live production of art etc.
・Slideshow of still images such as paintings
[Virtual Open Zone Q&A] Click here
[Recruitment video requirements] (1) The video must be based on the theme of "rediscovery."
(2) As a general rule, only newly shot works should be submitted.
However, existing works are acceptable as long as they have been edited in accordance with the application requirements such as this theme.
(3) Any shooting media is acceptable (smartphones, etc. are also acceptable).
[Videos not eligible for recruitment] 1. Use of works other than those of the applicant without permission, etc.
Infringes on the rights of others
②Things whose main purpose is sales activities such as productions
③ Content that slanders a specific individual or group
④Acts contrary to public order and morals or laws, violent or obscene expressions, claims that lead to discrimination, etc.
(Including unfair discriminatory words and actions against people of specific ethnicities and nationalities.)
⑤ Applicants, etc. are organized crime groups (meaning organized crime groups as defined in Article 2, item 2 of the Act on Prevention of Unfair Acts by Gang Members)
etc.
⑥ Others that the "Virtual Open Zone Management Office" judges to be inappropriate
Application method
[Application period] From Friday, July 14, 5th year of Reiwa to Saturday, September 30th
[Application details] Please enter the necessary information from this application form.
If you are applying as a group, the representative should apply.
[Others] If you change your contact information, address, etc. after applying, please contact the virtual open area management office (TEL 0570-015-070).
If the contact information is unknown due to moving, etc., the application may be invalid.
examination
The administrative office will confirm whether the requirements based on this application guideline are met. During the examination, we may make inquiries to confirm the content.
For works that meet the requirements for recruitment, we will comprehensively judge the number of views, message, and originality until November 30 (Thursday) (application deadline is September 30 (Saturday)).
However, in principle, videos with 500 or more views are eligible.
Prize money
①Total prize money: 1,000,000 yen
1st place 500,000 yen
2nd place 200,000 yen
3rd place 100,000 yen
Prefectural Citizen Award 50,000 yen
Judge's special prize (3) 50,000 yen each
*For works submitted by a group, the prize will be presented to the representative.
*As a result of strict screening, there may be cases where there are no works that fall under the winning frame.
②Other
In addition, we plan to establish a sponsorship award from the sponsoring company.
*Handling of prize money
If, after the prize is paid, it is found that the application guidelines have been violated, such as by making a false declaration, the paid prize will be returned.
* Public relations cooperation in the next year's virtual open area
We may ask for your cooperation in public relations when the virtual open area is implemented next year. Eligible applicants will be contacted individually after the announcement of the results.
Learn more about virtual open zones here .
In addition, the " Virtual Open Zone YouTube Channel " publishes the 2023 entries and past entries.