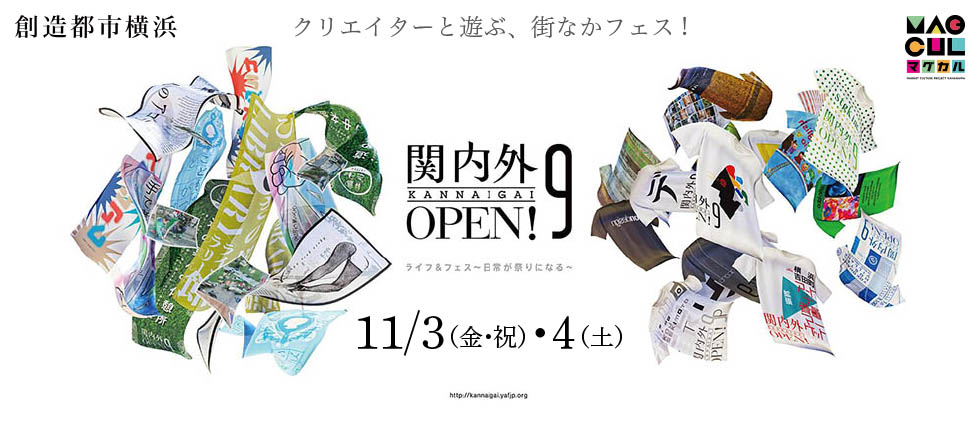 Art / photography Lectures / Workshops
2017.11.01
Creative City Yokohama x Magcal Collaboration Project "Kannai / Outside OPEN! 9 Life & Festival Special"
(Please note that this page was created using Google's automatic translation service and understand that because of this, its translation may not necessarily be accurate.)
On November 3rd (Friday / holiday) and 4th (Saturday), an art and design event will be held at about 40 venues, with more than 100 creators participating, centered on JR Kannai Station in Yokohama.
"Open inside and outside Kannai! 9 Life & Festival-Daily life becomes a festival"
This is an art and design event that is unique to Kannai, where you can enjoy art, design, architecture, photography, fashion, animation, books, delicious coffee, etc. by visiting the creators' studios scattered throughout the city.
Adults and children can enjoy the experience that can only be done there, such as "manufacturing" that you can easily do by visiting the city, exploring the studio, meeting people, and "lecture" by experts.
A wonderful event where you can interact with creators and artists that you can't usually meet.
In the evening, Smart Illuminations Yokohama is also held at Zou-no-hana Park.
Two days to immerse yourself in art and design in Yokohama day and night. Have a nice holiday
font-size: 16px; line-height: 1.6em; padding: 0 30px ">
Kannai and Outside OPEN! 9 [Event Summary]
Date and time: Friday, November 3, 2017, Saturday, November 4, 2017 11: 00- (depending on the event)
Venue: Bashamichi, Motomachi-Chukagai, Kannai, Sakuragicho, Ishikawacho Studios around each station, on the streets of Kannai, studios of artists and creators active in the city, etc. Approximately 40 bases Fee: Free (some charges apply)
Organizer: Arts Commission Yokohama (Yokohama City Arts and Culture Promotion Foundation), each participating studio
In the creative city of Yokohama, we feature a way to fully enjoy such OPEN! 9 inside and outside Kannai.
It's easy to understand how to enjoy it, so it's recommended to check it before you go.
For more information, visit the website of Creative City Yokohama! ↓

Creative City Yokohama "Playing with creators, a festival in the city will be held in Kannai, Yokohama"

Related URL:http://yokohama-sozokaiwai.jp/eventreport/16654.html