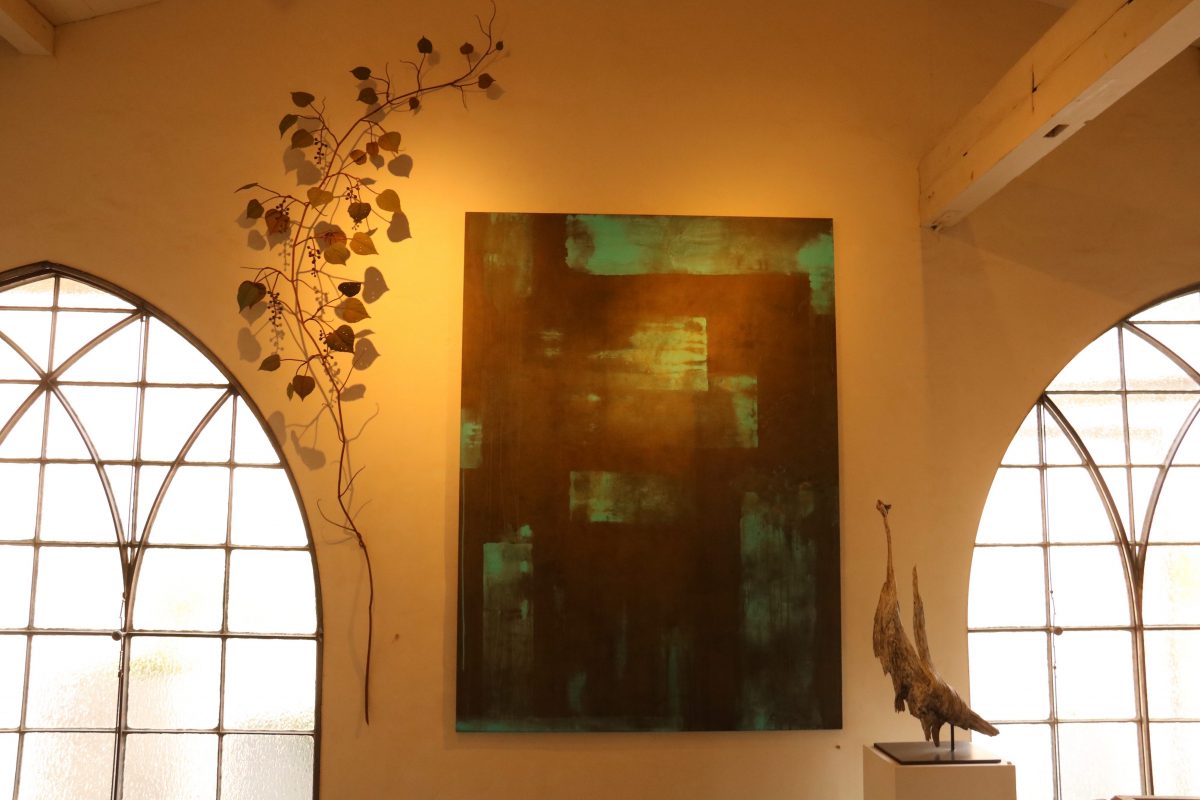 Kanagawa Gallery Stroll
File.8 special source
Shino Yamamoto (Galerie Watts)
I like the word "atamai". When you come into contact with the atmosphere that something gives off, such as a certain presence in the stillness, or the sexiness it exudes, you can't help but sigh, ``Ah, it's wonderful.''
When I'm in a group of people, I admire people with a beautiful appearance who have a strong presence and yet can make you disappear.
A few years ago, when I saw Morrison Kobayashi's wood carvings for the first time, I felt that kind of atmosphere.
I was shocked and delighted that Mr. Morrison's atelier was located so close to my local home!
There, Chise Takasato and Daisuke Nakamura co-hosted ``Special Source.'' Each of them is active as a writer, interior design and construction.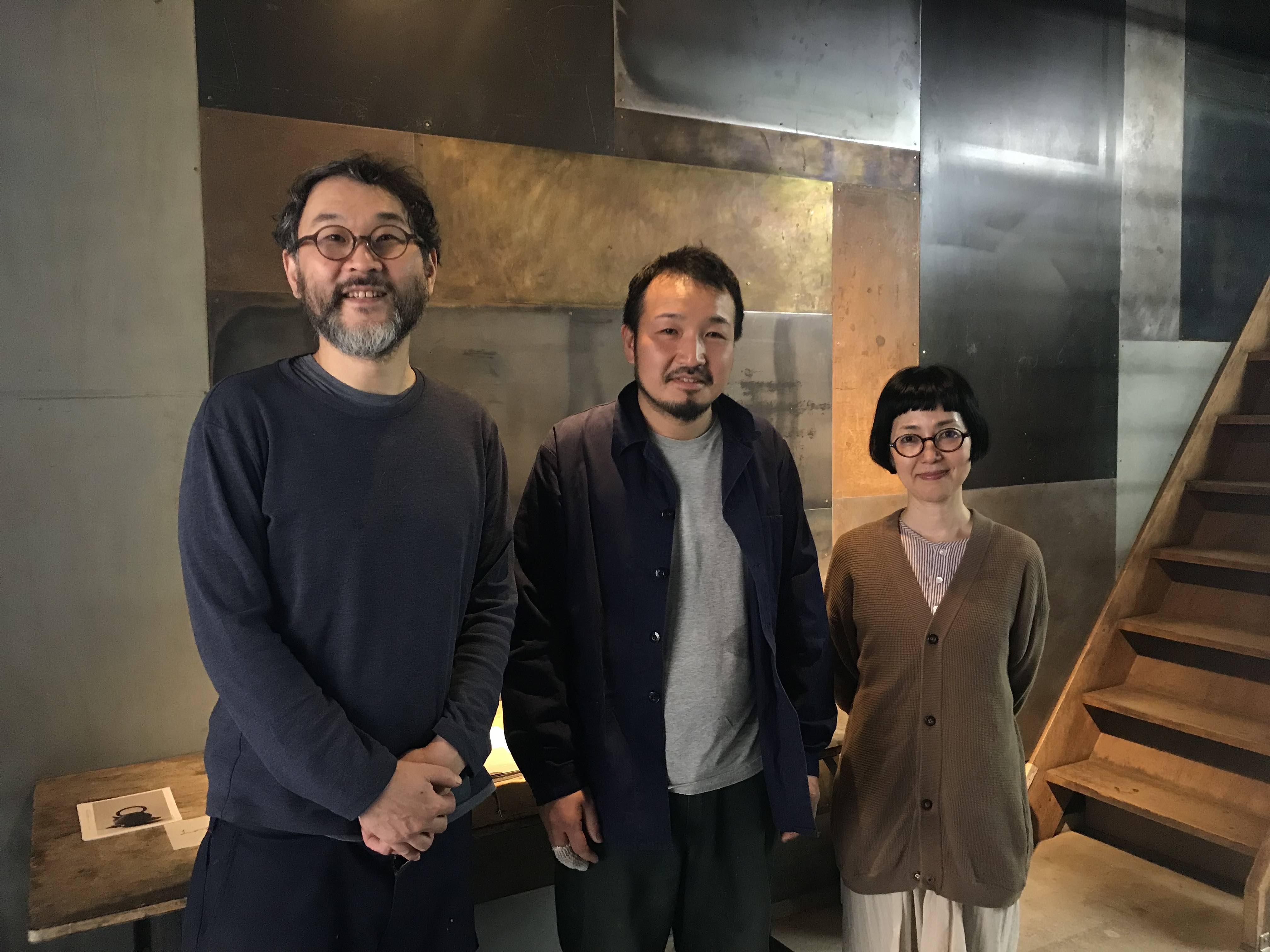 *From left: Morrison Kobayashi, Daisuke Nakamura, and Chiyo Takasato
Mr. Morrison was in charge of store design at IDÉE from 1995 to 1999. Speaking of IDÉE, it was a pioneer in selling antiques, modern interiors and miscellaneous goods from overseas, and suggestions for living with plants, so I used to frequent the store on Antique Street in Aoyama since I was in my 20s. . It was a treasure trove of stimulation, and I still remember that thrilling feeling, which also happened when Mr. Morrison was a member of the company.
``I've always liked Yasutake Funakoshi's sculptures, but the impetus for me to start wood carving was in 2008 when I saw Hideki Maekawa's ``Suigen'' exhibition,'' says Morrison.
Mr. Maekawa is an artist who I know well, but he is an artist who creates words that come from within himself and expresses stories reminiscent of myths through sculptures, and his deep, realistic and fantastical worldview captivates the viewer. I'll make it.
"While I became busy with interior design work, I actually started losing my hearing in my 30s and was worried that I would no longer be able to communicate.When I saw Mr. Maekawa's sculpture and was deeply moved, I decided to pursue this path of expression. In that case, I thought that the work could speak for me."

Mr. Morrison started working as an independent artist.
The first piece that Takasato carved was a ballerina that Takasato, who was active as an accessory artist, added to a display when he held an exhibition with a ballet theme. The ballerina, who was carefully brought out from the back and shown to me, had a calm and transparent appearance.
Mr. Morrison, who believed that through the process he could find his true self, continued to carve by focusing on himself, actively participating in the wood carving workshops held by Mr. Maekawa, whom he admired. I am now able to attend meetings, but I ask myself this question again.
"I like wood carving, but I started to feel a distance from myself."
"What I will continue to do as a writer, and whether the work I have done so far is being put to good use."
Coincidentally, I received an invitation to an exhibition with the theme of ``coexistence with nature and the circulation of materials,'' and the combination of metal, which I had been working with for a long time in my interior design work, and my love of mountain climbing led to the ``Botanical Diary'' that I am currently working on. It seems that it was.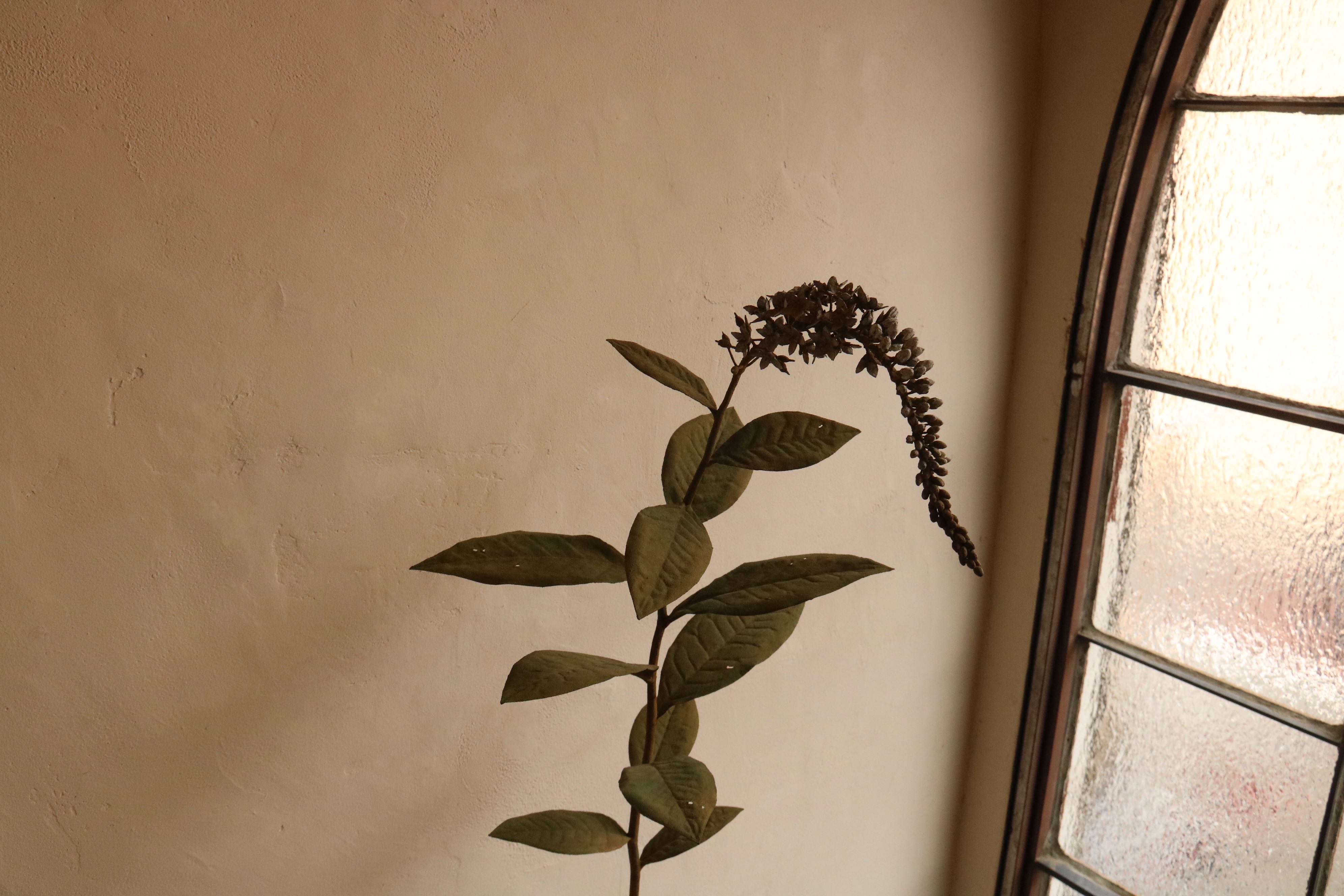 Although they look like plants, they are surprisingly made of metal. The delicateness of the work is cut out from metal plates and colored with mineral pigments and rust.
"In the mountains, even pretty plants can show off their strong vitality. It's like recording their memories."
Designer, craftsman, writer. I truly believe that the balance of these three forms Mr. Morrison's form and voice.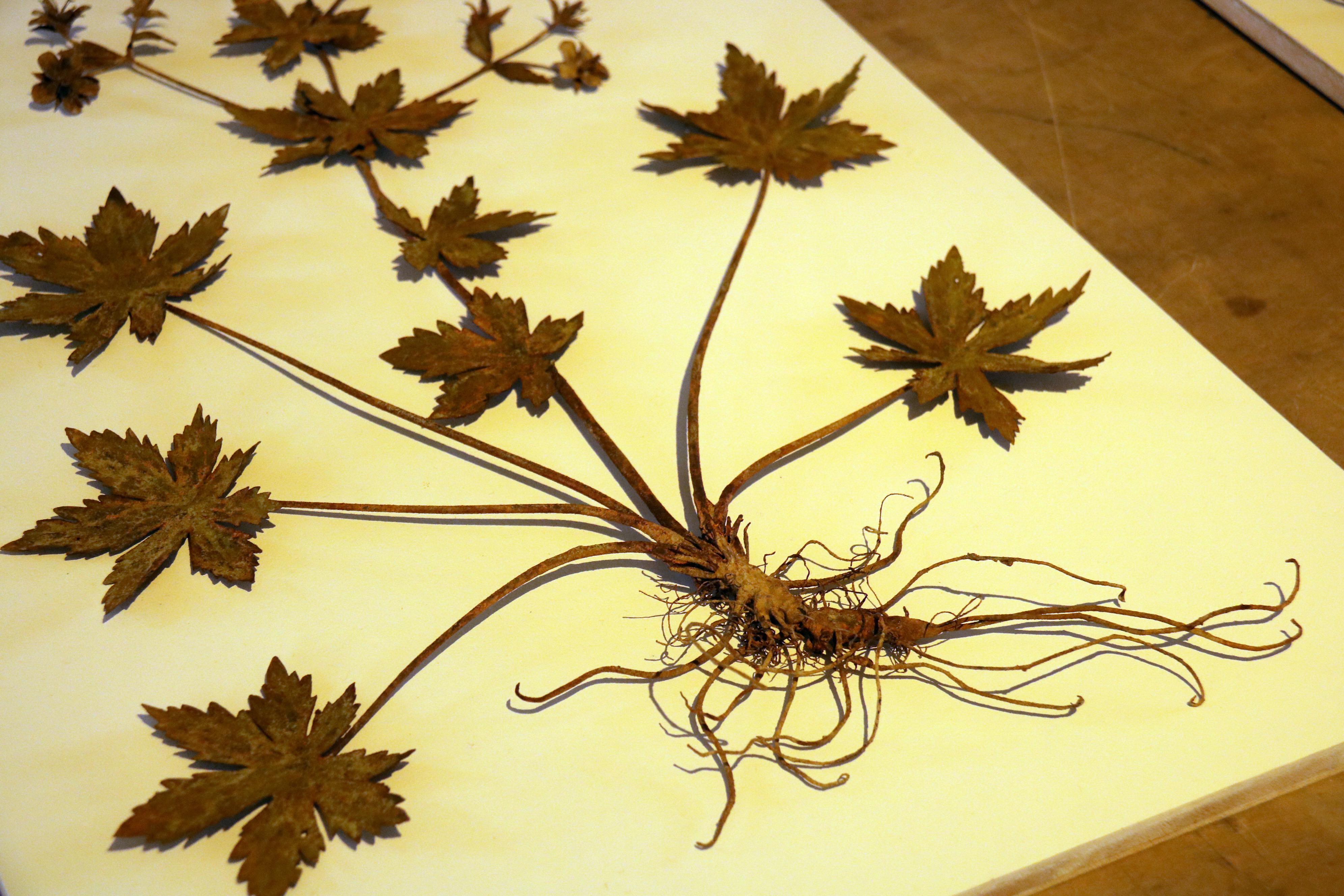 The special source space, which resembles the attic of a European church, is lined with works by Morrison, Takasato, and Nakamura, all of which have a comforting quality that resonates with each other. Mr. Takasato is responsible for the permanent spatial configuration.
``I connect everyone's works to my own perspective and create them as I like.''
"Yes, yes!" The way Mr. Morrison and Mr. Nakamura nod their heads (lol) makes it clear that they have great trust in Mr. Takasato's sensibilities.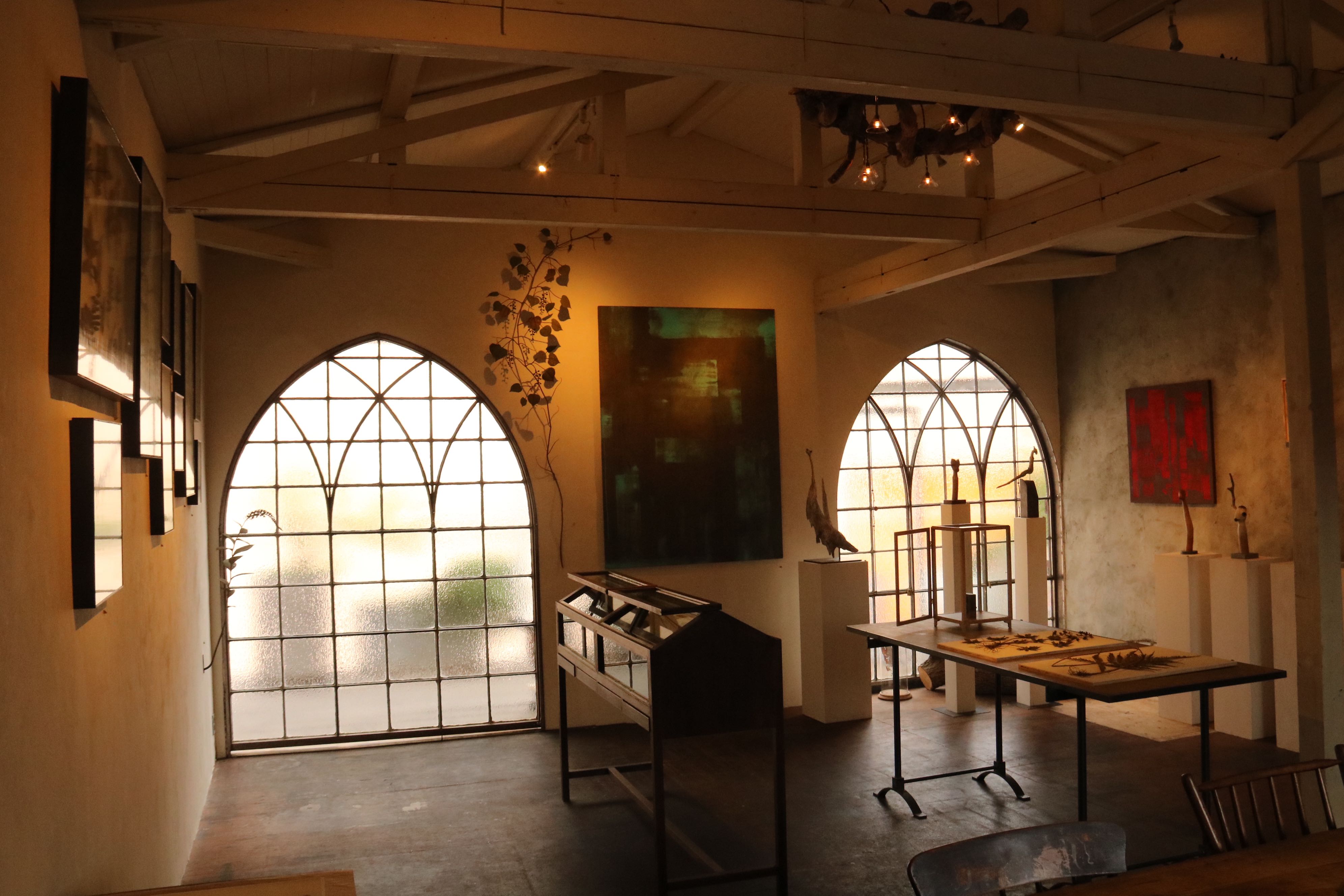 In addition to creating paintings, Takasato himself worked as an accessory designer, but says that he had always been searching for the direction he wanted to take. ``While working as both a designer and a writer, I couldn't shake the feeling that I was somehow being lied to in the world of accessories.''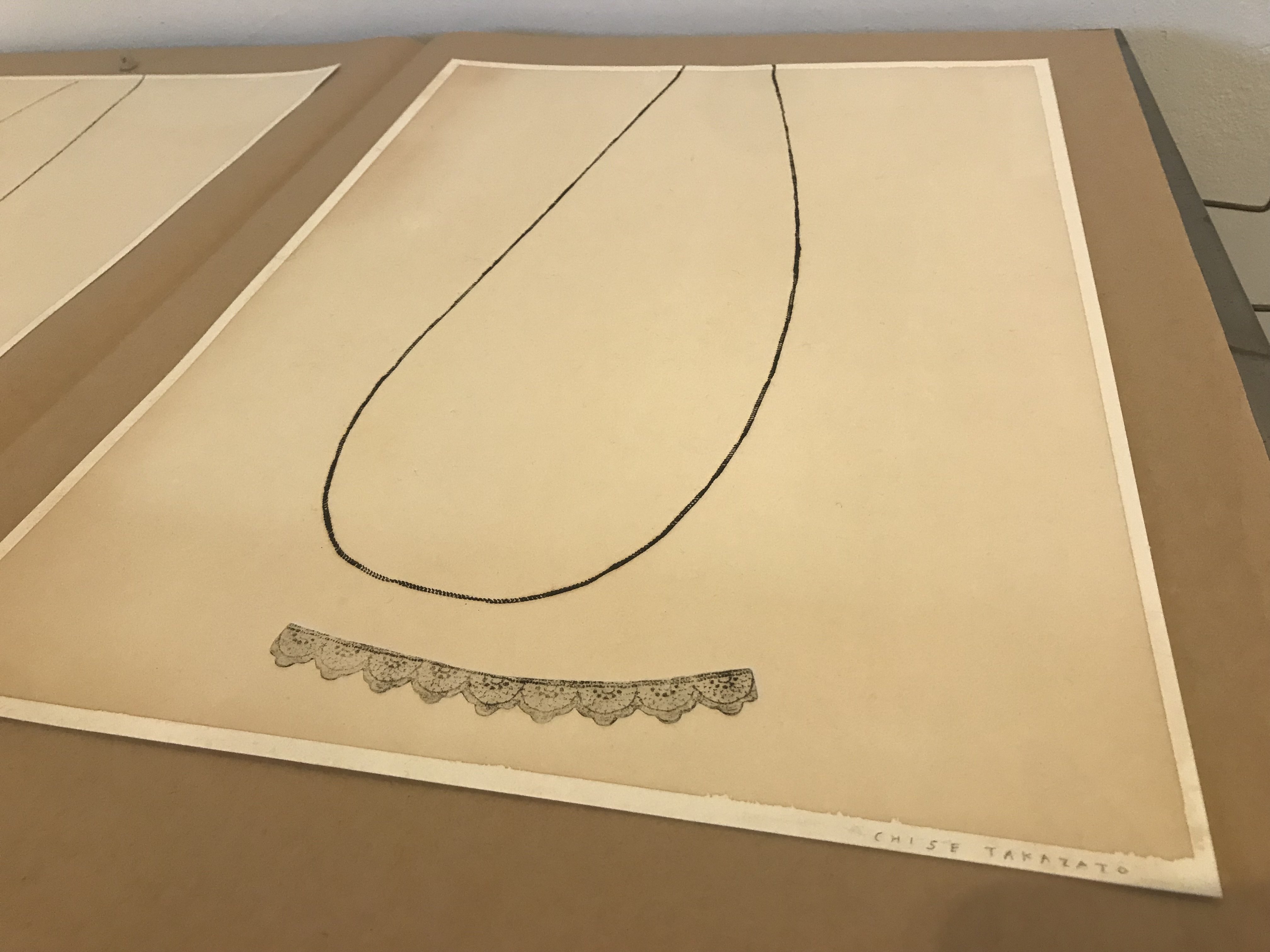 Like Mr. Morrison, Mr. Takasato was shocked when he encountered Mr. Maekawa's sculptures and began to think, ``There are not many things that are important.'' My desire to live my life concentrating on painting a single painting grew stronger, and with the support of Mr. Morrison, a classmate of mine from Tama Art and a very understanding person, I set out on a career that was solely about being a painter. Ta.
Now that she feels that the range of ways she sees things and the range of angles from which she can perceive things has expanded, Takasato says with a quiet smile, ``I've started to see the outer boundaries of art, or rather, I've started to understand where I should go.'' I was so jealous that I saw such a beautiful appearance.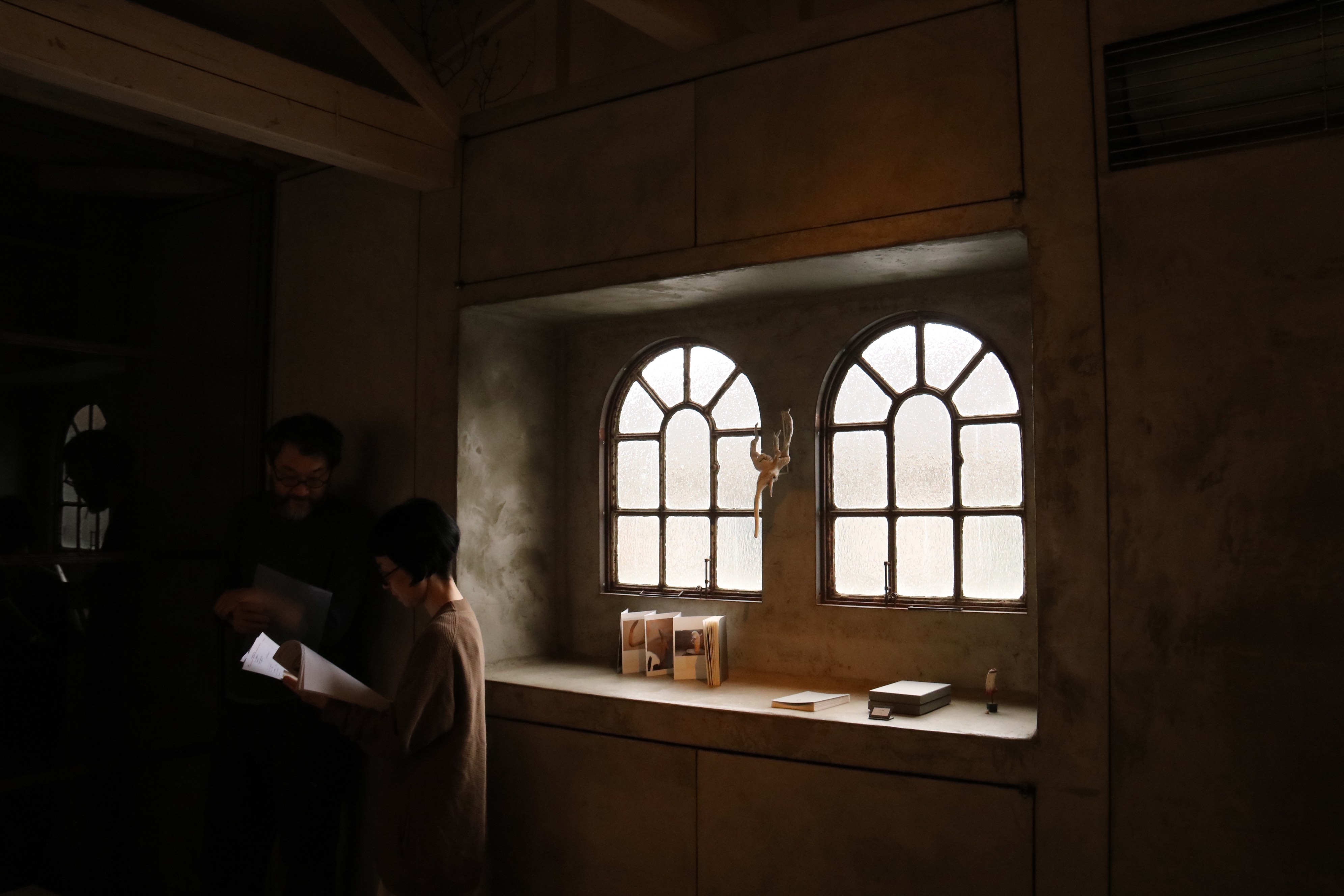 Mr. Nakamura visited Watts over ten years ago and is actually the person who etched the name ``Morrison Kobayashi'' in my memory. When he was a student studying interior design, he went to help Mr. Morrison because he wanted to get involved in metal work, and he sympathized with Mr. Morrison's way of thinking, and they became friends for a long time. After working for another company, he became an independent member of Special Source and continues his creative activities while working with Mr. Morrison on store interiors.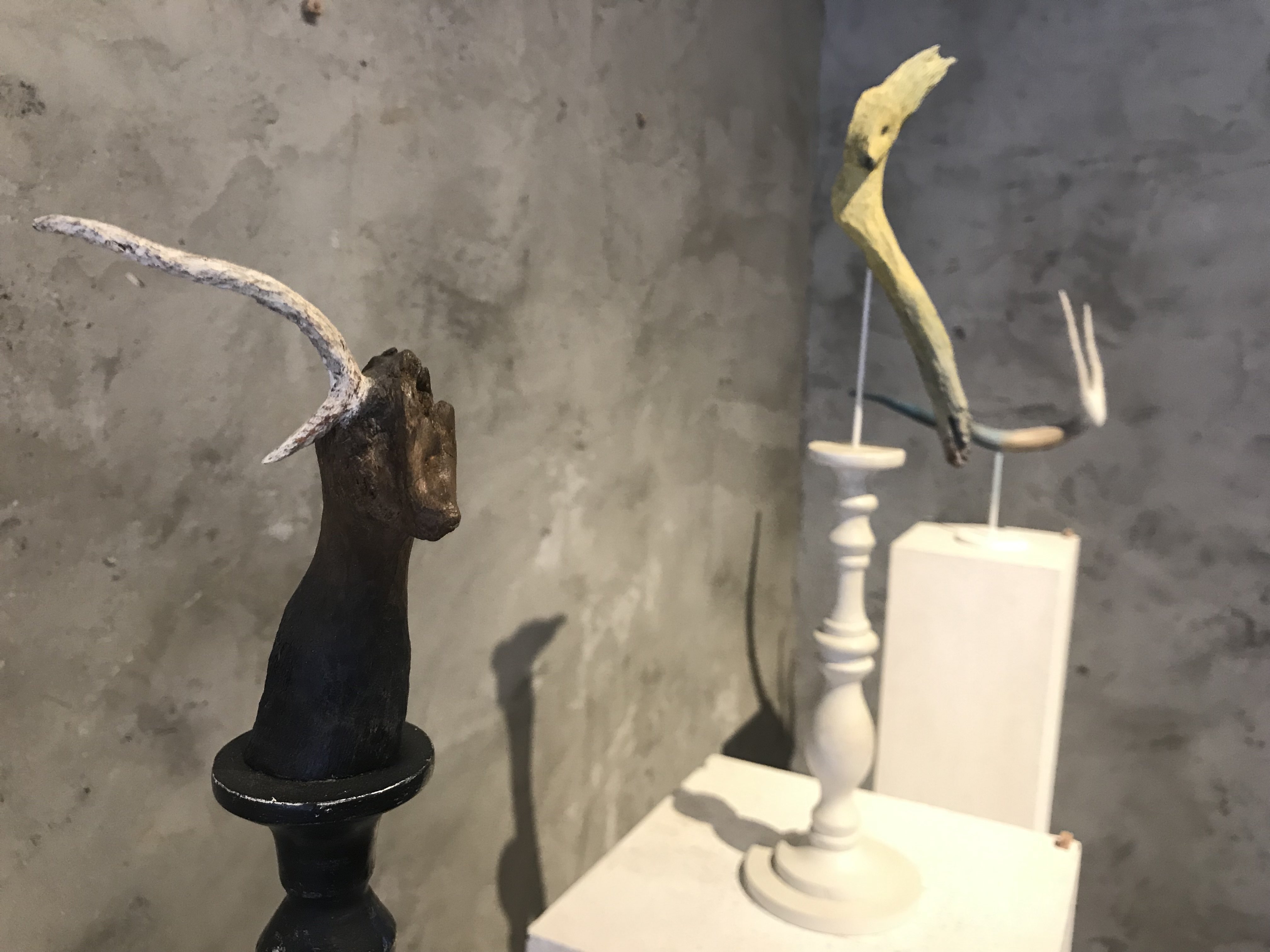 Mr. Nakamura, who had been making dolls from scrap iron before joining Special Source, also participated in Mr. Maekawa's wood carving workshop and experienced the real thrill and joy of carving. Expanding the scope of his creativity, he uses the knots of trees as facial expressions to express creatures that are similar to animals.
As Mr. Nakamura says, ``When you're having fun making something, the end result is good.'' As the night goes on, the children seem to start chatting, giving off a humorous charm. .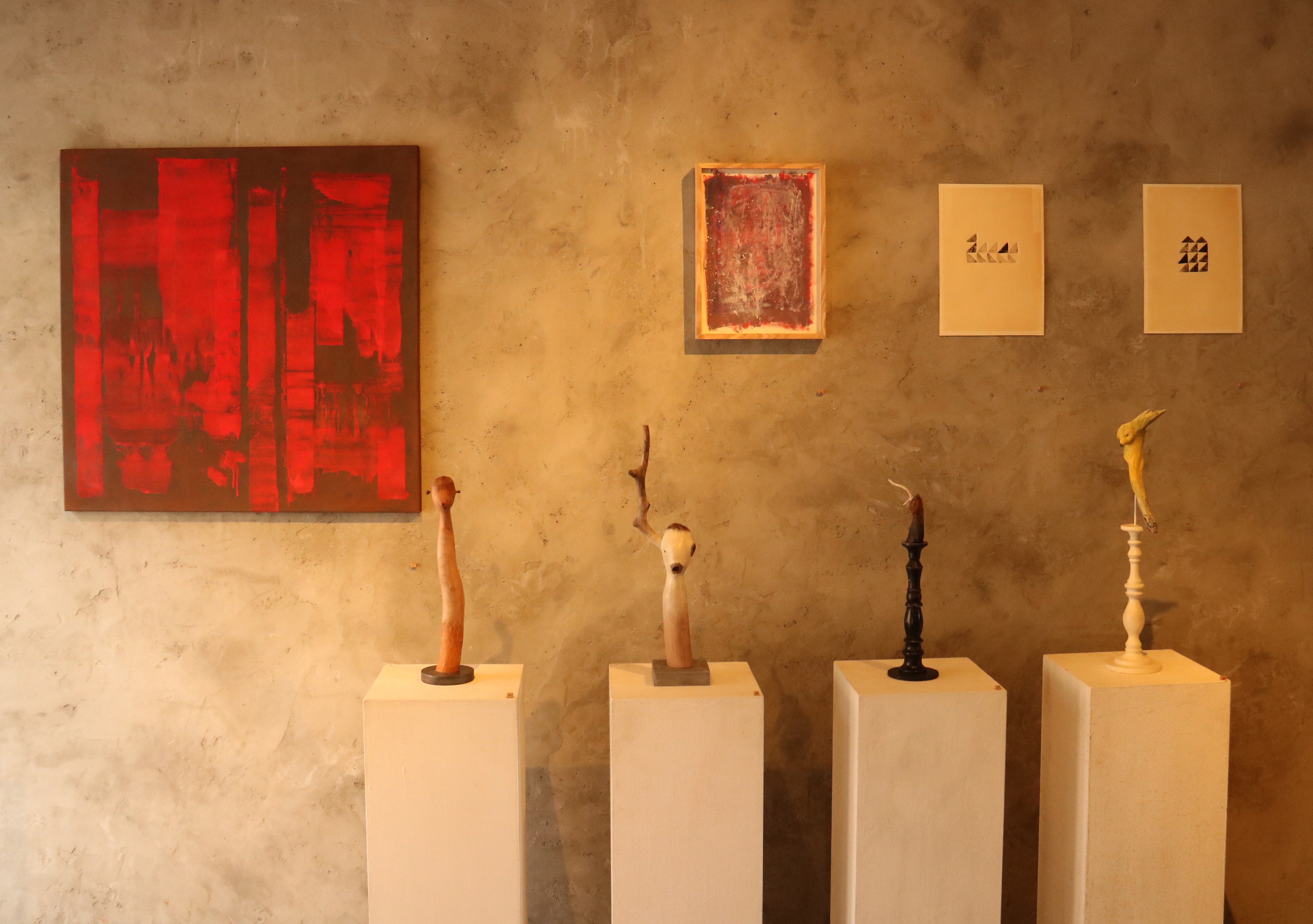 I was actually nervous about the special sauce, which had a cool interior and presentation.
However, I felt a sense of reassurance and familiarity as I saw the three of them, who were never clumsy and had walked their path with sincerity and exploration. Perhaps that is why there is a dignified yet gentle atmosphere.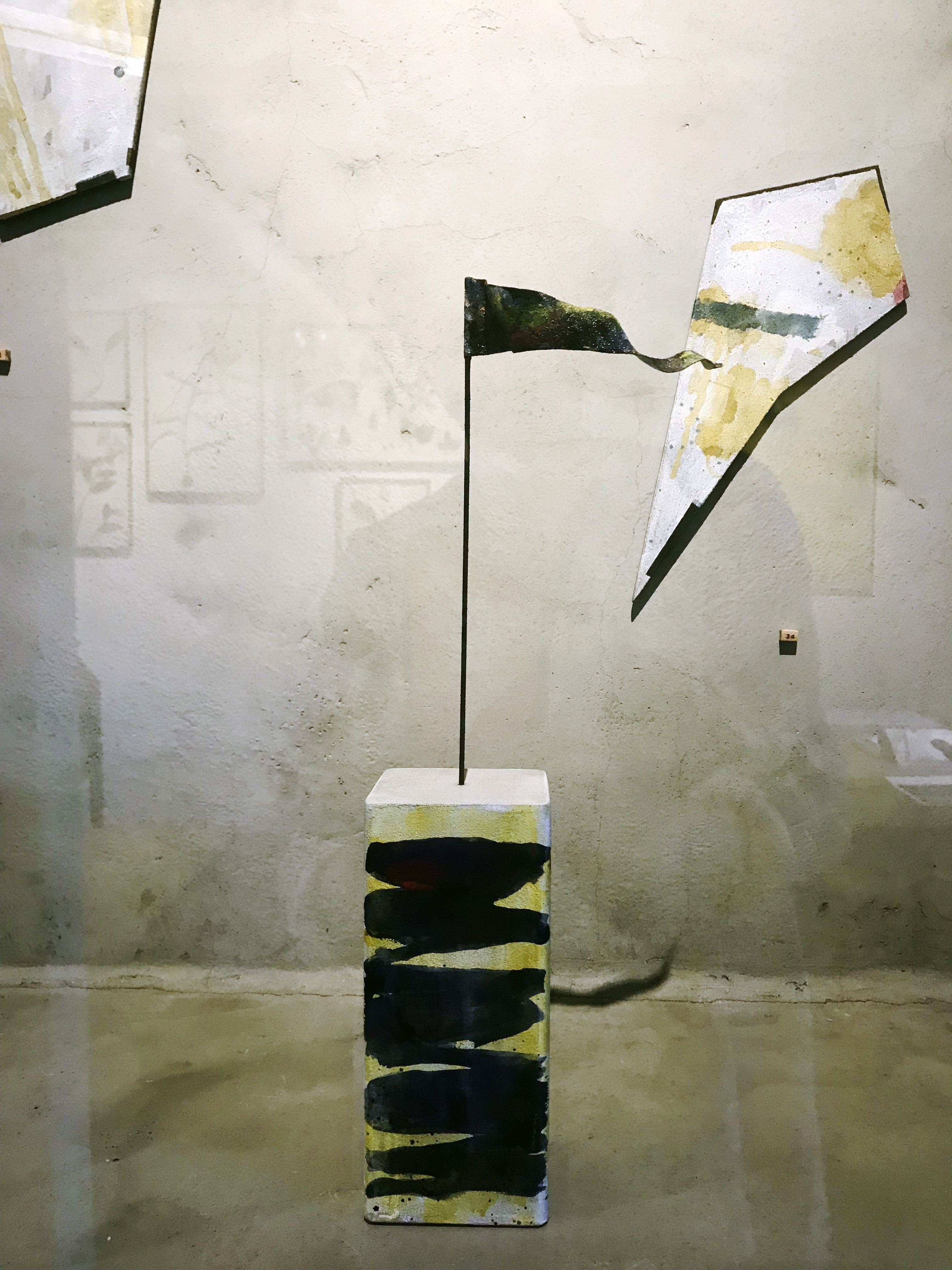 In particular, Takasato's work stopped me in my tracks for a long time. The mystical colored flags, like the aurora borealis, sway pleasantly. It seems that the title was given by the author, and the words ``The future is always breezed by'' came to mind. Life is full of joys and sorrows, with many goals, big and small. It's not a strong wind or a headwind, but it makes me happy to think that the wind is blowing like a companion at each stage.
I gave this work to my son, who is a student taking entrance exams and tends to be a bit naive.
And when I feel down, I look at it and get cheers.
(2019.6.Interview)
《Gallery information》
special source
4-11-46 Kuji, Takatsu-ku, Kawasaki City, Kanagawa Prefecture 213-0032
TEL: 044-813-0783
http://specialsource.jp/
Opening days: Permanent exhibition for a few days every month. Special exhibitions held irregularly. For details, please check "next schedule" or "atelier gallery" on the website.
"access"
▶︎About 5 minutes walk from Kuji Station on the JR Nambu Line