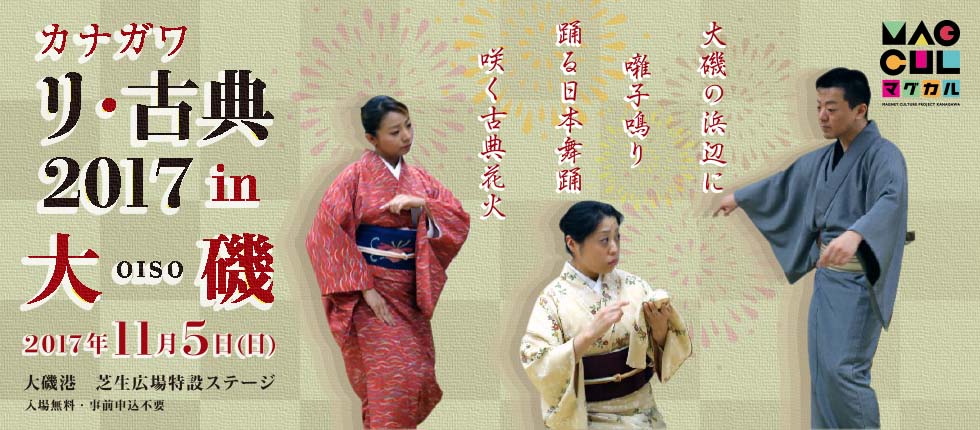 traditional culture
Kanagawa Re-Koten Classical Japanese Arts Project 2017 in Oiso
At this year`s "Re-Koten" Classic Project the kabuki dance "Piece of Spring in Oiso" will be performed. What is the difference between Kabuki Buyo and Nihon Buyo?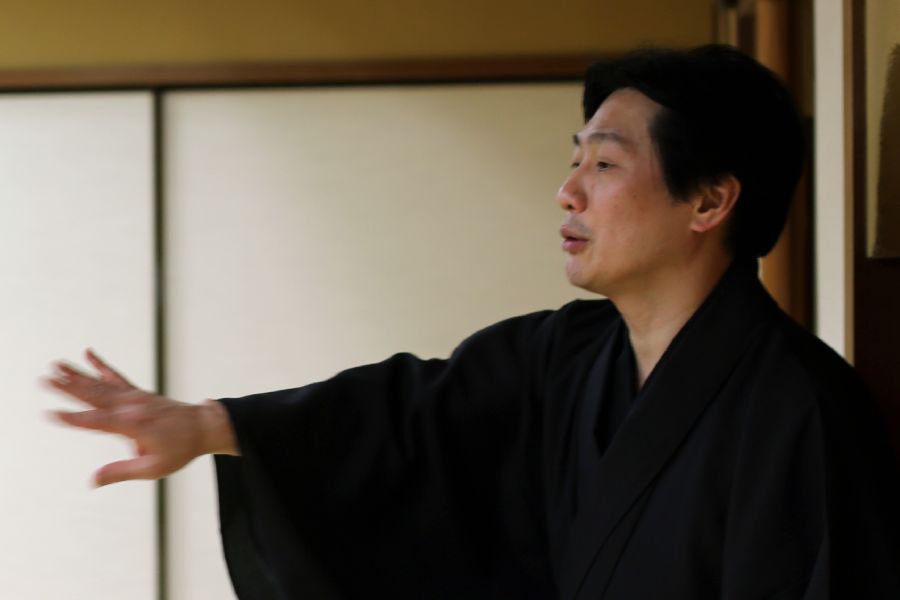 Tokutaro Hanayagi

Tokutaro Hanayagi: The mother of Nihon Buyo is Kabuki. Simply put, the dance scene of Kabuki is the origin of Japanese dance. Starting in the Azuchi Momoyama era (1573-1600), a female entertainer named, Izumo no Okuni starts kabuki dancing in Kyoto and gets tired of only dancing. She adds a rhythm, story, and play to the dancing for stage entertainment. It is said that this gradually became an independant dance form of Nihon Buyo.
It seems Japanese dance is derived from Kabuki. Tanaka Hanayanaga has "Hanayanaga Style" of dance, but what other of schools of Japanese dance exist?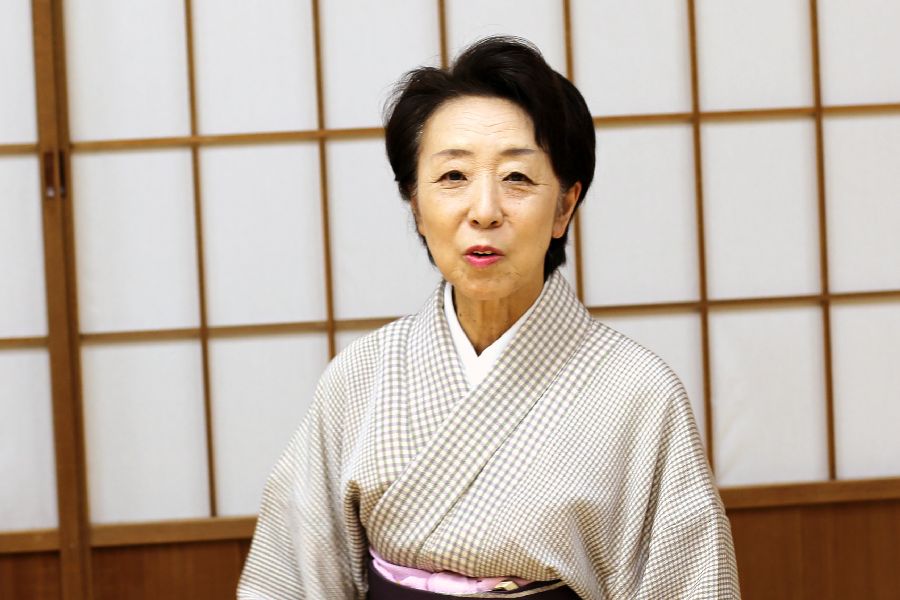 Nishikawa Yoshiyo

Nishikawa Yoshiyo: There are about 120 schools belonging to the Japan Dance Association, but there are also individual styles that individuals have that represent different styles of dance. Among them, there are five major schools of dance; Hanayanaga style, Fujimane style, Wakayanagi style, Nishikawa style, and Bando style. Among them, Hanayanagi is said to be a gorgeous dance with a lot of precise choreography. In addition, since Nishikawa style has strong roots and connections with kabuki actors so it has many classical movements that are large and dramatic.
Hanayanagi san, what was the reason you started dancing classical Nihon buyo?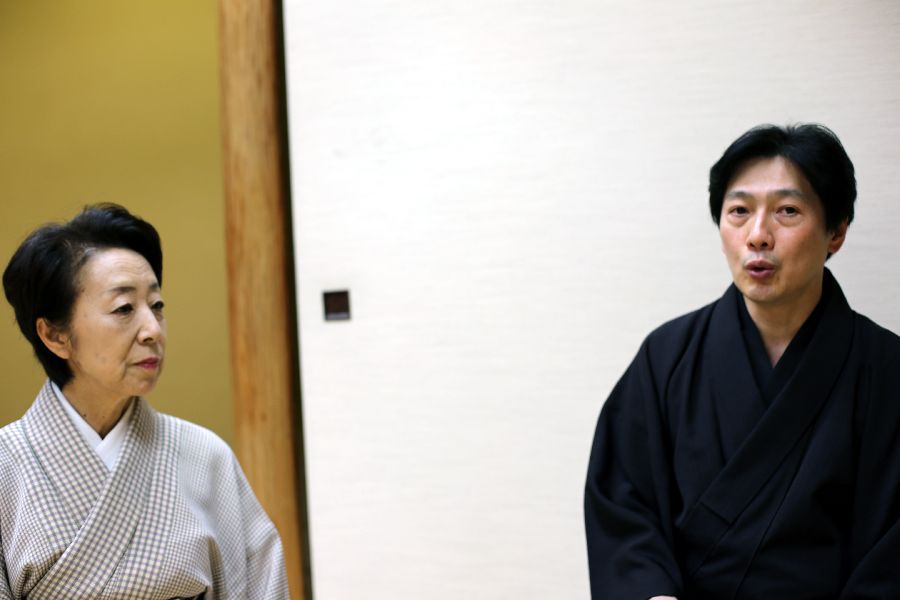 Tokutaro Hanayanagi: When I was 4 years old, my parents took me to see a play, that was when I knew I wanted to do this. It has already been about 50 years ago. At that time, it was normal for women to be able to perform, whether it was dancing or the Japanese harp called the Koto. The arts like ikebana and the tea ceremony were normal skills you learned from people who were close to you. Living now, many of us think it is normal to enjoy a hula class, aerobics, or sports. It was in this way that people naturally thought of and learned the traditional arts.
What is kinds of things do you usually do?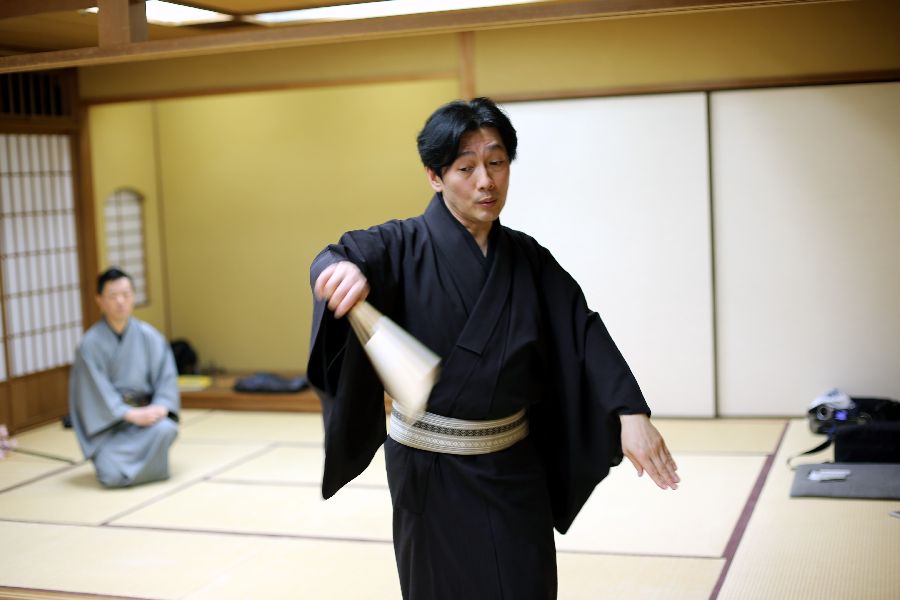 Tokutaro Hanayanagi: I go to a high school to teach dancing, practice, think about the composition of choreography and presentation, and I dance. What I think recently is that when I talk to my parents I feel that there are many children that find it difficult to understand their feelings. In this era, the number of children is decreasing, and it is not limited to only Japanese dance, but I think that it is important to have a place where people of different generations can interact and be together. I sometimes wonder if living a "normal" life makes it difficult to find and understand yourself.
· It is wonderful that the rehearsals are a place to discover and learn. For students and small children, I think that there are so few opportunities to get in touch with traditional arts unless parents give them a chance.
Tokutaro Hanayanagi: Japanese dance also has a place to learn how to behave as well as practice while also dancing. There are many things you can learn naturally if you do it from a childhood, such as beautifully posture, dancing, using a sensu fan, bowing and sitting down. The Nippon Buyo Dance Association also puts an emphasis on nurturing children, so I am learning about the traditional ways Japanese children used to play. I think that it is very good that Re-Koten Classic Project can also provide opportunities for small children to take part in the Japanese classical performing arts.
What is appealing about Nihon Buyo dance?
Tokutaro Hanayanagi: For me, it is now a bit too familiar so the appealing points may differ from someone experiencing Classical Japanese dance for the first time. Performers play different gender roles, change their appearance during a show, and show a wide range of skill. Perhaps it is the charm of transforming, wearing various costumes and playing different roles. Also, since long ago it may be a place where you can relax your mind and consulting with each other within a group and address troubles that you can not freely discuss at home or with family.
This year you will be performing the "Piece of Spring in Oiso." What can you tell us about the performance?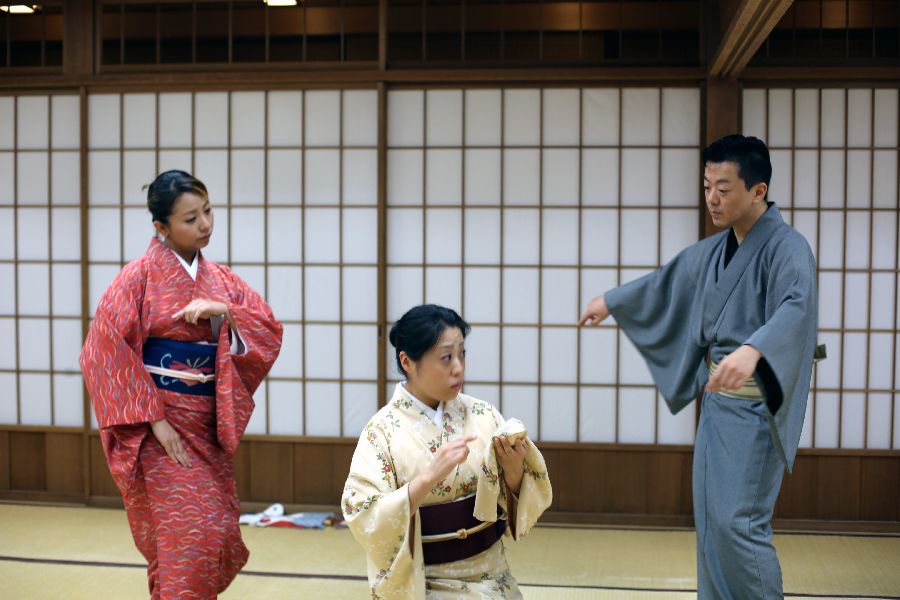 Tokutaro Hanayanagi: The event will be held in Oiso this year, which is very close to Odawara. Odawara was a setting for one of Japan`s classic stories of family and revenge, the story of the Sogo Brothers. I decided to play the role of the villain of the Sogo brothers` story. This is a story that is regarded as one of the three major stories of revenge in Japan, many place names around Oiso are used in this classic tale. Soga brothers' s older sister's name is "Ninomiya", Juro's lover is "Oiso's tiger", "Goro's lover is Kewaizaka." It is a wonderful story with deep connections to the area.
What should we look for? What should we pay attention to during the performance?
There may be some people that will be experiencing this kind of performance for their first time thanks to the efforts of the Re:Koten Classic Japanese Arts Project. The  choreographies, costumes, and props will be spectacularly gorgeous. In order to share of the beauty of this art we will feature a female role; beautiful, gorgeous, this time I decided to perform at "Oiso no Tora" and "Maizen of Maizuzaka" which is a lover of the Soga brothers. Even if you do not understand the story, just watching will make you feel connected with the beauty and art. Don`t think too hard, enjoy, and please come and see with your children.
Tokutaro Hanayanagi: I will play the role of a traveller and our MC Mitsumi will become the daughter of an Oiso inn keeper. Before the performance we will give a short story as background to our performance. Nothing will be too complicated, it will be an event you can enjoy and experience.
We talked to some of the performers about the Re:Koten Classic Japanese Arts Project.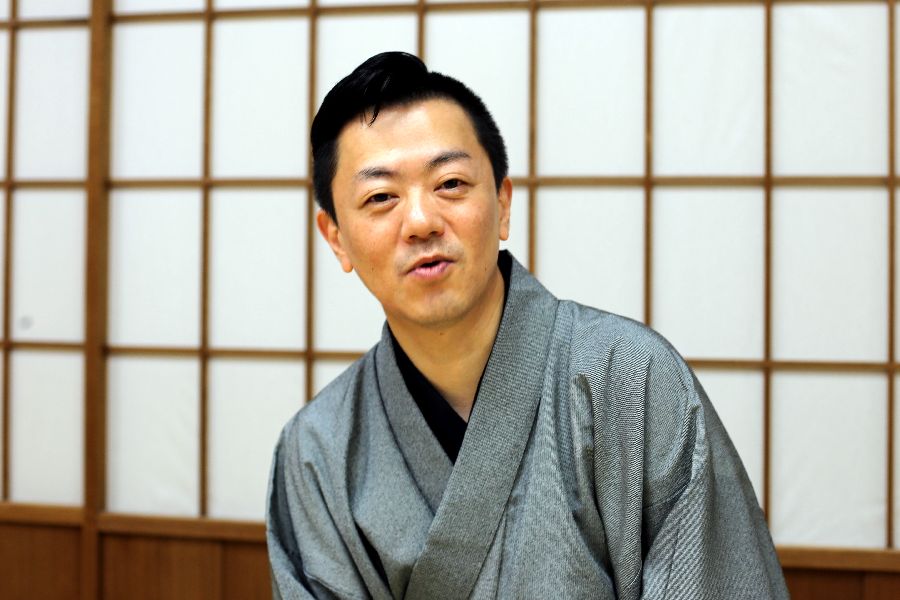 Tokubo Izumi

Tokubo Izumi: I want everyone to enjoy the experience, don`t think too deeply about the story or focus on what may confuse you. I want to make a performance that you can enjoy regardless of your knowledge about the subject. Because the area around Oiso is a treasure trove of history, I think there is considerable significance in doing something here. This time I will play the role of a woman so that everyone can see a bit of glamor. If you search on the internet for "Soga Brothers" , 'Oiso no Tora' or 'Maizen of Maizuzaka' etc. there should be basic information on the backstory and setting for our performance. Now in the age of the Internet, we hope to be a catalyst for you to know more about our local history.

Hiroe Iwae


Hiroe Iwae: I attended the Re:Koten Classic Japanese Art Project in Isehara`s Oyama. I am happy and honoured to perform this year, Inever thought I would be a part of it. My mother loved Japanese classical Buyo dance, but was unable to do it because of her health. I started when I was a child and have danced for more than 33 years. It is my first opportunity to perform with the others dancers at this event so it has been a wonderful learning experience. I am happy to share the beauty and joy of Nippon Buyo with even one more person, this brings me great joy.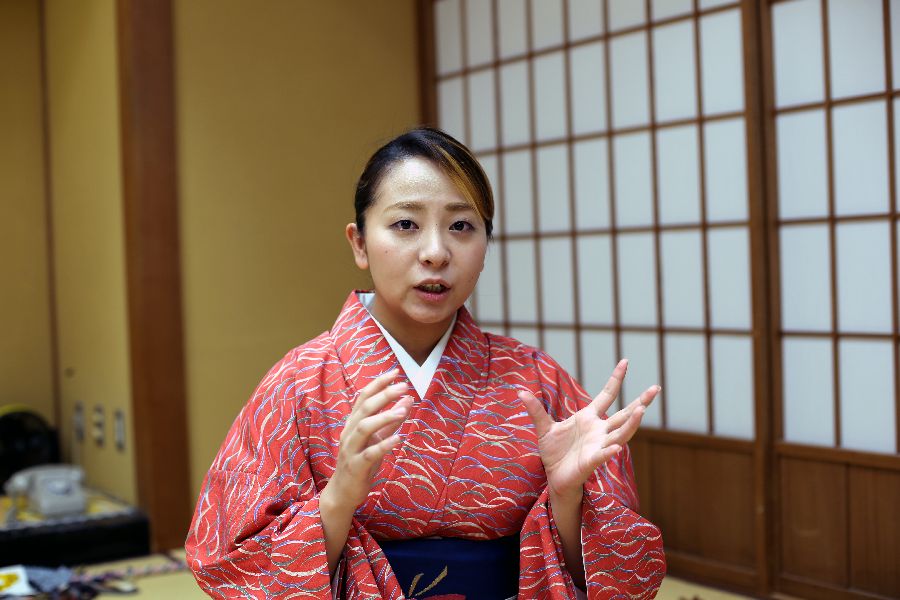 Izumi Hideayaka

Izumi Hideayaka: The event will be the same day as the Oiso Shukuba Festival, celebrating Oiso`s role as a lodging stop on the famed Old Tokaido Road running between Edo and Kyoto. I look forward to sharing our art with many different people. My father danced and I have danced since I was 5 years old, more than 20 years now. Our performance is deeply connected to the history of the area and it is special to bring these local stories, famous throughout Japan, to life. This is a collaboration between the old and new, the traditional and modern, and a wonderful opportunity to explore the many different connections and questions in our lives.
Ryusei Itakura is a junior high school student who is helping the event, while not performing, we asked him his thoughts on the appeal of Nihon Buyo.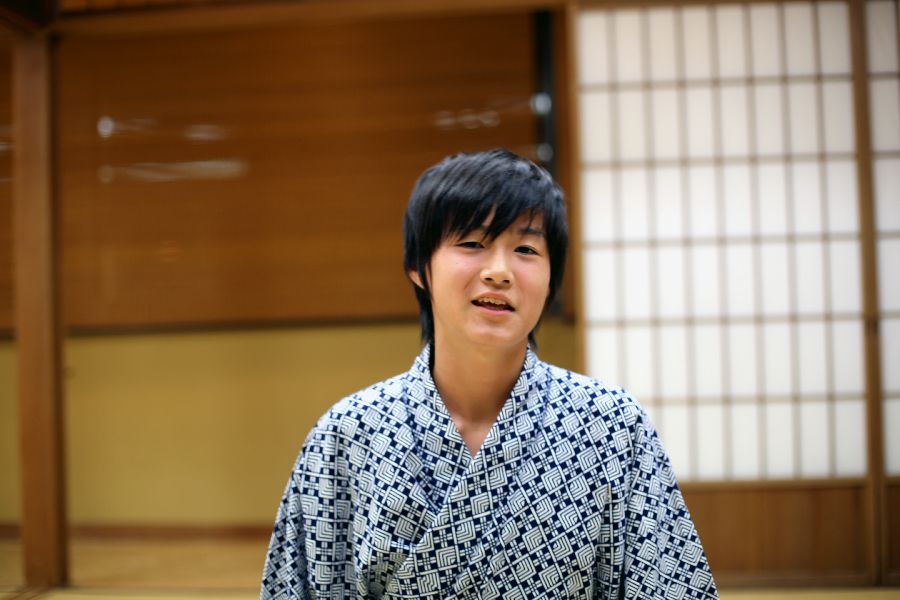 Ryusei Itakura

Ryusei Itakura: Recently, robots, AI and machines are increasing in the world. There is an ability to express emotion, feelings and insight into the mind that robots will never have the ability to do. Japanese dance is a wonderful thing because it is a classic art with a rich history and human movements that are considered an art form. On the day of the performances, in addition to the Kabuki "Piece of Spring in Oiso", a collaboration between classic dance and contemporary music, "Hanazakarino no Mori" will also be held. The modern lifestyle will be on display through hair styling and appearance, but it is just a new interpretation of a Japanese tradition. I am excited to see this combination of new and old, traditional and modern. These are challenges and questions many young people in Japan deal with. There will also be traditional Edo fireworks on display. Oiso is a wonderful place to share the traditions and visions on Japan with the world this year!
For More Information on Upcoming Events:
53rd Kanagawa Buyo Classic Japanese Dance Festival
11/23 (WEDS) 11:30~
PLACE: Kanagawa Prefectural Youth Center Hall
PRICE: ¥6,000 (unreserved seating)
CONTACT: 0467-46-2212 Nippon Buyo Foundation
http://nihonbuyo.or.jp/en/ (English Information Available)