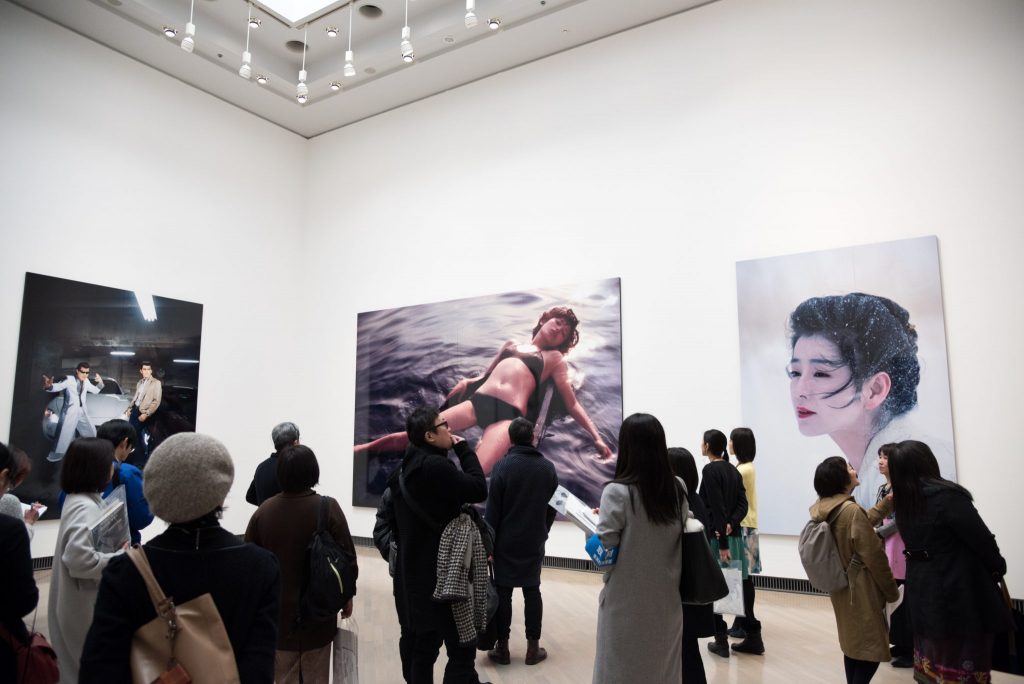 Art / Photography
Experience the power of photographs in the Yokohama Museum of Art! "The photographic works of Kishin Shinoyama 'Picture Power' THE PEOPLE by KISHIN" and "Kishin Shinoyama Artist Talk" Report
"The photographic works of Kishin Shinoyama – Picture Power THE PEOPLE by KISHIN" Report
The subjects of "Picture Power THE PEOPLE by KISHIN" are, as the name suggests, all people. Actors, singers, musicians, athletes, dancers, kabuki actors, and more, these celebrities come alive in their photos while exuding the auras of the eras in which they were most popular. These approximately 130 works are no longer mere photographs. There are unforgettable memories that have shared time and generations with each and every one of us.
The first thing that surprises us is the enormous size of each and every piece. As we feel the nostalgia and gravity of the portrait of John Lennon and Yoko Ono kissing, we take one step into the exhibition and each and every photograph (printed on large panels) looms before our eyes. Many of the photographs are familiar because they have been circulated in magazines or other photo anthologies, but the feeling of confronting "Them" through the giant panels is like Shinoyama said himself, certainly not "art appreciation" but "bodily sensation." We are overwhelmed by the power of which one picture can speak to us.
While feeling that first drifting sense of the extraordinary, visitors proceed through five rooms (sections) in order. This experience as well brings forth a marvelous sensation.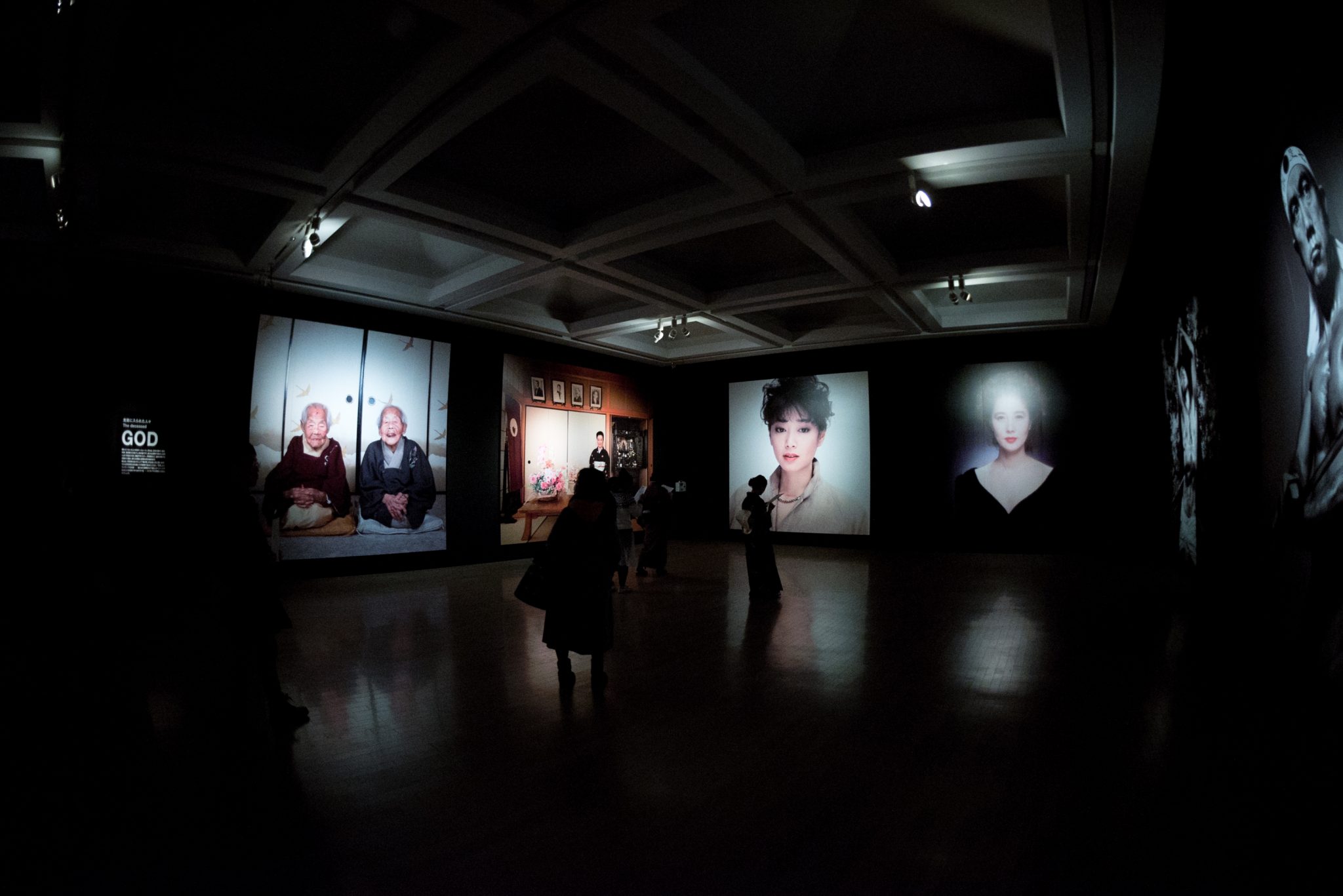 The first section is "GOD: The Deceased." John Lennon, Yukio Mishima, Shintaro Katsu, Reiko Ohara, Hibari Misora and other stars who are still carved in the hearts of many today are here. Our hearts are soothed by the gentle figures of centennial twins Kinsan Ginsan and cultural icon Hibari Misora, the ethereal, translucent portrait of Masako Natsume, and the warm smile of national movie star Kiyoshi Atsumi's Tora-san. We are awed by the fearsome portrait of Yukio Mishima disguised as the martyr Sebastian. The dim lighting of the room amplifies the auras of these huge stars.
Opening a black curtain, we proceed into the second section, "STAR: The Celebrities." The 49 「STAR」s are divided into two rooms on either side of a passage. The lighting in this room is clear and bright. Stepping into this room from the dark and gloomy 「GOD」 room feels like suddenly returning to the modern world.
On all four walls of the「STAR-1」 room are relatively smaller (but still quite large!) panels that encapsulate a span of about 40 years of Japanese entertainment history from 1973 photographs of Sadaharu Oh, Masakazu Tamura, and Kazuo Funaki to the 2016 photo of Mitsuko Kusabue. Like the image of Takeshi Kitano standing before Kodansha, having returned to the site of his 1986 attack on "Friday" magazine, some of these photos transport us back to previous decades. We can't get tired of looking at them.
In the「STAR-2」 room on the other side of the hallway, visitors are greeted by seven even larger panels of Shinnosuke Ichikawa's Ebizo (kabuki stage name), Daisuke Miura and Takeuchi Riki, Sayuri Yoshinaga, AKB48, Aoi Yū, and Mitsu Dan. In particular, the image of Momoe Yamaguchi stretched out across a small boat during the height of her popularity evokes intense nostalgia.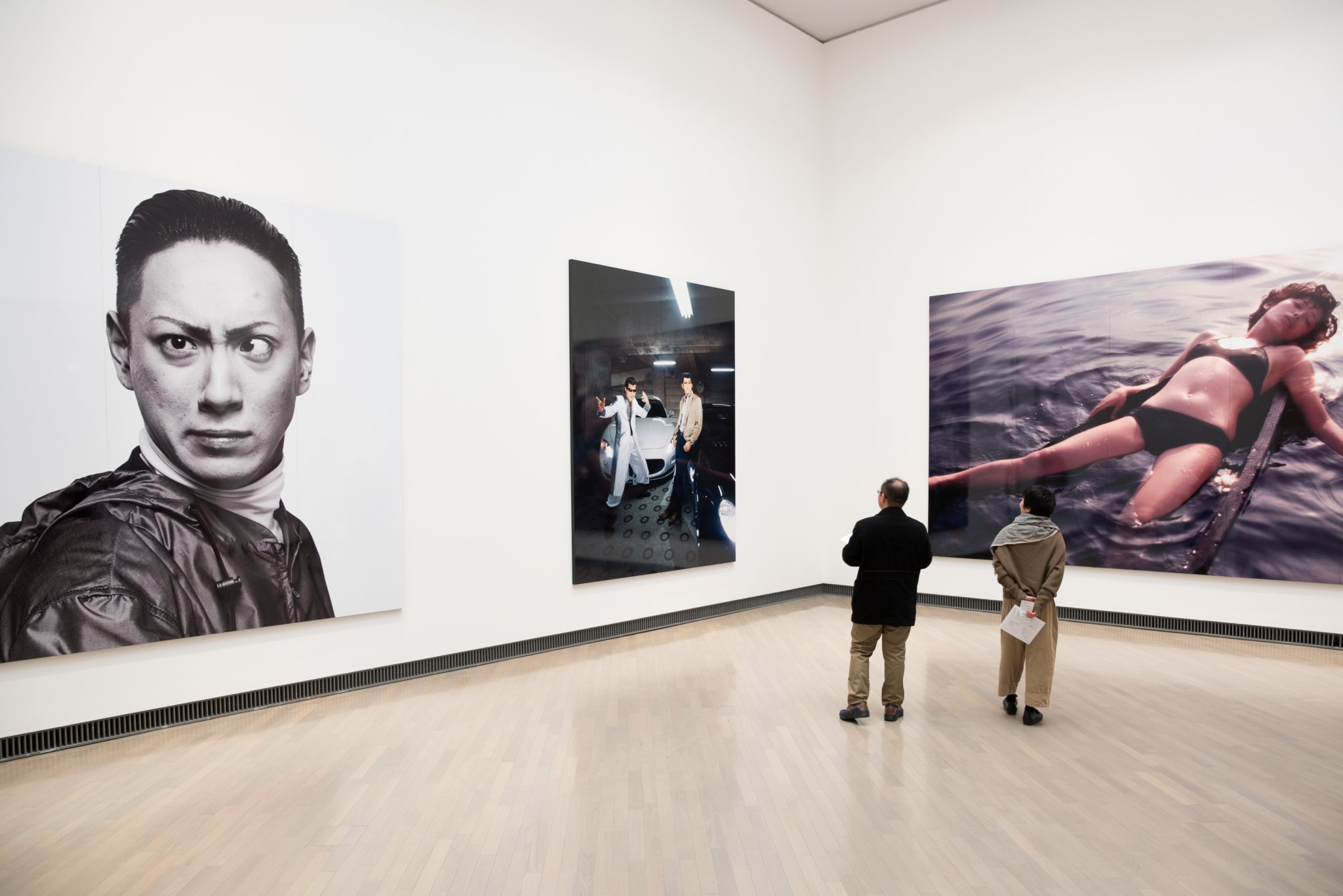 Of all of Shinoyama's portraits, we most strongly experience the feeling of "the extraordinary" in the next room:
"SPECTACLE Dream worlds that take us to another dimension."The eyes are immediately captivated by the nine-meter-wide "Shinorama" photos (an original Shinoyama technique and combination of "Shinoyama" + "panorama" where multiple cameras are connected to shoot at one time or one camera changes direction while shooting to show a vast space and project a fantastic world). From a fairy-tale, carnival-like world inhabited by several versions of Kumiko Goto, to a "Holiday"-themed Tokyo Disneyland with no one but the cast of Mickey, Minnie and friends with Shinoyama himself infiltrating as "Shinoraman," each of these photos is fantastic, whimsical, and eccentric. At the same time, the rows of kabuki stars in action make us feel as though we have slipped into Edo-era ukiyo-e actor prints.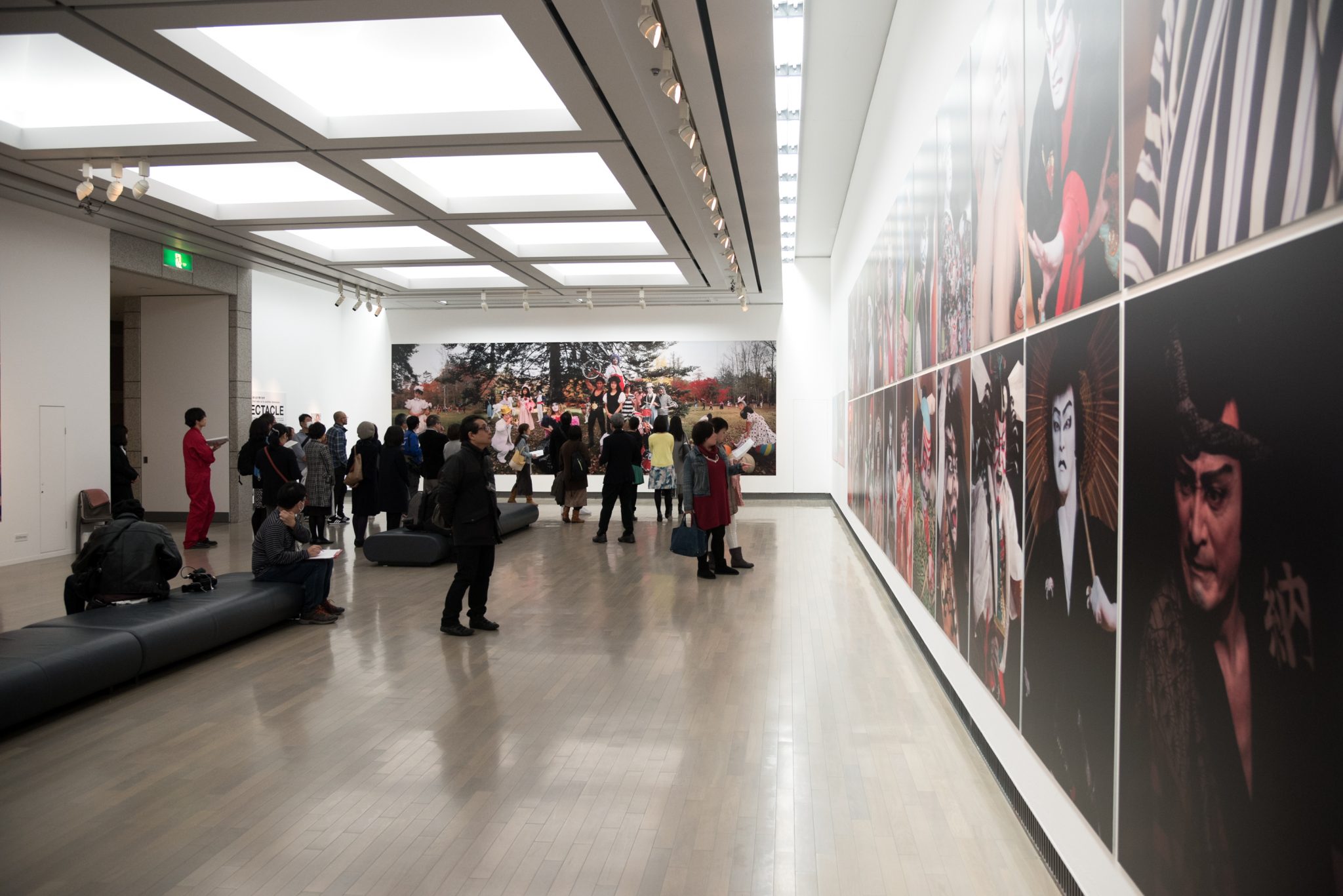 The theme of the fourth room is "BODY: The body undressed – beauty, eroticism, struggle." We are incomprehensibly drawn toward the 『Santa Fe』 nudes of famous actresses Rie Miyazawa and Kanako Higuchi that sent shockwaves across Japanese society and toward the vivacious, naked twirls of international ballet dancer Vladimir Malakhov. This is no doubt attributed to the expressiveness of these photos. The forceful image of sumo wrestlers standing at attention around the dohyo (ring) also leaves a striking impact.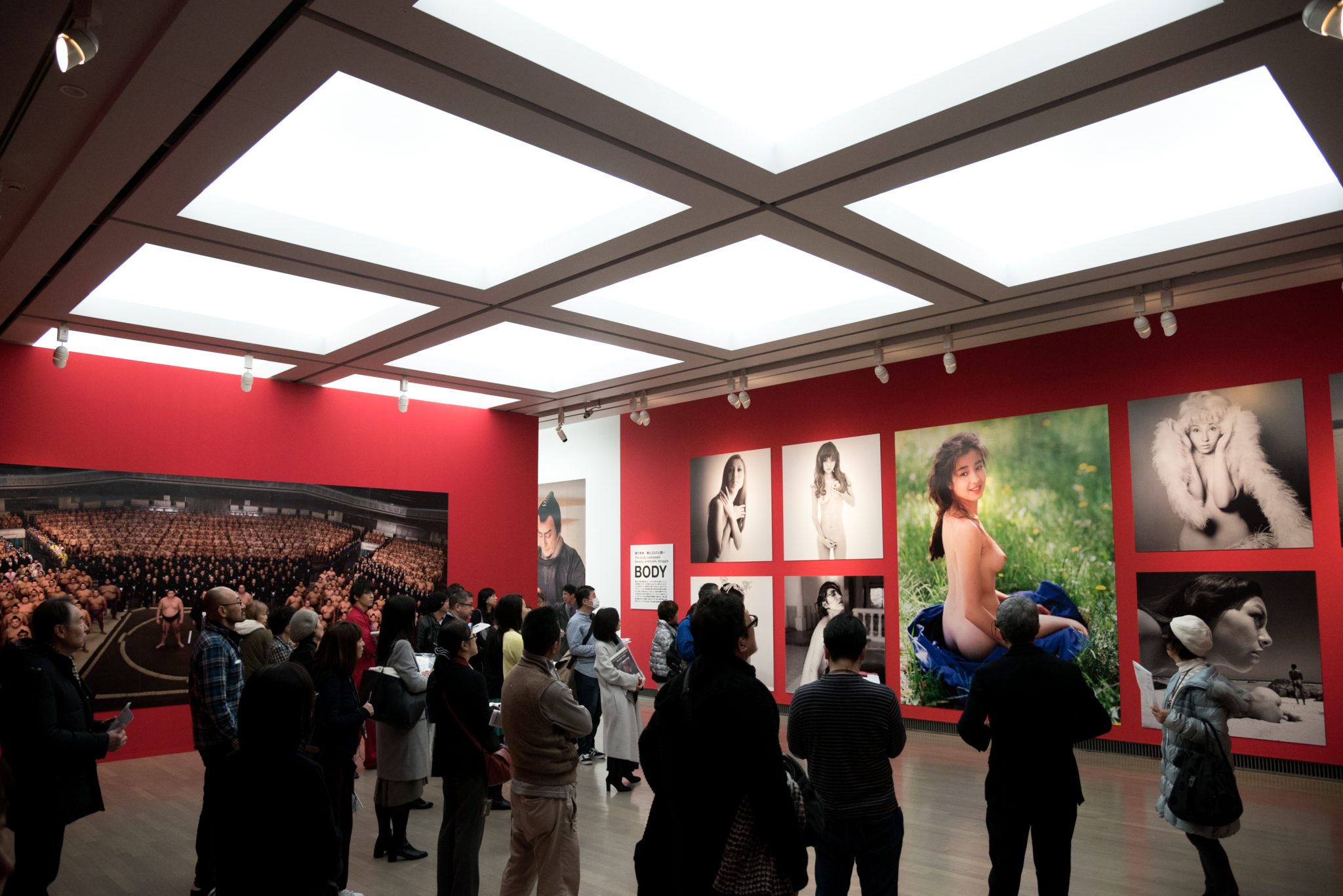 The last section is "ACCIDENTS: Disaster 11 March 2011 – Portraits of the victims of the Great East Japan Earthquake." This is the sole exhibit in which the subjects are not celebrities, but ordinary people. Elderly, married couples, a mother and child, a young brother and sister…
There are no smiles in the faces of the people who opened up to Shinoyama when he visited the site months after the disaster and said, "Please look at the lens." However, the eyes in these seemingly expressionless faces reveal an array of flickering emotions. Viewers who had just walked through the fourth room and revived memories of different times are in the fifth room pierced by the records of a time we must never forget. It is as if we are being told to hold onto this memory as if it was our own.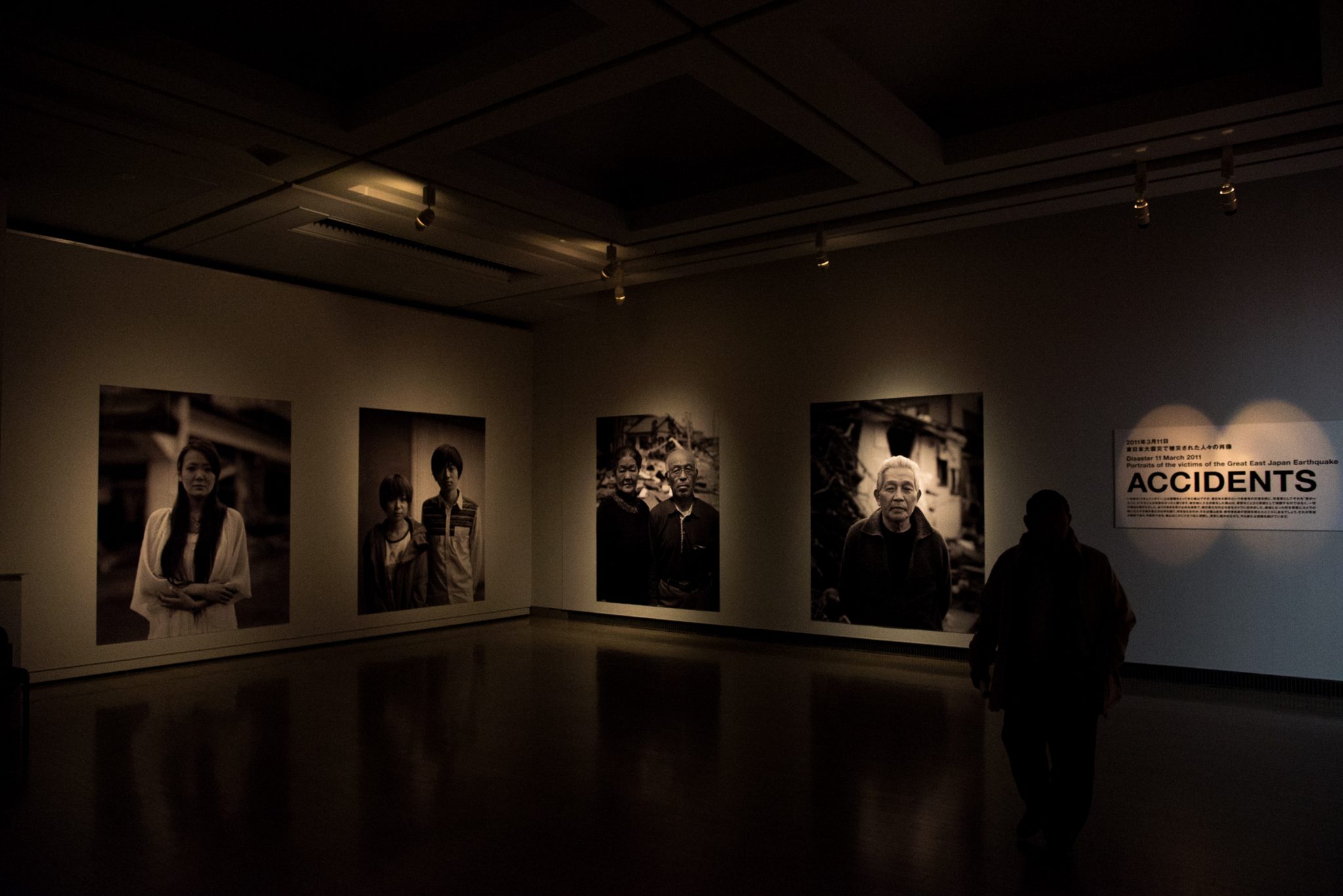 After visiting the five rooms, we are compelled by each and every moment, that time in that decade, the indications of the people who left their marks in those places. Perhaps that is Shinoyama's "Photo Power." An overwhelming, mysterious power that gushes out of these giant portraits fills the space of the museum to be incomprehensibly taken in by our bodies so we can "experience," this is Kishin Shinoyama's "Picture Power – THE PEOPLE by KISHIN." We can say that this unparalleled photo exhibition is perhaps the ideal opportunity to ponder, "What is a picture?"
Kishin Shinoyama artist talking @ Yokohama art museum lecture hall
On January 7, the venue of "Picture Power THE PEOPLE by KISHIN," Yokohama Museum of Art, held an Artist Talk for Shinoyama. About 240 fans filled the hall, and for about one and a half hours Shinoyama talked about his concept for the exhibition and shared various meaningful anecdotes from his shooting days while several photos from the exhibition were projected across the screen.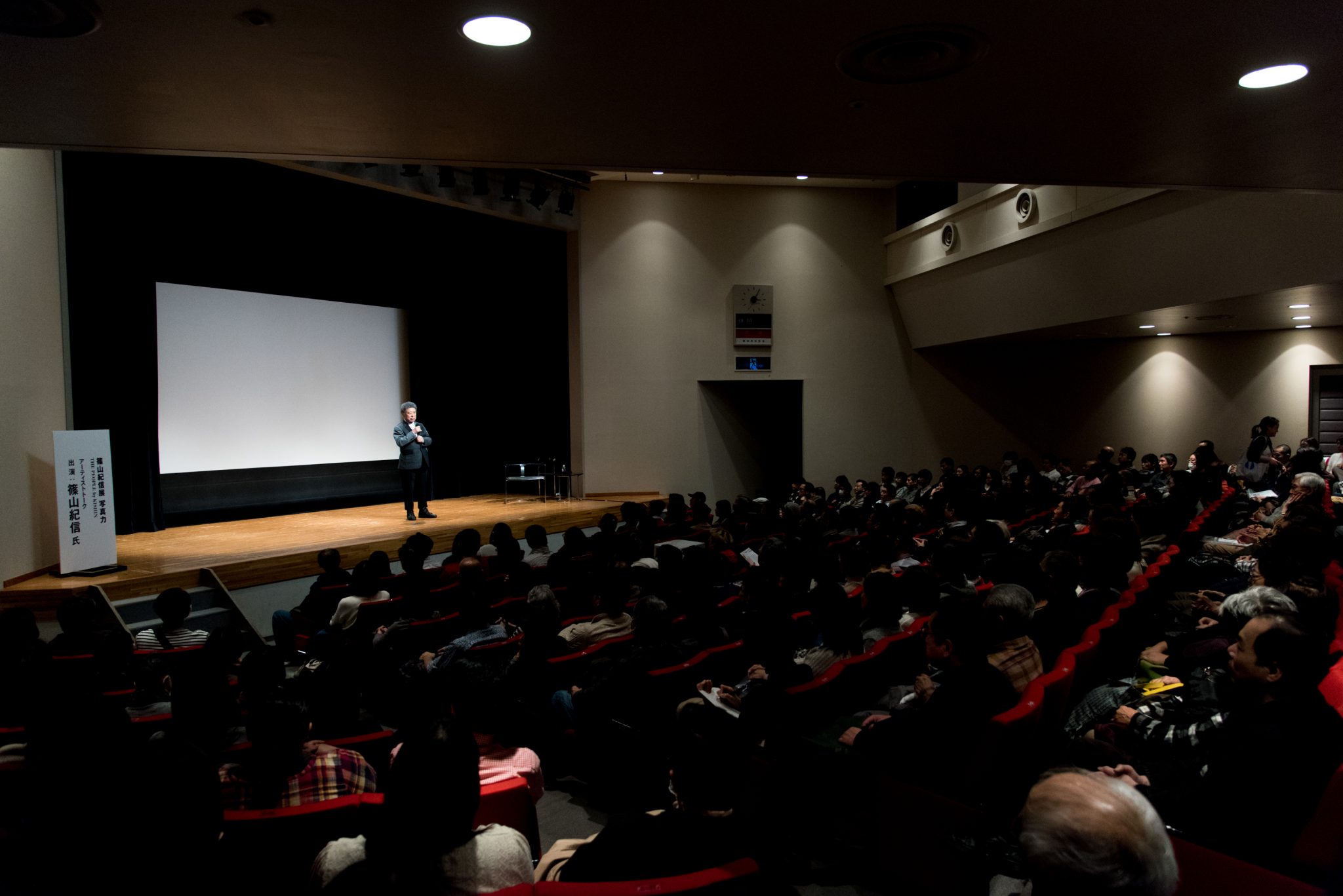 First, Shinoyama talked about the history of the exhibition. It first showed in the Kumamoto Contemporary Art Museum, and Yokohama Art Museum is its 27th home. It was sometimes held in multiple places at once. Shinoyama explained that he did not want his exhibition to be just a summary of his works. His reasoning was, "In general, exhibitions displayed in art museums by photographers with long careers like me are posthumous works or called retrospective exhibitions (laughs). I'm still an active photographer, so I don't like that." Furthermore, when talking about his policy he said that in the first place, "Photographs that are put up in museums are stuck into frames as if they were saying, 'Please admire me!' I can't stand that pompous attitude (laughs). Each and every week we see tens of thousands of photos in magazines. Places like art museums are like morgues for photos (laughs)."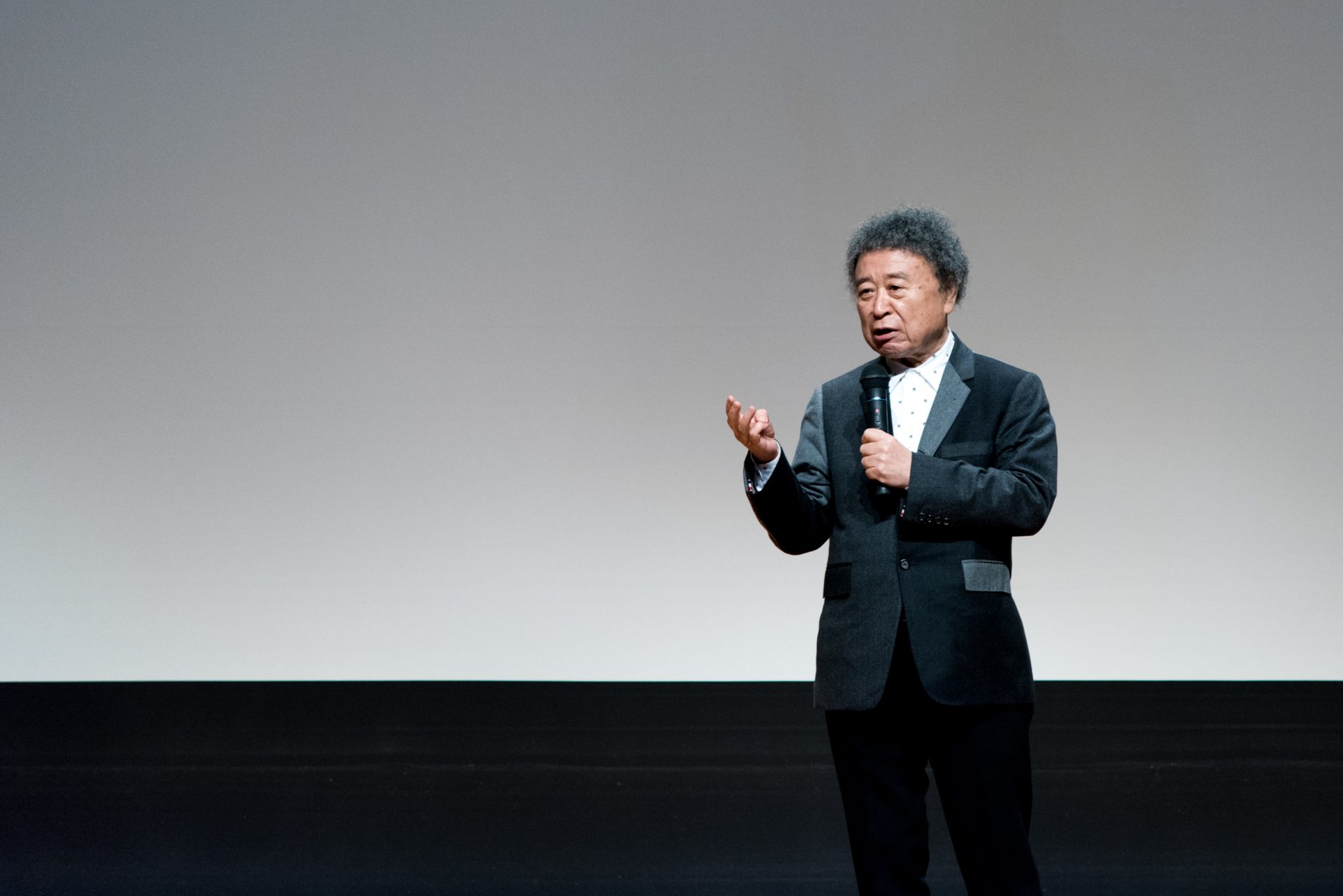 Because of this, Shinoyama decided that the concept for "Picture Power" was not going to be just "appreciation of art." "If you think about it, art galleries are extremely remarkable spaces, right? If that's the case, if you blow up these photos to an enormous size and set the space and the photos against each other, I wonder exactly what kind of space will we see? Let's have the power of the space and power of the photos battle it out." He reflected that when he saw it first shown in the Kumamoto Contemporary Art Museum, "I was more surprised than anyone! It was not just appreciating art, it was feeling and experiencing. It was really fascinating."
In regards to why the theme of the exhibit was celebrities, he answered his intention: "There are various kinds of photos, but the most powerful ones are those of people. When Japanese people are faced with enormous pictures of celebrities who have characterized a generation with their work, that interaction allows anyone to recall that era." The evidence for this is that 9 out of ten visitors reported that they experienced photos in a way they never had before.
Then, when asked about how to take photos that are overflowing with power he said, "I want to know too!" Then he explained, "Good pictures are… flukes. They happen when I'm blessed to capture something even more than I planned for. But it's not the same fluke as when you fire a gun wildly over and over at something until you hit it. What's most important are respect and compassion towards your subjects."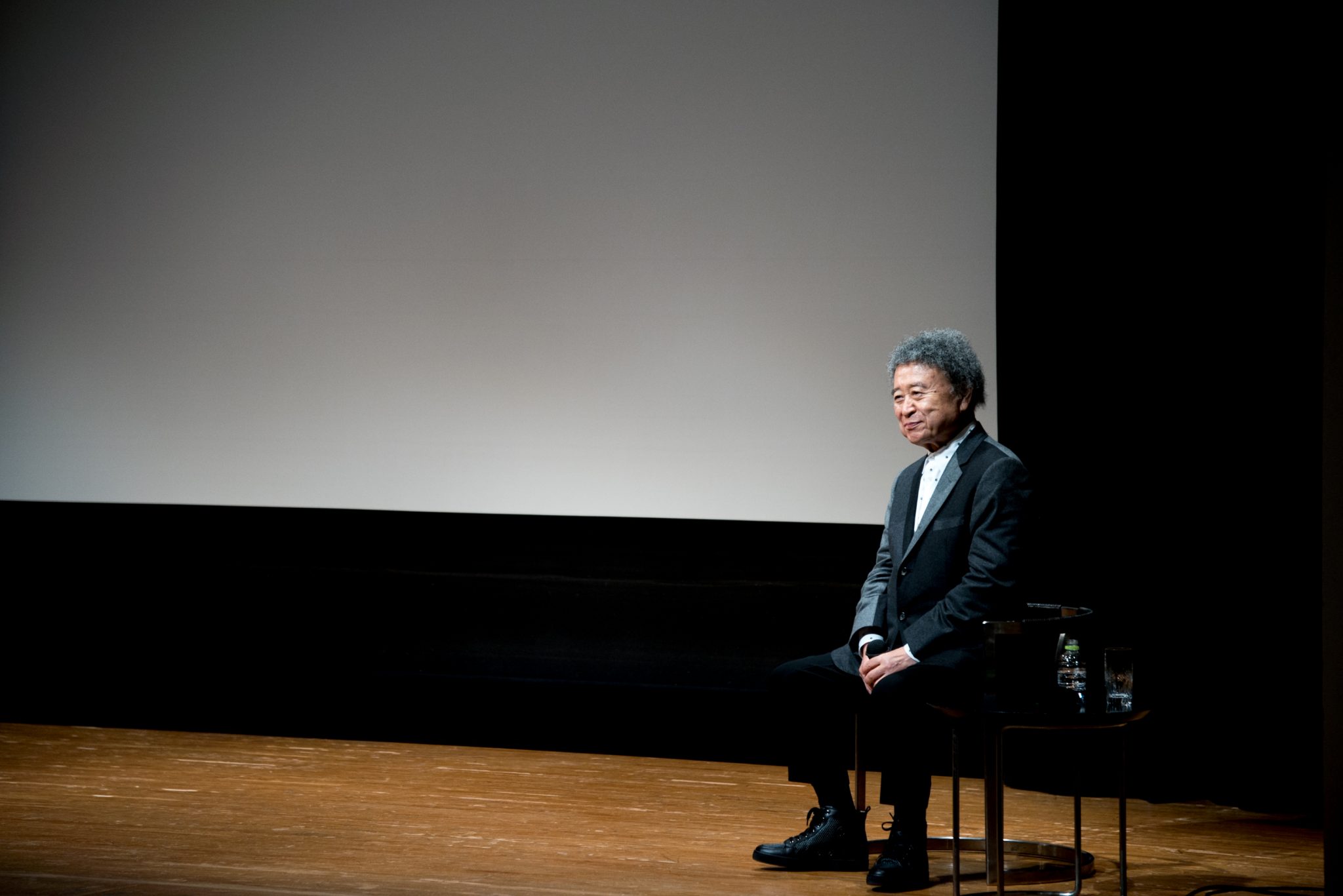 After this, inside stories and photo shoot anecdotes were introduced for about 35 pieces from the collection. Of those, we have shared several of Shinoyama's impressive stories.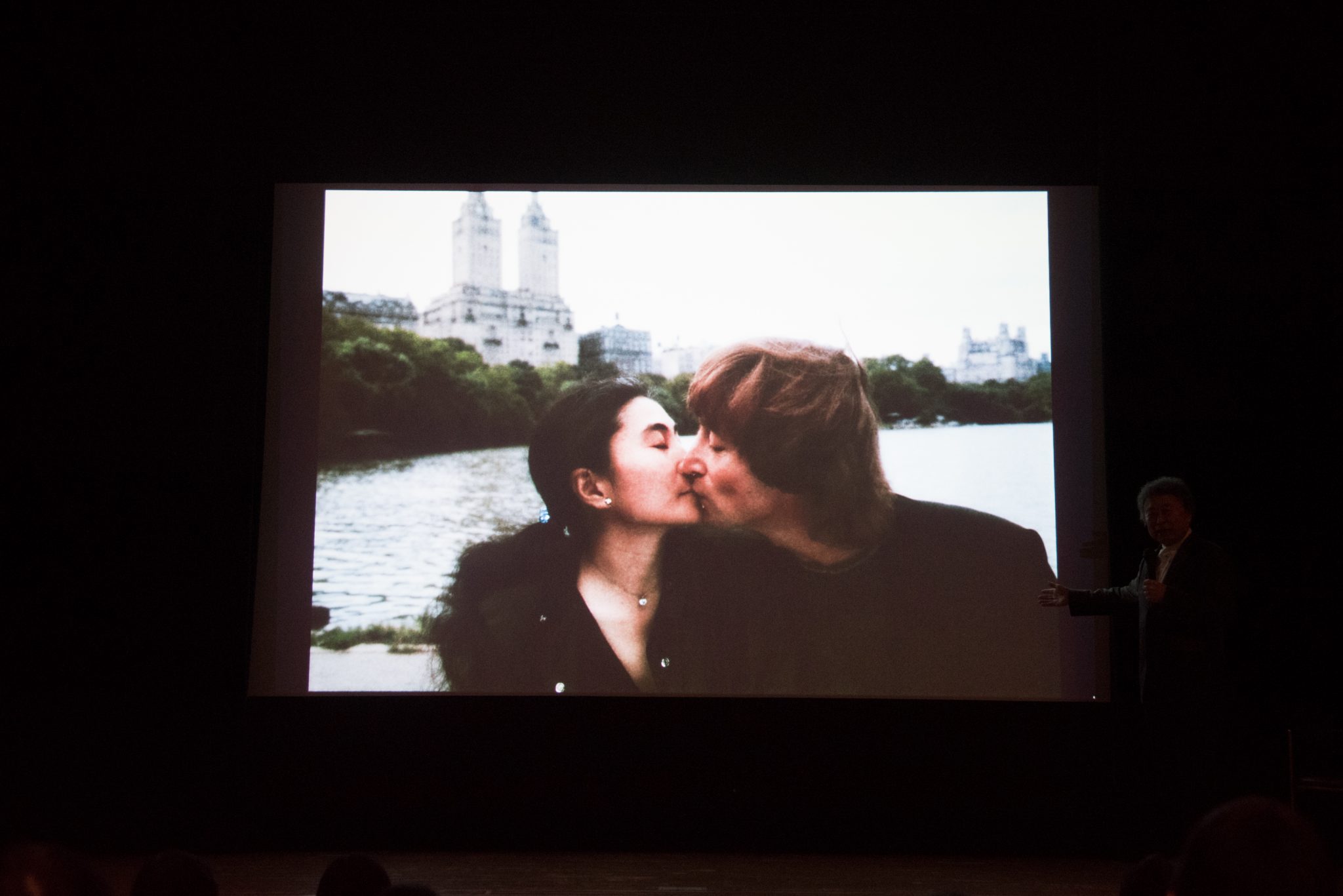 "John Lennon and Yoko Ono" (1980)
Shinoyama: This photo was selected to be the representative photo of the exhibition and put on the poster. Of all my photos, this is the one that has been seen most by people all over the world. Yoko asked me to take it for their co-written album, "Double Fantasy," so I flew over to New York to do it. Three months later, John was assassinated. This was his last photo ever taken. That day, the three of us were wandering aimlessly in Central Park. I had them sit on a bench by the pond, and the mood seemed just right. "Why don't you kiss a bit?" I suggested, and they did. When I developed the photos, only five or six were of this scene. When the record jacket came out, the colored photo had been changed to black-and-white, and it felt a bit ominous."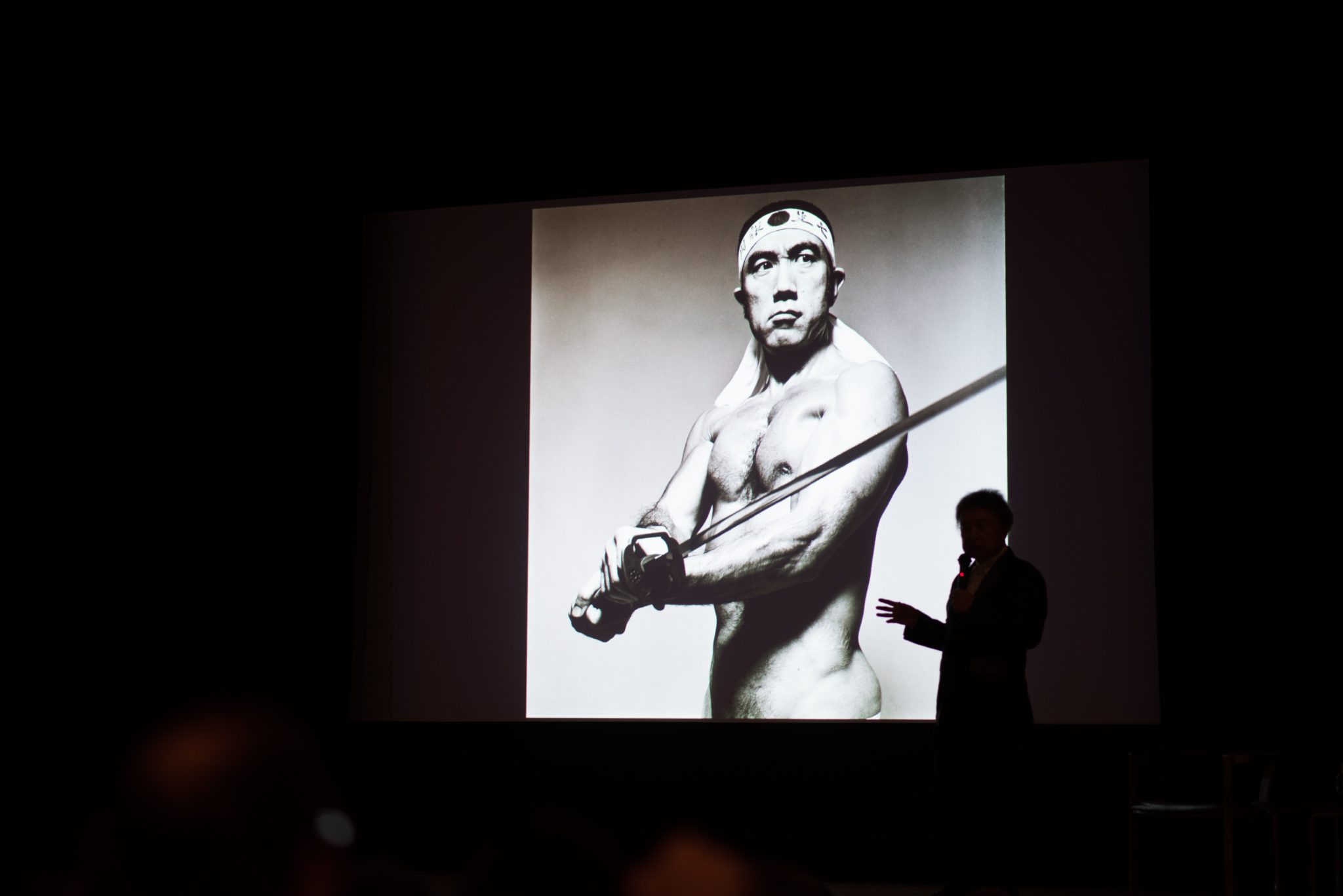 "Yukio Mishima" (1968)
Shinoyama: Two of the photos in 「GOD」 were taken within the year that Mishima-san died. In particular, he wanted me to take a picture of him imitating the famous painting, "The Martyrdom of Saint Sebastian." He requested me to do a collection called "Death of Man" for which he enacted various scenarios of death. A samurai's seppuku, a young fisherman's suicide with a carving knife, 15-6 types of automobile accidents, Mishima-san thought of all these productions and I photographed them. While shooting, I wasn't into at all. I thought it was peculiar that we were doing such a subject. Two weeks after the last photo was taken, Mishima-san rushed to join the Japan Self-Defense Forces and met his death just like that. The two photos here now are the ones that he approved while he was alive. While considering the feelings of his family, not one of the other photos from "Death of Man" has ever been revealed. Mishima-san was that kind of person.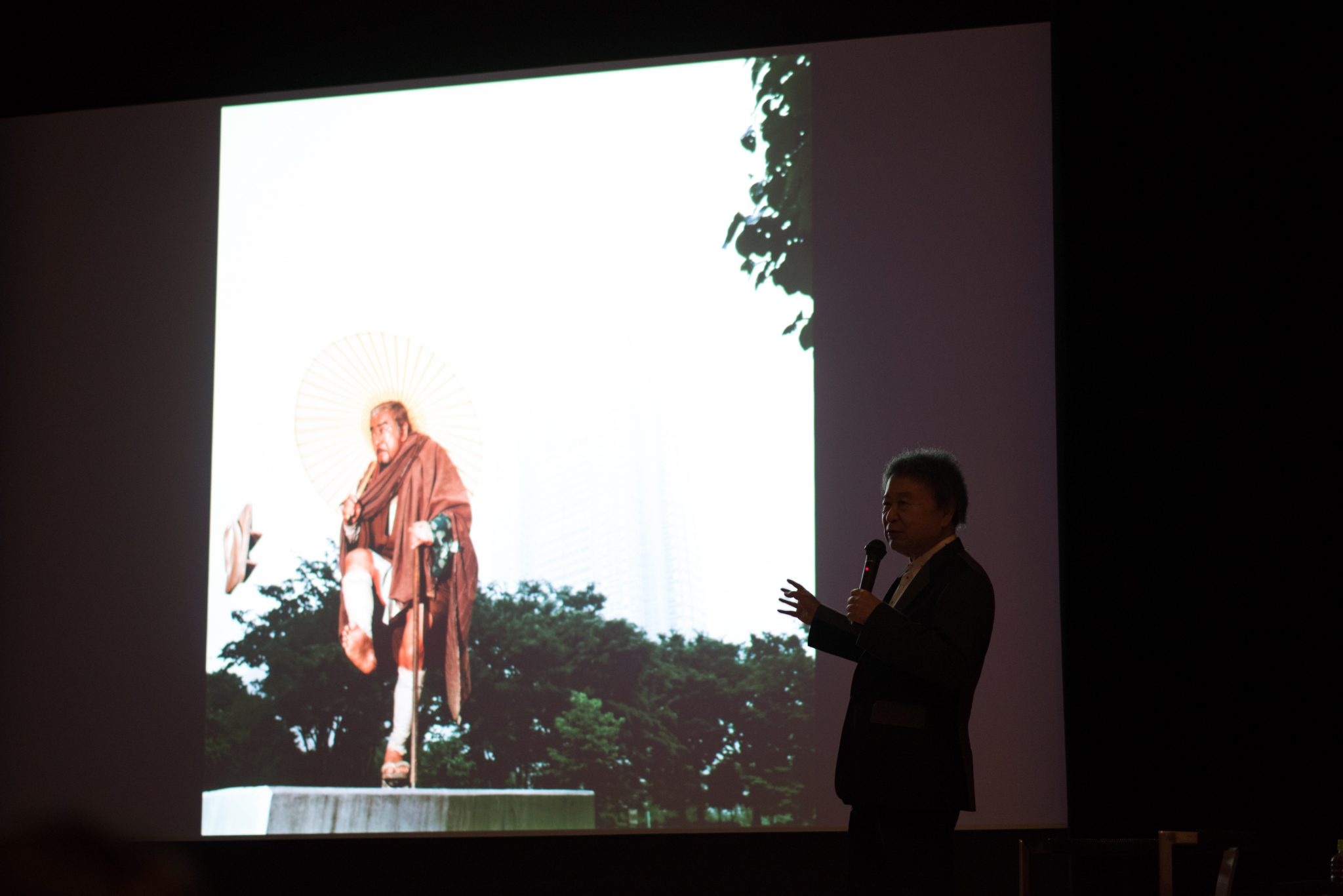 "Shintaro Katsu (1992)"
Shinoyama: When Katsu-san was re-starting his career he asked, "I'm going to start working again, could you photograph me for a weekly magazine or something?" "Shukan Gendai" magazine later put together a huge 12-3 page feature for us. Then I suggested that he dress up as Zatoichi (fictional Edo-era samurai played by Katsu) and go apologize to all the people he's troubled. This is the photo of when we were first loitering around Tokyo. The feature was entitled, "Zatoichi, Birthplace" (laughs). We took it in front of the tallest representative building of Tokyo at the time, the Tokyo Metropolitan Government Building. Katsu-san, who was holding an umbrella in the rain, suddenly thought of something and kicked off his geta. A good photographer wouldn't miss that, he'd make sure to catch it! (laughs)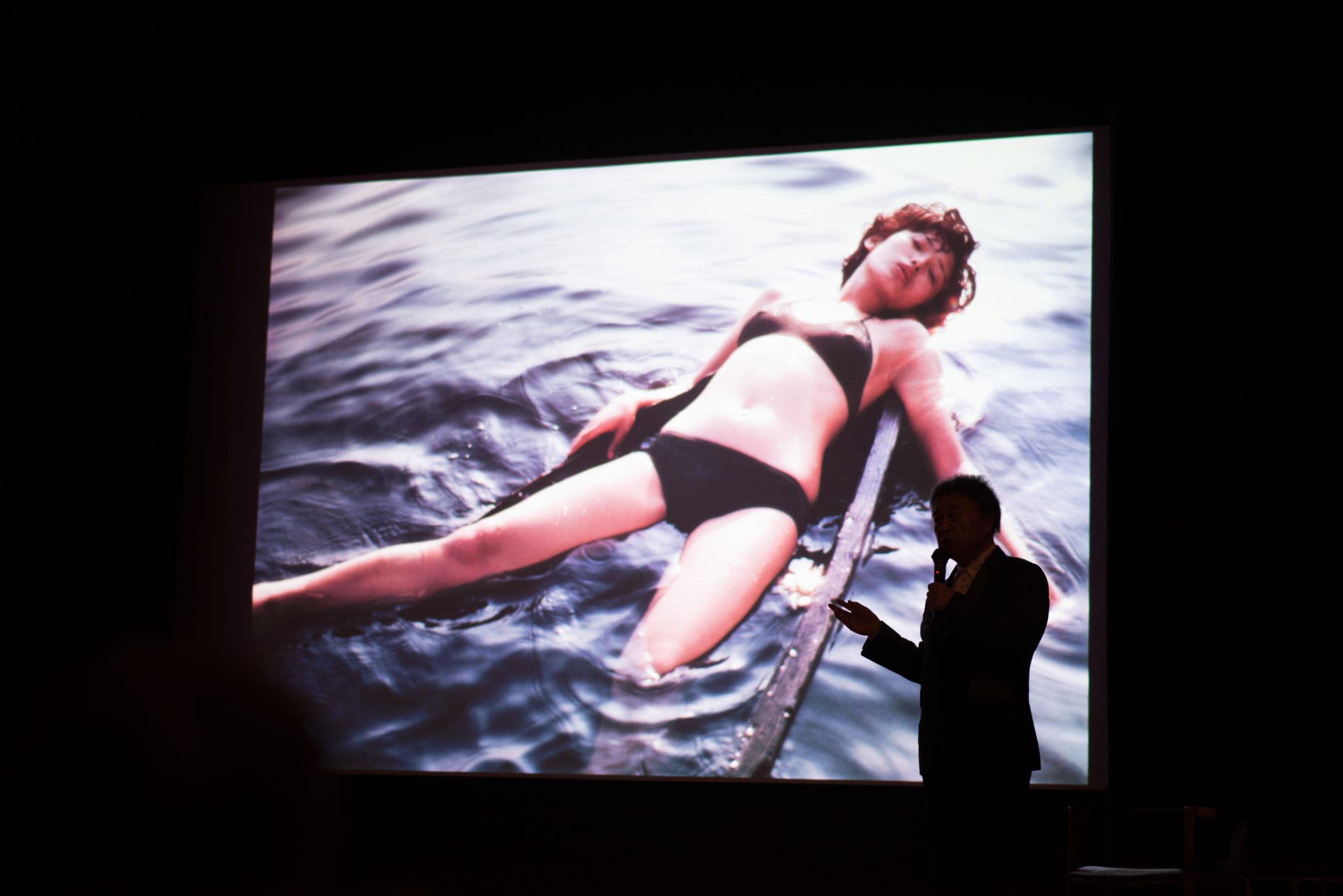 "Yamaguchi Momoe (1977)"
Shinoyama: From the 「STAR」 room. This is a really nice photo of Momoe-san. The photo was taken in Yamanakako, but in those days she was so busy that I couldn't get any time with her. When I told her these would be in "『GORO』," "Shukan Shonen Magazine," and "Myojo," three magazines in total, she finally made time in her schedule. First for the idol-chick magazine "Myojo" we walked along the shore, then we had an energetic swimming session in the pool for "Shonen Magazine," and lastly in the evening we found a half-sunken boat in the lake. When I suggested, "Why don't you go lay down in there?" we were able to take some really sexy photos. I'm often asked, "What did you say to Momoe-san?" but I think she was simply tired (laughs).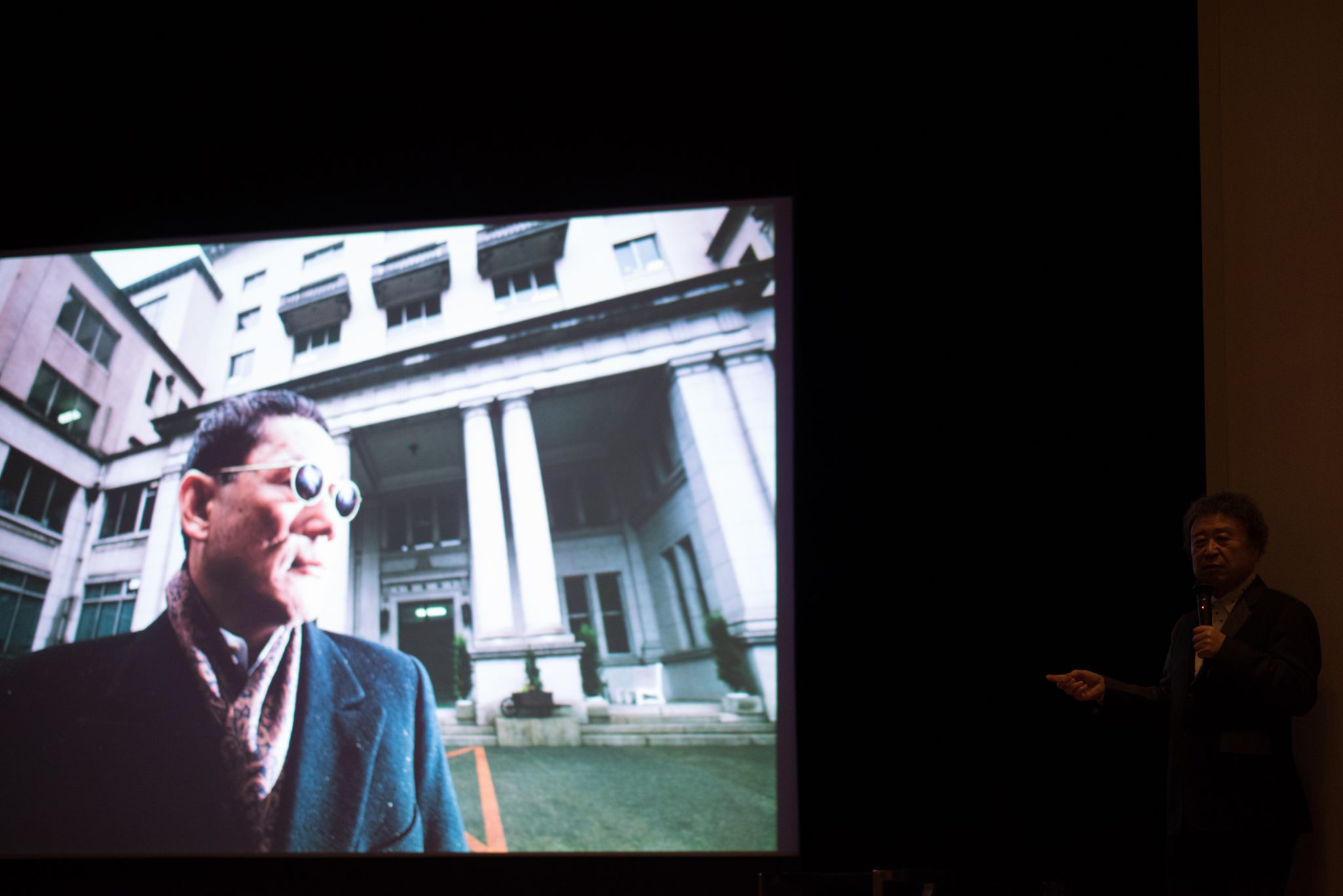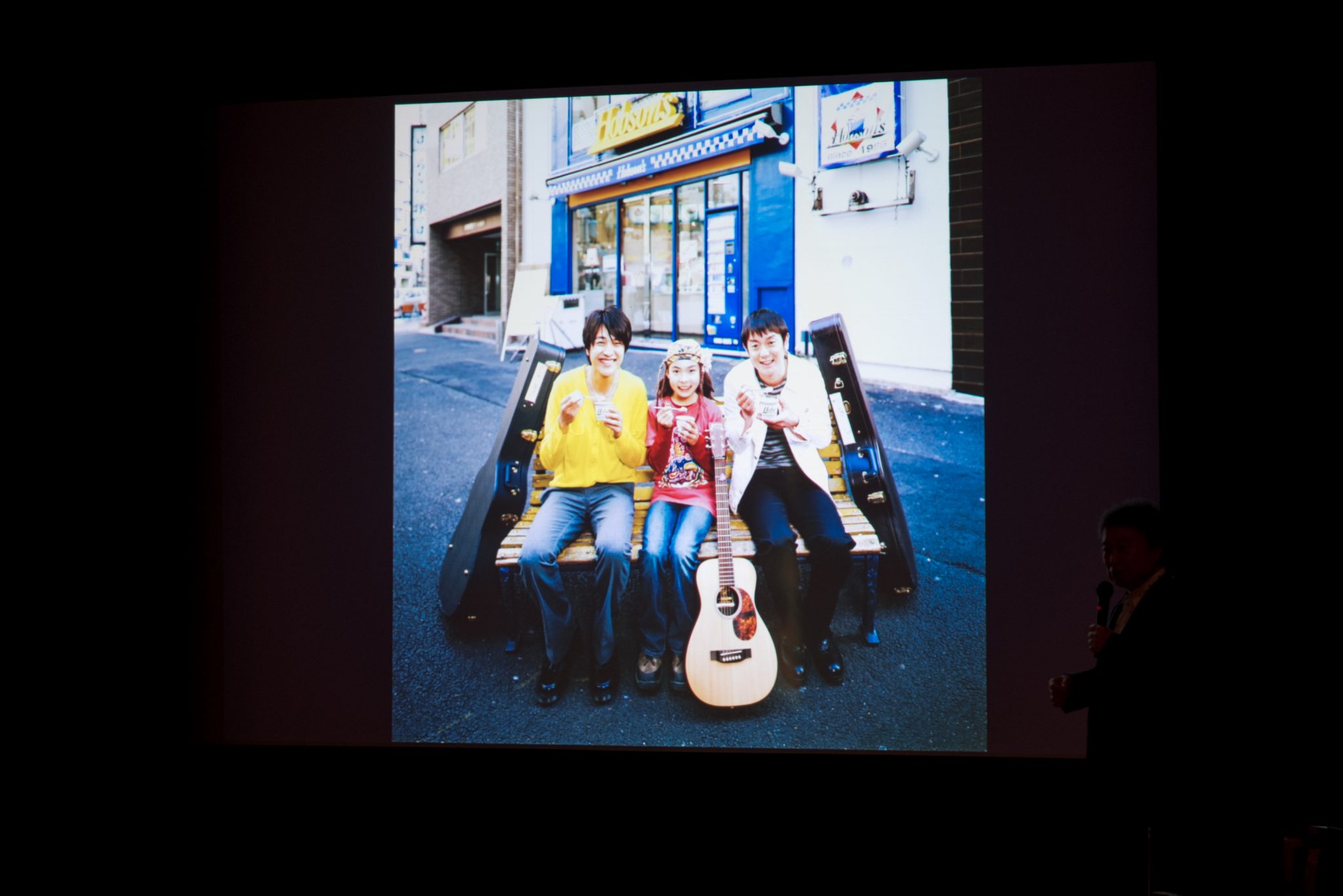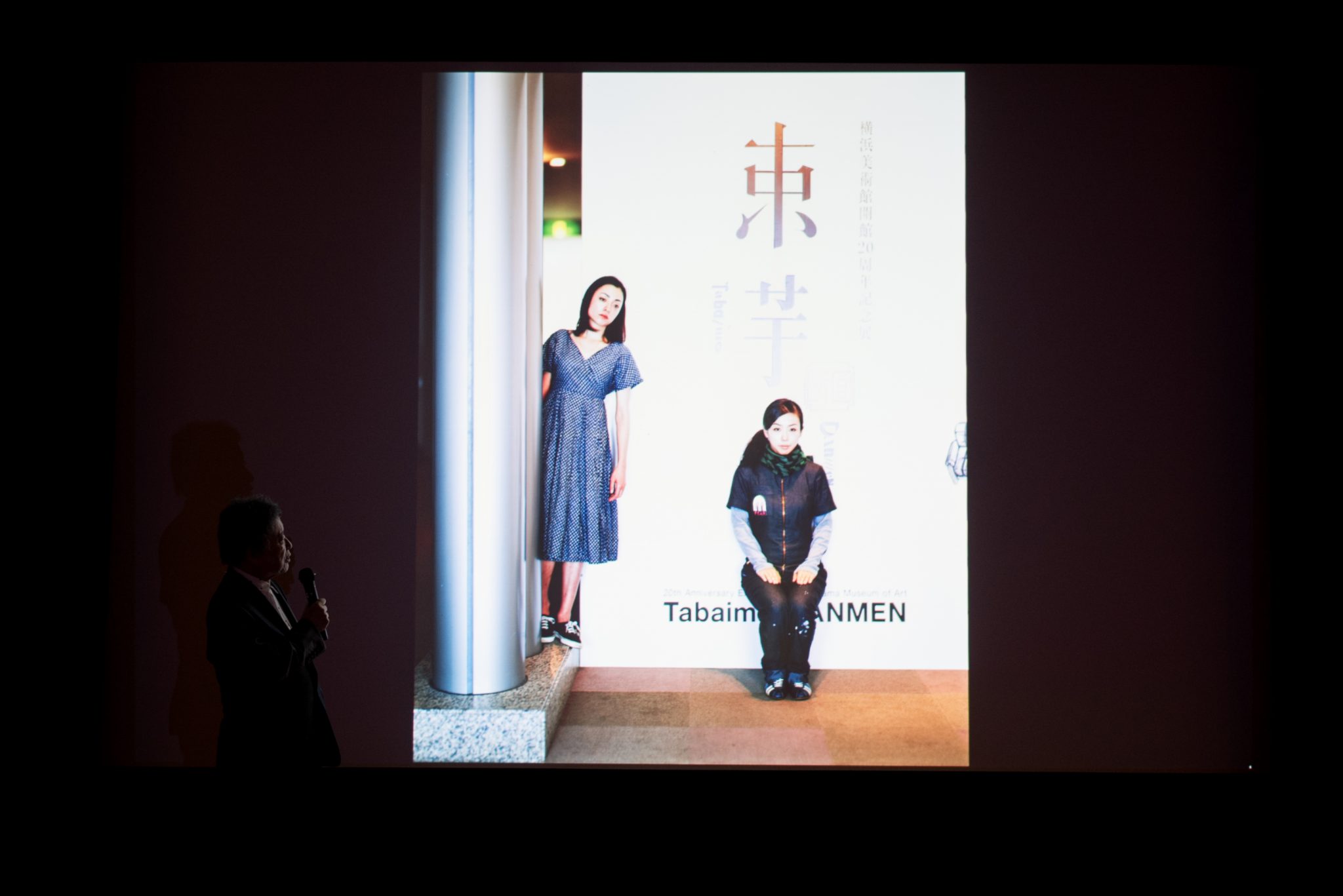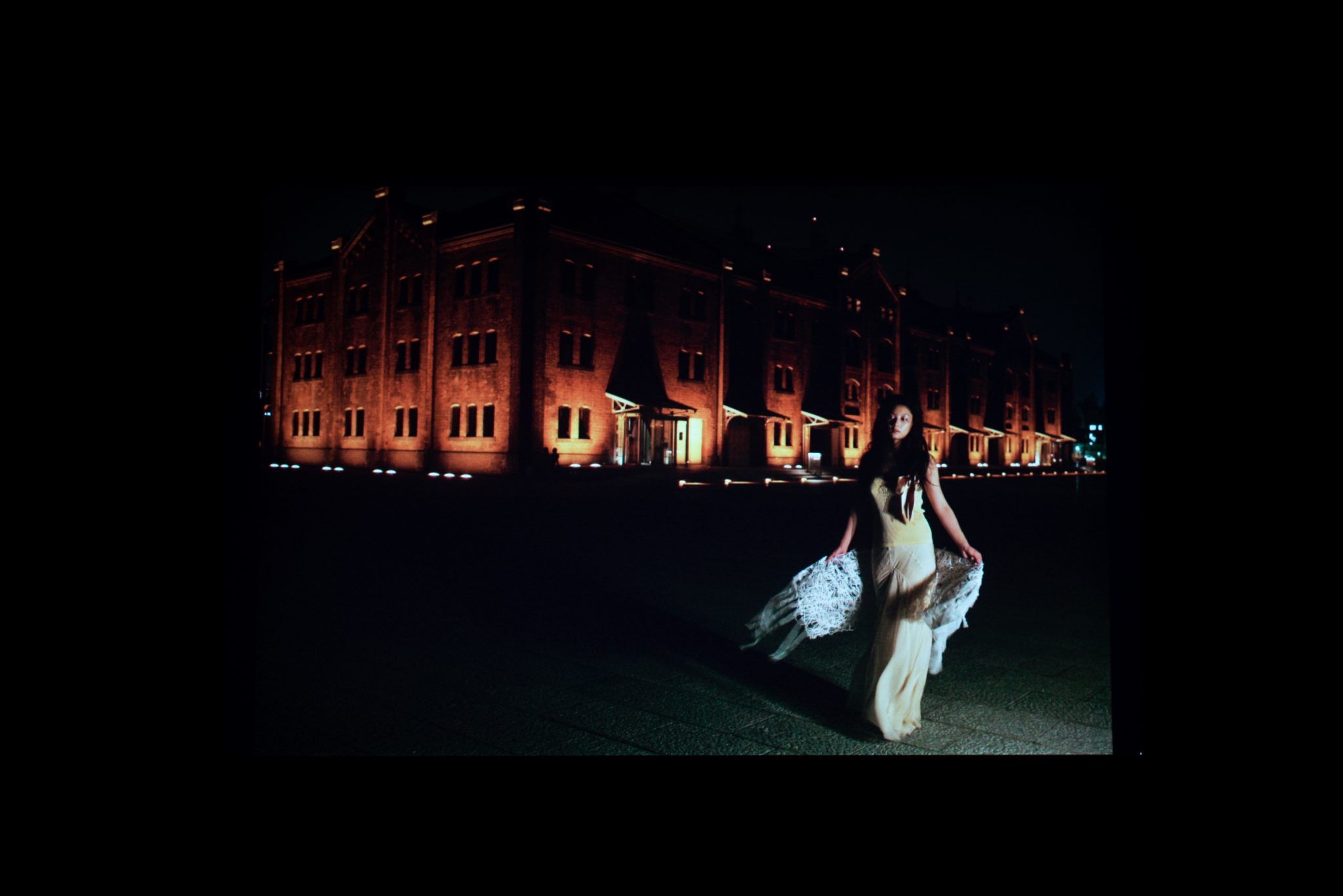 In addition to these, countless of anecdotes with other stars are retold. When the subject of his now 63-year-old wife Saori Minami emerged during the Q & A session, Shinoyama blurted an unexpected answer regarding his personal life. "I don't take pictures of my family. Cynthia (Minami) is much better at taking photos of the kids (laughs). We take commemorative photos in studios since professionals are the best for that kind of thing." The Shinoyama Artist Talk was filled with precious memories. Knowing these stories, we can more fully know the greatness of "Picture Power".
"Picture Power THE PEOPLE by KISHIN"
◇ Exhibition Dates: 2017 January 4 (Wed) ~ February 28 (Tue)
◇ Time: 10AM ~ 6PM *February 23 (Thurs) until 4PM, 24 (Fri) until 8:30PM (Admission is until 30 minutes before closing)
◇ Place: Yokohama Museum of Art (3-4-1, Minatomirai, Nishi-ku, Yokohama, Kanagawa)
◇ Admission Fees: General 1,500 yen, University students and High school students 900 yen,
Junior high school students 600 yen, Elementary school students and younger free, Seniors (Over 65) 1,400 yen (ID required only at the ticket counter)
More details here
The Kishin Shinoyama Special Interview
can also be found here(http://magcul.net/focus/the_people_by_kishin/)
You can enjoy the content even more by reading the interview together with this report. Please check it out.