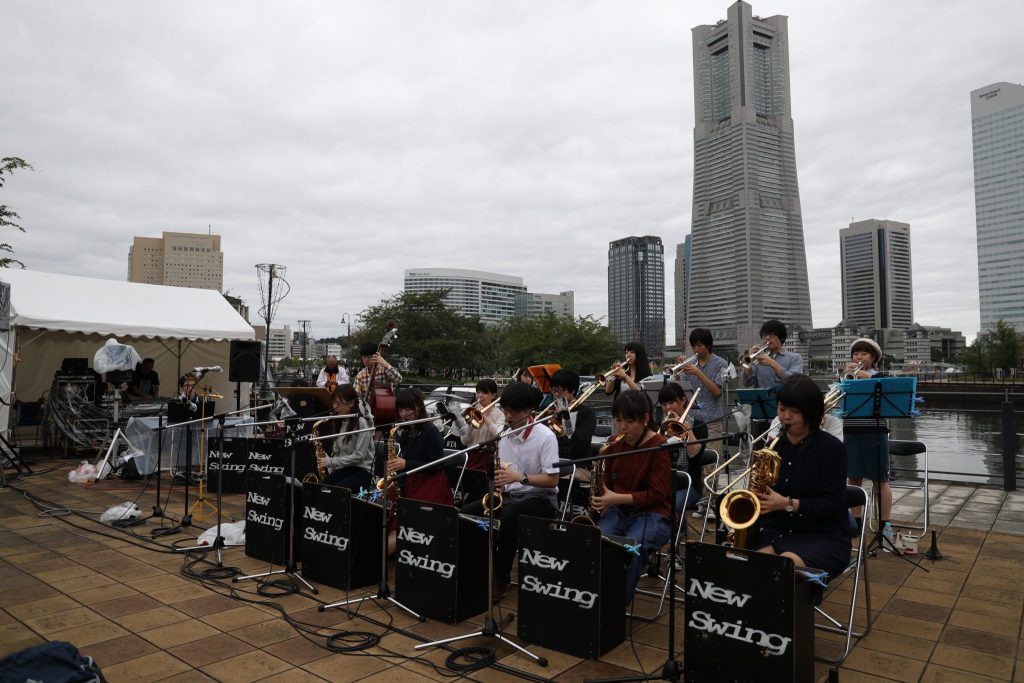 musics
Yokohama's Jazz History and Present
As can be expected, jazz has played a role as an important part of Yokohama's cultural history.
Presently in the Noge ~ Isezaki ~ Kannai area, there are close to 40 locations where one can enjoy live jazz performances and of those, even the "jazz cafes", places that are unique to Japan, are still open for business. Due to the fact that—no matter where you go in the world—it is so rare to have so many jazz-oriented businesses packed into such a small area, there are musicians from overseas who exclaim, shocked, "I only knew about New York City, but there even more spots here than there are over there!"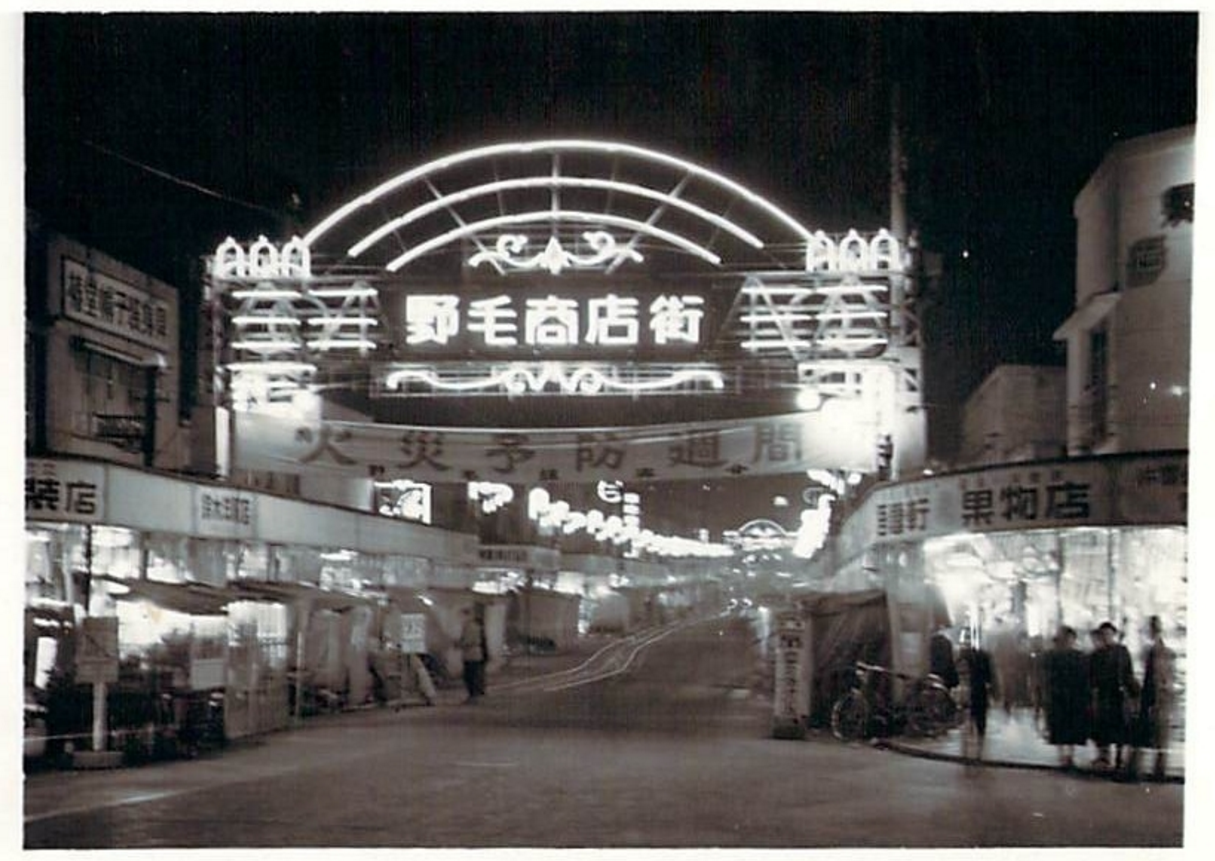 Nighttime in Noge Hondoori, circa 1953(Source: The Opening of the Port of Yokohama, 150 year anniversary "Made by everyone" Yokohama Picture Album)
The first jazz album recorded in the United states was recorded in the year 1917. The first jazz performance in Yokohama was in 1925 (year 14 of the Taisho era). Japan's oldest jazz cafe "Chigusa" was opened in the Noge area in 1933 (year eight of the Showa era). As the golden age of modern jazz giants such as Charlie Parker, Miles Davis, Sonny Rollins, John Coltrane, and the like occurred during 1940s – 1950s in the United States, Yokohama became the home for jazz music made before Miles' time. The Yokohama jazz scene developed during an era without a modern communications infrastructure, so we'll see how it leveraged its advantageous position as a port city to adopt this new culture from overseas.
「 The Yokohama JAZZ PROMENADE」, which is held every year during the month of October as a town planning festival, which also serves to promote the area, will see its 25th anniversary this year (2017). If you purchase tickets, you can listen as much as you wish, all day, to jazz performances that are being held simultaneously in over 50 locations, including in concert halls, jazz clubs, and on street corners. Every year, over 120,000 people attend the two day session. It is also said that the operation ratio for Minato Mirai area's rental bike system,「baybike」, reaches its annual high during these two days. There are a lot of jazz fans running around through town on rental bikes. According to Executive Committee Chairman, Hiroshi Tsuruoka, the jazz clubs, of which there were initially only four, have grown to the present day numbers over these last 25 years.
「 The Yokohama JAZZ PROMENADE」, prior to the 25th anniversary, began an exchange coop last year , 2016, with the Detroit Jazz Festival, which has 39 years of history. A jazz competition was held to discover young artist and it has been decided that the victor, the Aki Nishiguchi Sax Trio will be appearing at the Detroit Jazz Festival in September. It is also the plan for the young artist who wins the competition on the Detroit side to come to Japan to perform in the Yokohama JAZZ PROMENADE in October. As a port city, Yokohama plans to continue the advance of internationalization.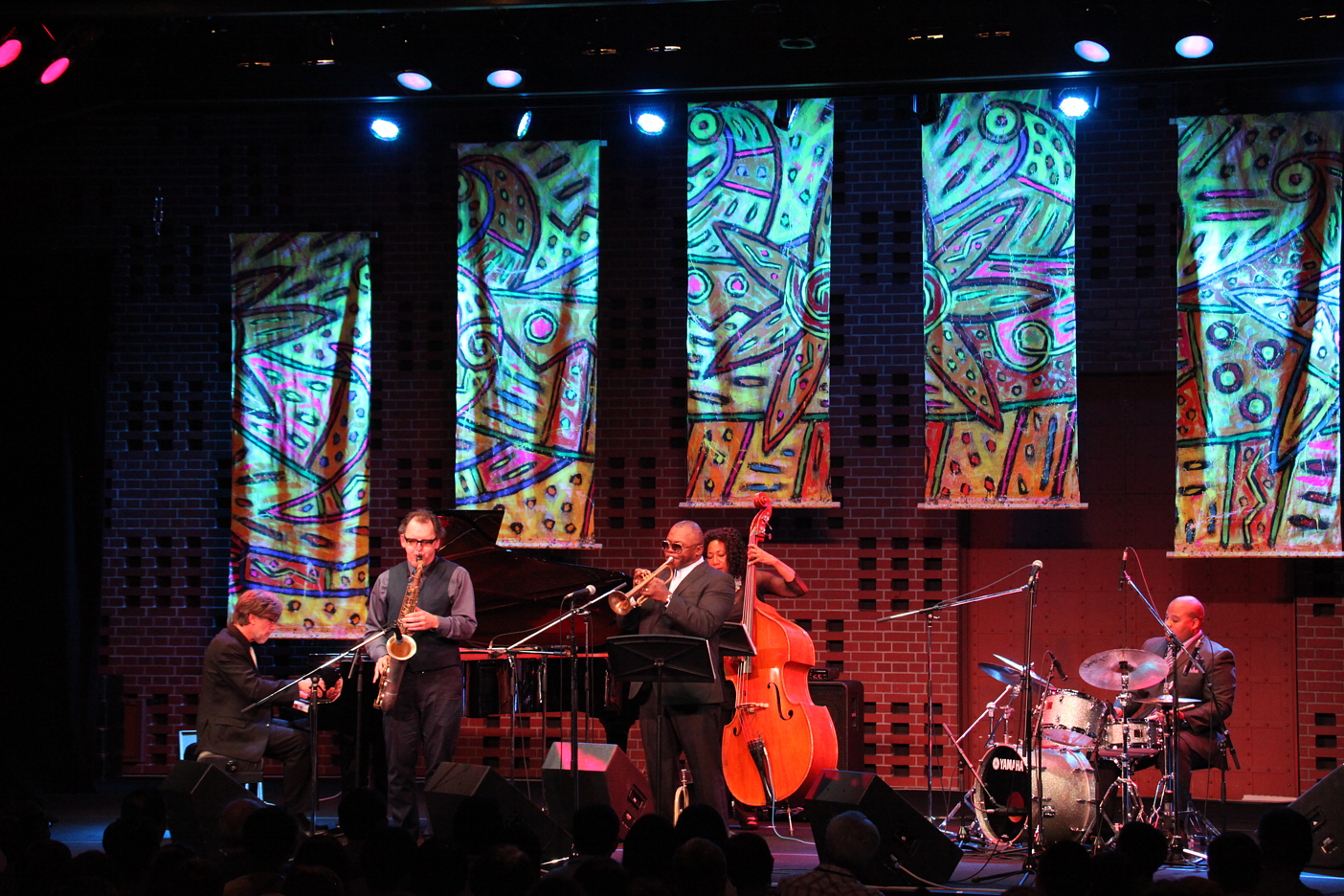 JP16 1009 Red Brick Warehouse #1 Chris Collins(sax) and the Detroit All-stars (c)YJP (Photography : Ichidomo Crew)
The "Asahi Jazz Festival", held in Asahi, is also known as a premier jazz festival in the Yokohama area and has 28 years of history. In winter, there is also the "Valentine Concert" which, like the "Yokohama JAZZ PROMENADE", has its roots in the region and continues to be active. Besides these, recently, in the Noge area, there have been a large number of events to attract guests, such as the "Jazz de Bon Festival Dance".
Naturally, there are many local jazz musicians in Yokohama. Also, throughout the year, jazz musicians from all over the country come to play in Yokohama's jazz clubs. There are a lot of styles in jazz; however, if you're in Yokohama, you can hear whatever style of jazz you desire.
Presently, jazz is aiming to diversify. Robert Glasper, who tops the list, is popular for his new style, birthed from mutual influences of hip-hop and black pop music; however, for Yokohama's musicians, many inherit a more authentically traditional jazz style. If you look at the United States, in the heart of jazz music, New York City, traditional styles are melding together with the new styles that are constantly appearing. For Detroit, the traditional style has deep significance, much like Yokohama. In America's neighbor, Canada, the city of Montreal holds a large scale town festival, the "Montreal jazz Festival", but it is rather conservative. With that in mind, with the exception of the cutting edge New York City, it's safe to say that for the regional festivals, the general image of "jazz"—the untouched, traditional style—is the popular one.
It's not just the festival scene—in Yokohama, you can hear high quality jazz year-round. If it's during the afternoon, you can give an ear to the great performances from nostalgic records as they are played over a jazz cafe's massive speakers ; or, at night, you can go to the live houses and enjoy the live sound, beer in hand.
1. Jazz Tea House Chigusa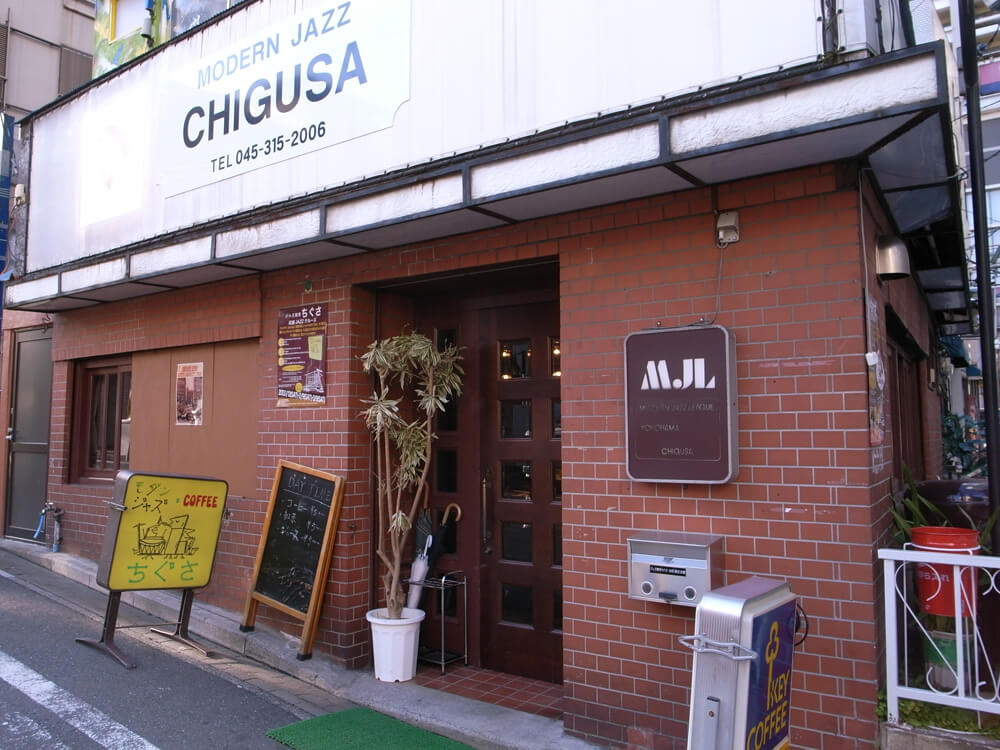 #2-94 Noge, Naka ward
Yokohama, Kanagawa, 231-0064
Tel. 045-315-2006
http://noge-chigusa.com/
Established in the year 1933 by Mamoru Yoshida, Chigusa is a legendary location that has been frequented by Toshiko Akiyoshi, Terumasa Hino, and many others. Even though it closed its doors in 2007, it received financial assistance for empty shops from the City of Yokohama and was revived, moving to its present location. Its records, furnishings and the like were archived for a three year limited period in the Central Municipal Library and were restored exactly as they were. It usually operates as a normal jazz cafe; however, on the weekends , it holds live performances and events. (Currently the hours of operation end at 6 p.m. for the time being).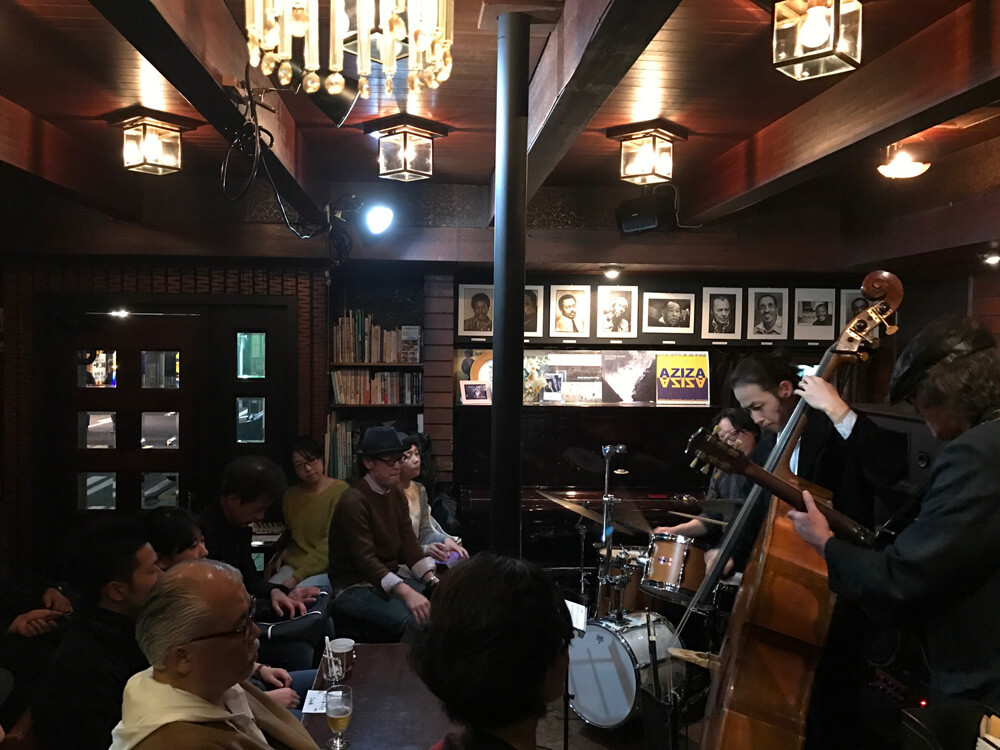 Shinji Ando Trio

2. Downbeat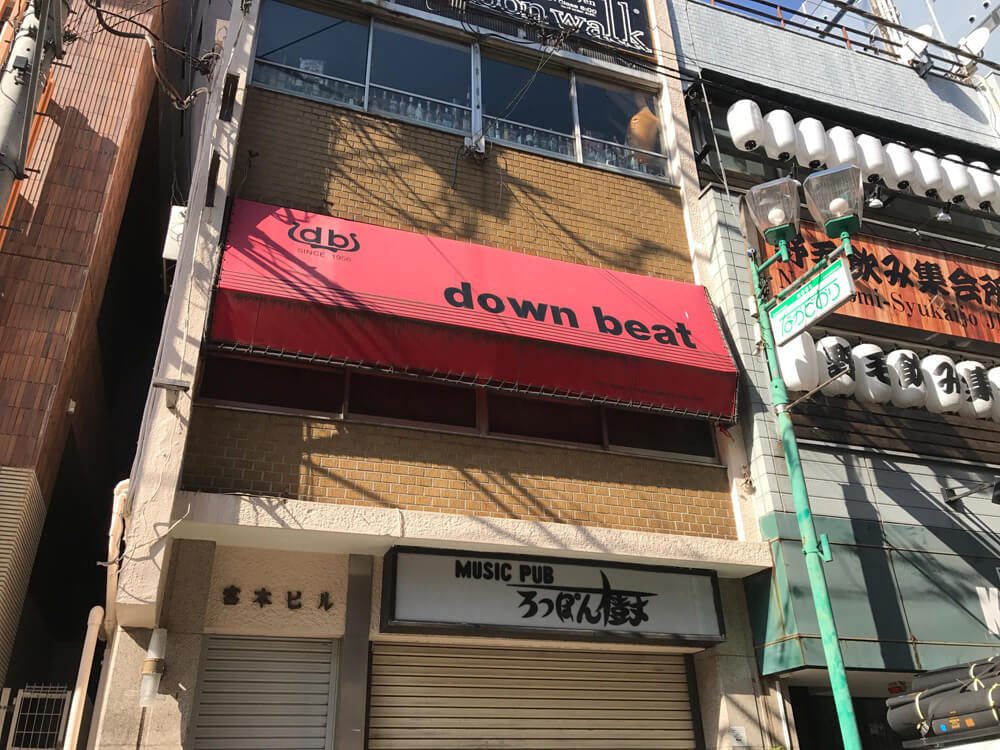 #1-43 Hanasaki, Naka ward
Yokohama, Kanagawa, 231-0063
Tel. 045-241-6167
http://www.yokohama-downbeat.com/
Opened for business in 1956. At the time of its opening, it was in the Wakaba district; however, during the 60s, it moved to its current location. It boasts over 3,500 records and normally operates as a jazz bar. The counter seats are smoking-free. Kouhei Tanaka currently serves as the second generation owner, inheriting the bar from the first owner, Hayato Abo.
3. Yokohama Airegin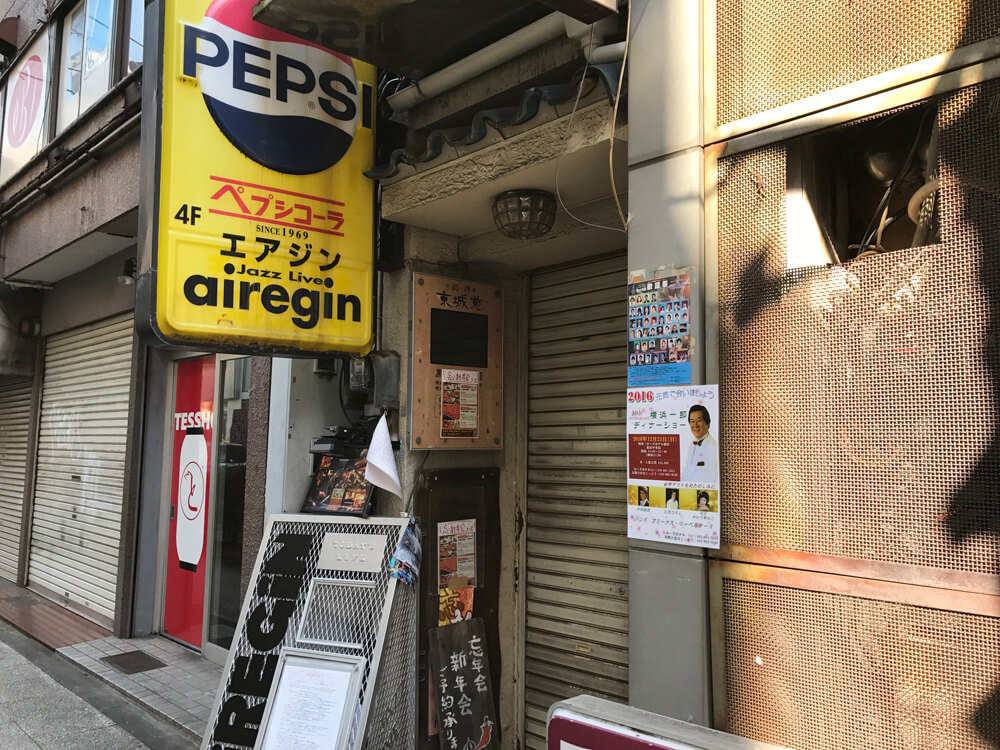 #5-60, Sumiyoshi, Naka ward
Yokohama 231-0013
Tel. 045-641-9191
http://airegin.yokohama/
First opened as a jazz cafe in 1969 in Shinjuku. Afterwards, it moved to Yokohama to open as a live house in 1972. Five years after, when the first owner passed away due to an unforeseeable accident, the present owner, Makoto Umemoto, who had been active as trumpet player in Germany, inherited the place. Mr. Umemoto has planned, created, and produced many events, such as : "Honmoku Jazz Festival" 「NewYorkJazzFes'97(USA)」, "Shounan's music Festival for the 1999 Cannes Film Festival ", "Surf 99″, 「Japan Year in Paris (in France)", "Yokohama Jazz Promenade", "Yokohama Symphonic in Jazz". If you're looking to hear avant-garde jazz, then you want to check out Yokohama Airegin.
【Recommended Live Shows】
•February 15th (Wednesday)
Airegin's Customary "FUWA WORKS/Shibusashirazu"
Jazz-rock, unfolded by Shibusa's elite members!!!
Daisuke Fuwa(wb/Dandorist)
Hideki Tachibana(as)
Ippei Kato(g)
Kouichi Yamaguchi(p)
Jun Isobe(ds), and more!
Open19:15 Live 20:00
With Reservation: ¥2,500/At the Door: ¥3,000
4. Jazz Spot Dolphy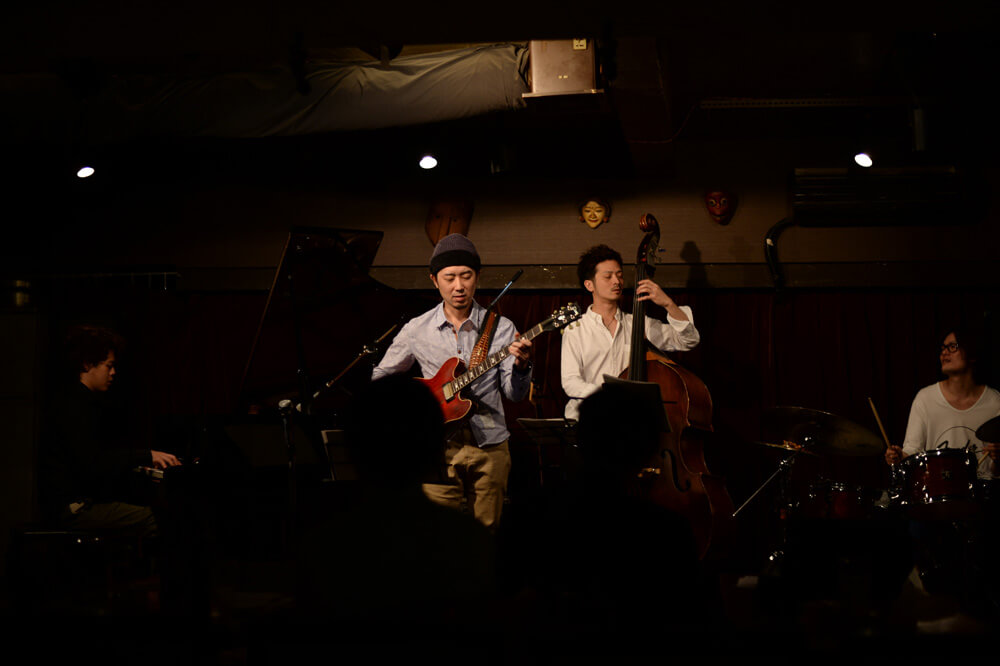 Ryo Ogihara Quartet

#2-17-4, Miyagawa, Naka ward
First Nishimura Building, Floor 2
Yokohama, 231-0065
Tel. 045-261-4542
http://www.dolphy-jazzspot.com/
Opened for business in 1980 in Honmoku. In 1990, it moved to its current location. It is a long-standing live house that has seen countless performances from leading figures such as Kousuke Mine, Fumio Itabashi, Kumiko Itou, Sadanori Nakamure and many others. There have even been performance from the owner, Tsunehiko Komuro's own child, Hibiki Komuro (p), embracing the age of jazz of his own will.
【Recommended Live Shows】
• February 11th, Saturday (also a holiday)
Dolphy Special Session
Kousuke Mine ts/ss)
Mei Inoue(g)
Nobumasa Tanaka(p)
Hideaki Kanazawa(b)
Tsunoken(ds)
18:00open
19:00start
Before the show: ¥3,500/At the door: ¥3,800
• February 12th, Sunday
Shiho(vo) from Fried Pride& Josei(p)duo
Former Fried Pride, who played together with the Luxembourg Orchestra
A duet between Shiho and Josei, a member of the famous overseas band, SOIL & "PIMP"SESSIONS
18:00open
19:00start
Before the show: ¥4,000/At the door: ¥4,500
5. Bar Bar Bar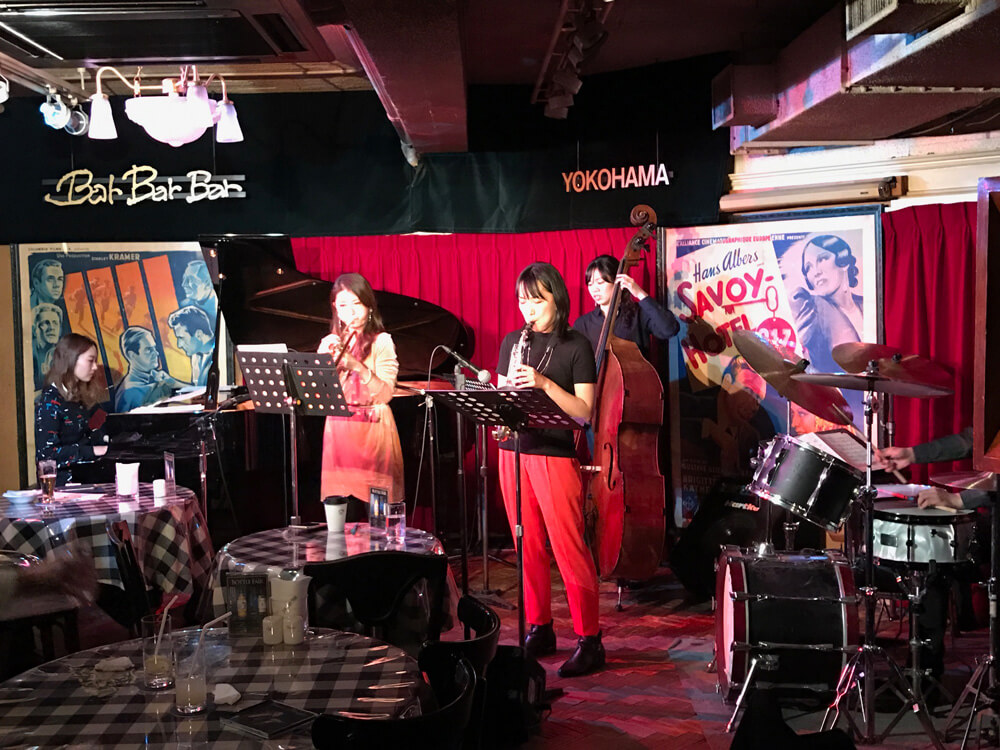 ISM(Aya Takazawa, Naoko Tanaka, Hiroko Mase)

#1-25 Aioi, Naka ward
Wakaba Transport Building, Floor 2
Yokohama, Kanagawa, 231-0012
Tel. 045-662-0493
http://www.barbarbar.jp/
Opened for business in 1984 as the result of the efforts of Hiroshi Tsuruoka, a promoter of "Yokohama JAZZ PROMENADE" . It is a classic live house that has seen a number of performances from Yokohama-based musicians, such as: Toshio Osumi, Masaru Imada, Yoichi Kobayashi, and also Carol Yamazaki, Alisa Sunaga, and Hal Tsuchida. It was ranked 8th in the country on the Nikkei Plus 1's "Whatever Rankings" for "Top 10 Recommended Jazz Spots".
【Recommend Live Performances】
•February 22nd (Wednesday)
Aya Takazawa(tp)
Live Show to celebrate the release Yokohama JAZZ PROMENADE 2016 Runner Up Band, ism's Aya Takazawa's solo debut album "Crescent City Connection".
Aya Takazawa(tp)
Kazuhiko Kondo(sax)
Ken Kawamura(pf)
Kengo Nakamura(bs)
Shunsuke Umino(ds)
18:00 open
19:30 start
Table Charge: ¥500 + Entry Fee: ¥2,800
6. Live Matters KAMOME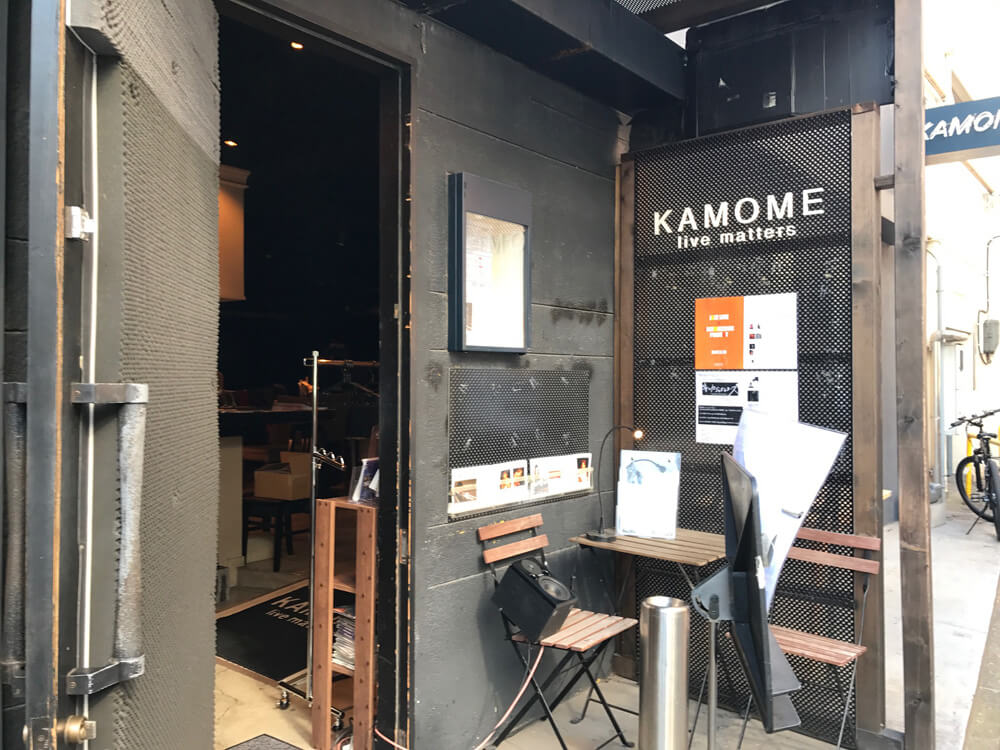 #6-76 Sumiyoshi, Naka ward
Yokohama, Kanagawa, 231-0013
Tel. 045-662-5357
Opened in 2004. Many young artists perform here, making it one of the most energetic live jazz houses in Yokohama. The modern-style sofas and tables are popular with female customers. It was also used as a location in the 2007 movie "Lost Love". Numerous CS music specialty channel, "Music Air" recordings were also done here.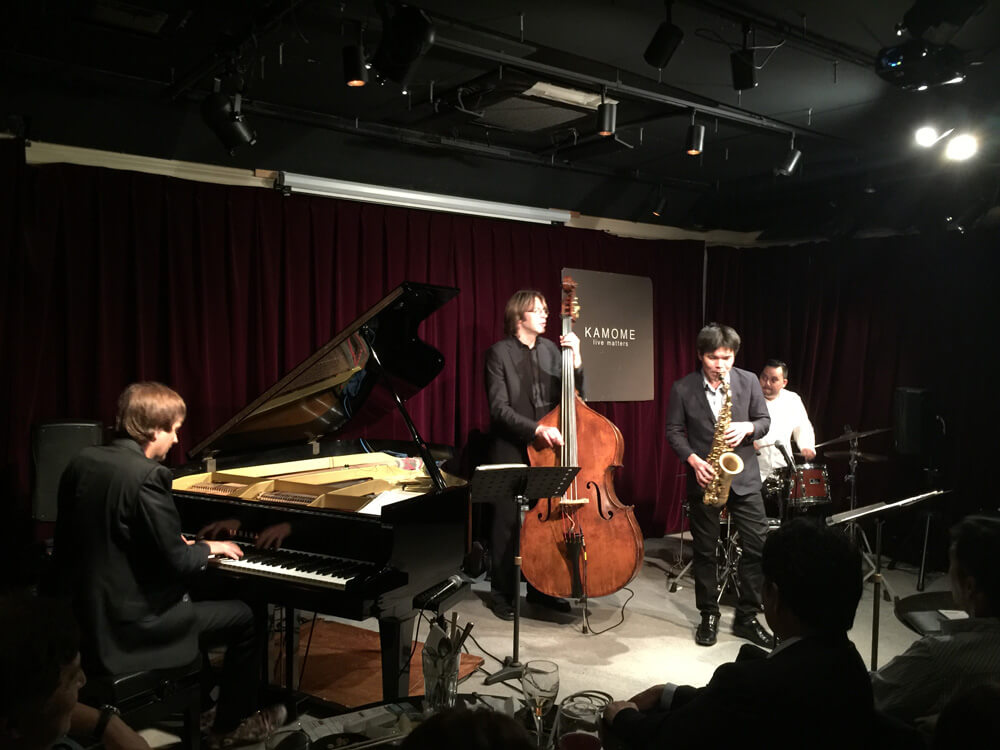 Yan Lundgren Trio, featuring Yousuke Sato.

7. Motion Blue Yokohama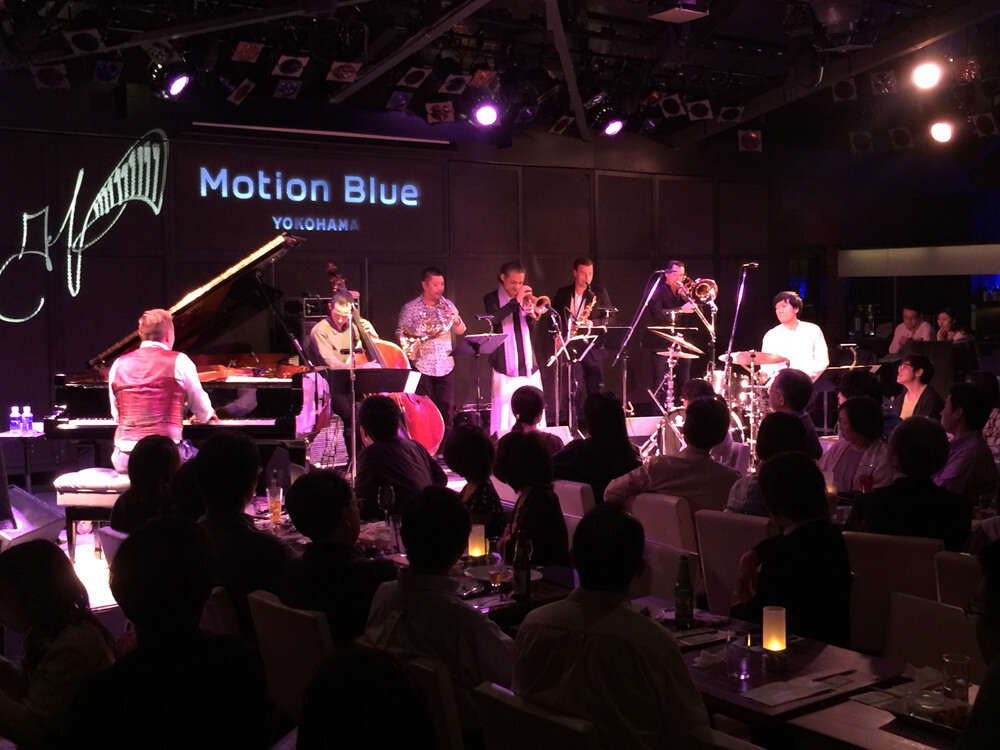 Jef Neve

#1-2-2 Shingo, Naka ward
Yokohama Red Brick Warehouse #2, floor 3
Yokohama, 231-0001
Tel. 045-226-1919
http://www.motionblue.co.jp/
A live house that's part of the Blue Note Japan chain. It is an important spot in the Yokohama jazz scene, having seen many performances from both native musicians and musicians from overseas.
【Recommended Live Shows】
•February 9th (Thursday)
NORI SHIOTA & RIYOKO TAKAGI & SENRI KAWAGUCHI
with Special Guest MASAHIKO KITAHARA
Bassist/Producer/Engineer Nori Shiota will perform together with Riyoko Takagi (p), who is known for being a "busty star" and Senri Kawaguchi, who received worldwide attention as a female drummer. Tokyo Ska Paradise Orchestra's Masahiko Kitahara will be a guest star.
6:00pm open
7:30pm start
•February 28th, Tuesday
Yosuke Onuma, x U-zhaan, special session.
Yosuke Onuma's first performance after returning to Japan, having just finished his Paris performance. A session for the two, who became a sensation after being introduced in 「GUITAR MAGAZINE」, has become a reality!
6:00pm open
7:30pm start