Art/Photography
I thoroughly enjoyed "Vietnam Festa in Kanagawa 2016" for 2 days that made me love Vietnam!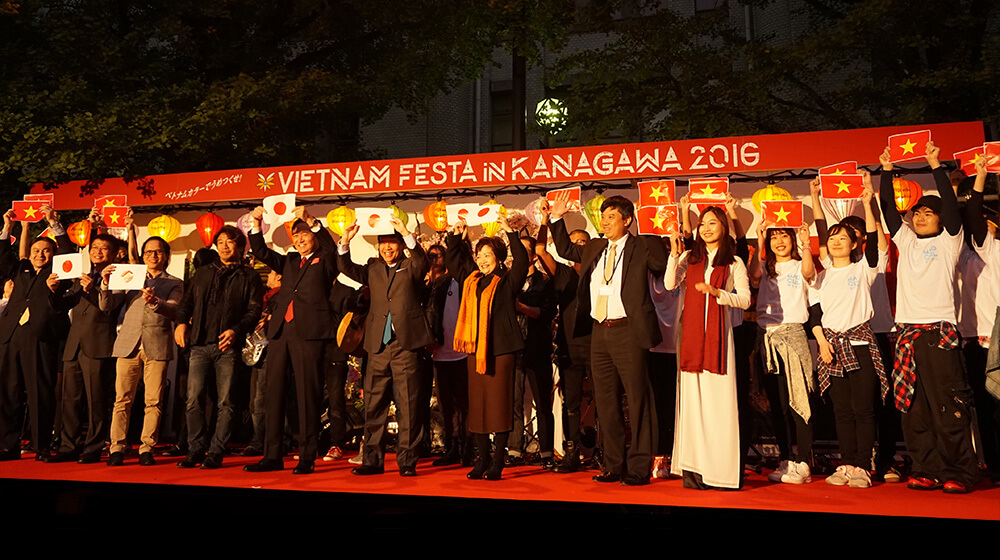 Check out the event timetable!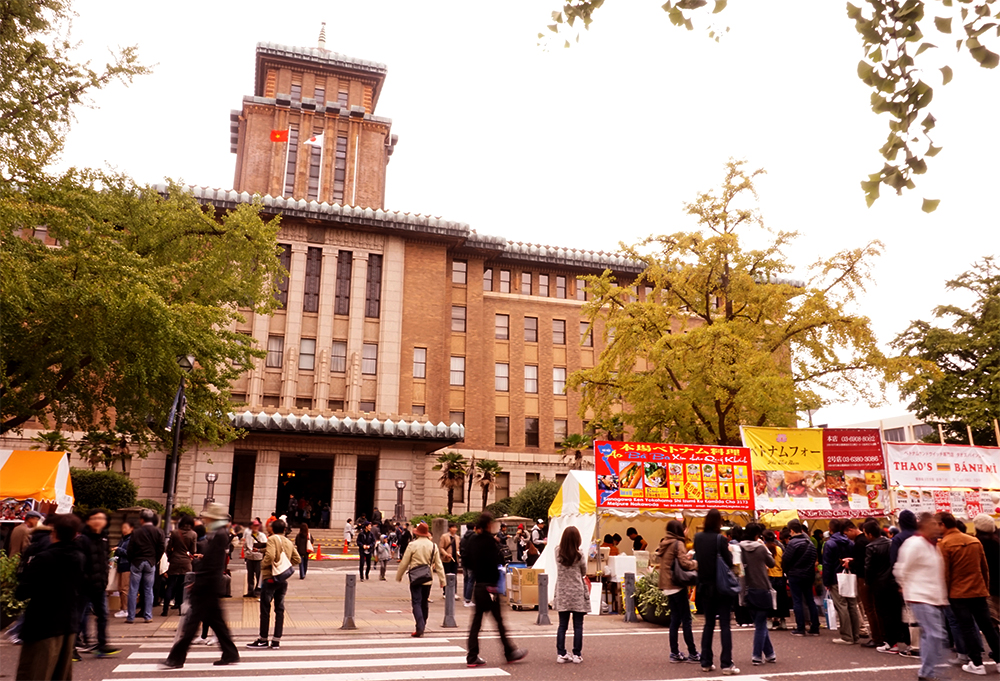 The dates are October 29th (Sat) and 30th (Sun). First of all, check the contents and timetable of the events held around the venue on the website of "Vietnam Festa in Kanagawa 2016" .
After getting off at Kannai Station, we crossed Yokohama Stadium, which was very excited this year due to the success of the BayStars, and headed to the main area, Nihon Odori.
During the exhibition, it became a pedestrian paradise and many stalls were already lined up. There is a special stage in the middle of the street where various music and performances are held.
At the Kanagawa Prefectural Government Conference Hall, there are piano recitals and speech contests for international students, and at Zou-no-hana Park, there is a stage for Vietnamese folk performing arts, the water puppet show. When "moving lantern night" is held...!
There was so much to see that I was at a loss as to what to focus on, but I was so drawn to this "Lantern Night" that I decided to visit the venue from the evening on Saturday.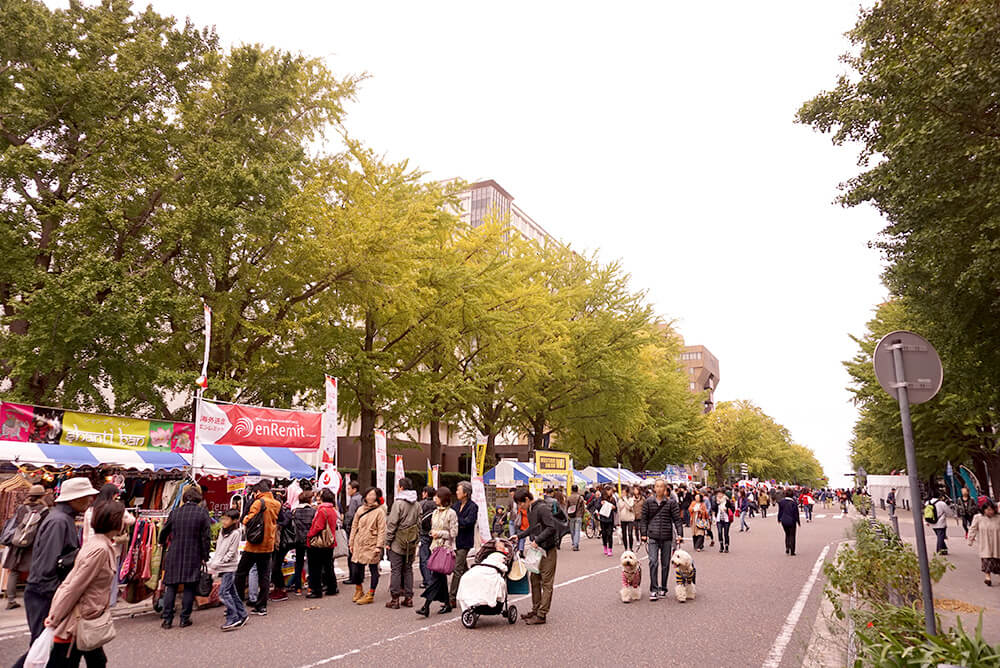 The ginkgo trees along Nihon Odori, with the faint scent of ginkgo, have turned a little yellow. That's what it feels like. The best time to see them is late November to early December.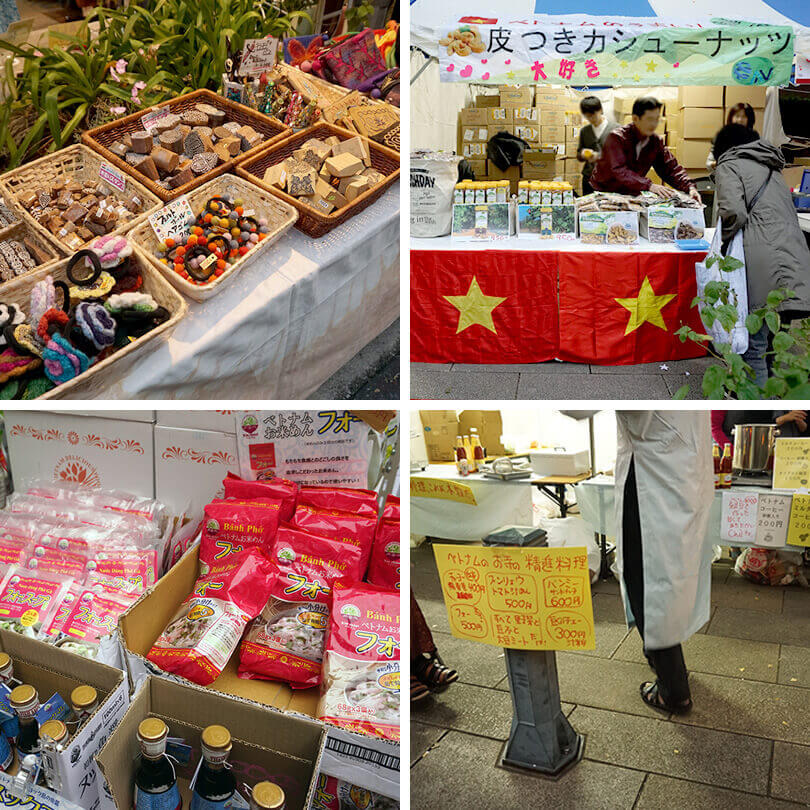 Take a leisurely walk through Japan Odori in late autumn while browsing the stalls. But when the sun went down, it suddenly started raining heavily! !
Unfortunately, "moving lantern night" has been cancelled.
I wanted to see the scenery of many fantastic lanterns lit, but should I save it for next year? There was an exhibition of lit lanterns in front of the prefectural office, so this time we will introduce it.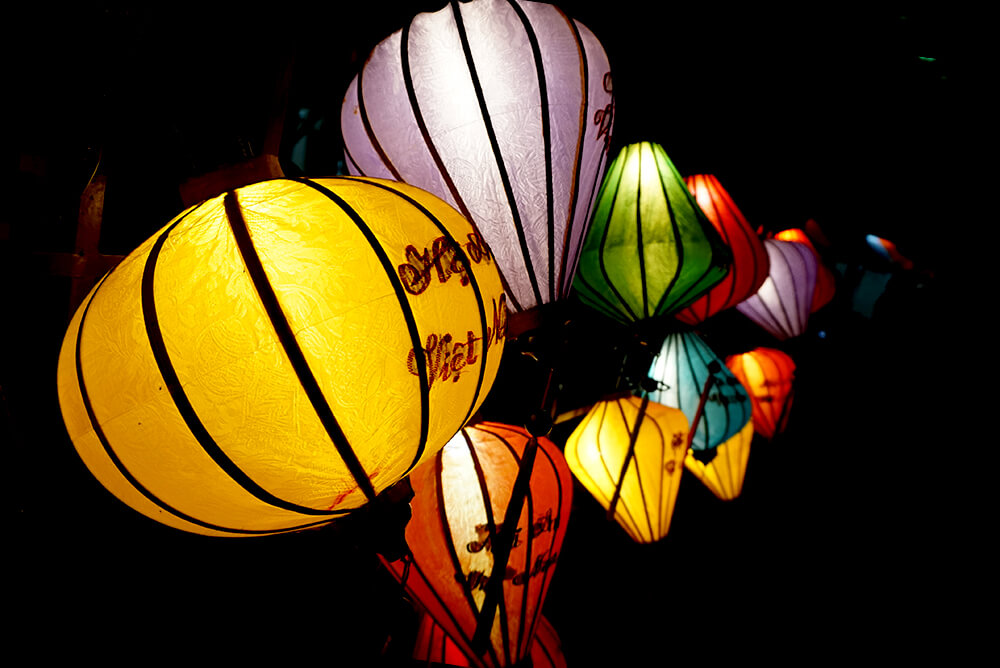 It was a pity that it rained, but I was able to see Asuka II sailing from Osanbashi. The steam whistle whistling in the scenery of the harbor as night falls, and you can enjoy the scenery of Yokohama.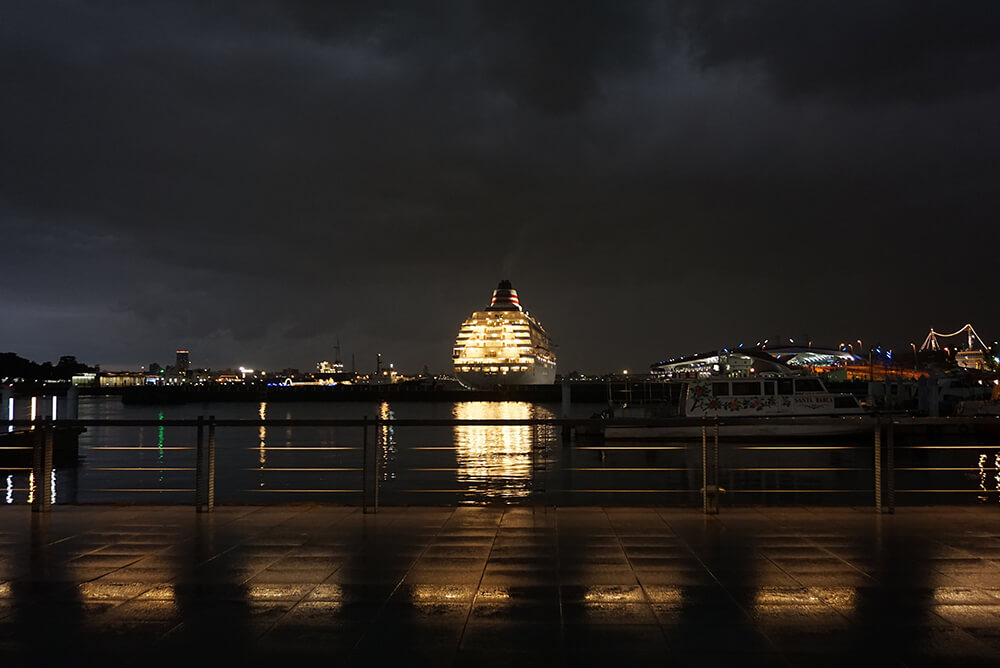 The ship sailing scenery is romantic.
Start the second day with a Vietnamese rice lunch
By the way, on the second day, it was cloudy on this day as well, but it doesn't seem to rain. However, this day was a very cold and cold day.
I have an image of Vietnam as a tropical country, but the general store that opened the store had warm goods according to the season, so I immediately bought gloves. There are a lot of pouches of felt miscellaneous goods, and each one is very cute!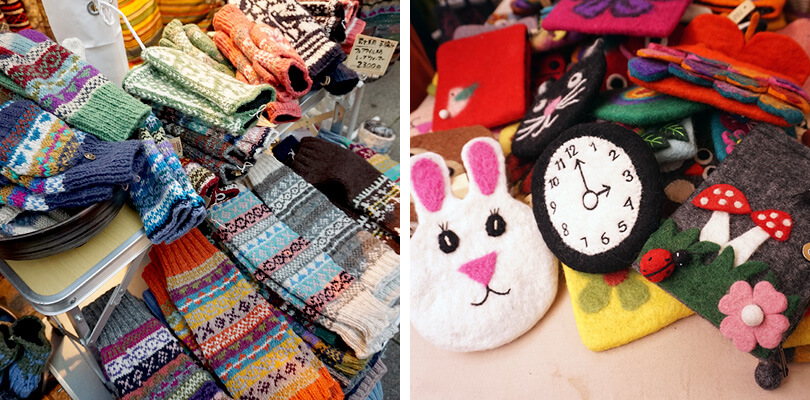 By the way, there are so many delicious-looking rice here and there that I'm wondering where to eat lunch.
Speaking of Vietnam, is it pho? Can I remove the spring rolls too? I also want to drink a sweet and delicious Vietnamese coffee with condensed milk.
Whether it's a stall or a dry goods store, Vietnamese food is very popular everywhere!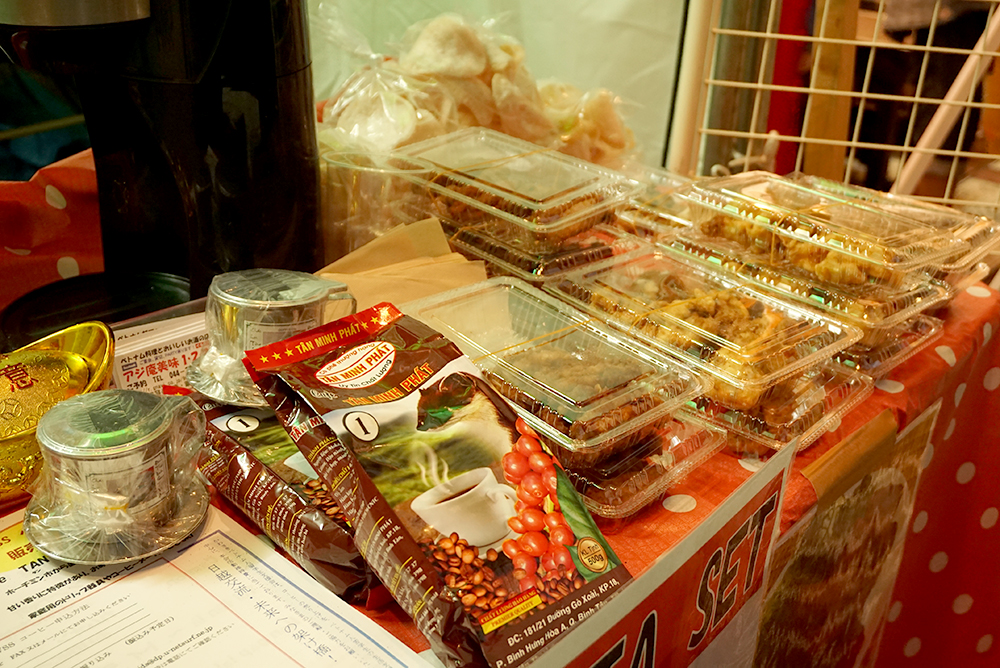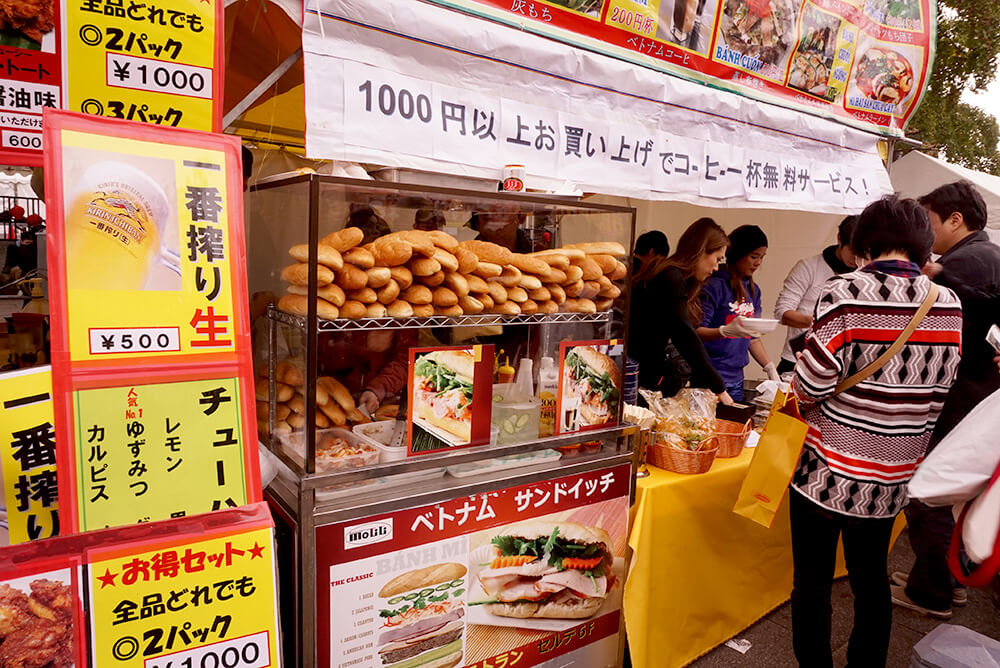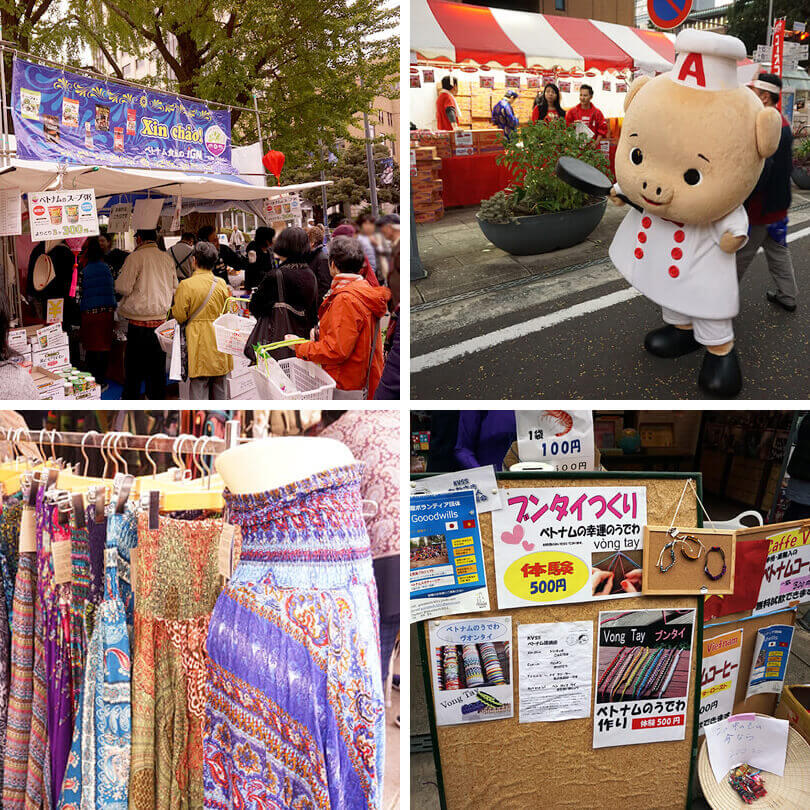 While looking at miscellaneous goods here and there, encountering mascot characters, and shopping and eating, I went back and forth on Nihon Odori several times, and then headed to Zou-no-hana Park.
First of all, I will go to see a water puppet show called Vietnamese folk art. It is said that this is a pastime that the people of Vietnam's farming villages prayed for a good harvest and has a history of 1,000 years.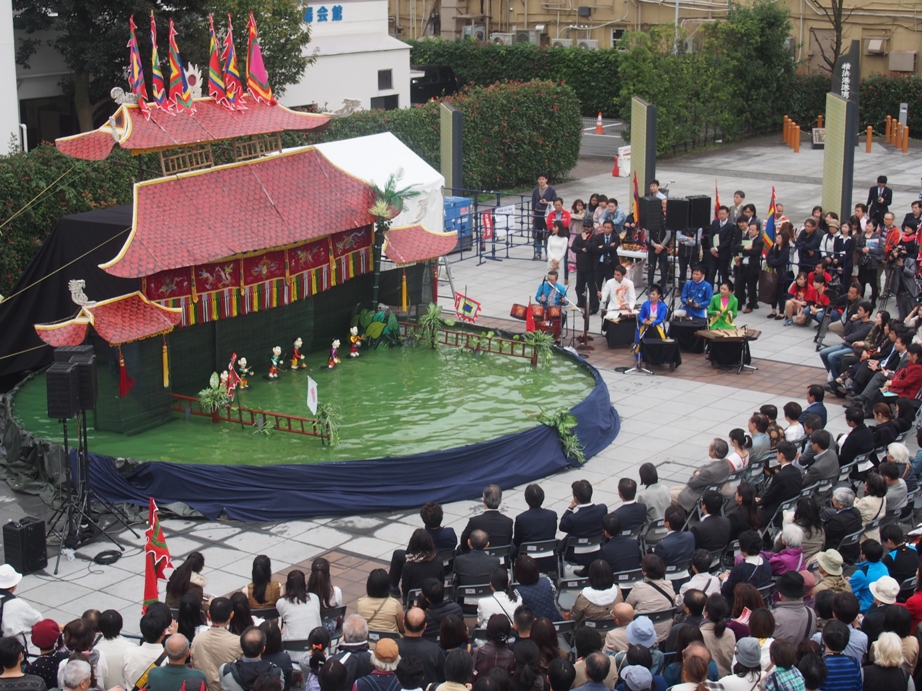 Already many!
It's hard to see the front, so go up to the train road and appreciate it from above. Various dolls and dragons come out and move on the water to the music of traditional Vietnamese instruments.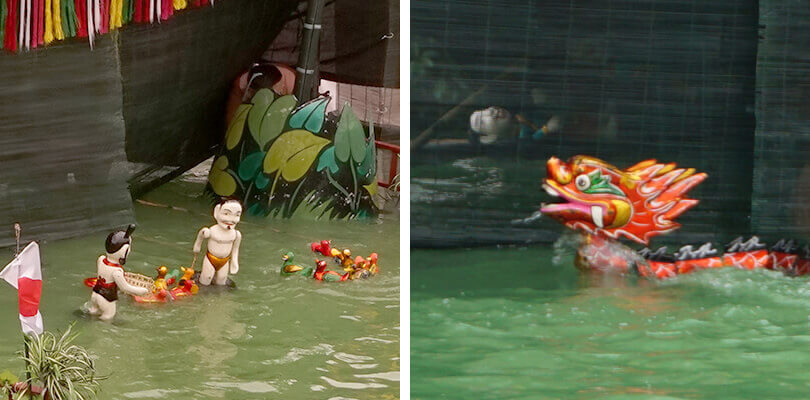 It was a distant view, but the expression of the doll was very humorous and cute.
Enjoy the live performance at the end!
After this, we will return to Nihon Odori again and watch live performances on the main stage.
The final stage of this event will feature the MTV band , a popular male group in Vietnam.
Furthermore, on their stage, future musical star eggs, Magcal Performing Arts Academy students will collaborate and dance together to make it exciting, so I'm looking forward to it!
The stage of the Vietnam Contemporary Theater had just started on the Nihon Odori stage. First of all, women dance in colorful costumes.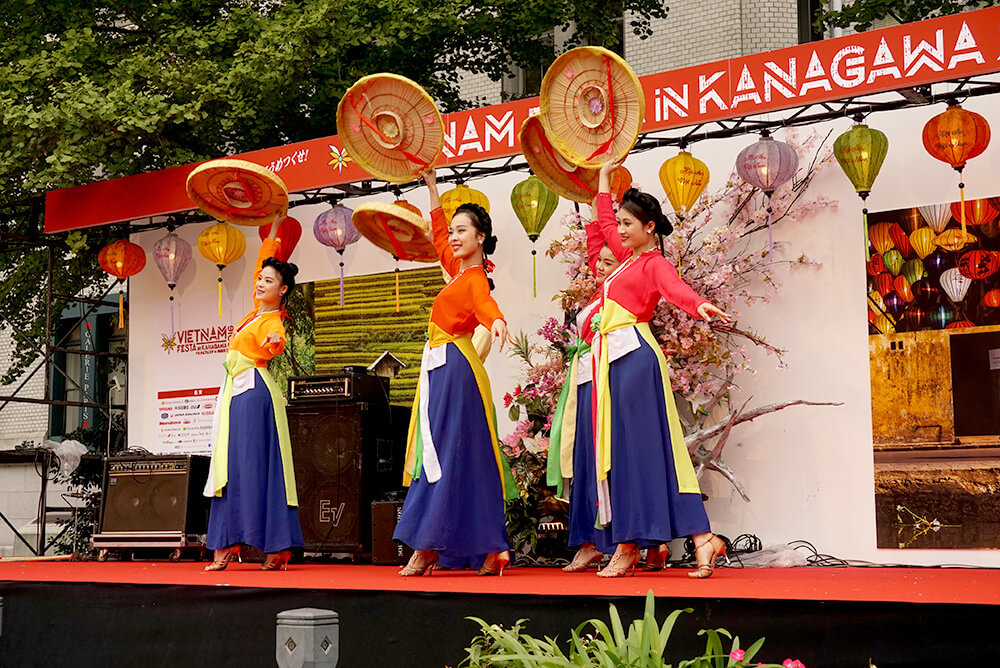 It is a dance that is just like "mai" with a relaxed, elegant and soft demeanor. It was elegant and beautiful!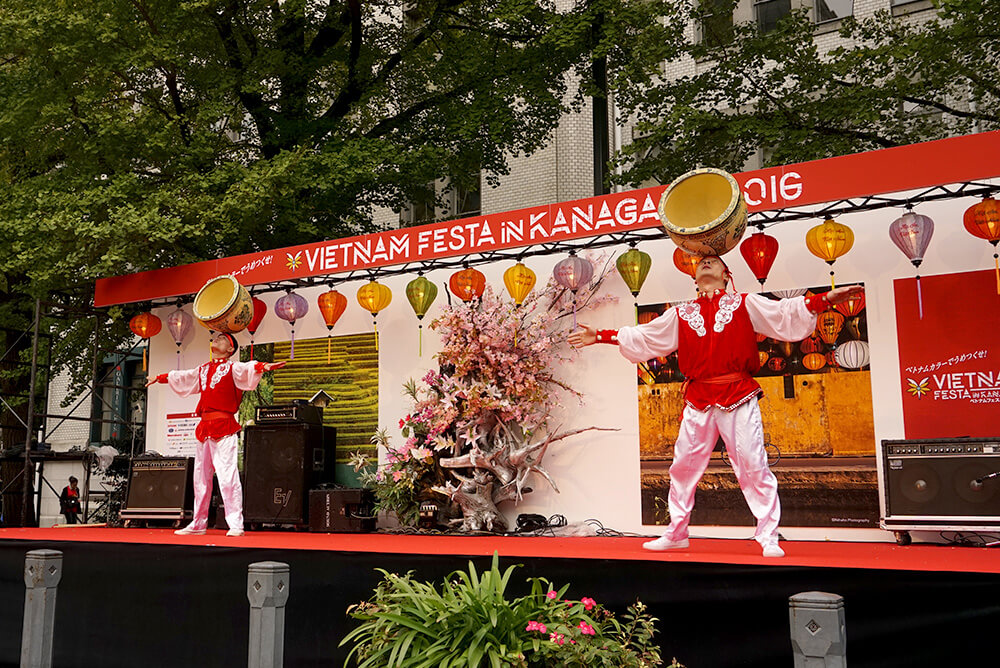 Then two men with big pots come out. It looks pretty heavy, but you can put it on your head and balance it with Chinese music, pass each other, and catch it on your back.
Then came a female singer. She sang Mayumi Itsuwa's hit song "Koibito yo" in Japanese with a lot of emotion.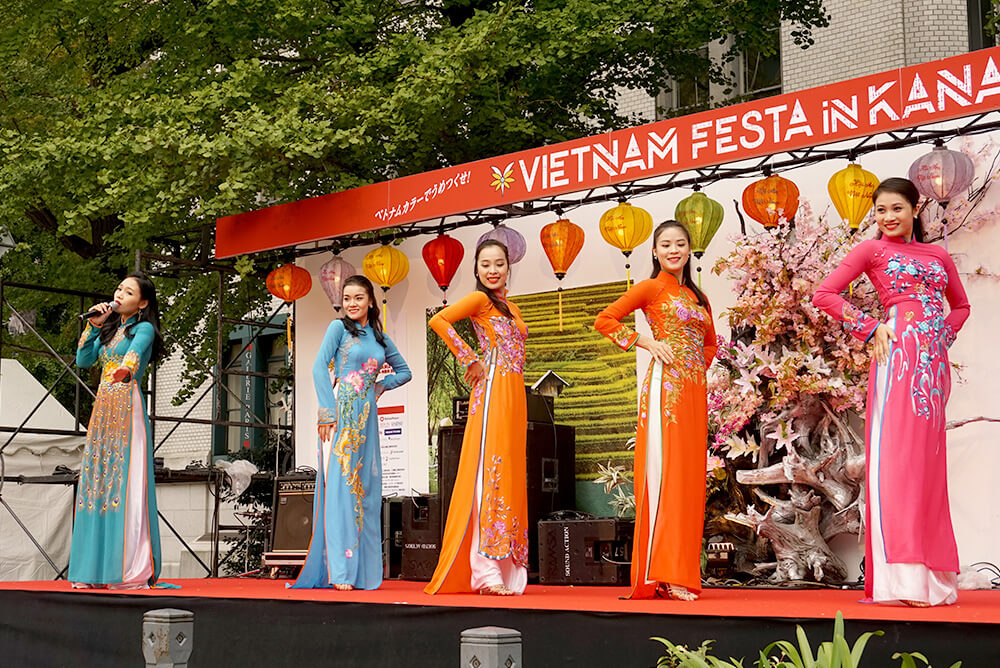 Ao dai, the national costume of dancing princesses, is very beautiful. I feel that many Vietnamese women have good style. Is it because you can't wear Ao Dai if you don't have a good style? ?
Before long, it began to get dark, and the stage with the MTV band special concert with Magcal Performing Arts Academy, which decorates the end of this event, has begun!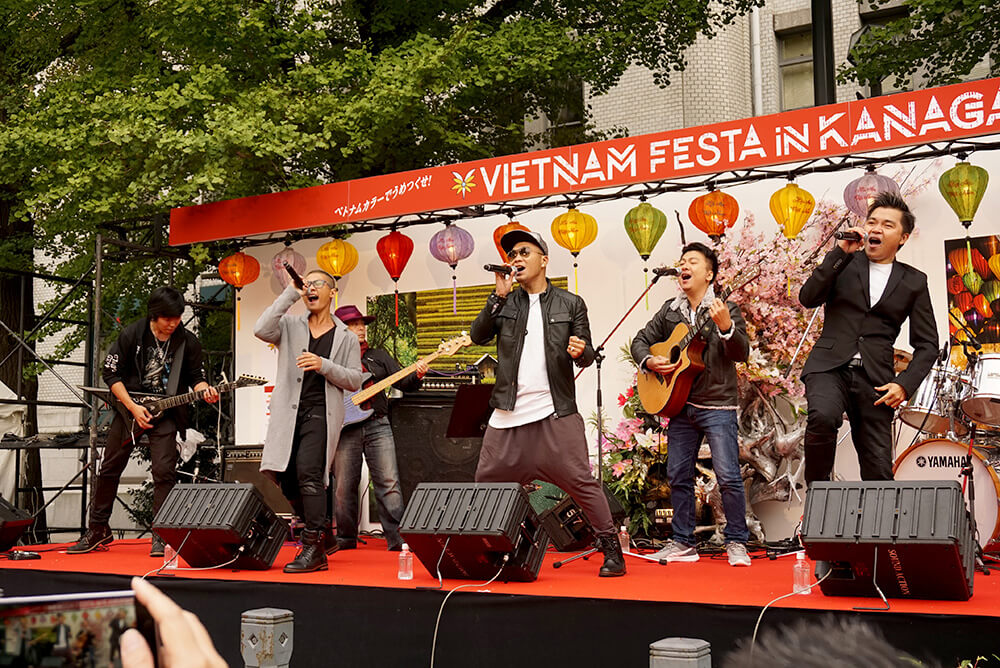 A lively stage with three vocals, harmonies, and rap. There are many fans in the audience! Everyone is dancing in high spirits.
In the midst of the excitement, Governor Kuroiwa, who was in the guest seat, was pulled onto the stage!
Then, everyone sang "Let's turn up and walk". Governor Kuroiwa is actually good at singing.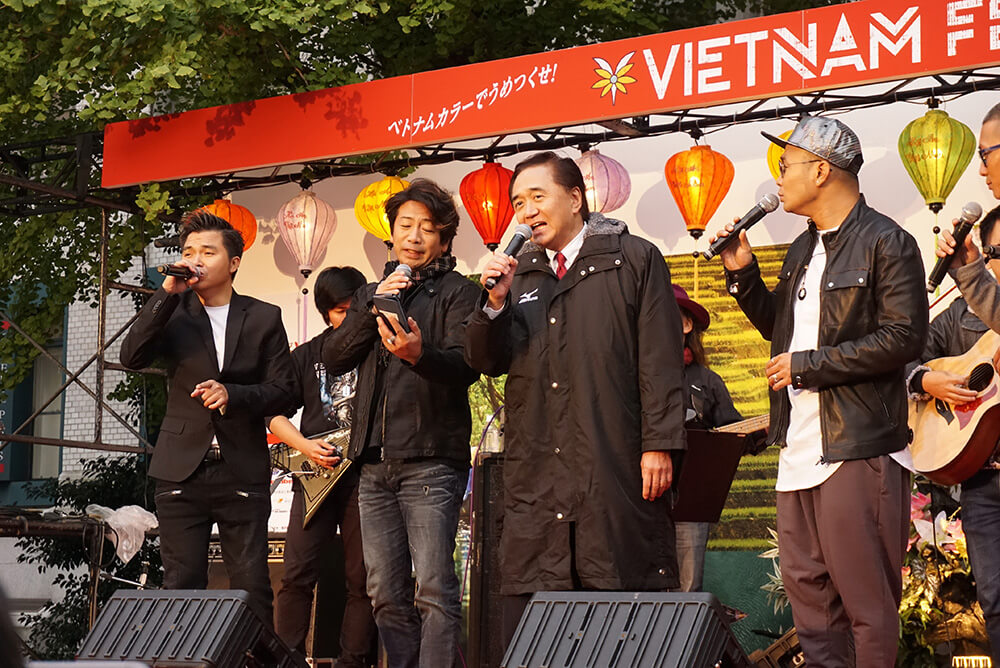 In addition, the students of the Magcal Performing Arts Academy, who had already been excited with the rhythm since they were on the stage sleeves, entered! Let's liven up the stage with dance! !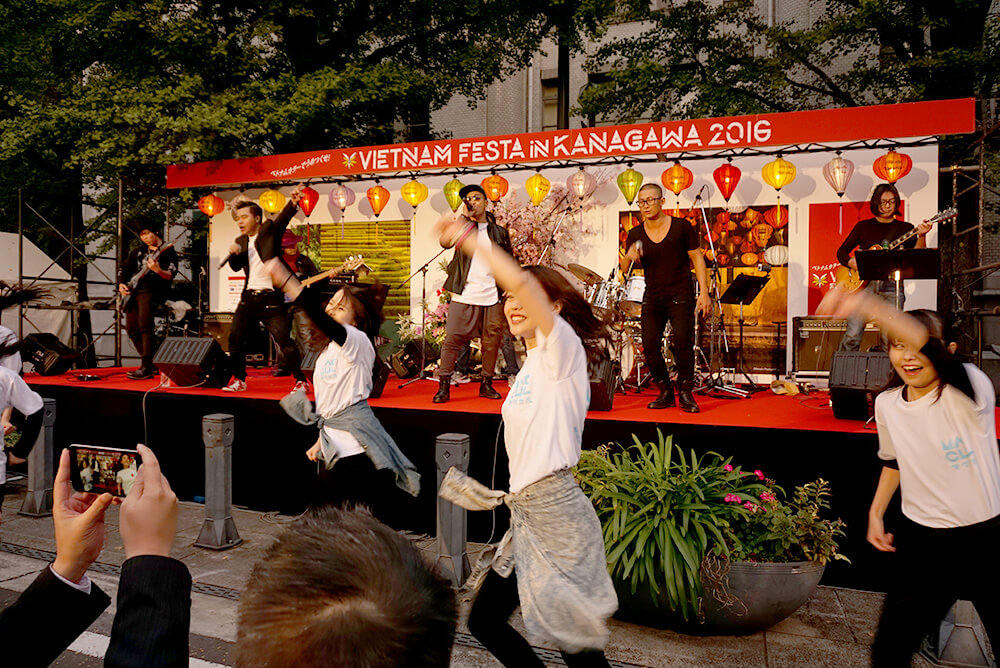 Liven up the venue with a hot dance!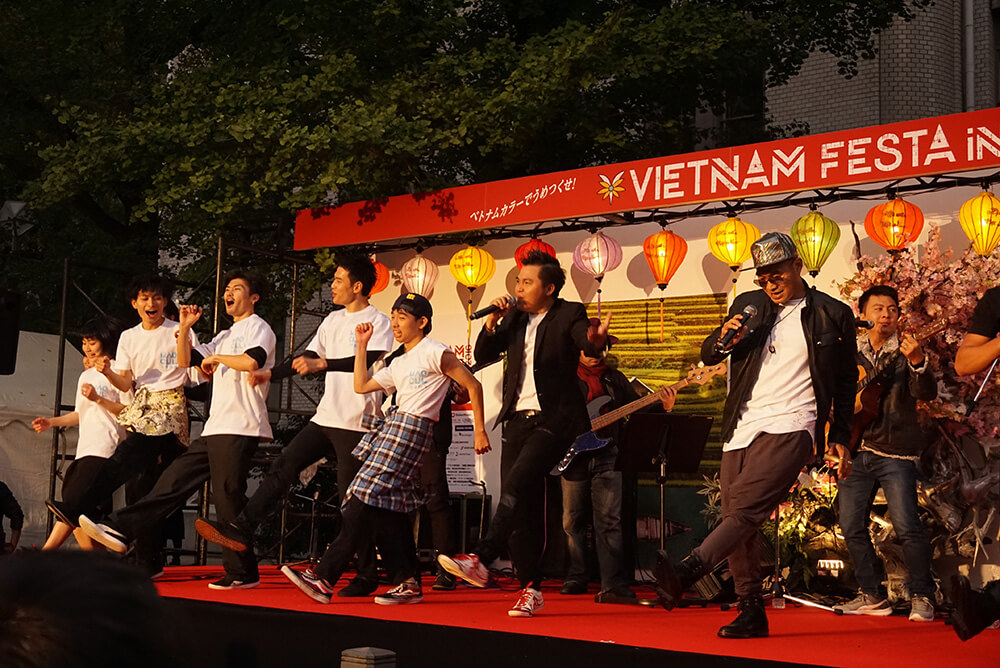 On stage with MTVband! Anyway, I'm full of energy!
Before I knew it, there were a lot of people around the stage. This year's Vietnam Festa ended with a lot of excitement. It was a very fun and wonderful stage! !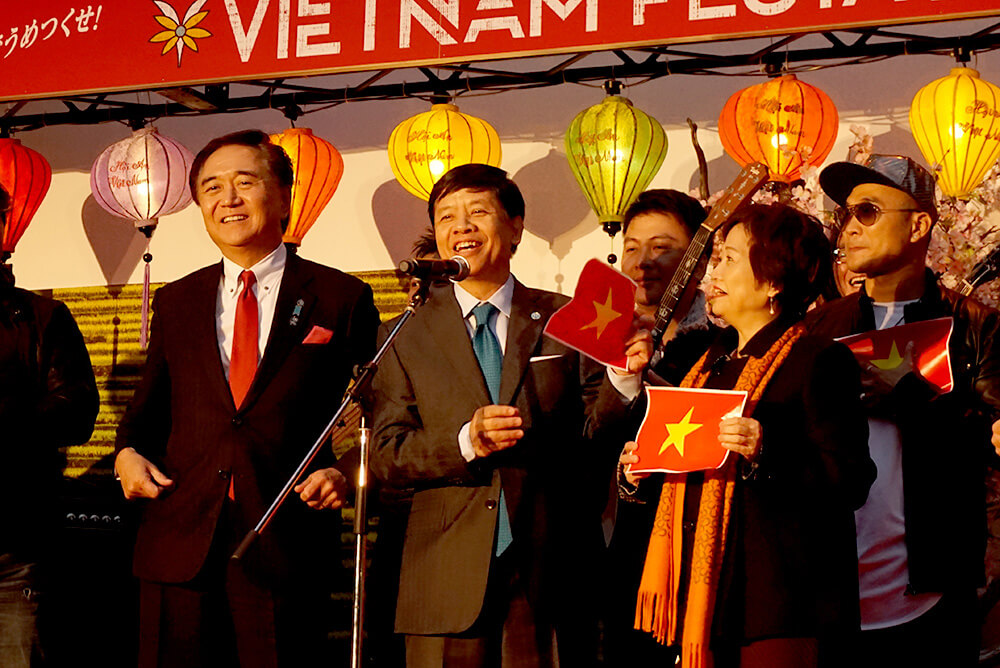 In the closing remarks, Governor Kuroiwa declared to Nguyen Quoc Cuong, Ambassador of Vietnam to Japan, "We will make this Vietnam Festa an annual autumn event!" ( See Governor Kuroiwa's blog )
We are looking forward to next year's event! I would like to look forward to it.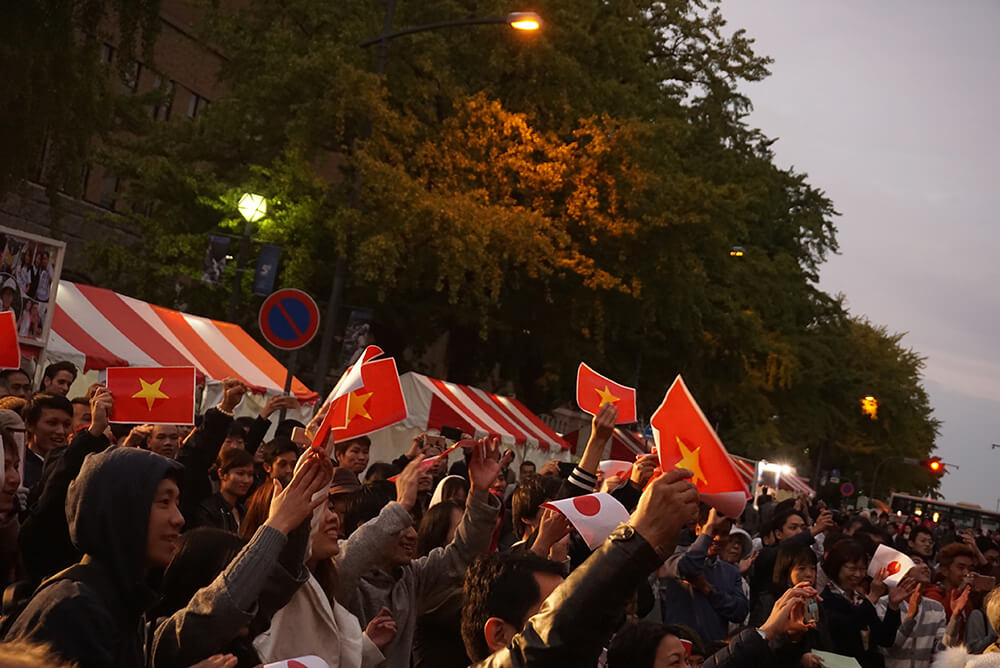 It was a two-day report where I was able to feel Vietnam as a very close and friendly country by touching the "now" of Vietnamese food and culture, traditional arts and music, and live performances by popular bands.