Art and photography
2016.11.22
I enjoyed "Vietnam Festa in Kanagawa 2016" for 2 days when I love Vietnam!
(Please note that this page was created using Google's automatic translation service and understand that because of this, its translation may not necessarily be accurate.)
Check the event timetable!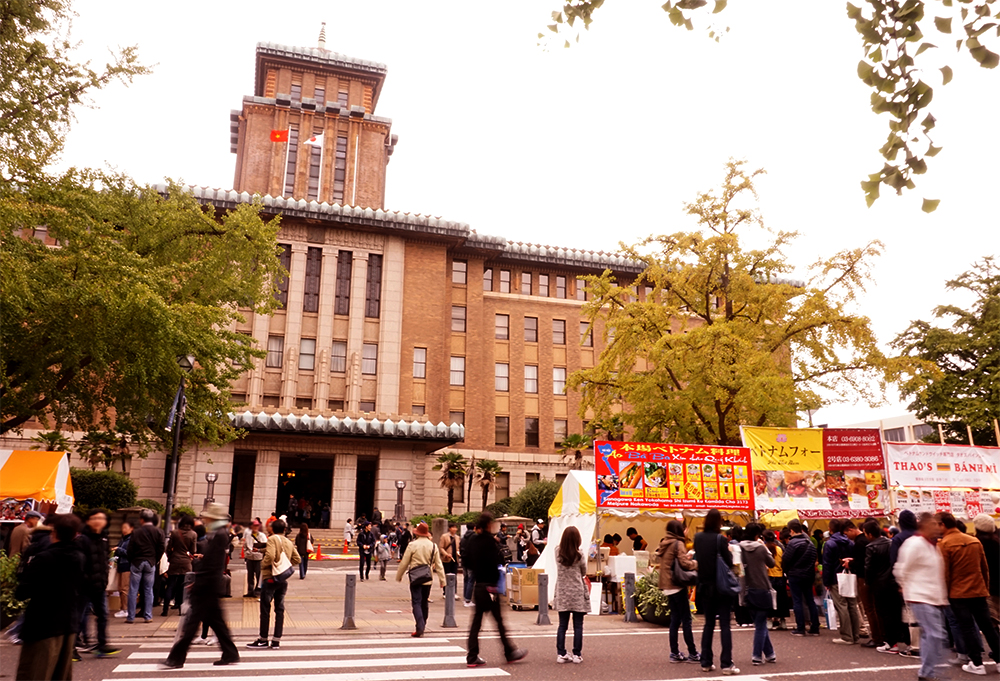 The dates are October 29 (Sat) and 30 (Sun). First of all, check the contents and timetables of the events held around the venue on the website of "Vietnam Festa in Kanagawa 2016" .
Get off at Kannai Station, cross the Yokohama stadium where the Baystars played a big role this year, and head to Nihon Odori in the main area.
During the exhibition, it was a pedestrian paradise and there were already many stores. There is a special stage in the middle of the street, where various music and performances are held.
The Kanagawa Prefectural Government Conference Hall has a piano recital and a speech contest for international students. At Elephant's Nose Park, there is a stage of Vietnamese folk art "Water Puppet Theater". When "Moving Lantern Night" is held ...!
I was worried about where to look around, but I was so attracted to this "Lantern Night" that I decided to visit the venue from the evening on Saturday.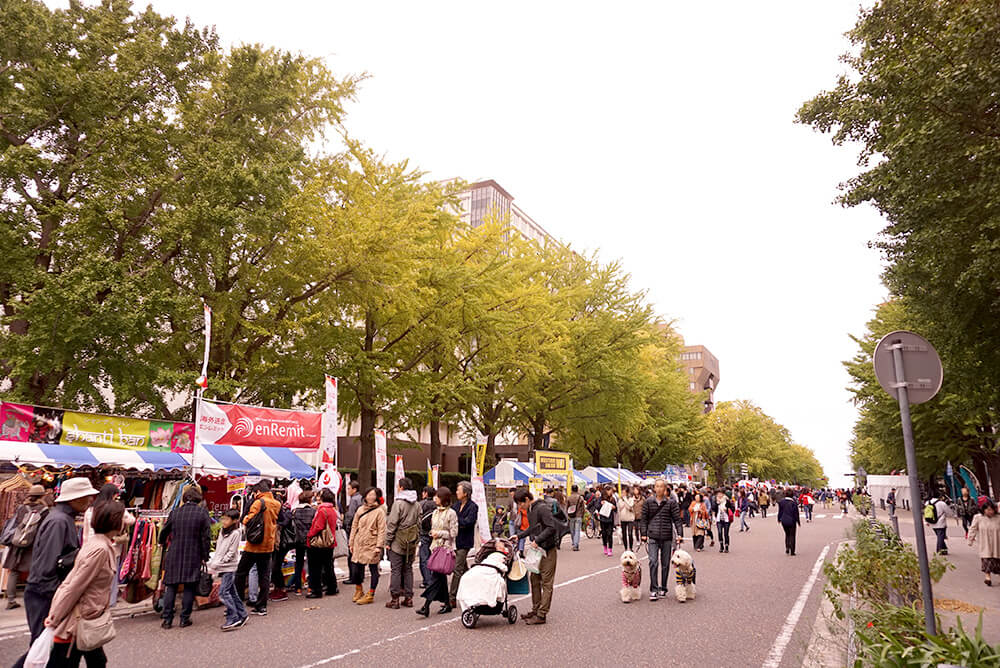 There were many people walking with dogs.
Is the Ginkgo tree lined up in Nihon Odori with a slightly scent of Ginkgo becoming slightly yellowish? It is a feeling. Is the best time to see from late November to early December?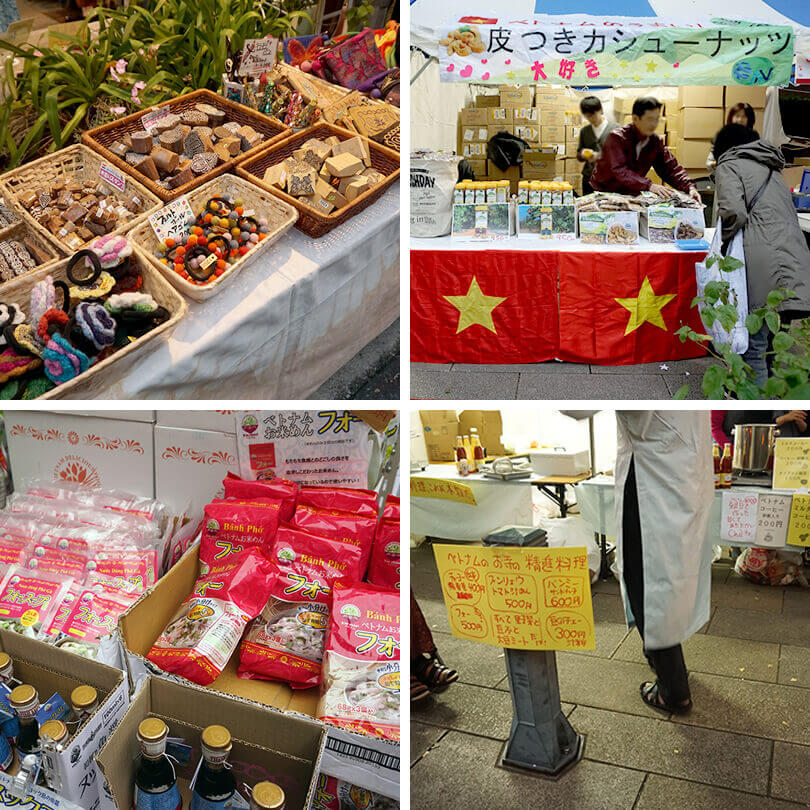 While walking around the main street of Nihon-dori in the late fall However, sudden heavy rain since the sunset ! !
Unfortunately, "Moving Lantern Night" has been canceled ...
I wanted to see a landscape with lots of fantastic lanterns, but is this going to be fun again next year? There was a lighted lantern exhibition in front of the prefectural office.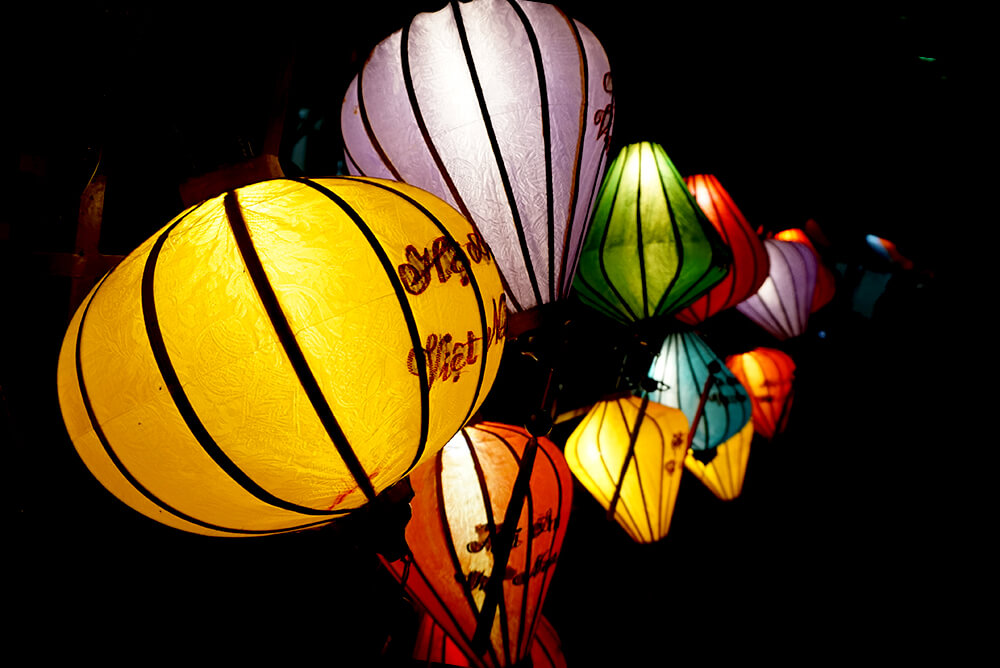 Vietnamese lanterns, vibrant and beautiful!
The rain was really disappointing, but just seeing Asuka II sailing out of Osanbashi Was done. Enjoy the whistling whistles in the harbor scenery that has become dark at night, and the Yokohama scenery.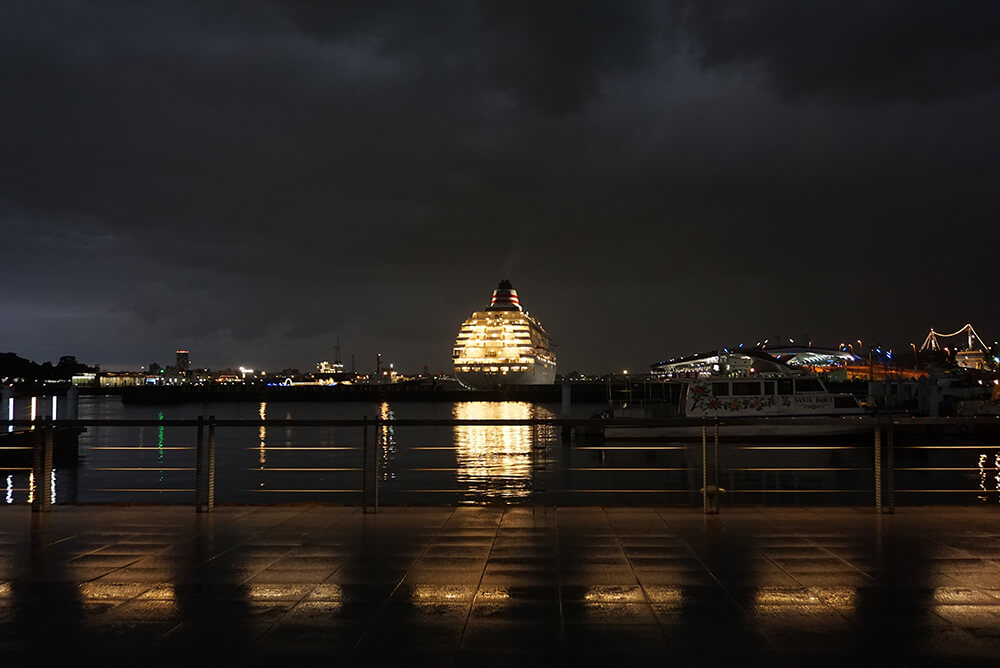 The sailing scenery of the ship is romantic
The second day starts with Vietnamese rice lunch
Now, on the second day, it was cloudy again, but it seems that it will not rain. However, this day was a chilly day.
Vietnam is an image of a southern country, but at the store that opened the store, warm goods were lined up according to the season, so I bought gloves. There are a lot of pouches for felt goods and each one is very cute!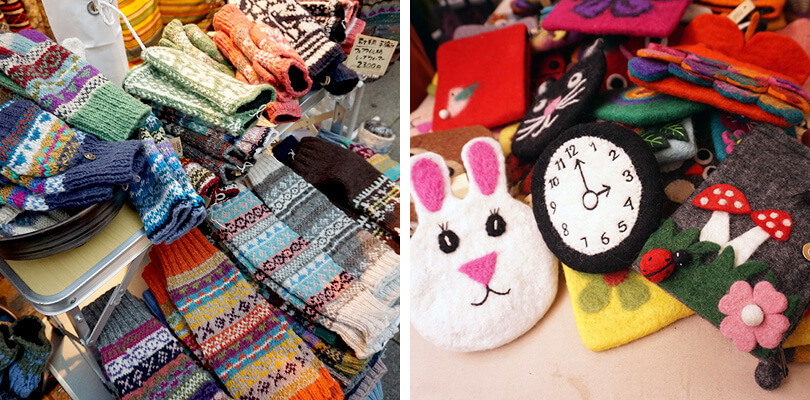 Now, there are a lot of delicious dishes all over you so you don't know where to eat lunch.
Speaking of Vietnam? Can you remove the spring rolls? I also want to drink sweet and delicious Vietnamese coffee with condensed milk.
Whether it 's a food stall or a dry food store, Vietnamese food is a very popular procession!
: //magcul.net/wordpress/wp-content/uploads/2016/11/DSC05320.jpg "alt =" vietnam-008 "width =" 1000 "height =" 668 "class =" aligncenter size-full wp-image -31039 "/> Good smell of fried chicken!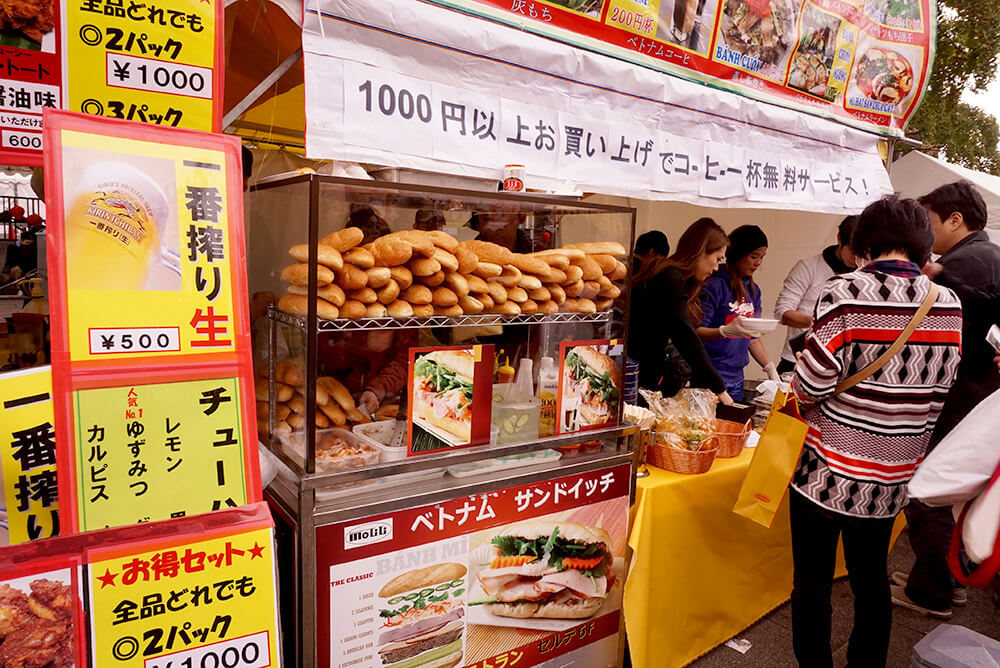 Popular Vietnamese sandwich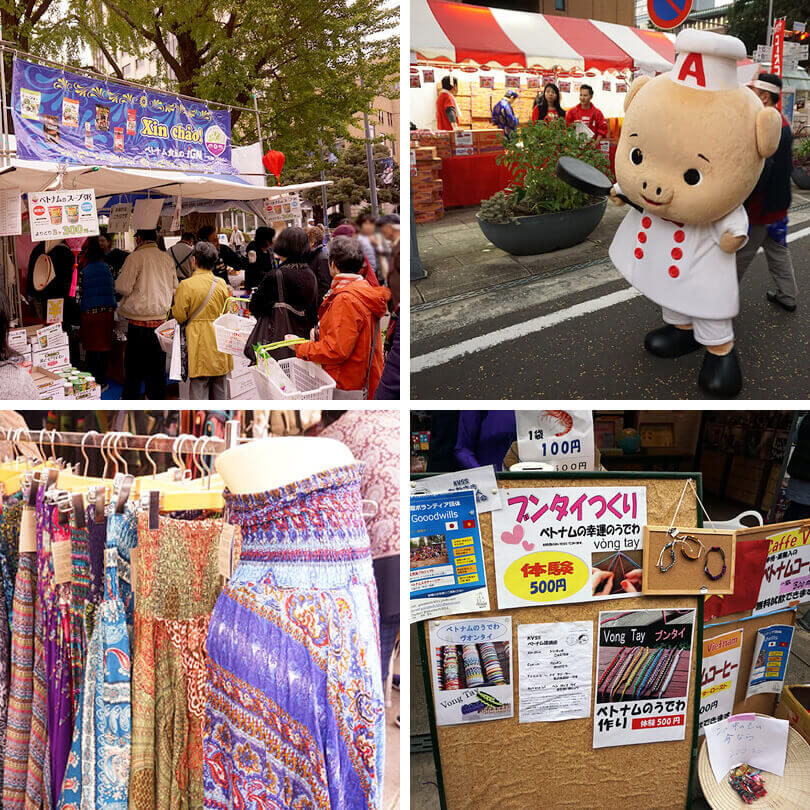 The upper right is the acecock character Kobuta (Copyright © 2016 Acecock Co., Ltd.)
We went to the elephant nose park next time, looking at miscellaneous goods, encountering loose characters, and going back and forth several times on Nihon Odori while buying and eating.
First of all, we will go to see a water puppet show called Vietnamese folk performing arts. This is an amusement that a farmer in Vietnam prayed for a good harvest and has a thousand years of history.
014 "width =" 1000 "height =" 603 "class =" aligncenter size-full wp-image-31043 "/> There was a special stage in the elephant nose park
Many people already!
It 's hard to see the front, so go up the train and enjoy watching. Various dolls and dragons come out and move on the water according to the music of Vietnamese traditional instruments.
It was a long distance, but the expression of the doll was humorous and cute.
Enjoy the live performance at the end!
After this, we will return to Nihon Odori and watch live and performance on the main stage.
The last stage of this event will feature the popular male group MTV band in Vietnam.
In addition, students of the future musical star Eggs, Magcal, Performing Arts Academy collaborate on their stage, and we are looking forward to seeing you dancing and excitement!
On the Nippon Odori stage, it 's just the Vietnam Contemporary TheaterThe stage has begun. First of all, women dancing in colorful costumes.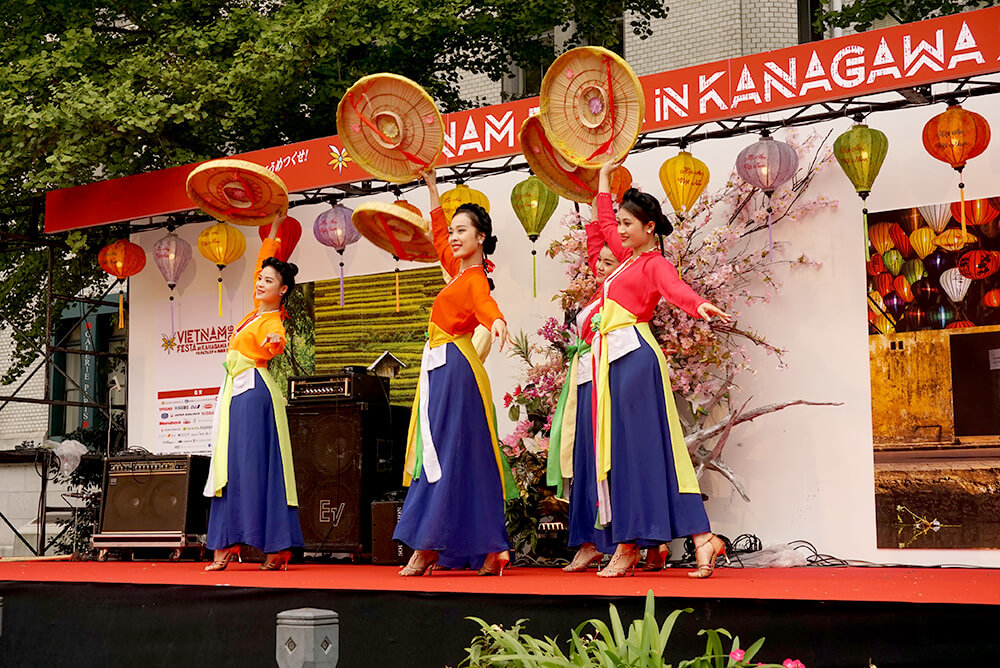 A dance like "dance" with a relaxed, elegant and soft attitude. It was elegant and beautiful!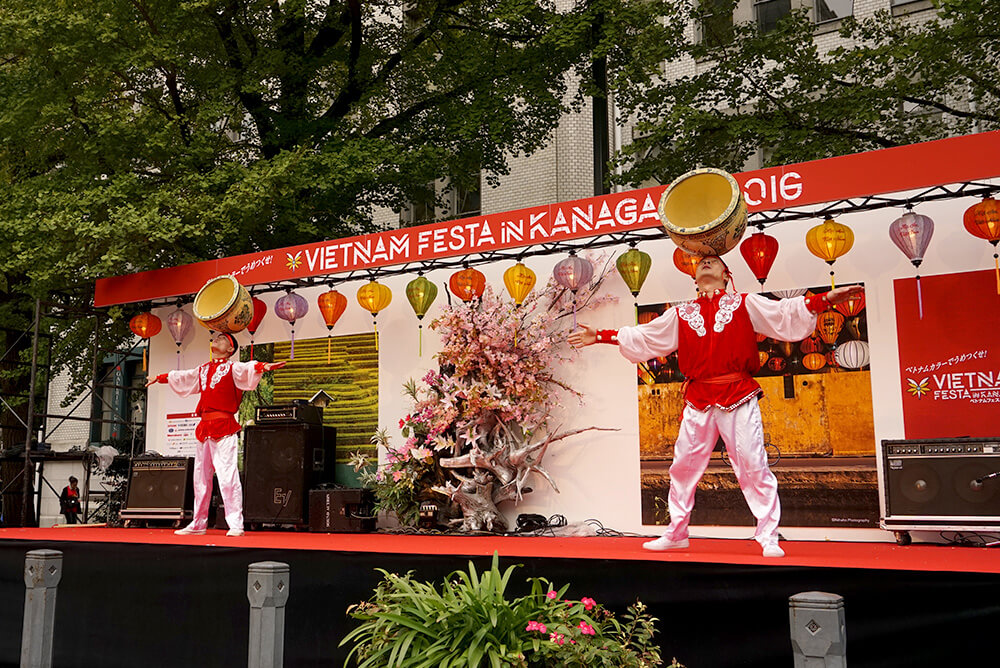 Then two men with big points appear. It looks pretty heavy, but it's superb to balance with Chinese-style music, pass each other, and catch it with your back!
Next comes a female singer. He sang the Mayu Otome-san's hit song "Loversyo" in Japanese with plenty of emotion.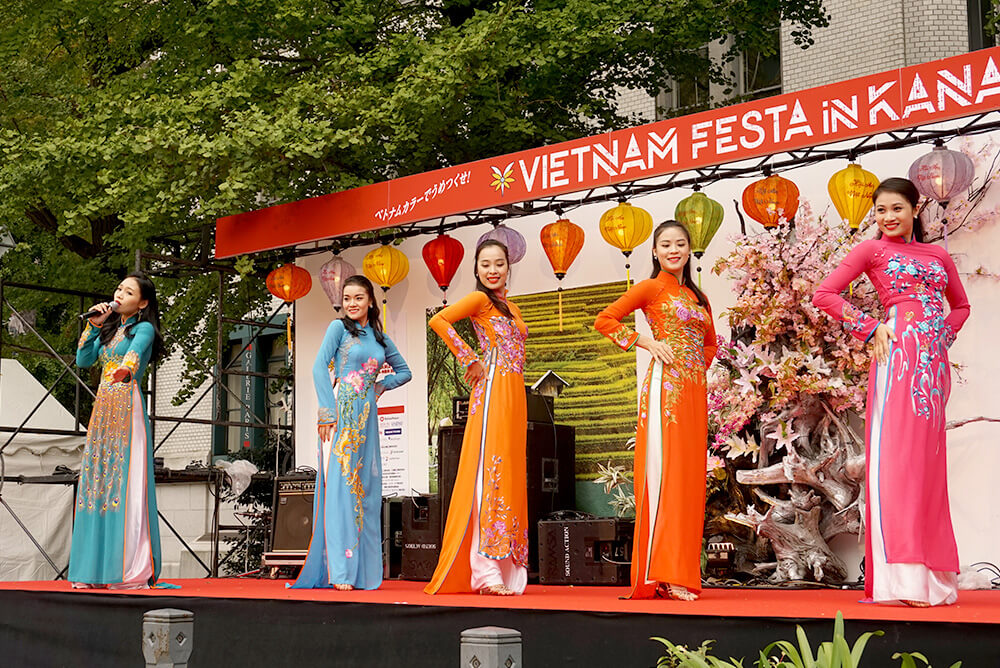 Ao Dai, the dancer's national costume, is very beautiful. I feel that many Vietnamese women have good style. Ao Dai can't be dressed without a good style? ?
Someday, it will begin to darken, this time Ibe The stage with the MTV band special concert with Magcal Performing Arts Academy is now on display !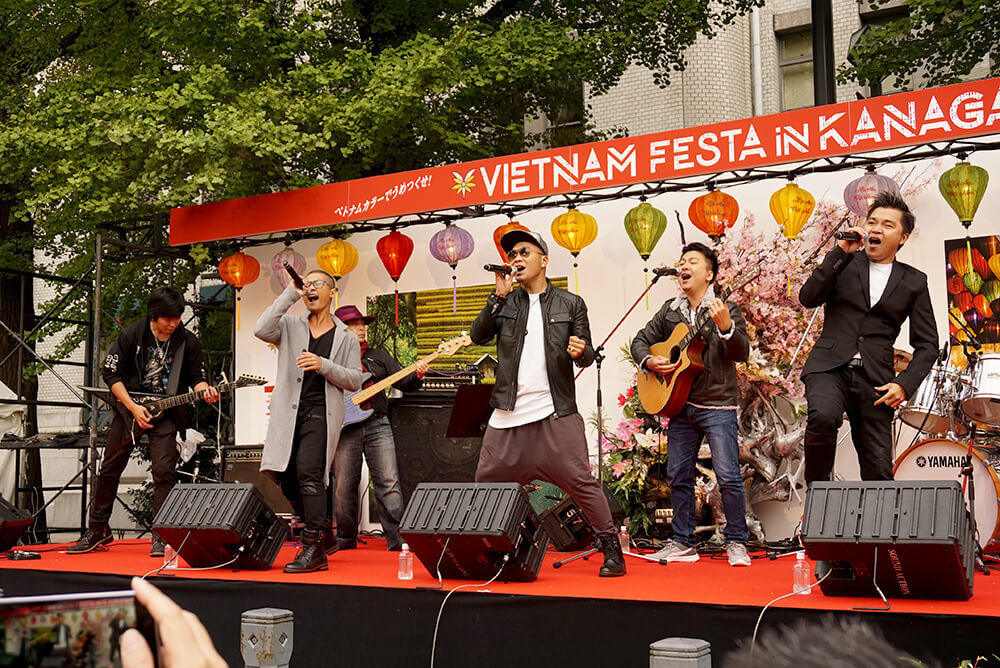 A stage with 3 people vocals, hamori, and rap. There are many fans in the audience! Everybody is dancing with nori nori.
Governor Kuroiwa, who was in the guest seat in the middle of the midst of enthusiasm, was pulled up to the stage!
And everyone sang "Let's walk up". Governor Kuroiwa is really good at singing.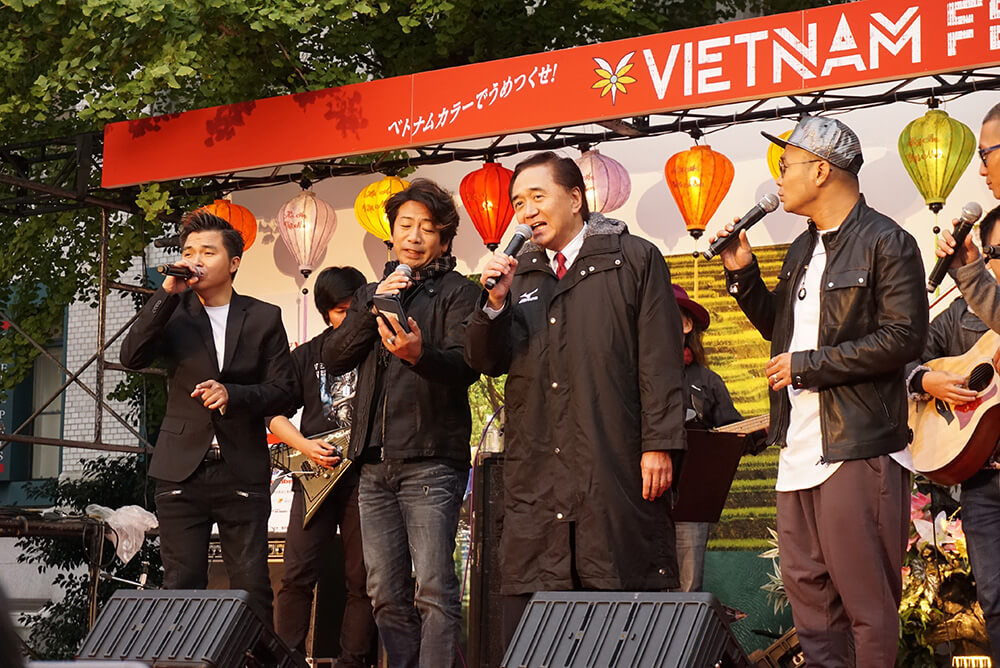 In addition, students from the Magcal Performing Arts Academy who had already been excited by the rhythm since they were on the stage sleeves have entered! Energize the stage with dance! !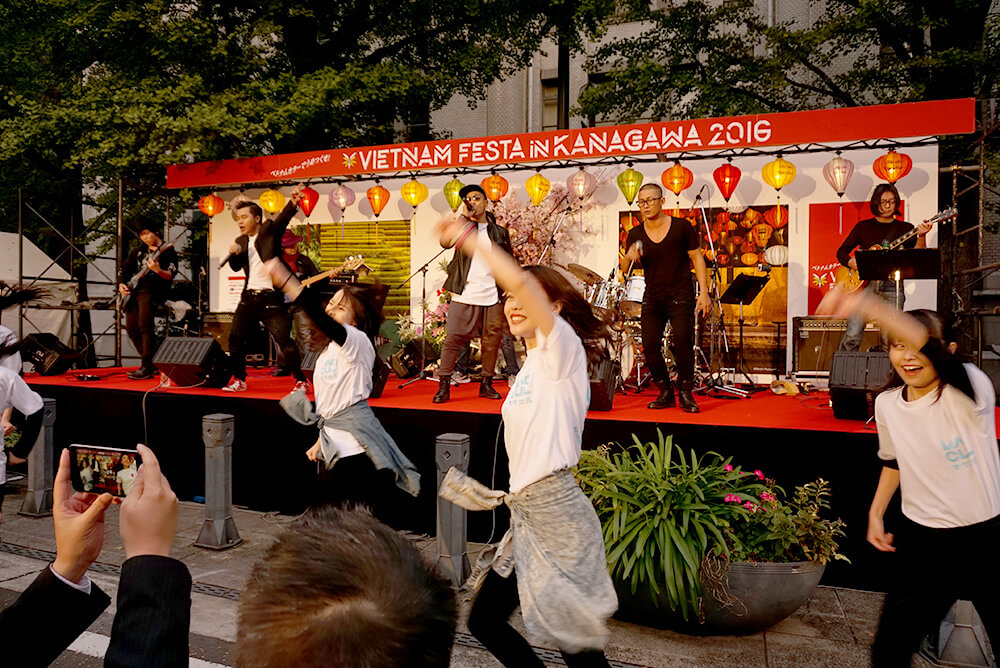 gin-top: 30px "> Energize the venue with a hot dance!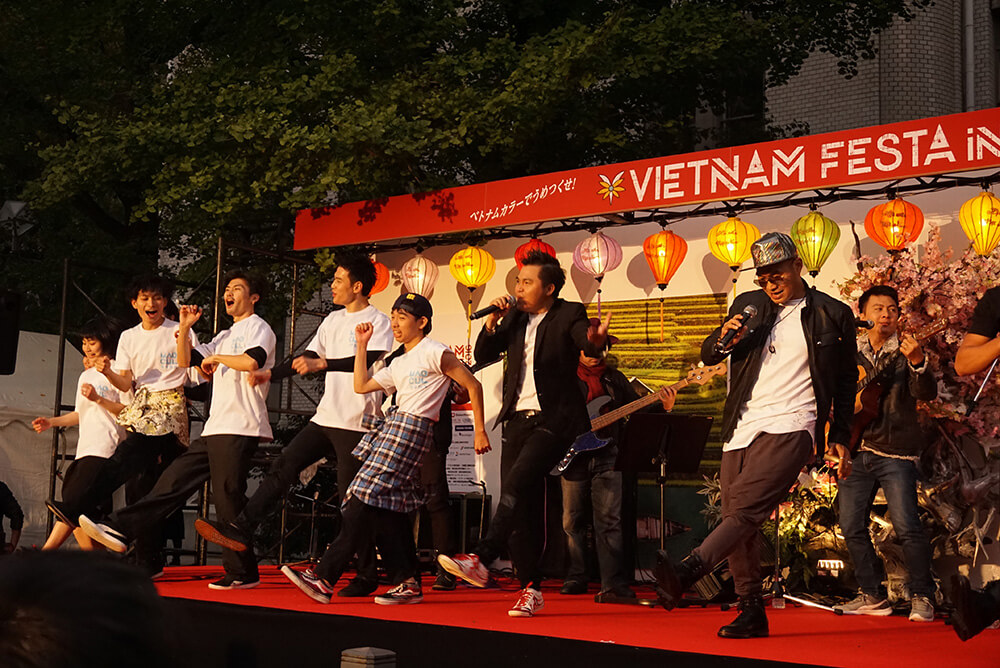 On stage with MTVband! Anyway, full of energy!
When I noticed, many people around the stage. This year's Vietnam Festa ended with great excitement. It was a very fun and wonderful stage! !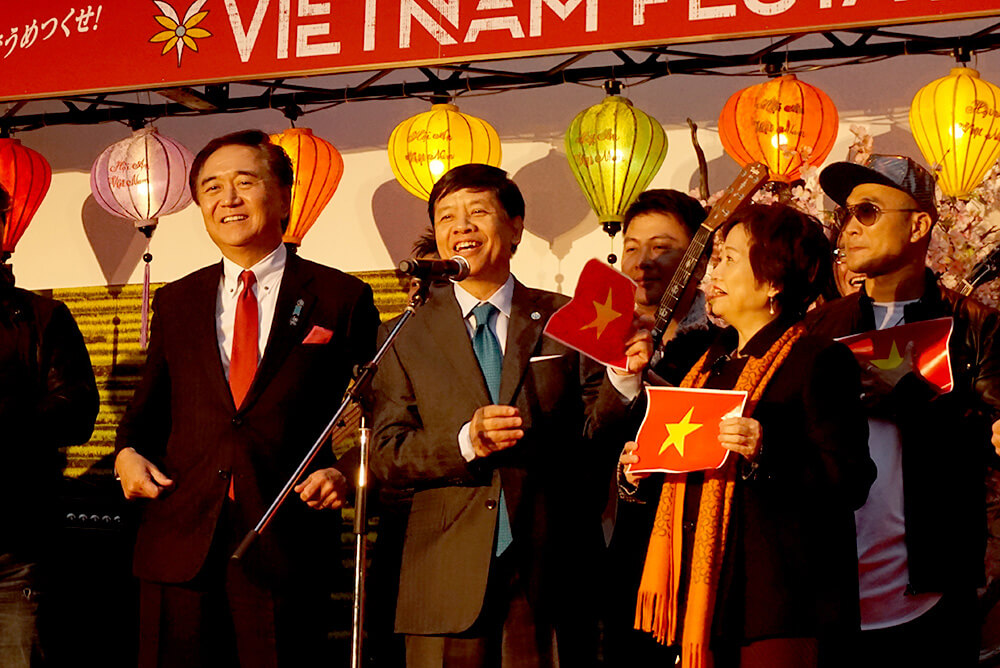 In the closing remarks, Governor Kuroiwa was declared to Vietnam Ambassador Nguyen Quok Kuong as "We will make this Vietnam Festa an annual event!" ( See Governor Kuroiwa Blog )
Expectations will increase for next year! I want to look forward to it.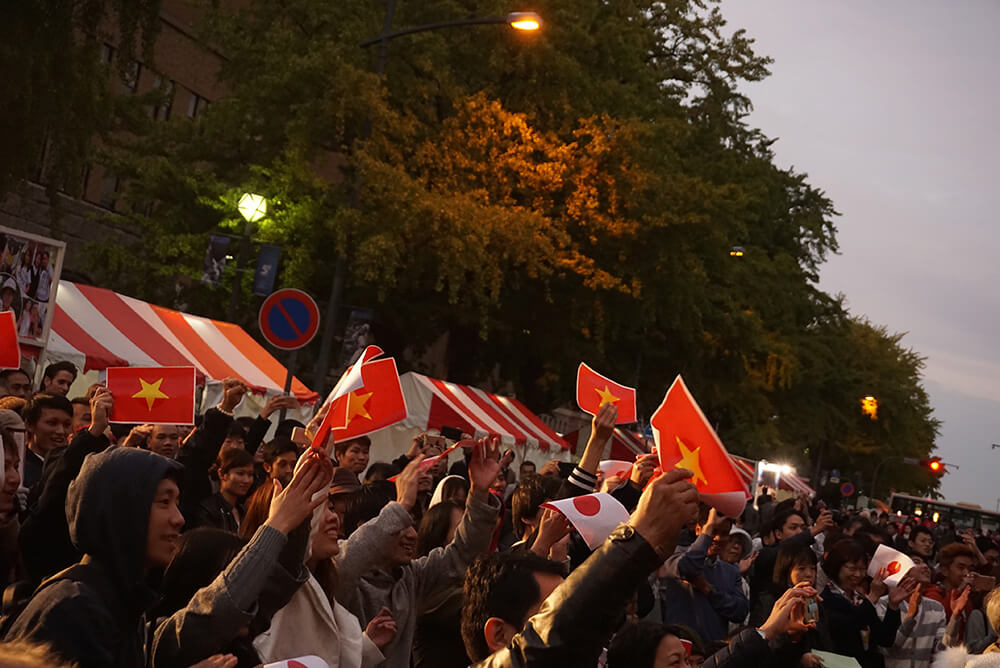 op: 30px "> It was a two-day report that touched Vietnam's food, culture, traditional arts and music, and the" now "of the live performance of a popular band, making Vietnam a very familiar country.