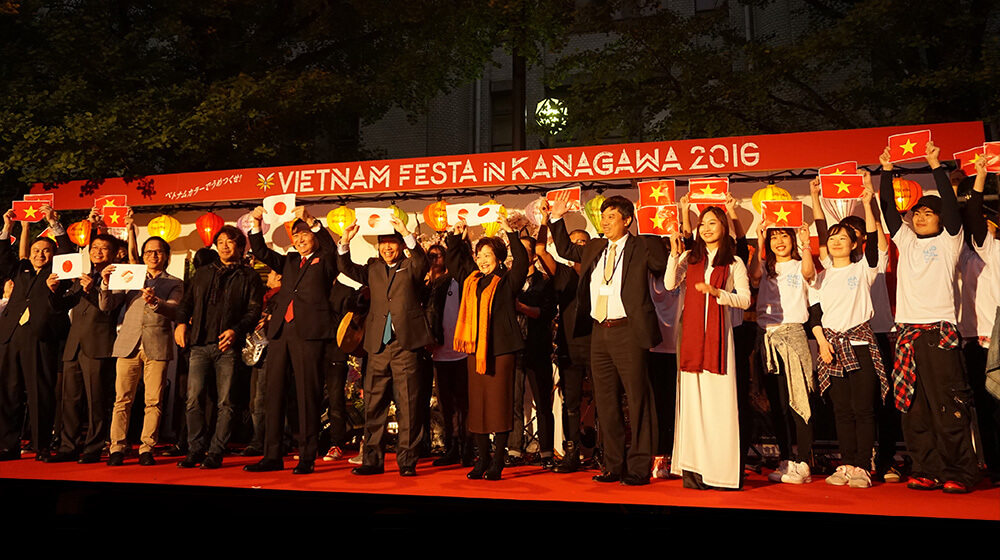 Art / Photography
The two days you will get to love Vietnam! I had a blast at "Vietnam Festa in Kanagawa 2016"!
Checking the event time table!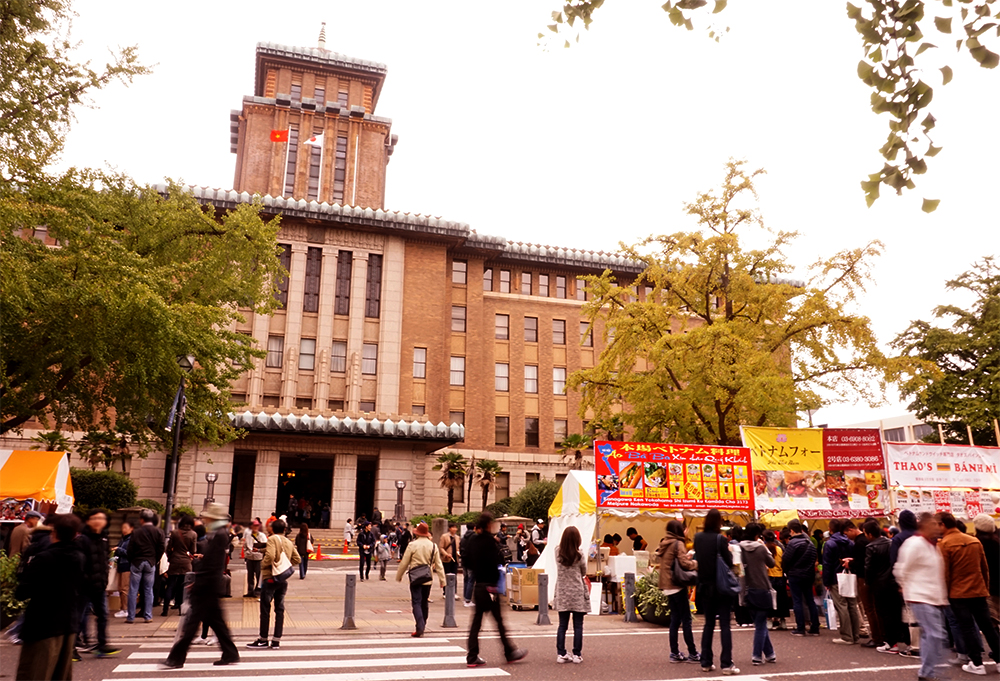 The event is held from October 29 (Sat) to 30 (Sun).First, I visited the official website for "Vietnam Festa in Kanagawa 2016" to check the events and performances to be held in various places at the event.
After leaving Kannai Station, I reached the main area for the event, Nihon Odori, by cutting through Yokohama Stadium, a place that was just recently fiiled with intense heat with the impressive performance by this year's Yokohama BayStars team.
Having been closed off to traffic, the large street was packed with pedestrians bustling around the many stalls that occupied the street. Around the middle of the street was a stage that was set up for various shows and music performances.
Meanwhile, piano recitals and a speech contest by exchange students were being held in the main hall of the Kanagawa Prefectural Government building. Moreover, at Zou no Hana Park, there were traditional Vietnamese water puppet shows. There was also going to be "Moving lantern night" event after sunset, in which people carry around colorful Vietnamese lanterns!
Although I was incredibly conflicted as to which one I'd attend, I eventually decided to go to the one event that attracted me the most: "lantern night" event. Accordingly, I set out for the event on Saturday around evening.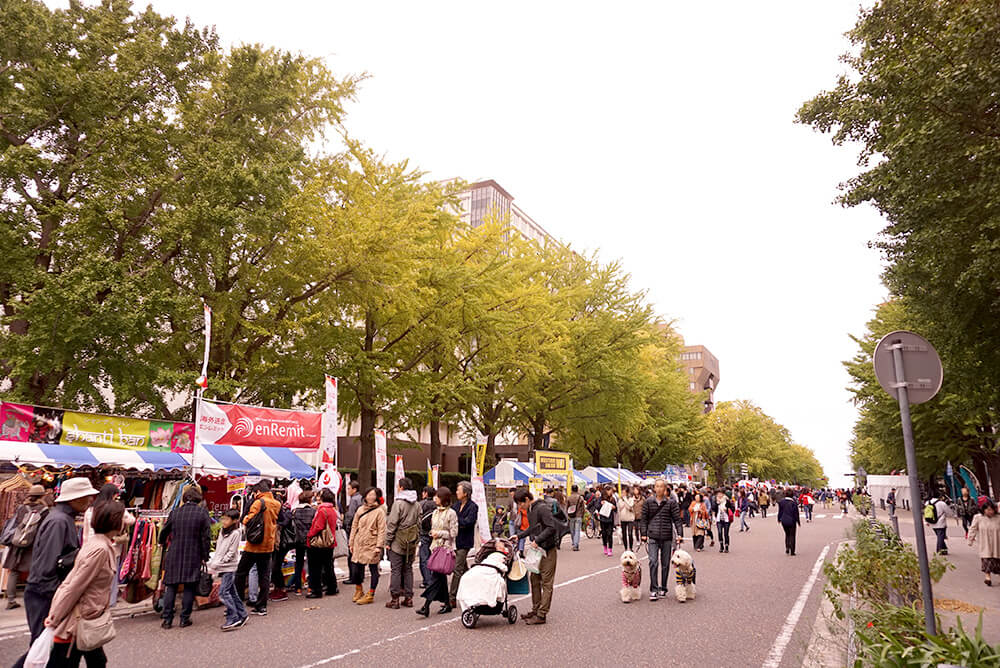 Many people had come out with their dogs.

Filled with gentle maidenhair tree Ginnan aroma, Nihon Odori was turning slightly yellow with trees on both sides of the street. I believe the best time to see them is from late November to early December.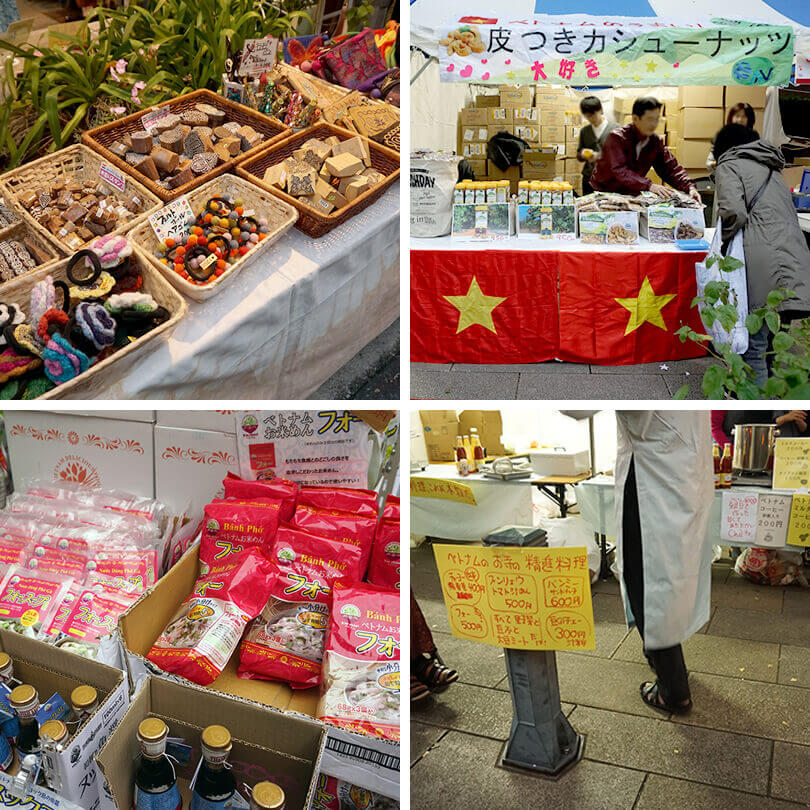 I spent the evening walking along Nihon Odori while browsing through the items displayed on the stalls. But then, with sundown, it started pouring!
Unfortunately, the "Moving lantern night" event had to be called off…
Even though I really wanted to see the dreamy scene of the dark street being lit up with colorful lights for myself, I had no choice but to wait for next year's event. Yet since there were lit up lanterns being displayed in front of the government building, I decided to check them out instead.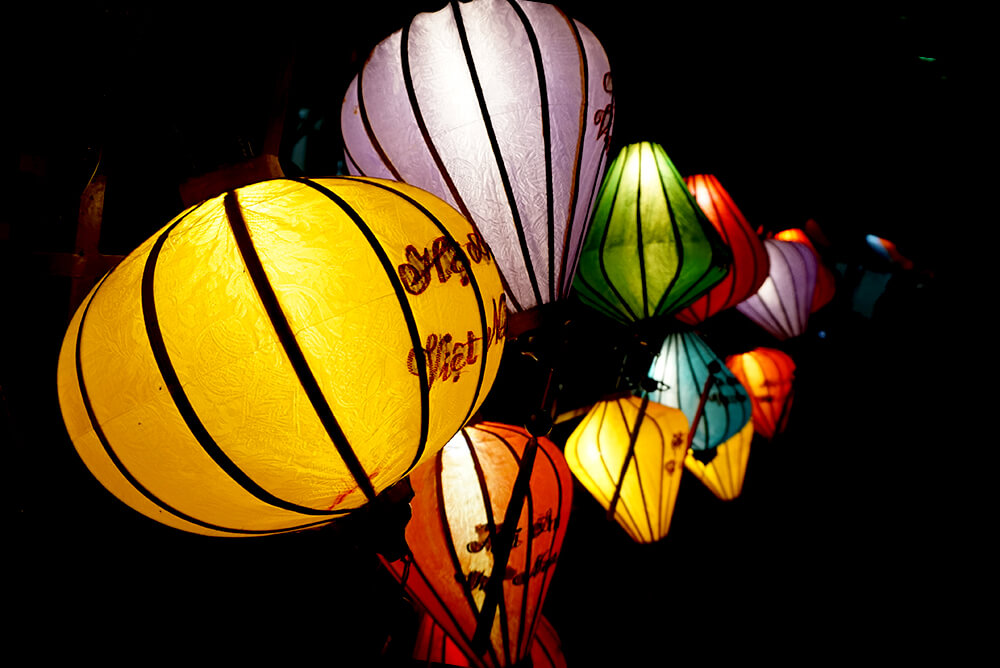 Vietnamese lanterns are colorful and charming!
Although the rain was a big disappointment, I was at least able to see Asuka Ⅱ leave the Osanbashi Pier. The beautiful night view of the harbor and the loud steam whistle created a scene that very much fit the atmosphere of the city of Yokohama.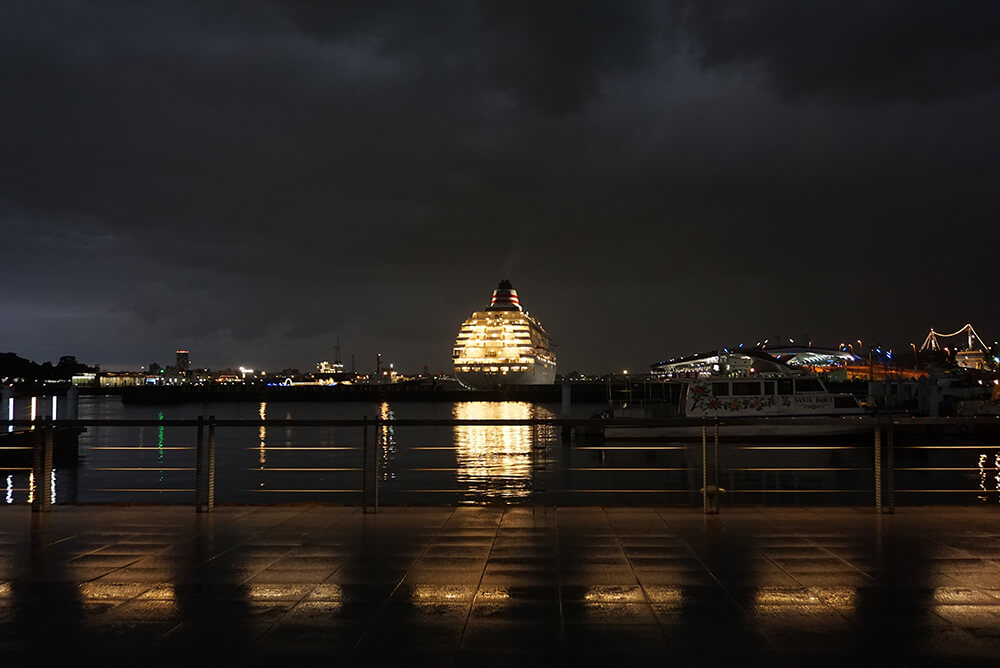 The ship leaving the harbor created a romantic view
Starting the second day with Vietnamese style lunch
Day 2 started out cloudy but it didn't rain. It was quite chilly, nonetheless.
Although I had been imaging Vietnam as a tropical country, one of the stalls had gloves, alongside other keep-warm merchandise, for sale which I bought straight away. There were also plenty of adorable felt pouches that caught my attention.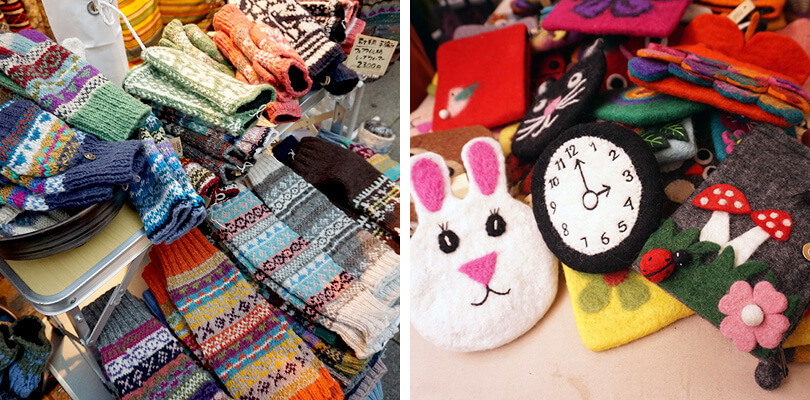 At this point, I could not decide what to eat; so many shops were offering so many scrumptious-looking foods.
I'm at a Vietnamese event; maybe I should try their pho? I guess can't do without some spring rolls, either. I'd also like some tasty Vietnamese coffee with sweet condensed milk in it.
Whether it was a stall or a grocery store, hungry people were forming long lines to get their share of tasty Vietnamese foods!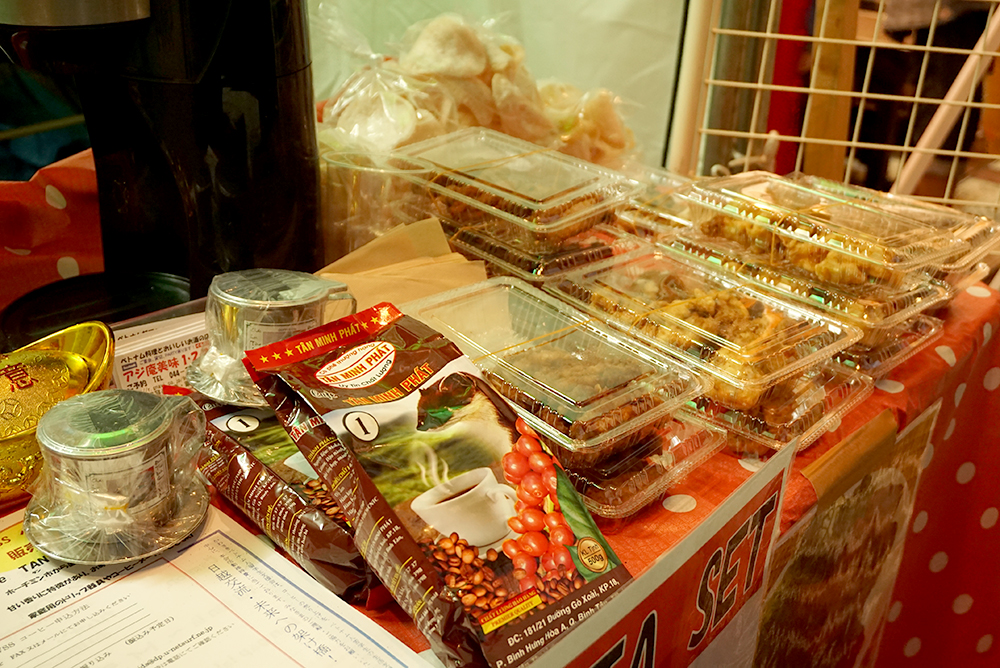 The irresistible smell of deep-fried food, yum!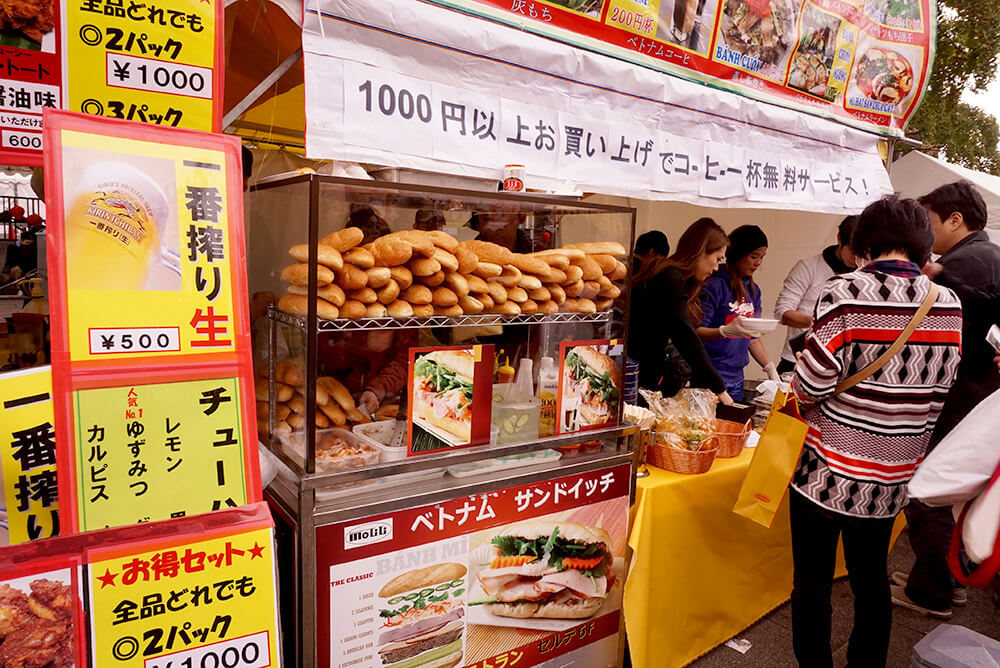 The super popular Vietnamese sandwich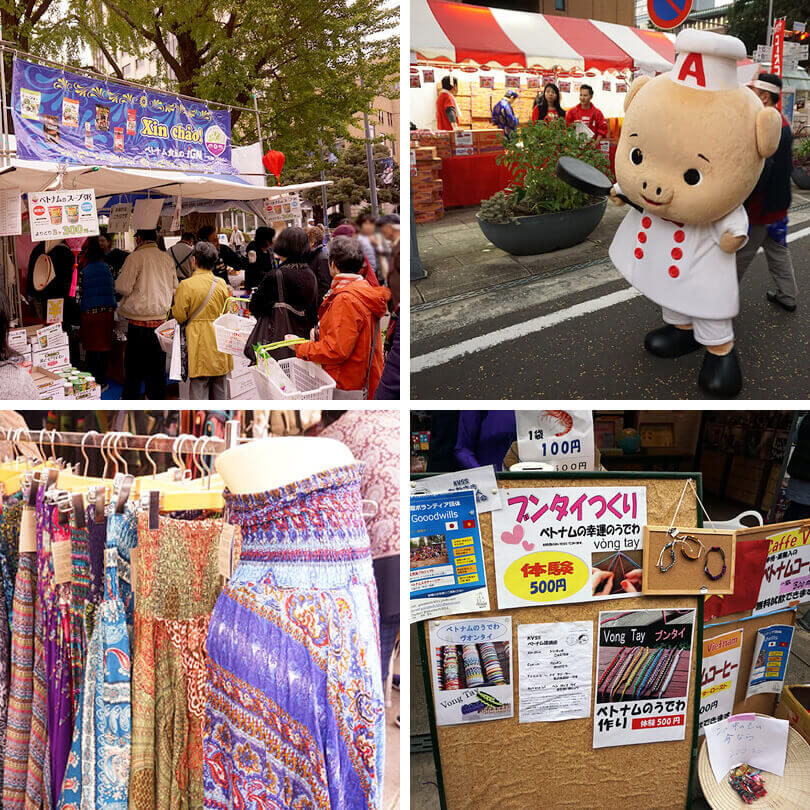 On the upper right is Acecook's mascot, Kobuta(Copyright © 2016 Acecock Co.,Ltd.)
After spending a good amount of time circling around the event area, eating and walking, looking at various merchandise, and meeting costumed mascot characters, I finally went to the next venue: Zou no Hana Park.
First, I went to see the water puppet show, a traditional Vietnamese art form. Apparently, this art was first performed as a form of entertainment in farming villages by Vietnamese farmers, who wished for rich harvest. It is more than a thousand years old!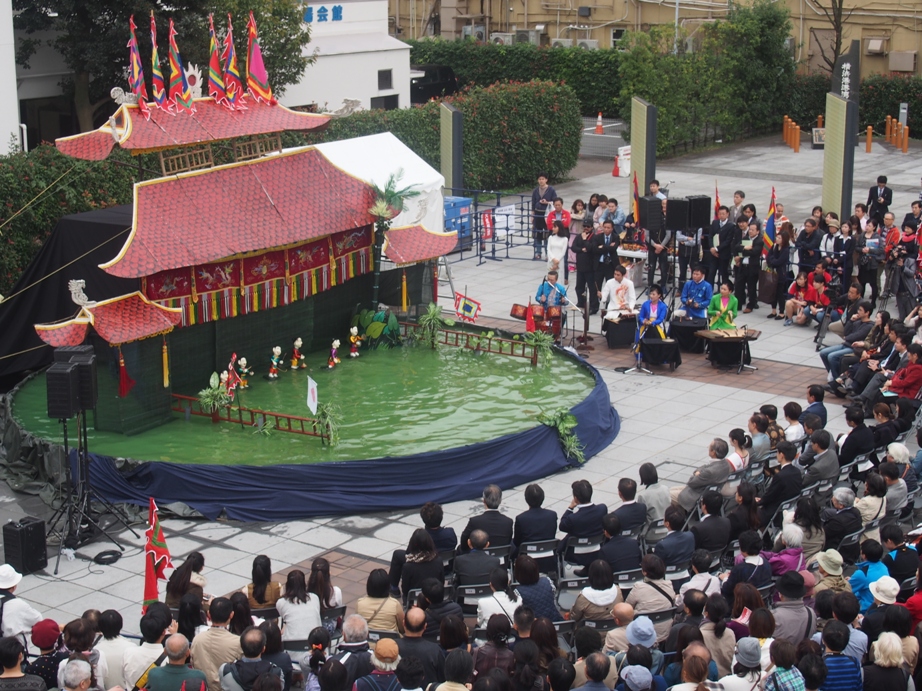 There was a special stage set up in Zou no Hana Park
There were so many people already!
Since it was incredibly hard to see the front, I had to get up Kishamichi to watch the show. There were various dolls and even a dragon, which moved on water while music played in the back with traditional Vietnamese instruments.
Although I had to watch the show from a distance, I could still see the comical faces of the dolls. They were adorable.
Finally, there was an exciting live performance!
Afterwards, I returned to Nihon Odori to enjoy the live performances on stage.
The last stage of this event was supposed to feature a popular Vietnamese male artist group,MTV band
What further excited me was that their stage was going to feature budding musical stars: the current students at Magcul Performing Arts Academy for a more dynamic performance!
When I checked, the stage at Nihon Odori was holding a contemporary Vietnamese theater. It started out with a dance performance by several women dressed in colorful outfits.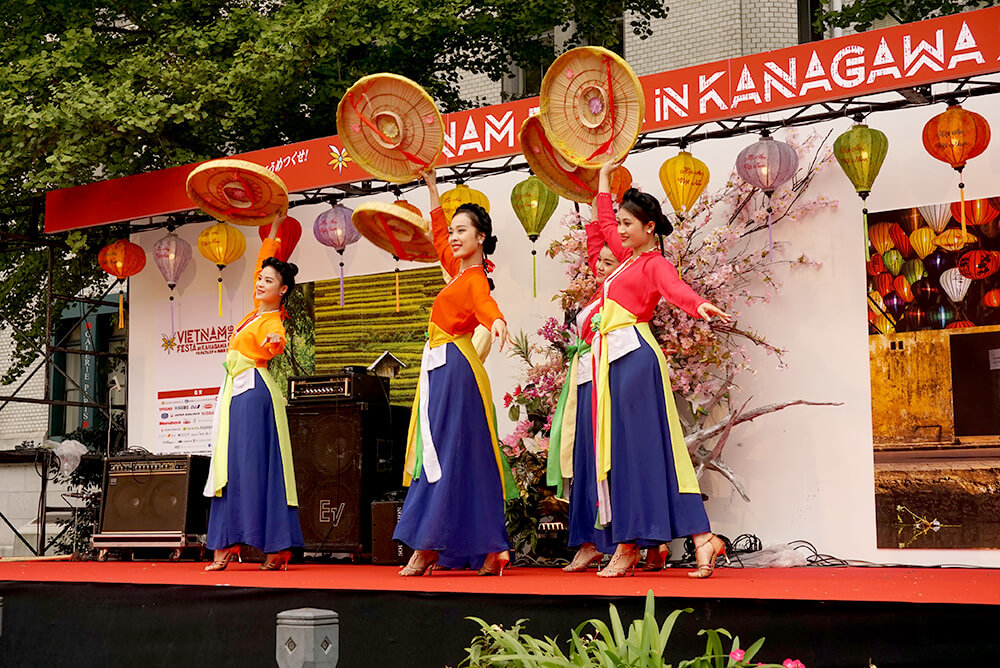 With gentle and delicate moves, the performers showed the people a serious dance performance. They were incredibly elegant!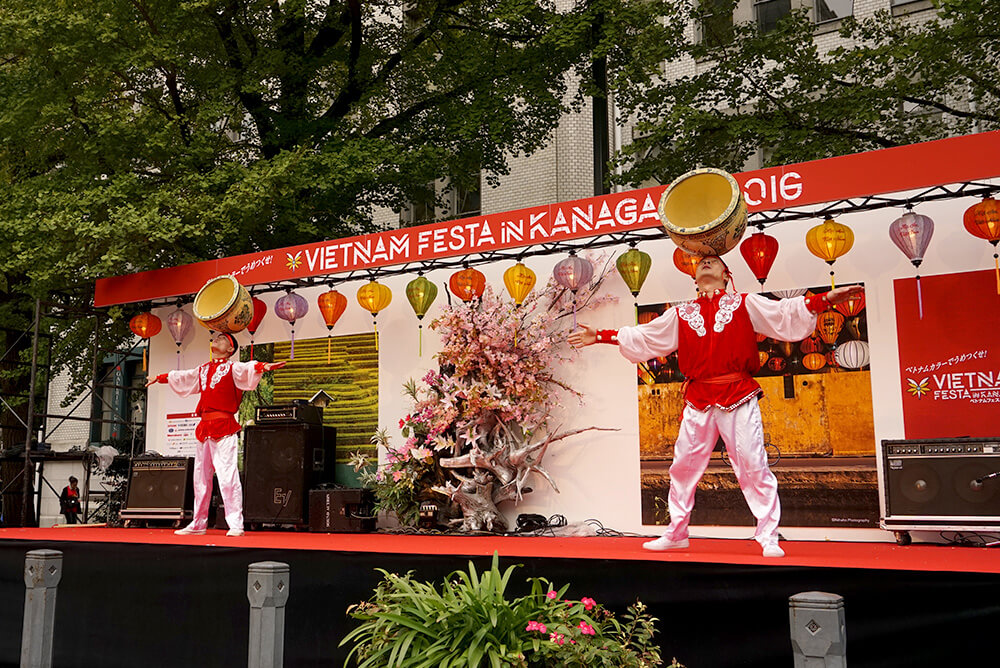 Following the dance performance, two male performers appeared with big pots. As Chinese-style music started to play, the performers put on an amazing show as they balanced the pots on their heads, passed them onto each other, and caught them using their backs.
Afterwards, a female singer appeared on stage. She sang Mayumi Itsuwa's hit, "Koibitoyo" with great passion.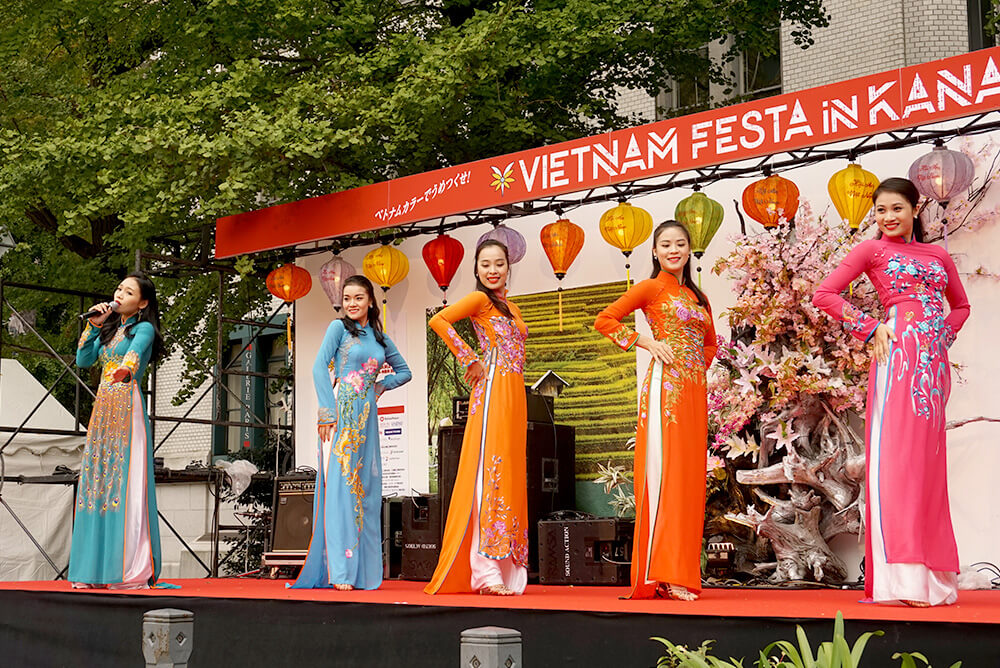 The dancers looked beautiful in their traditional outfits (Áo dài). It made me wonder if Vietnamese women were mostly slim like them. I don't think women can fit into Áo dài if they're even slightly out of shape.
Before I noticed, the place grew darker. But then the popular performance by MTV band, which was supposed to decorate the last stage with students from Magcul Performing Arts Academy, started!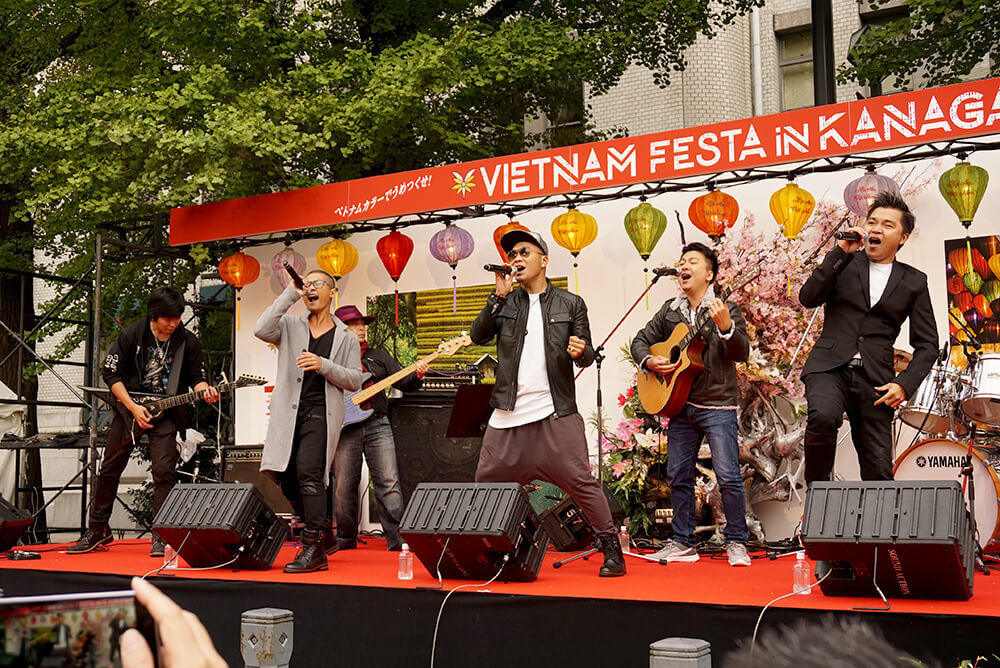 The exhilarating stage was led by 3 vocals, who created charming harmony, filled in with rap. Before long, the audience was partaking in the exciting performance. There were also many children in the audience, enjoying the show!
As the performance heated up, governor Kuroiwa, who was sitting in the guest seat, got pulled onto the stage!
Then everybody started singing "Ue wo Muite Arukou". Governor Kuroiwa turned out to be a great singer!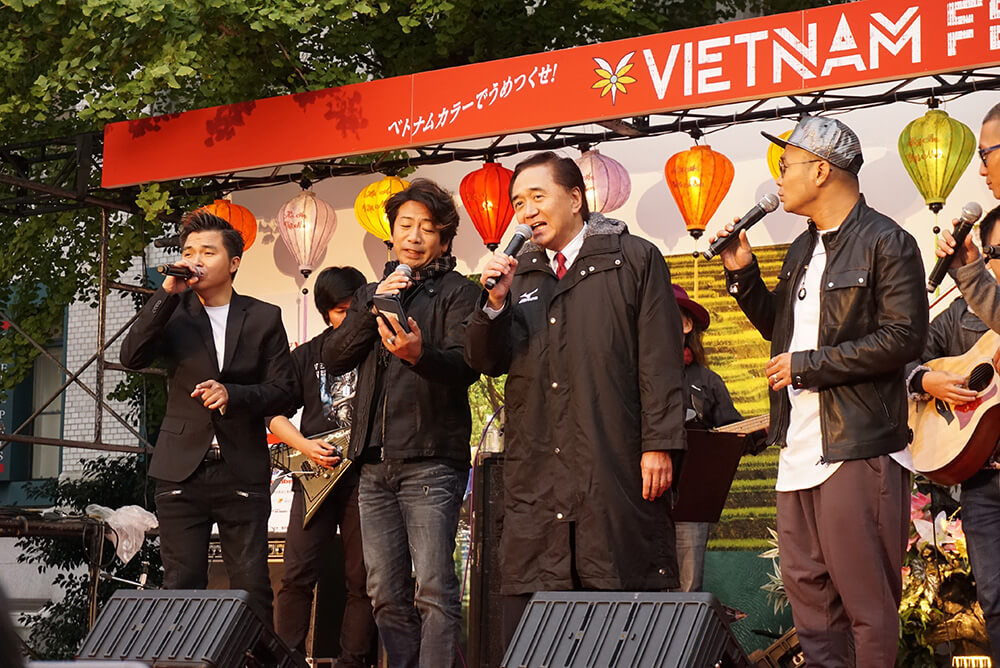 Soon, the students at Magcul Performing Arts Academy, who were already moving to the rhythm, joined to add even more excitement to the stage!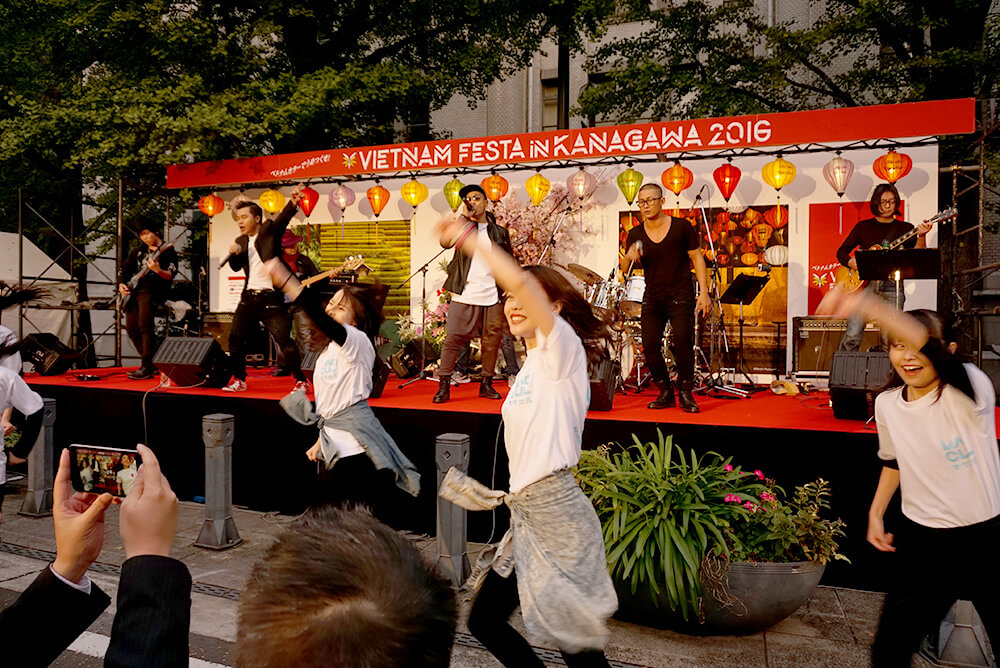 The dynamic dance performance heated up the event!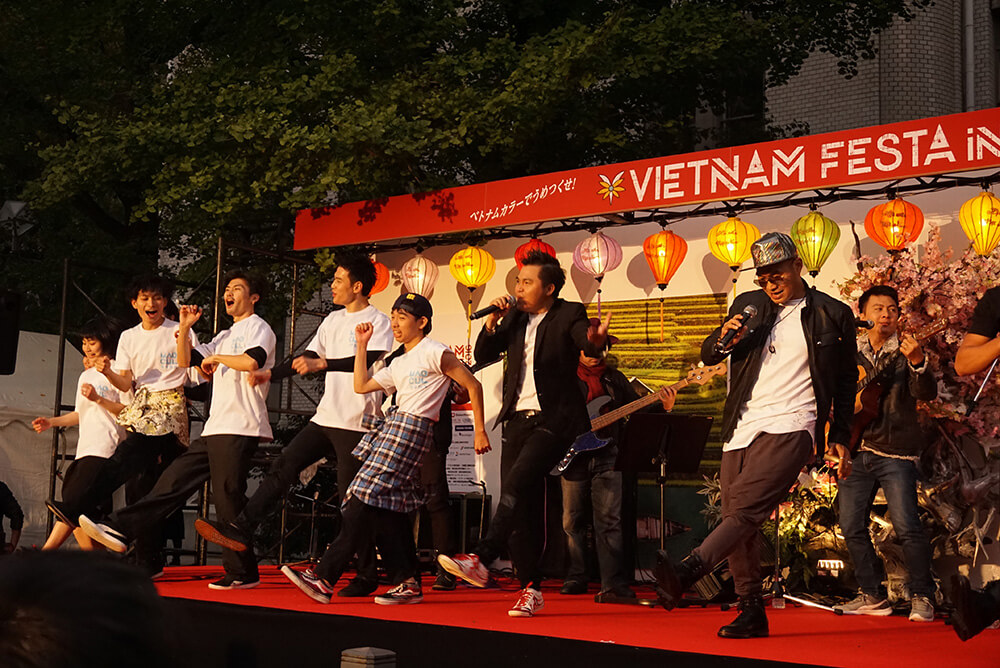 On stage with MTVband! It was incredibly lively and fun!
Before I knew, the stage was surrounded by a giant crowd. All in all, this year's Vietnam Festa ended in a great success. I had such a wonderful time enjoying the performance!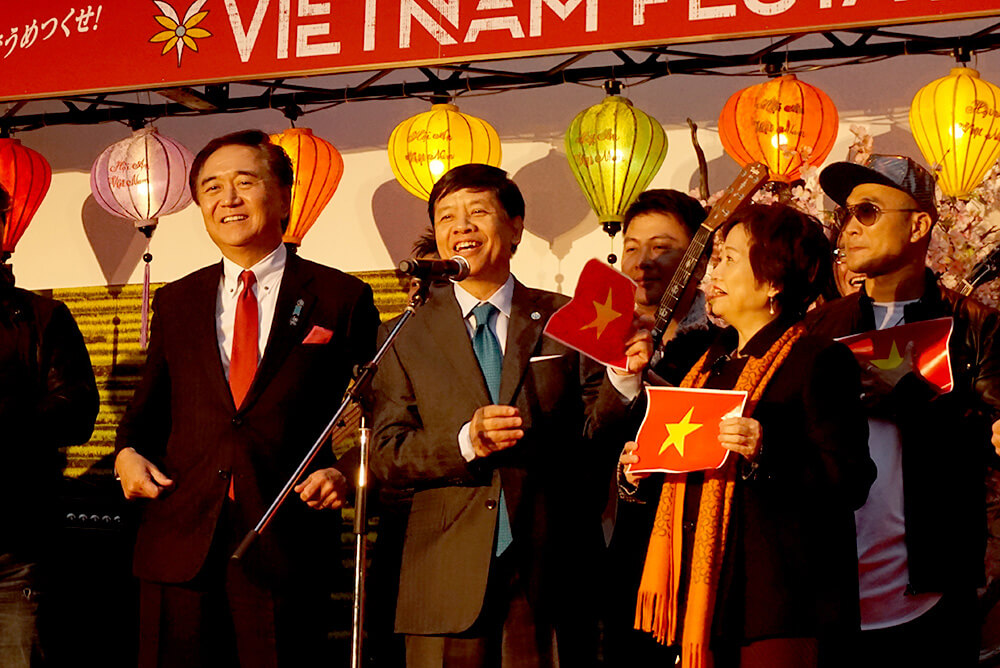 As a closing remark, governor Kuroiwa told the Vietnamese ambassador Nguyen Quoc Cuong that he will make Vietnam Festa a regular Autumn event in Kanagawa. (see governor Kuroiwa's blog)
I absolutely cannot wait for the event next year! I will be looking forward to it with all my heart.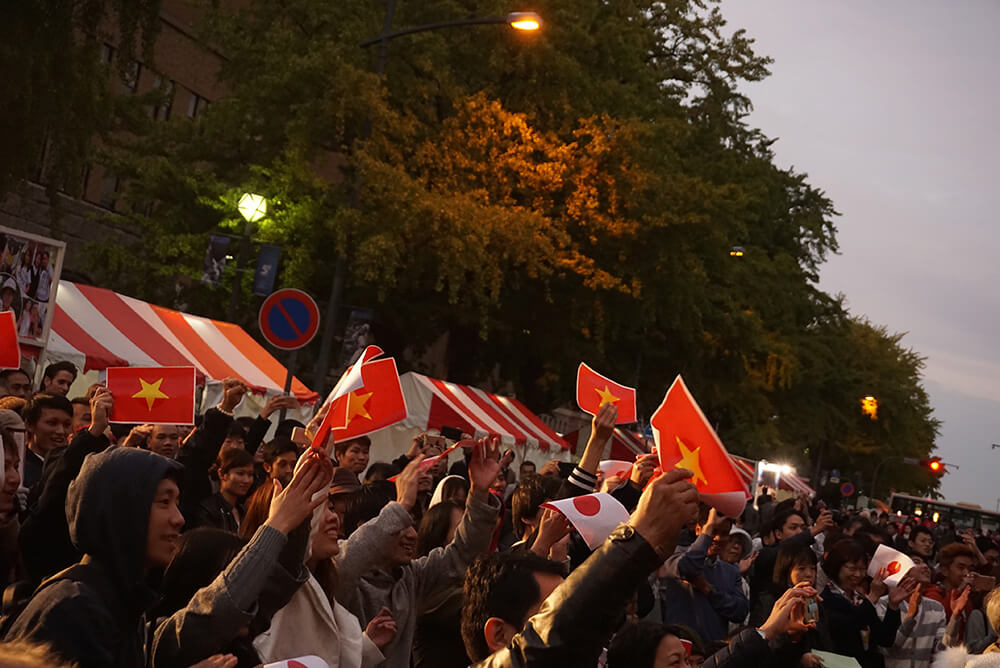 In creating this 2-day report, I was able to experience Vietnamese culture, food, as well as music and traditional art. I also saw a live performance by a popular Vietnamese band, which gave me an idea of their latest pop culture. Vietnam feels much more familiar to me now.