Art / photography
The night view of Yokohama has been upgraded for only 5 days! Smart Illuminations 2015 Report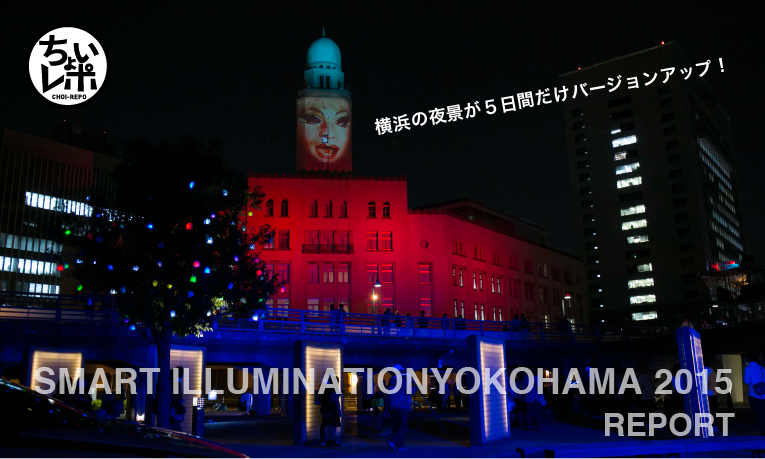 TEXT: Akiko Inoue
PHOTO: Masamasa Nishino
2015.10.31
Speaking of the coastal area of central Yokohama, there are many night view spots such as Zou-no-hana Terrace, Osanbashi, Red Brick Warehouse, and Yamashita Park. "Smart Illuminations Yokohama 2015", which will be upgraded by artists and citizens for 5 days from 10.30 (Friday) to 11.3 (Tuesday / holiday), will open again this year.
By the way, "smart" in Smart Illuminations Yokohama means "energy saving". One of the features of this event is that many companies are participating as a showcase where cutting-edge technologies such as LEDs and solar lighting are gathered. This year, I immediately covered Smart Illuminations Yokohama 2015 to see what kind of works will illuminate the city of Yokohama.
First of all, Yokohama Customs, a queen who has been symbolizing Yokohama for a long time as one of the three towers of Yokohama, suddenly begins to talk, and the surrealistic production and scale feeling are overwhelming. Bai "Tower (Queen) sings" ".

Kota Takahashi "Singing the Tower (Queen)"
Moreover, on this day, ABBA's "Dan" was named after the Queen by the Zonohana Chorus Club, which was open to the public as an opening event.He sang "cing Queen" and QUEEN's "We are the champions" with Queen.
Next, Asae Soya's rainbow house, "Imagine a base in each person's heart." Colorful and brightly colored balloons gently shine.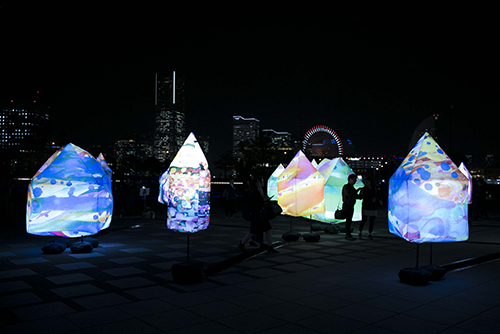 Asae Soya "Rainbow House"
And the "Illuminator Guideship" where Junichi Kusaka, also known as the illuminator, will guide you through the night view of Yokohama on a boat, which is a feature of the night in Yokohama at this time. You can enjoy the night view from the sea for about 20 minutes, and guides such as Mr. Kusaka will tell you some useful Yokohama sightseeing information if you know it. You can take precious memories with you, such as taking a commemorative photo with an illuminator that can take a spectacular view unique to Yokohama, or taking a photo on the sea where you can put all the three towers of Yokohama in a frame. And for the first person who answered correctly in the quiz on the way, a wonderful gift is also …! Whether you are new to Yokohama or familiar with it, the night view of Yokohama from the sea will surely feel fresh.
(* Price 1,000 yen * Mr. Kusaka will board the ship at 18:45 on October 30th and at 45 minutes every hour excluding the whole day on November 3rd.)
ontent / uploads / 2015/10 / 64ad15eac7f85eeb46fc142be3840c97.jpg "width =" 900 ">
Junichi Kusaka "Illuminator Guideship"
In addition, at the Smart Illuminations Award, in which 29 groups participated, works that were tried and errored by individuals and groups through open recruitment during this period will be exhibited.

Extensive exhibition of works by companies!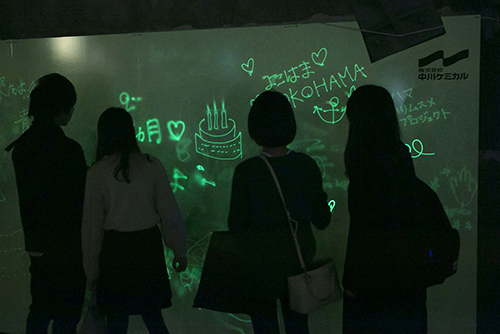 Nakagawa Chemical "Light Graffiti"
Don't miss the night view of Yokohama, which is a bit different than usual! !! !!
<br />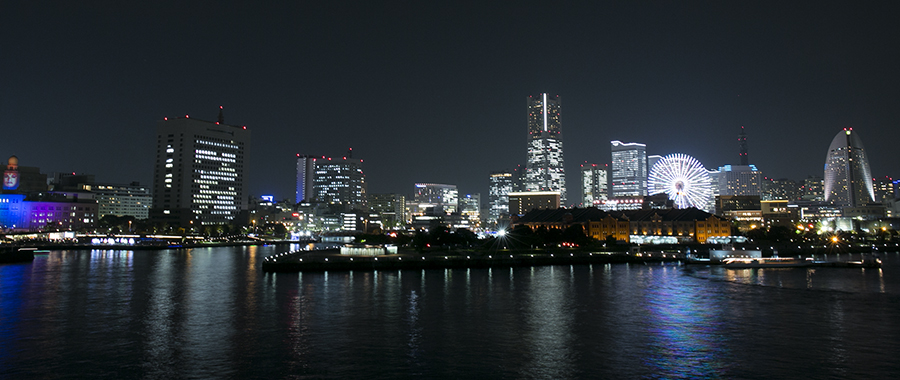 For event details, see the list of related events below.
<This event has ended. >
▼ Smart illuminations will be available in areas other than Yokohama
11.6 (Friday) -7 (Saturday)
Smart Illuminations Midori-Nakayama Phantom Yokocho-
12.5 (Sat)
2.13 (Sat) -14 (Sun)
Smart Illuminations Kanazawa