Theater/Dance
Drama King Tenka Unification Tournament 2015 ~ Bay City Royale! inKAAT |Interview with the winner!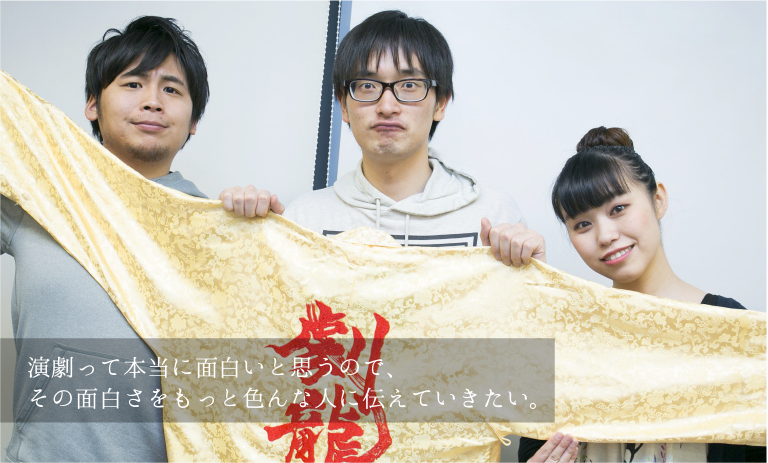 In February, KAAT Kanagawa Arts Theater held the "Drama King Tenka Unification Tournament 2015 ~Bay City Royale! inKAAT~", and all 12 groups selected through qualifying and recommendations from all over the country engaged in a fierce theater battle. . Actor and director LaSalle Ishii, Governor Kuroiwa, and other gorgeous judges participated in the judging day after day. took the winning position. Starting with a girl who dreams of becoming a dolphin keeper, the final performance "SCUBA" consists of various timelines of the landscape of the sea and the love of the family that surrounds it. MACUL.NET was able to interview the members of the "Mysterious Boy" who won the championship after the final.
2015.5.22 interview & text: Masamasa Nishino
What is "Drama King"?
A short drama contest that has been nurtured for 10 years since 2003 by the Japan Playwrights Association Tokai Branch, which was in charge of production, and Nagakute City, Aichi Prefecture, as the "Jr. Lightweight Champion Title Match Drama King". The winner will be determined by the votes of the audience and judges. In February 2013, champions from all over Japan, from Hokkaido to Kyushu, gathered at the "Drama King X ~Tenka Unification Tournament~" held to commemorate its 10th anniversary. A great decisive battle was unfolded with successive generations of drama kings also participating. Yukio Shiba (Mamagoto), the 4th King of Drama, won the competition. He won the title of "Gekiten", the world's greatest theater performer. With this, the holding in Nagakute was temporarily suspended, but "Drama King" spreads to various parts of Japan and is held independently. Then, in February 2015, a new world unification tournament was held at KAAT Kanagawa Arts Theater under the sponsorship of Kanagawa Prefecture, and the Kyushu district representative Kyokuyo Osako (Mysterious Boy) won the title of "Dragon King". .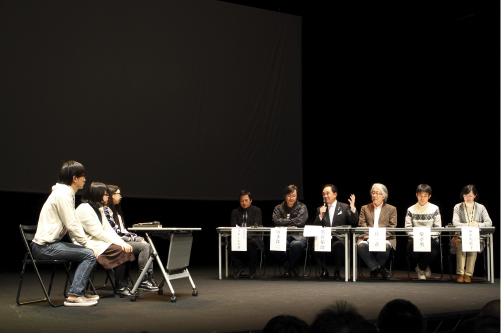 Judging after the final round

<Dragon King Rules>
○ Up to 20 minutes performance time / ○ Up to 3 actors / ○ Equipment that can be changed in a few minutes / ○ Basic stage is 4 ken deep x 4 ken (flat bed flat)
<Examination method>
○ Based on the votes of the audience and judges / ○ 1 audience vote / ○ Jury votes are the number of visitors at each performance / the number of judges
Example: If there are 200 visitors and 5 judges, 200÷5=40 will be the judge's score.
after the final
—Congratulations on winning this time! Mr. Osako, the director, is also in a great mood to receive the title of "Dragon Dragon King".
Osako: We haven't been out of Kyushu very often, so we were confident that we were making something interesting, but we were worried about whether our work would reach the whole country. . However, I am really happy that I was recognized for what I thought was interesting in a place like this "King of Theater" where the most interesting theater gathered from all over the country and competed. It's like I learned about Japan through "Gekioh"... There are still many things I don't know, but I was really happy not only because I won the championship, but also because I was able to interact with people from all over the world by participating.
—It seems that the winning work "Scuba" has been performed several times in Kyushu.
Photo: From the Fushigi Shounen Final Performance "Scuba"
Osako: There's a movie called "Big Fish," in which a father with a short life expectancy tells his son half of his life and the story unfolds from there, so I wanted to write a story like that. It's a trigger. Music also plays an important role in this work, so I listened to the music and solidified the image of the story from there.
Morioka: It seems that he was inspired by a movie and had the idea of ``Let's write a family story,'' but this structure (Gekioh rule) was previously in Kyushu, ``Gekitotsu x 20 minutes.'' There was a competition where the right to participate in the "Drama King" was awarded, and it was frustrating that our rival won the championship at that time. I heard directly from Mr. Osako that it was solidified (laughs).
Osako: Ah, yes. (laughs)
Morioka: We've been doing this work for many years, and we felt like we were at a dead end. It was very encouraging. I was also really happy that there were a lot of votes from the customers. The theme of Fushigi Shounen is "rediscovery of laughter, sorrow, and sadness." , seems to notice. I think I was able to sympathize with the audience because I was able to make use of those same parts as usual this time. That's right? Mr. Utsunomiya!
Utsunomiya: Yes (laughs).
Morioka: By the way, Mr. Utsunomiya has participated as a guest from another theater company, and he always appears in "Scuba". Of course, Mr. Utsunomiya always plays the role of the father and the sea lion.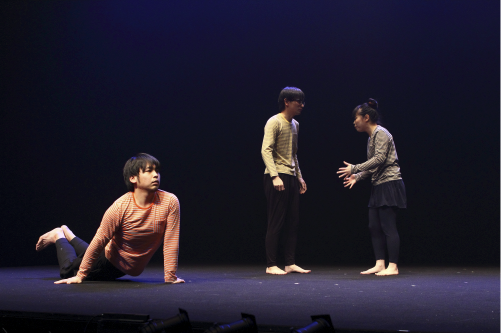 —Finally, could you give us your future aspirations as the winners, or any comments for future "Gekioh" participants?
Utsunomiya: It's been about two years since I first met Mr. Osako, but a year ago I participated in "Scuba" for the first time at "Gekitotsu" held in Kitakyushu. I am receiving it. I feel that my acting and way of life match Mr. Osako's work, and it's kind of a comfortable affinity. That's why I want to continue working together in the future, and I'd like to work even harder so that when I return to Kyushu, I'll be able to play an active role on a national stage like this time.
Osako: There was a time in my life when I was working in what is called a "local area" and had the image that "Tokyo is full of things and is sparkling." I always thought I would have to go to Tokyo, Osaka or Fukuoka to work, but I don't think that's the case at all. I'm sure there will be expressions born from that land, and I want people who live in that land to be proud of it. And I want to strongly say, "Let's meet again with that expression!"
Morioka: This time, I came from Kyushu with a burning fighting spirit, saying, "There are 11 groups of enemies." So rather than having more enemies, I was happy to have a lot of allies. I think the best part of this kind of contest is that you can experience things like "I'm disappointed, but please do your best", and you can feel connected even though you're in a different land. If there is a theatrical company that is smoldering somewhere right now, I want to say "Come on!" (laughs). I really want you to get together. We can definitely meet again someday.
Osako: I think theater is really interesting, so I would like to convey that fun to more people. I will do my best to climb higher as the "Drama Dragon King", so please support me! !
-Thank you for your time today! We look forward to working with you in the future! !
After the competition, we received comments from the people involved and the judges about this competition.