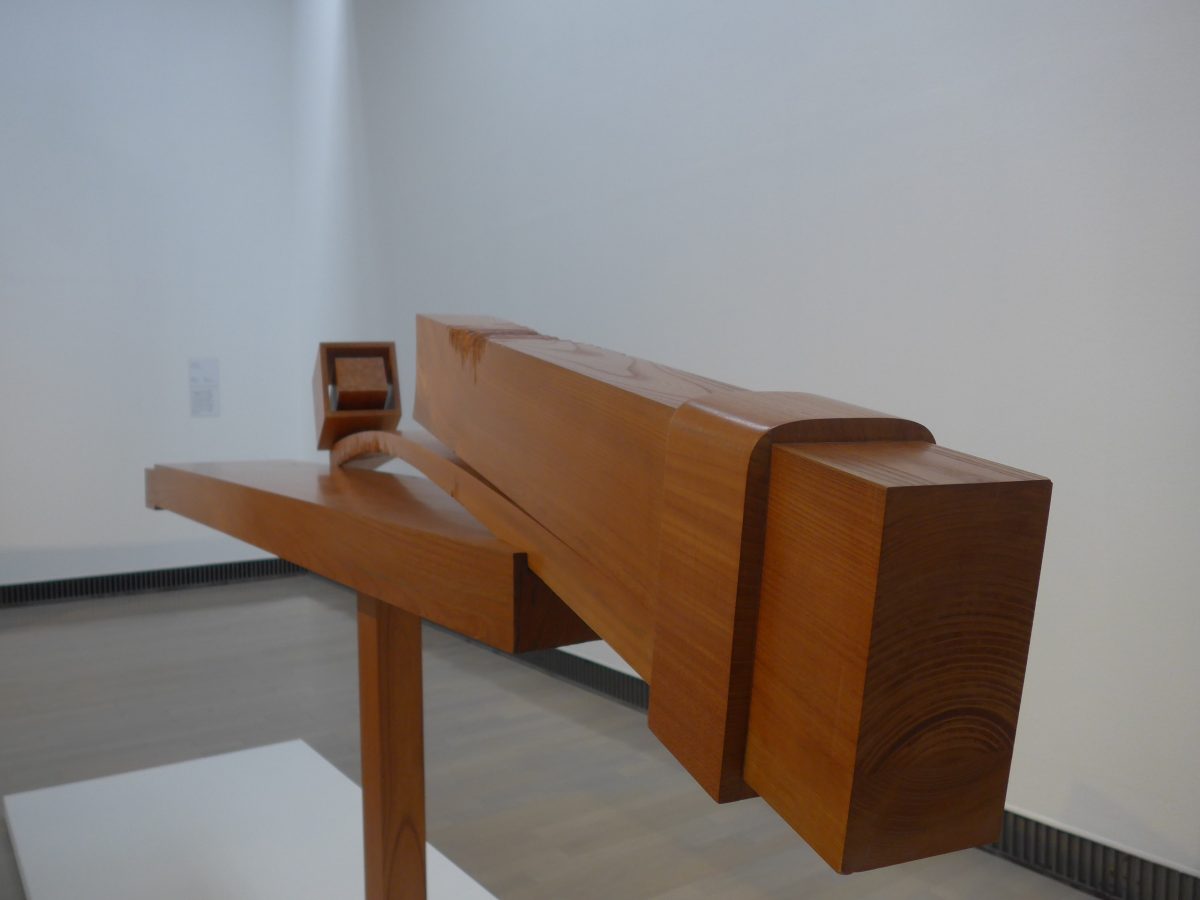 Art / photography
2020.02.26
The shape of Tokyo Skytree® was born from here! "Shape with a warp" released at once
Yokohama Museum of Art 
(Please note that this page was created using Google's automatic translation service and understand that because of this, its translation may not necessarily be accurate.)
(TOP image) Sori no aru Katai-1 (1978) Museum of Contemporary Art Tokyo © Sumikawa Kiichi
The world of art that you can go, see, and feel
File.25 Yokohama Museum of Art "Kiichi Sumikawa Sori to Mukuri"
Miyuki Inoue (Magcal editorial department)
I like abstract sculpture.
I think that paintings are "I don't understand", but when they are three-dimensional, I feel free. Maybe it's because you can watch it from any angle you like 360 degrees and simply think it's "cool!" ... It's just my personal opinion.
That's why the Yokohama Museum of Art's "Kiichi Sumikawa Sori to Mukuri" has been curious since I saw the poster announcing the opening. I was invited to the exhibition, so I went out quickly.
The model of Kintaikyo Bridge, which is said to be the origin of Mr. Sumikawa's creation, is exhibited in the prologue. Needless to say, it is a wooden arch bridge over the Nishiki River in Iwakuni City, Yamaguchi Prefecture.
Born in Shimane Prefecture, Mr. Sumikawa went on to the mechanical department of Iwakuni Technical High School in Yamaguchi Prefecture and met Kintaikyo Bridge. I don't think Mr. Sumikawa was the only one who was fascinated by the beauty of the famous bridge and repeated sketches, but he was "not just a person" when he was spilled by the 1950 typhoon, with a block of wood and stone. When you see the bridge, you may have felt that it is a very powerful model even if you look at it as an installation of contemporary art.
The artist's sensibilities are terrifying.
l.net/wp-content/uploads/2020/02/P1120333_mini-1200x900.jpg "alt =" "width =" 525 "height =" 394 "/>
* Left: Mr. K (1960) Right: Mr. S (1959) Collection of writers © Sumikawa Kiichi
Mr. Sumikawa, who advanced to the sculpture department of Tokyo University of the Arts, learns concrete expression by plastic.
Looking at the works at that time, it was completely "concrete". In addition, Mr. Sumikawa was involved in the work of restoring the face of an ancient person from bones at the request of an anthropologist, and also restoring the face of a victim from the human bones of a victim at the National Research Institute of Police Science. I felt that it was a "super real" world ...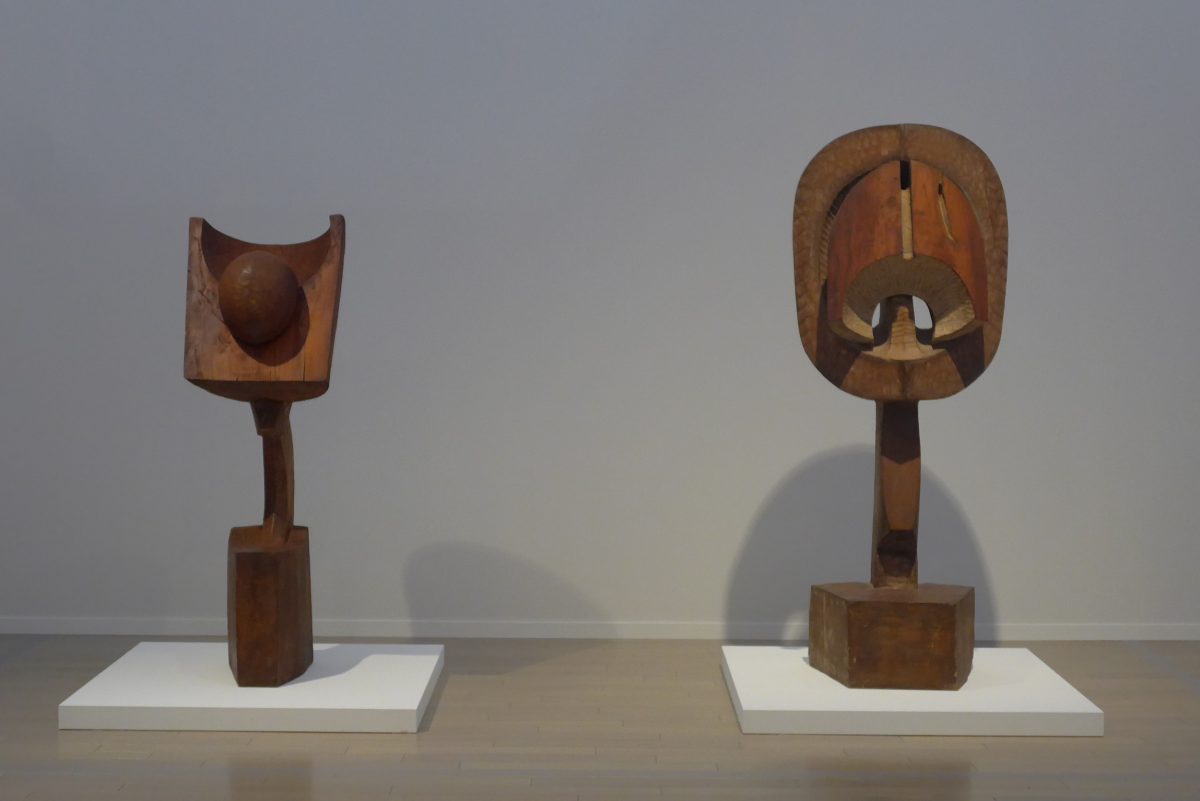 * Left: MASK (1967) Yamaguchi Prefectural Museum of Art Right: MASK VI (1967) Kanagawa Prefectural Museum of Modern Art © Sumikawa Kiichi
Since 1961, when he resigned from Tokyo University of the Arts, his work has changed dramatically!
Although it is said that "I was inspired by the masks of Africa and the mask of Iwami Kagura that is handed down in my hometown," I don't think it is the work of the same person. Since it is "MASK", it may have something in common with "face", but why did this happen?
It's so powerful, free, and wonderful that I almost shout "Kita ~ !!" in my heart.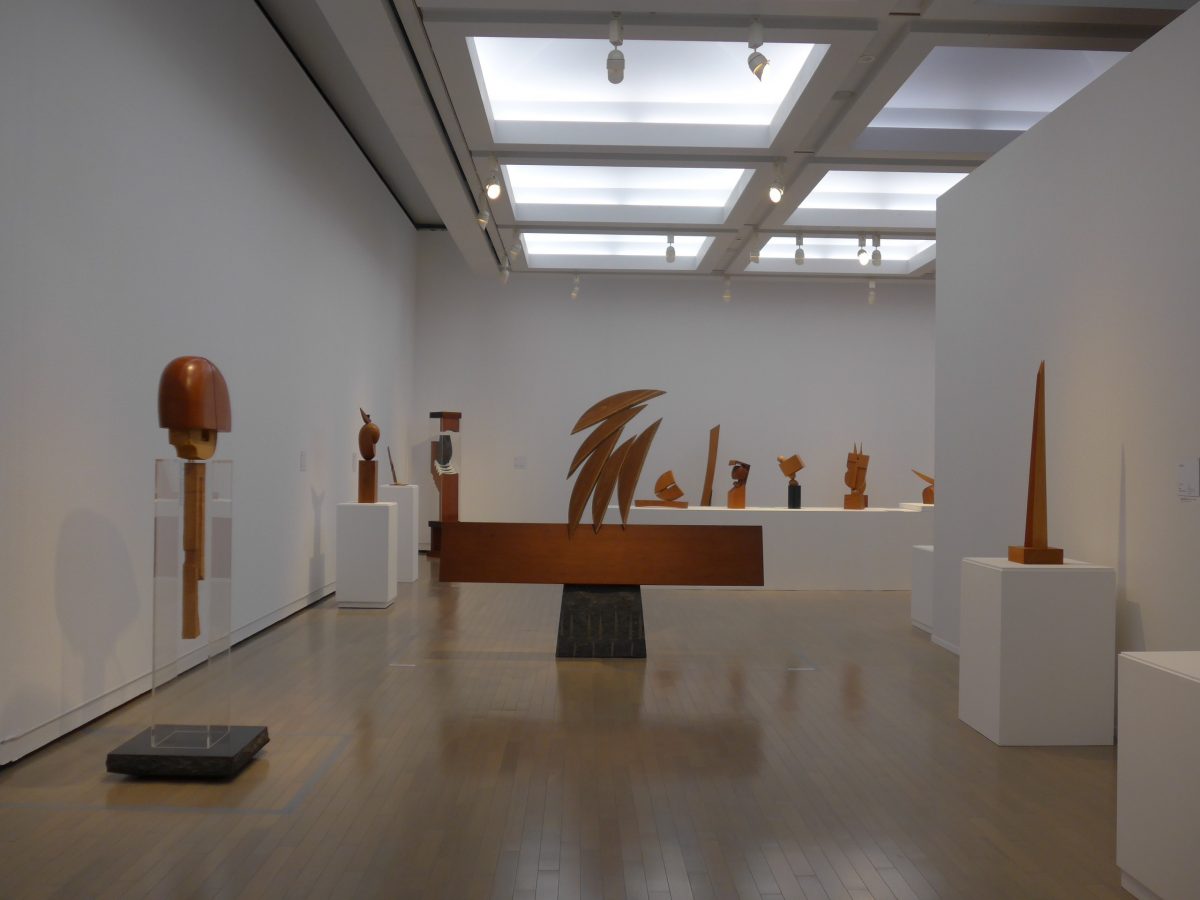 In 1967, at the same time as returning to the Department of Sculpture at Tokyo University of the Arts as a lecturer, elements such as stone and metalHe began to face materials, and since then, works using various materials have been born. It's so diverse that even an amateur can think of it as "everything", so no matter how much you watch it, you won't get bored.
And the encounter with stone and stainless steel spreads to the development in public spaces including the outdoors.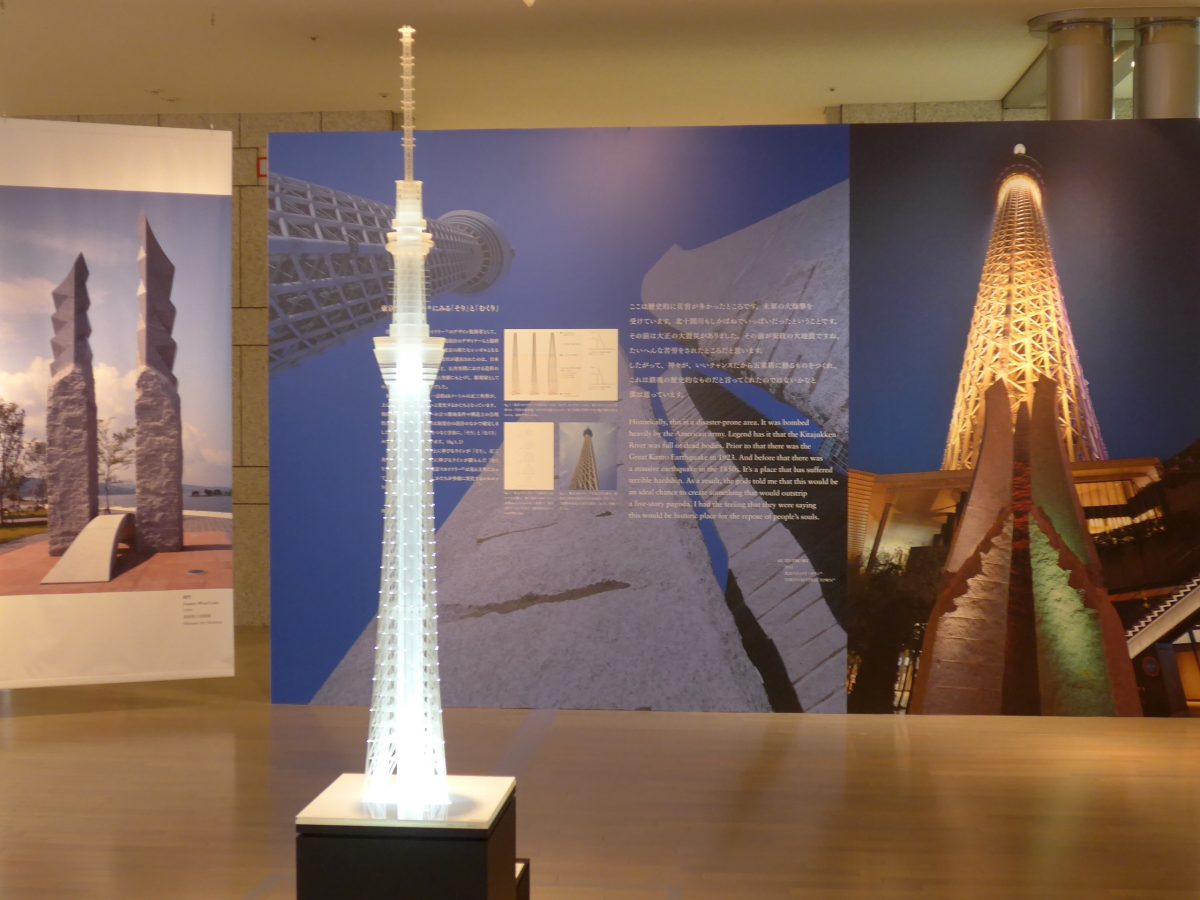 Yes, Mr. Sumikawa is the design supervisor of the largest public building of the century, "Tokyo Skytree ®".
That is not all. It seems that he was taken care of on a daily basis in various places such as "Ipponbashi" and "Dokeibashi" over the Ooka River, and "Kamoikebashi" over the Tsurumi River.
Naturally, the real thing is not on display, but I noticed that he is an artist closely related to Kanagawa prefecture, and I stared at the introduction panel.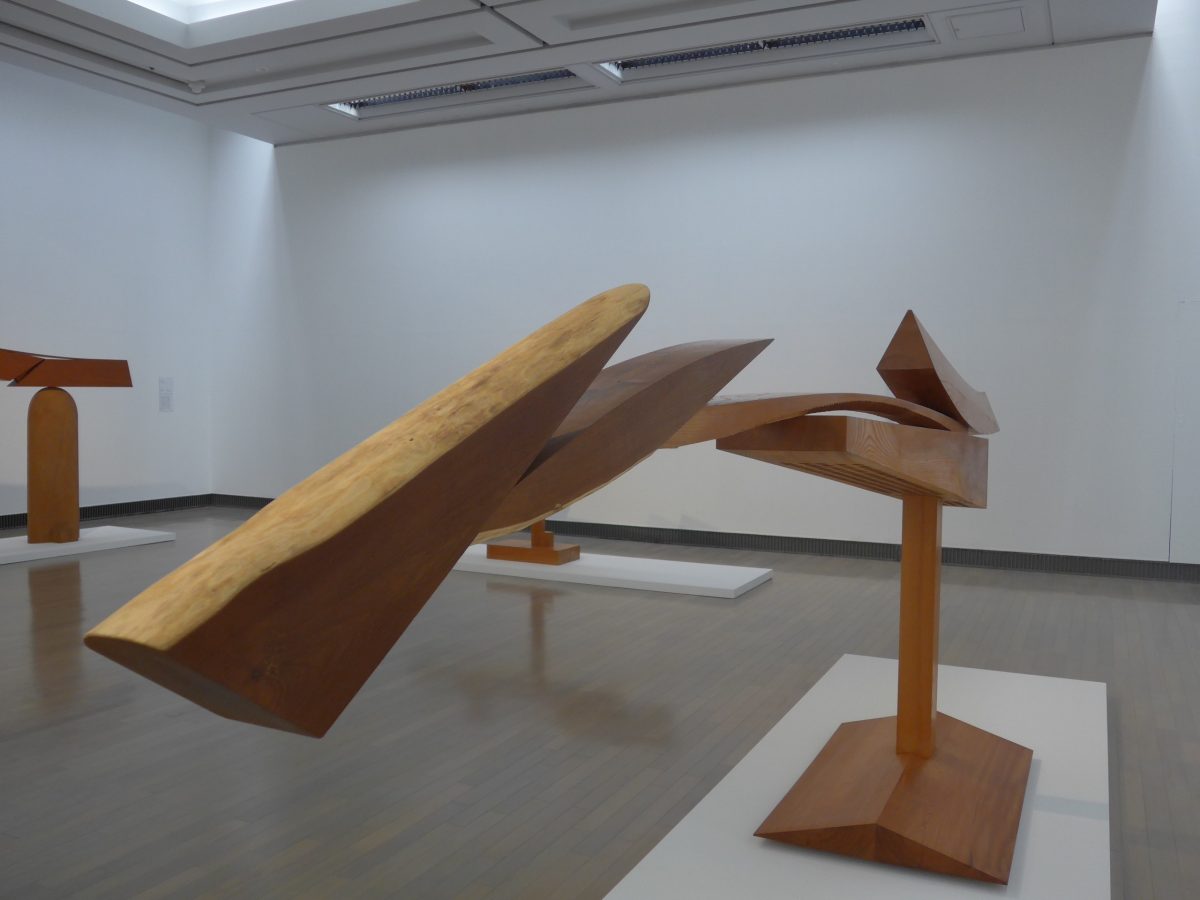 * Sori no aru Katai (1992) Shimane Art Museum © Sumikawa Kiichi
The theme of Chapter 4 is finally "Takumi Sledding and Mukuri".
Natural wood warps and twists over time, but it does not resist its nature, but rather incorporates changes into its work. I feel that the form created by Mr. Sumikawa has a natural flow and a feeling of excitement, rather than a sense of stability. I feel like I'm shaking with the rhythm of nature, and I can't take my eyes off.
_mini-1200x900.jpg "alt =" "width =" 525 "height =" 394 "/>
There are so many kinds of trees in Japan, which is why traditional techniques such as the wooden construction of temples have been cultivated since ancient times.
"Like humans, wood has its own characteristics, and when you touch it, the wood speaks. Listen to that voice and create a" warped shape "that makes use of the essence of the material, such as the beauty of the wood surface and the natural color. I want to carve it out, "says Sumikawa.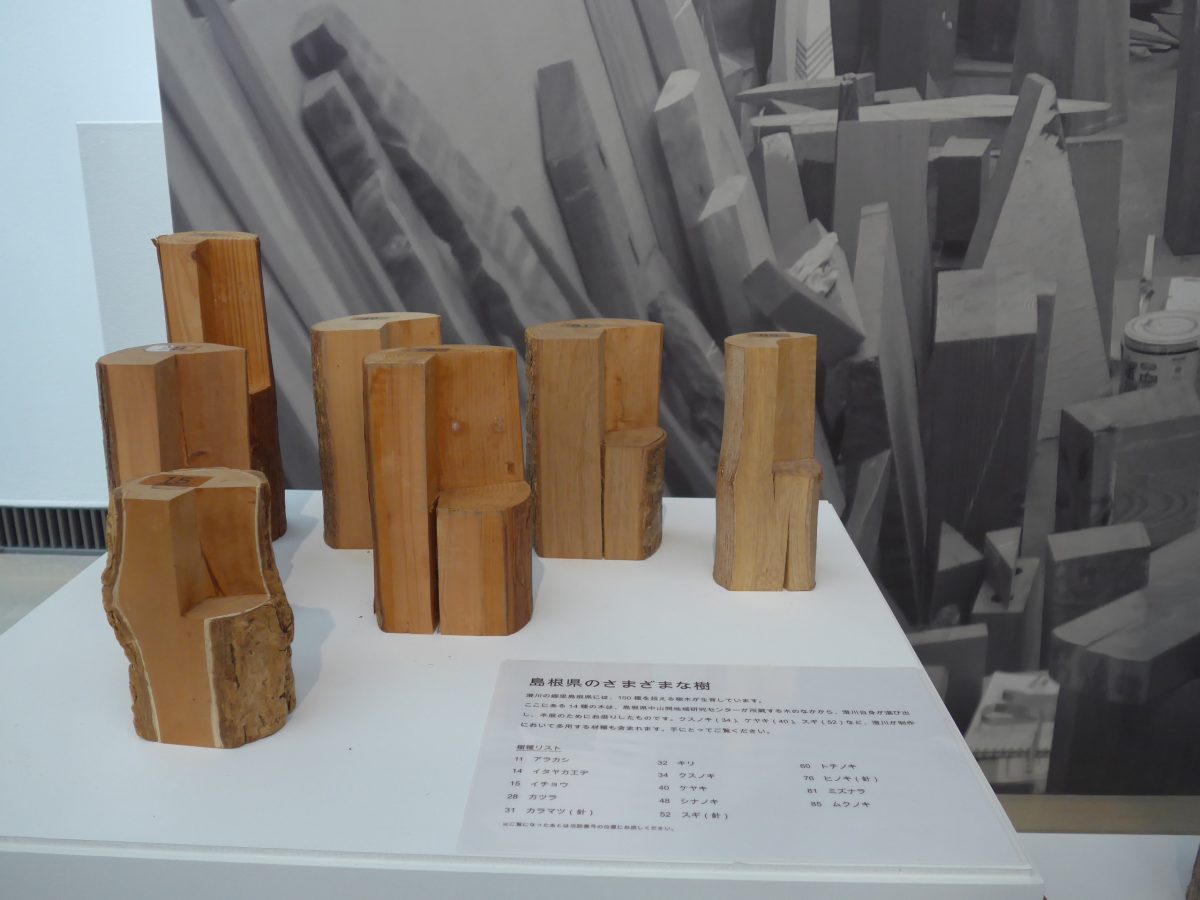 Wood materials are also on display at the venue. It is legal to touch the work, but it seems that you can touch this wood, so please check the texture.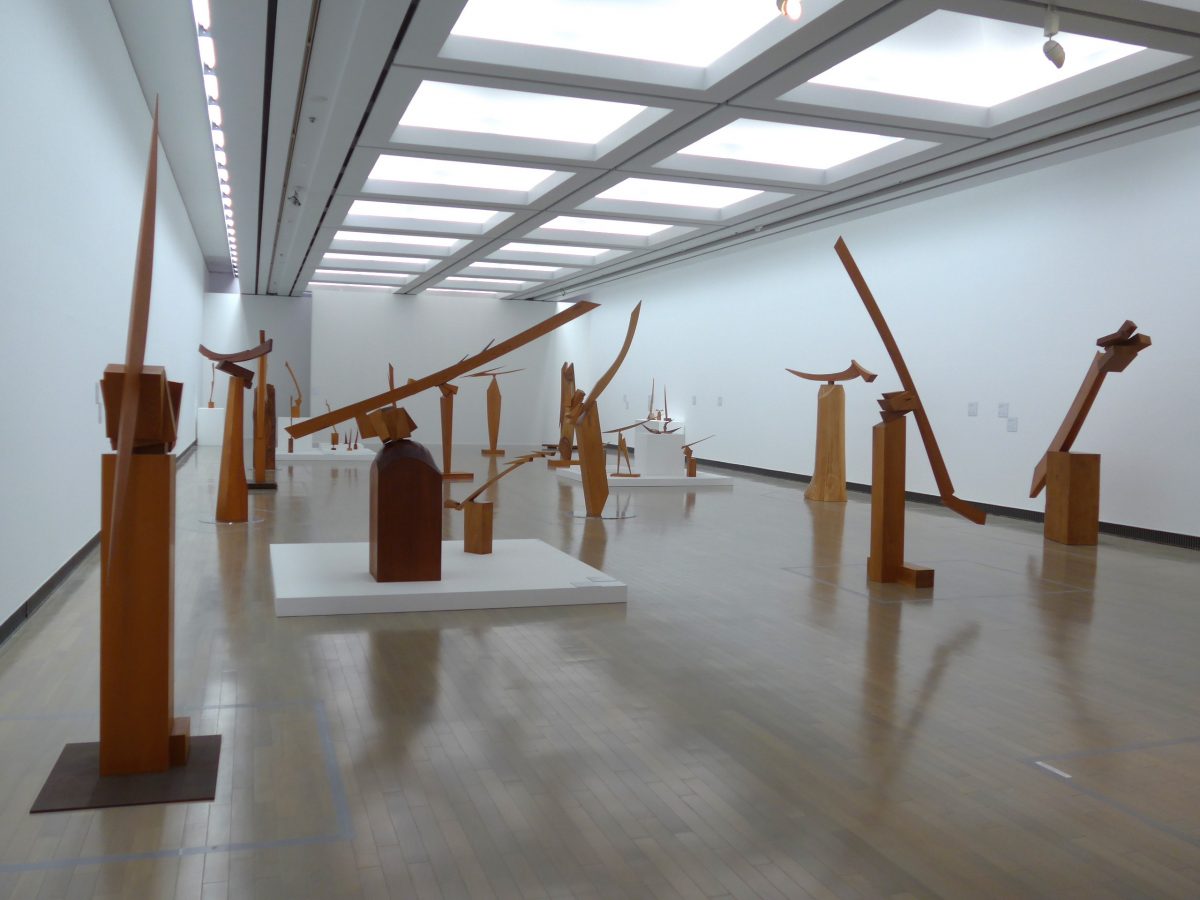 "Shape with a sledge" that Mr. Sumikawa has been pursuing for over 40 years. The scenery that stands in the exhibition room is spectacular.
And on the other side of the back wall, in the last exhibition room, Mr. Sumikawa's latest work announced in 2019 is exhibited.
Dignified tension and natural laid-back.
I would like you to experience it by confronting the actual work, so please refrain from posting the image.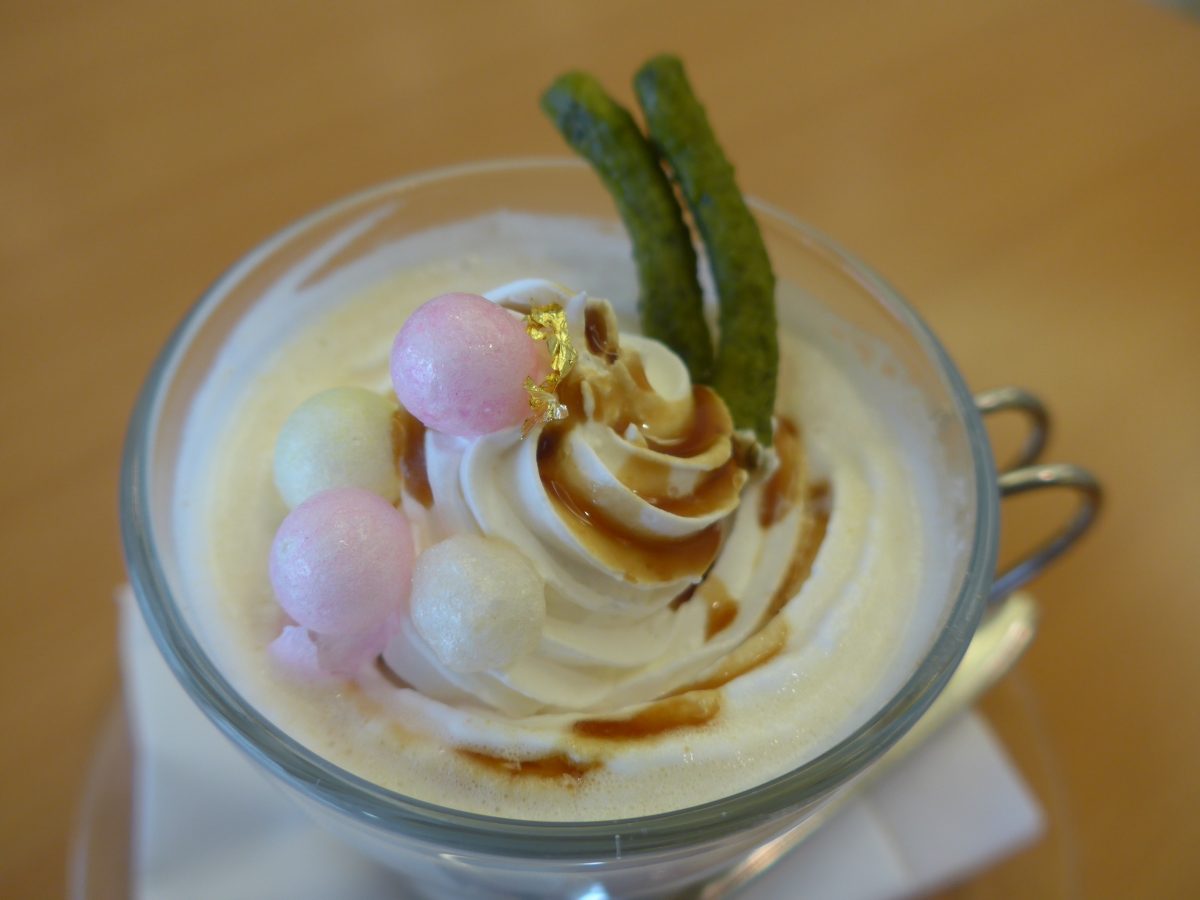 Lastly, we would like to introduce the limited menu of Café Ogurayama.
This time, the gorgeous "Oiri", matcha karinto, and kinako-flavored latte "sledding" with gold leaf on itTomukuri Kinako Latte (450 yen / tax not included) "is now available. Please try the cute latte that is a little different from the chic image of the exhibition.
This event has ended.
《Kiichi Sumikawa Sori to Mukuri》
[Date and time] February 15th (Sat) -May 24th (Sun) 10: 00-18: 00 (Admission is until 17:30)
* Until 20:00 on Fridays and Saturdays in May (admission is until 19:30)
[Venue] Yokohama Museum of Art
[Closed] Thursday
[Fee] General ¥ 1,500, university / high school students ¥ 900, junior high school students ¥ 600, elementary school students and younger free
* Free viewing on Saturday, March 28, 2020!
Yokohama Museum of Art opened to the public on November 3, 1989. It is one of the largest art institutions in Japan. With its iconic architecture, featuring the expansive space of the Grand Gallery, the museum is made up of a total of seven gallery spaces, as well as an Art Information and Media Center that holds over 110,000 art-related books, ateliers hosting a wide range of workshops for children and adults, and many other facilities.
Located in the international seaport city of Yokohama, the museum focuses on collecting and showing modern and contemporary art created since the late 19th century, when the port of Yokohama opened, alongside many special exhibitions.
【Photo】
The outward appearance:KASAGI Yasuyuki / Grand gallery:KASAGI Yasuyuki / Exhibition room:TANAKA Yuichiro
(※Closed days: 2021 Mar 1-2023)
Address

3-4-1 Minatomirai, Nishi-ku, Yokohama-shi, Kanagawa

TEL

045-221-0300

Business Hour

10: 00-18: 00 (admission is until 17:30) Closed on Thursdays and New Year holidays
Map