Let's bathe in the sound like the sun. -A special concert presented by Magcal Ambassador Mari Kumamoto and Kanagawa Philharmonic Orchestra this summer-
(Please note that this page was created using Google's automatic translation service and understand that because of this, its translation may not necessarily be accurate.)
ジメジメと憂鬱な梅雨の終わりが見え始め、熱気にあふれた眩しい夏がもうすぐそこまできている7月中頃。そんな人々の心が弾み活気が溢れだすこの季節にぴったりの躍動感のあるリズムであなたをポジティブに導いてくれるような演奏会が神奈川フィルハーモニー管弦楽団により7月17日は横須賀芸術劇場で、翌18日には南足柄市文化会館で行われます。

 

コロナ禍で昨年一時演奏会を見合わせていた神奈川フィルハーモニー管弦楽団。昨夏今春から徐々に活動を再開してきました。とはいえ状況に応じて演奏人数を制限したりな観客がどこか安心できるような人気のある名作・大作を中心にしたりなど、様々な対策が取られてきました。

そんな中、今回はこの困難を抜け出すひとつの希望のように、いつもより少し開放的に、自由な気持ちで楽しめる演奏会となっています。

 

テーマは東欧の音楽。特別造詣が深くなくても日本人なら誰でも知っているドヴォルザークの「新世界」やスメタナの「モルダウ」などが東欧の音楽家による作品です。

西欧の音楽とはどこか違う、哀愁を帯び、民族色のある独特で魅力的な音楽。そのリズムからはかつての複雑で悲しい歴史を経て、独自の文化と伝統を築いた故郷を想う音楽家たちから悲しみと共に、愛にあふれた生命力のような強ささえ感じられるように思います。この情景、どこか今の世に通じるような気がしませんか?こんな時代だからこそ、心に奥深く響く東欧のリズムを是非体感してください。

 

そして今回、素晴らしい音楽を奏でるのは神奈川フィルハーモニー管弦楽団と初共演を果たすピアニスト熊本マリさん。10歳でスペインに渡ったマリさんは民族色溢れるスペイン音楽、ラテンピアノ音楽を得意とし、自ら体験し取得した異国での「音」を観客に伝え続ける、まさに今回のテーマにピッタリの素晴らしいピアニスト。

そしてそして、我らがマグカル大使でいらっしゃいます。その熊本マリさんに今回、直接お話を伺うご縁を頂きました。コロナ禍ということもあり、リモートでのインタビュー。急遽神奈川フィルハーモニー管弦楽団音楽主幹の榊原徹氏(以下榊原氏)もお迎えして、とても楽しく濃厚な取材となりました。

 

演奏会への想い、そして「音楽」の持つ力を、マリさんの魅力と共に存分にお伝えしたいと思います。

 
<< Please tell us your thoughts on this concert, which will be held under the special circumstances of Corona. >>
Mari:
"I want to share the importance of sound and the joy of sound because of this situation.
Sensitivity is very important for living in good physical and mental health. And the concert is in July. Both children and adults feel like they want to grow their wings during the summer vacation. However, it is not a situation that can be fully understood. The Hungarian composer Franz Liszt's "Hungarian Fantasy" to be performed this time is a fun dance with an unforgettable ethnic rhythm once you listen to it. That's why I want you to bathe in the sound as much as you bathe in the rays of the sun! That's the feeling. "
Mr. Sakakibara:
"This time, we have collected songs that catch the hearts of Japanese people, which are hard to hear and feel nostalgic and earthy, which the orchestra does not usually play.
Although it has been westernized and is no longer even called "Eastern Europe", the music of Eastern Europe has the rhythm and melody of the local religion and culture, and the free originality that is not standardized. remain. The theme is to dare to pull it out now. Now that hope is gradually coming to the world, please feel at ease.
I want everyone to enjoy it with a free feeling. "
《Surprisingly, this is my first co-star with the Kanagawa Philharmonic Orchestra. How do you feel? 》
Mari:
"It's really surprising (laughs) I'm really looking forward to it.
Actually, Concerto is often designated as a song, but this time I'm really happy to be able to play "Hungarian Fantasy", which I have a strong feeling for, on the stage of my first co-starring.
And the conductor is Yu Kumakura, a young and cutting-edge. It's a "double bear". The name with "bear" is not so common, so I feel a lot of ties! ", South foot, which is the stage of the concert hereThe pattern is also Kintaro's hometown, and in fact it has a "bear" connection.
Not a "double bear" but a "triple bear! 』! Mari laughs, saying that she seems to have been drawn to her.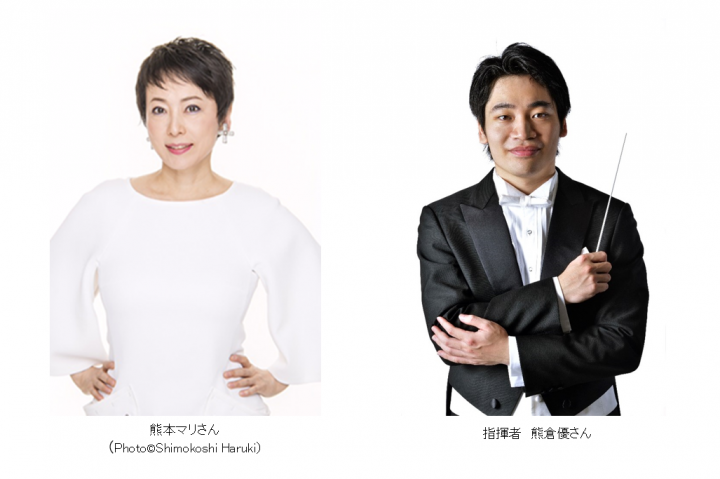 Mr. Sakakibara:
"I am very happy to be able to perform this time. I went to Spain when I was a teenager, and I have been telling to this day that I have been looking at, feeling, and experiencing traditions and culture as a Japanese person. Mari who gave me.
Like Dvorak's "Slavonic Dances", which will be performed this time as well, songs with a rich ethnicity are created by looking at the country from inside and outside and using various elements such as dreams, longing, and fear. There is a sound that can be played only by Mari, and I think that it is a very suitable role.
And Yu Kumakura, the conductor of "Triple Bear" (laughs), is a very promising and excellent conductor who is active both in Japan and abroad at the age of 28. I'm really looking forward to the spectacular and wonderful concert. "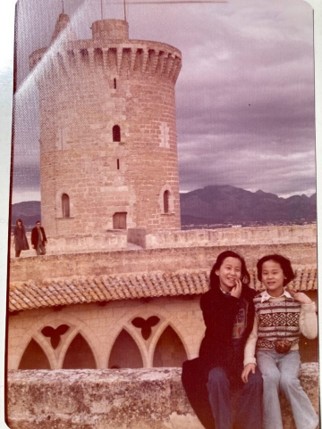 Mari, a teenager in Spain (left)
"What kind of song is Hungarian Fantasy for Mari?"
Mari:
"I've been listening to it live since I was 12 or 3 years old in Spain. It's been a very fun song since then, and I want to play it someday!It's a strong song.
Actually, this time, I was hurriedly decided to appear in place of Claire Huangci, a Chinese-American pianist who couldn't come due to the influence of Corona. It was originally planned to be performed on the same Franz Liszt's "Piano Concerto No. 1", but when I heard about the appearance and heard the theme, "Hungarian Fantasy" was perfect. I thought.
It's a song that is rarely played in Japan as much as in Europe, but it's a very interesting and fun song. I also play it and it's a lot of fun. Lists are often thought of as skillful composers in Japan, but in reality they are characterized by Hungarian-like dance rhythms and should be featured more.
Hungarian rhythms are, for example, "Japanese festival drums" and "Spanish Pasodoble". Is there an indigenous rhythm that makes you excited and excited just by listening? "
"And Liszt is one of the most traveled composers. Born in Hungary, traveled a lot, visited different countries, and experienced the smell and tempo of the town and people. Becomes that person's blood and becomes a note. I think that the music made in that way is so tempting to people. When I listen to it, it makes me think "I want to go to Hungary". I want everyone to know such a fascinating song! I'm thinking. "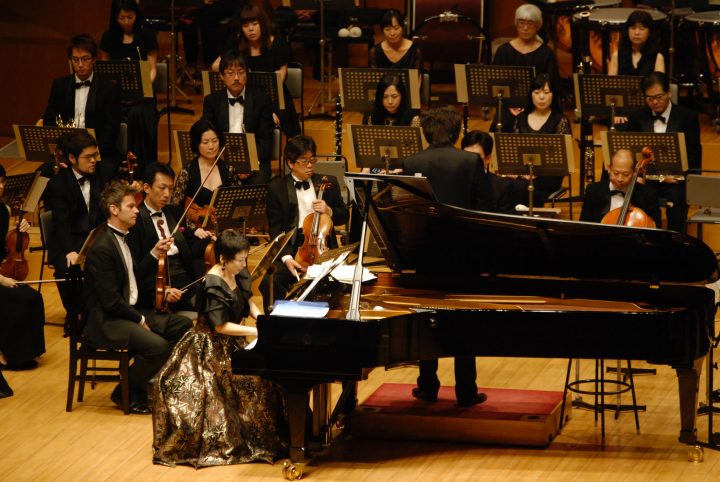 Mari playing a Hungarian fantasy song with the ensemble Kanazawa in Ishikawa Prefecture in 2016
One last thing. This song uses a piano technique called glissando. It's a technique that is rarely used in concertos, but it's a very nice and interesting way to play with the back of your finger in a flowing manner. Where will it come out? I think it's exciting. Please look for it. It's a concert during a time when it's easy to watch, so bring your children, friends, and faWith Millie! I would like many people to come and get some energy by taking a lot of sounds! "
Bright and charming at the bottom. Still, Rin! Mari talks about her theory.
Before the concert, there will be a pre-talk by Mari, and you will be able to talk about the charm of the song.
There is no doubt that it will be an open summer day with Mari's sun-like smile and positive feelings for the performance.
Please come and visit us.
"Kanagawa Philharmonic Orchestra Subscription Concert" starring Mari Kumamoto
Prefectural Masterpiece Series 11th Dance! Dances East of Eastern Europe
[Schedule] Saturday, July 17, 2021
[Start] 14:00 (Open at 13:15)
[Venue] Yokosuka Arts Theater
Click here for details: https://magcul.net/254015?lang=en
Mari Kumamoto Profile
Passionate pianist. Born in Tokyo, currently living in Yokohama.
Studied at the Royal Academy of Music in Spain, the Juilliard School in the United States, and the Royal Academy of Music in the United Kingdom. Spanish music specialist.
Actively spreading Japanese melodies to the world.
In addition to performing at home and abroad, he also engages in television, radio and writing activities.
Professor at Osaka University of Arts.
Inaugurated as Magcal Ambassador from August 2016.
[Official website] http://www.marikumamoto.com/index.html