Art / photography
2021.10.12
From the atelier in Kita-Kamakura ~ Prayer delivered by Kannon painter Cotton Flower ~
「A prayer delivered by Kannon painter Cotton Flower from the atelier in Kita-Kamakura」
(Please note that this page was created using Google's automatic translation service and understand that because of this, its translation may not necessarily be accurate.)
10 minutes walk from Kita-Kamakura station. Climb up the hill with Zunsun, with the residential area lined up in the lush green trees. After passing through a narrow path, you will reach a building that looks like a hideaway surrounded by nature. When I opened the door labeled "kokotama gallery", a white dog greeted me cheerfully like a gatekeeper.
"I was born and raised in Tokyo and have been moving to Kita-Kamakura since 2015.
After moving to Kita-Kamakura, the first thing I thought was that mountains are much closer to life than I had imagined. "
That's what Yuka, the owner of the "kokotama gallery" and a Kannon painter based in Kita-Kamakura, says. Cherry blossoms shining on a golden background and beautifully blooming lotus flowers. From her work spun in this place loved by nature, you can enjoy the seasonal flowers and scenery.
"I was impressed by the fact that there is a satoyama that has been familiar to the locals for a long time, not the nature created in the city, and that you can feel the changing seasons from the trees and flowers every day.
The sky is wide, you can see the moon and stars well at night, and the wind from the mountains and the sounds of birds and insects are soothing. I think it's the best place for the production environment.
If you go a little, you can see the sea, and of course, there are many historical temples and shrines, which is a fun place.
Above all, the people in the area are very warm and always helped. I realize once again the importance of connecting people. "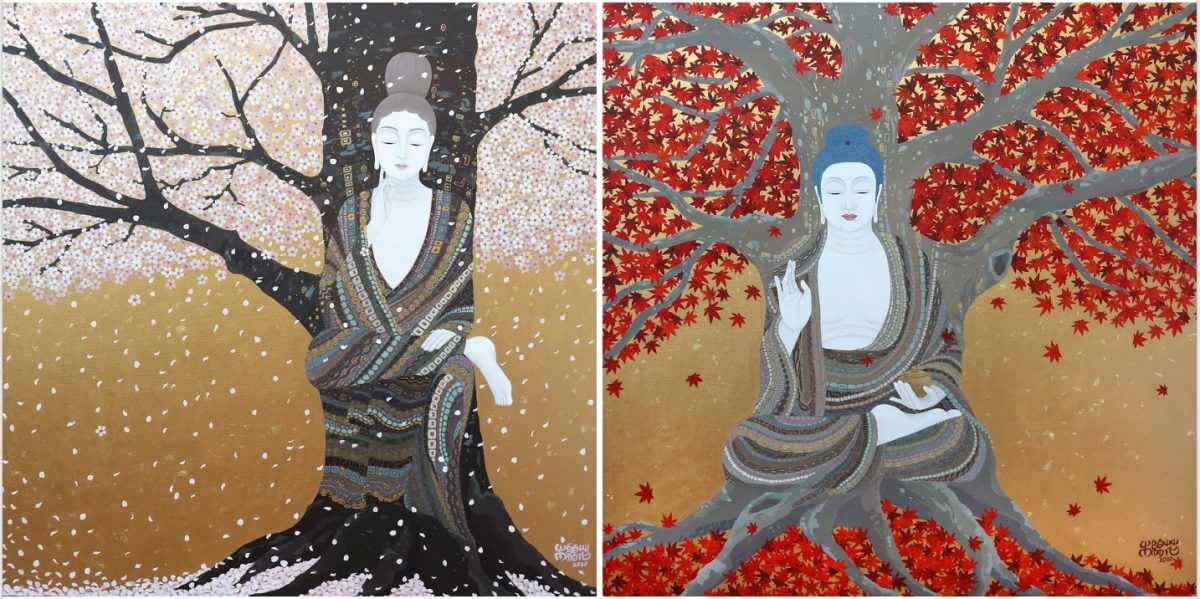 I was born and raised in Tokyo, but for cotton flowers who attended high school in Yokohama, Kanagawa Prefecture is also a memorable place where I spent my school days. How did the scenery of Yokohama look in her eyes?
"When I was in high school, I used to go to Motomachi every day from Tokyo.
The slope through the foreigner's graveyard from the station to the school was steep, so I remember going up every day out of breath... nostalgic.
The places where I spent my school days include the Foreign General Cemetery, the Western-style building in Yamate, and the Chinatown, giving the impression that it is a fashionable and artistic city where you can feel the exotic winds.
The boats in the harbor, the parks with lots of flowers, and the red brick warehouse are all very picturesque places. I love the moon overlooking the sea, the night sky of the orange harbor, and the neon lights of the lively Minatomirai.
Recently, the Yokohama Triennale has become a hot topic, and I think many people are interested in art. When I had a solo exhibition at the Motomachi gallery, I had a strong impression that everyone was enjoying art very casually. "
After graduating from high school, he left Japan and went on to an American university. Living abroad gave me an opportunity to reconsider the country of Japan and my future, and he talked about his thoughts on "Kannon-sama" that sprouted there.
"By studying abroad in the United States at university, I was able to reconsider my country from a different perspective.
Even if foreigners ask me about Japan, I often don't know it, so I started to want to know more about Japan and tell more people about it. I visited shrines and temples, learned how to dress and Japanese painting. I searched for it in myself.
The one I was most attracted to was Kannon.
It was very familiar to me that I was close to people, and I was more interested in knowing that there were Kannon who changed into various shapes, and also Nyorai, Meio and Tenbe.
Above all, when I faced Kannon-sama, I was deeply moved by its profound beauty, inclusiveness, and the many years of prayer that lived there.
In the midst of job hunting, when I was worried about my career path, 3.11 happened, prayers from all over the world were delivered to Japan, and I was deeply moved by the heart of that prayer regardless of country or religion. Strongly influenced. "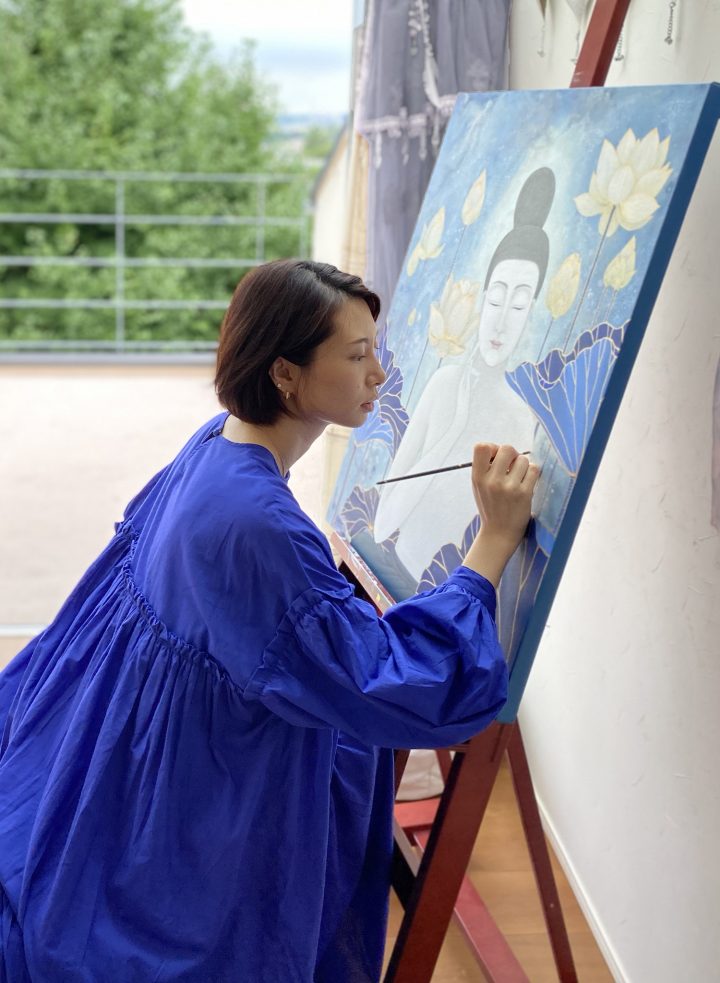 For the first time in this column, few people knew about the profession of Kannon painter.There will not be. For the author, Kannon is an absolute existence, and I have never had the opportunity to come into contact with him from the perspective of art. I felt like I was a little confused as to whether I could understand myself.
Despite such concerns, Kannon-sama, drawn on large and small canvases, was surrounded by gentle colors and beautiful flowers, and quietly smiled and slipped into his heart. And even through that smile, I was surprised to find such a rich and different expression. Mercy, beauty, elegance, and affection. Until now, she had a rather "quiet" image of Kannon, but her drawing Kannon coexisted with the seasons and nature, and was "moving" in a colorful scene.
"I think there are many people who are not interested in Kannon or do not understand it well.
Since my work is Kannon-sama, I don't have to think about it like this, but I hope you can feel free to look at it.
At each solo exhibition, I sometimes deliver the message I want to convey at that time, but I hope that the work will be close to everyone. I would be happy if you could cherish what you feel in each way of thinking. "
"Please feel free to look at it." As the word says, the work itself says, "You can enjoy it freely."
For example, if you visit a Western museum, you can enjoy those works as art without knowing that many paintings have a religious background. Just like the Kannon image drawn by cotton flowers, even people who are not familiar with Buddhism can enjoy the work without hesitation, and by gaining knowledge, they can enjoy it even more deeply.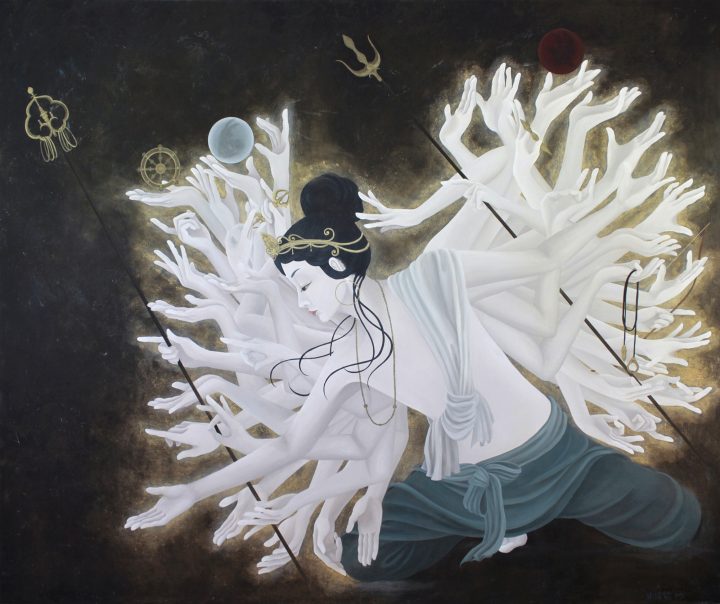 One work that symbolizes its friendliness and freedom is "Kokotama", which is designed in a round and lovely form.
"Kokotama is written as the pearl of the heart and is read as the pearl of the heart.
Jewels in Buddhism, demons in ShintoExcluded peaches, in the form of buds and drops in nature.
By drawing a picture in that plump and warm shape, I wanted to make it a work that you can wrap it in your hand and enjoy watching it up close.
Kokotama was born with the desire that this work be a beautiful single bead that honestly reflects the heart of the person who picks it up. "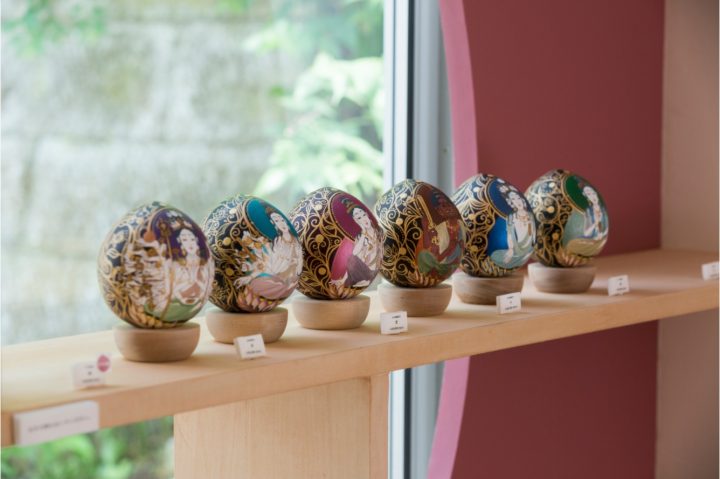 Not only on the canvas, but also through the works expressed by wooden spheres, you can touch Buddhism deeply rooted in this country from various points of view.
And the Kannon-sama drawn by cotton flowers is not only friendly, but also has the mercy and strength unique to Kannon-sama. When I asked her about her thoughts that she cherishes when working on her work, she talked about her sincere feelings toward Kannon.
"I am grateful to have been working as a Kannon painter in this way.
I think that Kannon-sama cannot easily draw with just the desire to draw. Knowledge is also important, and by visiting, experiencing, and facing Kannon with your own feet, you will gradually lead to a step toward production.
What kind of history and thoughts of each temple and Kannon have been cherished, and what kind of place is that area? Take your time to research, visit, and delve into what you care about and what you are interested in. It is best to see the actual Buddha statue, not photos or videos, and above all, you can often see it by knowing what kind of temple or area you are in.
If I get stuck somewhere in this research, I may give up thinking that it is not the time to draw this Kannon-sama without overdoing it. Until now, there are many Kannon-sama who have been drawn by chance or mysterious ties, and I cherish the encounters and ties at that time, and draw each work that I can draw now. It is special to be able to draw the Kannon who is the object of prayer.I think, so I would like to do my best as much as I can to continue, with the gratitude that I draw every day. "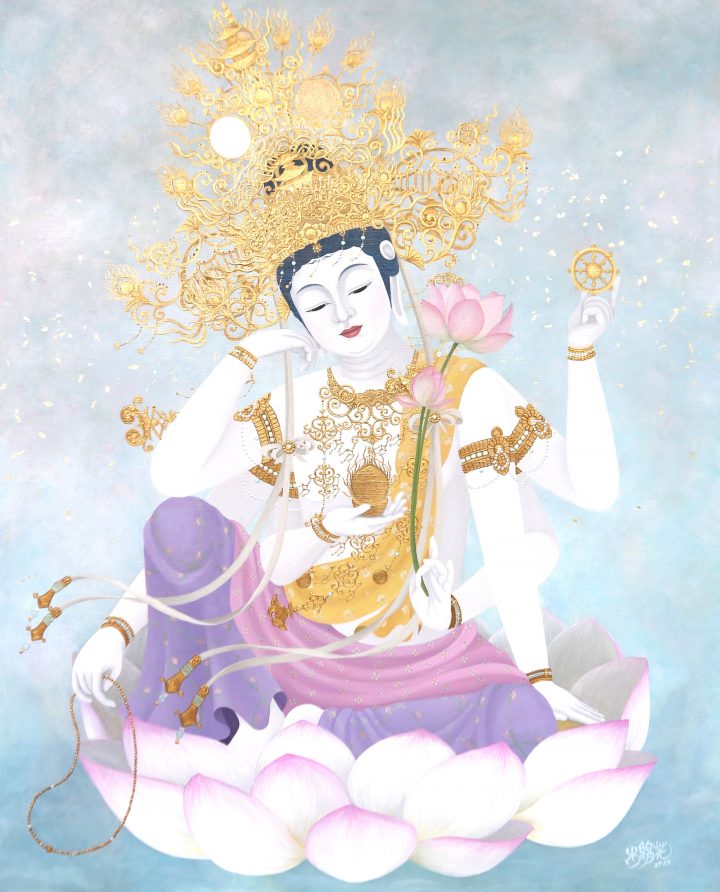 It is probably because they have cherished the once-in-a-lifetime meeting that they have led to a wide range of activities such as collaboration projects with artists and cafes. I asked such cotton flowers about their future prospects.
"As a Kannon painter, I would like to actively work if I can contribute to Kannon and temples.
Last year, at the request of Mr. Mitsui-ji, I drew the principal image for the first time.
Until then, I hadn't drawn based on a specific Buddha statue, so it was a difficult challenge, but it was a very valuable experience.
After that, there was a connection, and I was able to draw the principal image of Mr. Hasedera in Nara.
Also, if I have the opportunity to draw the principal idol for some reason, I would definitely like to try again.
When Corona converges, I have a big dream that I should be able to deliver my work to places where I haven't held a solo exhibition yet and to the world. "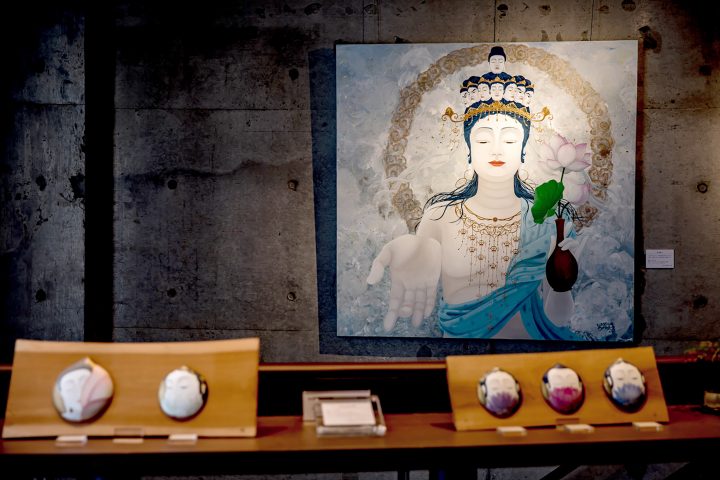 And she concluded the opportunity to become a Kannon painter.
"Anyone can pray. And the feeling of praying for someone's happiness hasn't changed. I thought that the Buddha statue, which has been cherished for many years, has that prayerful heart. rice field.
A work that can be touched by more people in the heart of prayer and can be carefully connected to the futureThe strong desire to draw goods was the first step towards becoming a Kannon painter. "
The work of cotton flower, which she started as a Kannon painter, touches people's hearts with the prayers she draws, and the prayers lead to someone again. Now that prayers are being sought everywhere in the world, I quietly prayed that her work should reach as many people as possible around the world.
【profile】

Cotton flower (Yuka)
Kannon painter
Born in Tokyo.
Growing up in a creative environment with his parents who were active in the fashion industry, he majored in painting at the Faculty of Arts with the desire to experience various sensibilities and expand his worldview.
I studied at BOSTON UNIVERSITY in the first year and transferred to NEW YORK UNIVERSITY from the second year.
In 2011, he acquired the Bachelor of Fine Arts (Bachelor of Fine Arts) and graduated from NEW YORK UNIVERSITY with honors.
After graduating from university, after returning to Japan, he was active as a designer and illustrator, but he felt that his feelings for painting became stronger, and in 2013 he decided to pursue his career as a painter. Hold the first solo exhibition.
After leaving Japan and living abroad, I was exposed to the opportunity to look at Japan from a different perspective, and I was once again fascinated by Japanese traditions and culture. I was impressed by Kannon, who has been loved and cherished by people for a long time, and the heart of prayer that has been passed down since ancient times, and I felt that I wanted to draw a picture that resonates with that heart.In addition, with his colorful sensibilities and expressiveness, he draws a Kannon of prayer and harmony that transcends the concept of Buddhism.
In addition to paintings, he is also focusing on creating unique three-dimensional works created by cotton flowers called kokotama. kokotama is attached from the meaning of "a beautiful single bead that reflects the heart obediently", and the picture is drawn on a wooden bead in the shape of a jewel.
Not only do you enjoy watching it, but you also want it to be a work that you want to wrap it in your hand and look at it.
In addition to painting, he also challenges collaboration projects with artists and cafes, expanding his worldview to various fields. He is currently active based in his own gallery, kokotama gallery, which opened in Kita-Kamakura in 2015.
Instagram: kokotama_youka
Twitter: @kokotamayouka
Facebook: kokotamayouka
Website: https://www.youkamiuryu.com/