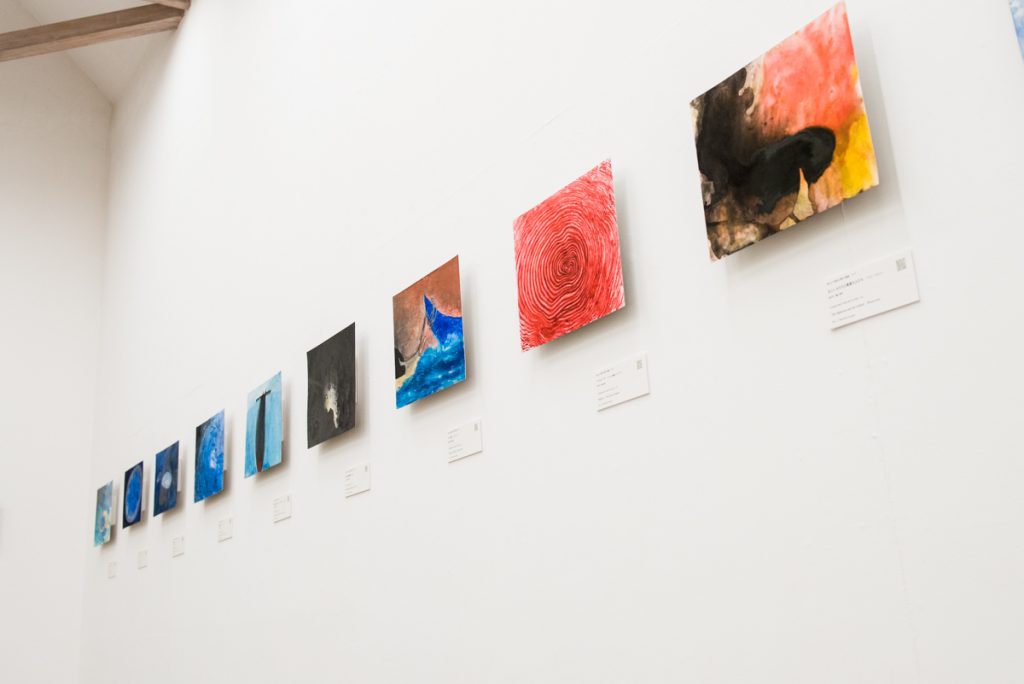 Art / Photography
Collaboration between academics and artists to understand horn from myth to modern society
Kanagawa Prefecture Artist-in-Residence Promotion Project, which invites artists from domestic and overseas and supports organizations that do creative activities in Kanagawa Prefecture. This time I visited the Kasuya Mori Museum of Contemporary Art which is hosting a plan exhibition invited by Yuriko Yamaguchi, a painter living in the United States "What myth talks about – the myth of the human end and the resurrection".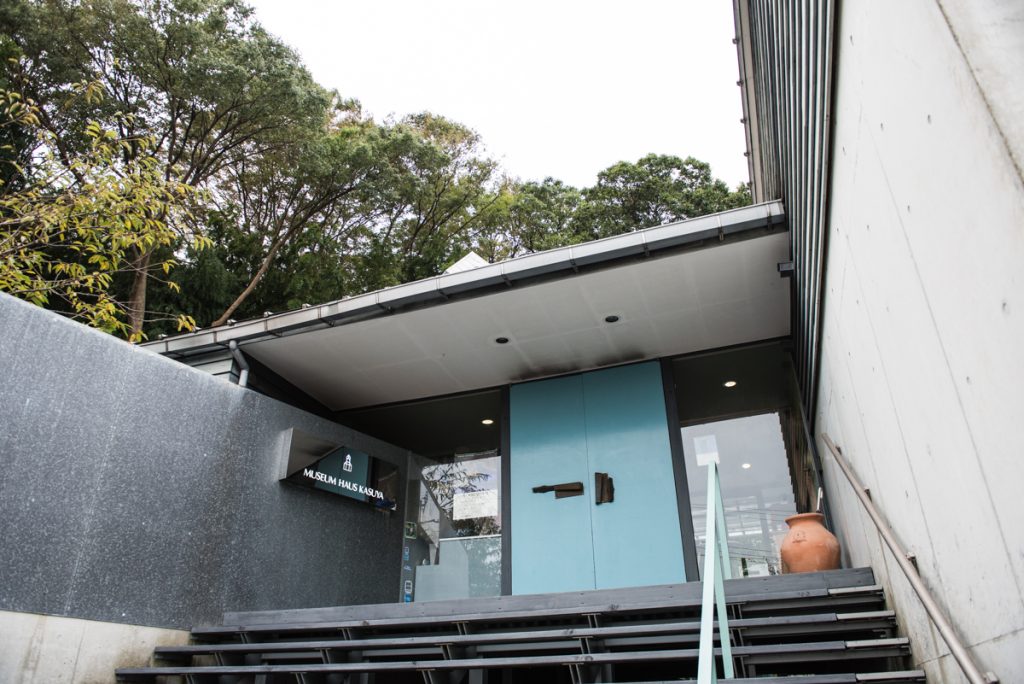 Mr. Yamaguchi who was born in Japan and later went to the USA has continued his artistic work mainly in the United States for over 40 years after acquiring a master's degree in shaping art.
At this exhibition, 30 paintings produced by Mr. Yamaguchi were collaborated with Mr. Minekki Shipper (Netherlands) who has worked on intercultural literature for many years. In addition to conducting open production at the opening, gallery talk with anthologist Masao Higashi was also held.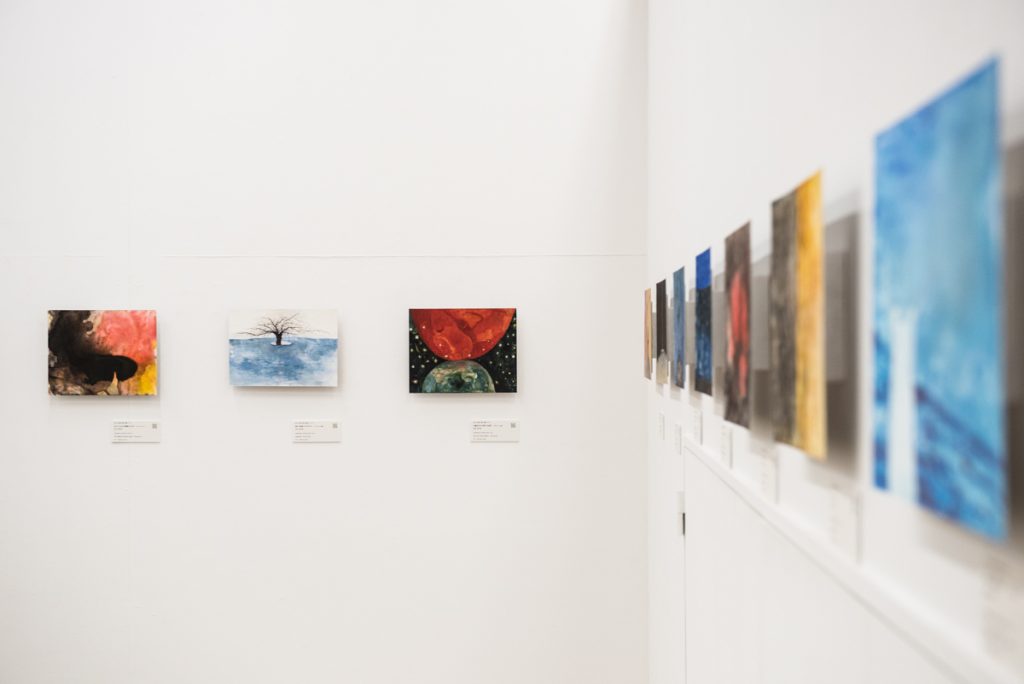 Director Mr. Wakae Makoto and Mr. Yamaguchi seem to have deepened friends since I came across in the gallery of NY Soho in 1989. I asked such two people about this project.
---
What is the origin of the project?
Meeting with Yamaguchi Shipper was in 2009 when I was staying at the Rockefeller Foundation Bellagio Center in Italy for a month to produce watercolor paintings. At that time, she focused on "myths" remaining around the world. In Bellagio Center Hongyu all overI was studying to gather and present myths on water and disasters.
Although myths tend to think that it is a long ago story, there are plenty of episodes that are important hints when thinking about today's global environmental issues and so on. Since I was strongly concerned about the connection and the "chain" of the world originally, I was spirited with Shipper. "In announcing research results, it is more powerful that people with accompanying visuals appeal to people", and I was to create visuals one by one on the myths she gathered .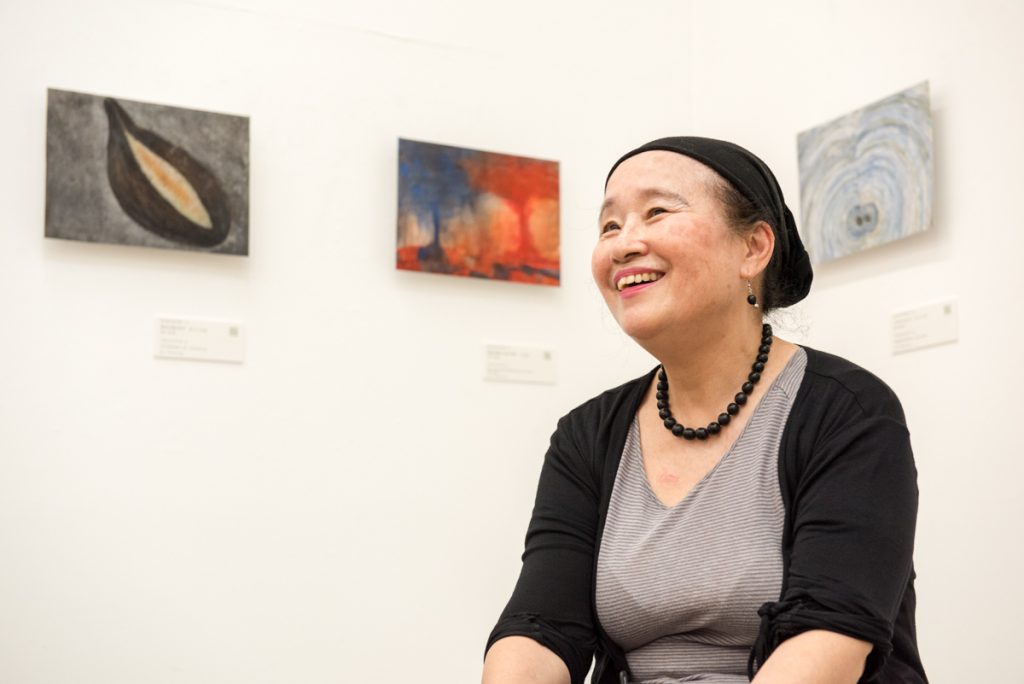 As there are illustrations in Wakae novels, text and visuals have long been connected. However, Mr. Yamaguchi's picture is not descriptive like an illustration. If you explain "Why did you become this visual", it may be long, but it definitely connects with Shipper's text. I hope that you can enjoy such a sense of distance.
Yamaguchi I finally got 30 points this time, but there were quite a few works that were made by Shipper. I can not accept it, there are works that resurrected by bringing an original picture to the Netherlands where Shipper is. I was interacting while looking at the monitor, so it seems that the impression was different.
The paintings of this time's work are different from those of Mr. Yamaguchi's work so far
Yamaguchi We use synthetic paper called "Yupo" which is mainly made of polypropylene. I liked the slippery touch and chose it, but the waterI did not penetrate so I could not draw with watercolor, I tried using acrylic paint.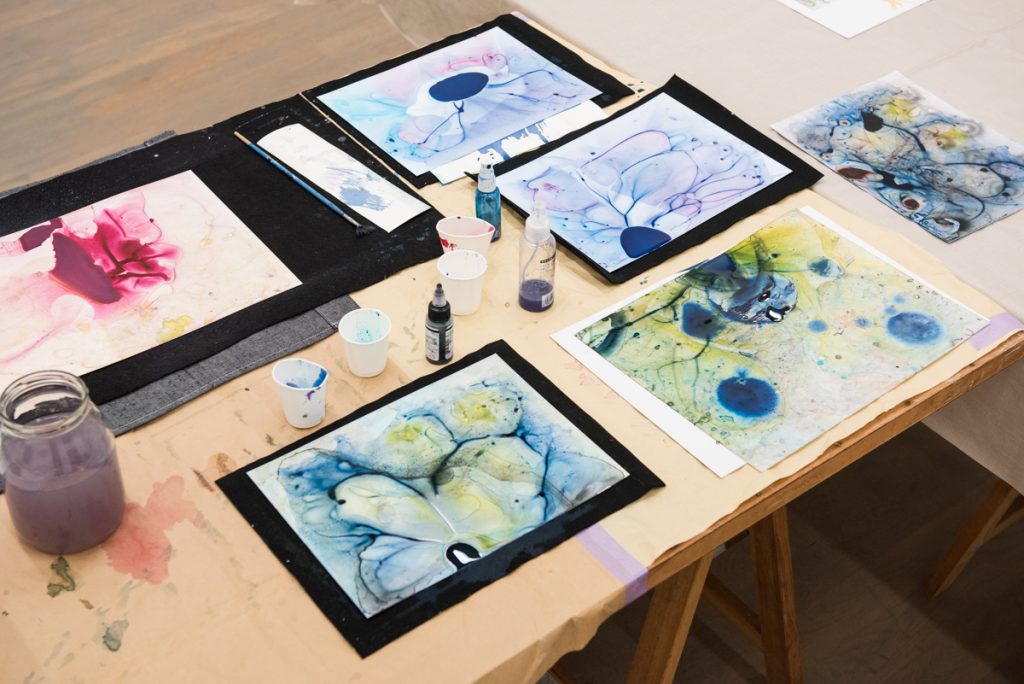 Waka Normal, acrylic paint dries quickly, but Mr. Yamaguchi uses a lot of water mixed. Because Yupo does not absorb moisture, a unique expression was born by "hanging" the paint on paper.
Yamaguchi This is the technique I tried for the first time in this project. I can not control the combination of Yupo and acrylic paint, I get an unexpected result, so it's fun (laugh). When you create something, you can not continue unless it is fun.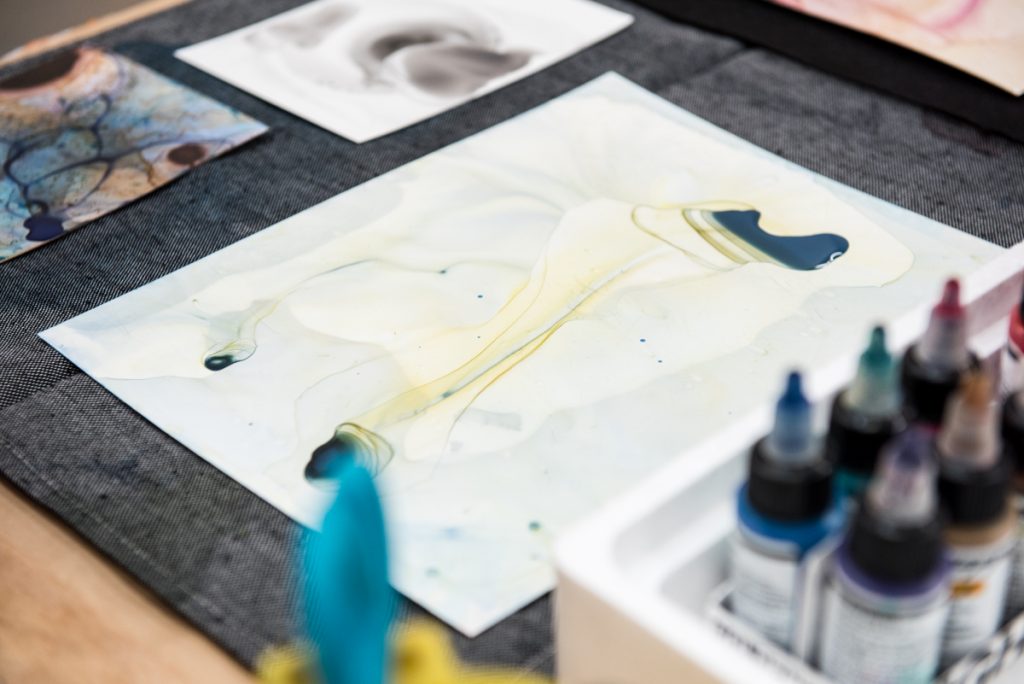 It is the first time the Kasuya Forest Museum of Contemporary Art is exhibited with all 30 items together
Yamaguchi That's right. After all it took almost 10 years, so when you look at all the works lined up, there are things that are deeply emotional.
I was watching the story and image image of Wakae mythology, but some points were swapped on the way. Finally I knew which works will be exhibited in JapanIt was when I unpacked it (laugh).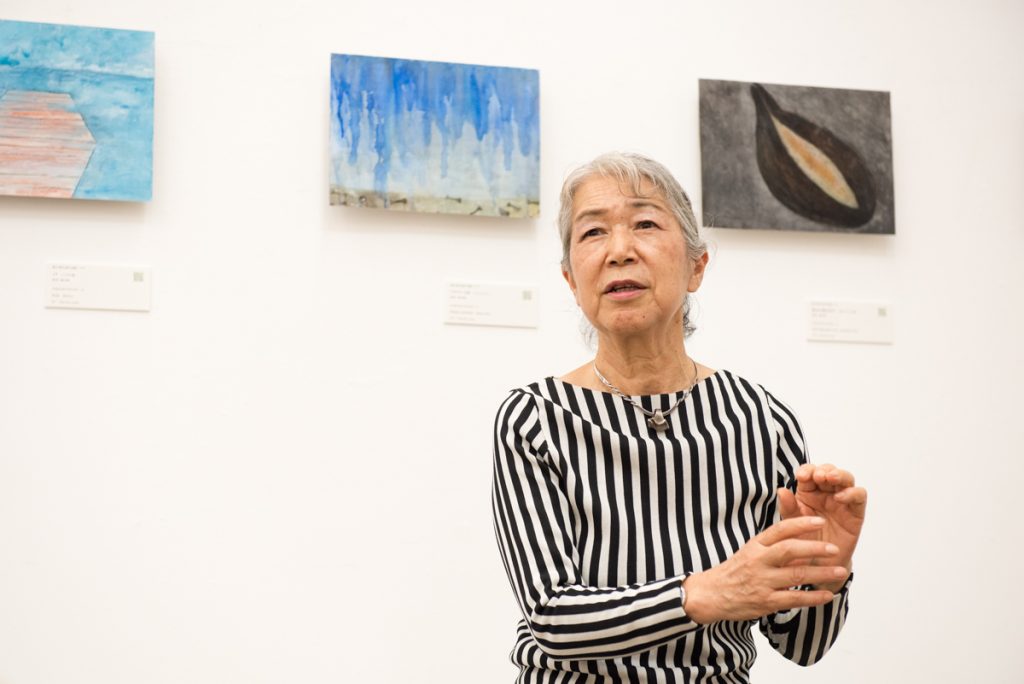 It is the best wishes that Yamaguchi Shipper's thought should be conveyed to the viewer.
Wakae Shipper would have took a huge amount of time to collect and edit myths. But, it takes a lot of time before myths are made. It is the artist 's power to visualize the myths that have continued with the cotton in an era in line with the times. And I think that we can also see warnings to modern society.
The existence of scholars who collect Yamaguchi myths is also important.
Wakae Of course. The work being exhibited this time is the translation of the time of "now", a thousand years later another work of a different aspect may be born. I thought again that collaboration between academics and artists is truly wonderful.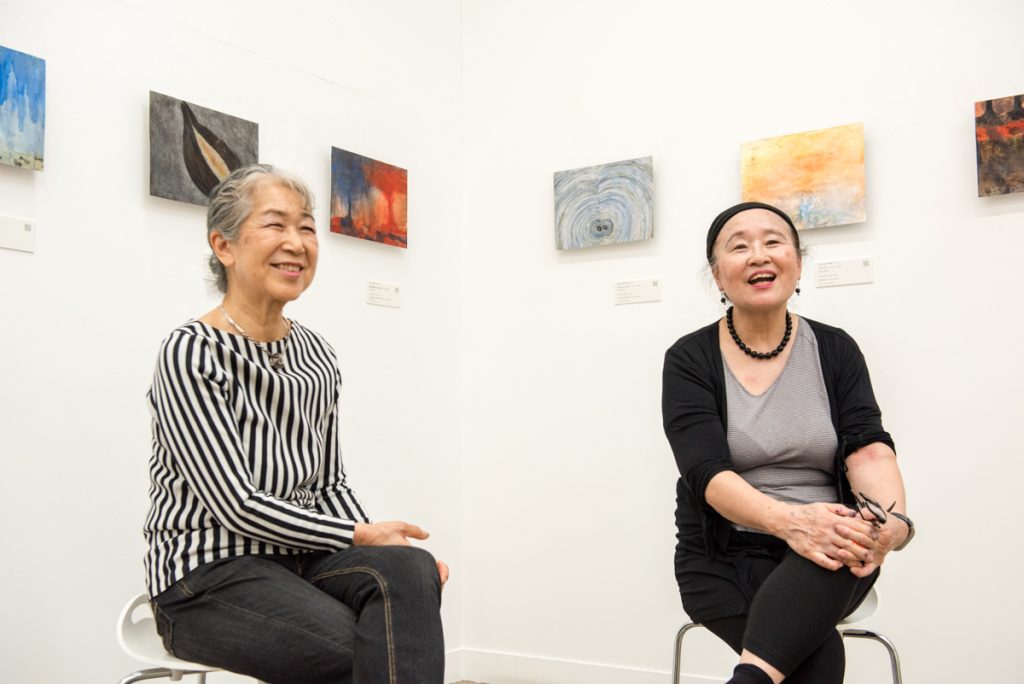 What myths talk about now – Myths of the end of mankind and resurrection –
essayAnd Select Myths Minekes · Shipper
Artwork Yuriko Yamaguchi
Venue : Kasuya no Mori Contemporary Art Museum
http://www.museum-haus-kasuya.com/
Period : until December 23 (Sun)
Closed : Moon, Tuesday, Wednesday
Opening hours : 10: 00 ~ 18: 00 (Admission is until 17:30)
* During the exhibition, 11/23 (Friday) and 12/2 (Sunday) will be held until 12 o'clock for the general public with holding reservation event.
[Access to museum]
■ About 15 minutes on foot from Kinugasa Station on JR Yokosuka Line
■ Get off at Keihin Kyuko Shiodome Station and get off at Kinugasa station for about 15 minutes. Get off at Kanaya Bus Stop 4 minutes on foot